Fans of the classic Microsoft Intellimouse 3.0 from 2003 can now buy an updated version, which, Microsoft has promised, is true to the spirit of the original.
In fact, Simon Dearsley, Devices Design Director at Microsoft, said this week that some of the components in the new Classic Intellimouse remain the same as those in the original Intellimouse 3.0, its inspiration. The key improvements are in the switch and tracking technology, updating the components for the modern era.
"We've reached a point where tracking and switch technology and price has matured immensely," Dearsley said. "We saw this as an opportunity to improve on an icon by updating it with modern technology."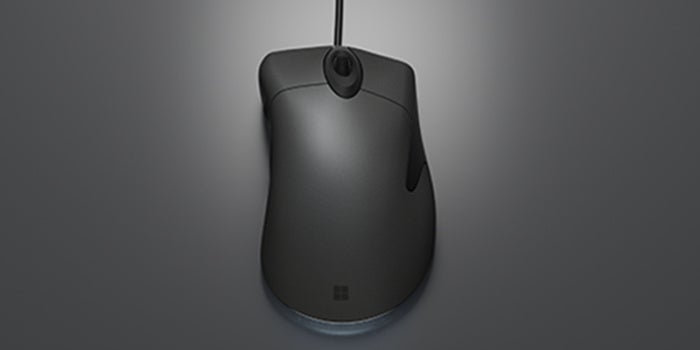 The Microsoft Classic Intellimouse is priced at $40. The BlueTrack sensor reports mouse movements up to 1,000 times per second, with a dpi (dots per inch) setting up to 3,200. That gives it the same precision as the Microsoft Surface Precision Mouse, Microsoft's other recent peripheral.
Unlike the Surface Precision Mouse, however, the Classic Intellimouse is wired, reducing the latency for gameplay. It's largely ambidextrous, though only right-handers will be able to take advantage of the two side-mounted buttons. (The scroll wheel functions as a middle button.)
There's a small catch: Though the new Intellimouse works with all flavors of Windows dating back to Windows 7, it doesn't work with Mac OS. Microsoft's Mouse and Keyboard Center software, which allows the buttons to be configured, isn't available for Windows 10 S.
Microsoft's original Intellimouse arrived at a time when designers and gamers alike were becoming more interested in differentiated, more accurate mice. Though it was itself based on the Microsoft Mouse 2.0, it added something new: a scroll wheel. Today, according to Dearsley, most of the world's mice are patterned off the original Intellimouse.
According to Dearsley, Microsoft kept the Omron switches for the left and right click buttons, but added three Kailh switches for the middle wheel button and side buttons. Under the hood, the mouse has been reworked to make it more rigid, he said.
What this means for you: Since the release of the original Intellimouse, the evolution of the mouse into a true gaming peripheral has exploded. The Classic Intellimouse, then, is probably just a novelty. However, given the relatively low price, it might be worth taking it for a spin next time you're near a Microsoft store.
Classic Intellimouse
Price When Reviewed:
$39.99