At a Glance
Expert's Rating
Pros
Wireless Cherry MX keyboard
Fully single-color backlit
Reasonably priced, for a wireless device
Cons
Battery is very short with the backlight on
No housing for the dongle
Only one color of backlighting and one switch type, at the moment
Our Verdict
Corsair's K63 is only the second wireless mechanical keyboard from a mainstream manufacturer, and the first with backlighting. The battery's a bit short, but everything else about it is fantastic.
Best Prices Today: Corsair K63
We technically received Corsair's K63 Wireless Keyboard as part of our review of the Corsair K63 Wireless Gaming Lapboard—a living-room ready lapdesk, and a refresh of the old Corsair Lapdog but slimmer and wireless this time around. And the K63 works excellently in that context.
But the Gaming Lapboard is overkill for most people, and you know what? The K63 stands great on its own. It's compact, it's durable, it's reasonably comfortable to type on, and I've spent a surprising amount of time using it separate from the Lapboard enclosure. After all, it's only the second wireless mechanical keyboard from a major manufacturer—and the first with backlighting. Let's dig in.
Note: This review is part of our best gaming keyboards roundup. Go there for details about competing products and how we tested them.
Cherry on the go
Corsair's design language is pretty much set in stone at this point, and the K63 is no departure. I'd say the K63 is a hybrid of sorts, falling somewhere between the bulky footprint of the Strafe line and the higher-end K65/K70. All the familiar elements are here: black, raised keycaps with an exposed backplate, and a blocky (almost aggressive) typeface emblazoned on the keys.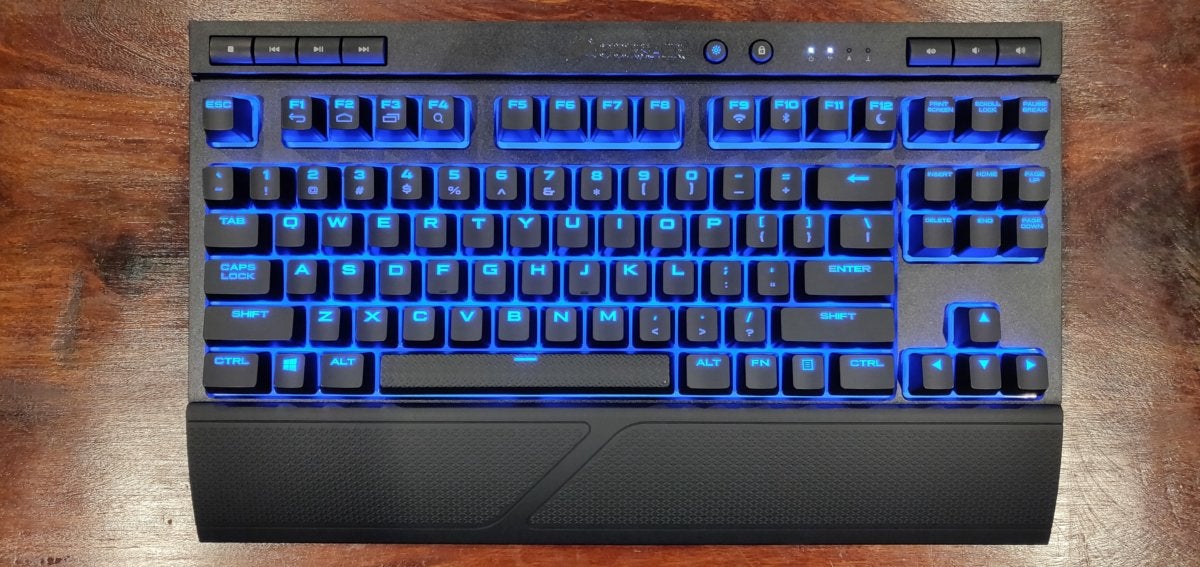 Mentioned in this article
Gaming K95 RGB Platinum
Price When Reviewed:
$199.99
It's not my favorite look, and the K63 definitely lacks the panache of Corsair's more expensive models (like the K95), but it's inoffensive. And Corsair makes the most of the small space, packing a full suite of media keys onto a tenkeyless board without adding much to the footprint. That's great news for those who plan to use the K63 in the living room—you could tuck it under the couch or in the corner easily. It's unobtrusive.
For those who want to use it on a desk, the K63 also includes Corsair's standard rubber wrist rest, plus the usual feet on the rear. Personally I don't know why you'd use a wireless keyboard on a desk, especially a gaming keyboard, but, you do you. Live your best life, and all that.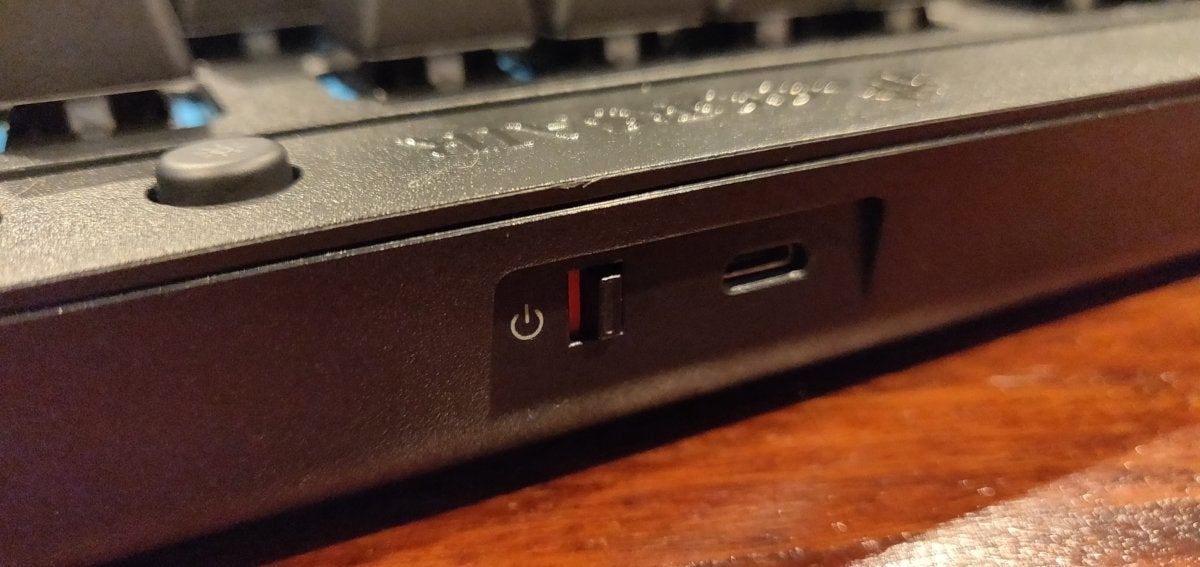 Rounding out the design: There's a power switch on the rear, as well as a MicroUSB port for charging. Corsair claims "up to" 15 hours of battery life, though that's a bit optimistic in my experience. I'd say closer to 8 to 10 with the backlight all the way up, though dimming it or turning it off can extend the lifespan by a lot. Corsair's thrown around numbers like "75 hours with the backlight off," which isn't even really feasible for me to test.
Hard to imagine turning the illumination off though. It's actually my favorite feature on the K63, as most wireless keyboards eschew backlights specifically to extend battery life. I'll happily plug the K63 in more often if it means being able to use the keyboard in the darkness of my living room. Great to have the option, at least.
The only flaw in my opinion is that it's single-color backlighting, and the color Corsair chose is a bright blue. Even at half-brightness it's a bit obnoxious in a dark room, and I wish it came with a more traditional red. Not a huge deal, and it certainly looks clean. I'm just not sure it's a color that's suited for a living room environment.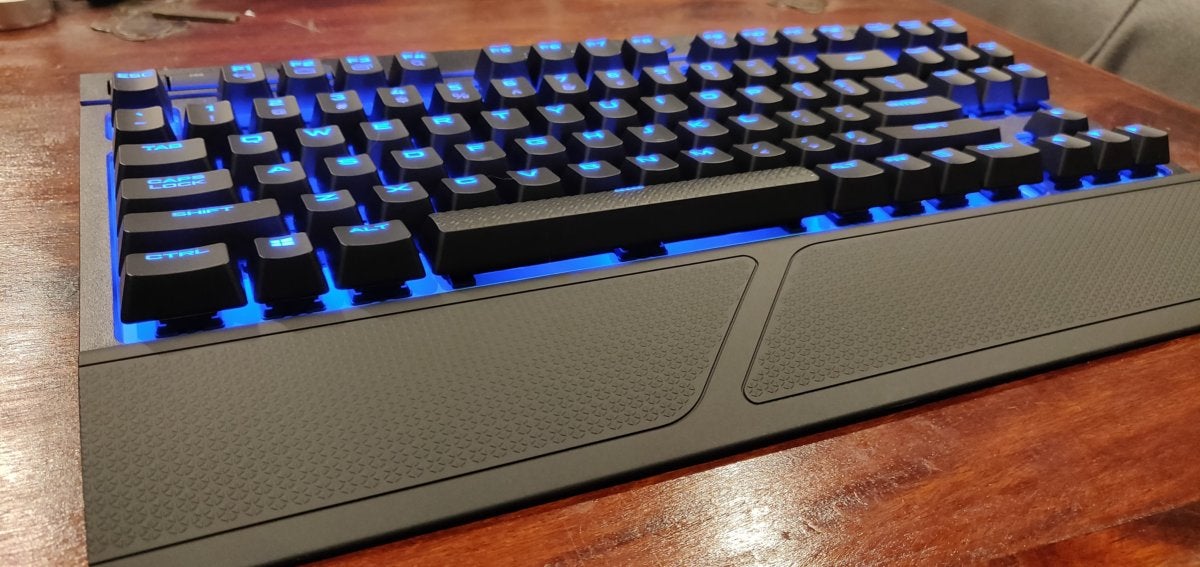 Pairing is done by way of a USB dongle. The connection is 2.4 GHz, and a strong one at that. Even in my signal-drenched San Francisco apartment I never had any issues with latency, doubled letters, or drops. Would I rely on it to keep the United States safe from a nuclear attack? Probably not. But wireless peripherals have come a long way in recent years and the K63 is no exception. It's a damned fine choice for the vast majority of people, and I've found it perfectly suitable for casual couch gaming. There's also a Bluetooth option and it seems stable enough, though I'd rather rely on the 2.4 GHz connection.
Just don't lose the dongle. That's my biggest worry. It's a small, half-sized USB stick, and Corsair didn't build any custom housing into the K63. I guess the thinking is that most people will plug it into their PC and leave it forever, but for those with a more mobile lifestyle, the lack of a built-in storage space, maybe on the rear of the keyboard, is a missed opportunity.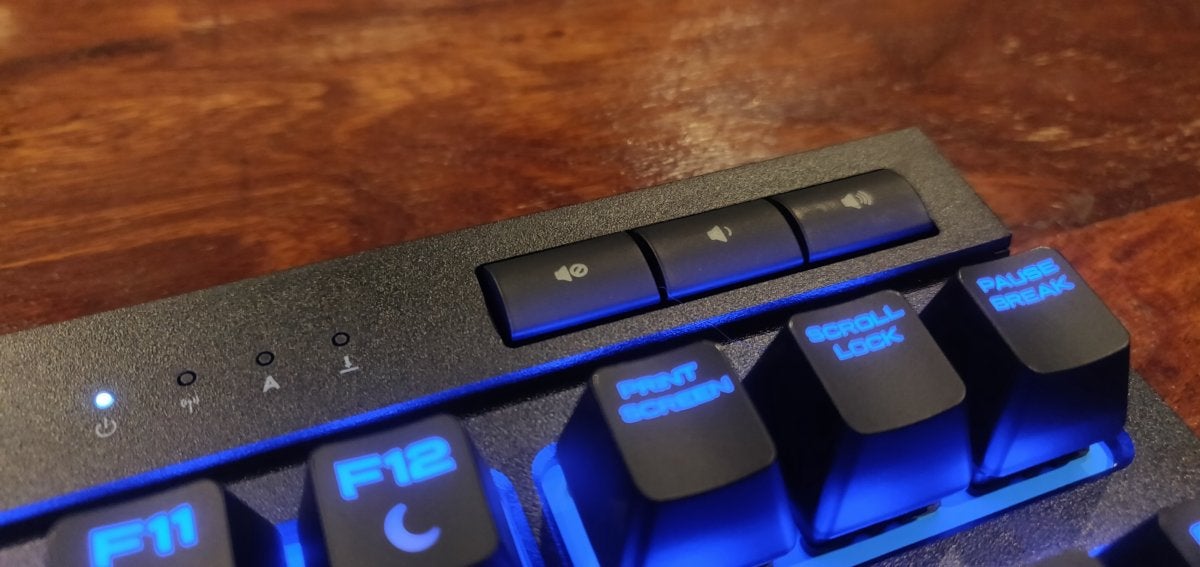 Nitpicks aside, it's a great keyboard. And it uses real Cherry MX switches! Corsair's limited the K63 to Cherry MX Reds for some reason, but even so that makes it a more attractive option than the cheap wireless rubber dome keyboards I've used in the past. The K63 feels like a proper desktop typing experience, just without the wires.
Bottom line
And here's the clincher: The price ain't too bad either. If we assume that the standard asking price for a wired, single-color backlit keyboard these days is around $70 to 80, Corsair asking $110 (currently $100 on Amazon) for a wireless version seems surprisingly reasonable. Especially given how much wireless headsets are usually marked up.
Wireless keyboards seem about the least useful market to me. Headsets? Mice? They both move a lot. Keyboards…don't. Unless you're sitting on a couch, but that's still a pretty niche market. That said, Corsair's held up its end of this bargain: Cherry keys, decent-if-unremarkable battery life, durable and discreet form factor. Whether you're in for casual couch gaming or just want a cleaner, wire-free desktop, the K63 seems like a solid choice.
Best Prices Today: Corsair K63