Rakuten Kobo's Clara HD e-reader ($130 from Rakuten Kobo) costs $10 less than its main competitor, the ad-free version of the Kindle Paperwhite (reviewed here and available, of course, from Amazon). The casual observer could be forgiven for mistaking one for the other, as they share similar dimensions and the same display size.
But Kobo's done something with the Clara HD that Amazon hasn't bothered to do with its Kindle Paperwhite in some time: innovate. Boasting a number of needful features that the current generation Paperwhite can't match, the Clara HD is a superior device in almost every way.
Whether you should buy it—or dump your Kindle Paperwhite for it—is a more complex question that we'll wrestle with as you keep reading.
Note: This review is part of our roundup of the best e-readers. Go there for details about competing products and how we tested them.
Popular but not better
Kindle Paperwhite (2016)
Price When Reviewed:
$139.99
Hardware
The Clara HD definitely wins on hardware. With its trim dimensions (6.2 x 4.33 x 0.3 inches) and 5.85-ounce heft, the Clara HD is a featherweight compared to the Kindle Paperwhite. Add to that the textured plastic back, and the Clara HD is a comfortable hold, even one-handed, for long periods of time.
The Clara HD packs a six-inch, 300-ppi Carta E-Ink display, just like the Paperwhite does. While reading the same book on both devices over the course of a week, I didn't note any difference in the sharpness of text. The same can't be said, however, for images: the Clara HD displays photos at a much higher resolution.
The Clara HD's front lighting bests the Paperwhite as well. Its eight white LEDs provide more consistent illumination than the latest-generation Kindle Paperwhite's front lighting can. What's more, the Paperwhite is only capable of illuminating its display with white light. Not so the Clara HD. Given the propensity for white- and blue-spectrum light to keep folks awake at night, Kobo's orange ComfortLight PRO front lighting is a win for anyone who wants to wind down for the night by reading in bed.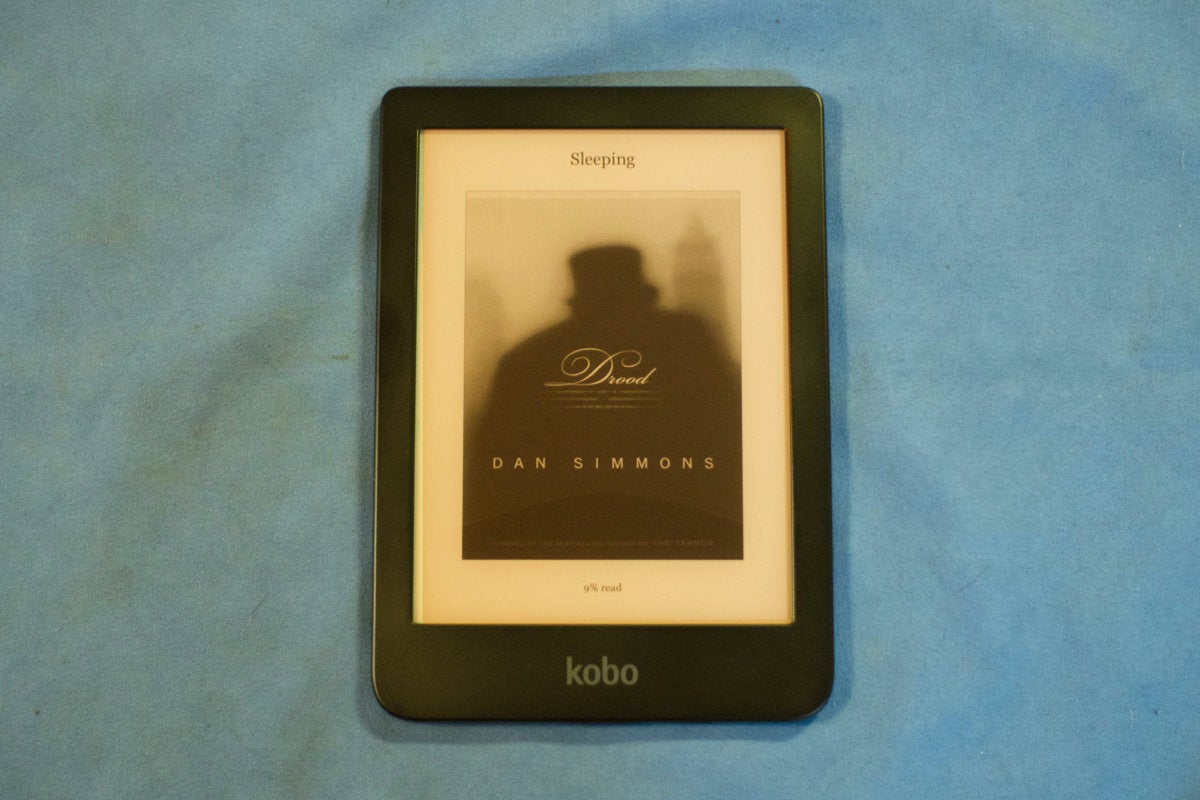 Buried inside of the Kobo Clara HD is a 1GHz Freescale Solo Lite processor and 512MB of RAM. For an E-Ink device designed to serve up text, this is a pretty zippy chipset. As for storage, you'll find 8GB of flash memory under the hood. That's twice as much as a standard Kindle Paperwhite has onboard.
Kobo makes no direct claims as to the battery life of the Clara HD. However, with its Wi-Fi turned off and its lighting set to no less than 70 percent I found, after approximately two hours of reading a day, spread over a seven-day period, the e-reader's battery was still sitting at around 60-percent capacity.
You should know that unlike Kobo's recent Aura One and Aura H2O Edition 2 e-readers, the Clara HD is not waterproof. With the Clara HD's relatively low price, this lack of water resistance shouldn't be a surprise. A Kindle Paperwhite won't survive a swim, either.
How to use the Kobo Clara HD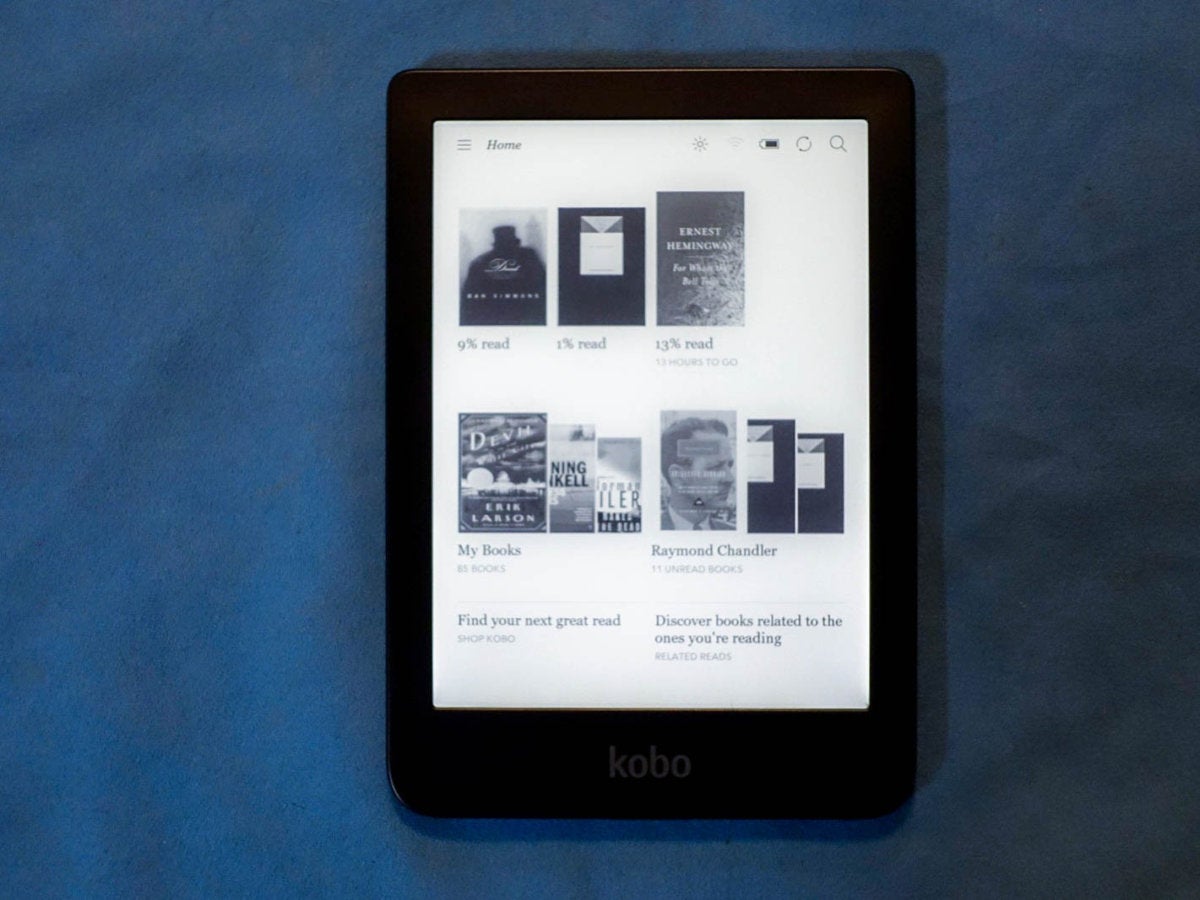 The Clara HD can handle EPUB, EPUB3, PDF, MOBI, JPEG, GIF, PNG, BMP, TIFF, TXT, HTML and RTF files.
As with Kobo's other recent e-readers, the Clara HD comes with only one physical button, for power. Page turns, as well as all other input, are made by tapping the Clara HD's display. The bevels around the device's display are wide enough that mistakenly touching a button takes work, but not so wide that turning a page one-handed while reading is a chore.
The e-reader's onscreen user interface is spartan and easy to navigate. The top of its home screen is lined with a drop-down menu that provides access to your library, Pocket articles (more on that in a moment), and a Settings menu. There are icons for managing the device's backlighting, Wi-Fi, and battery life, and options for searching your device's memory or syncing your books bought from the Kobo Store to the cloud.
Speaking of the Kobo Store, you'd scarcely know it's there. Unlike Amazon's subsidized, advertising-rich interface, the Clara HD's UI doesn't force new book suggestions down your throat. If you want to buy a book, the Kobo Store is accessible via a link at the bottom of your device's homepage.
In addition to reading books, it's also possible to consume articles saved to a Pocket account with the Clara HD. Kobo's Pocket interface is so slick that it makes a Kindle's ability to sync content from an Instapaper look archaic by comparison.
Unfortunately, the way that the Clara HD handles e-books borrowed from a local library, via Rakuten's OverDrive Service, leaves much to be desired. Borrowed books must be side-loaded, in the form of an Adobe Digital Edition, from a computer. The method for using the same service on a Kindle is much less harrowing. Considering that Rakuten owns both OverDrive and Kobo, this is inexcusable.
Kobo Clara HD vs. Kindle: It's the content
There's just one big problem with the Clara HD: the Kindle. Amazon's Kindle is the dominate e-reader in North America because Amazon dominates the ebook and digital periodical market. The company allows its users to share their content with their family and loan ebooks to friends. Amazon Prime members are offered a selection of free books to read on a monthly basis.
The Kobo Store doesn't come close to touching any this. You can forget about buying magazines in the Kobo Store, too.
That said, some people want nothing to do with Amazon, and Kobo's selection of books is growing every day. Chose your ebook seller accordingly.
Should you buy a Kobo Clara HD?
If it were just about the hardware, this would be an easy decision. Despite costing only a few bucks more than Amazon's Kindle Paperwhite, the Rakuten Kobo Clara HD is a superior e-reader in almost every way.
But Kobo can't compete with Amazon's expansive bookstore offerings, period. If you can find what you want to read in the Kobo Store, you'll be happy with your purchase. If, however, you have an extensive Kindle ebook library, an Amazon Prime subscription, or an addiction to magazines, you'd be better served by a Kindle, such as the Paperwhite that competes closely with the Clara HD.