At a Glance
Expert's Rating
Pros
Opto-Mechanical switch is speedy and clean feeling
RGB-enabled wrist rest is gaudy but cool
Finally, dedicated media keys on a Razer keyboard
Cons
Opto-Mechanical switch is deafeningly loud
Volume wheel is hard to use without looking
Wrist-rest illumination requires both USB cables to be plugged in
Our Verdict
Razer's Huntsman Elite needs another pass, particularly the awkward media keys, but its RGB-enabled wrist rest is eye-catching and the new Opto-Mechanical switch holds promise.
Best Prices Today: Razer Huntsman Elite
Optical switches. I knew they were coming to mainstream keyboards sooner or later. I started seeing them crop up at PAX a year or two ago, courtesy of a brand called—I'm serious—Bloody. (The parent company has the much more boring name A4Tech.) It was only a matter of time.
Turns out Razer is first out the gate, with the Huntsman Elite keyboard (MSRP $200) and what it's calling the "Opto-Mechanical" switch. A bit aggrandizing, as all optical switches are a blend of optical and mechanical parts. But, uh…well, it's Razer. I'd expect nothing less.
And if nerdy discussions about switch tech don't do it for you, an RGB-endabled wrist rest should catch your eye. Seriously. Let's dig into what's certainly Razer's most innovative keyboard in years, though I'll save the verdict for the end.
Note: This review is part of our best gaming keyboards roundup. Go there for details about competing products and how we tested them.
All of the lights
Razer doesn't do brand-new designs often. I've honestly lost count of how many BlackWidow revisions I've looked at over the years. That makes the Huntsman a novelty of sorts—a break from tradition at the very least.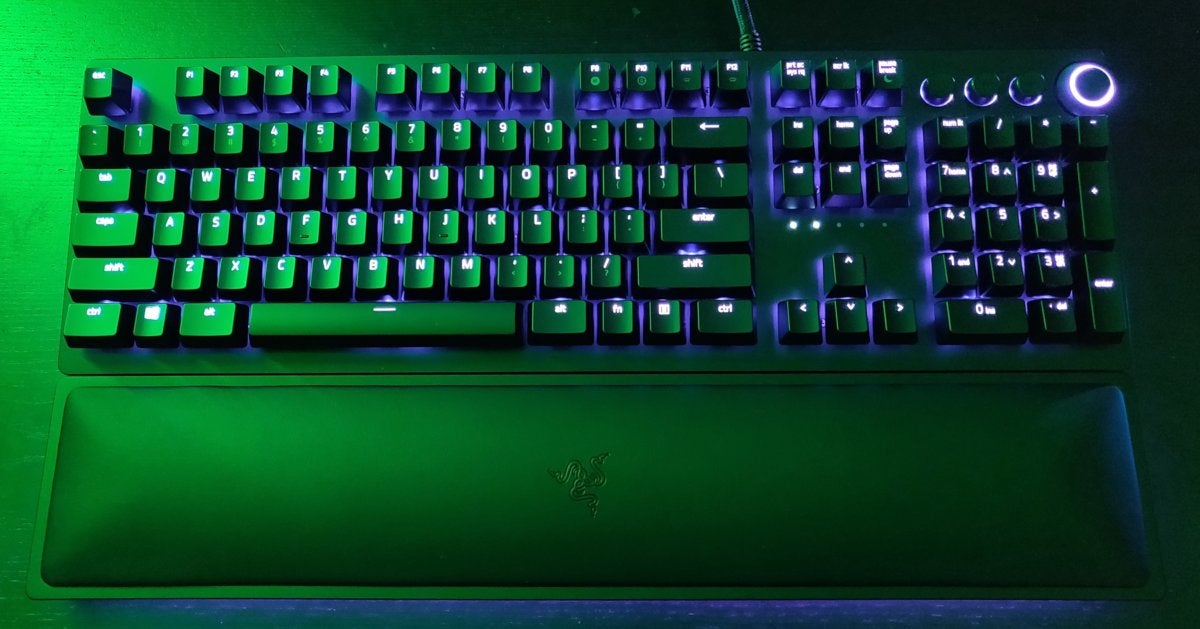 But don't expect too much change. In large part, the Huntsman resembles the BlackWidow X, with its exposed metal backplate and raised keycaps. It's not the BlackWidow X, and the chassis is a different shape, but "minimalist black rectangle" doesn't leave you a lot to work with. In other words, the layperson could be forgiven for mistaking the two at a glance.
A few details have changed though, mainly in the top-right corner block. On the BlackWidow, that's where you'd find all the indicator lights. On the Huntsman Elite? Dedicated media keys. Yes, finally. I've knocked Razer for years now about double-mapping its media keys to the Function row, and the Huntsman Elite design finally fixes the issue.
Okay, it's admittedly a bit weird: The baseline Huntsman? No media keys still. And on the Huntsman Elite? Razer's gone with a circle motif for the media keys, which is unique to say the least. Eye-catching, but not my favorite design.
Worse, the keys aren't as functional as I'd like. There's lighting underneath each key, but the actual controls aren't backlit. It's not that hard to intuit—Skip Back on the left, Play/Pause in the middle, Skip Forward on the right. Still, why not just illuminate them? No idea.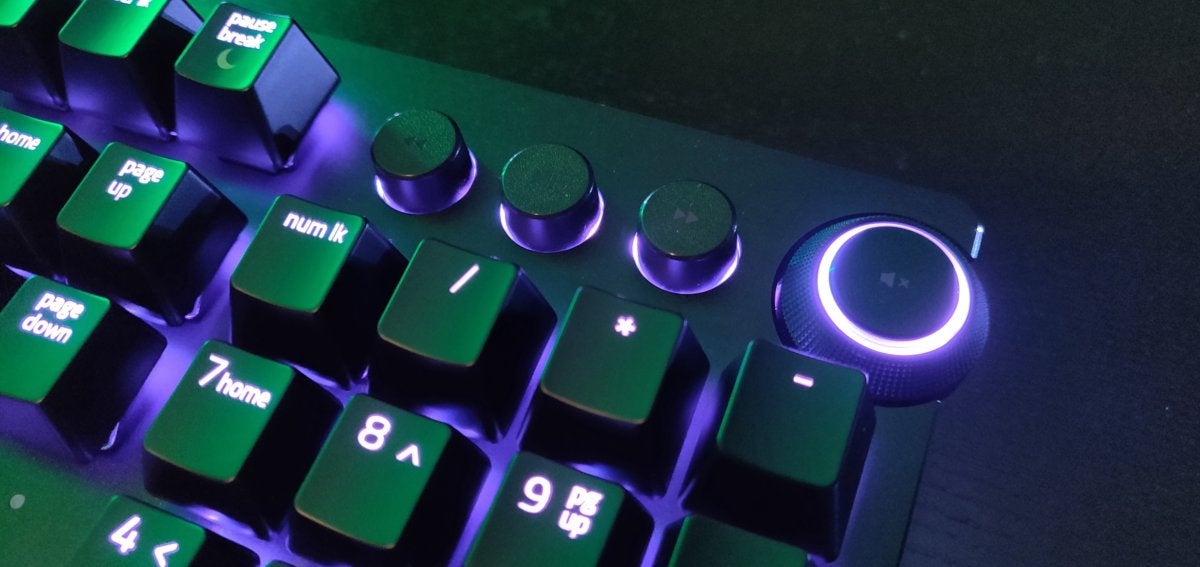 The volume wheel is the main offender though. It's like the old wheel on the original iPod. Spin it left and the volume decreases, right to increase. (And hit the button in the middle to mute.) It's not a very ergonomic design, and I've found it particularly hard to operate when I can't take my eyes off the screen. Trying to reach over the keyboard and grab it is a nonstarter. The only reliable way to use the wheel is to run your hand up the right edge of the Hunstman until you find it, then rotate.
It's just awkward, and indicates Razer might need a few iterations before it catches up with companies like Corsair and Logitech, which have had standalone media keys for years and years now. Still, a huge step up from having to hold down the Fn key and streeetch to hit F1 to F7.
An interesting side effect: Rather than cram the indicator lights under the media keys, Razer's instead opted to move them underneath the Home block, above the arrow keys. Not the first to do so, but it's slick looking.
The most noteworthy design feature of the Huntsman Elite, however, is the wrist rest. Namely, the fact that it's RGB-enabled. It looks similar to the wrist rest packaged with the BlackWidow V2, except the Huntsman Elite's has a row of pins along the top edge. When connected to the Huntsman keyboard, the wrist rest continues a ribbon of light that rings the entire base of the keyboard (as seen below).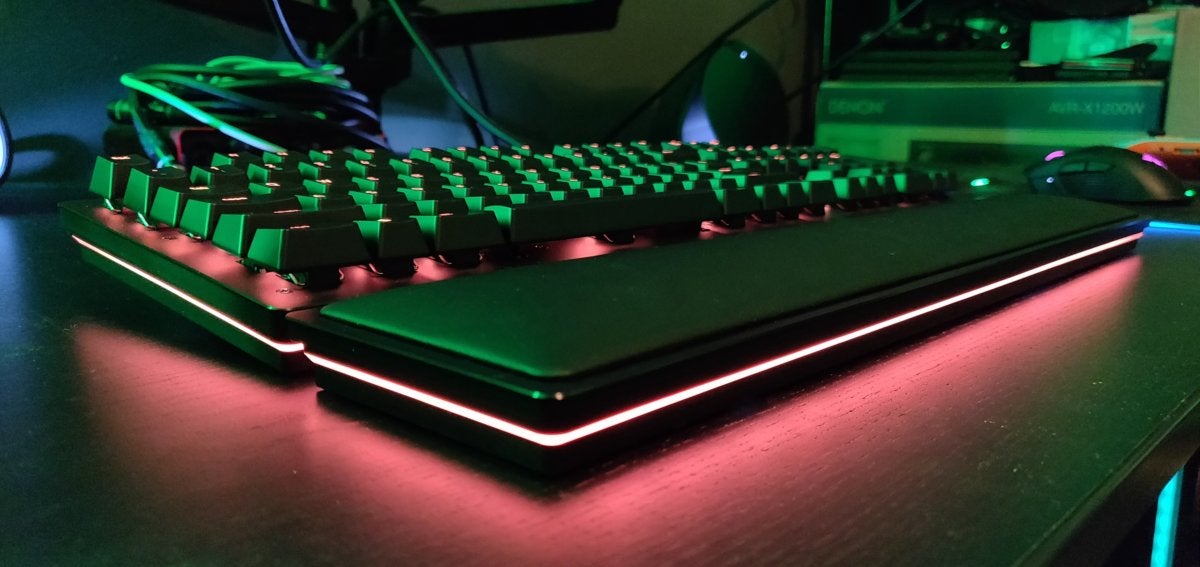 Dumb? Maybe. But it's fancy, matching the same "underglow" aesthetic found on Razer's Hyperflux mousepad and other peripherals. If you're an RGB fan, this is probably the prettiest keyboard you'll see, besides the Corsair K95 Platinum. The only downside: In order to illuminate both keyboard and wrist rest, you need to plug in both USB cables. Not really surprising I guess, but perhaps a pain for those (like myself) who are running out of USB ports.
Mentioned in this article
Gaming K95 RGB Platinum
Price When Reviewed:
$199.99
Laser beams
Anyway, on to the optical switch. As I said, Razer calls it "Opto-Mechanical," meaning it's a blend of optical actuation and mechanical feel. And again, this is a bit misleading because…well, that's true of every optical switch I've seen, such as A4Tech's LK Libra switch.
In fact, Razer's Opto-Mechanical switch looks a lot like the LK Libra, to the point where I'm pretty sure A4Tech is manufacturing Razer's switches—not that Razer's saying. The design is almost exactly the same though, with a U-shaped bit of plastic, a Cherry stem in the center, and a metal stabilizer bar on each key. Given the fact that Razer's Green and Orange switches started as rebranded Kailhs, I wouldn't be surprised if the same sort of deal was struck here, in which case it's doubly funny that Razer is marketing the Opto-Mechanical switch as a huge breakthrough.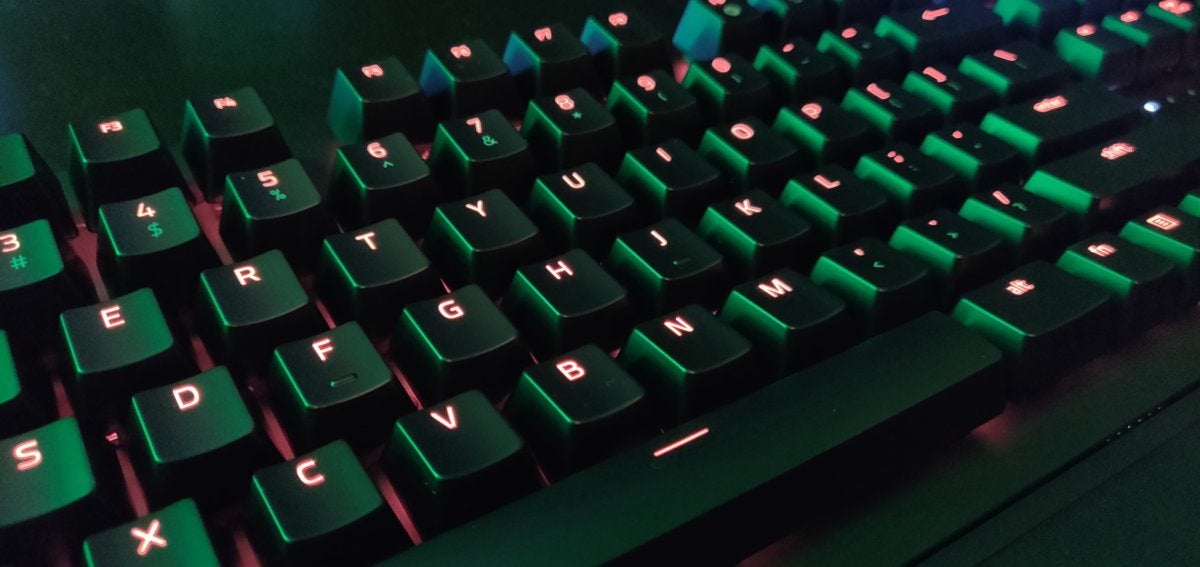 Razer's a globe-spanning brand though, and A4Tech isn't, so here we are.
Regardless, the point of the Opto-Mechanical switch is that the signal is sent at lightspeed—literally. In a standard mechanical switch you press down the key, metal contacts metal, a circuit is formed, and the computer then interprets that circuit as the key in question.
With optical keyboards, the process is almost exactly the same except instead of metal, the switch uses light. In A4Tech's switches, there's a horizontal laser underneath each key. A bit of plastic sticks up in the middle, and when you depress the key this plastic bit dips down, the two sides of the beam connect, and the signal is registered.
Razer's design flips this. In the Opto-Mechanical switch the laser shines unimpeded until you depress the key, at which point there's a break in the connection and this is in turn relayed as the proper signal.
In theory it's faster. In practice? Yeah, I doubt literally anyone on the planet will notice the difference. We're talking mere milliseconds here, the difference between a fully metal circuit and one that has a laser in it for a small stretch.
There are a few other benefits. Optical switches are supposedly more reliable, and also more durable. You can spill a beer on your keyboard and it'll probably work still. That sort of stuff. But these are edge cases for the vast majority of people, and more useful for Razer's marketing people than for you at home.
Ironically it's the boring ol' mechanical portions of the Opto-Mechanical switch which are more important, as they dictate how it actually feels to type on the Huntsman Elite.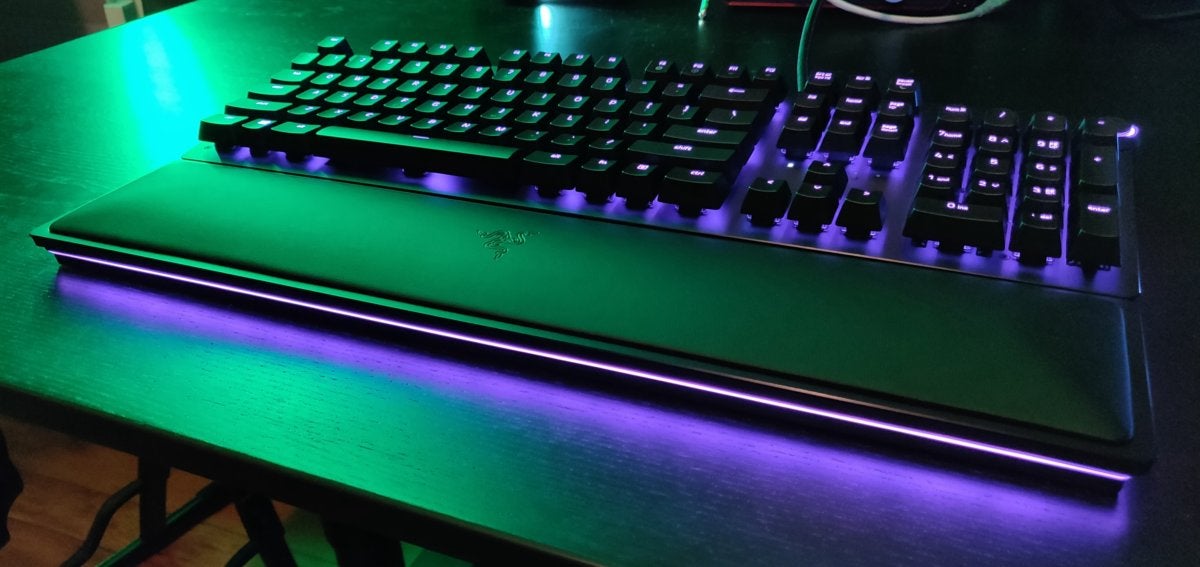 First, let me say: They're loud. Like, really loud. I have a lot of Cherry MX Blue boards lying around because they're my favorite switch, and they're known to be the bane of roommates/partners/coworkers the world over. The Opto-Mechanical switch is louder.
Not just louder, but higher pitched too. It makes a hollow thunk when pressed, with a sort-of metallic echo on the way back up. We're not at buckling-spring levels of noise, but it's certainly enough to annoy anyone nearby.
That said, I like the way it feels. It's different, for sure, with the same 45 gram force requirement as the lightweight Cherry MX Red, but a shallow 1.5mm actuation point and the tactile click of a Cherry MX Blue. An odd blend, and not one I think is suited for typing necessarily.
But for gaming? It's damn fast. Like Corsair's Cherry MX Speed switch, it feels almost like the Opto-Mechanical actuates as soon as I've thought about pressing the key. We're talking millimeters of difference here, so whether it's actually that much faster is doubtful. You're fine sticking with your Cherry MX Blues or whatever if that's what suits you.
I didn't hate it though, which is more than I can say of a lot of Cherry knockoffs. I found myself making more errors while typing, same as the MX Speed, but I was also surprised how much heavier my standard Blues felt once I went back. If you want a lightweight tactile board, the Huntsman Elite might just be the one for you.
Bottom line
Of course, it's also a $200 keyboard. That puts it right up there with the aforementioned Corsair K95 Platinum, a keyboard we currently have listed as our "splurge" keyboard pick—meaning there are a hell of a lot of great mechanical keyboards you could pick up for half the price. The Huntsman Elite is unique, and even impressive in some small ways. I love the wrist rest, gaudy as it is, and the Opto-Mechanical switch is pleasant if not quite as revolutionary as Razer makes it out to be.
The media controls need another pass-though, and there's not much about the Huntsman Elite that makes it a must-buy. Not at this price, at least. Hopefully, if optical switches catch on, they'll also become more affordable, else it seems smarter to stick with plain ol' metal-on-metal. It might not be as sexy as laser beams, but it's already hard enough convincing people to spend $100 on a keyboard. Twice that? Ha.
Best Prices Today: Razer Huntsman Elite