Editor's Note: This story has been updated as of Nov. 2 to add details of a new 4GB RAM/128GB storage option.
For all of Microsoft's claims about mobility, the Microsoft Surface lineup of Windows tablets really haven't been all that portable. The smaller, cheaper, lighter Surface Go announced Tuesday morning hopes to change all that, with a new 10-inch spin on the traditional Surface tablet.
No, this isn't the Surface Mini, or the rumored two-screen device, "Andromeda." The Surface Go is most reminiscent of the Microsoft Surface 3, 2015's quirky $499 Atom-powered tablet that provided a cheaper alternative to the pricey Surface line. The Surface Go dives even lower—prices start at just $399 for a bare-bones model with 4GB of memory and 64GB of storage when it ships on August 2. A keyboard will be sold separately, beginning at $99, and the optional Surface Pen will cost $99 as well.
As the name suggests, Microsoft designed the Surface Go for people in motion: the sales exec who makes a quick edit or two to a presentation while at her daughter's soccer practice, for example. A Wi-Fi-only model will ship first, followed an LTE model later in 2018. According to a Microsoft spokesman, the difference between the Surface Go and a device like the Surface Pro (2017) is a matter of degrees: of price, performance, and screen size.
It's also a matter of operating system and processor. Microsoft will pre-load each Surface Go with Windows 10 S, specifically Windows 10 Home in S Mode—it's assumed that you'll be able to upgrade out of S mode, if you wish. A commercial variant will ship with Windows 10 Pro. The Surface Go is powered by a Pentium 4415Y "Gold" chip, the very bottom of Intel's 7th-generation (Kaby Lake) family of Core processors.
What this means: The Surface Go enters a tablet space whose most popular players include the Android-based 9.7-inch Galaxy Tab S3 for a lofty $599 and the far more affordable Amazon Fire HD 10 for a mere $150, as well as, of course, the dominant Apple iPad, which starts at $329. It appears that Microsoft is shooting for somewhere in the middle: a price point low enough to broaden the Surface user base, and a feature set that includes a stylus and keyboard to keep up with the Samsung and Apple competition (The Fire HD 10 has neither).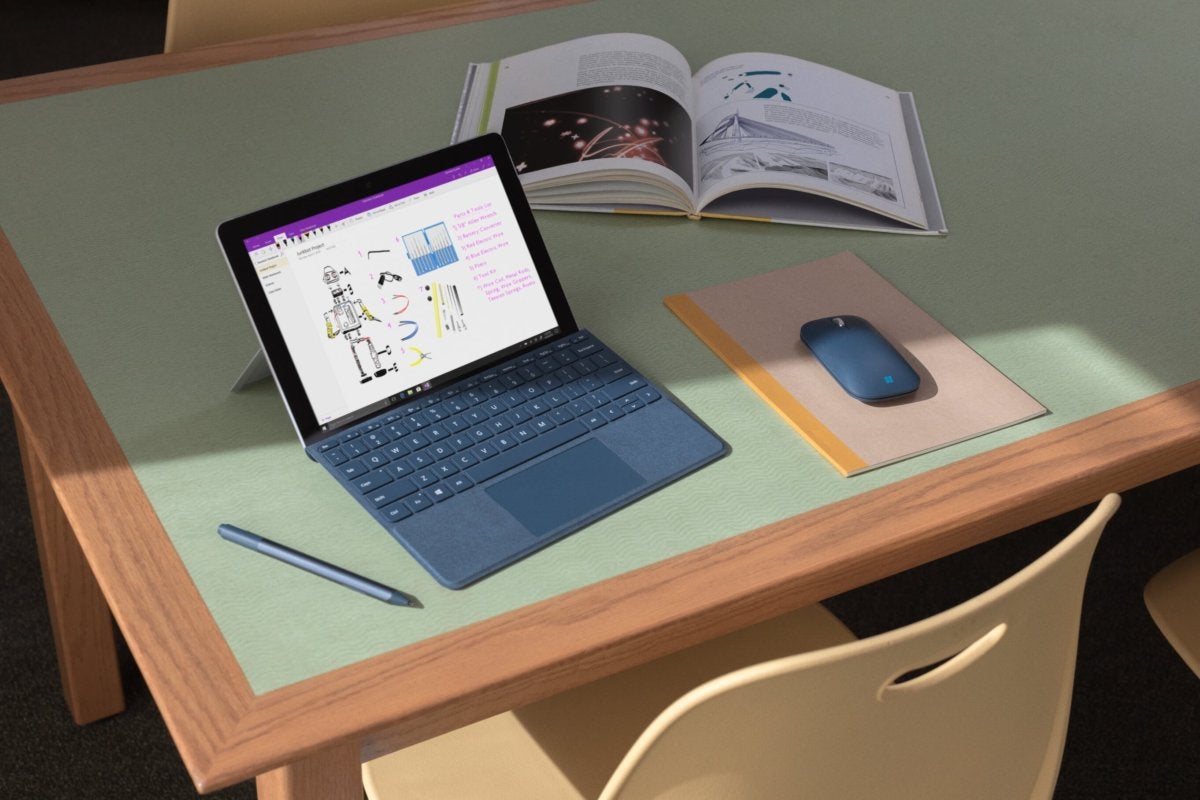 A Windows tablet for consumers
There's a big question at the heart of this, though: Have Windows users been clamoring for a basic Windows tablet? The Surface Go does seem to be Microsoft's answer to criticism that the Surface lineup has been just too expensive.
The specs that follow describe a small, modestly equipped tablet that no one will mistake for a Surface Pro—small enough to fit on an airplane tray table with the seat in front reclined, Microsoft says. It seems to have enough equipment to handle Windows 10 S, at least. Remember that you'll be limited to using apps from the Microsoft Store, and browsing with Microsoft Edge.
Surface Go: Basic specs
Display: 10-inch (1800×1200) IPS, 10-point touch
Processor: Intel 1.6GHz Pentium 4415Y (Kaby Lake)
Graphics: Intel HD 615 (integrated)
Memory: 4GB/8GB
Storage: 64GB eMMC/128GB SSD (256GB SSD in the commercial model)
Ports: 1 USB 3.0 Type C, 1 Surface Connector, microSD, headphone jack
Wireless: 802.11 a/b/g/n/ac Wi-Fi, LTE later in 2018
Cameras: 5MP front (Windows Hello-capable), 8MP rear (with autofocus)
Battery: 27Wh, 9 hours (estimated) of battery life
Operating system: Windows 10 Home in S Mode (Windows 10 Pro for commercial model)
Dimensions and weight: 9.6 x 6.9 x 0.33 inches, 1.15 pounds (tablet), 1.6 pounds (tablet plus keyboard)
Price: Starting at $399. Keyboard is $99 (black) or $129 (burgundy, cobalt, platinum)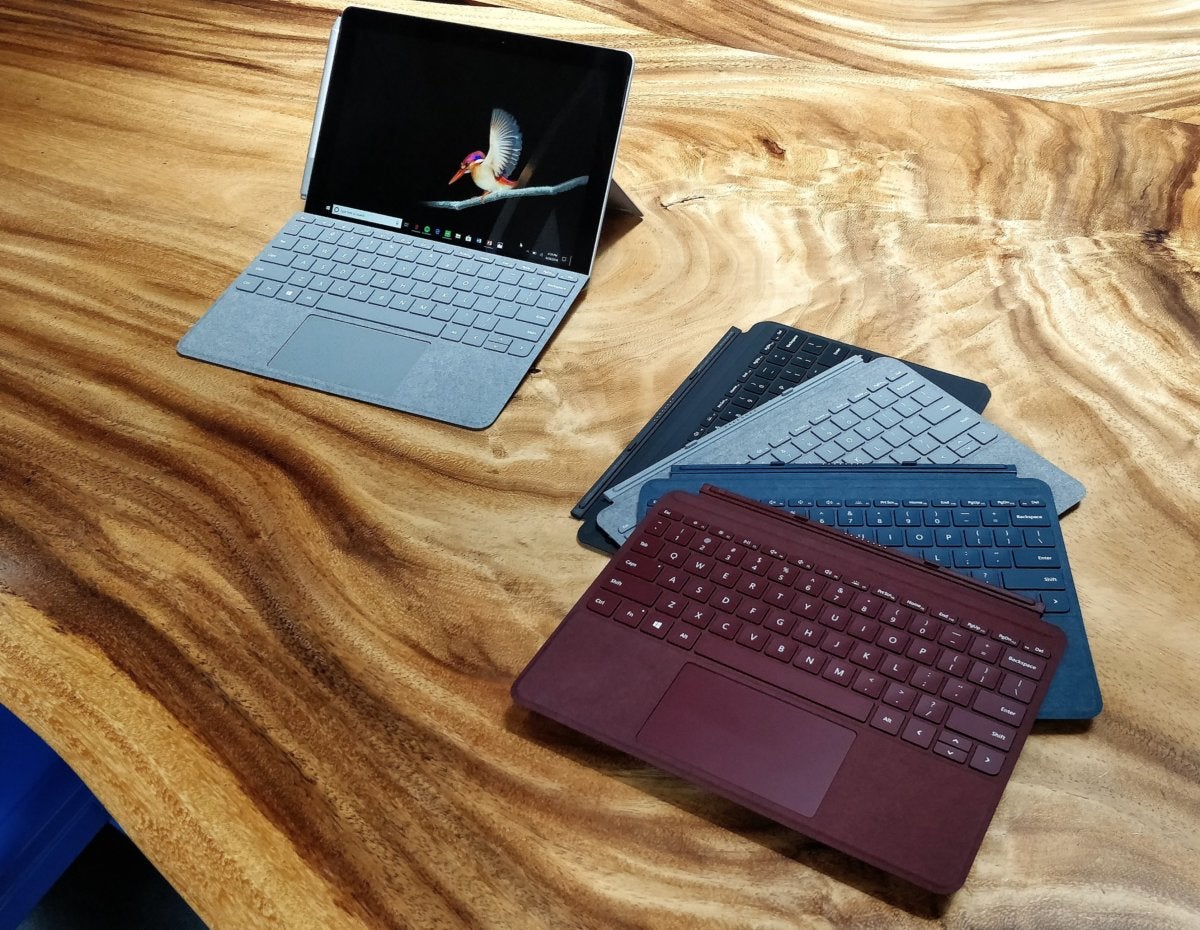 A new, smaller Surface to go
Microsoft said that there will be two consumer versions of the Surface Go: one with 4GB of memory and 64GB of SSD storage for $399, and an 8GB (memory)/128GB (storage) version as well, for $549. As of November, Microsoft added a third version: a 4GB RAM/128GB storage model for $499. With a keyboard, the cheapest Surface Go will cost just under $500. There will also be two commercial models with some beefier specs—the same processor, but 4-8GB of memory and a 256GB SSD.
Surface Go (consumer):
4GB RAM/64GB SSD storage: $399
4GB/RAM/128GB SSD storage: $499
8GB RAM/128GB SSD storage: $549
Type Cover: $99-129, depending on color
Surface Mouse: $39
Surface Pen: $99
Surface Go (commercial):
4GB RAM/64GB SSD storage, $449
8GB RAM/128GB SSD storage, $599
Type Cover: $99-129, depending on color
Surface Mouse: $39
Surface Pen: $99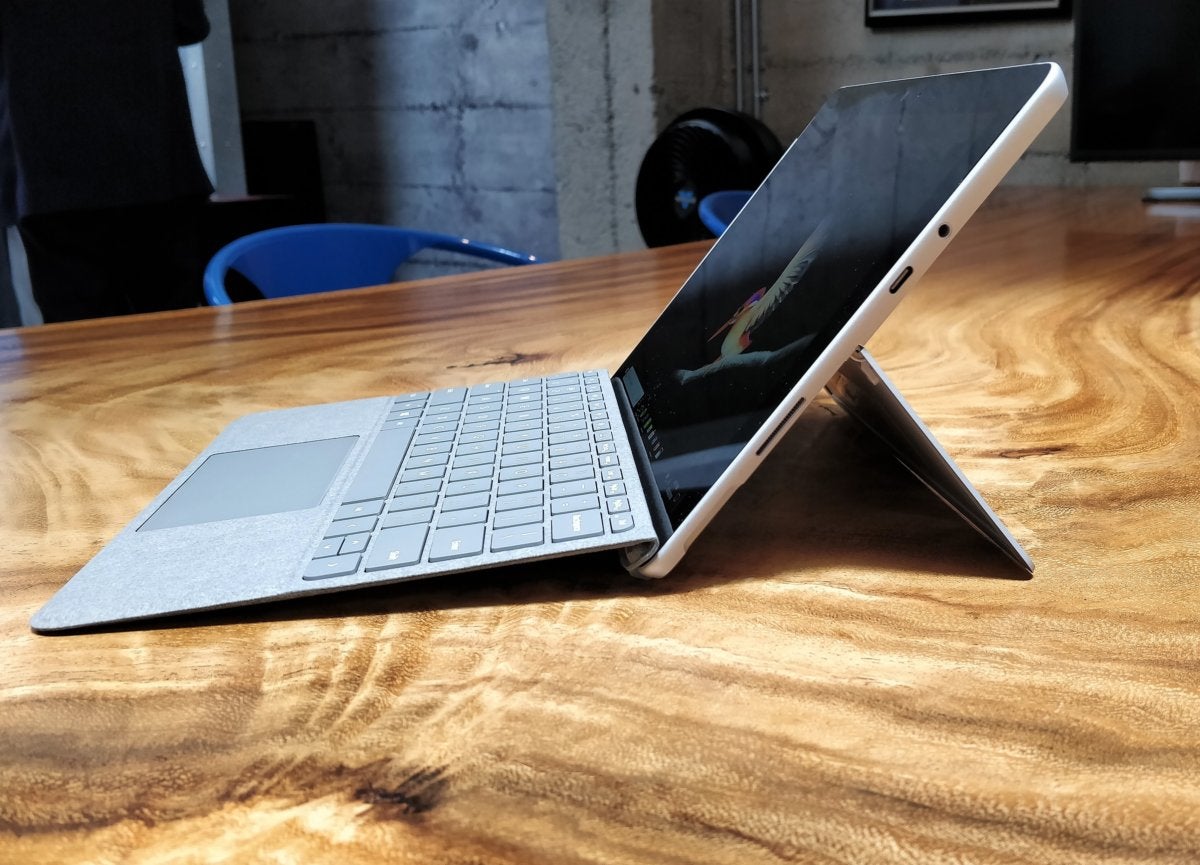 Unlike previous Surface iterations —remember the Surface Book 2?—the Surface Go launches without fanfare, with accessories available in four colors: black, burgundy, cobalt blue, and the silvery "platinum" of existing Surface models. Naturally, the Alcantara-covered keyboards are color-coded to match the new Surface Mobile Mouse to go along with it, beginning at $39. There's also a new iteration of the Surface Pen, with 4,096 levels of pressure sensitivity, that will be offered as a $99 option.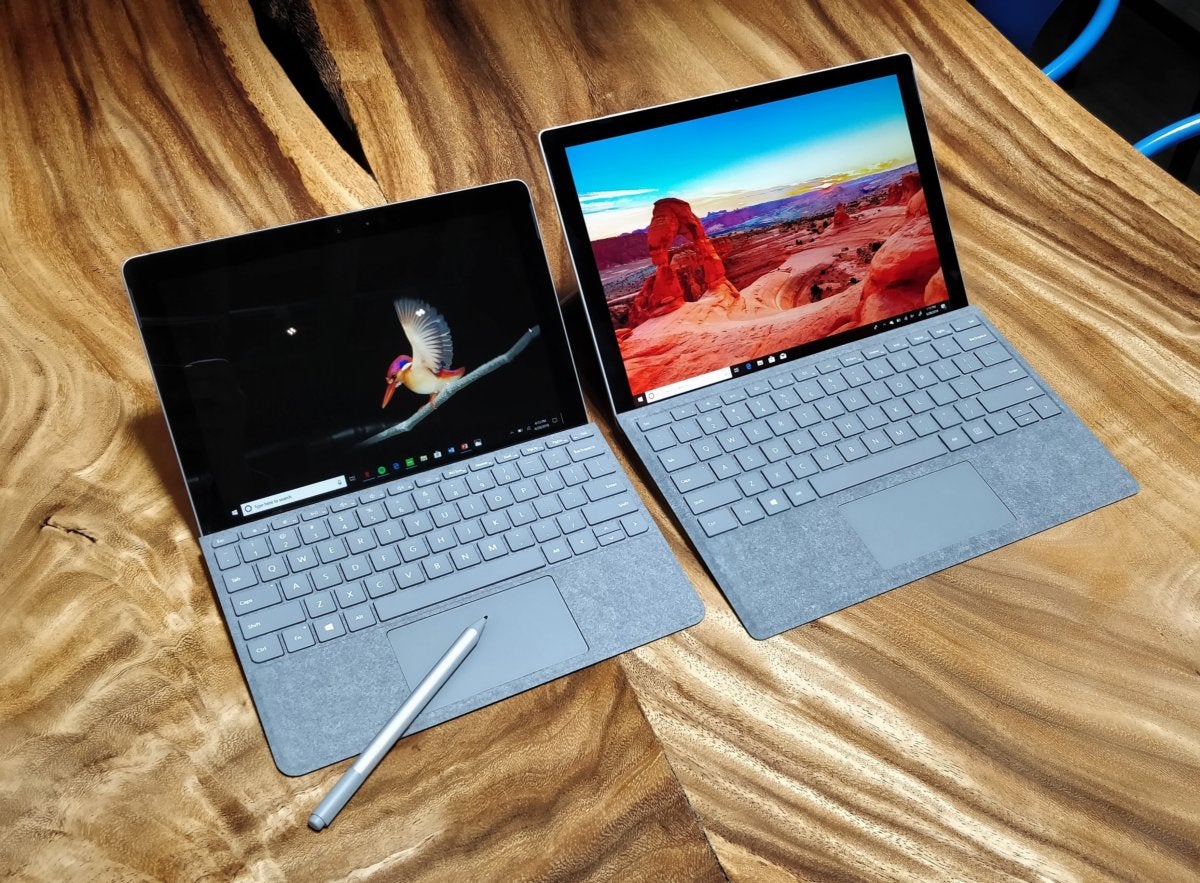 In a move that hearkens back to the Surface 3, you'll have a couple of options to choose from when charging: the traditional Surface connector and power plug, or USB-C. The higher-speed Thunderbolt interface has not been included.
Though we didn't have a chance to use it for a long period of time, the Surface Go's smaller form factor implies a different use case compared to its larger and pricier cousins. Though Microsoft sells the keyboard separately on the Surface Pro, its presence is virtually assumed. That's not necessarily true with the Surface Go.
While the compact design has its compromises, it's still a handy size for anyone who travels frequently. It fits on a tray table, the Microsoft spokesman said. Underneath hides the traditional microSD slot of most Surface devices.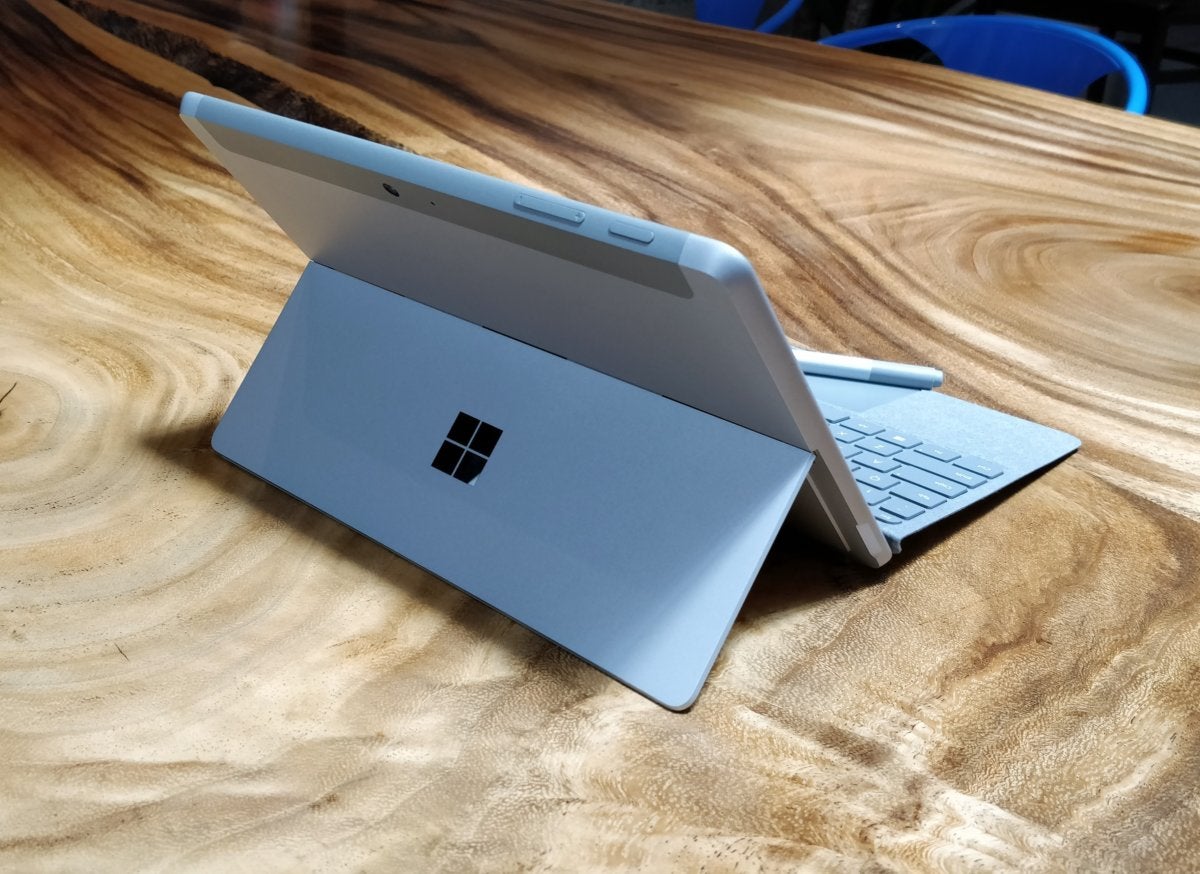 You may not need the keyboard, but Microsoft has paid attention to it nonetheless. A spokesman said the company has been busy making small changes to maximize comfort and typing speed. Though the keys are smaller than normal, for instance, they boast a slight concavity, to improve the landing area. (The keyboard is about 85 percent of the size of the Surface Pro's, according to Microsoft.) Key travel is about 1mm, versus the 1.5mm or even 1.75mm on competing tablets and notebooks. All told, Microsoft believes that typing rates will be about 96 percent of what you can achieve on the Surface Pro's Surface Keyboard.
Microsoft also disclosed details of the new, updated wireless Surface Mobile Mouse, the ambidextrous accompaniment to the Surface Go. The Mobile Mouse is relatively flat, and is designed to be carried in the same bag or briefcase that the Go is. It's powered by a pair of AAA batteries, with a battery life of about a year. The 4,000 fps Bluetooth mouse is also one of the first to use Swift Pair, the new Windows 10 technology that allows the mouse to signal the PC that it's ready for pairing.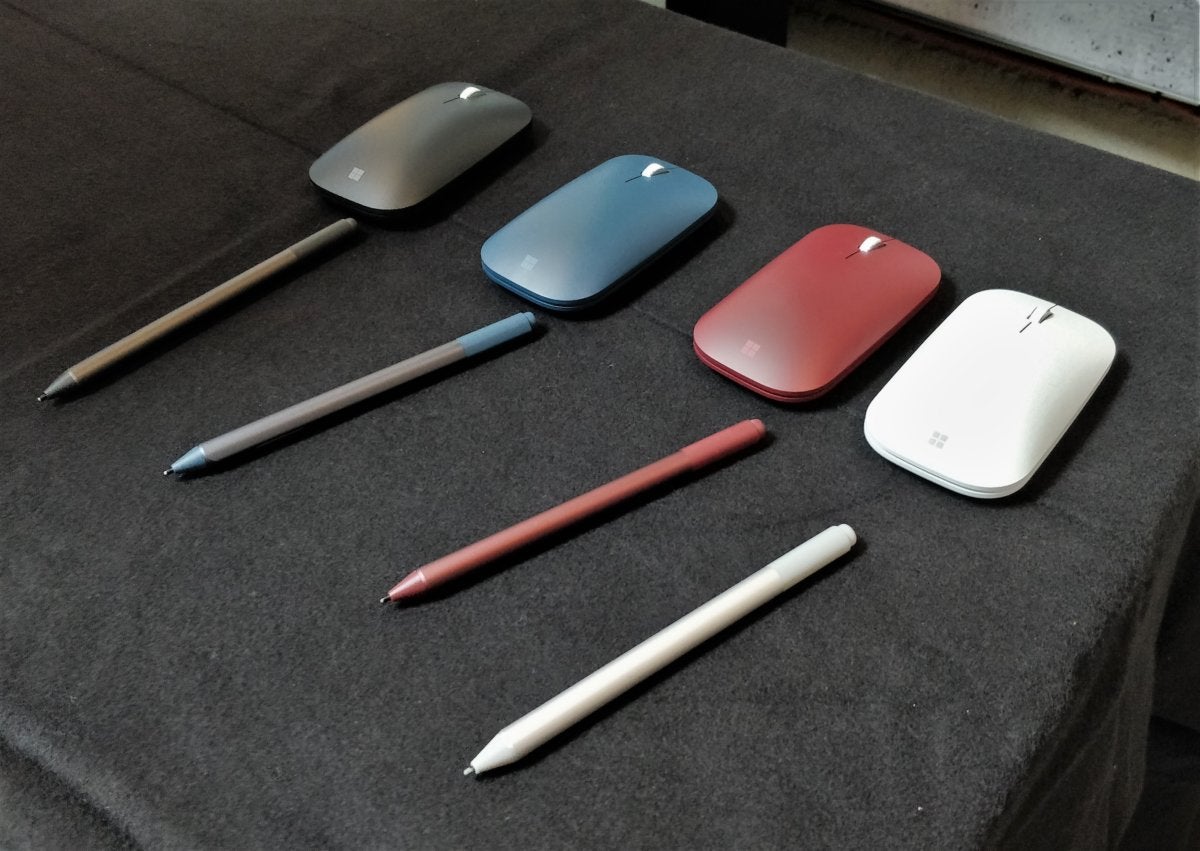 Performance will be modest
Microsoft's Surface lineup offers a range of processor options, from the powerful 8th-gen Core chips available within the Surface Book 2, to the Core i7-7660 within the Surface Pro (2017), down to the 6th-gen Core chips within the Surface Studio. With the Surface Go, Microsoft's carving out an even lower tier.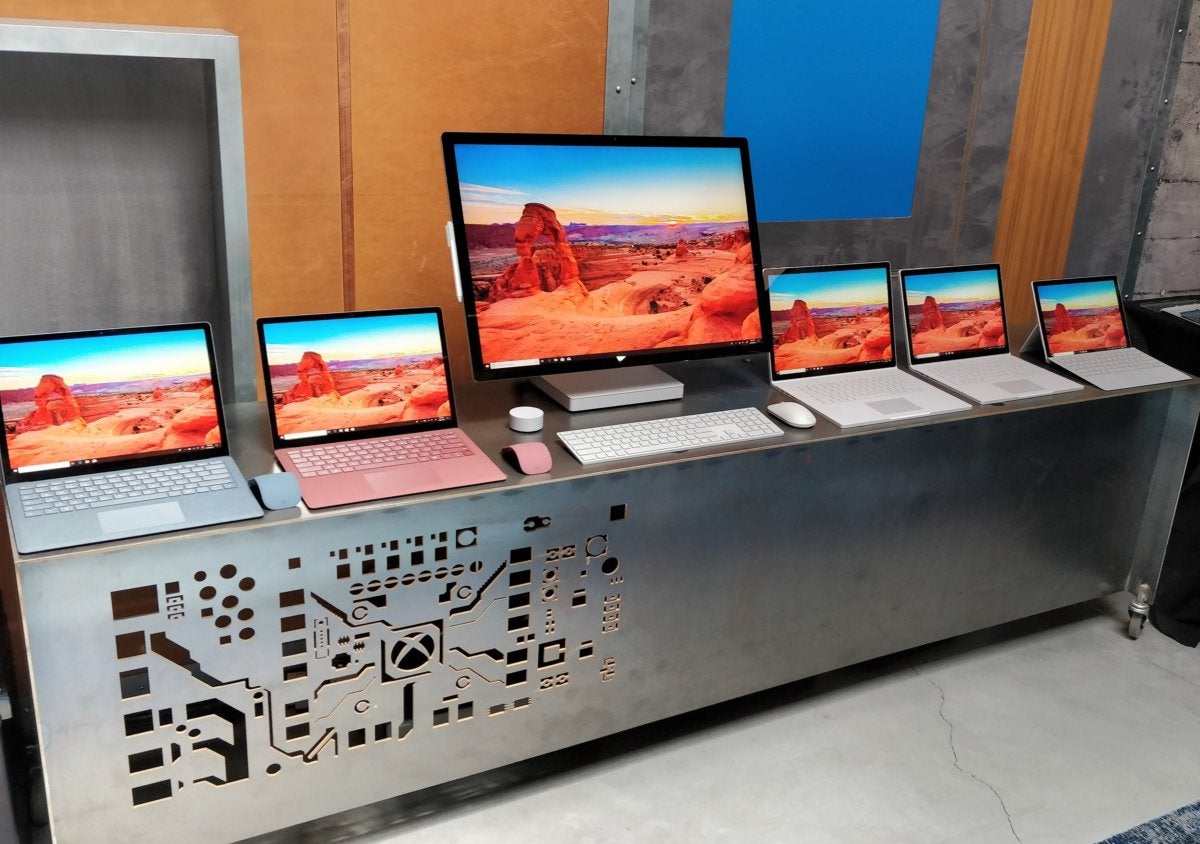 Expect to hear a number of comparisons to the Surface 3 and its 1.6GHz Intel Atom x7-Z8700. According to Microsoft, the Surface Go has double the processing power and 2.5 times the graphics power of the Surface 3. Versus the Surface Pro 3—the first Surface Pro product to break out into the mainstream—the Go has about a third more performance than the Core i5 SP3, and about 20 percent more than the Core i7 version.The Go also has enough horsepower to drive a single 4K monitor at 60Hz, and a pair of 4K monitors at 30Hz. Compare it to rival tablets using 8th-gen Core chips, though, and then Surface Go will lag far behind.
One question, of course, is why Microsoft chose an X86 part, rather than an Atom or even one of the new power-sipping Qualcomm chips. The answer, according to Microsoft, is simple: because customers prefer it.
"We're standardizing on X86, because many of our corporate customers, do, and they have multiple generations of apps and services on X86 that run on them," the Microsoft spokesman replied. "Surface is X86 across the board." According to the Microsoft spokesman, that's enough performance for traditional multitasking, along with browsing in multiple tabs.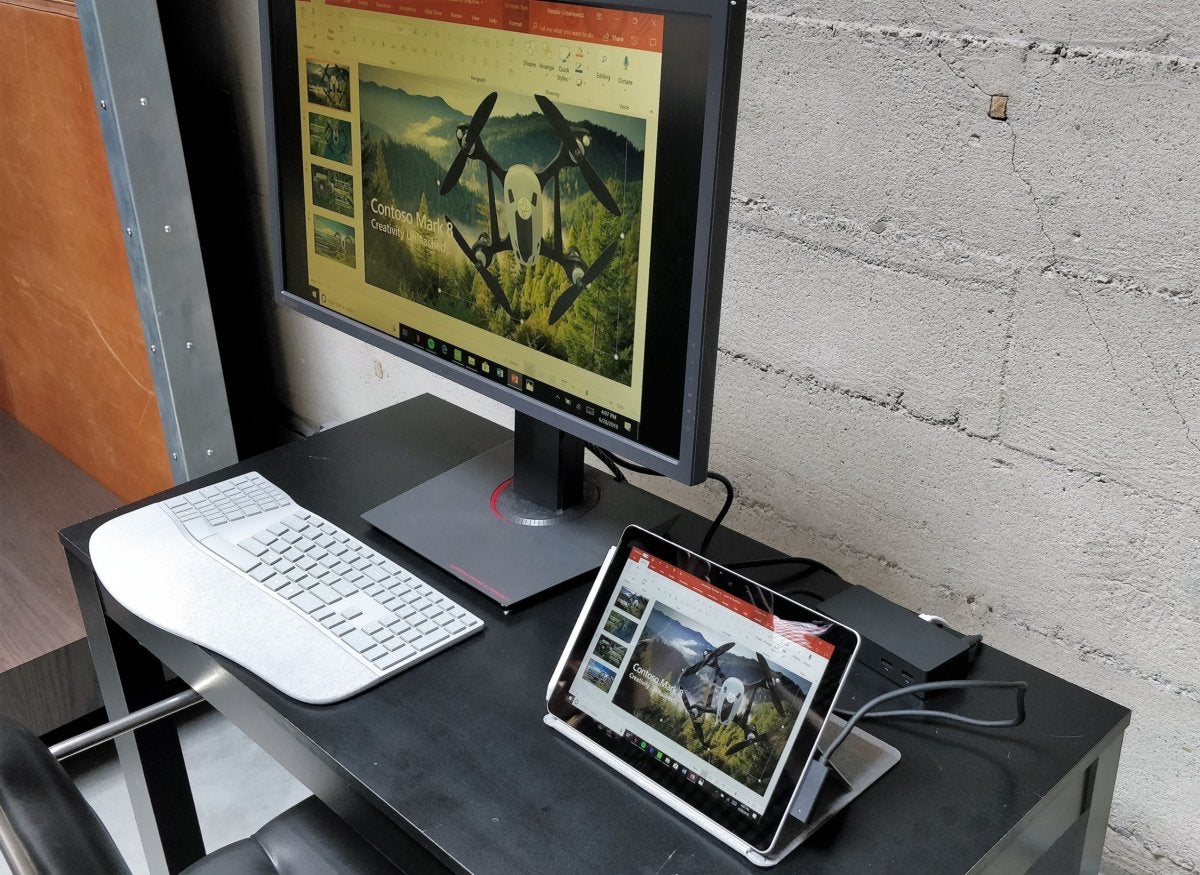 Who's going to go with the Go?
I didn't have a chance to perform what I'd call a full hands-on, though the Surface Go does feel light—together with the keyboard, the Surface Go is lighter than just the SP3 alone, without its Type Cover. Typing on it will almost certainly require some effort, because the keyboard is smaller and its keys are shallower.
We often look back at products to discover a quirky feature that was ahead of its time. In this case, that was the Surface 3 LTE, which shipped with support for T-Mobile and Verizon in late 2015. Now, pervasive connectivity is becoming more important. When Microsoft killed the Surface 3 in 2016, analysts debated whether there was a need for another, low-cost Surface.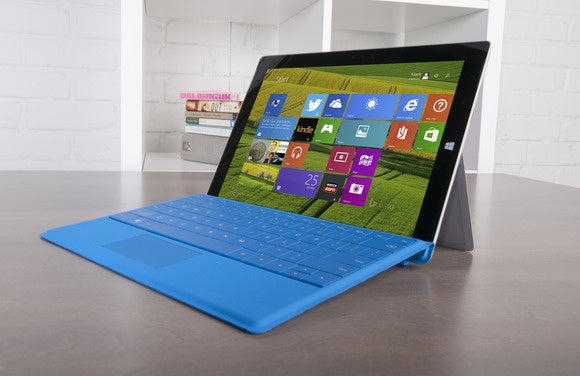 And that's the question upon which hinges the Surface Go's success. Microsoft has always carved out the upper echelon of tablets and notebooks as a way to increase revenue for the PC market, and to show what the PC platform could achieve. Now it's heading in a different direction, exploring whether consumers might prefer something less expensive. Remember, there's nothing stopping a Surface Go buyer from attaching a USB-C hub or Surface Dock and using the Go as a "desktop" computer, too.
Traditional Surface fans tend to look down on everything but the highest-performance machines. With the Surface Go, Microsoft appears to be making a conscious effort to appeal to everyday users as well.