At a Glance
Expert's Rating
Pros
Crystal-clear Cherry MX RGB lighting
Dedicated media controls, including a volume wheel
Software is 100% optional, and HyperX won't nag you about it
Cons
Flimsy wrist rest
Oversized footprint, with a lot of empty space
The software (somehow) weighs in at over 1.1GB after install
Our Verdict
HyperX's flagship keyboard has brilliant lighting and our favorite Cherry MX switches, but unwieldy software, a hefty price tag, and an oversized design hold it back.
Learning is a process, right? It certainly has been for HyperX and its keyboards. First there was the stripped-down HyperX Alloy FPS in late 2016—a no-frills budget keyboard that, as I wrote at the time, "focused on the fundamentals."
The new HyperX Alloy Elite RGB ($170 on Amazon) is the opposite end of the spectrum, decked out with RGB lighting, media keys, a wrist rest, and a much larger footprint. It's the flagship. So how does it fare against the competition? We went hands-on to find out.
Note: This review is part of our best gaming keyboards roundup. Go there for details about competing products and how we tested them.
Big brother
It really is large. That's not unheard of in this space—Corsair's K95 Platinum has an oversized footprint too, for instance. But I think it's more noticeable on the Alloy Elite because a lot of that space is just empty. There's a normal keyboard, sure, and then above it is an inch-deep strip of nothing.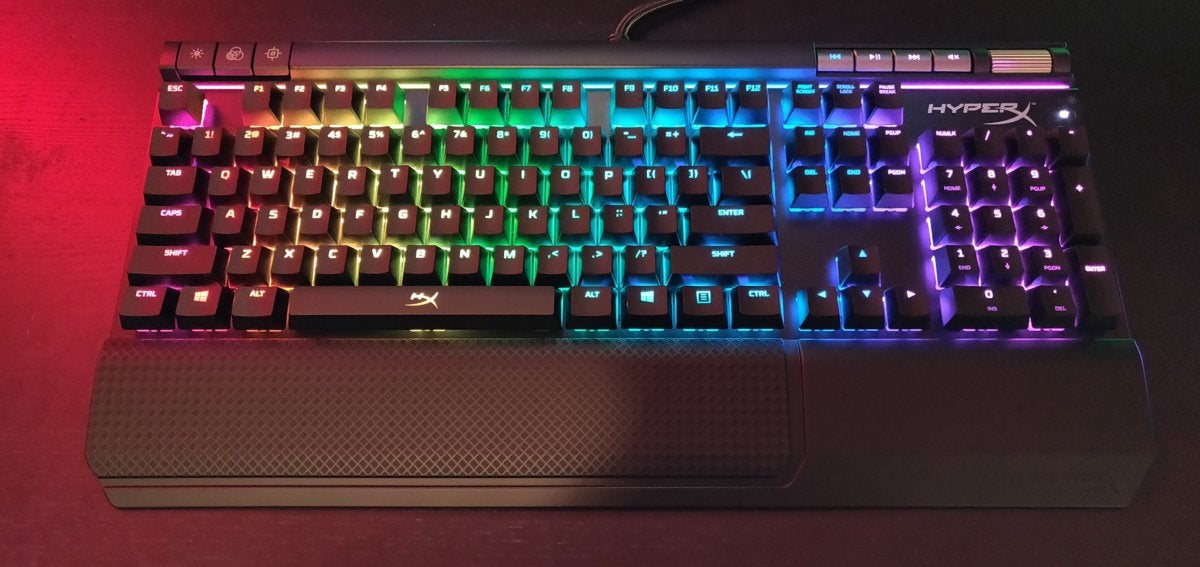 Okay, not quite nothing. That strip houses the media keys in the top-right corner, including HyperX's take on a volume wheel, still the most intuitive control method I've seen. It also includes three keys in the top-left: Brightness, Profile Switching, and Game Mode. Those are usually double-mapped to the Function keys on most boards, which ensures I'll almost never use them. Having them easily accessible here has changed that.
Mentioned in this article
HyperX Alloy FPS Mechanical Gaming Keyboard
It's a pretty huge forehead though, and the majority of it is wasted space. I wish HyperX had found a better way to integrate all these controls in-line with the rest of the Alloy Elite, because it's chunky looking in its current form. The polar opposite of the Alloy FPS, which is one of the smallest full-sized keyboards I've used. There's a large HyperX logo in the top right of the keyboard proper, and I can't help thinking that space could've been better used for controls.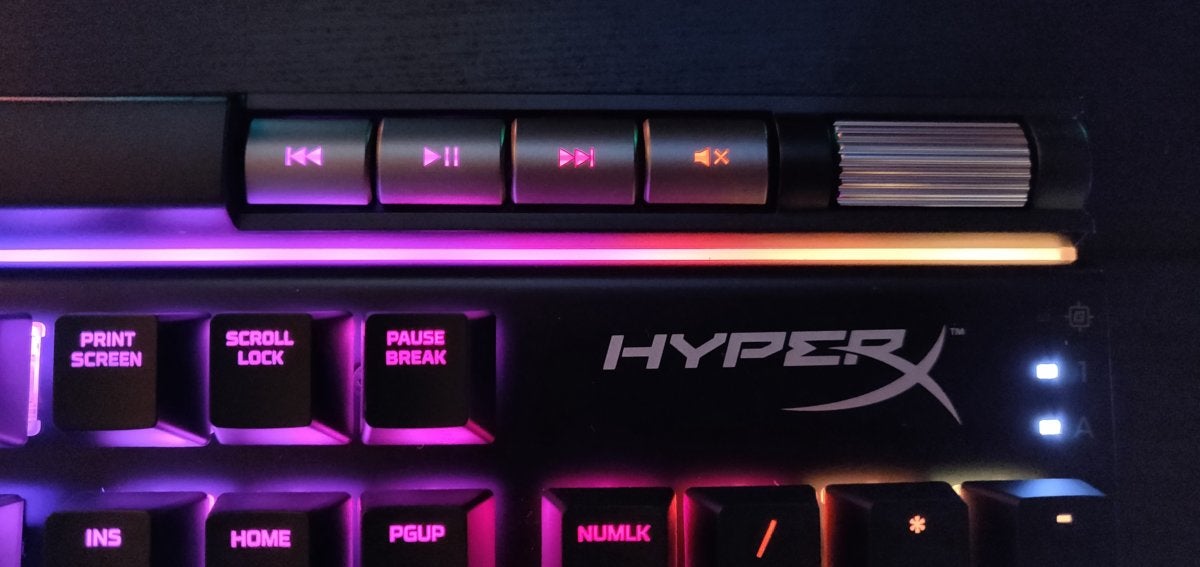 That said, the Alloy Elite is otherwise attractive (if unremarkable). Exposed backplate, elevated keys, RGB lighting—it's right on trend. There's a proper USB passthrough this time instead of a charging port, which I appreciate. And it even has an RGB ribbon between the keyboard proper and that empty strip. Not quite as eye-catching as the K95's edge lighting or the Razer Huntsman Elite's underglow effect, but it's unique and also not as distracting to the person typing.
Lighting is vibrant and even too, as I'd expect from any board running Cherry MX switches these days. If you want Corsair-level lighting for a much cheaper price, the Alloy Elite's not a bad way to get it. There's one aspect I haven't gotten used to, however: To compensate for the offset LEDs under the keys, HyperX pushes both primary and secondary functions to the top of each key. For instance, both "4" and "$" are aligned to the top edge. It's a bit cramped looking.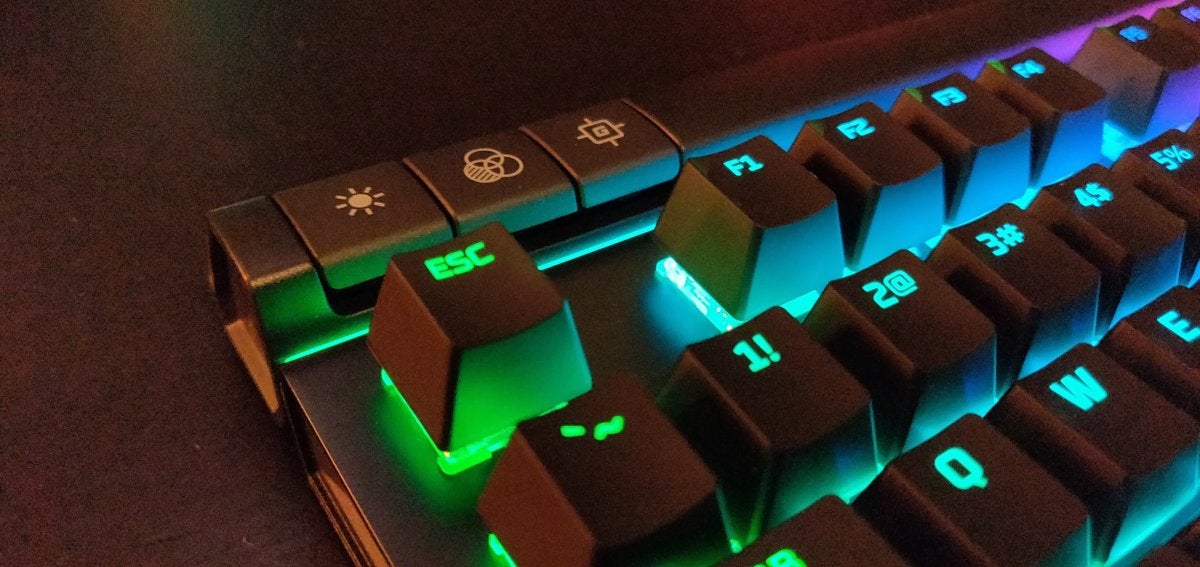 Mentioned in this article
Logitech G513
The wrist rest is the Alloy Elite's real weakness though. In this age of the Logitech G513 and the Razer BlackWidow Ultimate, HyperX's thin-piece-of-coated-plastic wrist rest looks outdated—and HyperX runs with the same sort of design here. It's soft-touch coated and not exactly unpleasant to type on, but it's a far cry from the premium wrist rests we're seeing from the competition nowadays. Mine also flexes in the middle, not quite lying flat on my desk. A minor annoyance, but testament to its flimsiness.
NGenuity
Let's talk software because, well, HyperX has never had any before. Previous devices have been some of the last holdouts of the old software-free approach. HyperX's Pulsefire mouse, for instance, used the aging Pixart 3310 sensor, where DPI switching is commonly done by way of a hardware button.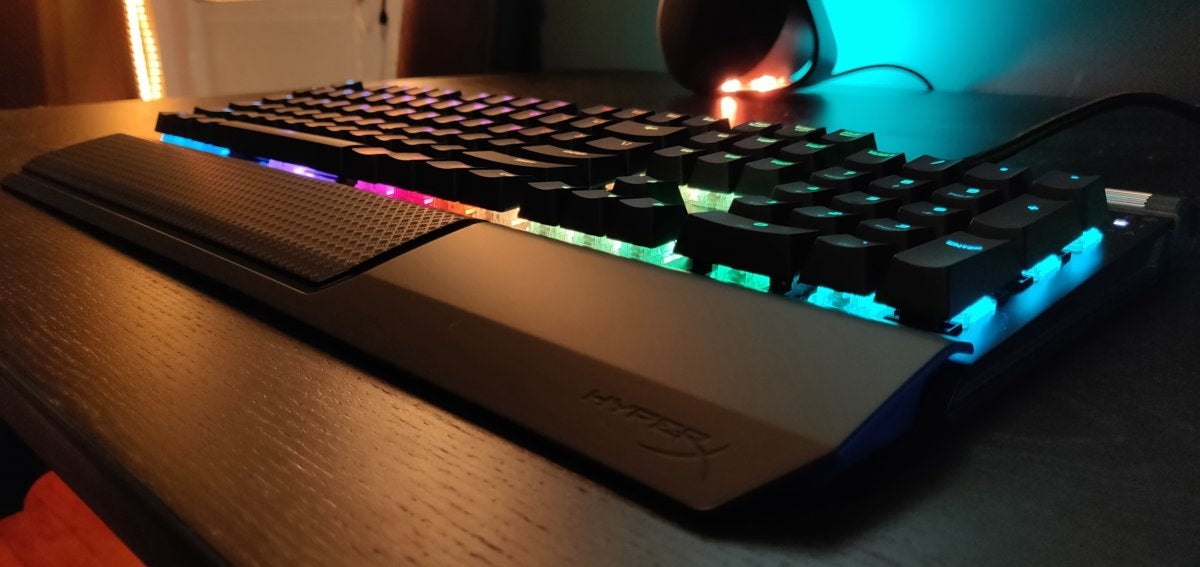 And to some extent that approach continues here. The Alloy Elite is, I'd say, "software optional." Nothing will ever pop up urging you to install HyperX's NGenuity software. You can plug iin the keyboard and never think twice.
I went ahead and installed NGenuity though, and first let me say: It's heavy. The download off HyperX's website came in over 300MB, and the final install? Somehow it fills 1.1GB of space. Yes, gigabytes… for a utility that helps me control the lighting on a keyboard. For comparison, Logitech's Gaming Software is 310MB after install, as is Razer's Synapse.
So yeah, HyperX desperately needs to slim this down. I plan to uninstall it immediately. My poor little SSD.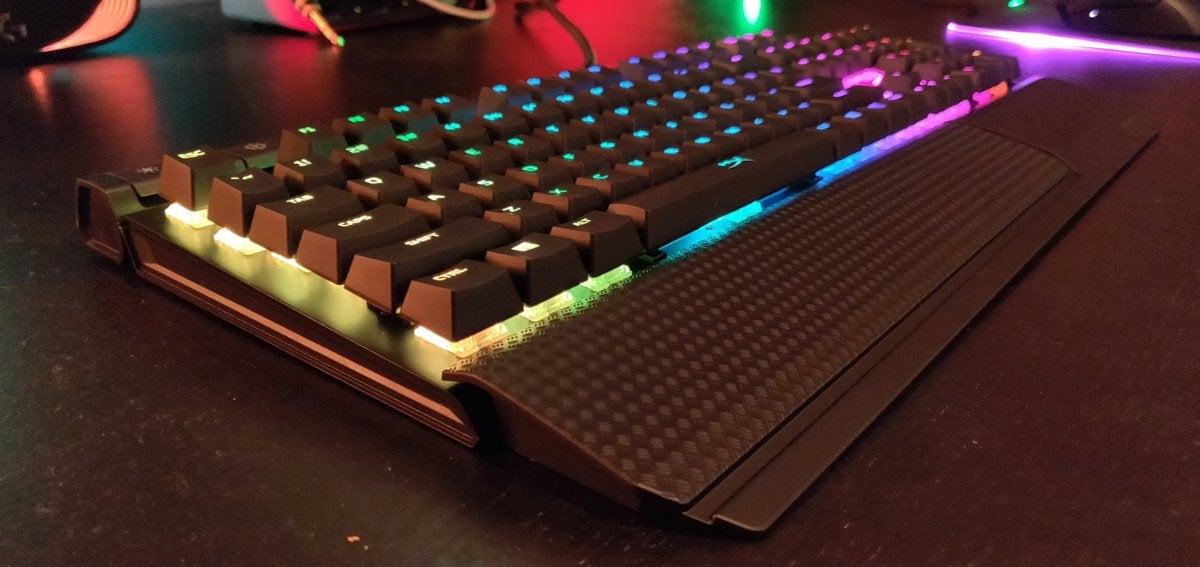 More to the point, I don't understand why it's so damn huge. It's not a bad piece of software, but it's exactly the same sort of lighting controls as all the other utilities out there. You either assign a preset pattern (Wave, Breathing, etc.) or a game-specific lighting scheme ( Destiny 2 for instance) or you can adjust the color of each key individually. Basic stuff. Nothing that, at least on the surface, warrants HyperX's version being three times the size of the competition's software. Maybe it's good HyperX went with this "software-optional" approach after all.
Cherry standard
As with the Alloy FPS, I'll close out by reminding you that HyperX is one of the few companies still using proper Cherry MX keys. That alone makes the Alloy Elite worth a look, in my opinion. Off the top of my head it's Corsair, G.Skill, Cougar, Fnatic, and HyperX. That's it.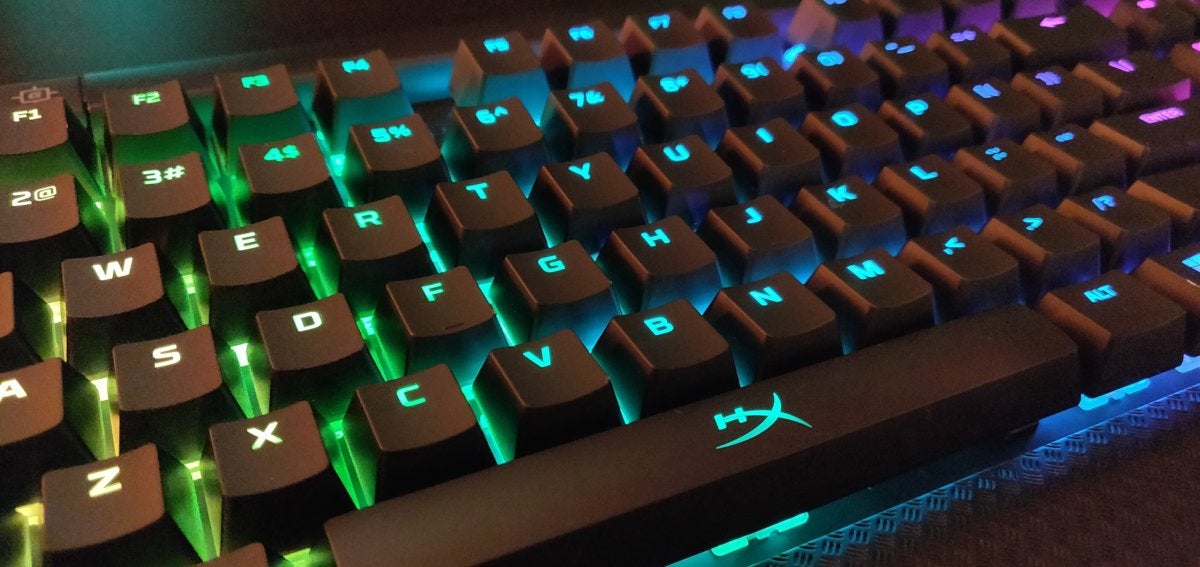 I'm still a fan. There are a million Cherry knock-offs, but for my money, proper Cherry keys are the most reliable and consistent. The Alloy Elite that HyperX sent over was loaded with Cherry MX Blues, my all-time favorite for typing—tactile, clicky, and with a moderate amount of resistance. You can also grab it with standard Cherry MX Reds or Browns though. (Still no MX Blacks, for some reason.)
Bottom line
Like the Alloy FPS, HyperX's Alloy Elite RGB is a perfectly fine keyboard. The only real issue is that it's a perfectly fine keyboard in an ever-more-crowded market. It doesn't undercut the competition on price the way G.Skill has, nor does it have a standout feature like the G513's wrist rest or Corsair's over-the-top lighting. It does use proper Cherry keys, so that's a start, and the price isn't bad. At $169 list, it's pretty much in line with the competition.
But at the end of the day, the Alloy Elite is just a solid alternative to other boards in the same niche. Given how consistently HyperX has pushed the headset market forward, I wish we saw some more of that ingenuity come through in its other peripherals. That's all.
PS: Please, please slim down that software utility. I can't even believe it's 1.1 gigabytes. Woof.