With Apple announcing Thursday that it has dropped a 6-core 8th-gen Core i7 8750H into the MacBook Pro 15 there are two things we know for sure. The first is that the boost in performance will be huge. The second: It still won't be faster than the fastest PC laptops.
Sure, you could say we're just being haters because we heart PC. But unlike the iPad and iPhone, Apple doesn't make its own CPUs. It relies on the same ones PC laptops have been using since at least April. All of the testing we've done already on Intel's 8th-gen "Kaby Lake R" (reviewed here), the 8th-gen "Kaby Lake G" (reviewed here), and the 8th-gen "Coffee Lake H" (reviewed here) lets us say with high confidence just how fast the new 2018 MacBook Pro 15 will be when it ships.
The big news for Apple users is the six cores in the Core i7-8750H. Those two additional cores compared to quad-core parts means hefty improvements in 3D modelling, video editing, and many optimized photo editing tasks.
We compare 7th-gen and 8th-gen CPUs
To show the performance we expect, we've compiled the results from several laptops equipped with high-end 7th-gen CPUs, including the quad-core Core i7-7700HQ that's used in the 2017 MacBook Pro 15. We'll compare them to the results from a laptop with the 8th-gen Core i7-8750H in the new 2018 MacBook Pro 15.
Our first comparison runs Maxon's Cinebench R15, which tests 3D modelling performance. You can see about a 50-percent increase in performance between the six-core Core i7-8750H and the typical 7th-gen part, such as that Core i7-7700HQ.
We won't bore you with too many charts of the 8th-gen Core i7-8750H's multi-threaded prowess, as you can see them in our review of it here. You'll see varying amounts of performance gains based on how optimized the CPUs are, but the story is still the same: It's a ton faster.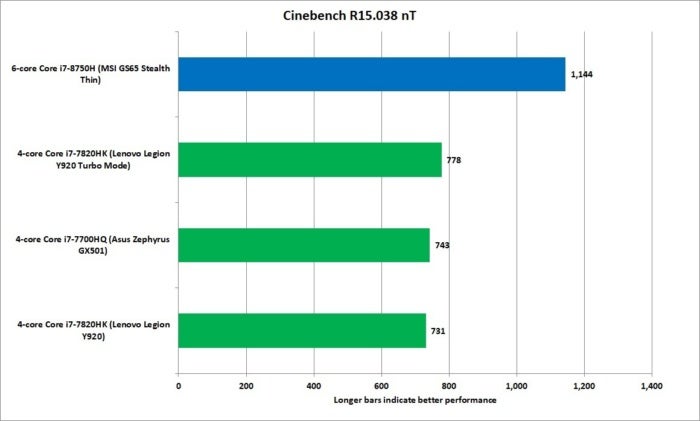 For example, here's how the same CPU performs in video encoding. While you don't get quite a 50-percent improvement, it's still about 33 percent, which means that a comparable three-hour encode could be done in about two hours. When you're in the field on a shoot, and time is money, then yeah, that's more money.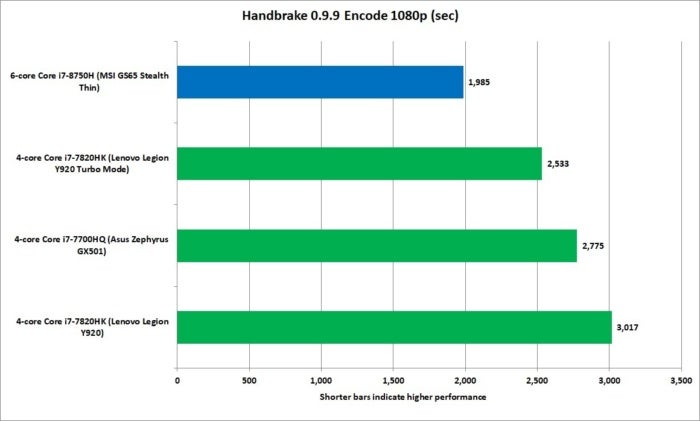 The world isn't about multi-threaded performance, though, and very few applications actually can use all six cores in the new MacBook Pro 15. So to get an idea of how an 8th-gen Core i7 Coffee Lake H stacks up against a 7th-gen Core i7 Kaby Lake H part, we also run Cinebench R15 using just one CPU core. While not all applications perform the same, we do get an idea of how fast the new chip does in pedestrian, single-threaded tasks, such as Microsoft Word, Safari, and most applications.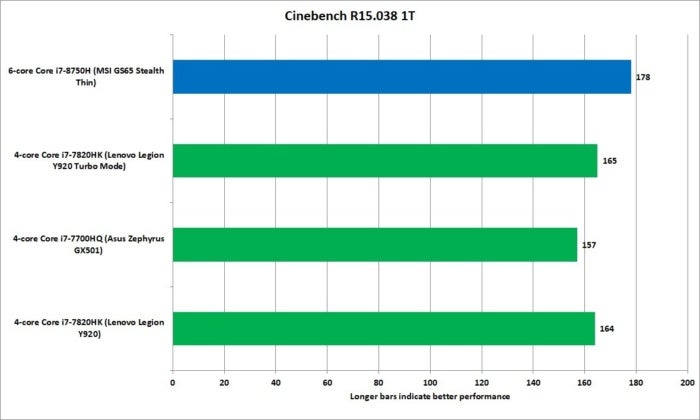 For the most part, the new 8th-gen Core i7 still gives decent performance benefits over the older 7th-gen Core i7 CPUs.
To get further insight into how the new 8th-gen CPUs behave under particular loads, we varied Cinebench R15 from 1 thread to 12. The verdict is simple: The 8th-gen Core i7 Coffee Lake H has a decent performance advantage on lightly threaded tasks (the left side of the chart below), and a huge performance advantage once you get to tasks that can use all of those CPU cores.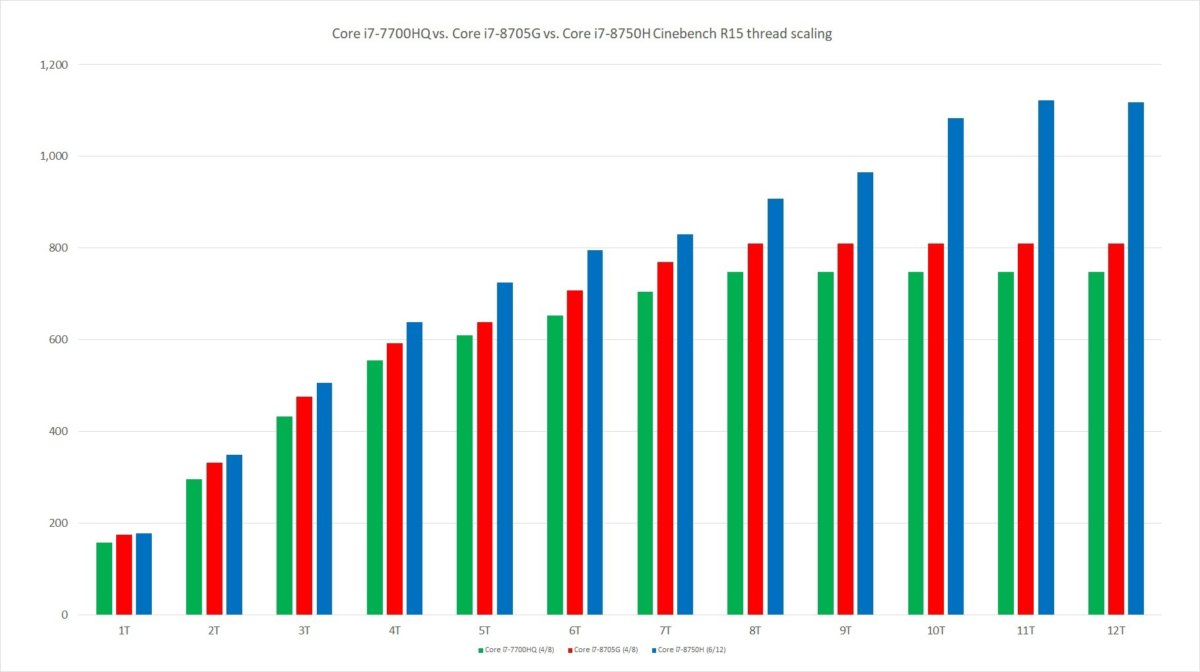 While not all tasks are the same, the secret to the performance of the new 8th-gen Core i7 is megahertz. That's another distinct advantage the 2018 MacBook Pro 15, with its clock-speed-rich Core i7-8750H, will have over a 2017 MacBook Pro 15 with a Core i7-7700HQ in it.
The big unknown in this is how hard Apple decides to push that CPU. Both results below are from gaming-focused laptops, but both are also relatively thin, as we expect the MacBook Pro 15 to be. The Core i7-8750H result is from a four-pound MSI GS65 Stealth Thin, while the Core i7-7700HQ performance is from the previous-generation Asus ROG Zephyrus.
What we do know from previous MacBook Pro laptops is that Apple generally does not like to leave performance untapped, so we expect it to swing for the fences.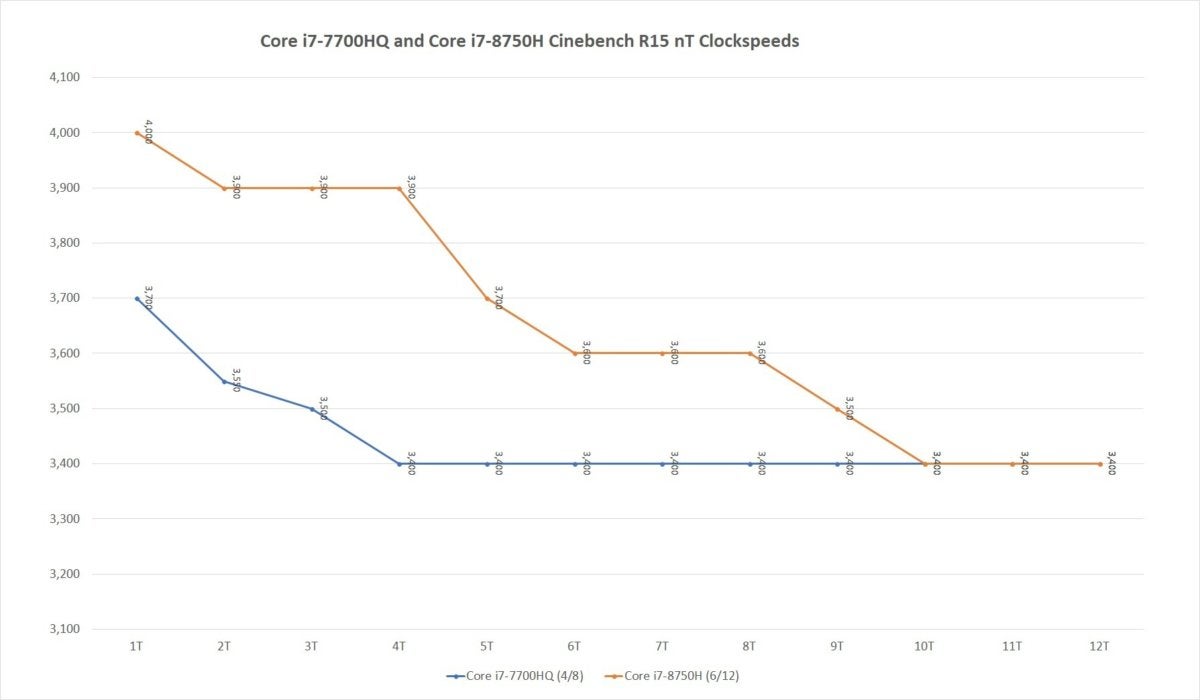 The PC is still faster than MacBook Pro 15
So after seeing everything above, how can we say for a fact that the new 2018 MacBook Pro 15 won't be faster than PC laptops? For one thing, PCs offer larger form factors that let the 8th-gen CPUs run even faster. Also, the graphics in the new 2018 MacBook Pro 15 haven't changed much.
Apple is apparently still relying on the elderly AMD Radeon Pro lineup for graphics. In the single laptop our sister site Macworld saw, the unit had a Radeon Pro 555X in it. Despite the X, it's the same old thing. AMD just added the 'X' to make everyone feel better. It's actually a decent discrete GPU, but in pure performance, it's not going to win any contests beyond tasks heavily optimized for it.
To give you an idea how much graphics firepower are in PC laptops, this next chart shows the raw gaming performance of most of today's modern graphics cards. Based on what we're seeing with the Polaris-based GPU in the Core i7-8705G, with 20 compute units buffed with High Bandwidth Cache and HBM2 RAM, we'd expect the Polaris-based Radeon Pro 555X, with its 12 compute units and GDDR5 RAM, to be slower by a bit.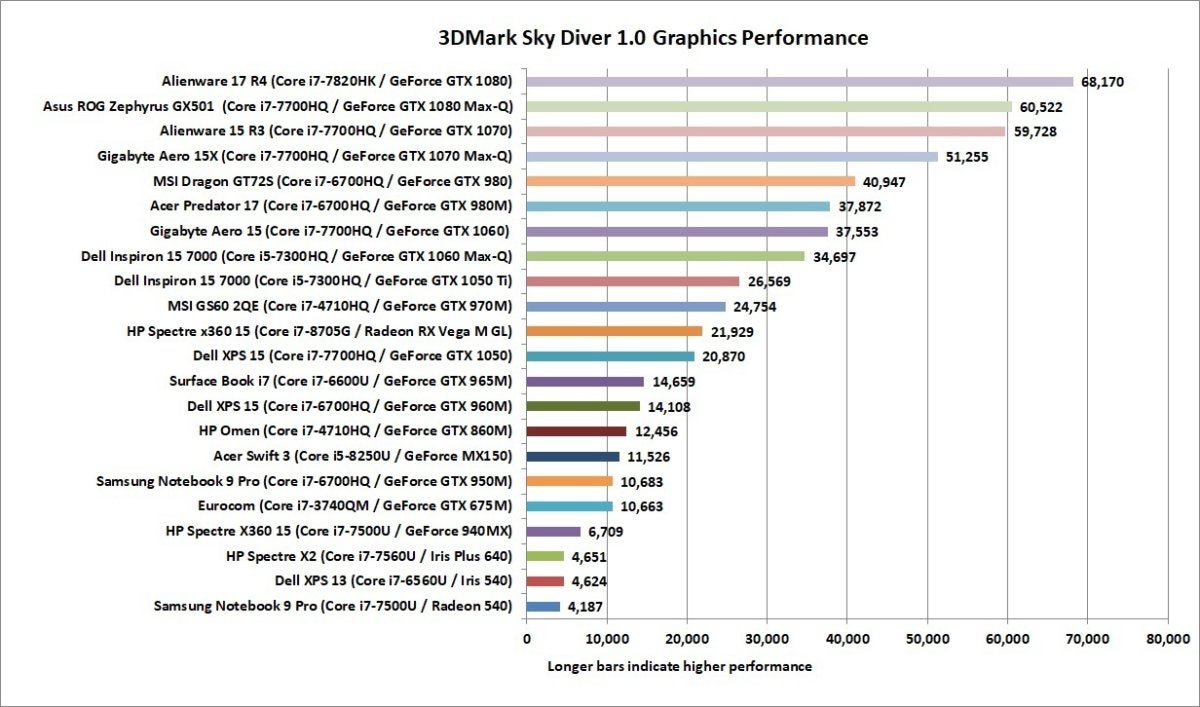 Let's give Apple a shout-out
While it's easy for PC partisans to issue a Simpsons' Nelson Muntz-like "ha ha," we should be fair and give Apple its due credit. Even with its flawed keyboard, the MacBook Pro 15 has been an impressively thin laptop with relatively good battery life for its power ratio.
And yes, PC laptops have been using 8th-gen Core i7 CPUs for more than three months now. But to have Apple upgrade the MacBook Pro 15 to a CPU that came out just three months ago, rather than dragging it out for another six or nine months, is actually a huge improvement in responsiveness from the company.
It's hard to believe, but it's entirely possible that Apple may have finally woken up, which means PC laptop makers may finally see their old slumbering foe for another fight.