After four developer previews and a chunk of stage time at Google I/O, we already have a pretty good idea of what's in store for Android P when it releases later this summer. For everything we don't know, however, Google's engineering team hosted a Reddit AMA, in which they answered as many tough questions as they could about the next major version of Android. Here are the six biggest things we learned.
Share sheets aren't getting quicker
One of the long-lasting pain points in Android is the brief pause between when you open the share sheet interface and when you can actually start using it. The problem is the time it takes for the direct share panel to load (those icons at the top the lead to specific targets). According to engineer Adam Powell, that's a known problem with Android, but it won't be fixed in Android P: "We've had some ideas for improving it over the last couple of releases that didn't make the cut for schedule reasons. … We'll see how far we get in future releases."
The Android P tablet experience still needs work
The one constant about Android over the years is that the experience on tablets has paled to that on our phones. Unfortunately, that's not about to change in Android P. While our phones are going to get new gesture-based navigation, Ian Lake explains that the larger-screen Android experience is still being worked on: "Navigation and tablets is actually something I've talked to the Material and Chrome OS team quite a bit about. One factor that has considerably influenced the design space for large screen devices has been the introduction of multi-window modes, particularly free-form windows that are fully resizable as you can find on Chrome OS devices. … We're well aware that there's more to be done."
A true dark mode isn't coming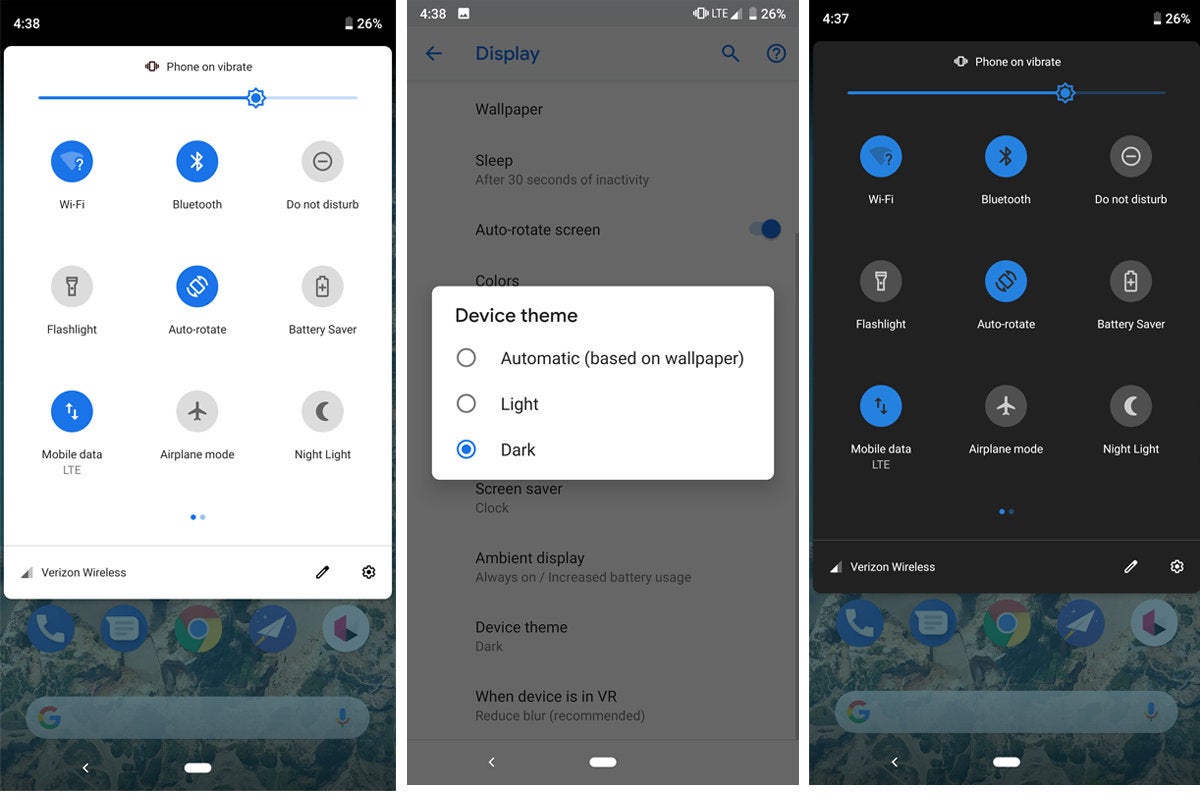 In the latest developer preview, we got a new switch in the Display panel called "Device theme." Once selected, it lets you switch from light to dark mode, which puts a black background on the notification shade and app drawer. Sadly, there are no plans to bring this dark theme to the rest of Android or Google's apps, as it still has more of a practical use than a aesthetic one: "Night light is less about the classic idea of dark mode (black background and white text) and more about blue light filtering after the sun has gone down," as Ben Poiesz explained. "We don't have anything to announce about a unified dark mode."
Batteries will be smarter and more consistent
Battery life and optimization is one of the major components of Android, both with how long they last and how they work with background apps. Project manager Madan Ankapura emphasized this point when asked about battery optimizations on different phones, saying that Android P will be "providing guidance that is aiming to drive consistency across OEMs." Furthermore, he confirmed that there will not be a switch for resetting the adaptive battery, which uses AI to learn when to shut down apps and save battery life. Rather, it will only reset after a factor reinstall. However, Ankapura assured users that the system will "learn on a short schedule and adapt quickly so there should never be a need to reset."
Android might be becoming more like Chrome OS
Over the past year, Chromebooks have gained support for Android apps through the Play Store, but the two OSes are actually much closer than they look. Or at least their development is. As Dianne Hackborn explains, ever since the Android and Chrome OS teams working together to modify the Android app platform to run on Chrome OS, the two teams "have since then been bringing the teams more closely together, pulling some of that Chrome OS work back in to mainline Android and having the Android team work more directly with Chrome OS as a formally supported platform configuration." The most intriguing development to come out of the new partnership is that Chrome's support for Android apps could eventually swing back to Android: "We have always seen desktop-style UIs as one of the potential targets for Android, so their use of Android apps there fits well with our own roadmap."
It won't be called Pickle Juice
As with Oreo, Google's engineers threw out a few names that didn't make the Android P cut, and, well, we're kind of glad they died on the cutting-room floor:
Ben Poiesz: pâte à choux Chet Haase: The P is silent, as in pneumonia and psoriasis Adam Powell: Pickle juice Brian Carlstrom: Pavlova Dan Galpin: Pfeffernusse
Note: When you purchase something after clicking links in our articles, we may earn a small commission. Read our affiliate link policy for more details.
Michael Simon has been covering Apple since the iPod was the iWalk. His obsession with technology goes back to his first PC—the IBM Thinkpad with the lift-up keyboard for swapping out the drive. He's still waiting for that to come back in style tbh.