At a Glance
Expert's Rating
Pros
Sleek, sturdy design
Impressive productivity performance
Discrete graphics card for casual gaming
Solid battery life
Cons
Dim display
A tad thicker and heavier than an ultraportable
Our Verdict
While it's a couple of pounds too heavy to quality as an ultraportable, this $599 version of the Acer Aspire E15 will please bargain hunters looking for smooth Office performance, and it's even got some game thanks to its discrete Nvidia graphics card.
Yes, this mid-range model of Acer's budget Aspire E15 line is a little thicker and heavier than an ultraportable, and we wish its 15.6-inch display were brighter. But for an affordable price (currently $600 on Amazon), it delivers supple performance courtesy of its quad-core, eighth-generation Intel CPU, plenty of ports for everyday users, a discrete graphics card for casual gaming, and even a DVD drive. That's a great value, even if it means toting around a couple extra pounds.
Note: This review is part of our best laptops roundup. Go there for details about competing products and how we tested them.
Price and specifications
We tested the $600 version of the Acer Aspire E15 (E5-576G-5762), which packs in an 8th-generation, quad-core Intel Core i5-8250U processor, a 15.6-inch 1920×1080 display, 8GB of DDR4 RAM, a 256GB solid-state drive, a discrete Nvidia GeForce MX150 graphics card, and yes, an 8X dual-layer DVD-RW optical drive. That all adds up to a reasonably powerful productivity-minded laptop that can do a little gaming on the side.
Mentioned in this article
Aspire E 15 E5-576-392H
Price When Reviewed:
$379.99
If you want to save even more cash, you can snag a $379 model of the Aspire E15 that downshifts to a dual-core i3-8130U CPU (fine for Office, less so for video processing and other CPU-intensive tasks), a 1TB hard drive, and integrated Intel UHD 620 graphics (meaning kiss the games goodbye). On the other end of the spectrum, you can pony up $799 for an Aspire E15 with the same basic specs as the $599 version, save for a more robust i5-8550U processor.
Design
Measuring 15 x 10.2 x 1.2 inches and weighing in at a little under five pounds, the Acer Aspire E15 is too thick and heavy to qualify as an ultraportable, but it neither is it a behemoth. Indeed, the E15 fit comfortably into my 15-inch laptop backpack, and the weight was entirely manageable, although you'll start to feel it once you toss in the 14-ounce AC adapter. If you're dead-set on an ultraportable system (as in three pounds or less) with an 8th-gen Core i5 CPU, you'll have to up your budget by a few hundred bucks.
As with last year's model, the Aspire's tapered shell manages to make the laptop look thinner than it really is, while the matted lid looks relatively sleek and professional. The E15's plastic exterior is a bit bendy in places but overall feels reassuringly sturdy—well, except for the flimsy slide-out DVD tray, anyway.
A particularly nice design touch is the removable panel on the bottom of the Aspire, which gives you access to both the RAM slots and the drive bay. You can remove the panel by loosening three screws and pulling on a thumb tab, perfect for swapping in a bigger SSD or upgrading the RAM to a maximum of 32GB.
Display
First, the bad news: The 15.6-inch display on the Acer Aspire E15 is disappointingly dim. We registered only 227 nits (or candelas) in the center of the screen, which is well below the 250 nits we recommend for comfortable indoor viewing. Just to be clear, the E15's screen is, in fact, perfectly viewable in an office setting or a den, but expect to squint if you're using the laptop outdoors or near a bright window.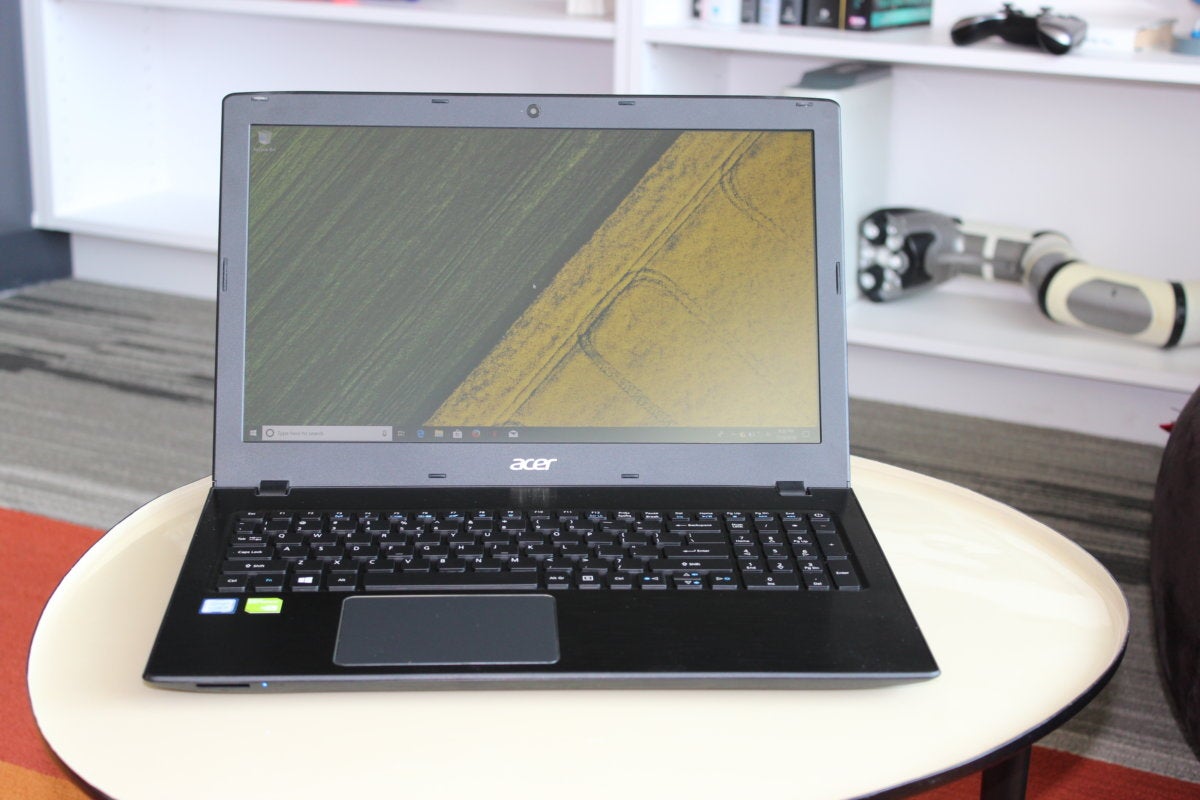 The good news is that under the right conditions, the Aspire's full-HD display looks sharp, boasting vivid colors and decent contrast for a budget laptop. Viewing angles on the E15's IPS-technology panel are also solid, with the screen brightness and contrast looking pretty even up until the 45-degree mark. The display dims relatively quickly when tilting the lid up or down, although I didn't notice any inverse colors you'll see on non-IPS displays (such as on the cheaper Core i3 version of the E15).
Keyboard, trackpad, webcam and extras
The Acer Aspire E15's backlit keyboard felt relatively snappy and responsive to my fingertips, with the slightly concave keys serving up a tactile bump halfway through each keystroke. The main keyboard feels roomy enough, making for easy discovery, but the dedicated 10-key numeric keypad looks a little squished. And if you tend to pound the keyboard as you type, you may notice a little bendiness in the middle of the keyboard.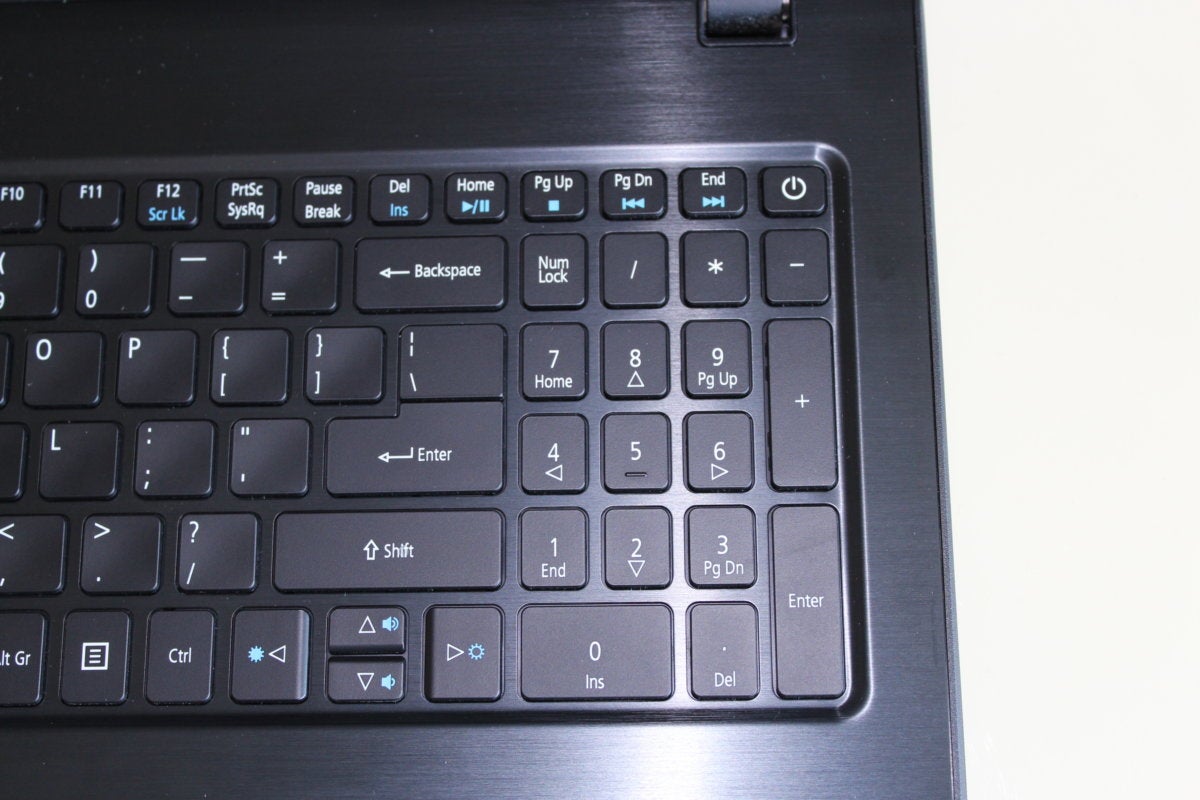 Centered directly below the main keyboard (and therefore sitting left of center due to the numeric keypad on the right), the Aspire E15's trackpad felt smooth and responsive, with little in the way of mistaken inputs from my palms. The trackpad itself requires a fair amount of pressure to click, but that's pretty much par for the course.
The Acer Aspire E15's down-firing speakers sound like most other laptop speakers we've heard—which is to say, not so great. You can crank up the volume pretty loud, but music sounds mushy and squished, and turning on Acer's "TrueHarmony" mode only adds to the tinniness. If you want to treat your ears to some tunes courtesy of the Aspire E15, you're better off plugging in a pair of headphones.
The 720p webcam that sits in the top bezel of the Aspire E15's display captures grainy, slightly washed-out but otherwise acceptable video that'll do the trick when it comes to casual Skype chats.
Ports
You won't find any fancy Thunderbolt 3 ports in Acer's Aspire E15, but everyday users will find a pleasing grab-bag of old and new, starting on the left side with a USB 3.1 Type C port (up to 5Gbps), an ethernet jack, a VGA port, a full HDMI port, and a pair of USB 3.0 Type A ports. Also on the left side: a Kensington laptop lock.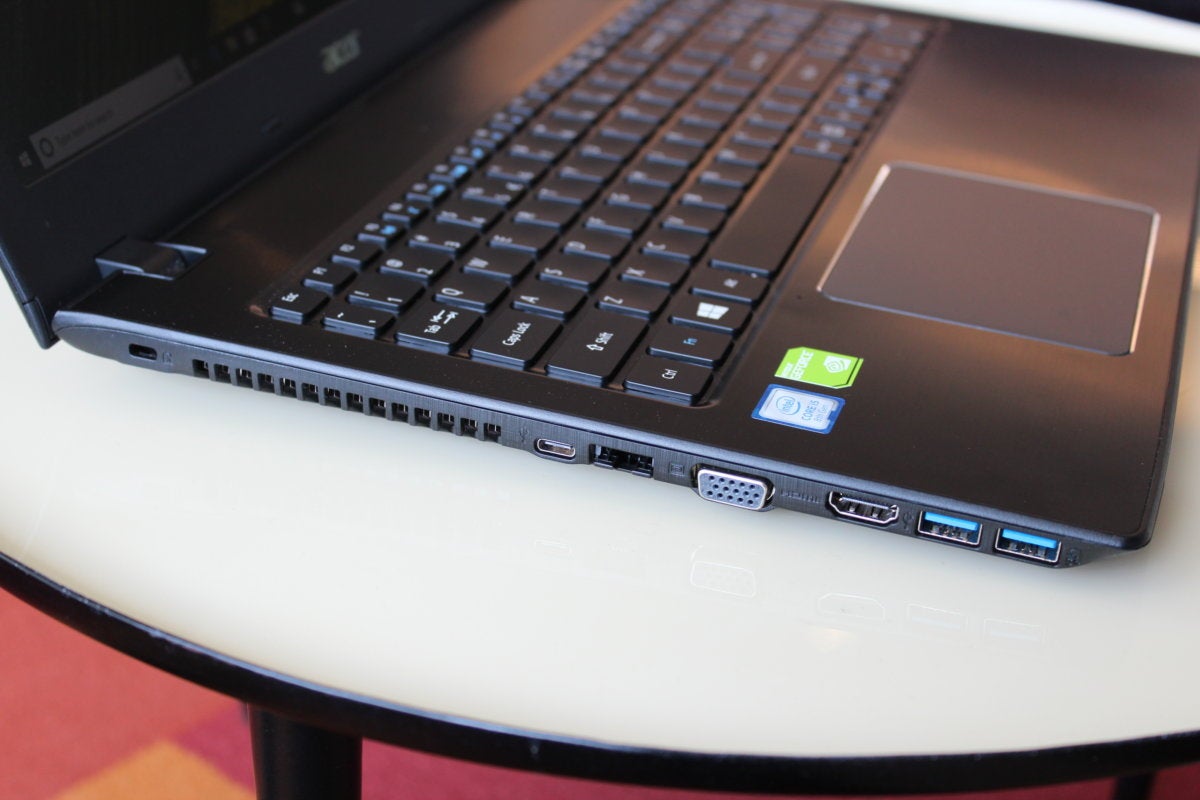 On the right, you get a barrel-shaped charging port, the aforementioned DVD tray, a USB 2.0 port and a combo audio jack.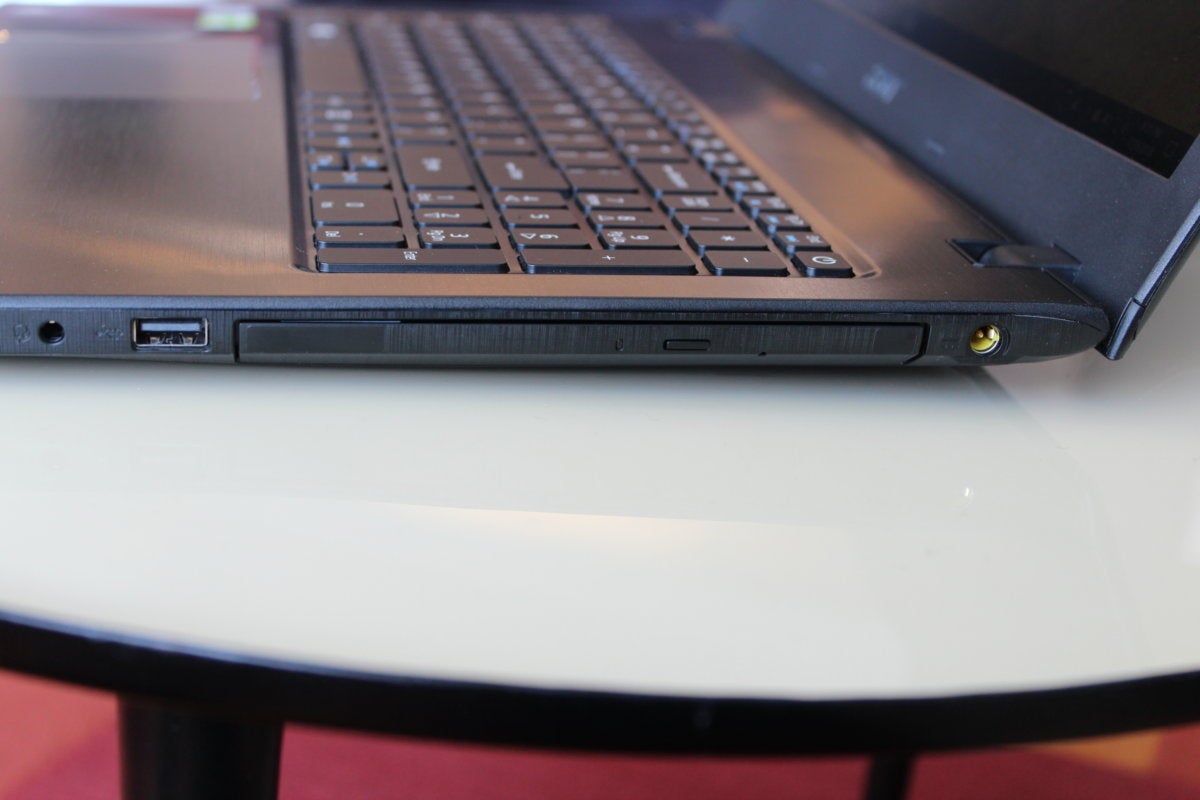 General performance
Overall, we were quite pleased with the benchmark results of this $599 Acer Aspire E15. Its quad-core, eighth-generation delivered peppy productivity performance, bearing heavy CPU loads with a reasonable amount of grace, and even playing some AAA games, albeit with somewhat dialed-down graphics.
PCMark 8 Professional Work
To check how smoothly a given system can perform everyday tasks, we fire up PCMark 8, a benchmark that simulates such day-to-day computing duties such as web browsing, word processing, tinkering with spreadsheets, and video conferencing.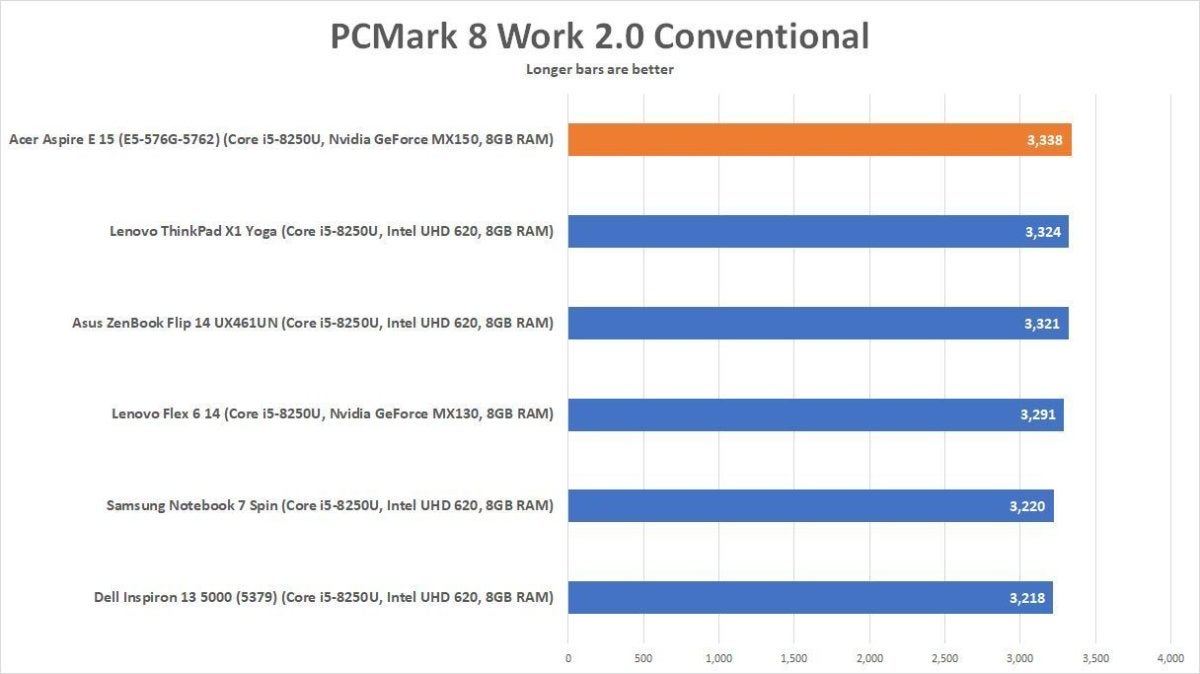 Generally speaking, a PCMark 8 Work score north of 2,000 means a laptop can run Office and similar productivity apps without breaking a sweat. The Acer Aspire E15 easily cleared that mark, landing right in the range we've seen from other 8th-generation laptops. Our real-world E15 use reflected that score: Windows, menus, and apps opened and responded with plenty of pep, while the Windows toolbar search box never had to play catch-up with my typing.
Now, it's worth noting that the cheapest Aspire E15, which runs on a dual-core i3-8130U processor and costs just $379, managed to snag a PCMark 8 score just shy of 3,000, well above our PCMark 8 low-water mark of 2,000. If you're a bargain hunter who's not using anything more demanding than Office, you might want to give the cheaper E15 a closer look.
HandBrake
As we've just seen, even a dual-core laptop can scare up a solid PCMark 8 result, but our next benchmark puts even the hottest quad-core processors to the test. By tasking a laptop to convert a 40GB video file to an Android tablet format using the free HandBrake tool, we can see how a particular system deals with the heat under a lengthy—and crushing—CPU load.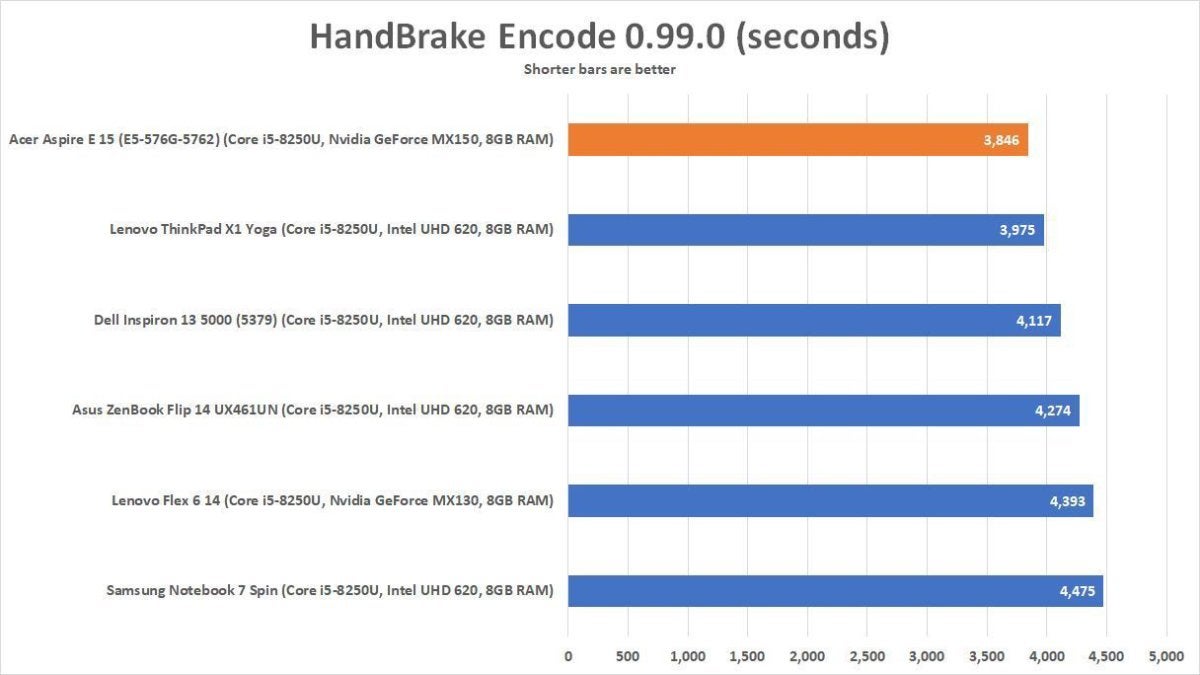 Surprisingly given its $600 price point, the Core i5 version of the Acer Aspire E15 notched one of the better HandBrake scores we've seen from a laptop with a similar 8th-gen CPU. Granted, the Aspire E15 gets a leg up thanks to its thicker, easier-to-cool design compared to the heat-prone convertible systems in our comparison. Still, it's impressive to see this kind of horsepower in a budget laptop that's reasonably portable.
Cinebench
Our next benchmark, Cinebench, is just as punishing on laptop CPUs as our HandBrake test. But while HandBrake takes anywhere from 45 minutes to an hour-plus to complete, Cinebench (which involves rendering a 3D image in real time) takes only about five minutes from start to finish. It gives us a good idea of how a given laptop handles short, intense bursts of CPU activity.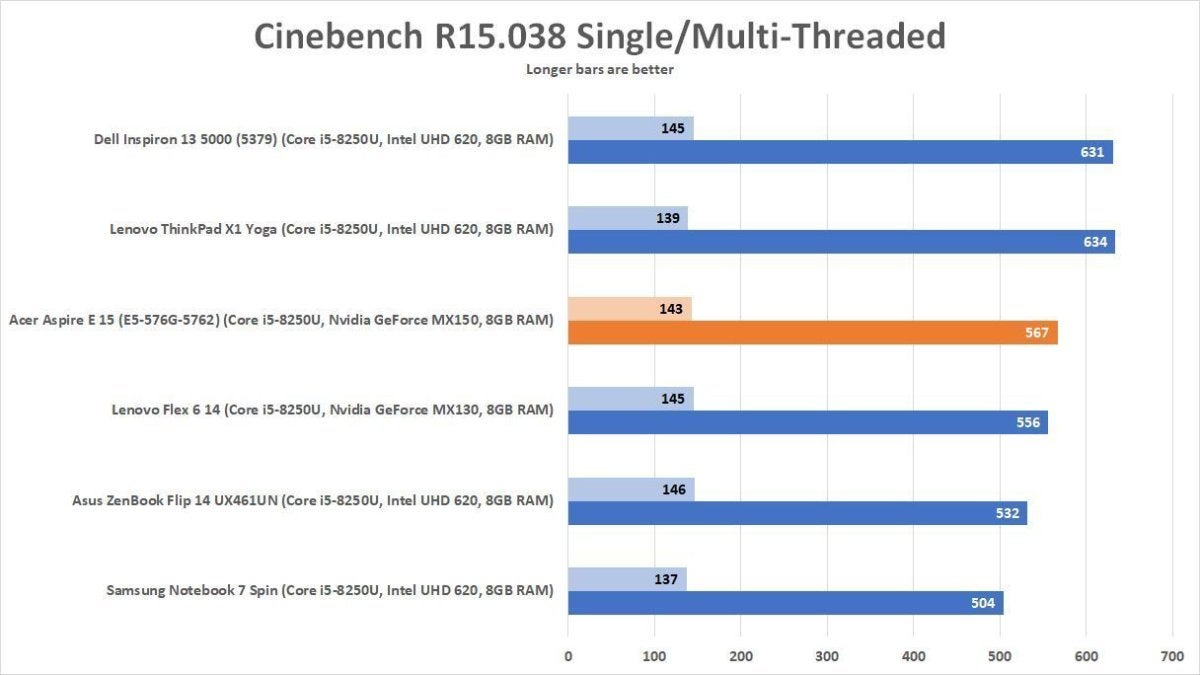 We compared the Cinebench results for both single-threaded and multi-threaded performance, The Acer Aspire E15, with its quad-core i5-8250U processor, notches respectable scores in both.
3D Mark Sky Diver
We were eager to put the Acer Aspire E15 and its discrete Nvidia GeForce MX150 graphics card through its paces with our Sky Diver graphics benchmark, and the $599 machine didn't disappoint.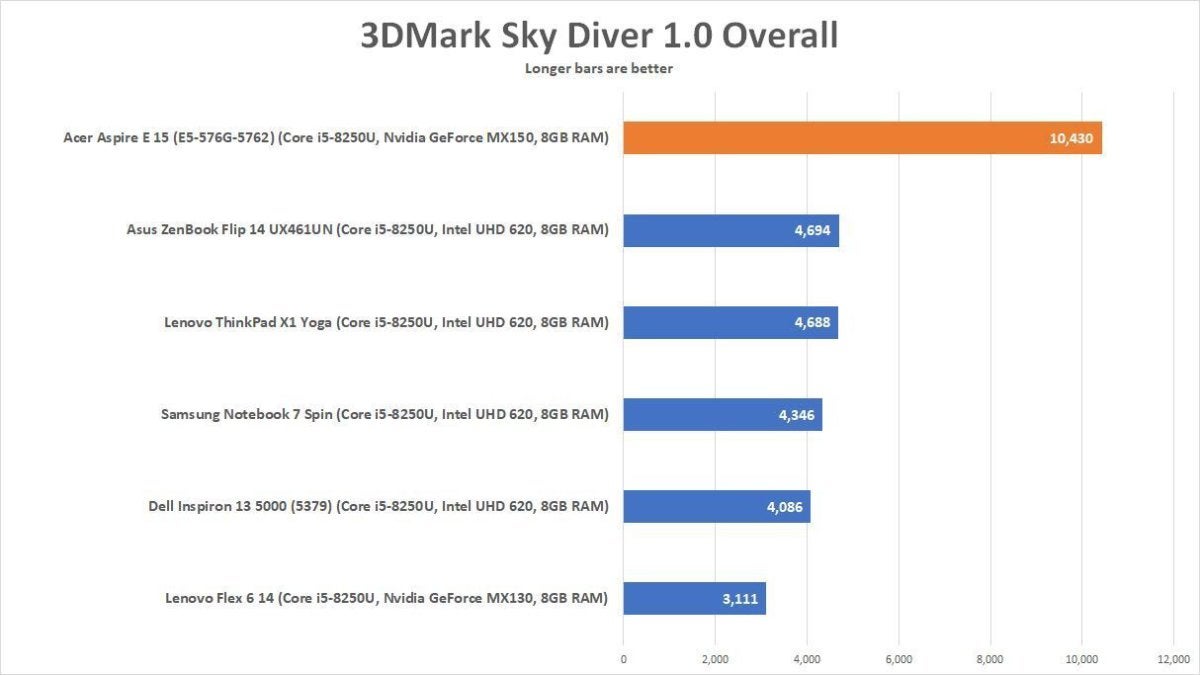 Now, it's unfair to expect visual miracles from the E15, given that the MX150 is an entry-level graphics card intended only to give a modest graphical boost to mainstream laptops. But it's important to see how much of an advantage a discrete GPU can provide compared to similarly configured machines with just integrated graphics.
It isn't just what you have, but what you do with it, that matters. Lenovo's Flex 6 14 brings up the rear of this group, even though it has a discrete MX130 GPU. Because it's a convertible, it struggles with thermal management, to the detriment of graphics performance.
Impressively, the Aspire E15 was able to wring slightly under 30 fps from Tomb Raider at Ultimate graphics settings and a silky-smooth 76.7 fps at the Normal preset. I also had a perfectly good time playing Destiny 2 in the 30-fps range at Medium settings, and got about 50-60 fps from Fortnite at Medium settings. So yes, you can actually game with the Core i5 version of the E15, provided you don't mind dialing down your graphics settings a bit.
Battery life
We test laptop battery life by looping a 4K video with screen brightness at about 250 nits. In the case of the Acer Aspire E15, which (according to our measurements) has a maximum display brightness of only about 227 nits, we simply cranked the screen brightness setting all the way up. Finally, we dial the volume up to 50 percent, with headphones plugged in.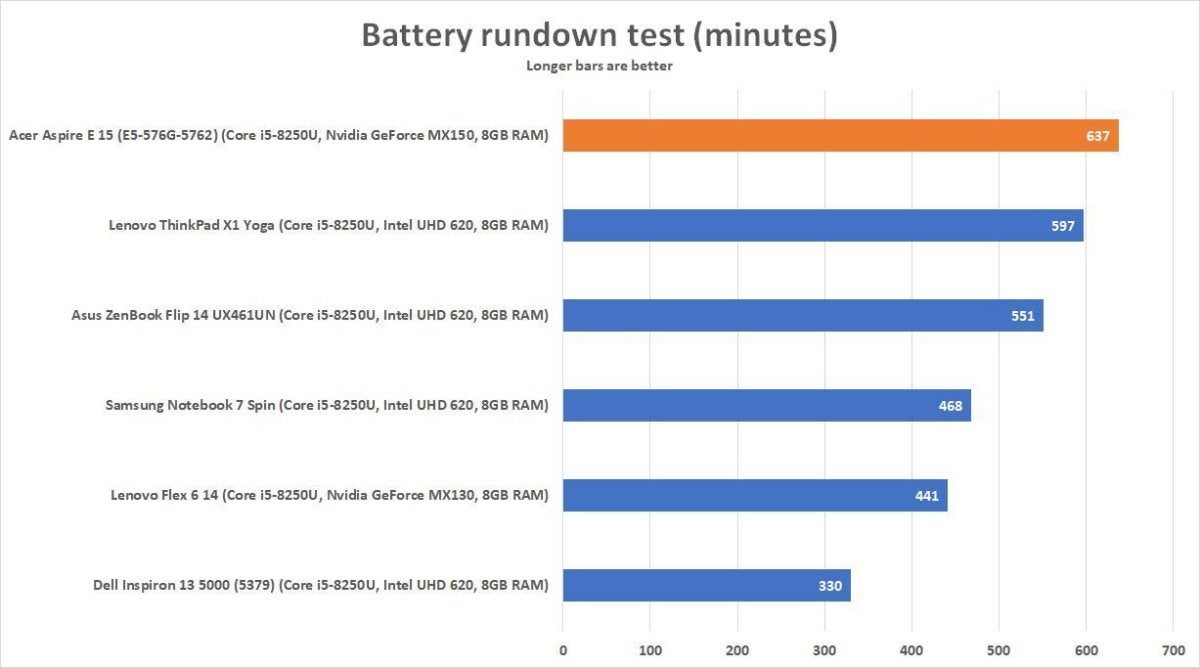 The Aspire E15 and its 62 watt-hour battery wound up with a little over 10.5 hours of battery life. Not bad at all, and a clear sign that you can safely leave the AC charger at home for the day.
Conclusion
While it's a couple of pounds too heavy to quality as an ultraportable, this $599 version of the Acer Aspire E15 will please bargain hunters looking for smooth Office performance. It's even got some game thanks to its discrete Nvidia graphics card.