At a Glance
Expert's Rating
Pros
Breakneck pace and clear goals are a pleasant change after two games spent wandering
Combat is more easily mitigated, for those who just want the story
Cons
Rushes some of its story beats and character moments
Rewards for optional combat sequences are rarely worth it
Our Verdict
The Banner Saga 3 is a fitting end to a very long journey, finally tying up four year's worth of loose ends and doing justice to (most of) its characters.
Best Prices Today: The Banner Saga 3
The world is ending. All you can do now is huddle down and wait, watch the darkness creep over the horizon, hold back the endless armies of evil. This will be a Pyrrhic victory at best, a last ditch effort to save any part of the world that was.
This is The Banner Saga 3, the conclusion to a tale four years in the telling. Hopefully you've made the right choices along the way.
The long and winding road
If there's one problem with The Banner Saga 3 ($25 on Humble), it's that it did take four years to tell this story. That won't matter to newcomers, of course—you'll just buy all three parts and play them back-to-back. I haven't played the original Banner Saga since 2014 though, and its sequel since 2016.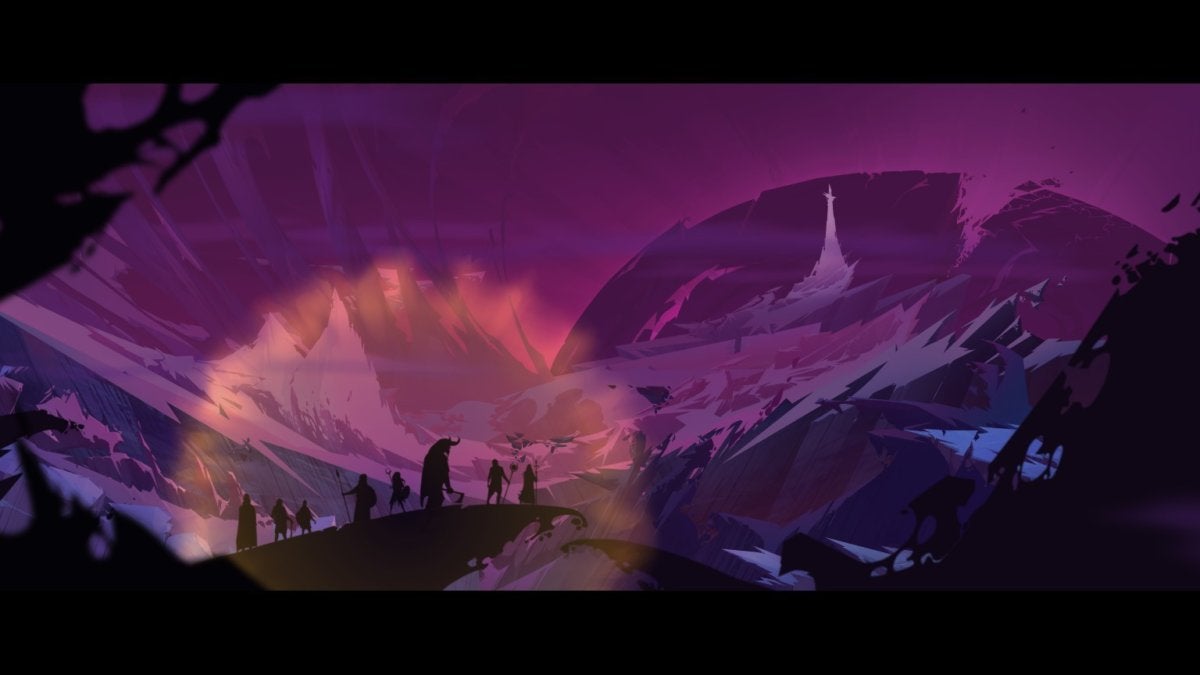 These aren't really sequels though, in the traditional sense. Sure, the break-points between chapters are fine, but this is really one long story broken into three parts. It's a bit disingenuous to act like The Banner Saga 3 is in any way its own self-contained story when anyone who entered at this point would be 100 percent lost on the particulars. Hell, I've played the other games and it still took an hour or two for me to slip back into this world, with its Horseborn (centaurs) and Varl (ox-men) and Dredge (stone…people?).
Worse, The Banner Saga 3 constantly references its predecessors in ways big and small. It expects you to have knowledge of events you've likely forgotten, or that at the very least are hazy by now. The climax of the game, the penultimate sequence, a character lists off a bunch of the choices you made along the journey and I'll be honest: I remembered none of them. Not a single one.
It's hard to hold this against The Banner Saga, per se. Stoic did design it as a trilogy, made that fact clear up front. But nevertheless these feel less like sequels and more like an episodic release, stretched across four years.
On the plus side, it means The Banner Saga 3 is the best of the bunch by far. It's everything a finale should be—the most dire of straits, peril around every corner and death in the wings. All the questions posed by the first two games, answered. All the old grudges, settled.
Finally after four years of cliffhanger endings and meandering setups, catharsis. And it feels good. Not every character gets their deserved payoff—in fact, most don't. If The Banner Saga 3 has one failing, it's that an ever-expanding cast across the whole trilogy has left most with barely any room to speak. Only maybe a dozen of the game's 40-plus characters feel fully realized with a beginning, middle, and end to their arc. The rest, cannon fodder.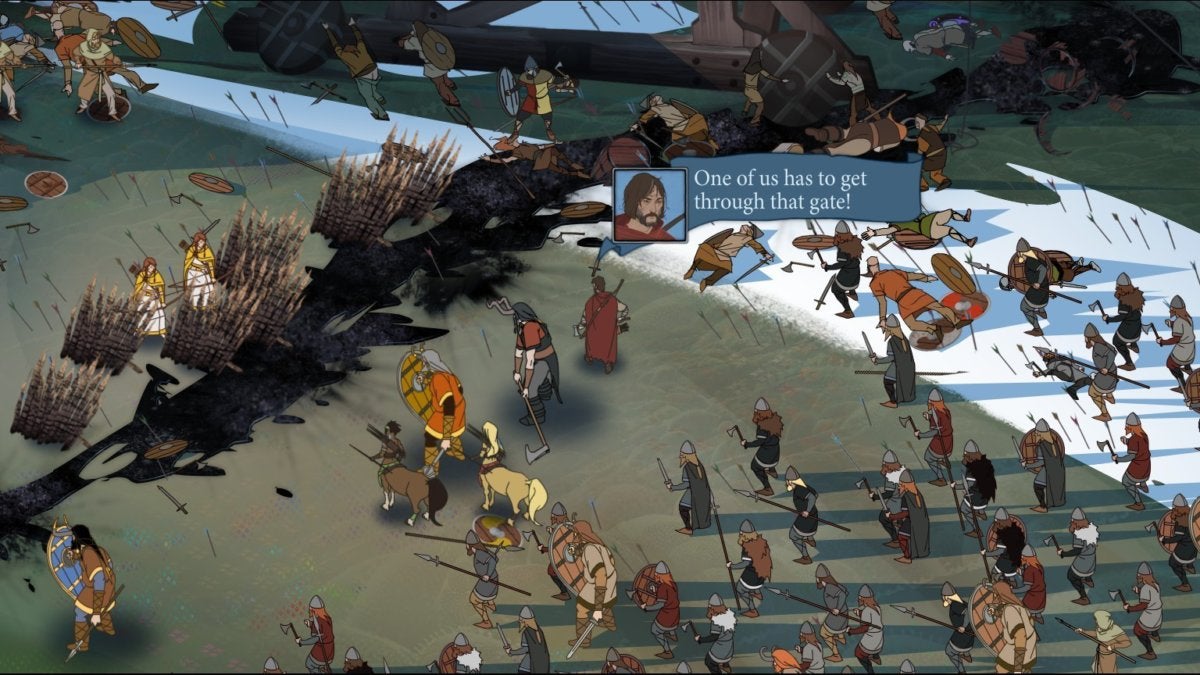 The select few are probably your favorites though, given their prominence in the last two chapters: Iver, Rook (or Alette), Oddleif, Juno, Eyvind, Hakon, and so on. In the end, The Banner Saga comes down to essentially the same characters it started with, and does them all justice.
Events pick up right after 2's cliffhanger—as I said, these feel more like episodes than proper sequels. Darkness has crept across the world, trapping the last bastions of humanity and Varl and Horseborn alike outside the human capital of Arberrang, the gates shut to their plight.
Half a world away, Juno and Eyvind try to beat back the darkness. The two Valka and their band of motley mercenaries trudge through the ruins of the world, enshrouded in a small circle of light as they try to reach the place where this can all be undone.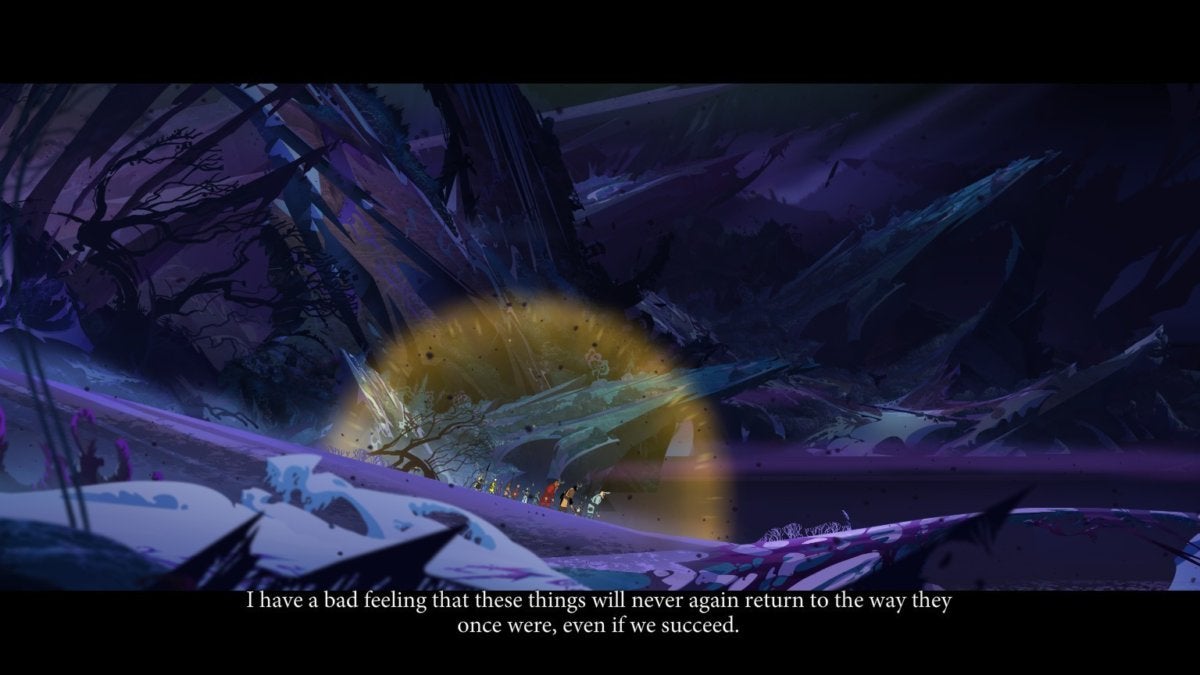 It's a very different setup than The Banner Sagas that came before. In Arberrang, you're just trying to hold out as long as possible. As Juno and Eyvind, you race against time to make sure that Arberrang's efforts aren't in vain.
Time is the enemy. The "day" counter is back, prominent at the top of the screen as always, but this time only to spell out your doom. Each day Juno and Eyvind march is one less day of supplies in Arberrang, fewer fighters, more dead civilians. I'd built up a decent bulwark of supplies over the last two games but I felt the pressure. Gone was the leisurely pace I'd set before, exploring every nook and optional situation. The marches became grueling. No time to rest, no time to heal. By the time my mottled company staggered towards the ending, every single one of them was injured. None fought at maximum strength.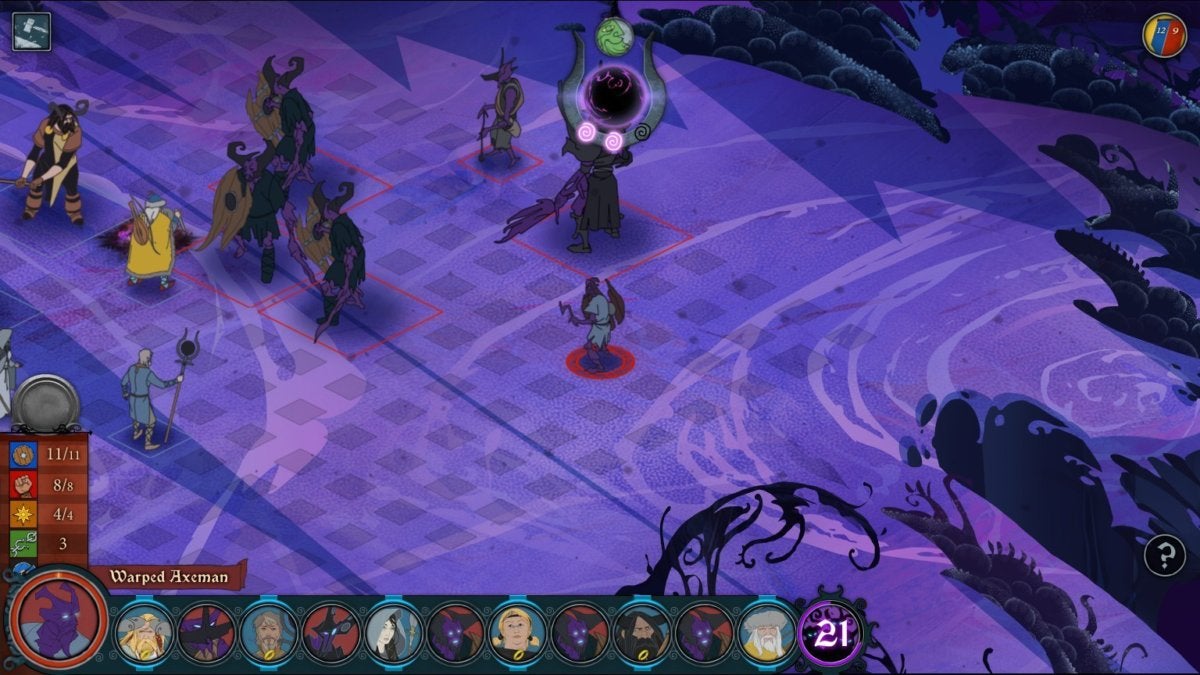 Could I have been more efficient? Possibly. The Banner Saga 3 introduces a new idea to the tactical side: Wave battles. Those who just want to see the story? Fight off the first wave and then flee—as far as I can tell it has no impact on the story.
Those who love Banner Saga's deep tactical combat can opt to court a second and sometimes even a third wave of enemies though. You can swap out and reposition your own units between waves, but even so it's an interesting wrinkle. There's no healing between waves, nor do your abilities recharge to full. Thus I found myself forced to improvise, using units I'd never bothered with in previous games, as all my first-stringers were downed or injured.
On the other hand I never felt like the rewards were that worth the penalties. Fighting to the end nets you more renown of course, but also a high-level item. Some of these are great—for instance, letting a character strip away enemy armor faster. But chances are a drawn-out fight means more injuries, and were these items worth the ragtag, mostly maimed group of soldiers I stumbled into the final battle with? Probably not. It was mostly my own intrinsic interest in the combat that kept me invested.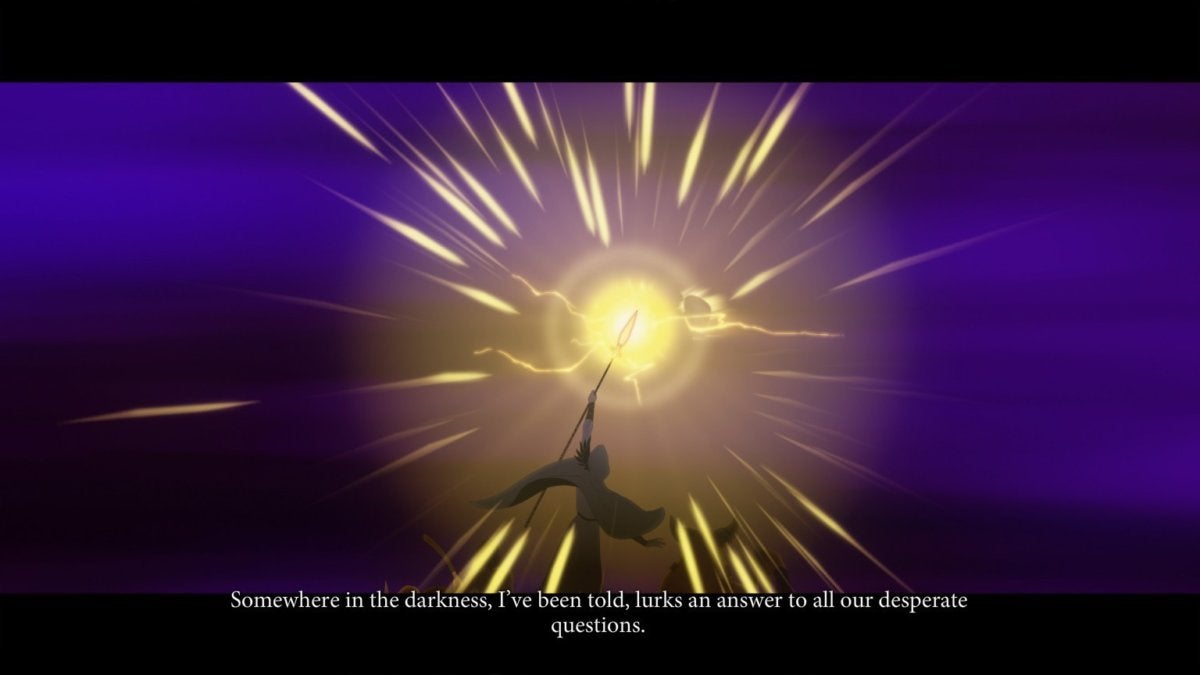 It's one more layer of stress though, and a perfect complement to the "World is Ending" motif on the story side. There's never enough time in The Banner Saga 3. Your characters are exhausted, and so are you as 10 to 15 more enemies spill out of the depths to halt your journey again. You make bad decisions, you lose people who you cared for deeply.
And so maybe the four-year journey was smart, despite all its flaws. Don't get me wrong: I'd rather I played all three Banner Saga chapters back to back. I'm envious of those who will, as I'm sure they'll pick up on more of the nuance I missed. But it's undeniable I felt more attached to some of these characters, more invested in their fates, having seen their stories play out over the long haul. An interesting gamble, if not a wholly successful one.
Bottom line
As for The Banner Saga 3 in isolation? It's a fittingly epic end to a very long journey. Not every story beat lands, and a few could've used more breathing room—this is the shortest of the three games somehow, even though it covers the most ground story-wise. Some of the finer points get lost in the bustle.
I thoroughly enjoyed it though. The Banner Saga is still such an odd proposition, a visual novel wedded to a management sim and a tactics game. And yet it works, on all three levels, intertwined in myriad interesting and unforeseen ways. The art is of course gorgeous as always, the music rousing, the world bursting with understated details. But the fact it all congeals into something cohesive is perhaps the most surprising part.
Hopefully whatever Stoic does next, freed from the shackles of this long journey, is just as unique.
Best Prices Today: The Banner Saga 3