At a Glance
Expert's Rating
Pros
Affordable, competitive price
Lightweight, fairly compact
Real-world performance was satisfactory
Cons
Smaller Type Cover can be uncomfortable
Battery life isn't much to speak of
Windows 10 in S Mode lacks app flexibility
Our Verdict
Microsoft's new, affordably priced 10-inch tablet runs Windows 10 S for a streamlined Windows experience. It doesn't have great performance, but it provides a "real" computer when you need it.
Best Prices Today: Surface Go
Microsoft's 10-inch, $399 Surface Go tablet is a departure from the company's Surface tradition, which put forth expensive, ambitious designs to break trail for the rest of the PC industry. Now, the Surface Go's decidedly mainstream price should appeal to businesspeople on the go as well as consumers considering an Apple iPad or Android tablet.
Caveats like its operating system—Windows 10 in S Mode—and its low-end processor may give you pause. And the optional but cramped Type Cover somewhat offsets the Surface Go's convenience. But our Surface Go review will walk you through the Surface Go hardware, the Type Cover, and the new Mobile Mouse—then tell you how it all works in practice, both as a pure tablet and as a productivity device. Finally, we'll talk about the Surface Go's performance, and how it compares to PCs and other tablets both under Windows 10 in S Mode and Windows 10 Home.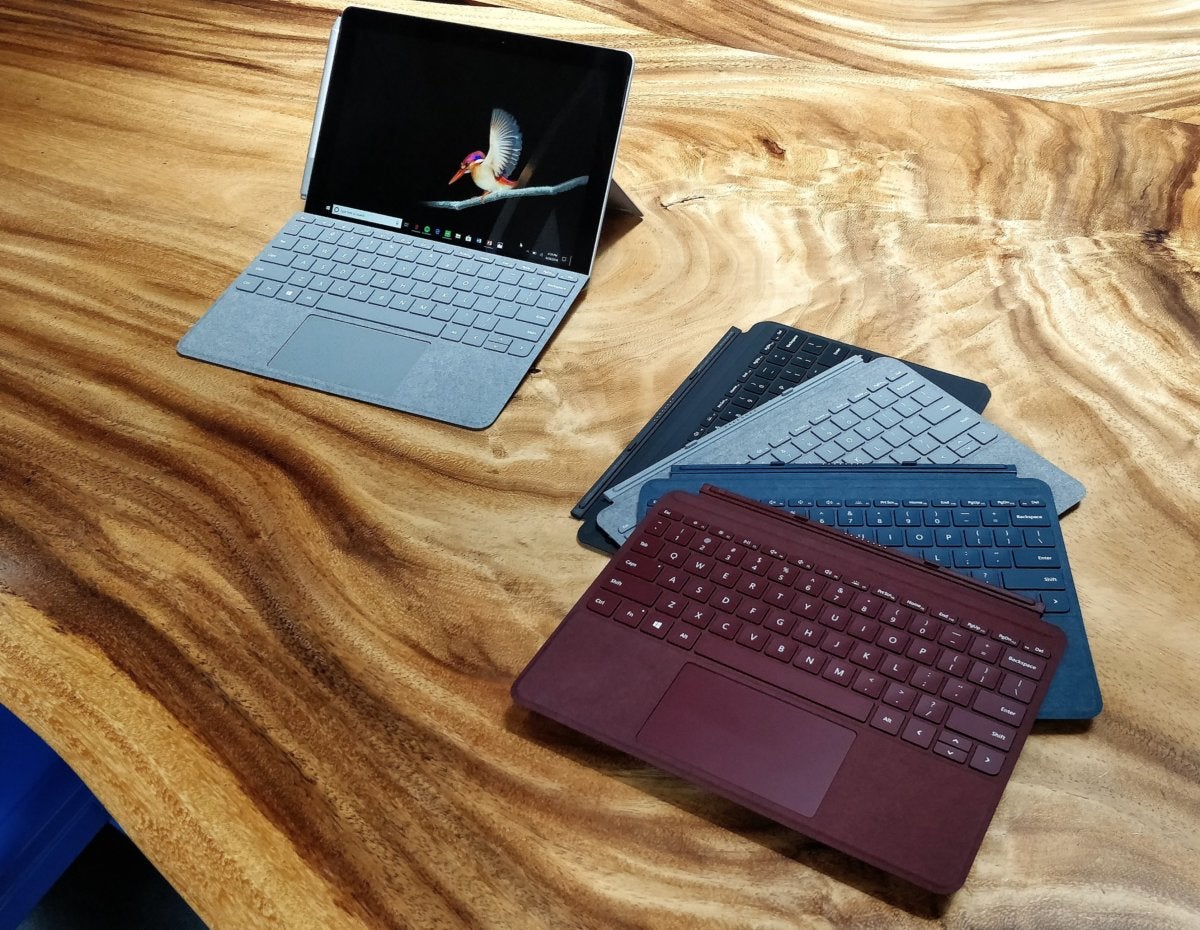 Surface Go: Basic specs
Display: 10-inch (1800×1200) IPS technology, 217 PPI, 3:2 ratio, 10-point touch
Processor: Intel 1.6GHz Pentium 4415Y (Kaby Lake)
Graphics: Intel HD 615 (integrated)
Memory: 4GB/8GB (8GB as tested)
Storage: 64GB eMMC/128GB SSD (128GB as tested). A commercial model with 256GB SSD is planned.
Ports: 1 USB-C, 1 Surface Connector, microSD, headphone jack
Wireless: 802.11 a/b/g/n/ac Wi-Fi, LTE later in 2018
Cameras: 5MP front (Windows Hello-capable), 8MP rear (with autofocus)
Battery: 27Wh
Operating system: Windows 10 Home in S Mode (Windows 10 Pro for commercial model)
Dimensions: 9.6 x 6.9 x 0.33 inches
Weights: 1.14 pounds (tablet), 1.68 pounds (tablet plus keyboard), 1.98 pounds (tablet, keyboard and charger), as measured
Optional Accessories: Type Cover keyboard: $99 (black) or $129 (burgundy, cobalt, platinum); Surface Mobile Mouse: $39; Surface Pen: $99
Price: 4GB RAM/64GB storage: $399

Remove non-product link

; 4GB RAM/128GB storage: $499

Remove non-product link

; 8GB RAM/128GB: $549(via the Microsoft Store). Costco offers its own bundle with 4GB of RAM, 128GB SSD, and a Type Cover for $550.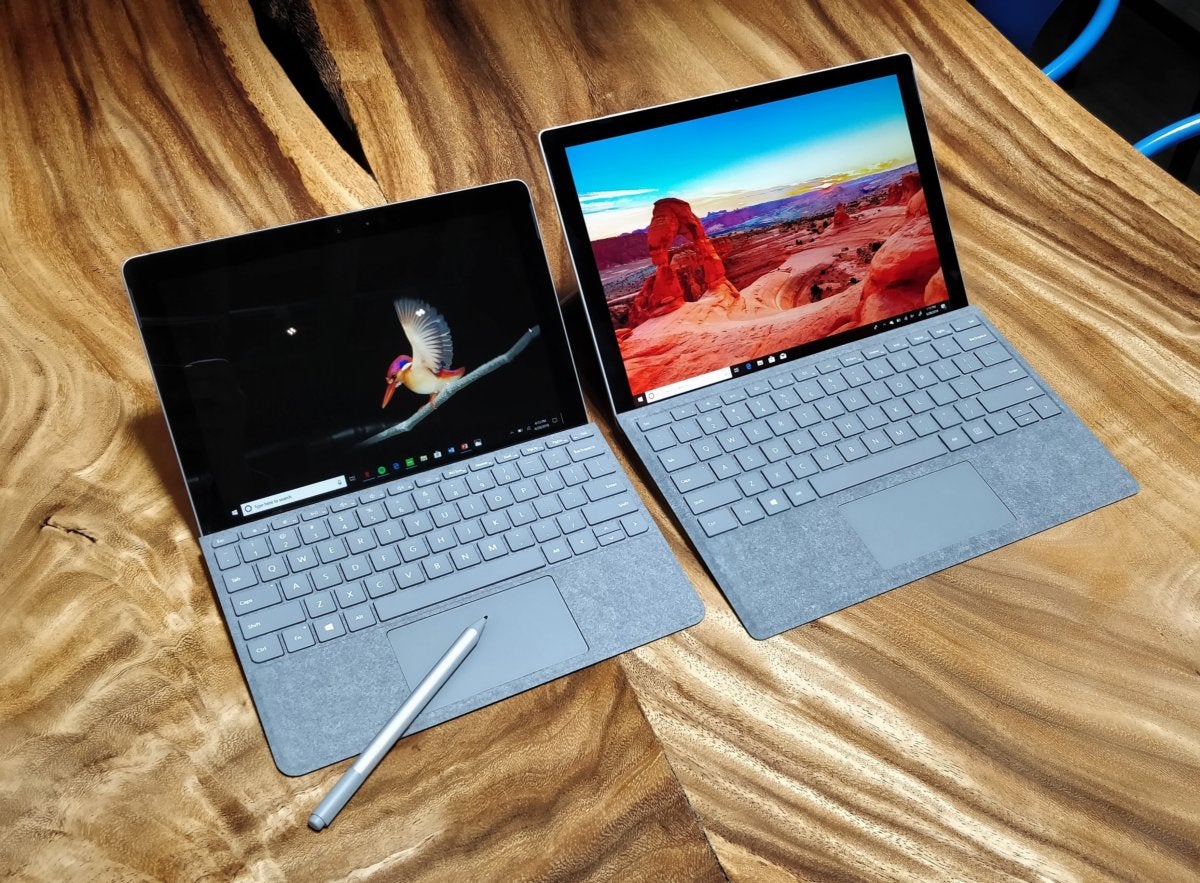 Surface Go, out of the box
Out of the box, the Surface Go feels light and sturdy, if a tiny bit chunky. Microsoft's hardware gurus crafted the Surface Go out of the same magnesium compound of previous iterations, with Gorilla Glass 3 protecting the 10-inch PixelSense display. While the Go doesn't offer the various display color options of the Surface Pro (2017) or Surface Book, the 1800 x 1200 (3:2) display is consistent with other Surface aspect ratios and pumps out a surprisingly bright 397 nits of light.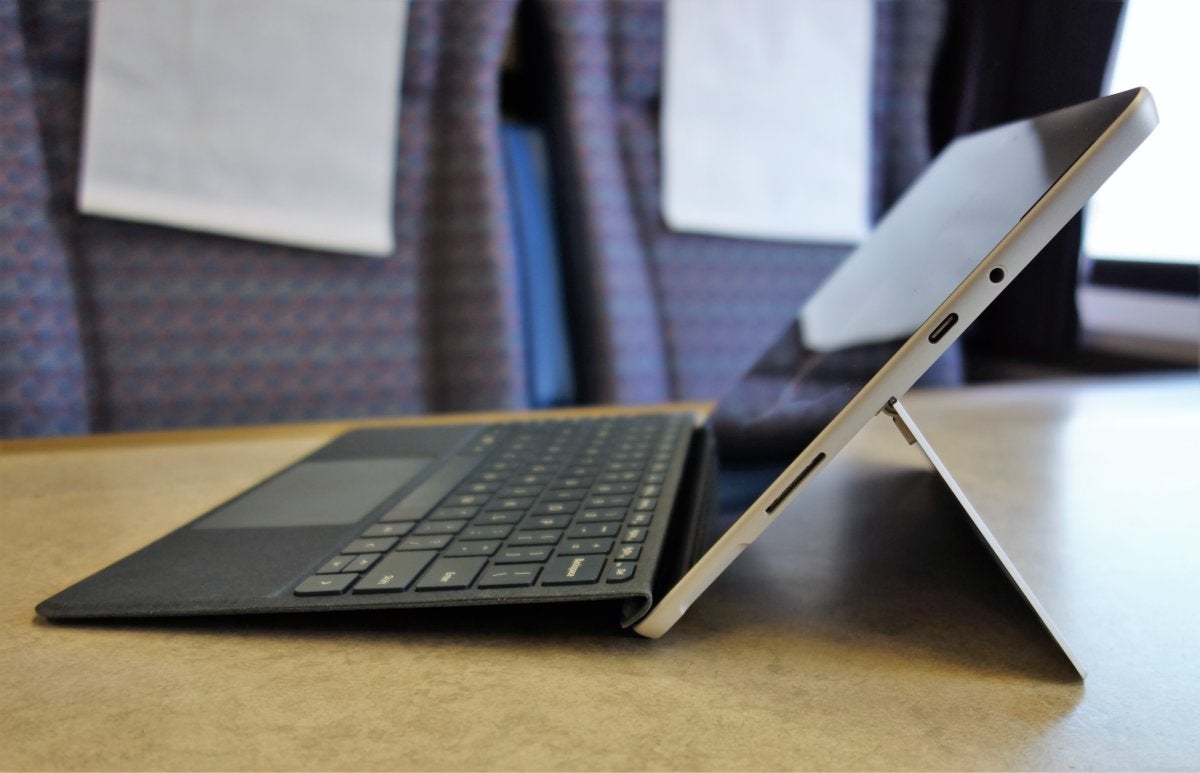 It's a bit hard to believe that the Surface Go is actually the ninth Surface tablet, with three Surface and Surface Pro predecessors, respectively, plus the Surface RT and a "reimagined" Surface Pro (2017). The Go retains many familiar elements: the power and volume rocker on the top, the microSD slot under the kickstand, and the MagSafe-like Surface Connector on the right side. There, you'll also find the headphone jack, and I/O port—which has migrated from USB-A to USB-C with the Go. The Surface Connector still works with the Surface Dock, as well as a growing number of USB-C hubs.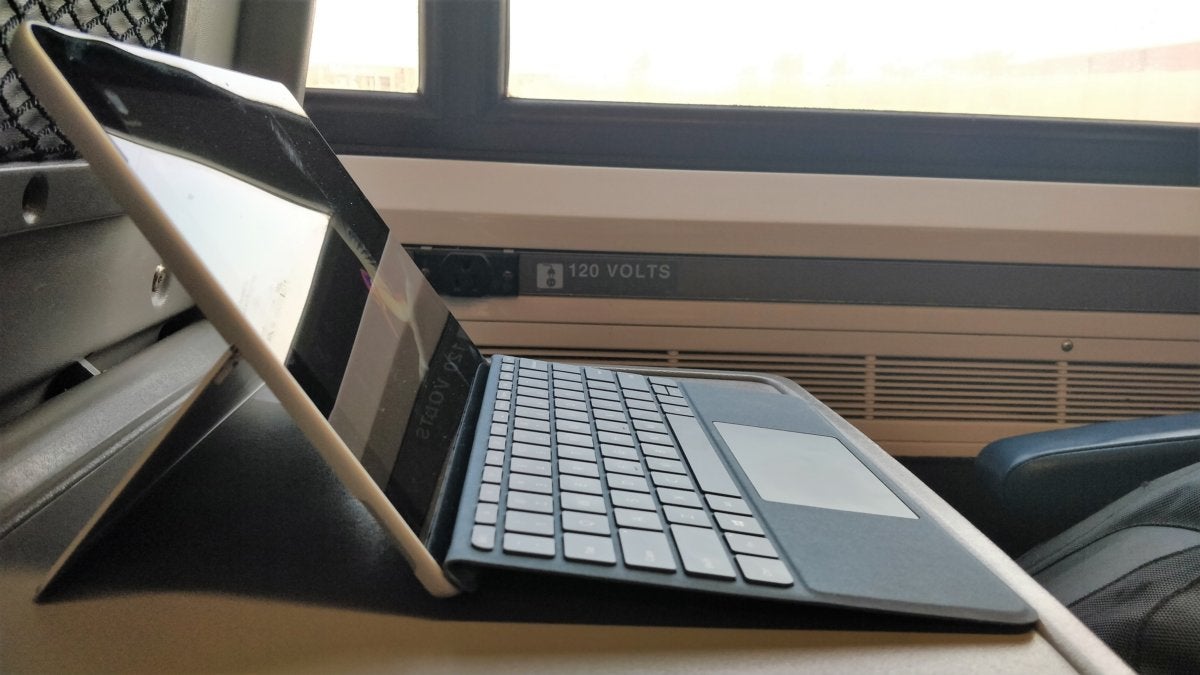 You can thank the low-end Pentium chip for two other features: The total lack of fan vents and the low-power charger. Unless heat is somehow pushed out of the I/O ports—which, to my finger, it is not—the Surface Go is entirely passively cooled. Under load, the upper third of the Go warmed up, but not unpleasantly. The 1.6-amp charger is modestly endowed compared to the the 3-amp to 4-amp rapid phone chargers you see these days, so you can probably charge your Surface Go using your phone's USB-C charger.
We say "probably" because Microsoft didn't provide details on the USB-C port's capabilities, so we tried it out. While the port clearly doesn't feature Thunderbolt, it slow-charged a connected phone. We weren't able to charge the tablet with a OnePlus rapid charger (5V, 4A), but a 5V/2A external battery charger did the trick.
The Surface Go typing experience
As we talk about the Surface Go experience later in our review, you'll note we make the case for using the Go without its Signature Type Cover. In part, that's because the Type Cover experience is a step down from generations past.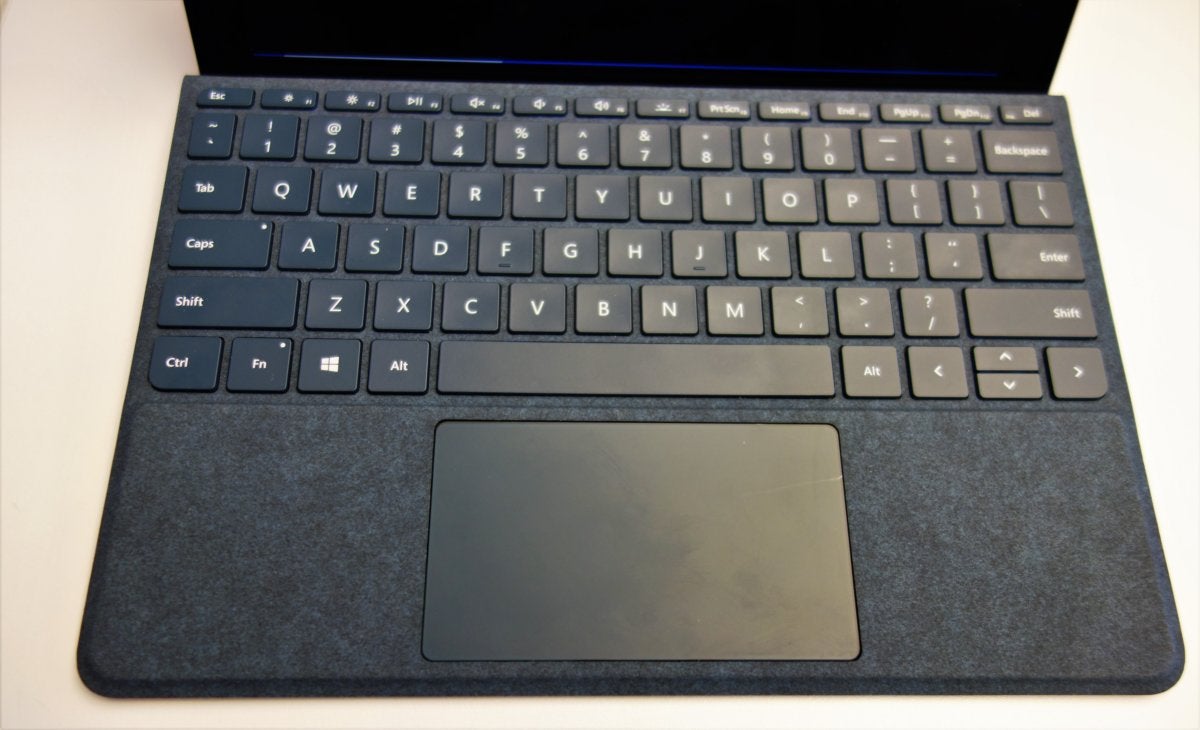 Aesthetically, these new Signature Type Covers boast the same, slightly plush Alcantara fabric that's lived on the outside of the last few generations, which give way to a slightly smoother, plasticky feel along the inside. The Type Cover grips the Go tablet using the same double hinge of past Surfaces, plus what appears to be an even stronger magnetic connection at the edge. You really have to give the Type Cover a yank to separate it from the tablet, which helps cement its place on your lap.
The Surface Go's smaller size means its Type Cover is smaller, too. Microsoft claims the keyboard is about 85 percent the size of the Surface Pro's. The keys are visibly smaller compared to their counterparts on other Surface keyboards—notably the Enter key, plus the relatively tiny function keys.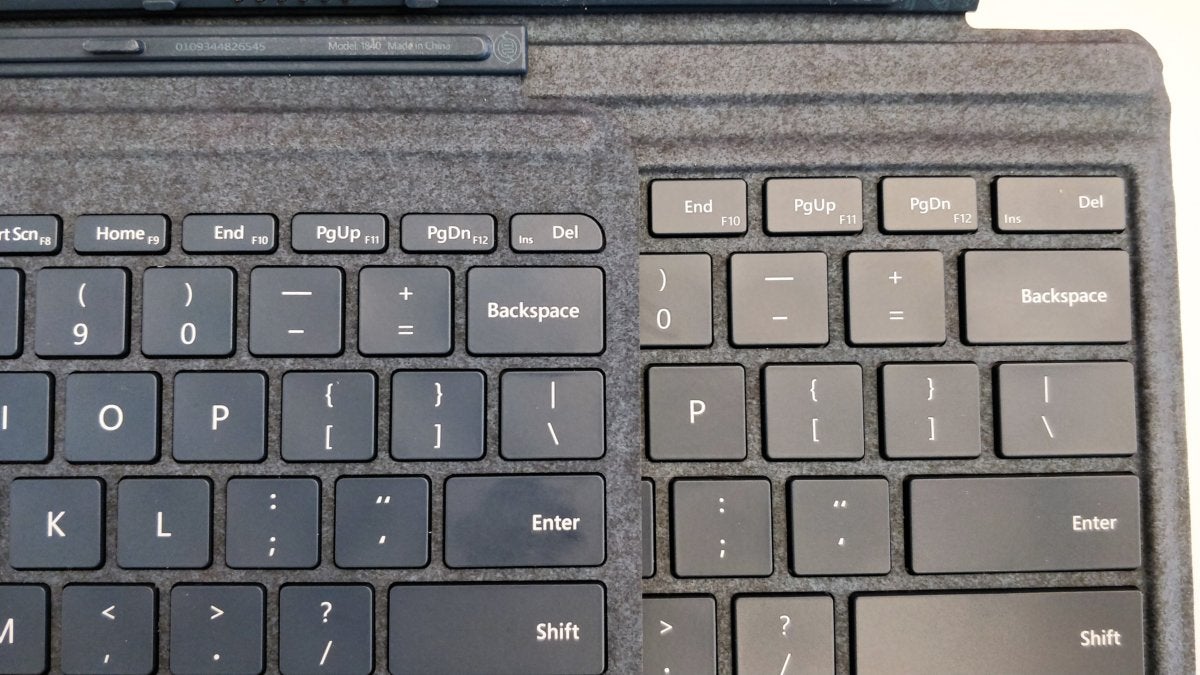 While Microsoft generally made smart sizing choices, the Surface Go's Type Cover is likely to be uncomfortable for users with larger hands. My hands are average-sized, and they began to cramp after a period of typing.
Typing on the Surface Go is a mixed bag in other ways. On paper, the most eye-raising change is the key travel: 1mm, versus the 1.3mm key travel on previous Surface Pro Type Covers and about 1.5mm for the typical laptop. Surprisingly, the reduced key travel didn't bother me as much as I though it would—a firm response cushions your fingers as they land. There's a surprisingly small amount of keyboard flex, too. As you strike the keys, however, they produce a noticeably hollow, woodblock sound. The keys include three levels of backlighting (which Apple's iPad left out of its accompanying Smart Keyboard, incidentally).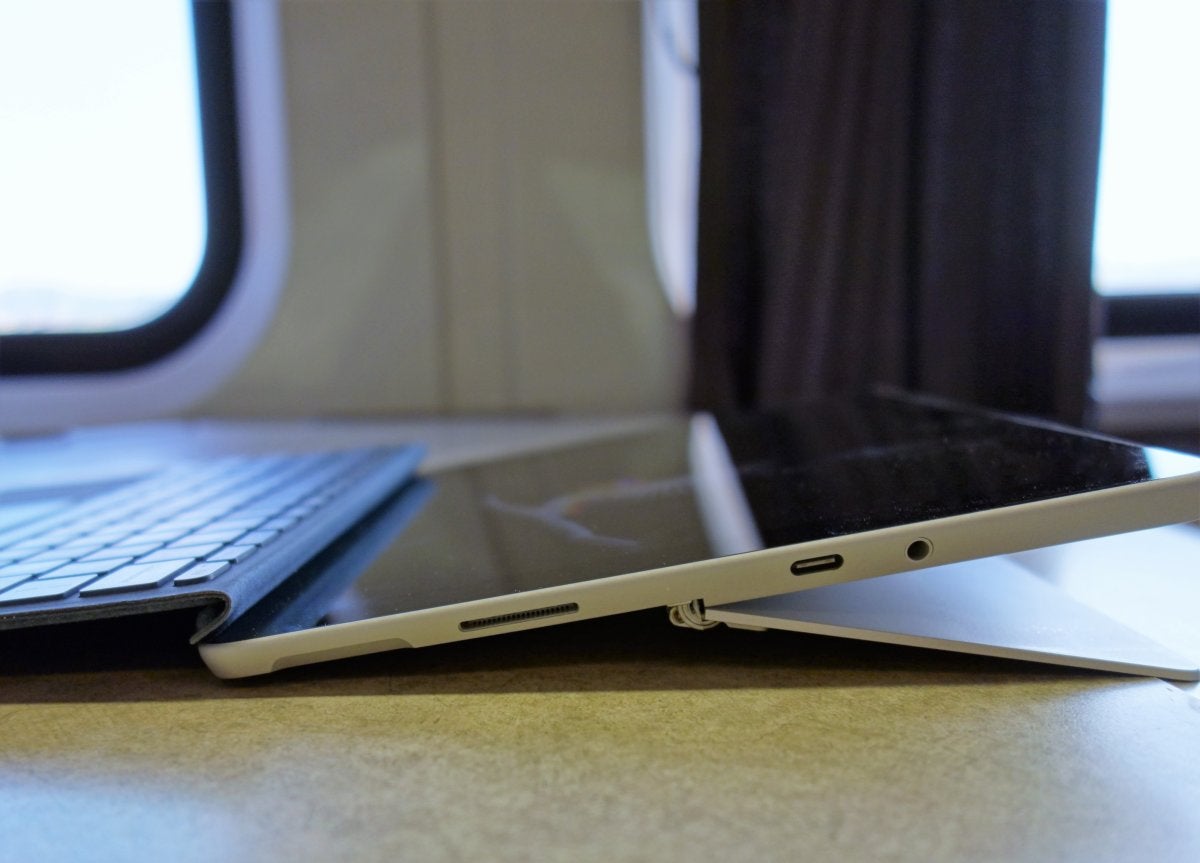 I'd rate the trackpad, which is ever so slightly smaller than the Surface Pro (2017)'s, as a slight step down as well. There's a plasticky feel to it, and it's responsive only over the lower three-quarters or so, not its entirety. It's not quite up to previous Surface standards.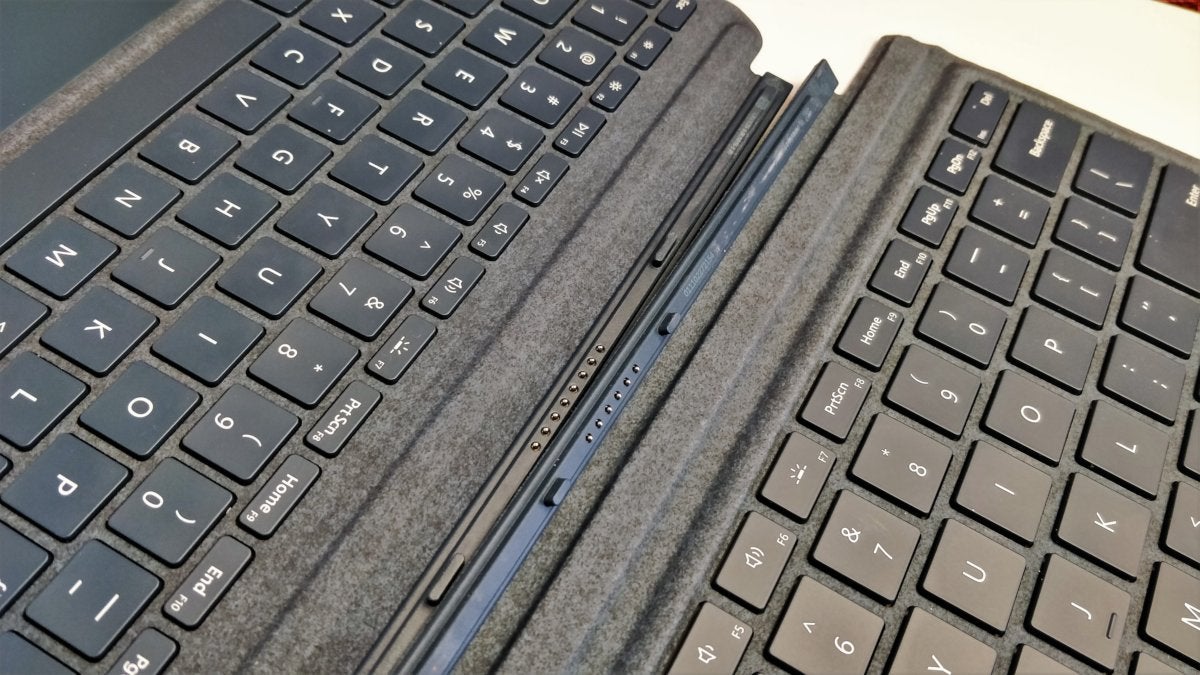 One of the Surface 3's highlights was its unexpectedly strident audio. The Surface Go takes it down a notch or two, but it provides enough oomph to play a few Spotify tracks while you're washing the night's dishes. I found the audio surprisingly balanced, though unsurprisingly lacking in low-end bass. Headphones, of course, provide a fuller, richer sound via the headphone jack.
We didn't test the rear camera, but the front camera logged us in consistently via Microsoft Hello.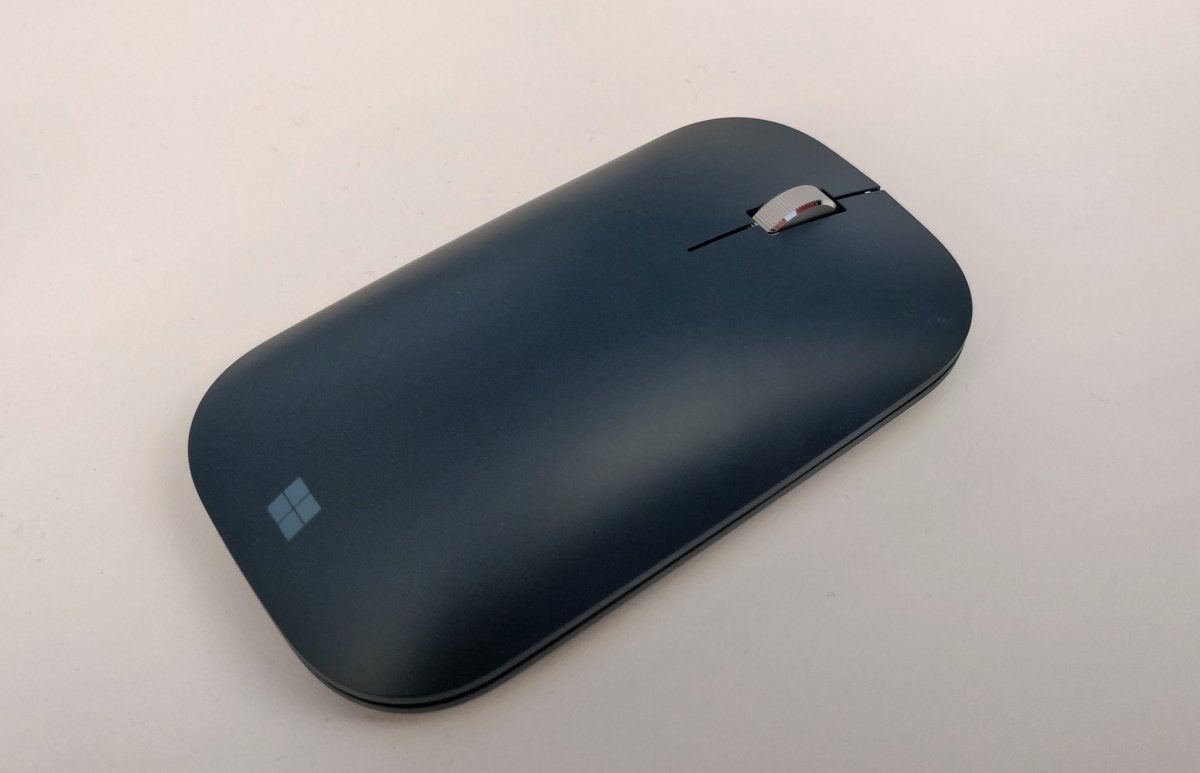 The other new piece of hardware that's available for (but not bundled with) the Surface Go is the Surface Mobile Mouse, a flattish, ambidextrous optical mouse that seems designed to be as compact and portable as the tablet it complements. It boasts right- and left-click buttons, plus an articulated scroll wheel
While I'm not a fan of flat mice, the extremely slick way in which this one glides across the surface of a mousepad feels great. There's even something to love within the battery compartment, which features a magnetic connection and spring-loaded battery connections. Though the batteries popped out easily when I accidentally dropped it, it's otherwise very satisfying, aesthetically.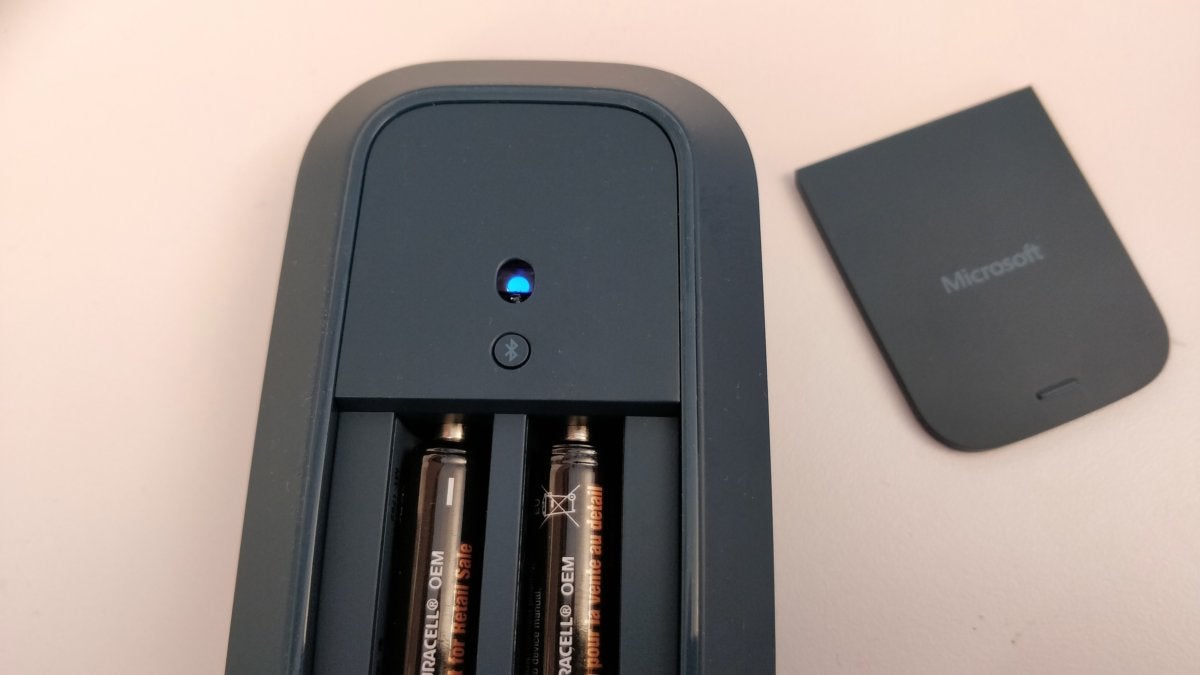 The Windows 10 S, mess?
By now, a certain percentage of the PC-using world—heck, even a certain percentage of PCWorld—sees "Windows 10 S" and stalks off in disgust.
Windows 10 in S Mode restricts you to apps found within the Microsoft Store, which include a mix of games and productivity apps that are usually far less comprehensive than what you'll find within Apple's iOS app store or Google Play. You'll also lack the opportunity to access the Command Line and some other Windows utilities, though Edge plug-ins now work.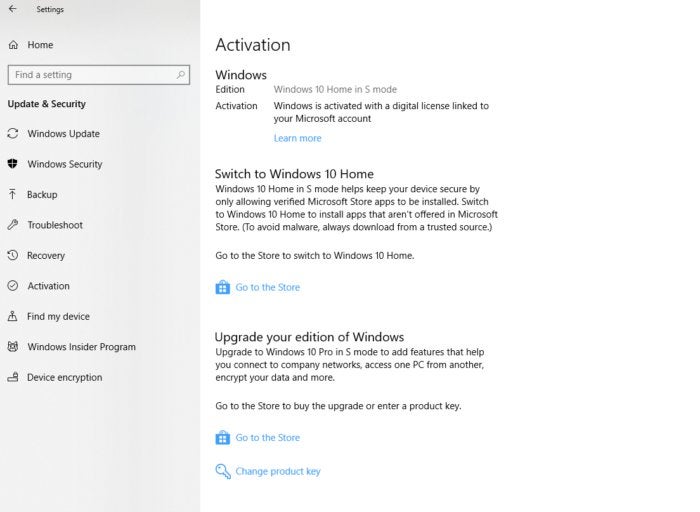 But if that's simply too restrictive, Windows offers a one-time, free "switch" out to Windows 10 Home, giving you unlimited freedom of choice in apps, as well as a one-time free "upgrade" to Windows 10 Pro in S Mode, which leaves the app restrictions in place but allows you to connect to company networks. Windows doesn't attach any time restrictions to the switch or upgrade. The Switch simply requires you to go to Settings > Update & Security > Activation and select which one you prefer. After testing in Windows 10 S, we switched to Windows 10 Home, and the process was quick: By the time we turned back to check on it, it was done.
While there's some truth in bemoaning the lack of choice in Windows 10 S, the Surface Go also does some positive things with S Mode that are worth noting.
During setup, Windows asked for my Microsoft account. But it also noticed that I already had an Office 365 account attached to it, and offered to set it up. The first time I loaded Microsoft Word, my documents that were backed up within OneDrive loaded automatically, and Windows offered to set up the rest of the Office apps in the background. Very convenient.
But OneDrive is also integrated within Windows 10 in S Mode, and that makes a great deal of difference. Every file that I had previously stored in the OneDrive cloud over the past few years automatically appeared in the appropriate folder—the documents stored in my OneDrive Documents folder re-appeared in my local Documents folder, as a OneDrive placeholder. That meant that I could see every file that I had backed up as if it were on my machine—but without burdening my storage capacity. Every screenshot I took and stored within my Pictures folder also automatically backed up to the cloud. That is how cloud storage should work.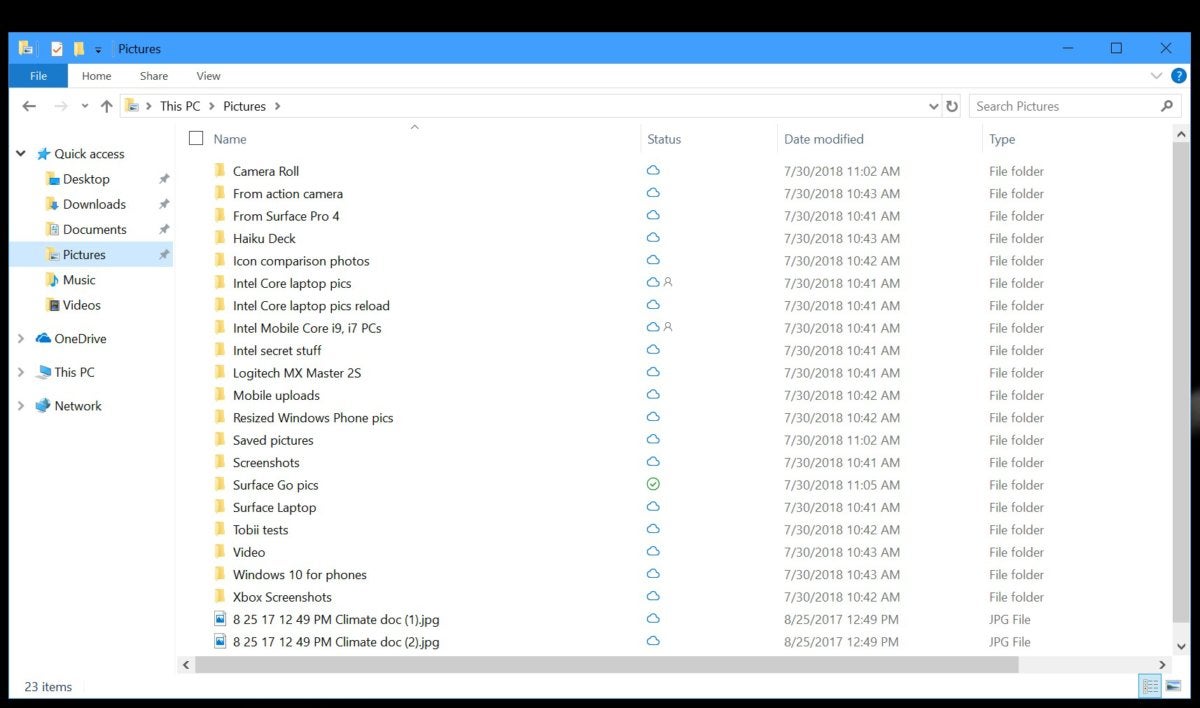 Well, mostly. Copying a multi-gigabyte file over a USB drive onto the Go also kicked off OneDrive, and it started syncing it in the cloud. Since I couldn't find any right-click option or OneDrive setting to halt syncing for this particular file, I paused syncing. That's not what I wanted.
Does that mean you can get by with a Surface Go with only 64GB of storage, as opposed to 128GB? Maybe, maybe not. Smaller, personal files that you'd create on a Go will probably be documents, whose size generally range in the megabytes. It's the larger apps that will chew up space quickly. Another reason to consider the 128GB option: It's a fast SSD, versus the slower (and cheaper) eMMC storage used for the 64GB version.
The tablet experience, without the Type Cover
So far, the Go looks and feels like a smaller, yet conventional Surface device. But with the Go, Microsoft implicitly asks a question: Do you really need a Type Cover? With previous iterations of the Surface, the question was a bit ridiculous, if not rhetorical: Of course! They were built for productivity.
Also, once you've shelled out, say, $799 or more for the Surface Pro (2017), adding a $160 Signature Type Cover isn't much more of an investment. With the $399 Surface Go, adding the Go's $99 Signature Type Cover in black (or $129 for Type Covers in cobalt blue, burgundy or platinum) adds a proportionally larger chunk to the total cost.
But it's about more than the money. The Surface Go's rather wide bezel (about 0.63 inches) gives a thumb and forefinger plenty of room to grasp the tablet—which is good, because Windows doesn't seem to be smart enough to tune out a thumb that wanders onto the display itself. My average-sized hands were just wide enough to straddle the Go with my fingers spread out, so I could use it either as a "one-handed" tablet, pecking at the screen, or as a massive phone of sorts, jabbing at it with my thumbs.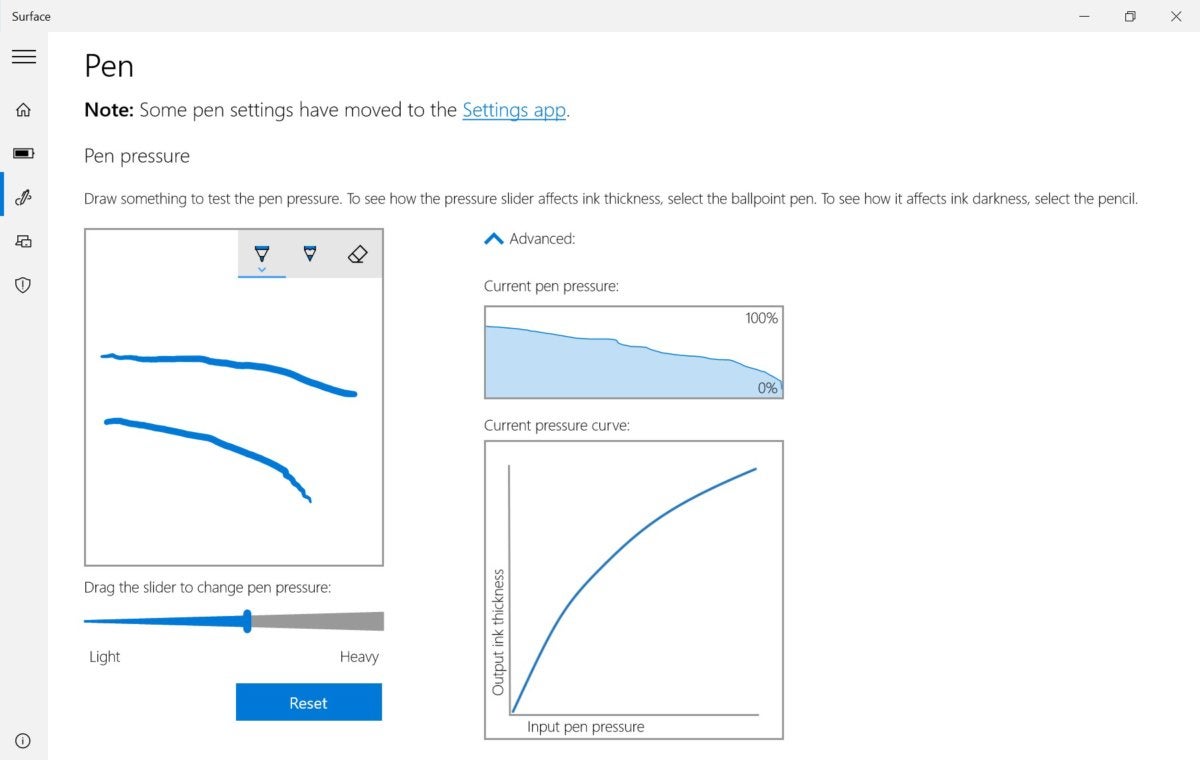 While it's not light enough to be held one-handed for long periods of time, navigating is simple enough with the on-screen keyboard that pops up when you tap a text field. You can also orally order Cortana to bring up a playlist on Spotify, navigate to a webpage, or open Netflix. Unlike with prior Surface products, a Type-Cover-free experience with the Surface Go is plausible.
The productivity experience, with the Type Cover
The case for the Type Cover is for desk work on the go. While the Surface Go is decidedly the most mobile tablet Microsoft has ever produced, the current model lacks an LTE connection. And I certainly wouldn't want to make last-minute changes to an Excel spreadsheet via an Android app. When it came time to do "real work," I gravitated toward a Wi-Fi connection, the Type Cover, and a flat surface.
The Surface Go fills the bill. I wasn't able to afford an airline flight to test whether the Go really fit within the space between a tray table and a reclined seat back, but the Go plus its Type Cover made for a comfortable workspace on an Amtrak train tray table and on my lap on the Bay Area subway, BART.
It was in this last scenario, though, that I began to wonder whether Microsoft was forcing the tablet concept a bit. All the jouncing and bouncing on planes, trains and automobiles lends itself more to a small clamshell notebook than a tablet—though, granted, with potential tradeoffs in terms of size and weight. I'd be interested to try out a Surface Go built like a small, convertible Surface Book.
One other note: If you work outside, the 397 nits generated by the Surface Go's screen is enough to view and edit a Word file in full sunlight. Who says on-the-go can't mean on the beach?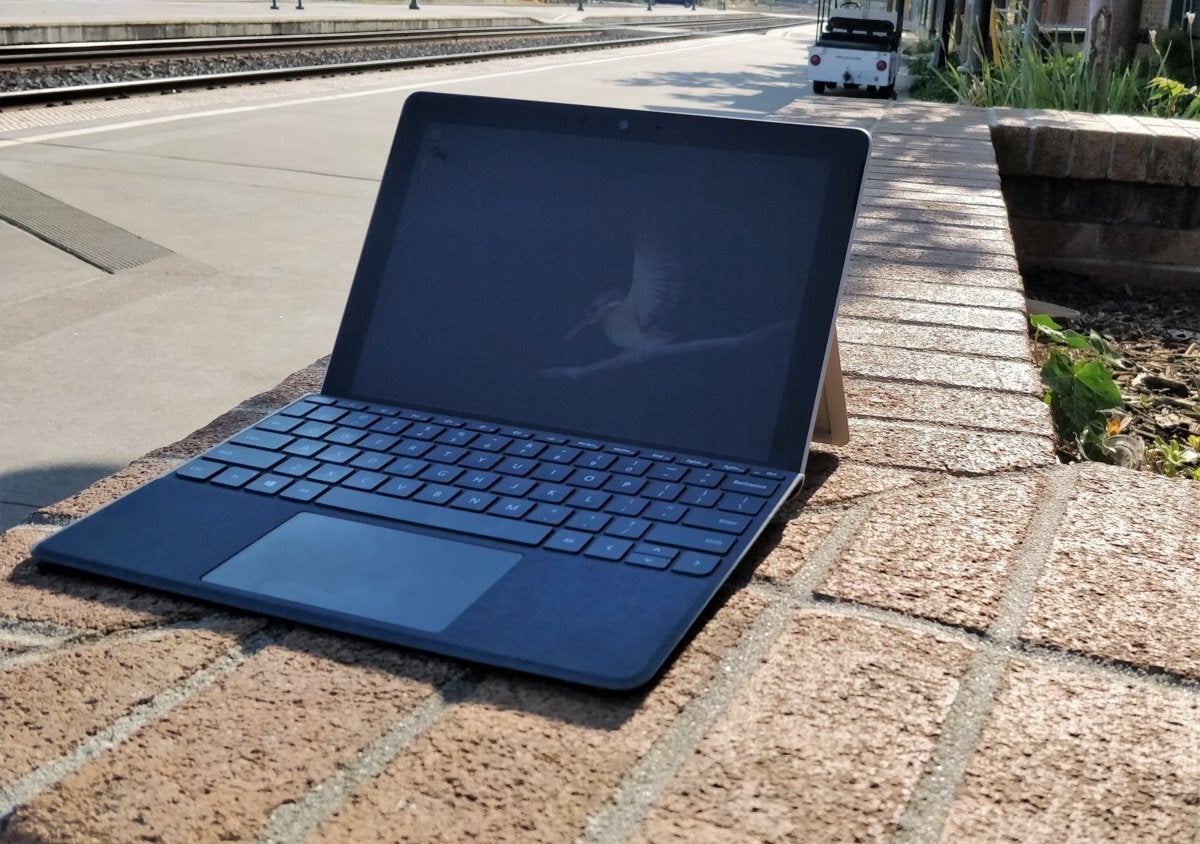 Surface Go performance: Windows 10 S
As we did with the Surface Laptop, we considered the Surface Go as a Windows 10 S device first and foremost, comparing it to rivals via a suite of cross-platform benchmarks: the most recent 9.7-inch Apple iPad, for starters, and a preferred Android tablet, the Samsung Galaxy Tab S2. We also included the Asus NovaGo, which uses a Qualcomm Snapdragon chip, and the Asus Chromebook Flip C101PA, powered by an ARM Rockchip processor.
Because of the limitations Windows 10 S places upon apps, we first chose a suite of browser-based tests, which provide some points of comparison. (All tests used Microsoft Edge, except for the Chromebook Flip, which uses the Chrome OS and Chrome browser.) You'll see those benchmarks first.
Then we upgraded the Go to Windows 10 Home and evaluated it with our normal suite of benchmarks.
Keep in mind that we're evaluating it as Microsoft sees it: as a lightweight office machine, nothing more. For a broader context, however, we added some far more powerful Windows and Mac devices, too.
In real-world use, the Surface Go's performance seemed competent. Microsoft Edge ran smoothly. Spreadsheets with 1,000 rows of data opened within a second or two, and I even managed to create a chart based on the data. (Manipulating that chart was another story.) We have a lot of numbers that tell you that the Surface Go is slow—well, slower than many of its competitors. As a device for Web browsing, Office work, and some music playback, I was surprised at how competent the Go was.
But yes, our browser-based benchmarks paint a pretty lukewarm picture. Microsoft claimed the Surface Go would be slightly faster than the Surface Pro 3—yes, the 2014 device that put the Surface Pro line on the map. But it's not. According to our testing, it's about 60 percent or so of the SP3's performance, based upon the SP3 Core i5 version. (We updated the Surface Pro 3 to the current version of Windows 10, naturally.)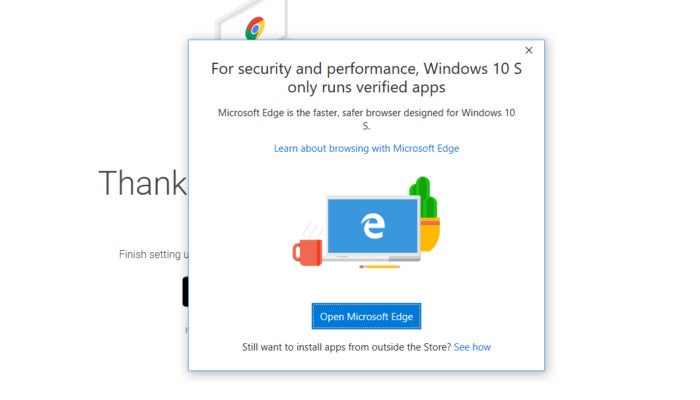 One of the more "real-world" Web tests available is WebXPRT, by Principled Technologies, which assigns the browser six HTML5- and JavaScript-based workloads that approximate tasks like organizing photo albums and tracking stock option pricing. We have a larger database of the older WebXPRT 2015 scores, and a few from the most recent WebXPRT 3 benchmark. The Surface Go finishes near the back, among the optimized tablets, as it does for virtually all of the tests.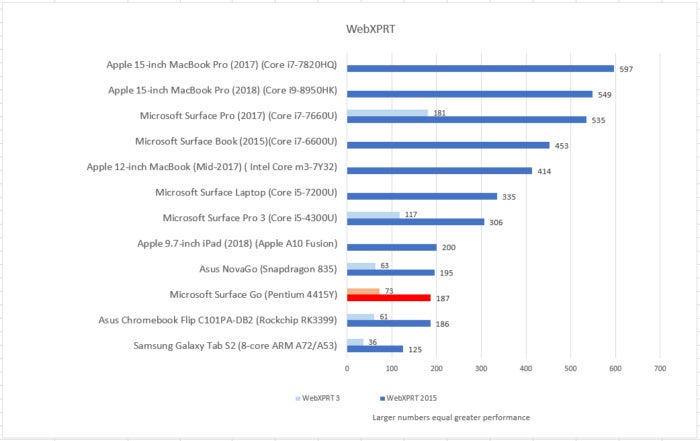 Likewise, we use the Speedometer test (version 1 and version 2) to test the responsiveness of the browser (and the PC) to web applications. The Surface Go once again dwells in the cellar.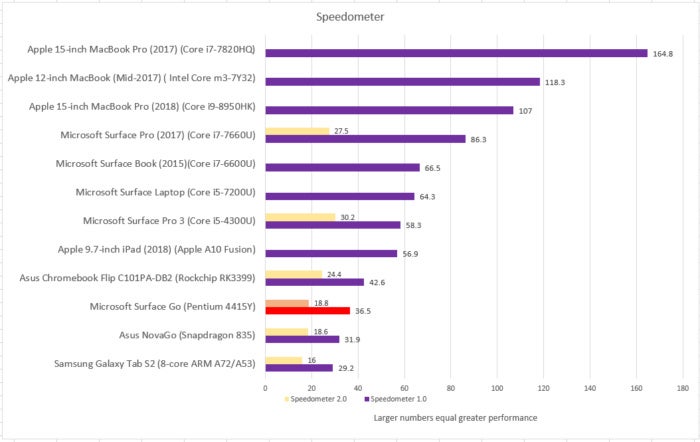 The JetStream 1.1 benchmark includes both synthetic tests as well as some "real-world applications," such as the Mozilla open source project's PDF renderer (pdfjs), and the Box2D JavaScript physics engine (box2d). The Surface Go led the back of the pack.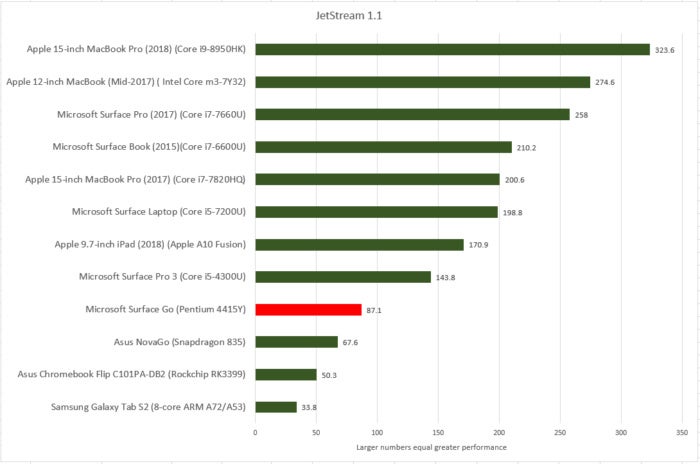 Octane 2.0 is a deprecated Google benchmark, but we've added it for completeness, as well as its large historical database of comparative data. The Surface Go once again wins among the laggers.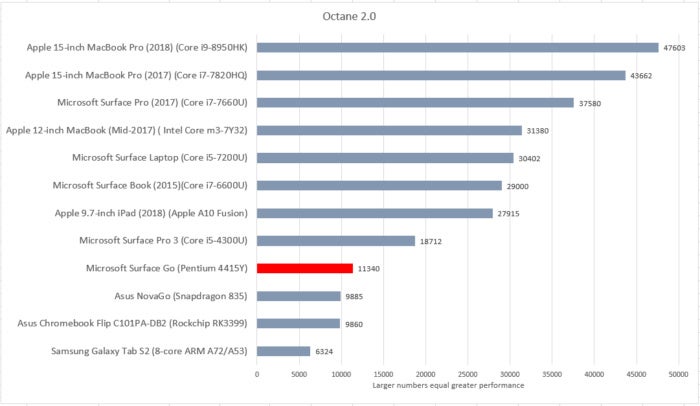 Finally, there's battery life, which we measure by loading a 4K movie into the Windows Movies & TV app and looping it until the battery expires. With Windows 10 in S Mode, we can't use our normal automated tools to detect when the PC falls out of active mode; instead, we have to sit alongside it and keep an eye on it until it does. The Surface Go lasted 6 hours and 49 minutes, which puts it among the shorter-lived competitors.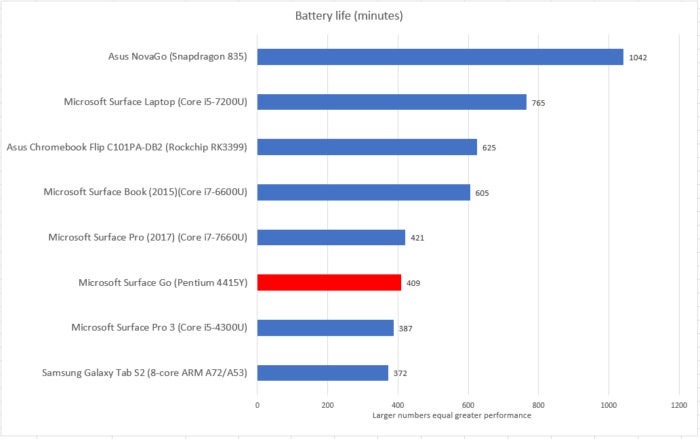 Remember, this iteration of tests is restricted by which apps we can throw at the Surface Go—which is hardly any, because of Windows 10 S.
Surface Go performance: Windows 10 Home
After we upgraded the Go to Windows 10 Home, we were able to add our standard benchmark suite. In this case, our more sophisticated benchmarks confirmed our earlier results. There's one advantage to the Pentium chip: Because it doesn't support turbo mode, Microsoft could simply design for the maximum thermal and power limits and not really worry about spikes. We saw no evidence of throttling at all, using Intel's XTU monitoring software.
We used the PCMark Work, Home, and Creative tests to measure general everyday use. The Work and Home tests are probably the most significant, as Microsoft sees the Go as straddling the low end of work and play. The Work test measures tasks like word processing and spreadsheet data entry and manipulation, while the Home test performs light gaming, web browsing, and related tasks. In these tests, the Surface Go posted lukewarm results.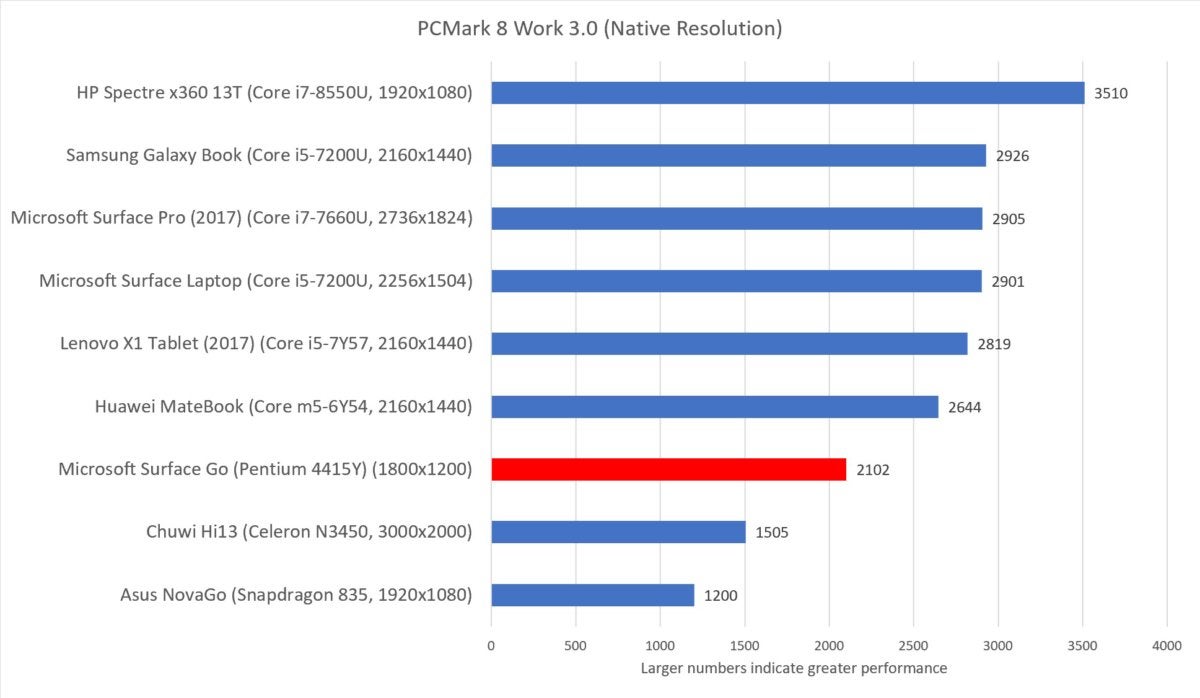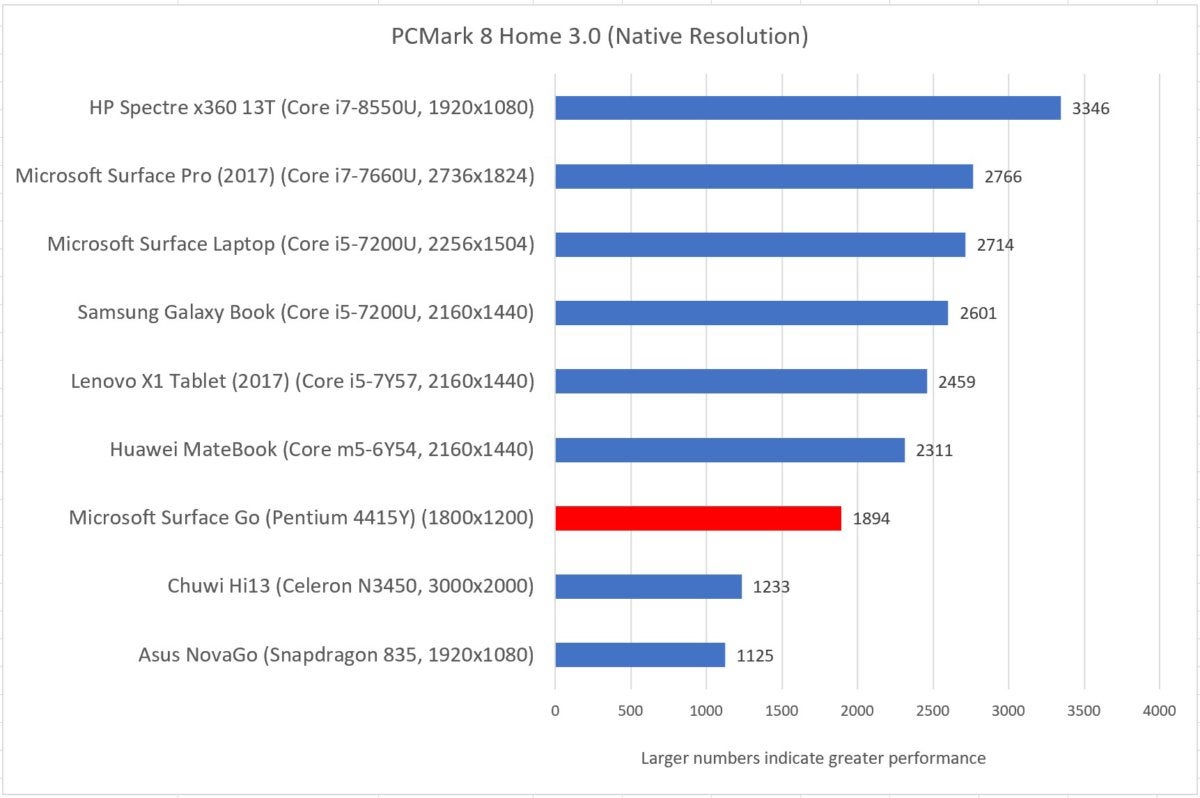 The Creative test is a slightly more potent test of the Go's capabilities, with photo editing added to the mix. Again, it's competent, though nothing special.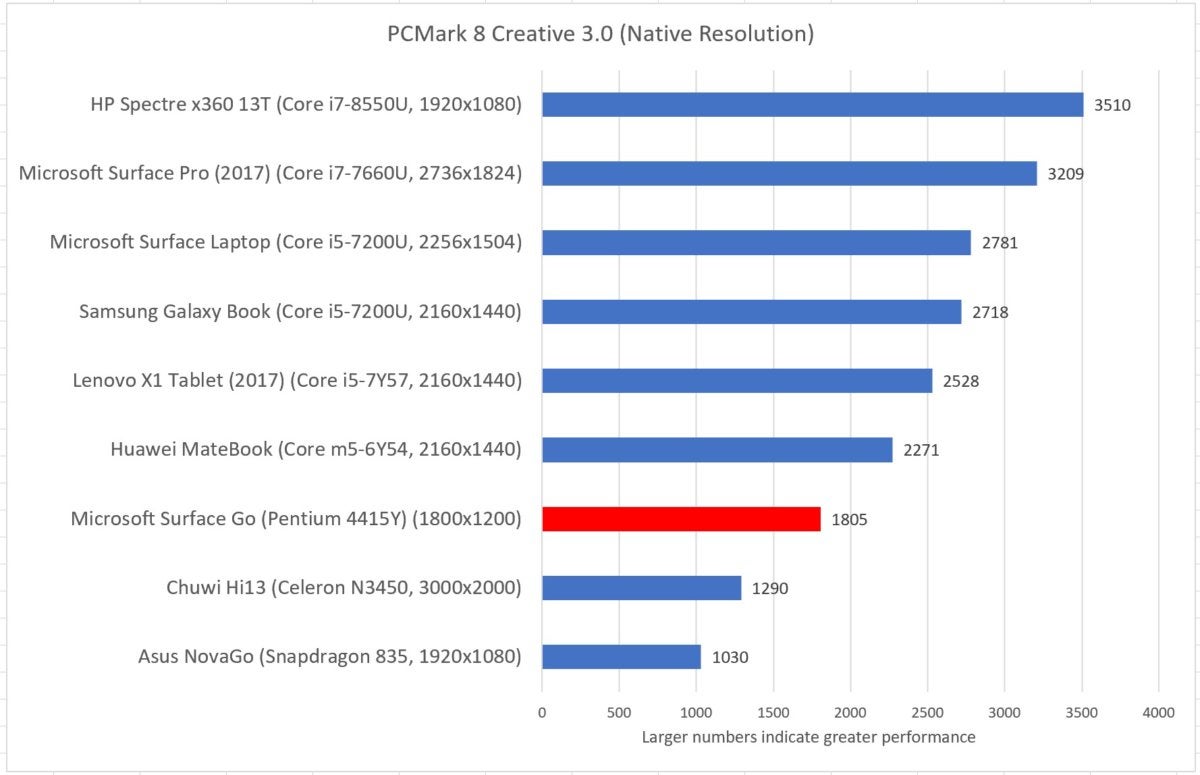 Because the Surface Go's Pentium is hyperthreaded, it can assign four virtual cores to the task of rendering, as our Cinebench tests shows. We don't expect that you'll be using the Surface Go for intensive graphics work, however. (At the time of our original review, the Asus NovaGo could not run the 64-bit Cinebench executable due to limitations in the architecture.)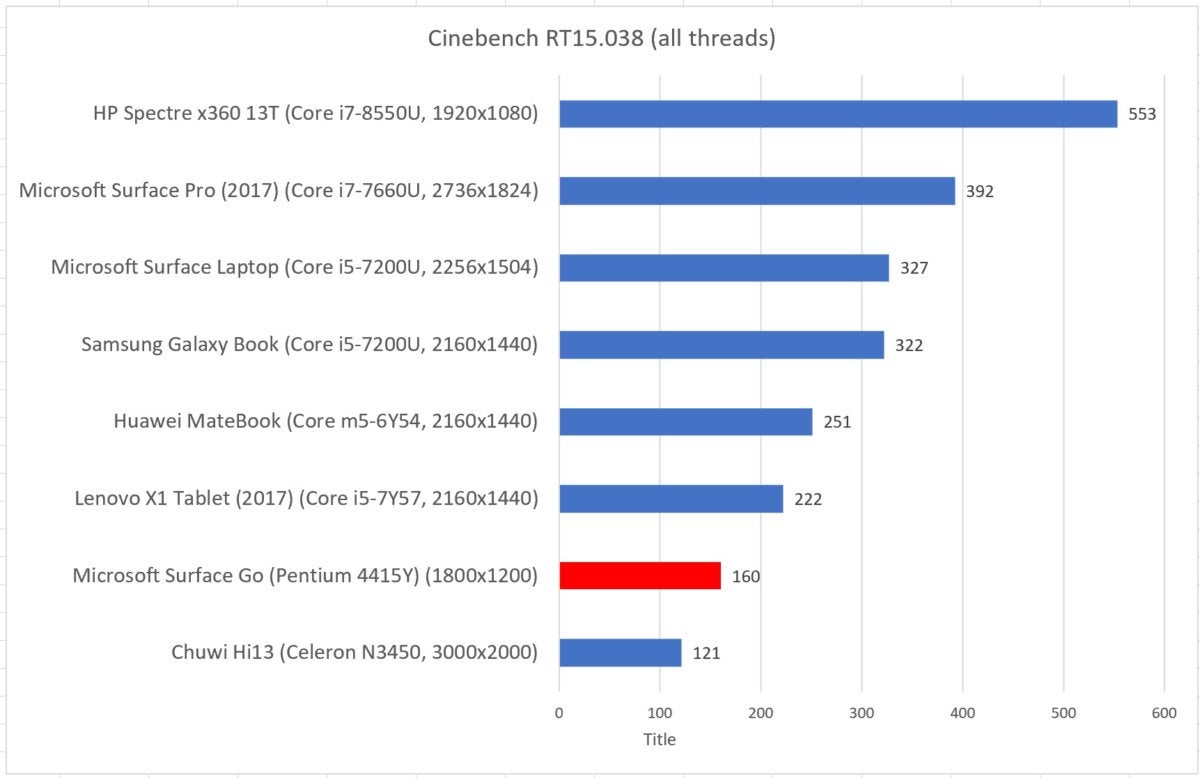 Handbrake, our time-intensive video conversion test, transcodes a major Hollywood movie into a format that we can watch on an Android tablet. It's here we expected to see some slowdown over time. Again, the lack of turbo boost means that the Go's Pentium processor remained at a fixed temperature and utilization over the life of the test…which took, well, forever.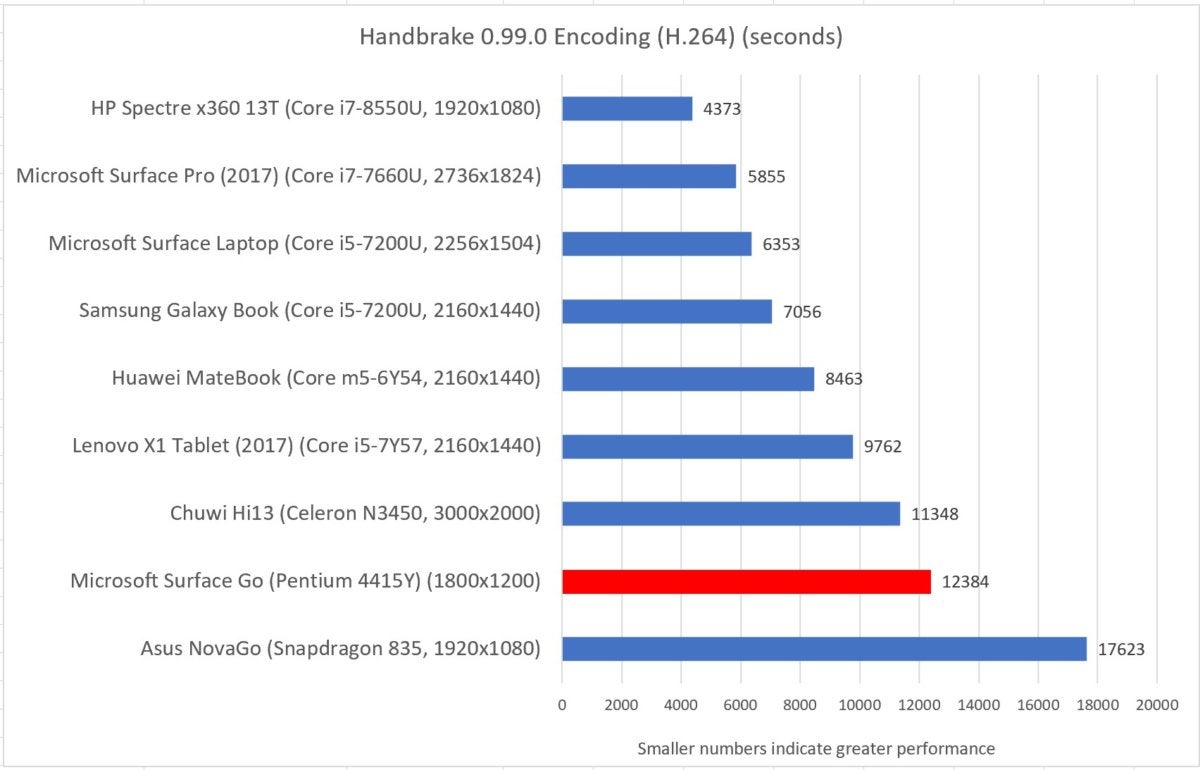 We also used 3DMark's Sky Diver benchmark to measure the Go's performance in light gaming. In the real world, we'd play turn-based games and 2D sprite-based shooters and platformers on it, nothing more. It just doesn't have the horsepower for anything too complex.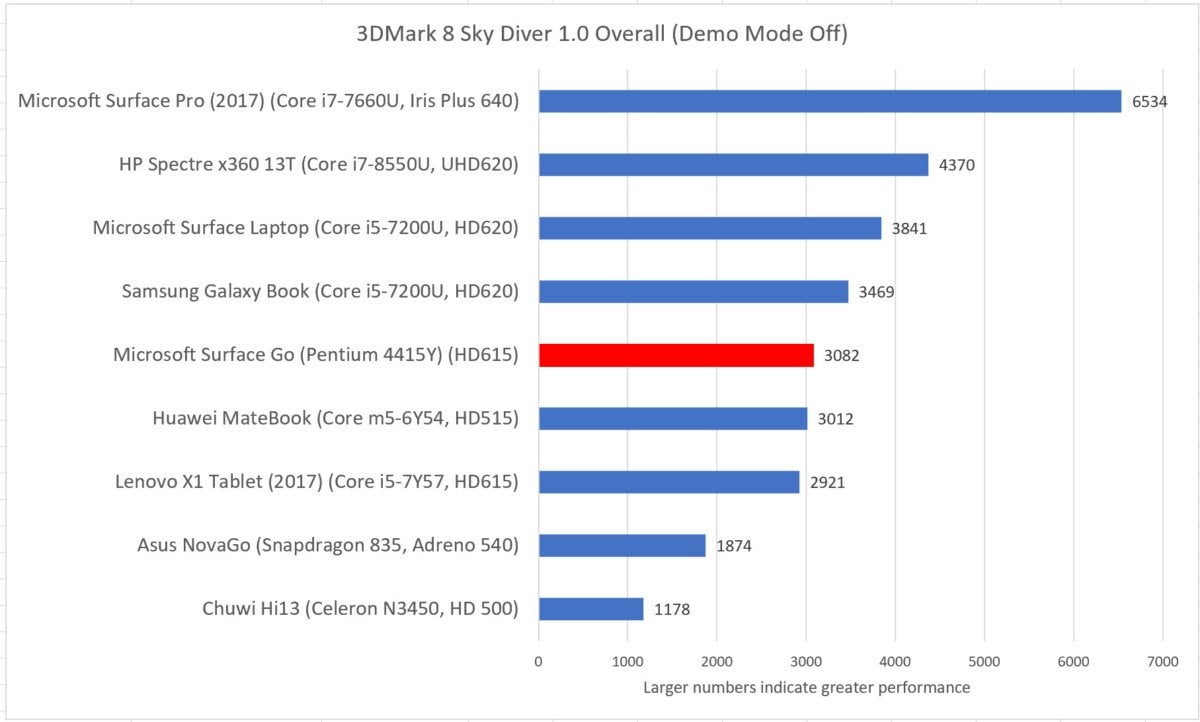 Finally, we rechecked battery life, using our more sophisticated automated approach. Microsoft has indicated that Windows 10 in S mode is more optimized for battery life and security, and we expected battery life to dip a bit in Windows 10 Home. It actually doesn't—statistically it's roughly equal. We'd chalk up any error to the simple fact that it's difficult to babysit a rundown test over the course of several hours.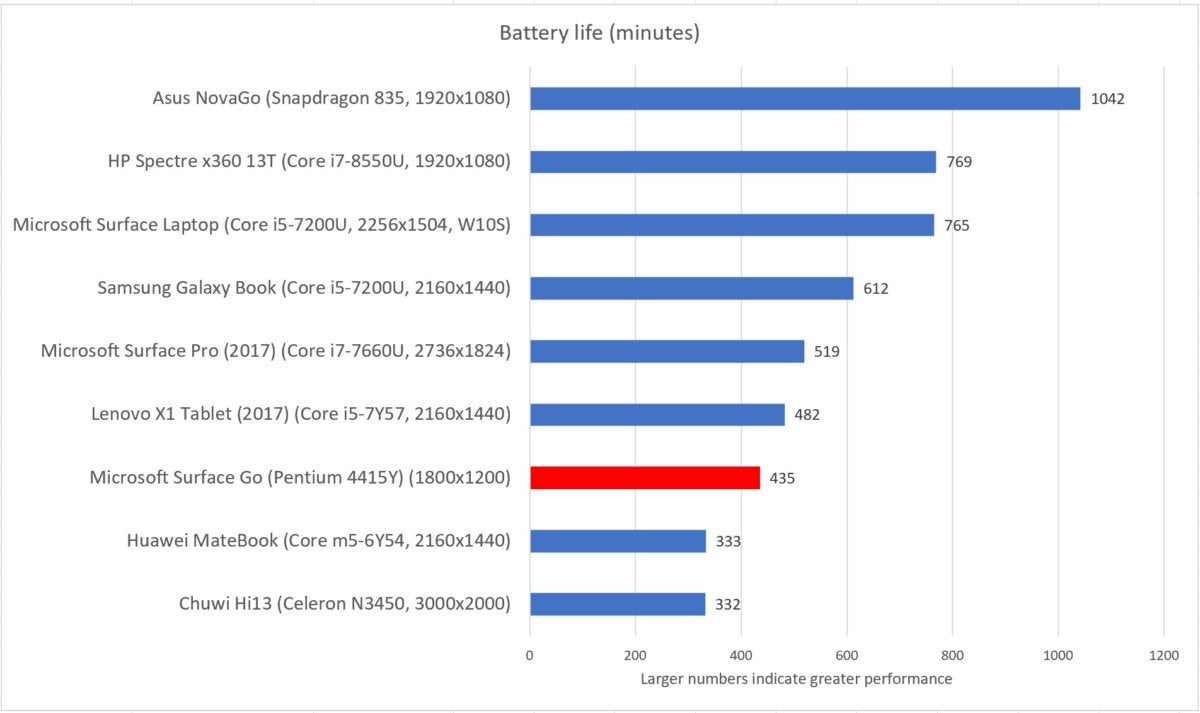 Surface Go: The verdict
Microsoft has traditionally pushed the limits with Surface hardware: faster, more powerful, and yes, more expensive. The Surface Go feels like a repositioning, reaching down into the "niche" of the mainstream commuter, offering a tablet that can be a PC when you need it.
If you're looking for the best pure tablet, this actually isn't it. I personally prefer models like the (three-year-old!) $319 Samsung Galaxy Tab S2 (Android), a vast (10.5-inch), lightweight (1.03 lb) sheet of glass. Likewise, the $329 9.7-inch Apple iPad (2018) weighs a bit less than the Surface Go and boasts Apple's amazing iOS app ecosystem. (But an Apple Pencil also costs $99 extra, and a decent iPad keyboard can run you more than $120.) For something smaller, Amazon's cheap 8-inch Fire HD tablets fills the bill.
What the Surface Go is selling is versatility. Plus, it's priced low enough that it starts moving into the "sure, why not?" range of discretionary purchases. This is a solid low-cost tablet, even if all the optional accessories begin to add up. There's certainly some shock associated with using the new Type Cover for the first time. But if you're headed to Cancun for a week, and there's that nagging doubt that you'll need a real computer, I think you're going to grab the Surface Go.
This review was updated on Nov. 2 to note the addition of a 4GB RAM/128GB storage option.
Best Prices Today: Surface Go