At a Glance
Expert's Rating
Pros
Great day and night video
Very affordable
GPS via $20 optional module
Cons
Camera stops recording when external power is removed
GPS module is sometimes slow to initialize
Our Verdict
The Aukey's DR01 product features great video captures, day and night. It also supports GPS via a $20 external module, though said module often took minutes to initialize and start watermarking the video. But the camera stops recording the second it loses power, a potential problem in accidents where 12-volt power is cut off.
Aukey's $58 DR01 dash cam initially proved a pleasant surprise. Despite the low price, it delivers some of the best video I've seen—both day and night. Throw in the optional $20 GPS, which, though slow to initialize at times, works well, and it would've been a top contender for best budget unit. Except…
Despite the mentions of a supercapacitor on the DR01's Amazon product page, the camera quit almost immediately when power was removed. There may indeed be what could technically be considered a supercapacitor on board, but if so, it's only of sufficient capacitance to save the already recorded video, not to continue recording.
Nearly every camera I've ever reviewed, including the majority of those with "supercapacitors," will record for a least a few seconds without 12-volt power. Why? Because the incident may not be over when the 12-volt is interrupted.
Design and features
The DR01 doesn't look like much out of the box, just your standard box-shaped dash cam with a mini USB power/connection cable, and two-port USB cigarette lighter (aux for newer cars) adapter. But as you're ostensibly hiding whatever dash cam you buy (with a few exceptions) behind the rear view mirror for legal purposes, futuristic design, though nice, doesn't mean all that much. Beside, it's the camera that counts, and the DR01 does very well in that regard.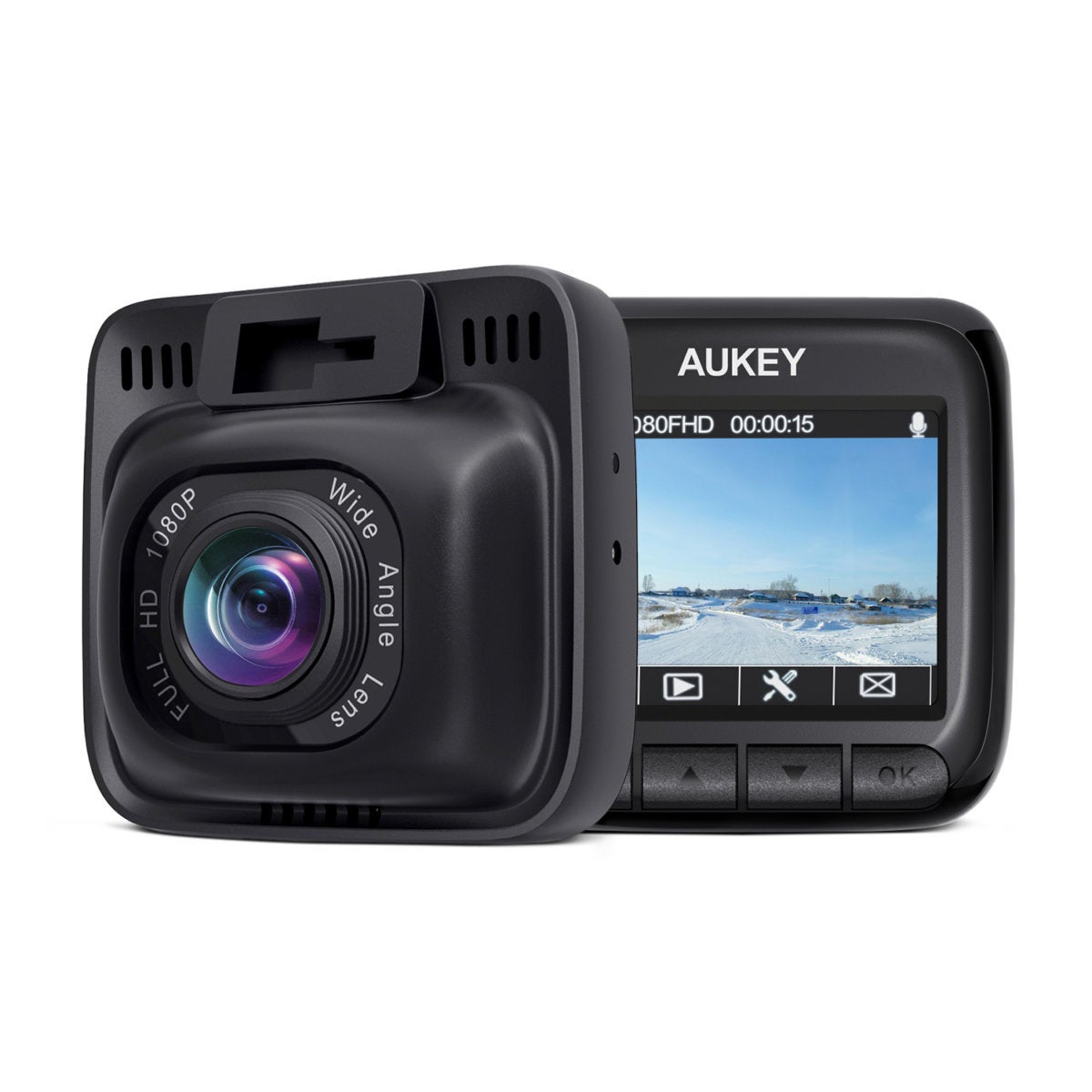 According to Aukey, said camera offers a 170-degree field of view, which will capture more action to the sides than the more typical 140 degrees. Sometimes the wider angle results in a fish-eye effect on images, but it's minimal on this device. The DR01 uses a Sony Exmor IMX323 sensor. Given the proper processing, it delivers very nice day and night video.
Aukey includes both suction and semi-permanent sticky mounts, along with some sticky-tape cable raceway clips and some extra double-sided tape for the future. With two mounts, you can easily remove the camera from the semi-permanent mount in your main ride and use it with the suction mount on your weekend vehicle, rental, etc.
The DR01 measures about 2.2 inches square by a little over an inch deep and sports a sharp 2-inch color LCD. The unit is configured and controlled using four buttons facing you near the bottom of the camera. The functions of the buttons change somewhat according to what you're doing (driving, performing setup, etc.) and are denoted by icons on the display directly above them. On top of the unit are an AV output and a GPS link port.
The Aukey is easy to use, and the menus are arranged logically, but that's from someone who's used a lot of dash cams. The manual is sparse, so neophytes might need to do a bit of reading up or check YouTube for what some of the functions actually do. It's hardly rocket science, but perhaps unfamiliar.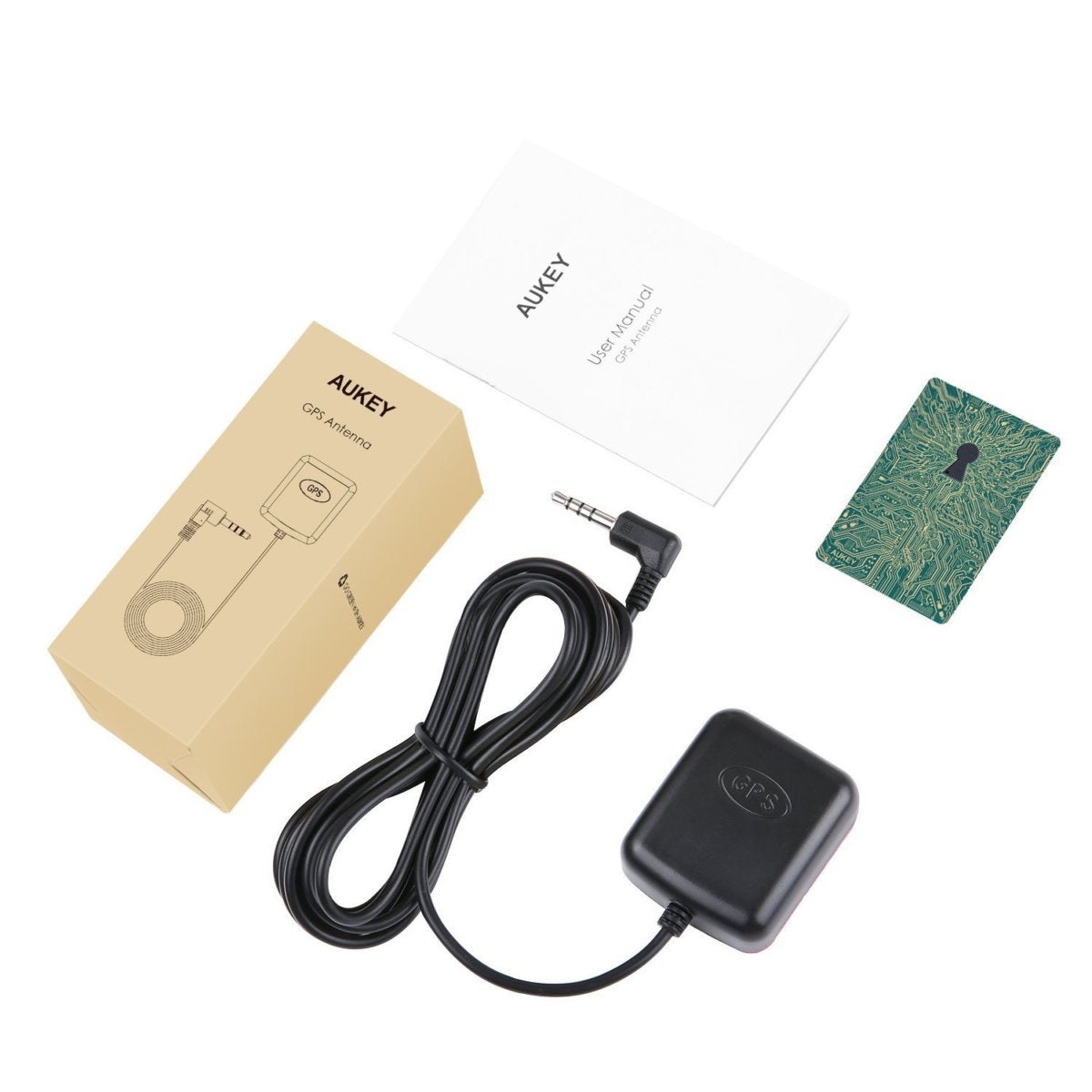 Aukey
Performance
I didn't leave a lot of mystery about the DR01's capture performance with my declaration up top. It's really, really good. Sony's Exmor sensors, like the one used in the DR01, pick up the details nicely during the day, as well as at night. Enough with the words, just take a look at the images below. Note that it was a very gray day here in San Francisco during the day capture.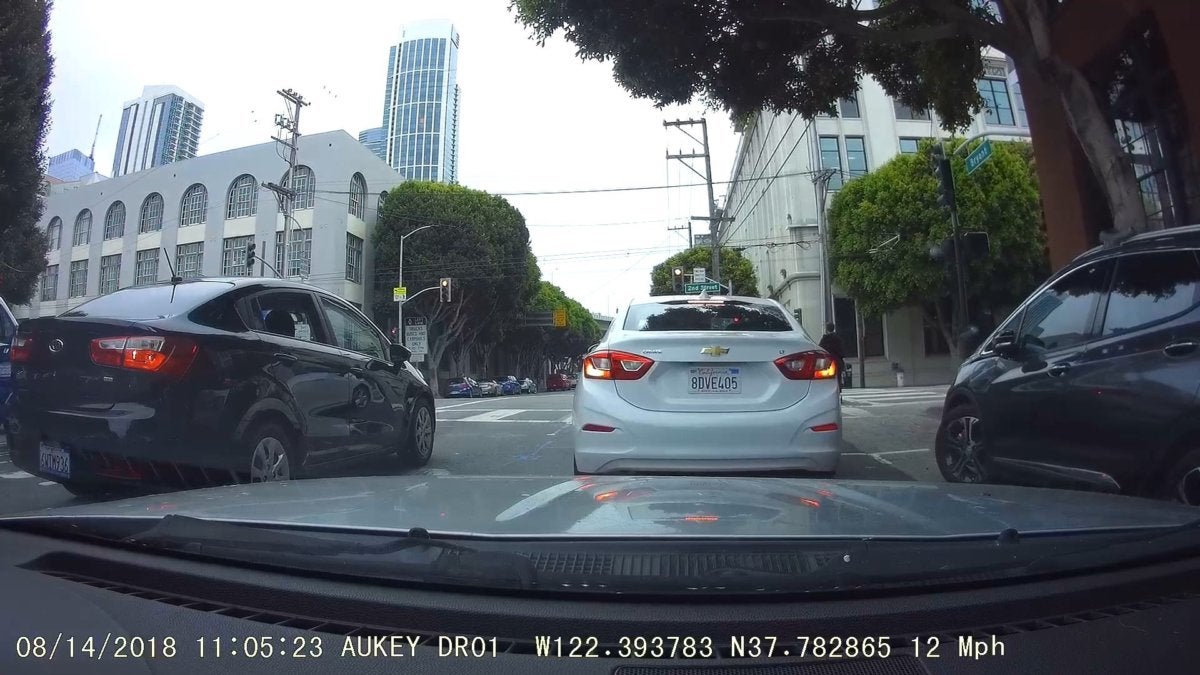 I've included two video snapshots to show the DR01's night captures in low-light city conditions. The second is edited to show the amount of detail that's actually captured. Brightened or no, it's very good night video—far superior to what older budget dash cams have produced.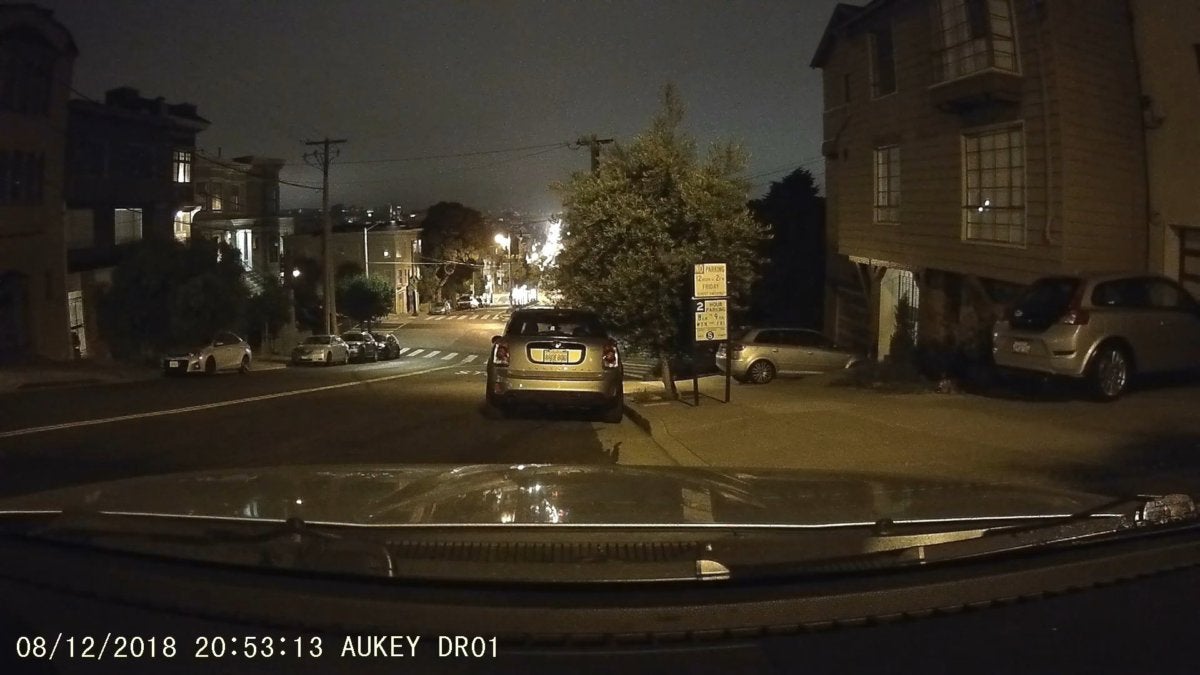 The image below was edited post facto to bring out more detail. Trust me, it's not nearly that light in this location, though there are street lamps.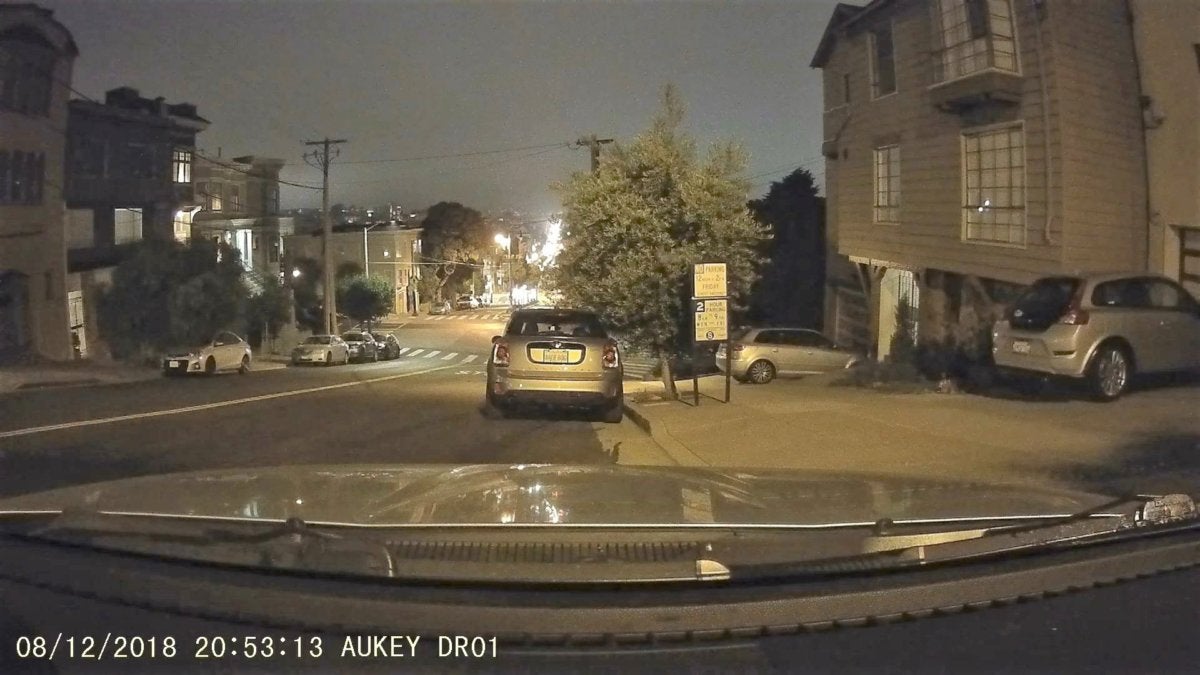 The motion sensing and variable G-sensor worked well at the default settings, with the latter setting off only once, when I hit a particularly sharp bump. Just right.
The bad news
There are two things that stop the DR01 from being the perfect budget dash cam. The first is that the optional $20 GPS unit sometimes takes several minutes to initialize. However, I'm still glad it's there, given that a number of cameras I've seen recently don't even bother with this lawsuit-saving feature.
The other, more serious issue is that, as discussed up top, DR01 will stop recording when power is removed. This can happen in an accident if the battery or power cables are damaged, or if the source you're using is on a relay. Hence, you want your dash cam to film at least a few seconds on its own power (battery or supercapacitor) so you capture the entire incident.
A darn shame
If it were only about the quality of the video, I'd flat out proclaim the Aukey DR01 a budget gem. If all you want to do is document your travels, by all means though the slow GPS initialization might be a bit of an issue.
I can't really recommend a dash cam for legal protection that won't record at all after the 12-volt power is removed. The incident you're looking to document may not be finished when your 12-volt power dies.
If you already bought a DR01 thinking it had the ability to record in case of power failure—sorry, it doesn't. Aukey claims there's a 24-month warranty. Whether that covers this, I can't tell you.
Note: This article was edited lightly on 8/25/2018 and heavily on 8./27/2018 to amend the claim of no supercapacitors. Technically, the technology inside may include a super/non-electrolytic/high-density capacitor. Just one of insufficient capacity for recording.