At a Glance
Expert's Rating
Pros
Very good NVMe performance most of the time
Absurdly affordable
4-bit QLC NAND promises up to 4TB in future releases
Cons
Slows to 100MBps writing during very long transfers
Our Verdict
The Intel SSD 660p will shake up the low end of the NVMe market with very good performance at an unprecedented price, even though write speeds can drop precipitously to 100MBps when very large amounts of data are written to the drive, or when it begins to fill up. Note that the 512MB version offers significantly slower performance.
Best Prices Today: Intel SSD 660p (1TB)
Intel's SSD 660p is a bit of shock to the system. Not only is this NVMe drive the first Quad-Level Cell (QLC/4-bit) SSD on the market, which portends larger-capacity offerings, it's faster during everyday use, and far cheaper—$200 for 1TB—than even the most affordable TLC offerings. And thanks to some cache trickery, it can sustain speed through a decent-sized write.
But while life just became more difficult for vendors working the low end of the NVMe SSD market, purveyors of top-end drives needn't worry. When the 660p runs out of cache, write speed plummets to the speed of a slow hard drive. That's an issue. How much of an issue depends on how you'll use the drive.
Design and features
Intel sent us the 1TB version of the M.2 2280, PCIe x4/NVMe 660p. There was no label or heat sink, which served to call attention to what is a surprisingly sparsely populated PC board. There are only two memory chips on one side, and what's likely a DRAM chip under a metal cover. From the images Intel sent us, it appears the company can easily fit four chips on each side, so expect 2TB and possibly 4TB models in the near future. As of now, there's only our 1TB version and a $99 512GB version. Note that the latter is significantly slower, which I'll talk about below.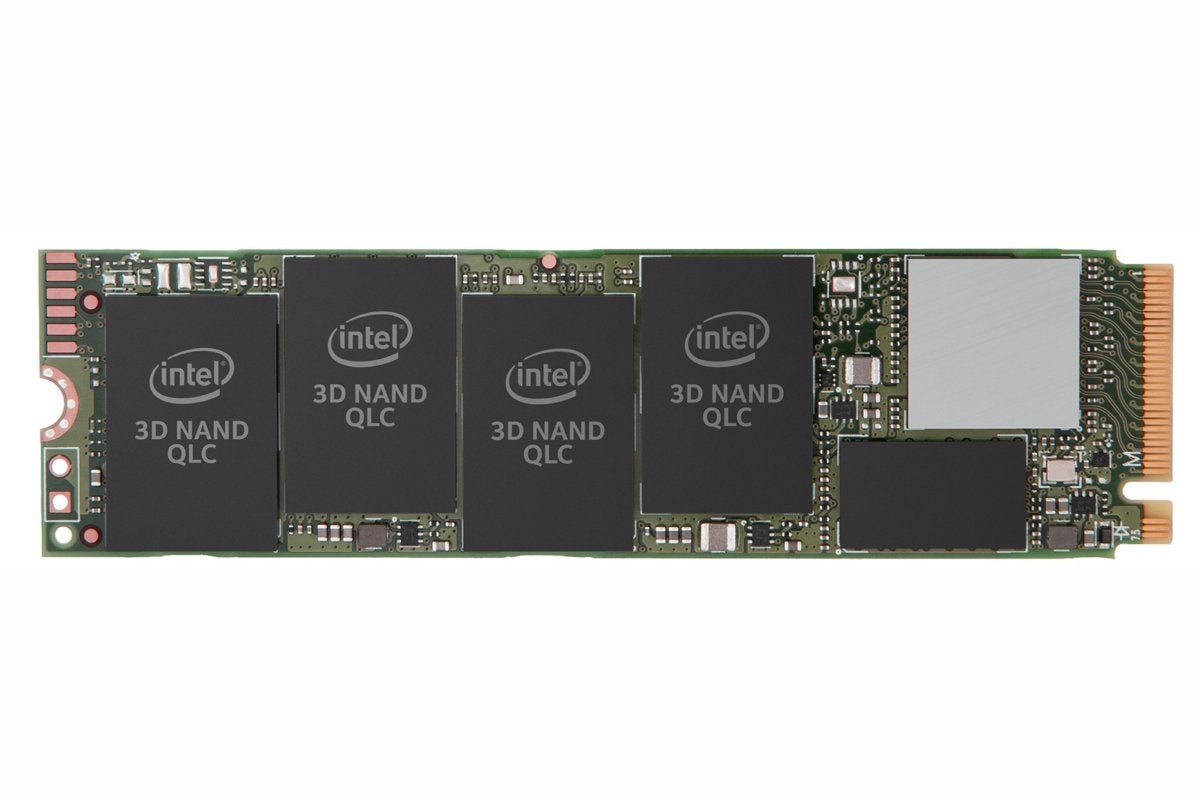 The memory is 64-layer QLC, that is, Quad-Level Cell NAND. QLC means that each cell can store four bits of information, compared to Triple-Level Cell's three (TLC), Multi-Level Cell's two (MLC), and Single-Level Cell's one (SLC).
While the drive performed quite well during normal testing, this was because of caching techniques. Intel was quite candid about QLC being slower than their TLC when written natively.
Note that the 1TB 660p is very thin and light, which is nice when you want upgrade your laptop, assuming your laptop has a M.2/PCIe NVMe slot, and supports booting from NVMe. Note that the slot will need at least four PCIe lanes to take full advantage of the 660p's full performance.
Dynamic cache
The 660p has static DRAM and SLC caches, but it owes its sustained performance to a variable-sized secondary SLC cache. How do you vary the size of the cache? You use a portion of the main body of QLC and treat it as SLC by writing only one bit, which is a whole lot faster than writing the full four bits. The 660p dynamically assigns more QLC to be treated as SLC when need be, and when time allows, transfer its contents to QLC writing the full four bits. At least that's what I took away from the presentation.
It worked quite well during our normal battery of tests, when there was nary a hint of a slowdown. But when I started upping the data count, things happened…
By the numbers
The Intel SSD 660p's performance (gold bars) isn't close to that of the fastest NVMe SSD we've tested, but it is fast during normal use compared to low-end TLC drives. Of course, you wouldn't guess it from our AS SSD 2.0 results, which showed stupefyingly low 200MBps sequential (large file) reading. Yes, reading, not writing. That's something I've never seen from an SSD or the test before. Ever.
As this weird result wasn't corroborated by the real-world results or other synthetic benchmarks, ignore it. Intel informed me that with its own Rapid Storage drivers this doesn't happen. We stuck with the integrated Windows 8.1 drivers used in our other testing.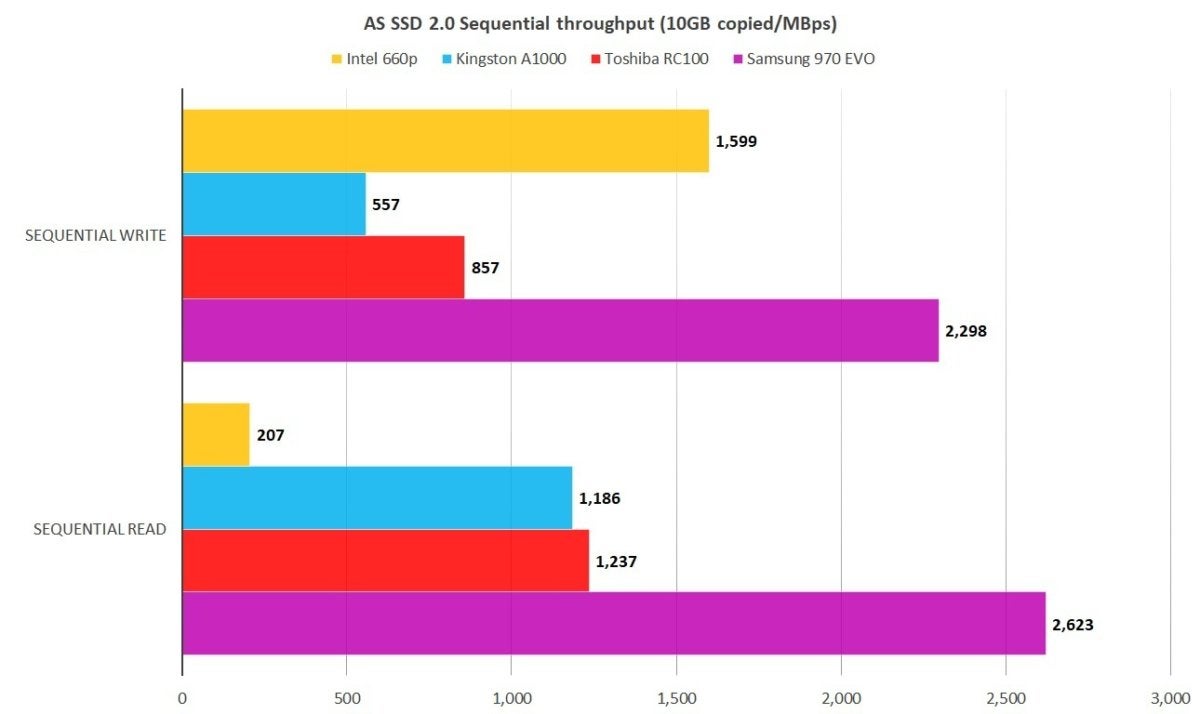 CrystalDiskMark's results, shown below, were in this particular case, far closer to the reality. There's a sensible sequential read result, though it's hardly what you see from top-end drives such as the Samsung 970 Pro. Random numbers show how quickly the drive can find and serve up small files, while sequential shows large file performance.

Our 48GB copy tests, which simulate copying large files such as movies and documents, confirmed CrystalDiskMark's opinion, and my subjective experience. I'd have no qualms whatsoever about putting this drive in my system for everyday use.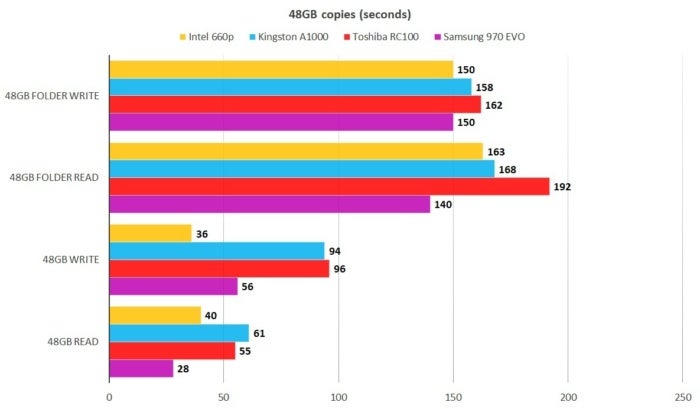 Note, that these are the results for a 1TB drive. Intel quotes significantly slower results in the sequential write and random read scores for the 512GB version—in fact, about half. That's because there's only a single chip on the 512GB drive rather than two. In effect, you've halved the pipes available to shotgun data.
As the cache turns…
Once upon a time, the 48GB data set we just started using was plenty to overflow the cache on any SSD. But with the advent of variable caches, we now regularly try to fill the drive to see if performance degrades. Long story short—-I hit the 660p's limit far sooner than I expected. There was only around 200GB on the drive when what you see below happened: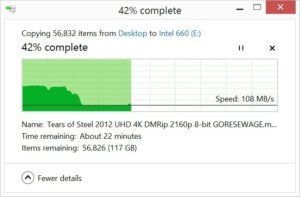 My impression from Intel's discussion and white paper, was that the drive should perform well during long transfers until it's close to being filled. But I was into only my second internal (from the 660p to the 660p) copy of 96GB when write speed plummeted to 95MBps – 100MBps. After the first occurrence, speeds dropped far sooner. Giving the drive time to do housekeeping—that is, move the cache contents to QLC—did help. But it took a while and won't help you if you need to perform lots of write operations.
The only other drives to record write speeds this slow were the Toshiba TL100 and TR200, 2.5-inch TLC SATA SSDs when TLC was new. The slowest writes I've seen out of a NVMe SSD when it runs out of cache were from the Toshiba RC100, but those were still a livable 400MBps. The Kingston A1000 shown in the charts isn't nearly as fast as the 660p on cache, but off it, its writes dropped only to around 800MBps – 900MBps.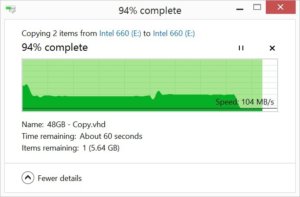 I gave Toshiba a hard time, so I have to give Intel the same. It's a bit shocking to see slower-than-hard-drive write performance from any SSD, but doubly so with an NVMe SSD. To be fair, Toshiba's drives go in the tank after writing any file that's more than 1.5 percent of total capacity. The 660P poops out around 4 or 5 percent—enough to cover all but really major operations. Still, when it does tank, it's a bit depressing to watch.
Best budget drive, maybe…
At the end of our normal testing, I was all set to anoint the 660p the best of the bargain NVMe SSDs, as well as a danger to its faster competitors because of its ridiculously low price. Then I saw writes plummet to 100MBps, and that simple conclusion went out the window.
The truth is, most users will never see the drop to 100MBps writing, and while on cache, the 660p is quite a bit faster than any other budget NVMe SSD we've tested. Because of that, I still consider it a bargain and a boon for the budget shopper.
Just be aware that there's a reason the drive is so inexpensive. Because of that, drives such as the Kingston A1000, which was $220 (less than half what it was when we reviewed it) for 960GB as of this writing, should remain in the conversation.
Best Prices Today: Intel SSD 660p (1TB)