We haven't seen much in the way of GPU promotions the last few years. Time was, nearly every graphics card purchase came with one or two free games to sweeten the deal. A win-win, really: Companies offload sluggish or end-of-life stock, and soften the blow of a $500 GPU purchase. But there's been no need for AMD and Nvidia to sweeten the deal as long as every card they made was snatched up by crypto miners.
Sign of the times then that AMD's now bringing back the free game bundles. Purchase a Radeon RX 580, 570, or Vega graphics card at a participating between now and November 3 and you'll receive codes (eventually) for three upcoming games: Assassin's Creed: Odyssey, the Star Control: Origins reboot, and Rebellion's 1930s-themed shooter Strange Brigade.
Codes are supplied as the games release, and must be redeemed by the end of 2018. You can find all the details here, and a description of what sort of gaming performance to expect from each GPU in our roundup of Radeon graphics cards.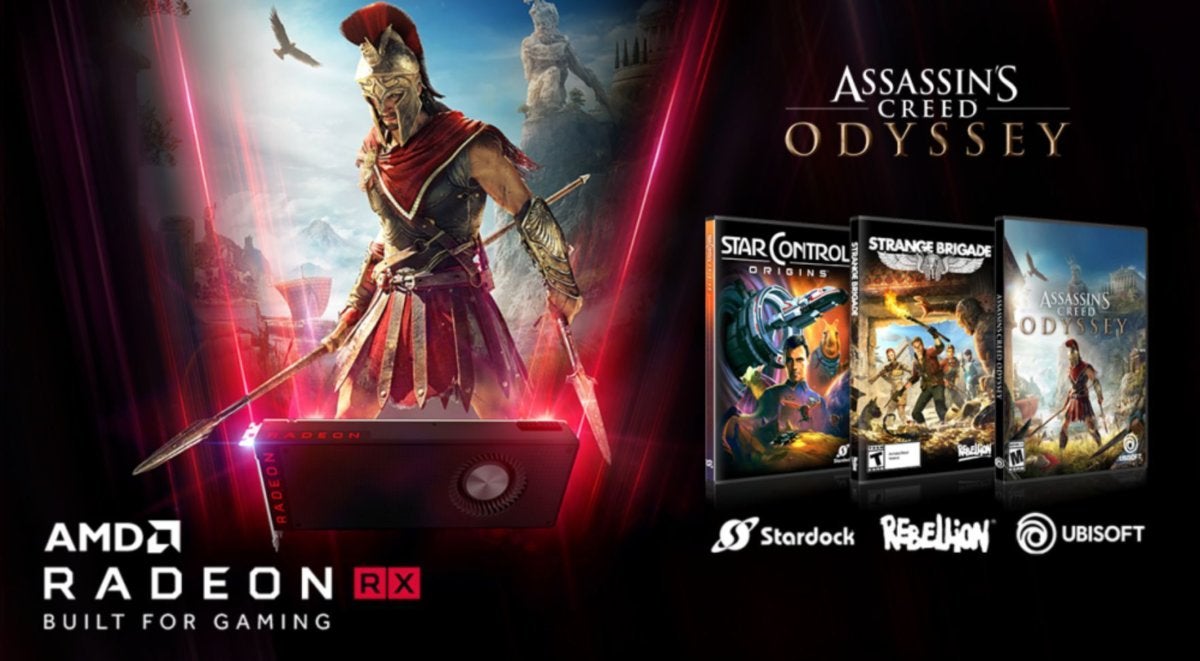 Assassin's Creed is obviously the biggest value-add. In any case, it's about $150 worth of free games, or a big chunk of the cost of the current price-inflated RX 570s, which start around $230 on NeweggRemove non-product link. Not bad. The more powerful Radeon RX 580 starts around $260 on NeweggRemove non-product link, though this Asus Radeon RX 580 costs just $220Remove non-product link when you use coupon code EMCPXPW54 at checkout. Radeon Vega cardsRemove non-product link still sell for significantly over suggested prices.
It's mostly for AMD's benefit though. As I said, sign of the times. Nvidia's hosting an event at Gamescom later this month promising "spectacular surprises." All signs point to the release, or at least announcement, of the long-awaited GTX 1100-series GPUs (or whatever they're called). AMD needs all the help it can get to counter Nvidia's hype machine, especially if Nvidia leaps ahead in performance again.
But that's all speculation. For now, the RX 570 is still our recommended 1080p gaming pick, especially if you can find it closer to list price. If you're interested in any of AMD's free game offerings, this isn't a bad time to upgrade. Hell, it's almost free. Almost.