At a Glance
Expert's Rating
Pros
Excellent day, night, and low-light video
Easy to install and use
Lots of bad-driver tech (safety warnings)
Cons
Pricey for a camera without GPS (GPS is optional)
External GPS module is a bit pricey compared to the competition
Our Verdict
The Papago GoSafe S810 dual channel setup has 1080p front and 720p rear camera that take good day and night video. It's easy to use and set up. The only issue is that the supercapacitor won't run the camera long enough to capture any video, should the 12-volt fail. Good stuff aside from the one flaw.
The Papago GoSafe S810 camera duo has more "safety" features than you can shake a stick at, including one I'd never even considered—stop sign recognition. Yup. It recognizes stop signs and pops the digital equivalent up on its display. Kind of fun, but as I'm wont to say: If you need this stuff, call a cab or wait for self-driving vehicles.
Admonishment aside, the $170 S810 is more than just fancy features. It takes very, very good day and night video, and the rear camera, unlike some we've seen recently, actually captures enough detail to be useful.
Alas, there's no battery, and the supercapacitor runs the camera only long enough to save a file, not to take a few more seconds of video. If your 12-volt is disrupted in the initial impact of an accident, this means you won't capture the entire incident.
This review is part of our ongoing roundup of the best dash cams. Go there for our top picks and how-to-buy advice.
Design and features
Like a number of other cameras out there, the S810 looks like a slightly small "happy-snap" consumer digital camera, from the era before cell phones usurped that role. A nicely streamlined one, but that's the shape, as you can see below.
The unit features a nice, bright 2.4-inch display. The usual four buttons to control it (return, up, down, okay) are atypically placed on the bottom of the unit. The function of the buttons at any given time is hinted at by icons on the display immediately above them. On the whole, the camera is easy to use, though there are a lot of options that might take some time to absorb.
On the right side of the camera is the SD card slot, while on the left are the mini-USB power port and a mini-DisplayPort for direct video output to various display devices. On top is the port for the optional external GPS unit (available on AmazonRemove non-product link). While I prefer the GPS integrated to cut down on cable clutter (there are three cables sprouting from the unit when GPS is in play), at least this one fires up immediately. With some dash cams I've seen recently, you have to wait a few minutes for GPS data to appear.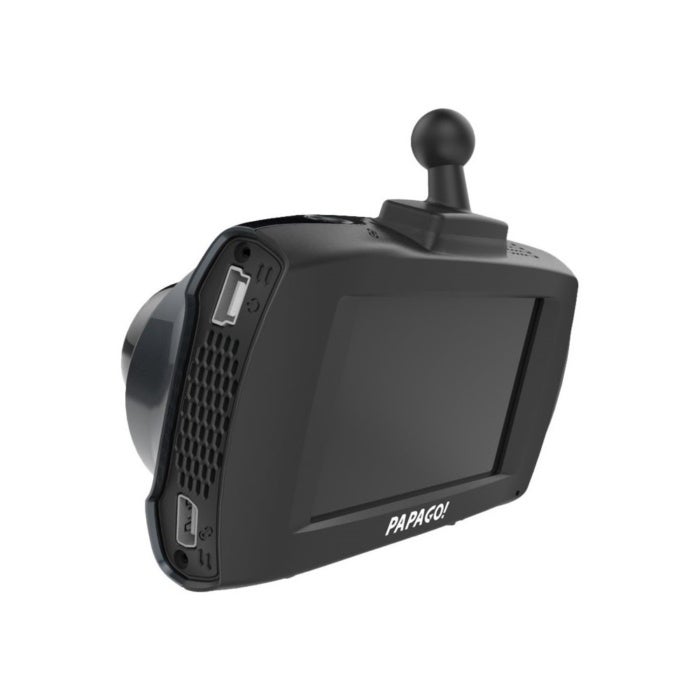 The S810's front camera has a 140-degree field of view and takes images at resolutions up to 1080p. The rear, 720p camera has a 120-degree field of view. Unlike the exceedingly low-res 480p rear camera on the Apeman c550, the S810's rear camera is actually crisp enough to capture a license plate number.
I mentioned the GoSafe S810's ability to detect stop signs. I'd like that better if it were magically able to detect those that are obscured. Because it's optical recognition, it's not going to find any you couldn't see yourself. Sigh.
The camera will also alert you if you're sitting like an idiot at a green light, tell you that you're lights aren't on in a dark environment, and monitor tire pressures with the optional TireSafe D10. You do a visual on your tires every time you drive, right? It's all clever, and possibly handy for some.
Performance
When it comes to video, the GoSafe S810 pretty much nails it. Day video is sharp, image stabilization is good, and the color saturation is very nice. Low-light video is accurate and shows enough detail to capture license plate numbers without a lot of post-processing. Headlight flare in night video was a little harsher than I'd like to see, but nothing to worry about. I could go on, but why bother? It's good enough for just about any purpose.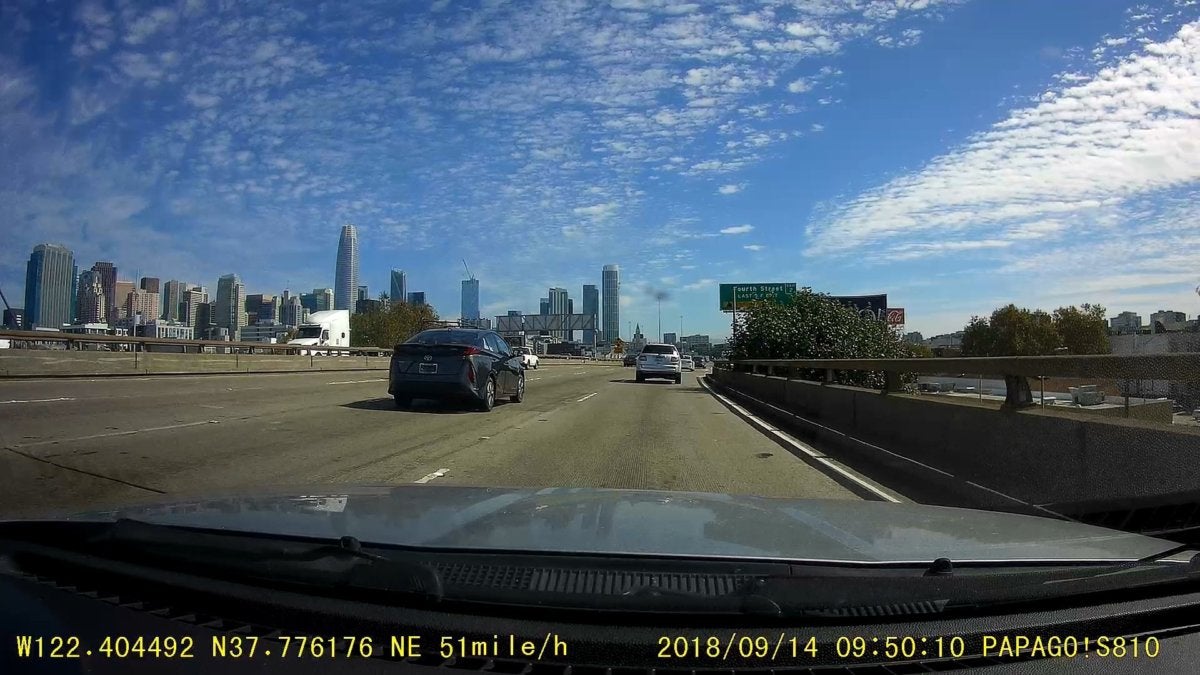 Sony's EXMOR sensors, used in the GoSafe S810, have been a boon to the night captures of dash cams since they first appeared over a year ago.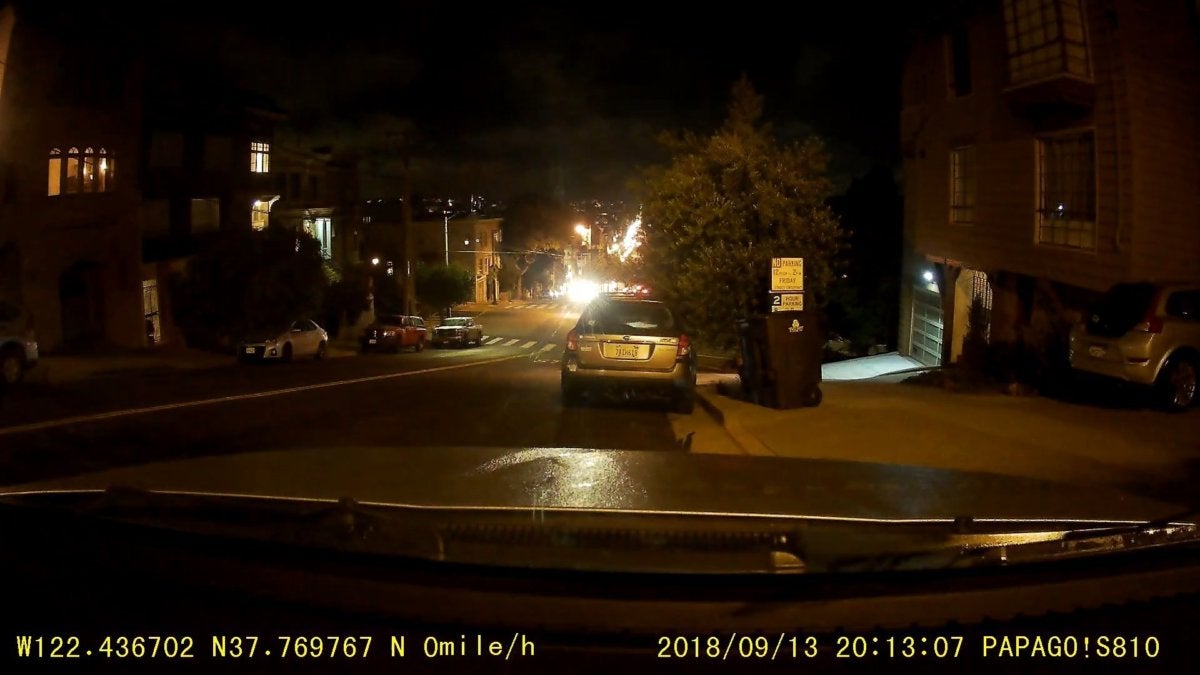 The GoSafe S810 runs only slightly warm to the touch, and is rated for operation from -32 degrees to +140 degrees Fahrenheit. As mentioned, the camera must be attached to a 12-volt source to operate, so there's no battery life to comment on.
I may have some quibbles with the GoSafe S810's design and price, but the quality of the video captures and overall performance are not among them.
Great video, but not for pros
This is the second camera I've reviewed recently that takes wonderful video, but doesn't cover all the legal bases. While 12-volt interruption is rare, a $170 dash cam (over $200 with GPS) should have a battery, or a supercapacitor of sufficient size to take video for at least a few seconds without external power.
That makes the GoSafe S810 a wonderful camera for travelogues and warding off litigation from pedestrian con artists, but unsuitable for pros who want know that any bad event that happens will be documented.