"Multiple" Diablo projects in the works. Blizzard's words, not mine. Diablo IV is an obvious bet, but what are the others? Diablo III on Switch? A Hearthstone successor? Rocket League, but with demons? Warcraft IV, except all the Warcraft characters are now Diablo characters? At this point, I'd take it.
That news, plus NZXT shows off new Fallout themed cases, Monster Hunter smashes Steam records, PUBG pledges three months of fixes, and Torchlight emerges from Runic's ashes.
This is gaming news for August 6 to 10.
Show up, show down
It's only the second week of August and we're already inundated with games, but if you're hoarding your hard-earned cash for purchases later this fall, this weekend brings you free entertainment like always. This week it's Hunt: Showdown, the battle royale-esque monster hunting game from Crytek and (as far as I remember) a bunch of the ex-Darksiders team. It's very good, and if you haven't given it a shot yet then this is a great opportunity—the free period runs through Monday.
Smash hit
Speaking of monster hunting, Monster Hunter: World released on PC this week. I'm still…a long way from finishing it. Like, months probably. It's long and very complicated. But that didn't stop it from being a breakout hit on Steam, with SteamCharts listing a peak concurrent player count of 254,893. That makes it the biggest launch of a Japanese game in Steam's entire history, and the biggest launch of 2018 by a wide margin, with previous chart-topper Kingdom Come: Deliverance boasting "only" 96,000 concurrent players in its first 24 hours this February. (Via PC Gamer)
Torchlight!
Runic Games might not exist anymore—the studio (sadly) closed down after putting out Hob last fall. But Runic's best-known series, Torchlight, evidently lives on. This week, Perfect World and Echtra Games announced Torchlight: Frontiers, a "shared world" version of the action-RPG. Must be bittersweet for the Runic folks, but I'm looking forward to another Torchlight adventure.
Diablo!
Let's roll straight from Torchlight into that other action-RPG series, Diablo. We've been hearing rumors of a Diablo IV for…literally years now. Actually everyone was pretty much convinced we'd see it at BlizzCon 2017, thanks to some swag-bag hints—and then nothing happened.
2018's looking promising though. This week, Blizzard put out a video that straight-up says "We have multiple Diablo projects in the works. Some of them are going to take longer than others, but we may have some things to show you later this year." That's about as explicit as you could get.
Fix PUBG
I feel like Playerunknown's Battlegrounds has gone through the seven stages of grief since Fortnite's launch. Denial that there was an issue, or that Fortnite could win out. Anger, resulting in an ill-planned lawsuit against Epic. Depression, with the last five or six months of stagnation.
Now we've finally reached the Reconstruction stage, with the announcement of the "Fix PUBG" initiative this week—a "months-long campaign to deliver the changes and improvements that you've been asking for." There's a roadmap you can look over if you'd like, spanning from now until October, and with the promise of a "Better, more stable, and fairer game" at the end. We'll see.
Kill, die, learn, repeat
I don't usually run launch trailers after a game's released, but this hand-animated Dead Cells trailer is absolutely gorgeous, and funny to boot. Check it out below, and then check out Dead Cells— it's very addictive.
Nuka-ZXT
NZXT's become one of my favorite hardware companies in the PC space, with a bevy of classy-looking cases and motherboards. I don't know if these new Fallout -themed cases count as classy per se, but they're certainly cool. $300 gets you a Nuka Cola-themed H700, complete with pinup art on the side and a random Vault-Tec bobblehead collectible. The price is a bit steep maybe, but it's eye-catching.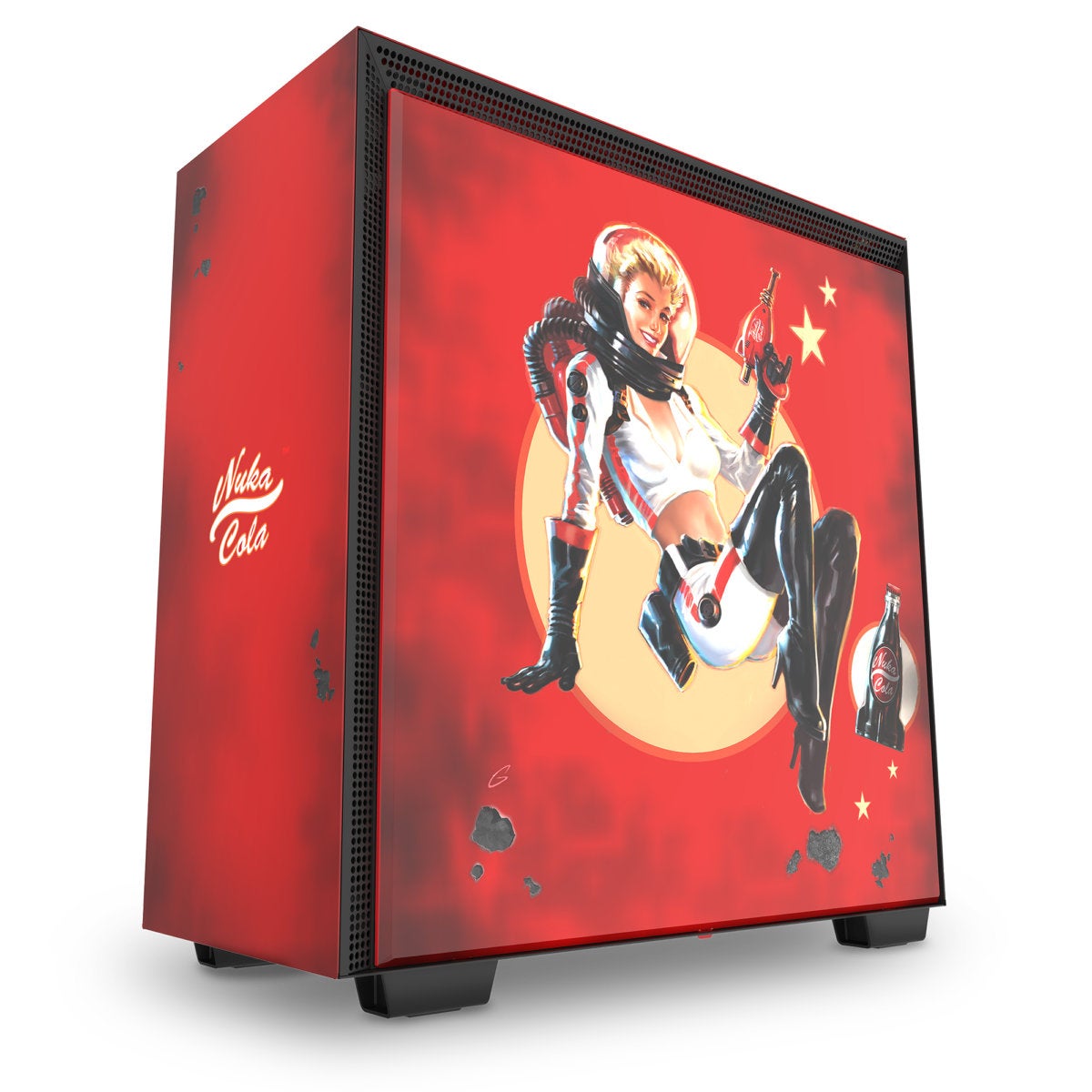 Tomb time
We're being inundated with Shadow of the Tomb Raider trailers—I think Square put out four new ones this week. But in the interest of time, I'm only bothering to embed the one with the actual tombs in it, because after all it's Tomb Raider. Eidos also detailed Tomb Raider 's difficulty options this week, and it turns out you can adjust puzzle, combat, and exploration difficulty separately. That's a pretty cool effort, and I'd love to see more games give it a shot.
Redder and deader
Last but not least, the biggest news of the week: Six minutes of Red Dead Redemption 2 footage. But I'm tacking it on here at the end because…well, there's still no PC version confirmed. Just watch the trailer, I guess, and imagine how great it would look running at 4K, 60 frames per second.