At a Glance
Expert's Rating
Pros
As light as a tablet
Lenovo's top-of-the-line keyboard
Top-notch performance
Good battery life
Cons
Pricey, as befitting a premiere ultrabook
Gen 2 Ethernet connector is designed to sell you a dock
Take care when configuring, as touchless screens are a basic option
Our Verdict
Lenovo's ThinkPad X1 Carbon 6th Gen is a superb business ultrabook, combining light weight, a powerful processor and excellent battery life.
Best Prices Today: Lenovo ThinkPad X1 Carbon 6th Gen
Lenovo's ThinkPad X1 Carbon (6th Gen) continues its tradition as a premier, though pricey, business laptop that weighs as little as some tablets. Quite simply, it exudes quality.
Around the very good 14-inch display can be found a variety of ports, including a pair of high-speed Thunderbolt connectors ideal for driving external displays. Battery life is also very good, though that's assisted by the somewhat basic 1080p display that accompanied our review unit. Under the hood, there's an 8th-gen quad-core Intel Kaby Lake-R processor that accomplishes quite enough for most business tasks. It may be be a few hundred dollars more than the competition, but that hasn't prevented it from earning our Editors' Choice award. Read on for why.
This review is part of our best laptops roundup. Go there for details about competing products and how we tested them.
Lenovo ThinkPad X1 Carbon (6th gen): Basic specs
Display: 14-inch (1920×1080) IPS technology (as tested); 2560×1440 (with optional HDR)
Processor: Intel Core i5-8250U, i5-8350U, i7-8550U, i7-8650U (quad-core 1.8-GHz i7-8550U (Kaby Lake-R) as tested)
Graphics: Intel HD 620 (as tested)
Memory: 8GB-16GB LPDDR3 (2,133MHz) (8GB as tested)
Storage: 256GB, 512GB, PCIe-NVME OPAL2.0 M.2 SSD, 1TB PCIe-NVME OPAL2.0 SSD (256GB as tested)
Security: dTPM; fingerprint reader
Ports: USB 3.1 (2, 1 always connected), USB-C (2, Thunderbolt 3), nanoSIM, microSD, NFC, HDMI, Gigabit ethernet extension Gen2, headphone/mic
Wireless: Intel 8265 802.11ac (2×2), Bluetooth 4.1
Cameras: 720p HD (front), with shutter; optional IR camera (w/Windows Hello); no rear camera
Battery: 57Wh
Operating system: Windows 10 Pro
Dimensions: 12.8 x 8.5 x 0.6 inches
Weights: 2.46 pounds (notebook), 3.10 lb (notebook + charger), as measured
Optional Accessories: ThinkPad USB 3.0 Ultra Dock

Remove non-product link

($199.99), ThinkPad X1 Wireless Touch Mouse

Remove non-product link

($69.99)
Price: $1,869.00 as tested

Remove non-product link

; after Web discount, $1,401.75
Thin and oh so light, with a variety of ports
According to Lenovo, the Thinkpad X1 Carbon is constructed of four layers of carbon fiber, together with a magnesium alloy roll-cage. In our day-to-day handling, that meant that it felt solid: both light and totally sturdy, with nary the slightest wiggle in the chassis. (It's rugged enough to pass the military's MIL-STD-810G ruggedized tests, Lenovo says.)
The carbon construction also pays dividends in terms of weight. One of the theoretical advantages of a Windows tablet like the sturdy 2017 HP Spectre x2 is its mobility, at 2.48 pounds on our scale. But the Lenovo ThinkPad X1 Carbon 6th Gen weighs even less: 2.46 pounds, and it's far sturdier on the lap. All told, you'll almost certainly be surprised with how thin and light it feels in the hand.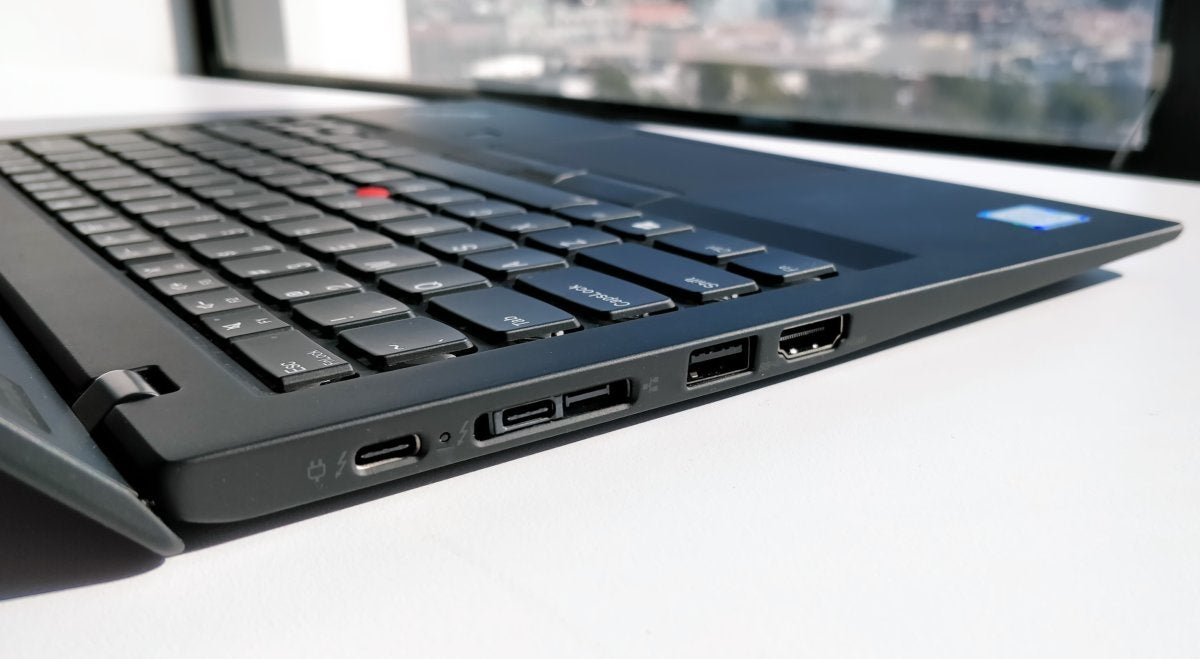 Though it's optionally available in silver, the ThinkPad X1 Carbon 6th Gen is most frequently offered in ThinkPad's signature black. It's not technically a convertible, but the display reclines to a flat angle, serving as a writing surface if you choose. (Lenovo doesn't bundle a stylus with the X1 Carbon, however, nor does it list one among its accessories.) The Carbon's stiff hinge also resists any movement when flopping about.
Open the Carbon's cover, and you're met with the ThinkPad X1 Carbon's display, not typically one of Lenovo's traditional strengths. Four options are available, all 14-inch panels: The 1920×1080 display generated 309 nits using our tests. We generally test with a brightness between 250 and 260 nits as a comfortable level for daily work, and measure battery life accordingly. Hitting that target was a smart decision on Lenovo's part, as it maximizes battery life without sacrificing additional brightness.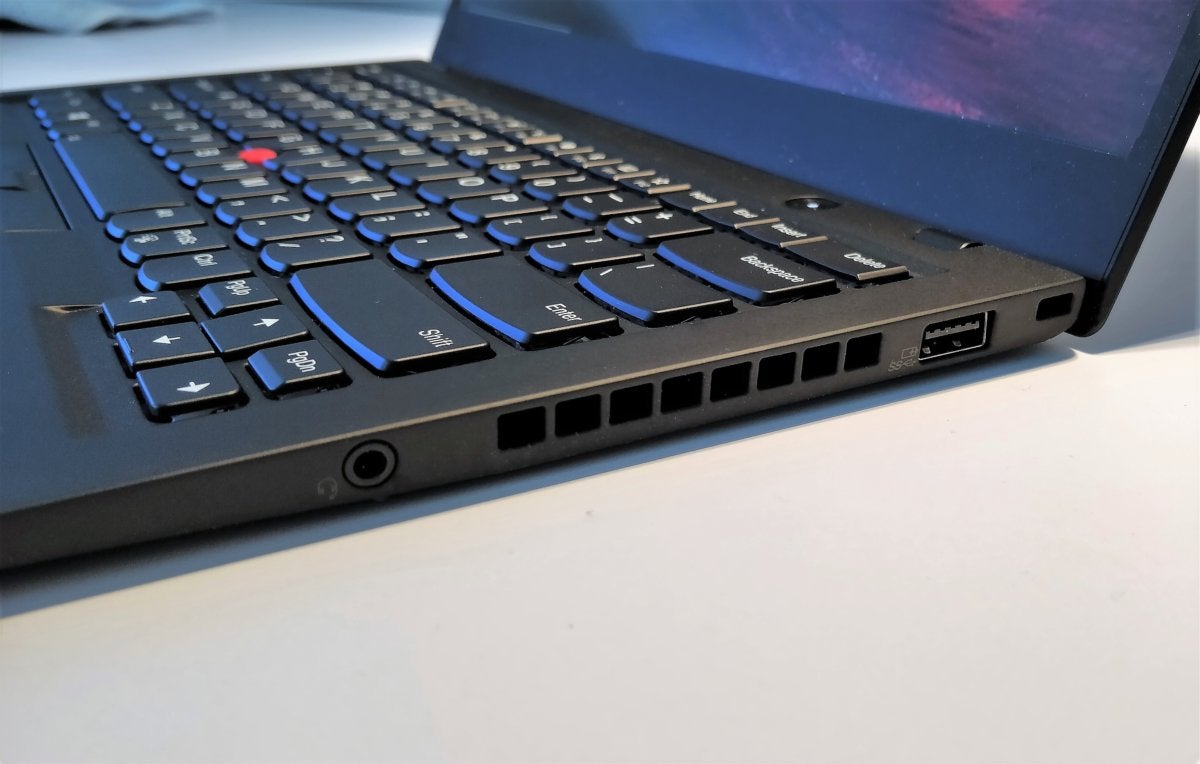 Keep in mind, though, that the base display doesn't offer touch. For that, you'll pay $85 extra for a 1080p, 300-nit (rated) display, which was on the model we reviewed. You can also pay more for a higher-res 2560×1440, 300-nit display (a $138 adder) or $180 more for a 500-nit, 2560×1440 glossy display boasting the Dolby Vision HDR capabilities. All of the lower-cost panels feature anti-glare coating, which works as advertised.
Maybe I'm just used to higher-res panels, but the 1080p 14-inch panel looked a little too squished for an everyday, business notebook. And to my eye, the ThinkPad X1 Carbon 6th Gen's image quality looked a bit too yellowish, even when Lenovo's software reported a maximum color temperature of 6500K. Turning on Eye Care mode (the equivalent of Windows' "night light" settings) within the Lenovo Vantage utility software really dialed down the blue light (4500K). But, like Windows, you do have the ability to make adjustments via a slider bar.
In terms of ports, the X1 Carbon offers a smorgasbord of options. More and more notebook and tablet makers are moving to USB-C charging, and the ThinkPad X1 Carbon 6th Gen is no exception. One of the nice older traditions within the ThinkPad line was the consistency of its chargers; Lenovo shipped us the same 65-watt charger in two different models of Lenovo notebooks we're testing.
The left-hand side of the chassis is where the X1 Carbon 6th Gen includes that USB-C port, which is Thunderbolt 3.0 enabled—meaning that it can supply (or receive) power, provide USB 3.0 data transfers, and power up to two 4K monitors at 30Hz refresh rates apiece. An HDMI port and a more traditional USB 3.1 Type A connector provide legacy connections.
Right in the middle, though there's also Lenovo's proprietary docking connector, which includes a second, Thunderbolt 3.0 port plus a special ethernet Gen 2 jack, both physically designed for Lenovo's 90W Pro Dock, which we didn't test. It's all a bit inconvenient if you don't buy into Lenovo's dock vision; the USB-C port is standard, but you'll almost certainly need to buy a dongle to fit the special ethernet adapter, which wasn't shipped with our review unit, or simply connect wirelessly. In my mind, this is the only thing that annoyed me about the X1 Carbon, though an ethernet-to-USB-C dongleRemove non-product link is really just $25 or so more.
The righthand side of the chassis includes the second USB-A connector, a Kensington lock, large fan vents, and the 3.5mm headphone/mic jack.
And don't forget about the combination SD card and WLAN SIM card holder, which is tucked away within the hinge, and somewhat inaccessible unless the laptop is aligned just so. Naturally, you'll need to supply your own SIM, and the Fibocom L850-GL 4G LTE-A cat 9 card that enables it is a $100 option. The Thinkpad X1 Carbon 6th Gen also includes a hardware dTPM (Trusted Platform Module) chip, too, for additional security.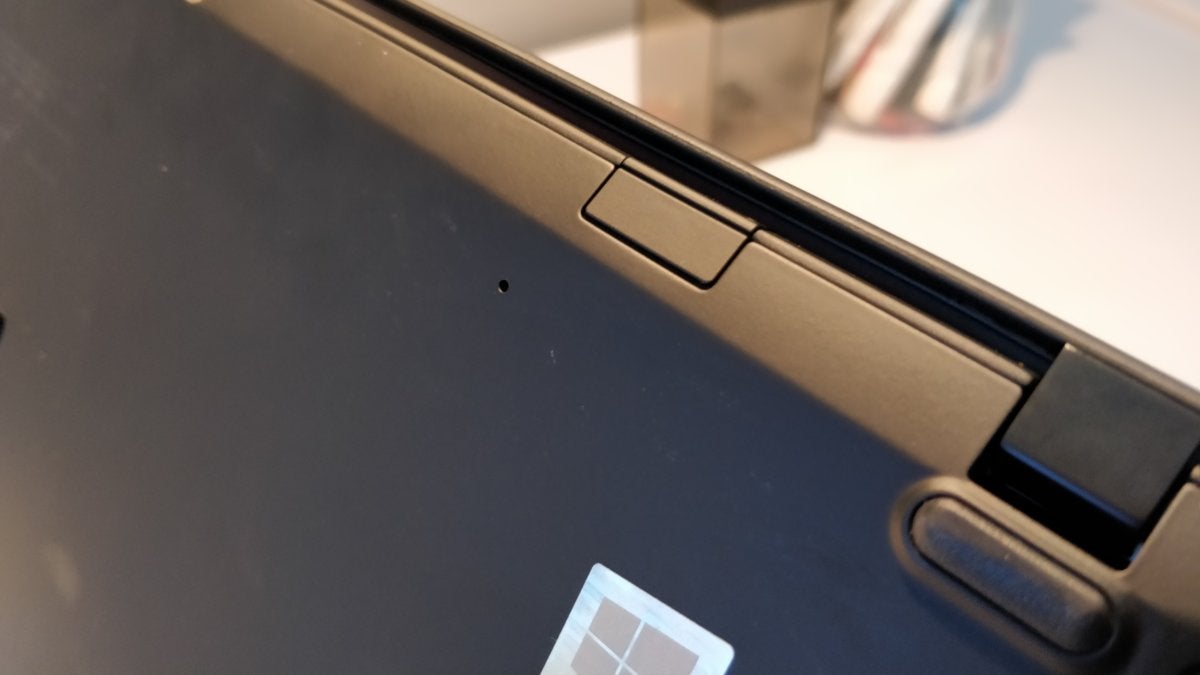 Two other key features were also designed with security in mind. First, there's the fingerprint reader to the right of the trackpad, Lenovo's choice for allowing users to log in using Windows Hello. We were pleased to find it as reliable as other Lenovo fingerprint readers we've used. Lenovo also offers an upgrade to an IR depth camera that should allow Windows Hello to be used via the front-facing camera, too, though our review unit lacked that capability.
Here's a slightly more unusual security feature. Lenovo's X1 Carbon 6th Gen—for those models without the IR camera—now includes something called "ThinkShutter," a sliding physical shutter that you can close, a nod to those who are concerned that someone may hack their webcam without their knowledge. I found the ThinkShutter to be really pretty stiff when I first started sliding it back and forth using the integrated divot, though it loosened up over time. When shut, a red ring surrounds the small lens, notifying you that the camera is obscured.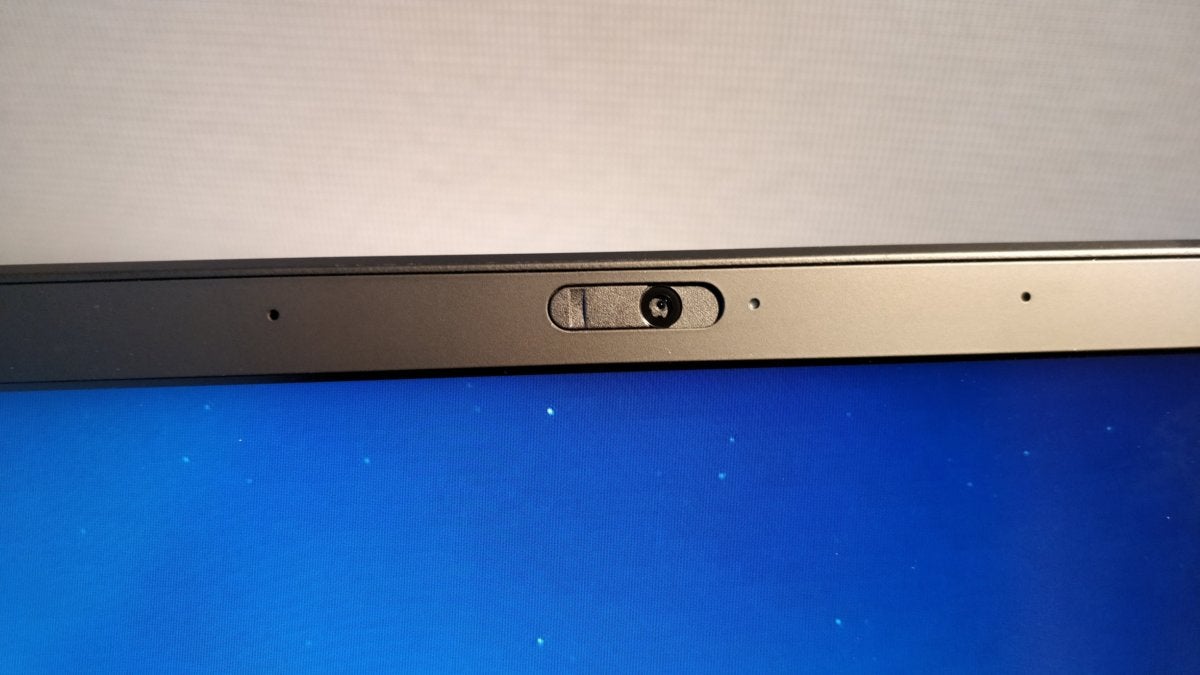 Any audio propelled upward by the X1 Carbon's speakers sounds flattish and somewhat on the soft side, though the the breathy lyrics of Suzanne Vega's "Tom's Diner" didn't seem to lose any clarity when played back over the laptop's speakers. There's more than enough volume to fill a normal conference room, though it tends to blare without a lot of depth.
It's worth noting that the X1 Carbon includes the Dolby Atmos audio enhancement algorithm, which improves the audio both over the speakers and headphones. Still, even headphones produced audio that wasn't all that inspiring, and the volume controls didn't actually seem to elevate the audio volume in the upper echelons of the audio controls. Granted, this is a business PC first and foremost.
Keyboard and typing: ThinkPad quality
Lenovo's keyboards have earned an elite reputation, and the X1 Carbon continues that tradition. The X1 Carbon's keys feel a bit springier than those of its cousin, the X1 Tablet, thought each key is actually a bit smaller than I expected. Other notebooks such as the Huawei Matebook X Pro compress some of the control keys and use the extra space to increase the size of the main, lettered keys. There are two levels of backlighting.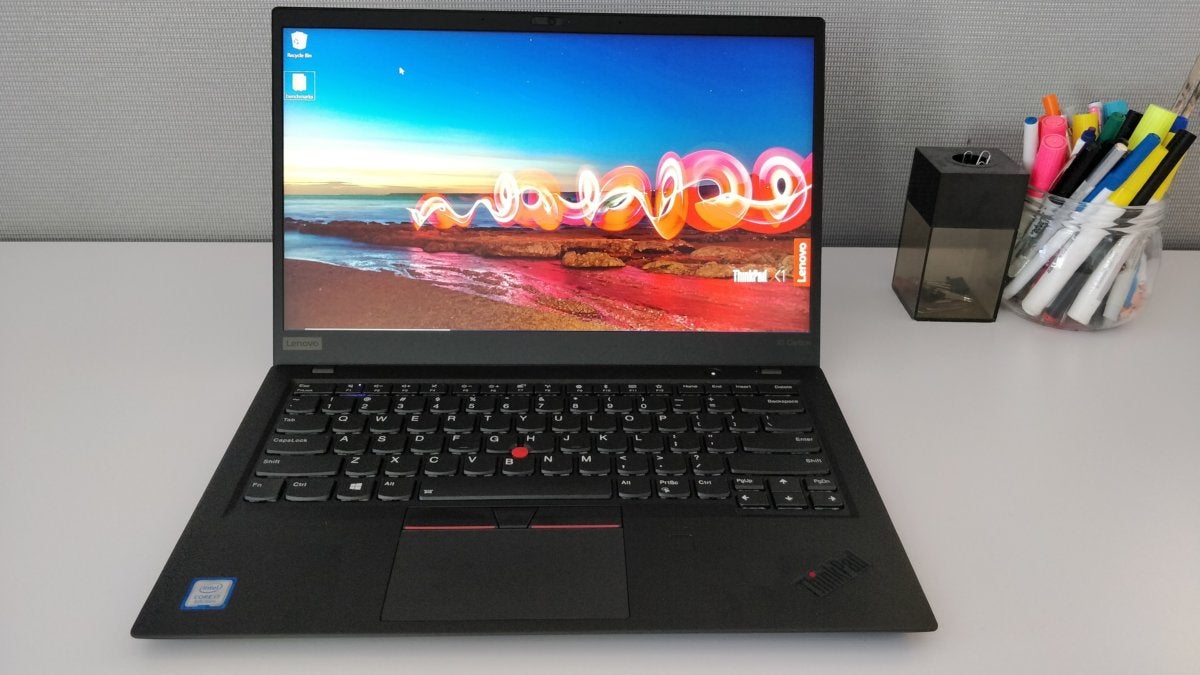 Again, the extra bit of resilience may weary some fingers a bit—it did for me, although I accustomed myself to it in a day or two. Some keyboards allow your fingers to glide over them, gently depressing each key. Another way to look at it would be to say that the X1 Carbon more approximates a desktop keyboard than other notebooks do.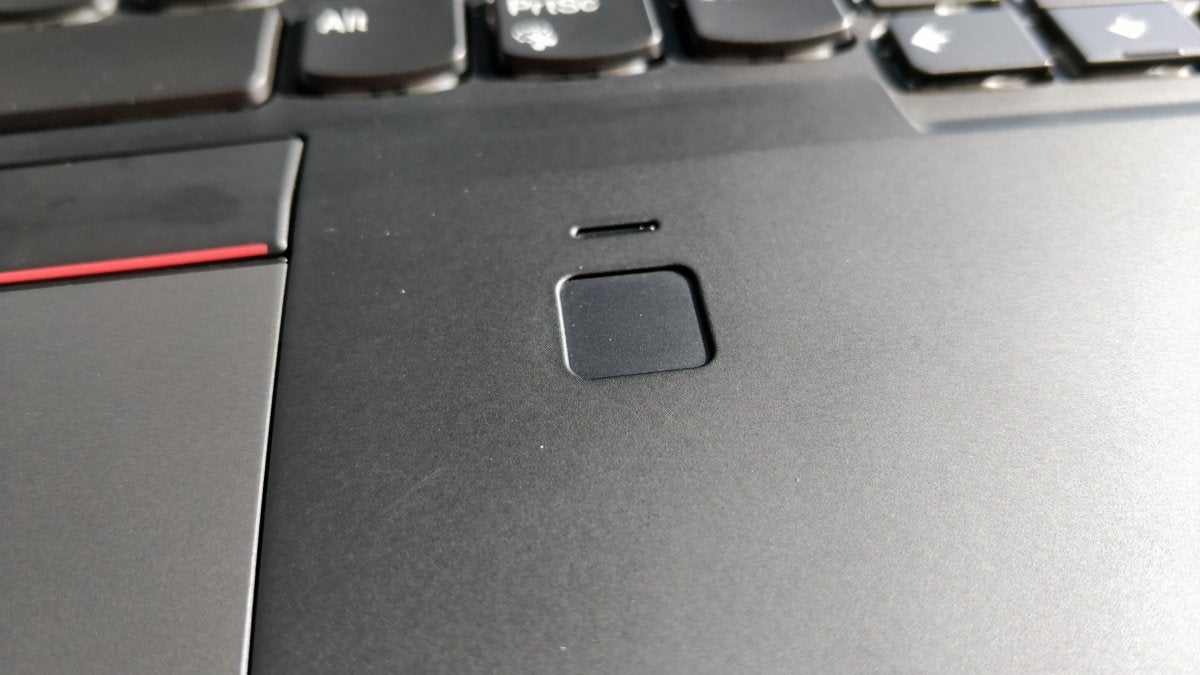 As you might expect, the X1 Carbon also includes the the iconic red Trackpoint nub, as well as the physical left, right and center buttons above the trackpad. The trackpad feels a little smoother and slicker than those on other Lenovo products I had handy, but it's proportionally a bit smaller, too. Don't forget about the small fingerprint sensor to the right of the trackpad, which serves as a convenient way to log in that's also compliant with Windows Hello. All of these are typical of most Lenovo notebooks. Remember that Lenovo also places the Function key in the far left-hand corner, while others reserve this for the Control key. This can be adjusted using the Vantage software.
As befitting a business notebook, the ThinkPad X1 Carbon foregoes virtually all unnecessary apps, save for what Windows itself provides. Lenovo's aforementioned Vantage software continues to be worth perusing, both as a means to upgrade drivers and firmware, as well as to toggle specific features on and off.
Performance: excellent almost across the board
By default, Lenovo's X1 Carbon optimizes its performance settings to boost performance when you need it. In reality, this means that the ultrabook's fan runs quite a bit, either in a fully revved-up mode or in a sort of quiet, background state. Even in a quiet office with central heating and air, the X1 Carbon's revved-up fan noise was mildly annoying. The accompanying Lenovo Vantage software (go to the Hardware Settings icon, then Smart Settings) allows you to turn off this automatic Intelligent Cooling mode and place it into a "Cool & Quiet" state. Unfortunately, the X1 Carbon's fan often kept quietly yet noticeably hissing away.
If you occasionally work in a home office (and who doesn't?) be aware that I received some anomalous results that I believe were tied to the ambient temperature, due to a malfunctioning air conditioner. At a warm house temperature of 78 degrees, the X1 Carbon's Cinebench scores dropped by a full 25 percent, and our prolonged HandBrake video conversion scores fell considerably, too. All of our final numbers, however, represent testing that we performed at PCWorld's consistently air-conditioned office in San Francisco, where the system could use cooler, ambient air to chill the system.
Still, we noticed that after resuming the X1 Carbon from a prolonged sleep state, installing some software, and rebooting (including a Windows update) the X1 Carbon immediately began power throttling to avoid going over its voltage threshold.
As we normally do, we measured the X1 Carbon 6th Gen's performance using our trio of PCMark's benchmarks: Work, Home, and Creative. Remember, with a quad-core 1.8GHz Core i7-8550U (Kaby Lake-R) chip inside it, the X1 Carbon should plow through general office tasks handily, and in our experience, it did so. The Work test measures Web browsing, working with Excel spreadsheets, and more. Clearly, its 8th-gen Core chip elevates it to the top of the heap.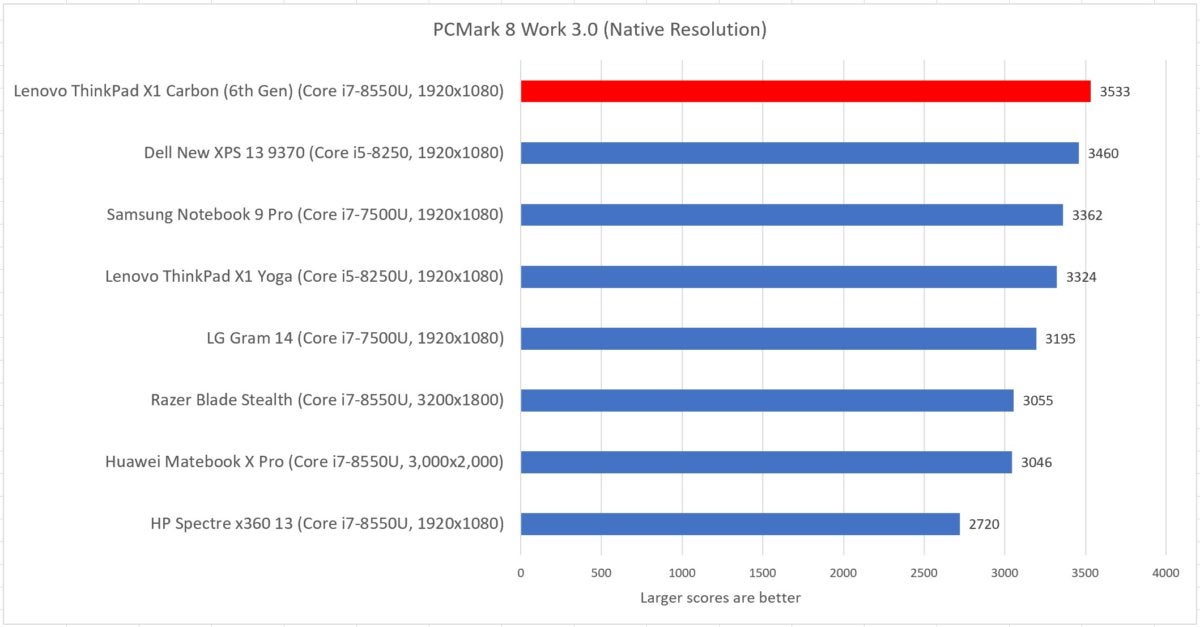 The Home test emphasizes light gaming and photo manipulation. We normally test consumer products using the Creative test as well, though some of our business-class products drop this test. (Though we don't show it here, the X1 Carbon 6th Gen finished at the top of the small number of thin-and-lights we tested using the Creative test.) In all of these, the X1 Carbon 6th Gen performed admirably. Again, the ThinkPad X1 Carbon tops the others.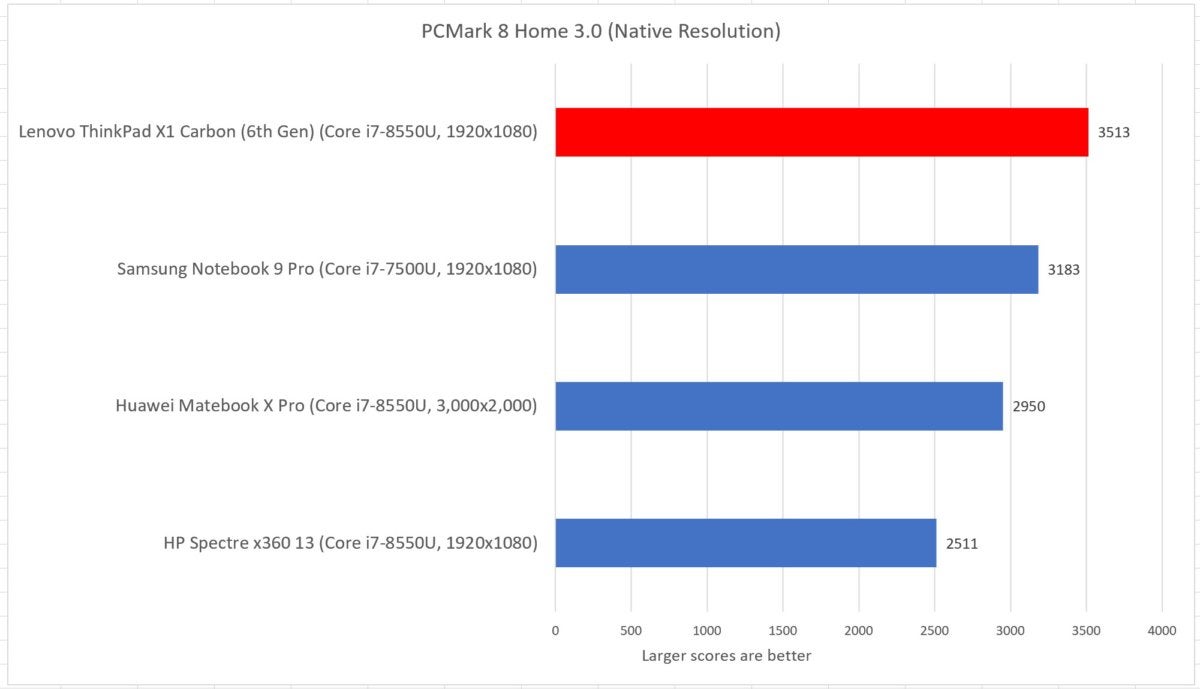 Maxon's Cinebench benchmark, which asks the system to render a 2D scene, is the closest to a universal benchmark that we use, stressing the four-core, eight-thread Core i7 8550U to its utmost. We stress-test using all of the cores enabled. Again, this was a test that we found was susceptible to ambient heat, which may have reduced the X1 Carbon's performance slightly. Still, it's in the top tier.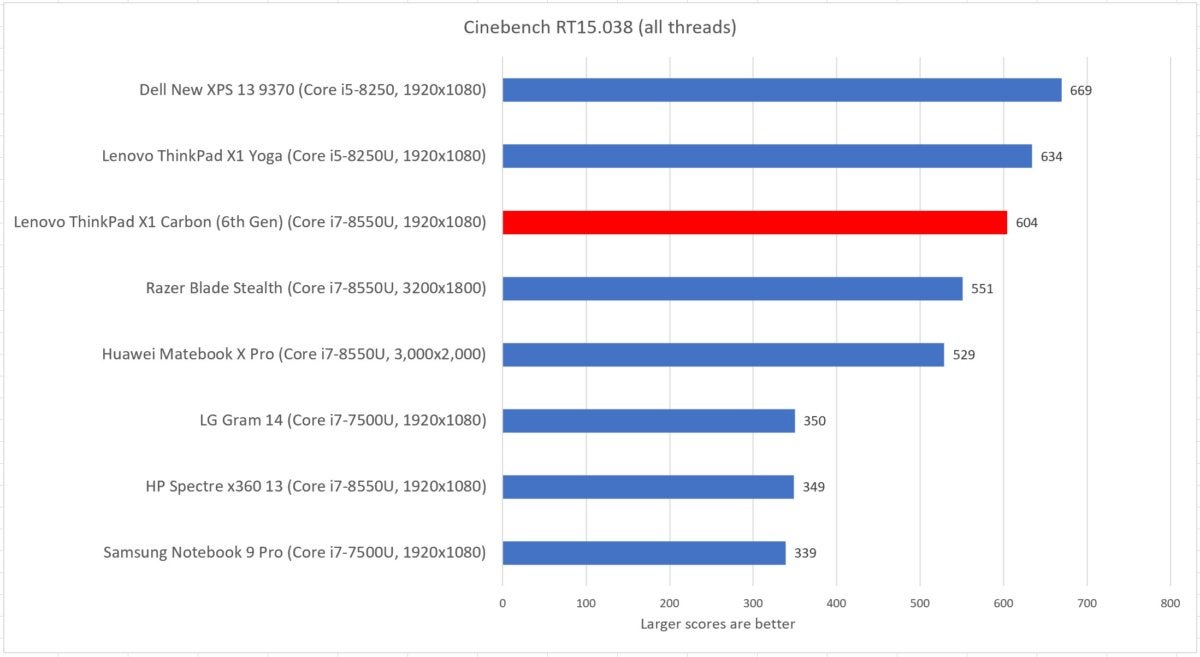 The HandBrake open-source tool pushes all four cores, converting a top-tier Hollywood movie into a resolution that can be used on an Android tablet. It's a good, prolonged stress test for how the laptop will hold up over prolonged exertion, and the X1 Carbon is almost at the top.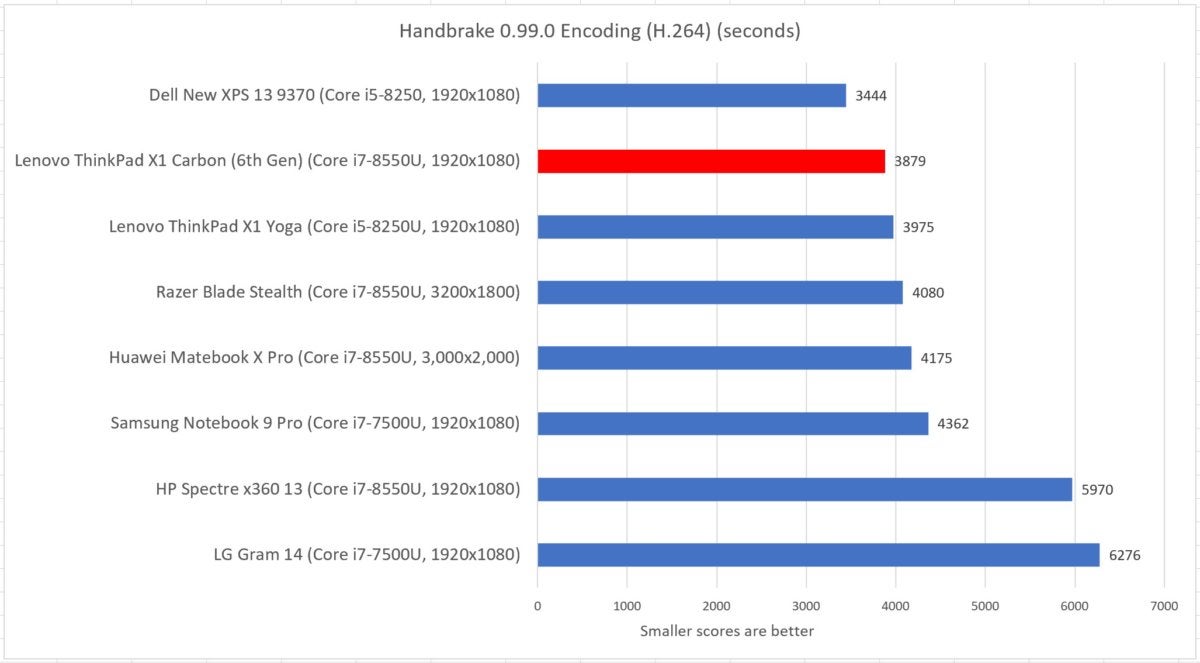 Finally, we look at 3D performance using the integrated HD 620 GPU. We don't expect much here out of a business laptop, and its performance near the bottom reflects that.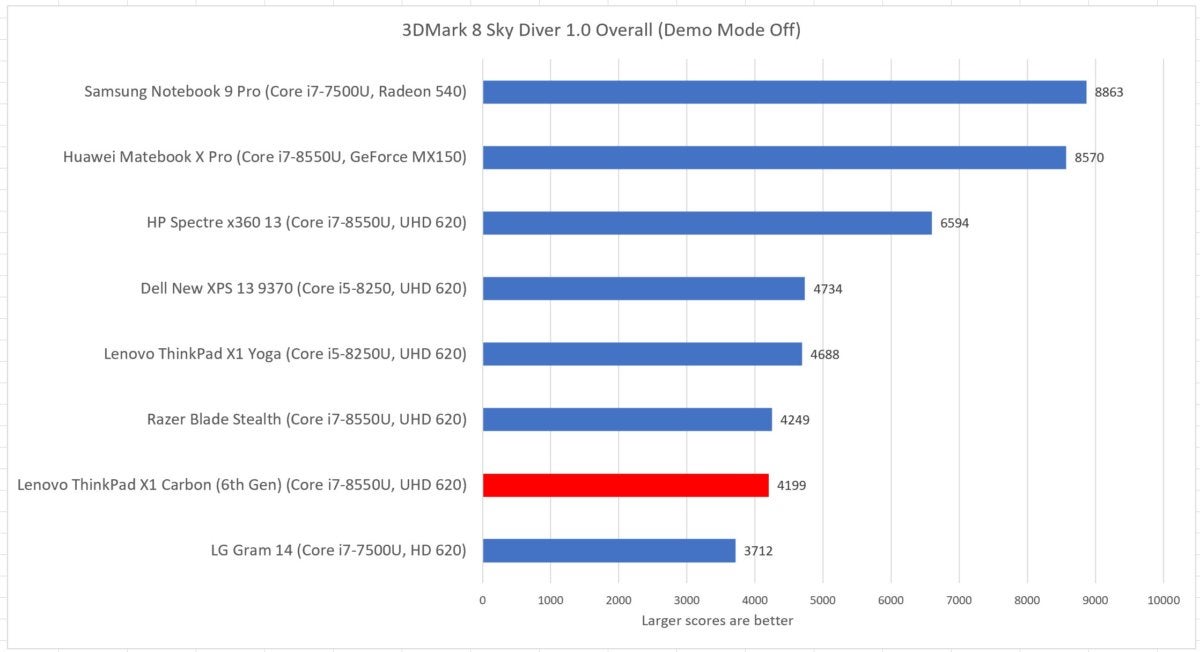 With a battery-sipping 8th-gen CPU under the hood, as well as a 1080p panel, we expected battery life to be more than satisfactory. It is, assisted by the large 57Wh battery. Keep in mind that if you opt for a higher-resolution panel, though, that battery life will fall accordingly. Its duration with an FHD display of just under 9 hours is a bit disappointing compared to the competition, which is hovering around 10 hours or so.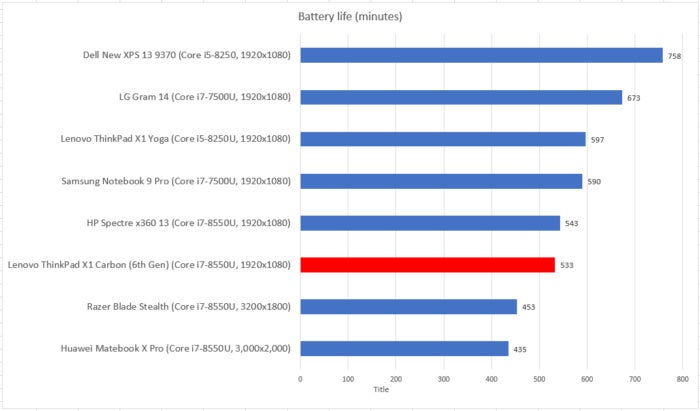 Conclusion: A premier business machine
It's hard to find any fault with Lenovo's latest entry into the X1 Carbon line, especially if you're looking for a moderately powerful business machine with good battery life. One of its drawbacks, its high price, will likely be erased if an IT department budget is footing the bill, rather than a consumer. Options like WWAN capabilities, a higher-resolution screen, and a faster processor will naturally elevate the price. The Lenovo ThinkPad X1 Carbon 6th Gen receives our PCWorld Editors' Choice award as a thin-and-light laptop that deserves to be on your desk.
Best Prices Today: Lenovo ThinkPad X1 Carbon 6th Gen