A year ago, Amazon and Microsoft pledged that their digital assistants, Alexa and Cortana, would become friends. That future has now arrived: Beginning today, you'll be able to invoke Alexa from Windows 10's Cortana, and Cortana from an Alexa device like the Echo.
Today (or possibly tomorrow, according to a Microsoft representative) Alexa and Cortana will become skills in their respective devices. Put another way, you'll be able to say "Hey Cortana, open Alexa" on a Windows 10 PC or Harman Kardon Invoke. On an Amazon Echo, you can say "Alexa, open Cortana." It sounds as though there will be a brief initial setup process for each device.
The point, according to both companies, is to leverage the strengths of the other: with Alexa, designed mainly for shopping and smart home control, you'll be able to access your work calendar; and with Cortana, which is optimized for productivity, you'll be able to quickly reorder your week's supply of diapers or adjust your connected thermostat.
Phrases to try, courtesy of Microsoft
After saying "Hey Cortana, open Alexa"
"What are today's shopping deals?"
"Set the temperature to 72 degrees."
"Open Jeopardy."
After saying "Alexa, open Cortana"
"What new emails do I have?"
"What is on my calendar today?"
"Add 'order flowers' to my to-do list."
It's not quite clear what will happen if you set a reminder on an Echo, for example—will it pop up on your PC? And will Alexa's smart home integration work as advertised from your Windows PC? The goal, according to Microsoft, is for users to try it out, "engage with the experience," and report back on what could be improved. Right now, the integration is only available within the United States.
Mentioned in this article
Echo Dot (2nd generation)
Price When Reviewed:
$49.99
Simply integrating one assistant with another appears to have taken a surprising amount of work—a full year, with Microsoft showing off the latest integration at this year's Build conference.
What happens now?
Several questions remain, including how the integration will affect the deployment of Alexa apps already available for download on selected Windows devices, such as the Lenovo ThinkPad X1 Carbon. (Microsoft says that the integration within Windows will take place separately, without affecting the apps themselves.) What about Windows users who already have an Echo in their office, that already serves as their point of entry to their Alexa ecosystem? Will users be able to remotely set their thermostat from their office? These questions, and more, should be answered in the next few days.
How to use Alexa within Windows
Using Alexa within Windows is relatively simple, but it takes a bit of setup. To begin, open Cortana by saying "Hey Cortana, open Alexa". (If you haven't voice-enabled Cortana, you can press the Windows key + Q, then say "Open Alexa.")
Before you can use Alexa, you'll need to give both services permission to access your data. This entails providing Alexa with your Amazon password. You'll also be asked to give Cortana permission as well.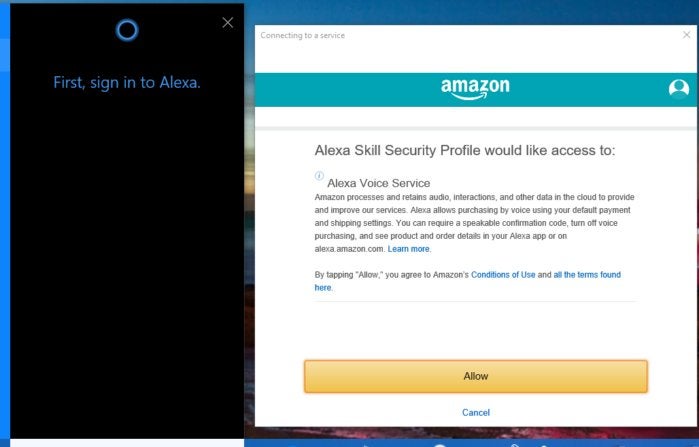 While the permissions are relatively straightforward, pay close attention to Alexa here. Amazon would like you to be able to buy items using your voice, which may or may not be a good idea if you have kids, or simply playful friends.
After everything's agreed to, you can begin using Alexa straight away. But I'd recommend visiting alexa.amazon.com and configuring your settings. Voice purchasing is one of those features that could stress your credit card if you're not paying attention.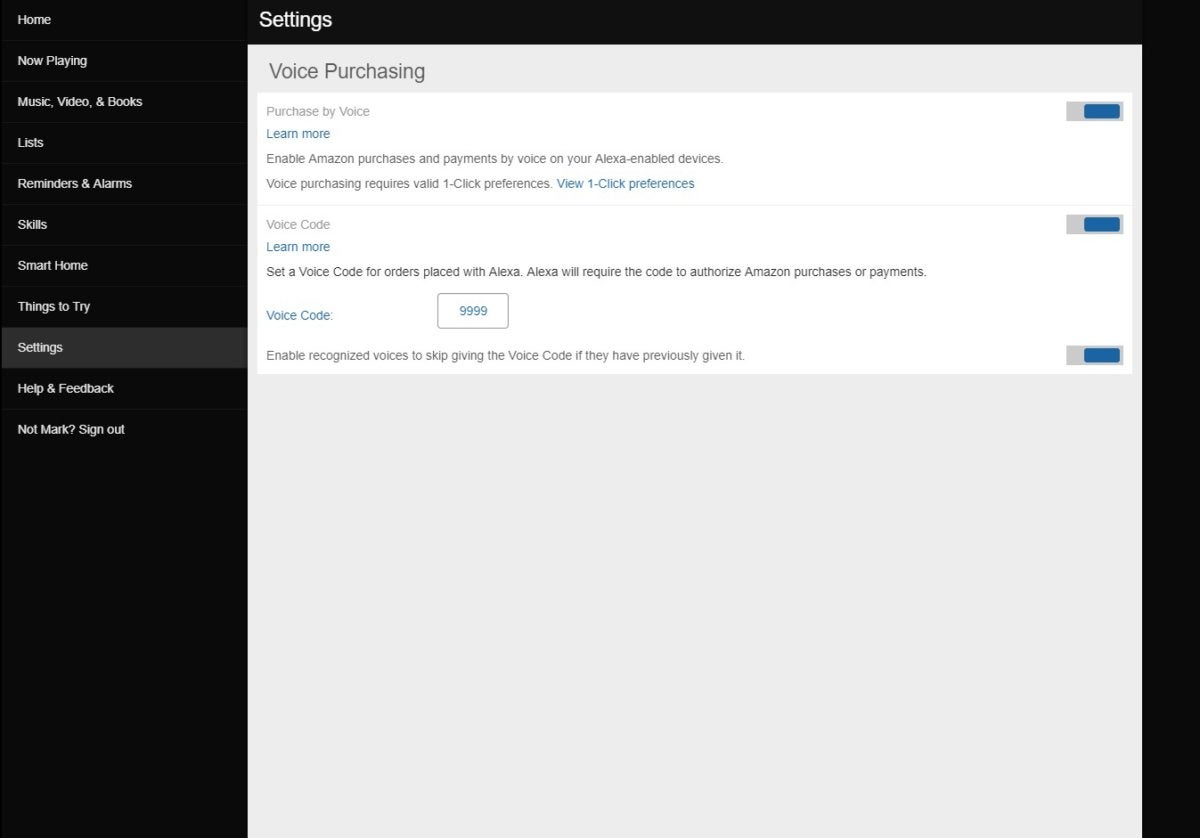 Using Alexa within Cortana isn't quite as easy as talking to a smart speaker, though. While you don't need to say "Hey Cortana, open Alexa" to trigger Alexa—if your PC is voice-enabled, simply saying Alexa opened Amazon's assistant on my PC—the experience isn't that consistent. Asking "Alexa, open my order history" didn't open my order history; Alexa asked what I would like to order.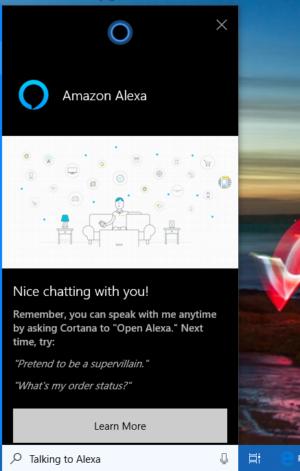 It's worth noting, though, that this is somewhat of a beta experience. It's not exactly clear how Microsoft would like you to suggest improvements and report bugs, although the Windows 10 Feedback Hub app is usually the preferred channel.
If you have any thoughts, though, Microsoft would love to hear your input. Happy shopping!
This story was updated at 11:26 AM to add details on how to use Amazon's Alexa skill within Microsoft's Cortana and Windows 10.