At a Glance
Expert's Rating
Pros
Lots and lots of space
Excellent sustained throughput
5-year warranty with two years of data recovery
Cons
Expensive as a whole (cheap per GB)
Our Verdict
All about all we have to say about the Barracuda Pro 3.5-inch hard drive is 14TB and 260MBps. It's pricey, especially if you run them in pairs as you should, but with a nice five-year warranty and two years of free data recovery.
Will hard drives ever hit a capacity limit? Perhaps, but they haven't yet. Case in point: Seagate's new $580 14TB BarraCuda Pro (and the new IronWolf Pro), which adds yet another 2TB of capacity and 10MBps of sustained throughput to the breed.
Who needs 14TB, you scoff? Well, with more and more video being shot in 4K or 4K UHD, and 8K UHD right around the corner, there's definitely a market for these vast bastions of bits. If your plans are less grandiose (or if you can't wait for the 14TB to hit stores—it's not quite available yet), no problem: This drive comes in flavors from 12TB ($480 on AmazonRemove non-product link) to a modest 2TB ($120 on AmazonRemove non-product link), and several capacities in between.
Note that the lower-capacity 8TB, 6TB, 4TB, and 2TB drives offer less areal density and fewer platters, and Seagate's performance claims decrease progressively, albeit modestly to around 195MBps for the 2TB drive. That's still far faster than hard drives of yore. Features vary by model as well, so peruse the 3.5-inch BarraCuda Pro spec sheets at Seagate's website before you buy.
Specs and design
The BarraCuda Pro 14TB is 3.5-inch hard drive, spinning at 7,200 rpm and sporting 256MB of onboard cache. The interface is SATA 6Gbps, and the drive employs PMR (Parallel Magnetic Recording) to pack in the bits. It's filled with helium to reduce drag, and is said to draw 6.9 watts spinning, about 4.9 watts when idle, and less that a watt when asleep.
Seagate warranties the BarraCuda Pro for hefty five years, and there are two years of Seagate Rescue data recovery included. That's the salient difference between the BarraCuda Pro, the NAS-oriented IronWolf Pro, and the plain IronWolf 14TB, which leaves you on your own for recovery. Recent studies suggest hard drive failure isn't as prevalent as it used to be, and we certainly hope the drive doesn't fail within two years, but it's a nice perk.
Beyond that, the BarraCuda Pro is your everyday hard drive in size and appearance. Okay, the stylized image of a barracuda is interesting, at least for the amount of time it will actually be visible before you install it in your PC or device.
Performance
The BarraCuda Pro 14TB is a bit faster than its 12TB predecessor, about 10MBps to be precise. The increase in capacity is due to an increase in areal density. If the bits are closer together, all other things being equal, you should be able to read them a bit faster given the same rotational pace.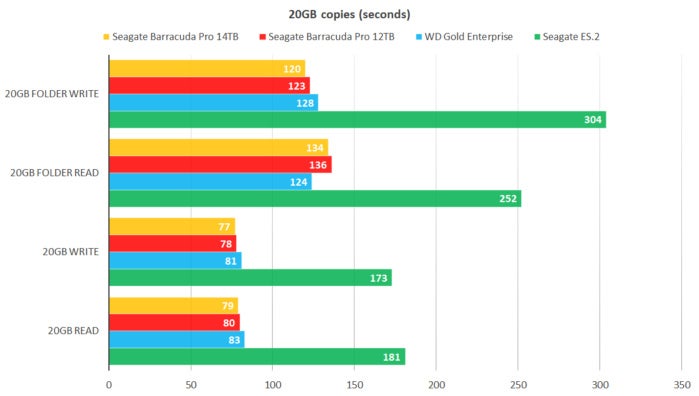 There wasn't a whole lot of variance in our tests. AS SSD, CrystalDiskMark, and the 20GB copy tests all said around 260MBps reading writing. Good stuff. You can stream all but the most demanding video (like raw 2160p high-bit color) from a single BarraCuda Pro 14TB. RAID 0 striping might be in order for video pros that do deal with raw video types.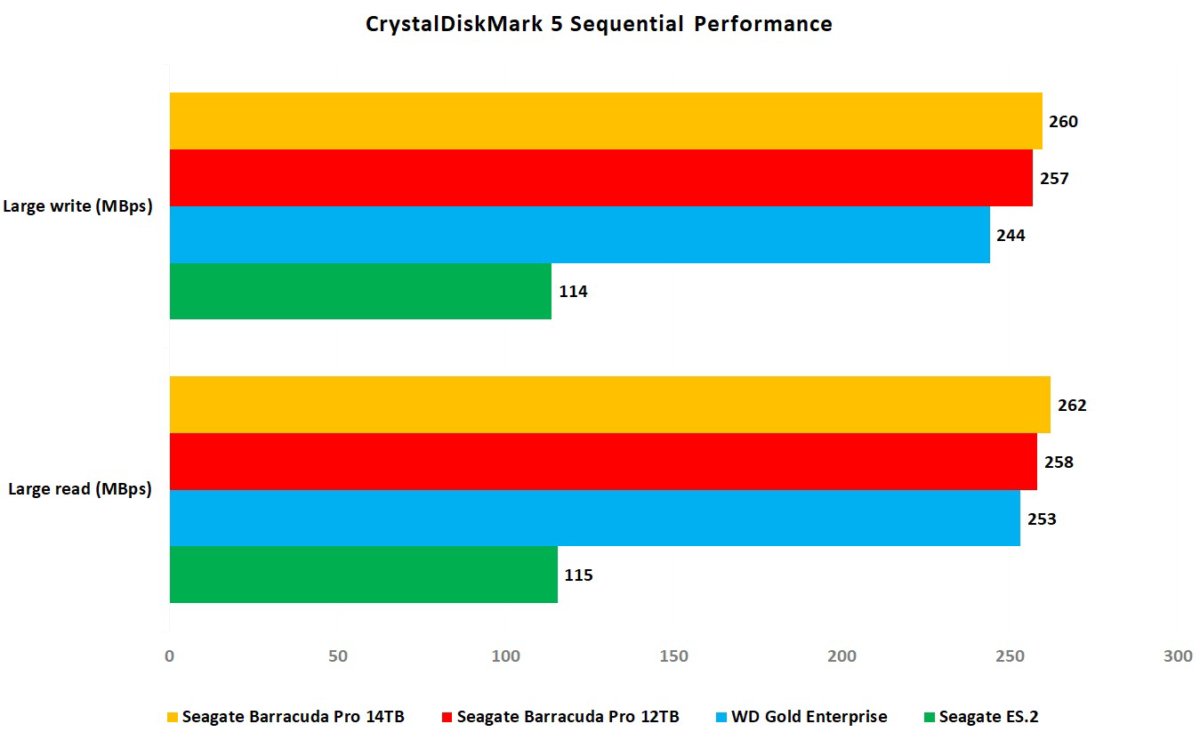 With all hard drives, transfer rates vary according to where the data is on the platter. As the outer sectors are filled, speeds may drop as the inner sectors come into play. With the relatively small amounts of data we used, this phenomenon doesn't show up.
The BarraCuda Pro 14TB ran only mildly warm during our tests, and it's relatively quiet. Head seeks are audible, but buried in a system those sounds shouldn't bother many users. If you really want a total noise blackout, it's SSDs or the highway.
Big stuff, big hard drive
Hard drives aren't sexy, but they remain relevant because of capacity and their super-low price per gigabyte. If you have a lot of stuff, run your computer off of an SSD and store the big stuff on a hard drive. If it's a lot of stuff, use the Seagate BarraCuda Pro 14TB (or its IronWolf cousins). WD has a 14TB drive, but it's enterprise-only at this point.
Note: Consider pairing large hard drives in a mirrored RAID 1 array if what you're storing is important to you. Data recovery is nice, but not 100% guaranteed.