If you've decided to spend $1,000 or more on a Galaxy Note 9, one thing is certain: You're going to need a case. With a 6.4-inch display and an all-glass design, the Note 9 is basically an accident waiting to happen. Use our list of the best cases to find the right one for you and keep your phone in pristine condition.
Update 12/23/19: Added the Speck Presidio Grip, Incipio NGP, and ArmadilloTek Vanguard cases.
Best transparent Galaxy Note 9 cases
The Galaxy Note 9 comes in two colors—lilac purple and ocean blue—that are gorgeous enough to show off. That's why a sturdy clear case is the Note 9's best friend.
Best shell Galaxy Note 9 cases
Simple, sturdy, and stylish, our favorite shell cases will protect your Note 9 and accentuate its good looks.
Best rugged Galaxy Note 9 cases
If you want the ultimate protection for your Note 9, you'll need a heftier case than a simple shell. It adds some bulk, but the increase in size will justify itself when your phone survives that first nasty fall without a scratch.
Best-looking Galaxy Note 9 cases
These cases are so stylish that they get their own category. But form doesn't necessarily trump function—these provide protection for your phone, too.
Best Galaxy Note 9 wallet cases
The Galaxy Note 9 is one of the biggest Android phones around, so with the right case it can double as a wallet, holding cash, credit cards, and your ID. Just make sure you don't leave home without it.
1. Spigen Slim Armor CS
Price: $40
Colors: Black, purple, blue
Wireless charging support: Yes (with up to three cards in back compartment)
Why we love it: The Slim Armor case looks identical to the Spigen Tough Armor case, except instead of a kickstand on the back, the back slides open to reveal a spot for up to three cards (though it's a tight squeeze). With just two cards, however, the compartment lid clicks into place so it doesn't accidentally open and spill its contents. As for the rest of the case, there's a soft silicone interior and a hard plastic exterior that provides dual-layer protection. The buttons are big, easy to find, and have a nice feel to them.
The Spigen Slim Armor CS is our current pick for best Galaxy Note 9 wallet case.
2. Case-Mate Wallet Folio
Price: $60
Colors: Black
Wireless charging support: Yes
Why we love it: The Case-Mate wallet Folio is one of the few wallet cases that take its namesake to heart. Instead of providing a spot for a couple of debit cards and an ID card, the Wallet Folio uses the front flap to hold multiple cards, has a clear spot for your ID, and also includes a place to hold cash. The front cover doesn't have any sort of clasp or magnetic piece to hold it closed, but it does fold back to convert into a stand for your Note 9. The Note 9 snaps into a rigid plastic housing, and the outside is made of textured leather, with spacious cutouts for ports and buttons. If you want to leave your real wallet at home, this case is a winner.
3. Poetic Nubuck
Price: $13
Colors: Black, blue, brown
Wireless charging support: Yes (with up to 2 cards)
Why we love it: One concern with any wallet case is that a card will fall out. But the leather on the back of the Poetic Nubuck case is incredibly tight, so we can't imagine that cards will easily slip out, even after the material naturally stretches to fit its two-card capacity. Beyond the leather holding the cards, there's a soft material on the back of the phone, with a hard plastic shell that wraps around the edges to protect the sides of the Note 9's Infinity Display. It makes for a solid case worth your cash, even if it didn't have the card slot.
Best kickstand Galaxy Note 9 cases
Every Note 9 case will protect your phone against bumps and bruises, but only a few of them make it easy to watch videos, too.
1. Olixar Raptor
Price: $43
Colors: Black, red, blue
Wireless charging support: Yes
Why we love it: First of all, it has an awesome name. More importantly, though, it has a cool look with aggressive styling, angled cutouts, and silver rivets, all of which make it extremely grippable. The front of the case adds beveled corners and excellent shatter protection via a bundled curved screen protector. (Don't worry, the case works just as well without it if you don't like screen protectors.) And if you want to watch a movie, it also has one of the sturdiest kickstands we've ever used on a case.
The Olixar Raptor is our current pick for best kickstand Galaxy Note 9 case.
2. Samsung Rugged Protective Cover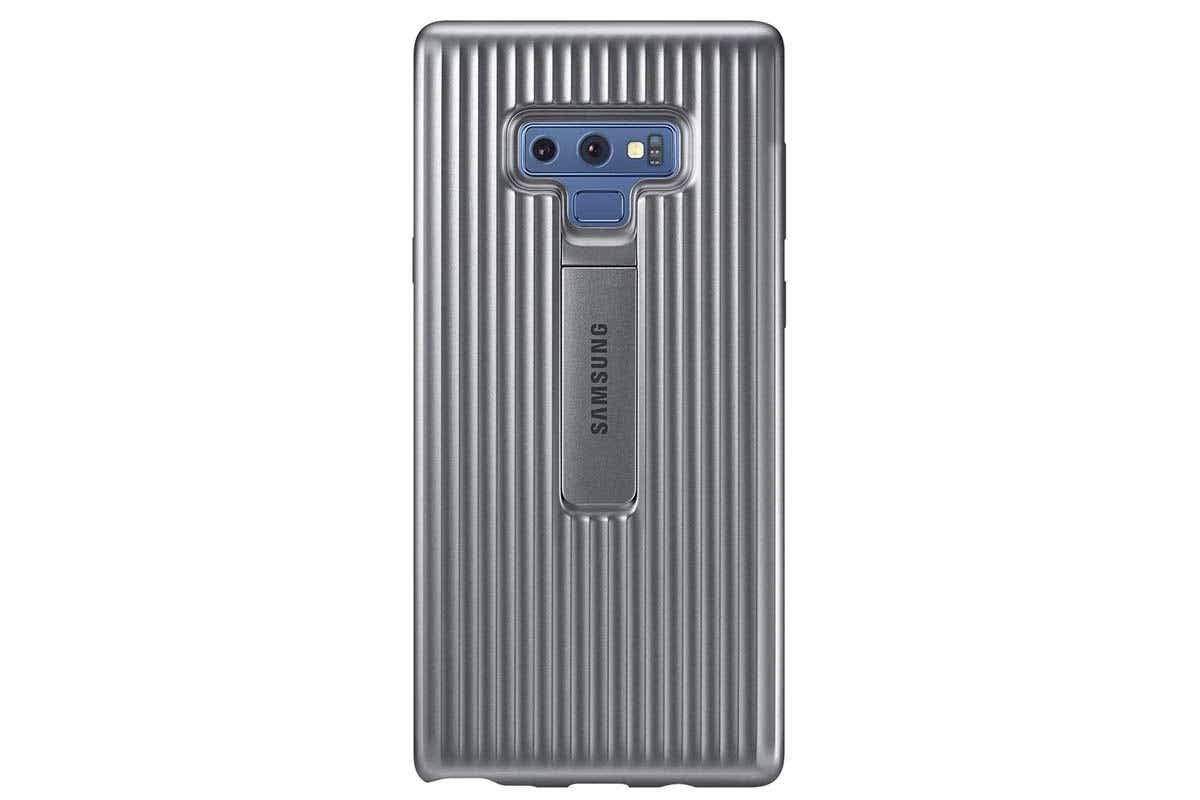 Price: $40
Colors: Silver, black
Wireless charging support: Yes
Why we love it: The Samsung Rugged Protective Cover has a new design for 2019, with a vertical ridged pattern rather than a horizontal one. That makes it more grippable than last year's case and has a neat slimming effect on the phone. A silvery-gray color complements both color options for the Note 9, too.
But the Rugged Protective Cover's best feature remains a kickstand that pulls out from the back to prop the phone up on a desk or table. There's no need for bulky or awkward stick-on accessories in order to watch your videos comfortably.
3. Spigen Tough Armor
Price: $40
Colors: Black, gunmetal, lavender, blue
Wireless charging support: Yes
Why we love it: The Spigen Tough Armor case isn't quite as rugged as its name suggests, but its dual-layer of protection will certainly protect your phone against accidental drops. Its best feature, however, is the tiny kickstand on the back of the case for optimum video watching. When not in use, the kickstand snaps nicely into place on the back, and it's easy to reattach if it ever separates from the case. We really dig the two-tone design on the non-black models, too.
When you purchase through links in our articles, we may earn a small commission. This doesn't affect our editorial independence.