At a Glance
Expert's Rating
Pros
Optane memory delivers impressive boost to HDD performance
Solid quad-core performance given its budget price
Springy, tactile keyboard
Cons
Dim display with poor viewing angles
A little heavier and thicker than competing ultraportables
No keyboard backlighting
Our Verdict
While it's thicker and heavier than we'd like and it suffers from an iffy display, the Optane memory-equipped Acer Aspire 5 delivers impressive quad-core performance for hundreds less than its ultraportable competitors.
Best Prices Today: Aspire 5 A515-51-58HD
A budget laptop that manages to squeeze quad-core power into a reasonably slim-and-light design, the Acer Aspire 5 comes with a built-in advantage: Intel's Optane memory, which gives the laptop's traditional hard drive a serious boost. While its $499 sticker price entails some compromises (including a dim screen, no keyboard backlighting, and an extra pound or so), the Aspire 5's solid performance makes it an enticing choice for productivity-minded bargain hunters.
This review is part of our ongoing roundup of the best laptops. Go there for reviews and comparisons of competing products.
Price & specifications
We tested the $499 configuration of the Acer Aspire 5 (A515-51-58HD), which comes with a quad-core, eighth-generation Core i5-8250U processor, a 15.6-inch 1920×1080 display, a 1TB hard drive, integrated Intel UHD 620 graphics (meaning don't expect much in the way of gaming), and a somewhat meager 4GB of DDR4 RAM (which is upgradable up to 20GB). With those specs, we've got the makings of a reasonably powerful laptop for handling everyday computing chores.
Good alternative with discrete graphics
Aspire 5 with MX 150 graphics
Price When Reviewed:
$624.00
Remove non-product link
This particular laptop also happens to be the first Aspire 5 model with an Intel Optane memory module, which acts as a cache drive to the laptop's HDD. Intel claims that Optane memory can make traditional spinning-platter hard drives feel almost as fast as solid-state drives, with apps launching more and more quickly over time. We'll give the Aspire's implementation of Optane memory a once-over in our Performance section below.
Acer's Aspire 5 is such a good deal, we're having a hard time finding the version we reviewed (Aspire 5 A515-51-58HD) anywhere online. Walmart had it but is sold out as of this writing. We'll keep checking.
Similar version from Newegg
Aspire 5 A515-51-596K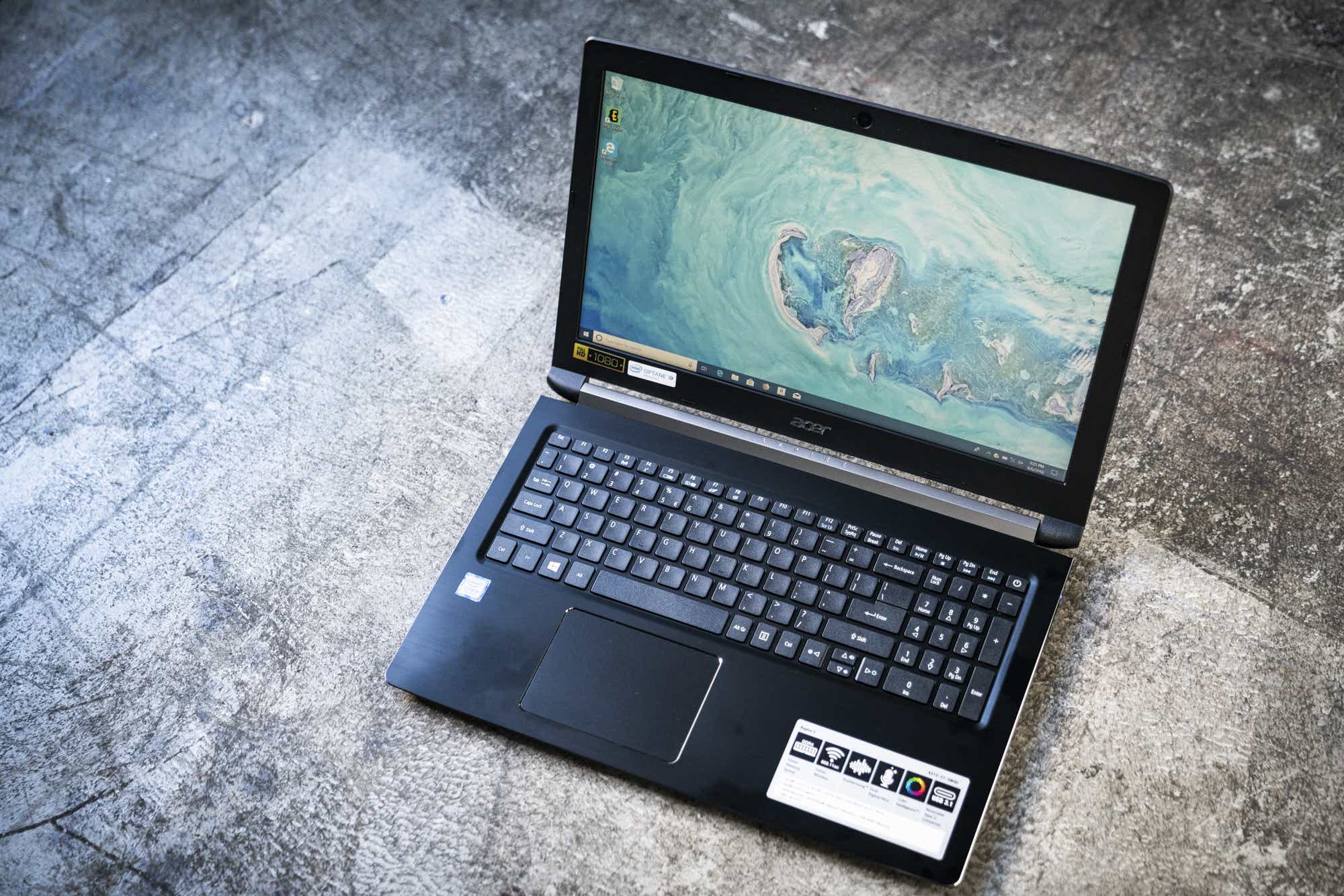 However, we were able to find this similarly priced version on Newegg: the Aspire 5 A515-51-596K. It has the same CPU and integrated graphics, but more RAM (8GB) and a 256GB SSD instead of a hard drive. You should expect faster performance with the SSD (even given the Optane memory in our review model), and the extra RAM won't hurt if you'd loaded up a lot of programs or browser tabs.
We also found a similar version on Amazon that comes with GeForce MX150 discrete graphics. If you have gaming aspirations, this is going to be a faster alternative—and it's currently less expensive, too.
Besides those two systems, more than two dozen other versions of the Aspire 5 are on sale. On the low end, there's a budget $399 model (or $350 online) with a seventh-gen dual-core Core i3-7130U processor, 8GB of RAM and a 1TB hard drive. On the other end of the scale, the $999 Aspire 5 packs in a beefy Core i7-8550U CPU, 12GB of RAM, a 1TB HDD and discrete Nvidia MX150 graphics for gaming and photo or video chores. Several other Aspire 5 models with discrete Nvidia and AMD graphics cards are also available, starting at $599.
Design
Measuring 15 x 10.6 x 0.9 inches and weighing 4.6 pounds (or 5.3 pounds with the relatively compact 65-watt power adapter), the Acer Aspire 5 is a little heavy and thick. At the same time, the Aspire 5 is somewhat more svelte than Acer's budget Aspire E15 laptops, which generally weigh more than five pounds and measure an inch-plus thick.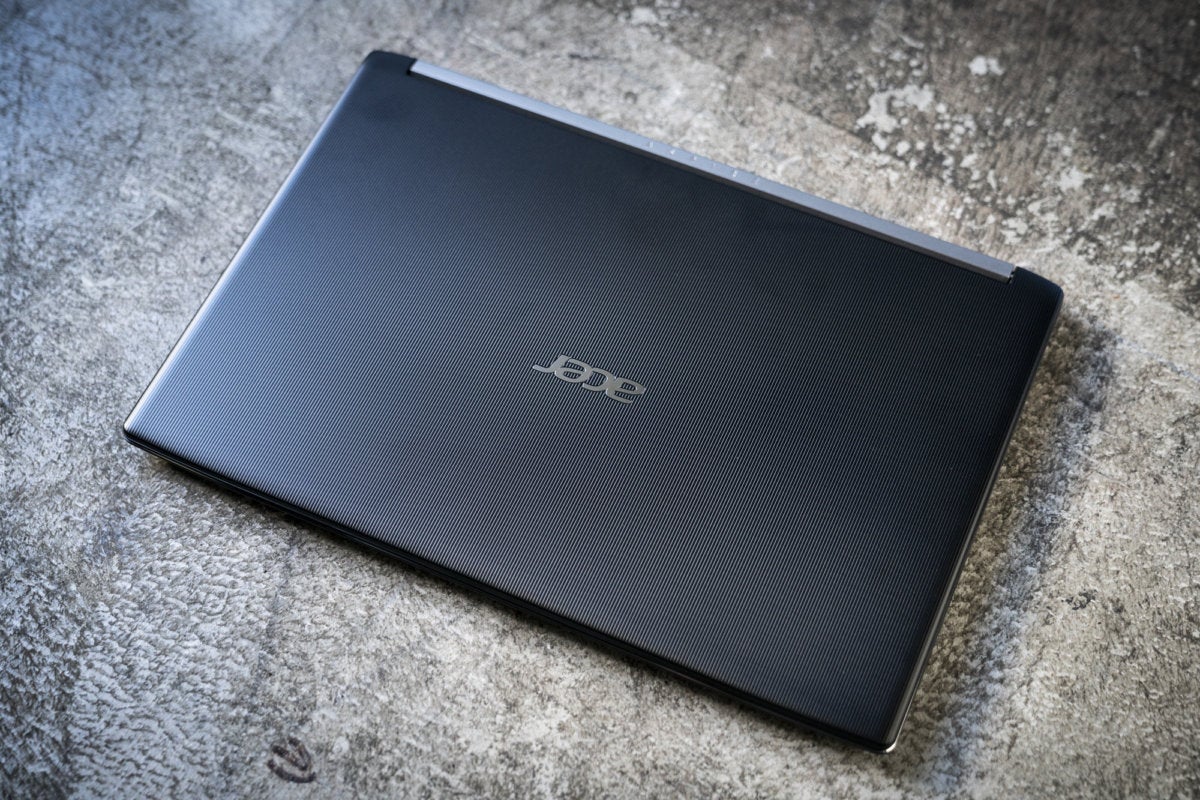 As with Acer's cheaper Aspire E15 line, the Aspire E looks reasonably sleek and professional, complete with a ridged plastic lid and a handsome silver hinge that's etched with the Aspire logo. Speaking of the hinge, it's capable of swiveling a little more than 180 degrees, meaning you can lay it completely flat with the lid open, although it won't swivel all the way around like a true convertible laptop.
Mentioned in this article
Aspire E 15 E5-576-392H
Price When Reviewed:
$379.99
Flip the Aspire 5 over and you'll find something you almost never see on ultraportable laptops: a pair of snap-open panels for access to the drive bay and RAM slots, perfect for swapping in a new hard drive or upping your memory (to a maximum of 20GB). To open a panel, all you need to do is loosen a screw and tug on a thumb tab.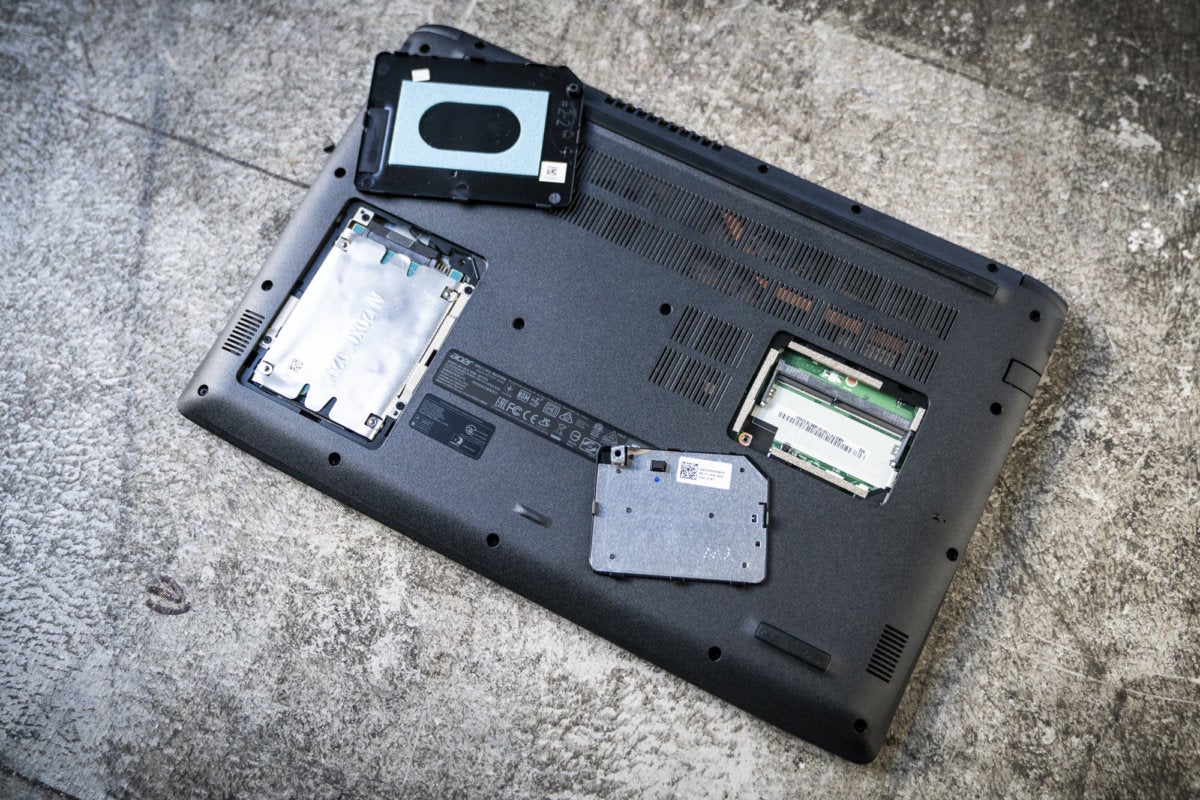 Display
Unfortunately, the display on this particular $499 model of the Acer Aspire 5 is its weakest link. While the 1920×1080 panel looks as sharp as you'd expect, the screen itself is disappointingly dim, registering only 226 nits (or calendas) according to our measurements. That's well below the 250-nit minimum we'd like to see in a laptop display, and it means you'll likely be squinting if you're using the Aspire outdoors or near a bright window.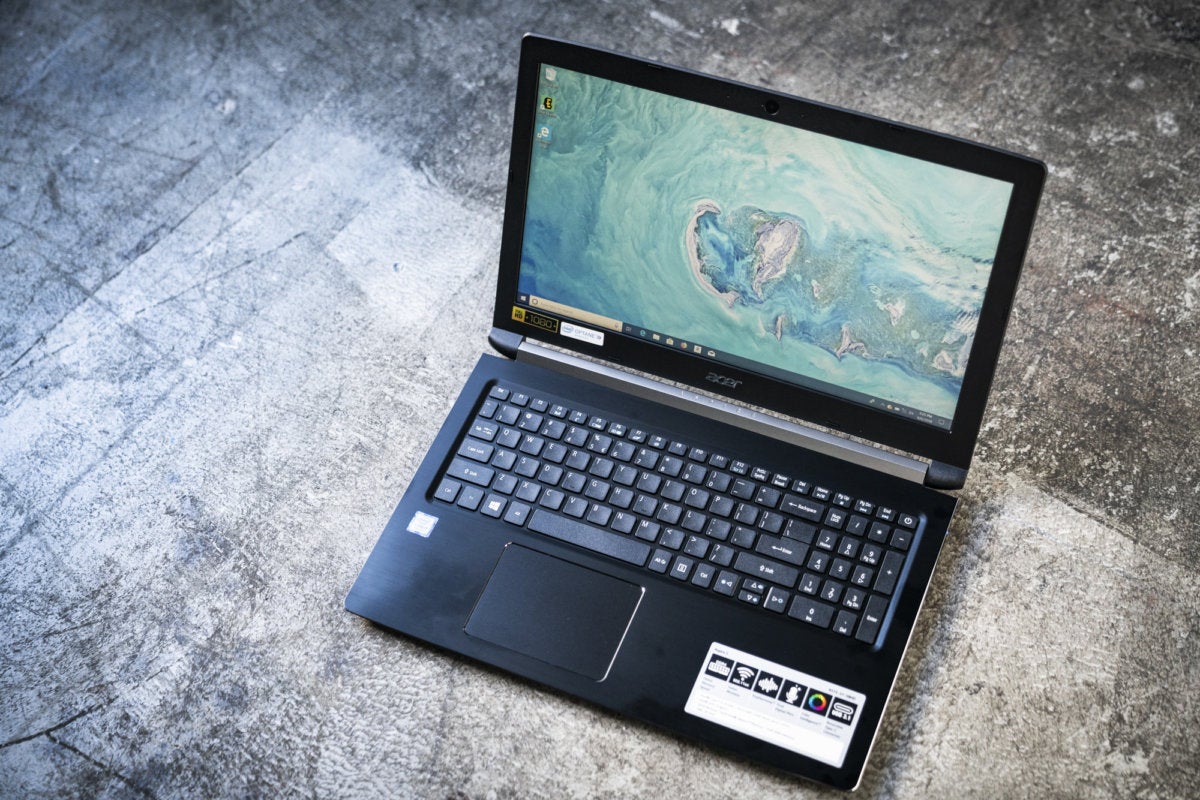 The Aspire 5's non-IPS display also suffers from poor viewing angles. The screen looking faded or blown from the sides, while colors turn inverse when viewing from above or below. That's not a huge deal if you're performing Office duties on your own, but dark scenes on Netflix will look pretty bad for viewers watching from the side.
Keyboard, trackpad, speakers & extras
The model of the Acer Aspire 5 we tested comes with a keyboard similar to the one on Acer's low-end Aspire E15 laptops, and that's not entirely a bad thing. On the one hand, the matted surfaces of the keys feel a bit cheap, there's no keyboard backlighting, and the 10-key numeric keypad looks a bit squished. On the plus side, though, the keys themselves boast a refreshingly springy feel, complete with a satisfying tactile bump in the middle of each keystroke.
The Aspire 5's mid-size trackpad sits a little left of center, which (because of the numeric keyboard on the right) puts it directly beneath the spacebar. As usual for a budget laptop, the Aspire E's serviceable trackpad is a little tough to click, and it occasionally picked up unintentional inputs from my palms as I was typing.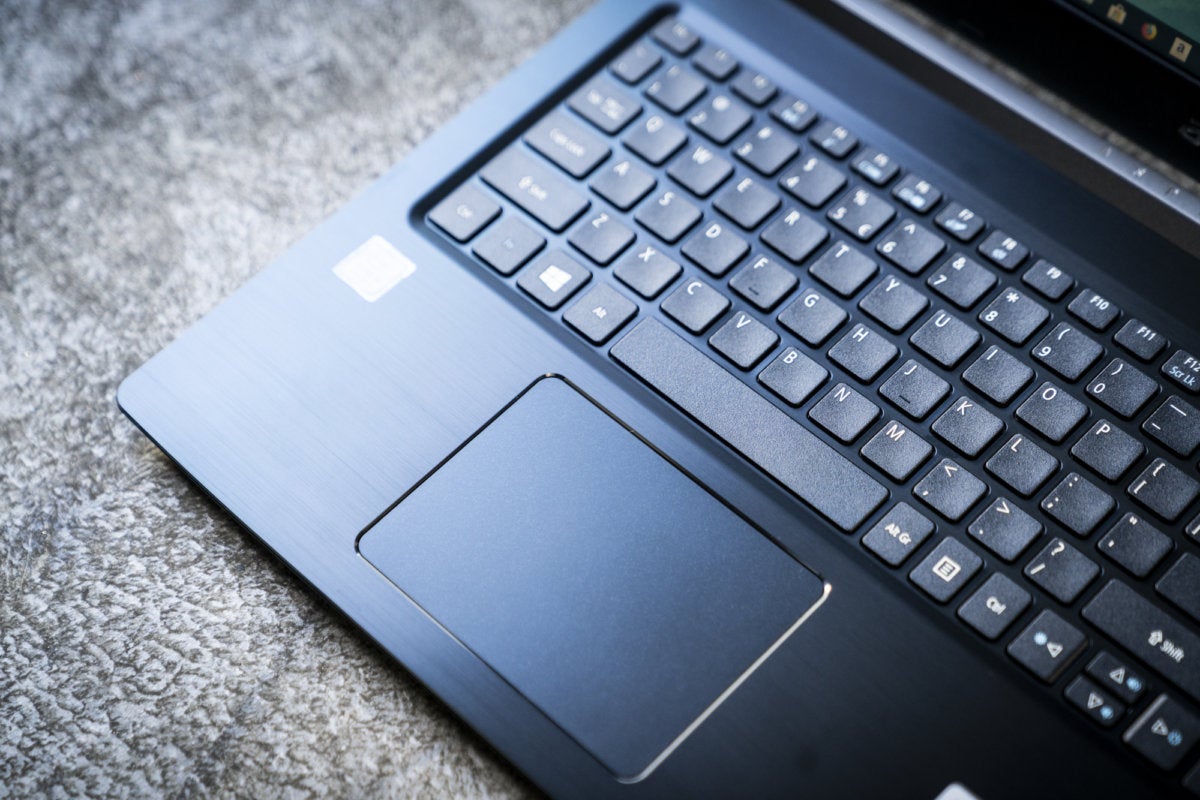 The Acer Aspire 5's bottom-firing speakers sound typically shrill and bass-free, but at least they're pretty loud once you crank the volume all the way up. In any case, the Aspire 5's iffy speakers shouldn't come as a shock; we're talking about laptop speakers, after all. If you want to listen to tunes on the Aspire while you work, just plug in some headphones.
Sitting in the top bezel of the Aspire 5's display, the laptop's 720p webcam captures blotchy, washed-out images that almost look like abstract video art. Yes, viewers will be able to see that it's you, but the Aspire's webcam is passable only for the most casual of video chatters.
Ports
The Acer Aspire 5 boasts a decent selection of ports given its budget price. On the left side, you'll find an ethernet port, USB 3.1 Type-C Gen 1, a full HDMI port, a USB 3.0 port with power-off charging, and an SD card reader. Also on the left: a Kensington laptop lock.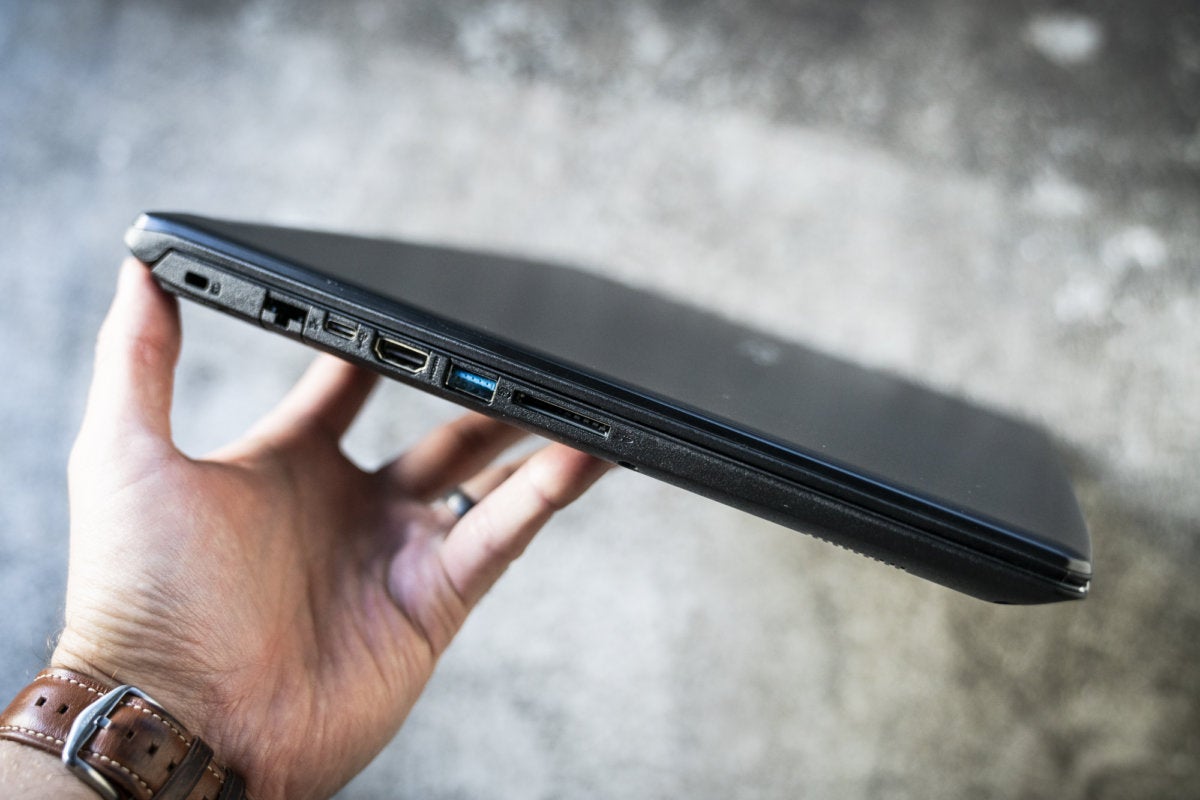 On the right, the Aspire's ports include a barrel-shaped port for the AC charger, a pair of USB 2.0 ports, and a combo audio jack.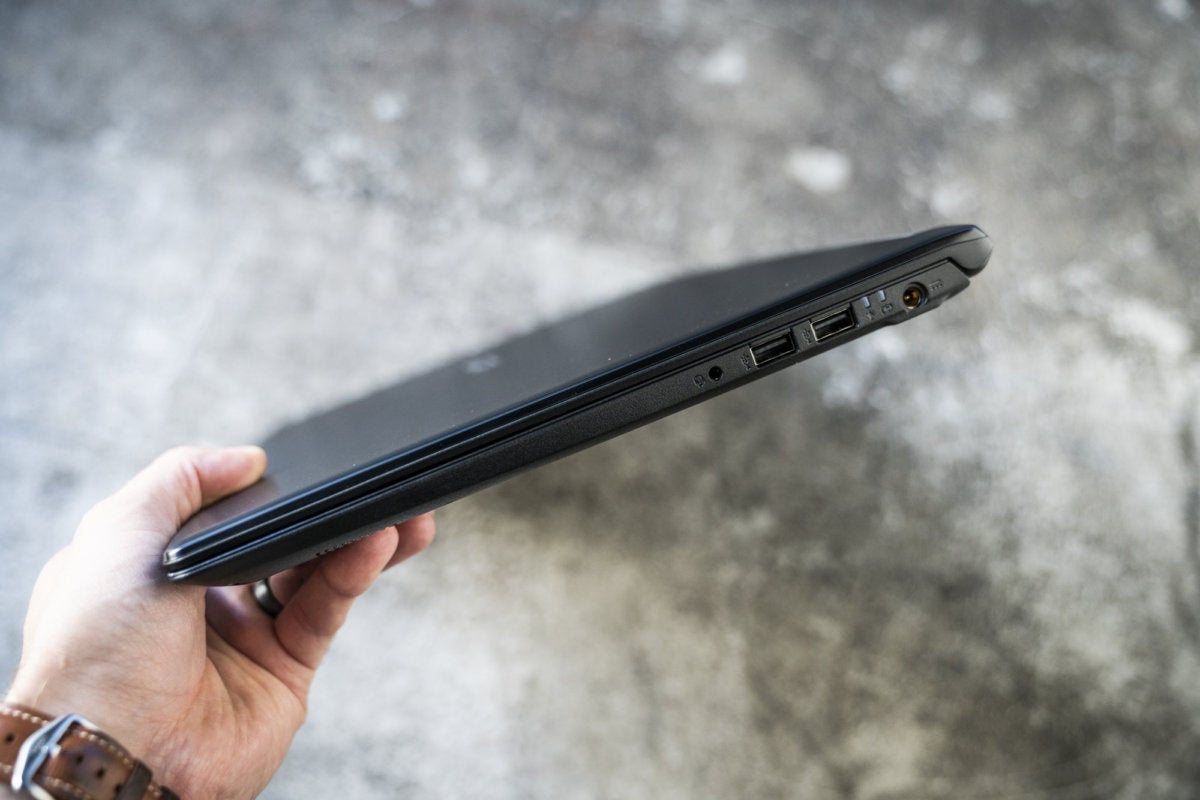 No Thunderbolt 3 ports, unfortunately, but that shouldn't be a shock considering the Aspire 5's $499 price tag.
General performance
Cutting to the chase, this $499 model of the Acer Aspire 5 performs predictably for its configuration, and that's a good thing. Armed with its quad-core Intel Core i5-8250U processor, the Aspire 5 doesn't set any speed records, but it keeps pace with 8th-generation competitors that cost twice as much.
Intel Optane memory
Before we dive into our standard benchmarks, let's take stock of the Acer Aspire 5's 16GB Optane memory module, which aims to make the standard 1TB hard drive in this budget laptop feel almost as peppy as the SSDs you'll find in pricier models.
First, we fired up our CrystalDiskMark 5.2.1 benchmark, which measures read and write times for hard drives. Spinning up the benchmark for single-threaded sequential read performance using 1MB data blocks (roughly the equivalent of reading a single file on a drive), the Aspire 5's Optane-paired hard drive notched 888Mbps. Now, that's somewhat slower than many of the SSDs we've tested, but it's still five times faster than the read time we measured on a 1TB Western Digital hard drive without an Optane module.
For a real-world test, we installed, a free photo editing utility, and timed how long it took for the app to launch. The first time we launched GIMP (a process that involves a series of one time-only plug-in queries and file initializations), it took a full 22 seconds for the main interface to appear. A second test saw GIMP launch in just five seconds. By the fourth and fifth tests (by which time the Optane module had presumably cached elements of the GIMP app), the program was up and running in under four seconds, close to what you might see from an SSD.
Last but not least, I found (anecdotally speaking, anyway) that navigating around the Aspire 5's desktop, opening files and typing queries into the toolbar search box felt refreshingly zippy, lacking the fits and starts you'll see in laptops without an SSD.
We found similarly favorable results in our own early tests of Optane Memory. Thumbs up.
PCMark 8 Professional Work
Moving on to our standard suite of tests, the PCMark 8 benchmark measures a system's performance when it comes to everyday computing chores like web browsing, word processing, spreadsheets and video chat. A PCMark score of 2,000 or means you can expect smooth Office performance.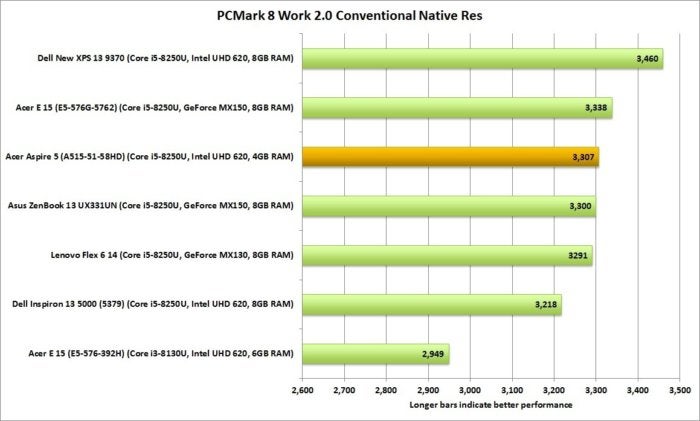 The Acer Aspire 5's PCMark score landed pretty much where we expected, right in the mix with a bunch of other slim (or in the case of the thicker Aspire E15, not-so-slim) laptops powered by similar quad-core Core i5-8250U processors.
Now, it's worth noting that cheaper laptops with dual-core CPUs regularly snag high PCMark 8 scores, too. Take the $379 Acer Aspire E15, with notched a score only slightly lower than that of ts quad-core competitors. If you're planning on using your new laptop only for Office and the like, a pricier quad-core system might be overkill.
HandBrake
For our next test, we'll move to something a little more demanding. Using the free HandBrake utility, we record how long it takes for a laptop to encode a 40GB video file into an Android tablet format. It's a task that strains even the beefiest of CPUs, which tend to get pretty hot in the process. Our HandBrake benchmark reveals whether a given system can keep things cool without sacrificing too much in the way of performance.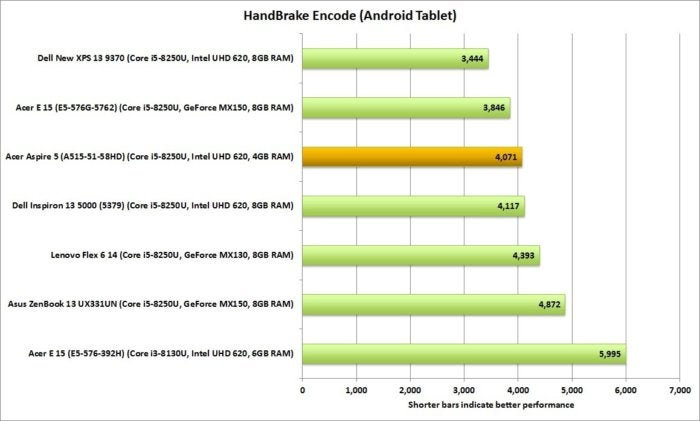 Clocking in at a little more than 4,000 seconds (or about 66 minutes), the Acer Aspire 5 again sits near the middle of the pack, matching the performance of the pricier Dell Inspiron 13 5000 but somewhat behind the (much pricier) Dell XPS 13 9370. During the HandBrake test, the Aspire took a measured approach, with its CPU package temperature nailed at about 70 degrees Celsius and power-limit throttling (which keeps a lid on how much wattage the processor is generating) switched on for the entire hour.
The Handbrake benchmark also shows what a big difference a quad-core (or better) CPU makes when it comes to dealing with heavy workloads like video encoding. Compared to the quad-core Aspire 5, the dual-core, i3-8130U-powered Acer Aspire E15 we mentioned above took an extra 40 minutes (a 40-percent difference) to complete the test.
Cinebench R15
While our Handbrake test frequently takes more than an hour to complete, this next benchmark is usually done in a matter of minutes. Cinebench measures a system's performance as it renders a 3D image in real-time, making for a brief but crushing CPU load.
Compared to other slim-and-light laptops with the same i5-8250U CPU, the Acer Aspire 5's multi-threaded Cinebench mark is a step or two behind, although it's (unsurprisingly) well ahead of the $379 dual-core Acer Aspire E15.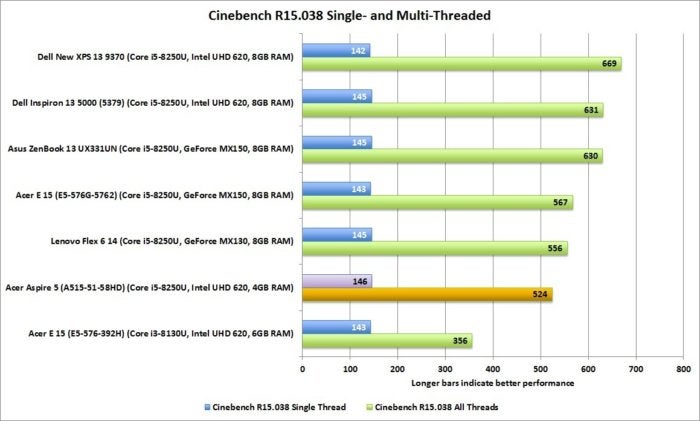 As it did during the HandBrake test, the Aspire 5 plays it cool during this intensive test. It's a safe, conservative approach to heat management with a reasonable performance trade-off.
Switching to Cinebench's single-threaded test, the Acer Aspire 5's score matches not only its quad-core competitors but also the dual-core Aspire E15, demonstrating once again the value of cheaper dual-core systems when it comes to light computing chores.
3DMark Sky Diver
You can't expect much in the way of gaming performance from a laptop with an integrated graphics core, and the Acer Aspire 5's middling Sky Diver score tells the tale.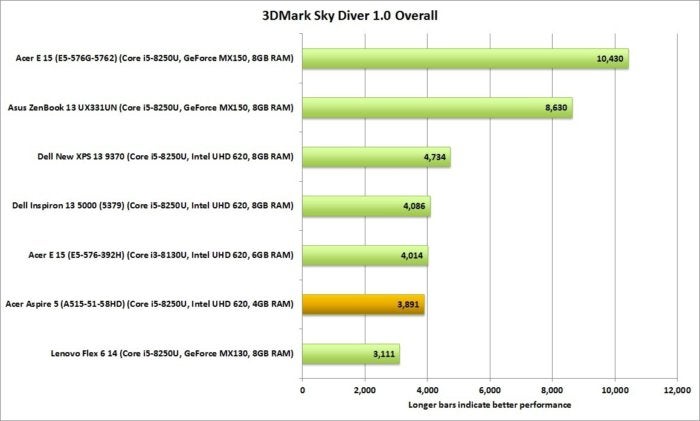 The two systems in our comparison chart with far higher scores both feature discrete Nvidia graphics, which typically tacks a hundred bucks or more onto the price tag. The Aspire 5 and its integrated Intel UHD 620 graphics will certainly do the trick when it comes to basic photo editing or Microsoft Mahjong, but if you're looking for Fortnite action, prepare for blocky visuals and jittery frame rates.
Battery life
We measure battery life in a laptop by looping a 4K video using the stock Window 10 video player. We set screen brightness as close to 250 nits as we can (which meant cranking the brightness all the way on the Aspire 5's dim display), with the volume set at 50 percent and headphones plugged in.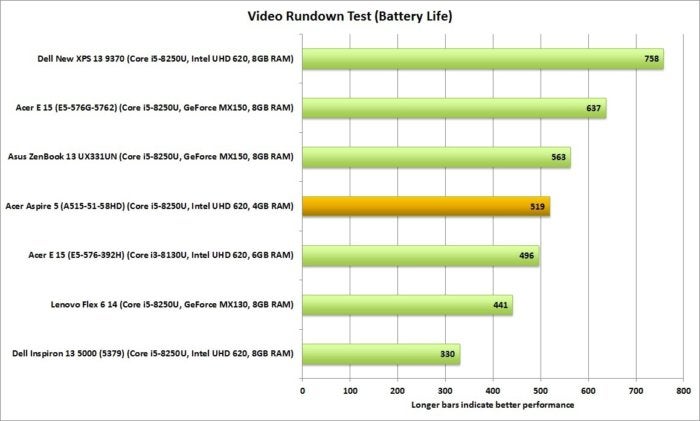 The Acer Aspire 5's battery drain time of 519 minutes (a little over 8.5 hours) is close to what we've seen from other laptops with similar 48 watt-hour batteries, so no surprises here. Yes, the Dell New XPS 13 manages to squeeze a lot more juice out of a slightly larger (52 watt-hour) battery, but the Dell costs more than twice as much as the Aspire 5.
Conclusion
While it's thicker and heavier than we'd like and it suffers from an iffy display, the Optane memory-equipped Acer Aspire 5 delivers impressive quad-core performance for hundreds less than its ultraportable competitors.
Best Prices Today: Aspire 5 A515-51-58HD