Apologies, this will be a short one. It's the end of the week for you at home, and maybe even the start of a long weekend. PAX kicks off in Seattle today, though, which means my week is still in full swing.
The news is in full swing, too. Streets of Rage is getting a sequel 25 years in the making, Subnautica announced a standalone expansion, DICE delayed Battlefield V, Capcom dragged Onimusha out of the vault, and Daybreak killed off Just Survive, a.k.a. the original H1Z1.
This is gaming news for August 27 to 31.
Rat poison
Assuming you do have the weekend off, Warhammer: Vermintide II is free-to-try all weekend, and 50 percent off if you decide to keep it. I'd highly recommend giving it a go, especially if you can round up three more friends to download it. For my money it's one of the best Left 4 Dead-style games in years, enough to make our Best of 2018 (so far) list. I had a blast with it. You'll find it on Steam, and it's available to try out through Monday.
Original-er Sin
This isn't quite a "free" game, but it's worth noting that Divinity: Original Sin II – Definitive Edition released this week, reworking the final chapter of the game and adding new dialogue, new areas, an easier difficulty level, and so on. Best of all, it's free for anyone who already owns the original Original Sin II (heh), so it's almost like a whole new game appearing in your Steam library. Almost.
Rage, rage
This week's surprise announcement: Streets of Rage 4. And I mean really a surprise, given it's a sequel to a game that'll be 25 years old in 2019. If you weren't around back then, Streets of Rage was a side-scrolling beat 'em up series from the peak of the genre's popularity. Why a sequel? And why now? I have no idea, but you can catch the announcement trailer below.
Finding my voice
Destiny 2 's major expansion, Forsaken, arrives next week, and that means it's time for a launch trailer. Hard to say whether you should be excited—I certainly wouldn't blame you for being skeptical, after a disastrous first year. There are signs Bungie's listening to criticism, not least of which is the fact that your Guardian speaks in this launch trailer. It's a small moment, but oddly enough this is the first thing that's made me even a little hopeful for Forsaken's story.
Not that Paradox
More Rusty Lake! More Rusty Lake! I honestly don't know how the Rusty Lake team turns out these games so quickly, but after Rusty Lake Paradise's January release there's already another game coming. Cube Escape: Paradox, a hybrid game/film experiment, is due to release September 20. Here's a suitably unsettling trailer:
A contradictory title
The strange saga of H1Z1 gets even stranger this week, as the original survival game—which used to be called H1Z1, then was renamed to Just Survive—got summarily killed off by Daybreak. You can check out the official blog post for full details, but the game's been pulled from sale and the gist of it is this:
"After careful consideration, we've made the difficult decision to sunset Just Survive on Wednesday, October 24 at 11 a.m. PT. The excitement of the game's promise was palpable and its loyal community is still full of ideas for its future. Unfortunately, we are no longer in a position to fulfill its greatness and the current population of the game makes it untenable to maintain."
I have to imagine Just Survive was sacrificed so that H1Z1-the-battle-royale game may continue to live. Not sure how it's doing either these days, but I'd bet better than Just Survive at least.
The Bradwell Conspiracy
Bossa Studios is mostly known for systems-driven hilarity like Surgeon Simulator, I Am Bread, and even the more-serious-but-still-systems-heavy Worlds Adrift. That makes this latest project a bit of an odd departure. Bossa announced this week it's publishing The Bradwell Conspiracy, a "narrative-driven first-person experience." My interest's been piqued by casual mention of Brutalism, though you won't see much of that (or any) aesthetic in this short teaser.
Onimusha
Capcom's really digging deep into its past these days. A Resident Evil II remake is already due to release next January, and now Capcom's announced a remaster of Onimusha: Warlords, updating the PS2 action game for modern hardware and bringing it to PC for the first time (at least in North America).
Tactical delay
Out of the frying pan, into the fire. That's how I feel about Battlefield V, which fell prey to a delay this week—and managed to slip out from the shadow of Red Dead Redemption II and into the shadow of Fallout 76. Anyway, the new launch date is November 20, with DICE saying it's "adjusting the gameplay tempo, improving soldier visibility and reducing player friction."
Sub-zero
Subnautica is maybe the best survival game I've ever played, and this week the developers at Unknown Worlds officially announced a standalone expansion, Subnautica: Below Zero. Not much to see so far except some concept art, but it's very blue and cold. Expect it to hit Early Access sometime in the next few months.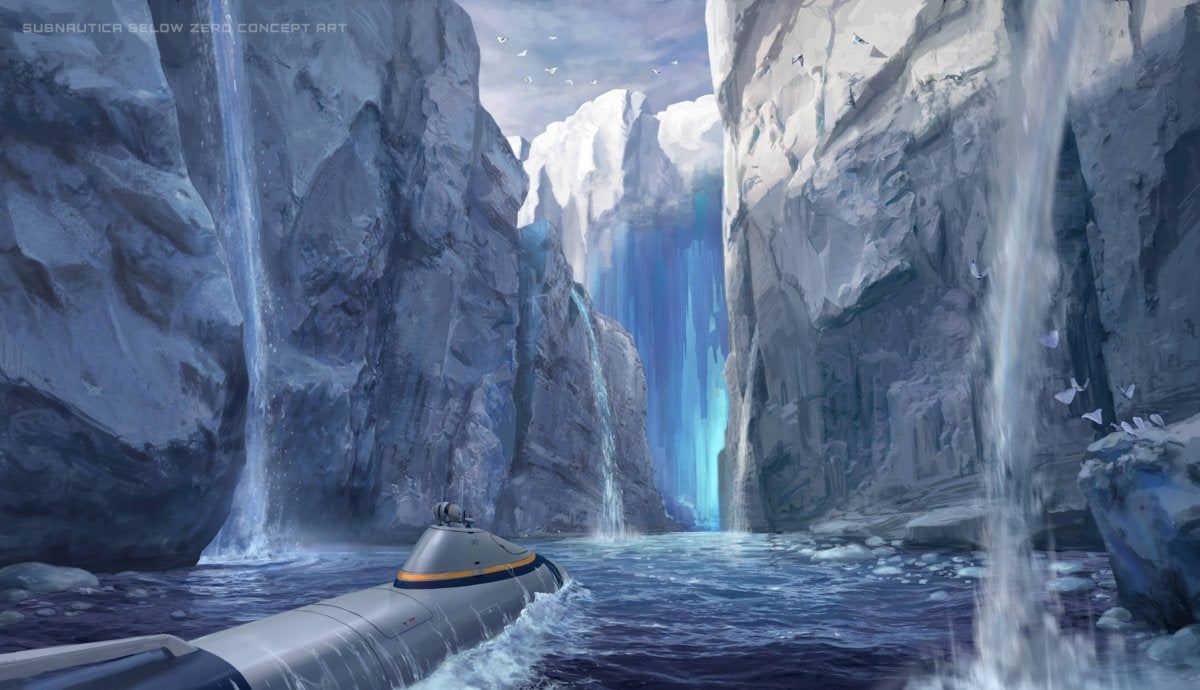 Colossal cave adventure
We'll end this week on Spelunky 2, which finally has a gameplay trailer. Spoiler: It looks a lot like Spelunky, except with multiplayer.