At a Glance
Expert's Rating
Pros
It has a wireless charging pad built into it
Slightly above-average efficiency
Sturdy design
Cons
Maxes out at 5W for wireless charging
Only one USB port for charging via a cable
Our Verdict
The RAVPower Portable Wireless Charger (10,000mAh) is a portable battery back that makes it okay for you to forget your charging cable at home.
Best Prices Today: RAVPower Portable Wireless Charger 10,000mAh
With nearly all major smartphones now supporting wireless charging, and rumors of the next-generation Pixels also supporting the ability to charge without a cable, it only makes sense that we have a way to get wireless charging on the go.
RAVPower, a company known for its portable battery packs, has a pair of portable battery packs that include a built-in wireless charging pad. Power on the pack, place your phone on top, and forget about it for a bit.
Note: This review is part of our roundup of portable power banks. Go there for details on competing products and our testing methods.
The Portable Wireless Charger 10,000mAh is the smaller of RAVPower's options—the larger one being a 10,400mAh unit.
The all-black housing includes a rubber material on the top, designed to hold your phone in place as it rests atop the battery pack. A circle in the middle marks the target area where the wireless charging takes place. There's also a small indicator light on top of the pack that lets you know if the wireless charging pad is actually charging your phone.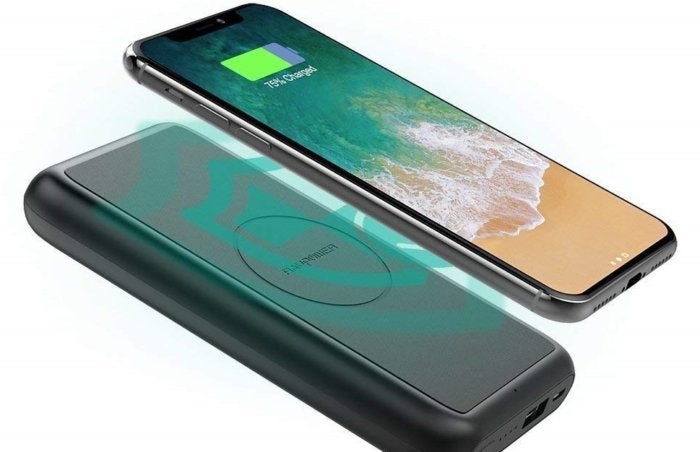 On one end of the pack are a power button, four indicator lights, a USB-A port, and a Micro-USB port. The latter port is used solely for charging the pack itself, while the USB-A port is used to charge an external device, such as your phone.
Inside the box comes a Micro-USB charging cable for the pack, and a small carrying case. The pack is currently priced at $36.
The 10,000mAh (37Wh) pack can provide up to 5V/2.4A max output via a cable, and 5W of power through the wireless charging pad. Our testing found the Portable Wireless Charger to have an efficiency rating of 85.46 percent, putting it firmly in the middle of the packs we have tested. Total time to recharge this pack from completely drained to completely full is 4 hours and 17 minutes.
As for the wireless charging feature, we tested the speed and found it to charge an iPhone X to 31 percent over the course of 60 minutes, a respectable rate.
The RAVPower Portable Wireless Charger 10,000mAh is a solid option for those wanting a portable battery pack without the fuss of worrying about a cable to charge your phone. Just don't get your hopes up for ridiculously fast wireless charging.
Best Prices Today: RAVPower Portable Wireless Charger 10,000mAh