Netgear is upping the ante in the gamer-oriented router arena with XR700 Nighthawk Pro. This 802.11ad router's signature feature is a 10-gigabit-per-second ethernet port that, when connected to Netgear's SX10 Nighthawk Pro switch, provides a whopping 15 wired gigabit ports for the ultimate LAN party. If you're lucky enough to have an insanely fast broadband connection, that 10G port can be configured as a WAN port.
As with Netgear's previous gaming router, the XR500, the XR700 features the DumaOS quality-of-service engine that automatically prioritizes gaming traffic on your home network. But the firmware also allows power users to get deep into the router's settings, twisting virtual dials and knobs to optimize the router's performance for whichever applications you wish.
For multiplayer games, for instance, there's a geo filter that allows you to draw a circle on a map to limit the distance to servers and opponents to reduce lag-inducing ping times. But you can achieve even finer control than that, identifying and blocking specific players known to have slow broadband connections even if they're within that circle.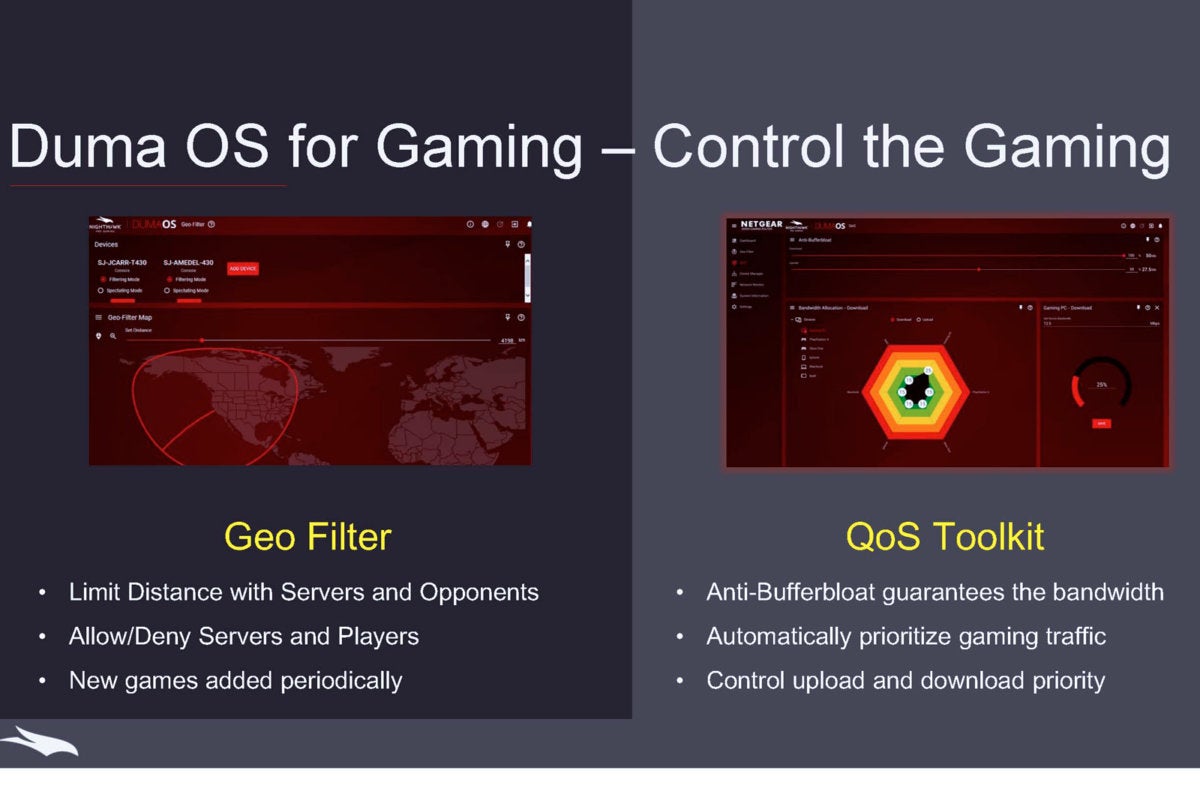 DumaOS also lets you identify and prioritize clients on your own network, so you can shunt your roommate's Torrent to low priority so it doesn't suck up your bandwidth, or boosting the priority of your streaming box so you don't experience any interruptions while watching a show on Netflix.
Speaking of streaming, the XR700 has Plex Media Server onboard, so you can stream music and video stored on a NAS box or USB hard drive to all the wired and wireless devices in your home. The router also comes with a six-month unlimited subscription to Amazon Cloud Drive Backup and will automatically back up specified directories of hard drives connected to either of its USB 3.0 ports to the Amazon's service.
Netgear expects to fetch the princely sum of $499.99 when it ships the XR700 next month.