At a Glance
Expert's Rating
Pros
Sounds great, High-Res Audio or not
On-ear controls
Attractive and understated RGB lighting
Cons
Cheap-feeling build quality
Microphone makes a loud "pop" noise when you swivel it up or down
Garish branding
Our Verdict
The Khan Aimo headset sounds great, but Roccat had to cut a lot of corners to bring in a High-Res certified device at this price point.
Best Prices Today: Roccat Khan Aimo
There always needs to be a new gimmick. It's the most fascinating aspect of reviewing peripherals, and particularly gaming headsets. Every year or two, they need to one-up themselves. Maybe it's a symptom of their proximity to PCs and PC gaming hardware, but regardless of the underlying reason, the point is there's always some new headset arms race underway.
The latest battlefield? Hi-Res Audio—and it's the Roccat Khan Aimo that's leading the charge.
This review is part of our roundup of best gaming headsets. Go there for details on competing products and how we tested them.
Cheap finish
It's not the most inspiring headset, admittedly. The Roccat Khan Aimo looks pretty bland, with a boxy design shrouded in carbon-colored plastic. Lots of plastic. I imagine Roccat made that call to keep the weight down, but the Khan Aimo feels chintzy next to its peers, most of which opt for metal accents at the very least. It's especially egregious given the Khan Aimo's $120 price tag. I've reviewed headsets half the price that looked twice as impressive.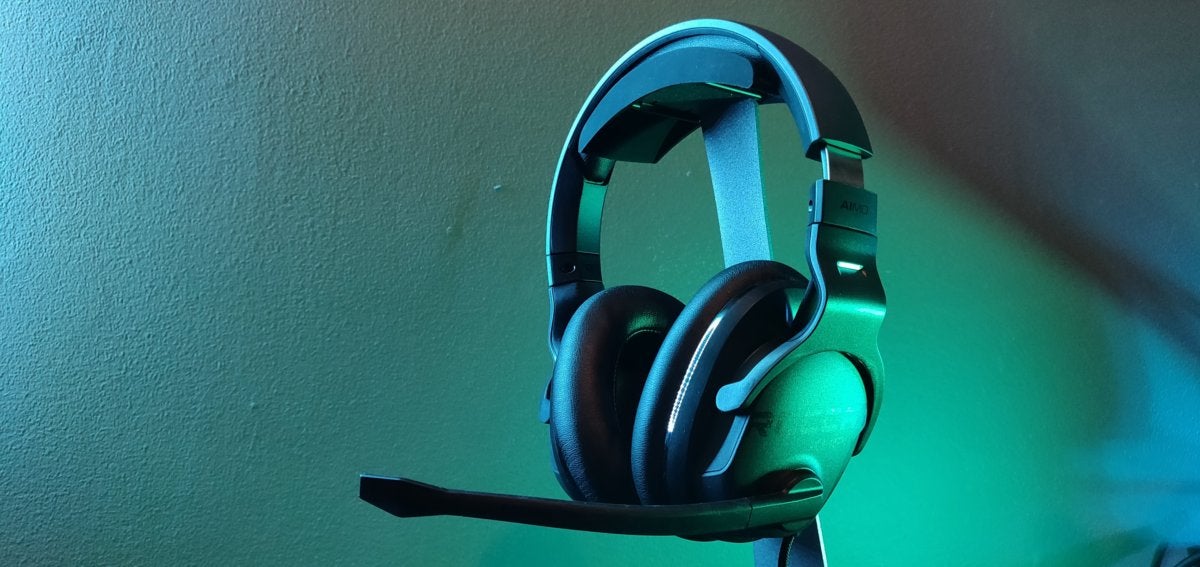 Mentioned in this article
Logitech G533
Roccat's branding is also a point of contention with me. Companies are trending away from the "gamer" look that has dominated peripherals for years, and we've had some gorgeous minimalist headset designs in the past two or three years: Logitech's G533, Razer's Man O' War, SteelSeries's Arctis 7, and so on. The Khan Aimo, by contrast, is emblazoned with a massive lion (or the titular roc-cat) logo on the right earcup. It's garish, even in black-on-black, and looks at least five years behind the times.
Lit up, the Khan Aimo looks slightly better though. Roccat's RGB lighting is at least on-point, with two short channels on each ear. RGB lighting continues to be a baffling feature on headsets, but I appreciate the Khan Aimo's restraint.
On-ear controls exist, albeit barely. There's a volume wheel on the right earcup, but I found it hard to find in a panic. It's very small, and recedes into the earcup to the point you can barely feel it under your thumb. It's got a satisfying click though, so once you've found it you have decent control over volume. There's also a small button next to the volume wheel, which toggles 7.1 on and off.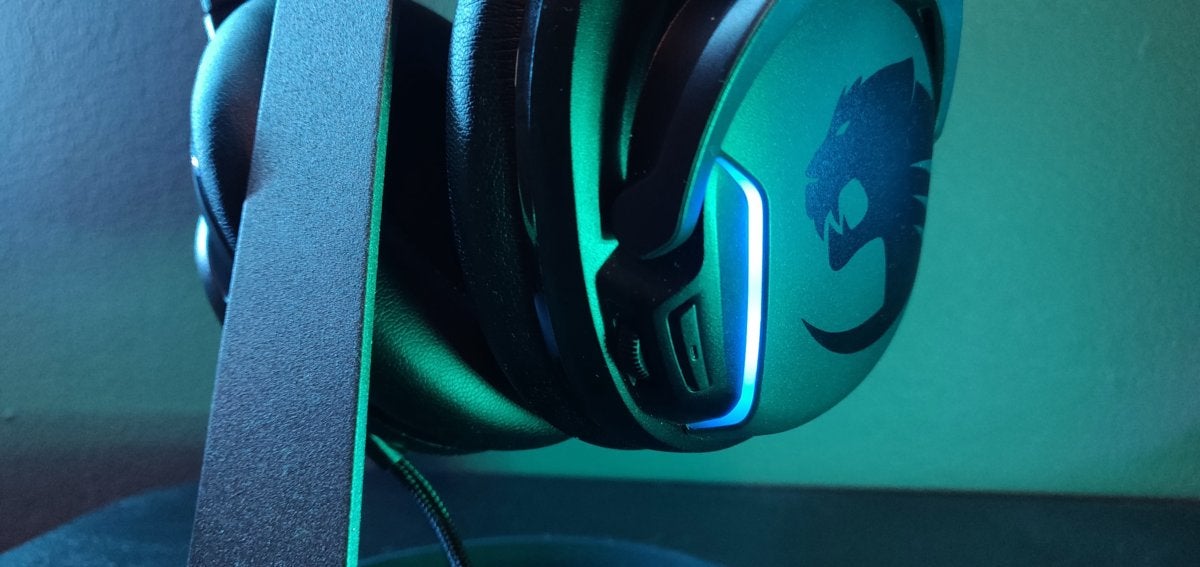 Rather than a dedicated mute button, the Khan Aimo's microphone is instead flip-to-mute—my preferred method. There's a loud click when the microphone folds up or down though, which I found slightly distracting. It's supposed to signal the mic is on or off, but in reality it's a redundant annoyance. I already know the microphone is on or off because I moved it to the corresponding position!
The mic itself could use refining too. Like the rest of the Khan Aimo, it's just sort of bland and bulky, covered in a gray rubberized material. At least it bends into place, although I did notice it had a tendency to slowly move back to its default position over time.
Feast for the ears
Point being: Roccat clearly skimped on the Khan Aimo's design to keep the price down, while still including Hi-Res Audio and 7.1 Surround support. For context, there's only one other Hi-Res certified headset on the market at the moment, and it's SteelSeries's Arctis Pro—which at $250 costs twice as much. So yeah, admirable of Roccat to keep the Khan Aimo's price down, though the headset suffers some in the process.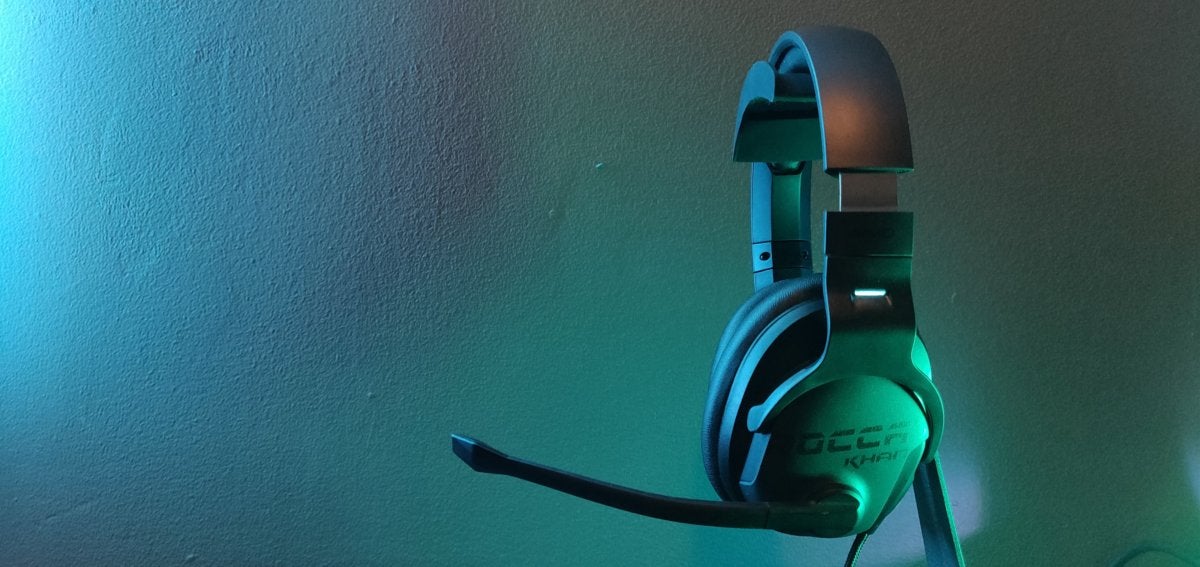 Maybe it was worth it though, because the Khan Aimo sounds pretty damn great. And no, it's not necessarily because it's Hi-Res certified. All that means is the Khan Aimo is capable of playing audio at better-than-CD quality, i.e. higher than 16-bit/44.1KHz. Usually that means 24-bit/96KHz, though the definition's a bit loose.
Regardless, you need a Hi-Res source to take full advantage of the Khan Aimo's capabilities. Maybe you're recording your own music, or maybe you have a library of FLAC files lying around, or you subscribe to Tidal.
Chances are you do none of those things though, in which case the Khan Aimo's Hi-Res capabilities are essentially lost on you. Having listened to music and sound effects recorded at 16-bit and 24-bit…let's just say your average listener won't notice the difference at standard volumes in a headset. It's just not going to happen. Hell, most people can't even discern good or bad headset audio in the first place.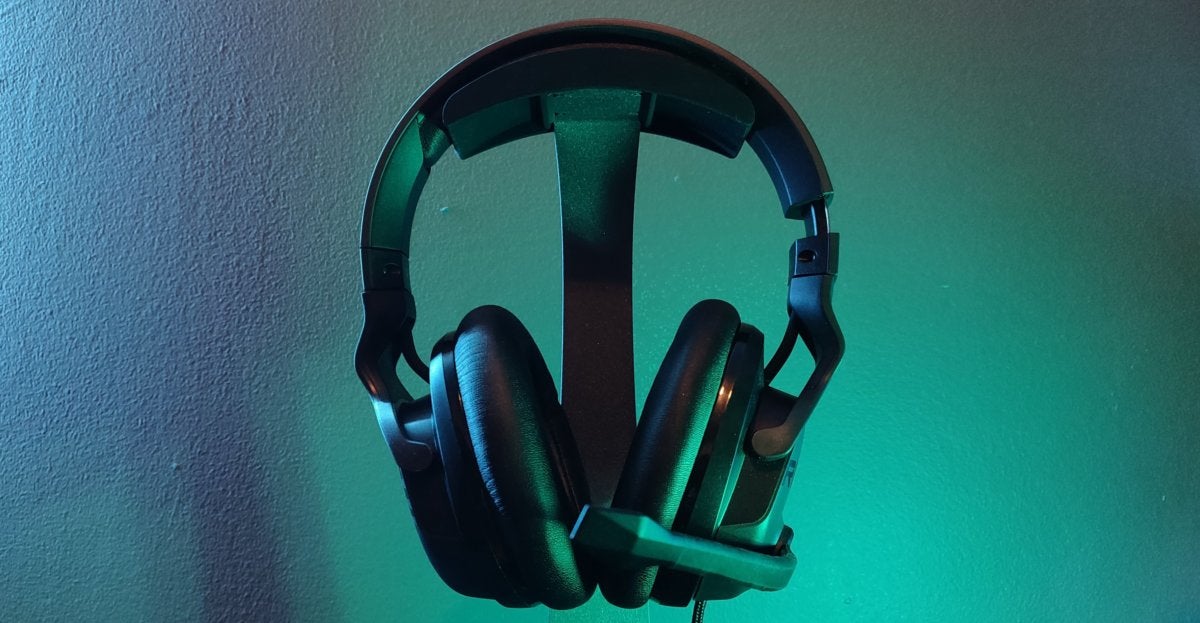 The Khan Aimo sounds damn good in a range of applications regardless. I've particularly enjoyed listening to music on it. It's a bit bass-heavy, like many gaming headsets, but not distractingly so. And it makes up for that tendency with a lively and rich mid-range. I've listened to everything from Andrew WK to synthwave to solo piano compositions on the Khan Aimo and it's handled them all great.
Gaming performance is great too, right out of the box. Explosions sound thick and weighty, while dialogue sounds equally crisp and sharp. It's not the best headset I've ever used, but Roccat's built-in DAC is pulling some major weight.
And the microphone isn't terrible, though like most headsets it's another place where Roccat skimped. Still, voice performance is good enough for multiplayer chat, even if you wouldn't necessarily want to record a podcast on it.
Bottom line
Mentioned in this article
HyperX Cloud Alpha
It's just a shame the Roccat Khan Aimo's build quality undermines its audio strengths. For $120 the Khan Aimo is one of the better-sounding headsets on the market, clawing at the HyperX Cloud Alpha and other similarly priced competitors. I think including Hi-Res Audio support must've really cut into Roccat's margins though (most Hi-Res headphones are $500 or more) and the result is a headset that's neither very attractive nor as comfortable as I'd like. That makes it hard to recommend, even if its raw performance is impressive.
I'd love to see Roccat return with a premium version of the Roccat Khan Aimo, maybe in the $200 to $250 range. I don't know how well it'd sell, but audio fidelity this good deserves a chassis to match. Otherwise it's like throwing race car innards into a VW Bus.
Best Prices Today: Roccat Khan Aimo