At a Glance
Expert's Rating
Pros
Fast charging
Includes power adapter
7.5W and 10W support
Cons
Cooling fan is a little loud
Our Verdict
The Anker PowerWave 7.5 Stand wireless charger amply makes up for its lone downside—a loud fan—with speed and a sturdy design.
Best Prices Today
Anker's known for making all sorts of high-quality accessories, so it should be no surprise that the company has a lineup of wireless chargers. Among them is the $49 Anker PowerWave 7.5 Stand, which supports both 7.5W and 10W charging speeds via the Qi standard.
That means the PowerWave 7.5 Stand can fast charge compatible iPhone and Android models. (Currently, that includes popular phones like the iPhone 8, 8 Plus, and X, as well as the Samsung Galaxy S9, S9+, and Note 9.) It also supports 5W charging for older phones.
Note: This review is part of our roundup of wireless charging pads. Go there for details on competing products and our testing methods for both Android phones and iPhones.
This particular Anker wireless charger is designed as a stand with a soft finish. Its ledge props up your phone and makes it easy to see notifications at a glance, and also has an indicator light that lets you know when the charger is in use. Rubber coats the bottom of the stand to keep it in place and prevent accidental spills.
Included in the box is a microUSB cable and a Quick Charge 3.0 power adapter to power the pad, or for use as a standalone charger.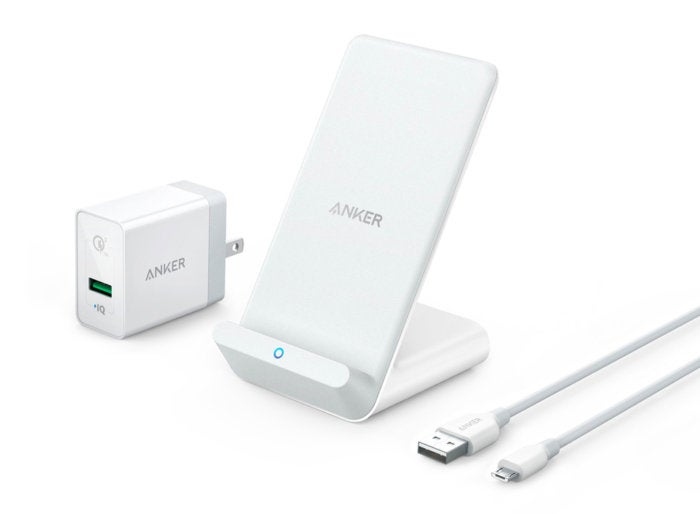 In our initial round of tests, the PowerWave 7.5 Stand charged a Samsung Galaxy S9 faster than any other wireless charger we've tested, with an average time of 2 hours and 26 minutes (146 minutes) to bring the S9's battery from completely empty to full. The only other wireless charger with a result under 200 minutes is Samsung's Fast Charge Wireless Charging Stand (2018) at 2 hours and 50 minutes (170 minutes).
Testing this pad with an iPhone X, we also found it to charge the fastest of all the other pads tested. At the end of a 60 minute charging period, the iPhone X averaged a charge of 36%—two percentage points higher than its current closest rival, the Mophie Charge Stream Pad+.
The only complaint we have is with the stand is the fan in its base. It's necessary, as wireless charging creates a lot of heat, but it is a little on the loud side. In an environment with a fair amount of noise, we could ignore it, but in a bedroom at night or in a quiet office, it can be distracting.
Bottom line: The Anker PowerWave 7.5 Stand wireless charger amply makes up for its lone downside—a loud fan—with speed and a sturdy design.
Note: When you purchase something after clicking links in our articles, we may earn a small commission. Read our affiliate link policy for more details.
Based in beautiful Colorado, Jason Cipriani is a freelance writer who contributes to, Greenbot, IGN, TechRadar, ZDNet and CNET.