At a Glance
Expert's Rating
Pros
Wonderful physical design for portable use
Very good performance
Supports encryption (requires utility)
Cons
Pricey compared to hard drives
Our Verdict
The Extreme Portable SSD's convenient form factor trumps the drive's slight performance deficit compared to the Samsung T5. With its fast USB 3.1 Gen 2 (10Gbps) capability, this is currently our favorite portable SSD.
Best Prices Today: SanDisk Extreme Portable SSD (1TB)
If you're looking for fast external USB storage, you'll do no better than SanDisk's USB 3.1 Gen 2 Extreme Portable SSD. It's just a tad slower than Samsung's T5, but one-ups that worthy drive with a svelte and cleverly ergonomic design.
Remember that USB 3.1 Gen 2 offers a 10Gbps data transfer rate, but it requires a Gen 2 port for full performance. Connecting this drive to a USB 3.1 Gen 1 port (5Gbps) will limit throughput to around 300MBps.
Note: This review is part of our roundup of the best SSDs. Go there for details about competing products and how we tested them.
Design and features
Measuring 3.78 x 1.95 x 0.35 inches, the Extreme Portable SSD is a hair broader and longer than its Samsung T5 and WD My Passport SSD competitors, SanDisk's product is a heck of a lot more practical, though. The Extreme Portable SSD has rounded corners and a textured surface for a very comfortable grip. The shape and feel are unique enough that you won't have trouble distinguishing it by touch from other items in your bag. There's also a splash of orange that makes it very easy to spot visually. Kudos to the designer.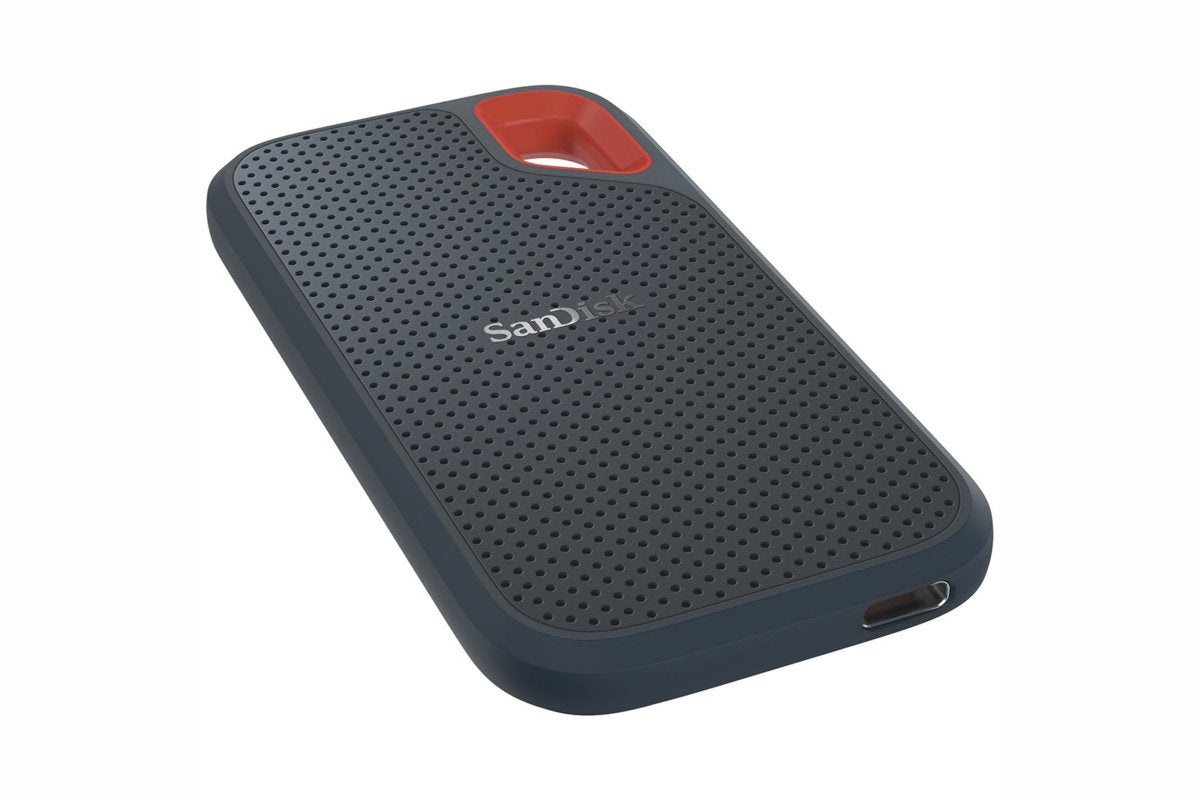 Beyond that, there's a nice, large cutaway on one corner for attaching the drive to other objects such as a backpack or keychain. Another thing about the Extreme Portable SSD's slightly unusual shape is that it's not necessarily evocative of a storage device. Perhaps a little less attractive to thieves that might be. (Yoda says.)
Mentioned in this article
My Passport SSD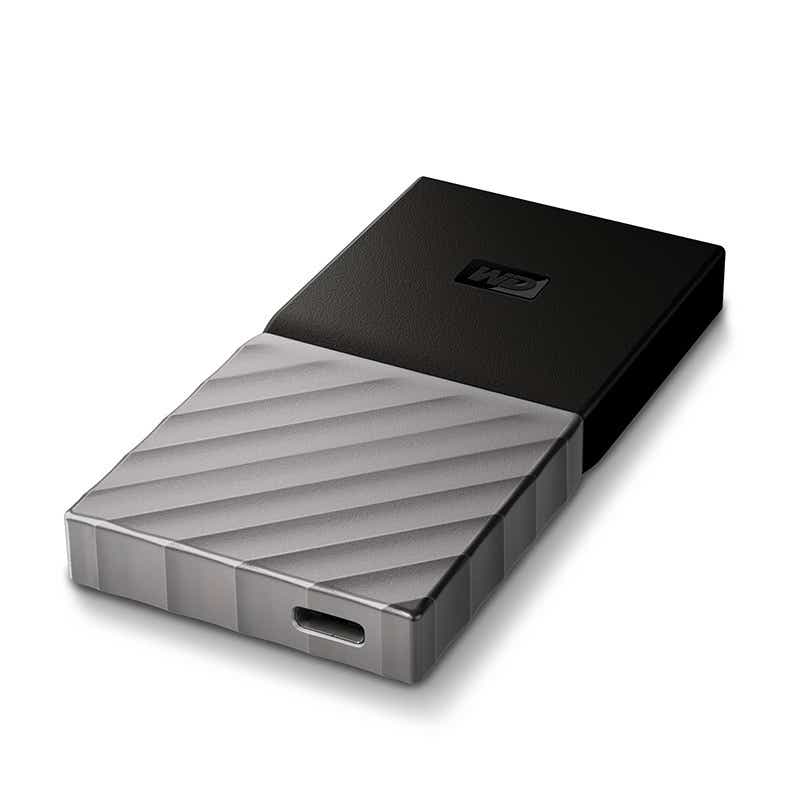 There is actually one hint as to the device's purpose, and that's the USB Type-C port. SanDisk bundles a USB Type-C cable and an adapter so you can still easily attach the drive to earlier Type A ports. The adapter attaches snugly (not all do) and has never shown a tendency to part ways through a couple of months of use. I much prefer the adapter approach to carrying around a second USB Type-C to Type-A cable. Despite the port, the Extreme SSD is IP55 rated to resist water and dust (dry it before use, please) and survive two meter drops.
Note that having a Type-C port doesn't necessarily mean it supports USB 3.1 Gen 2, so check your specs. All modern USB SSDs support Gen 2, but you won't get full performance if your port doen't support it. Conversely, there are older Type-A ports that support Gen 2. Thanks USB Implementers Forum!
The Extreme Portable SSD is available in flavors including 2TB ($560 on Amazon as of this writing), the 1TB capacity we tested ($270 on Amazon as of this writing), 500GB ($126 on AmazonRemove non-product link as of this writing) , and 250GB ($89 on AmazonRemove non-product link as of this writing). That's only a little pricier than bare internal SATA SSDs. Sandisk includes a Windows/macOS app for enabling the password protection and encryption on the drive.
The Extreme SSD is warrantied for three years. Beyond that, SanDisk was unwilling to supply a TBW rating (which admittedly does tend to confuse things anyway), or any information about what's going on inside the drive.
Performance
Despite SanDisk's sparse information about this drive, I can tell you that the Extreme Portable SSD (gold bars) performs almost identically to an internal SATA SSD—a decently fast internal SATA SSD, at that. I ran Ubuntu Linux Live from it, and it was a smooth and quick experience. That said, it's a bit slower than Samsung's T5 (blue bars) in some tests, most tellingly in our real-world Windows 10 copies.
CrystalDiskMark 6 (shown below) rated the Extreme Portable SSD equal to or faster than the Samsung T5. As is quite often the case with CDM, however, the results don't quite match real-world performance.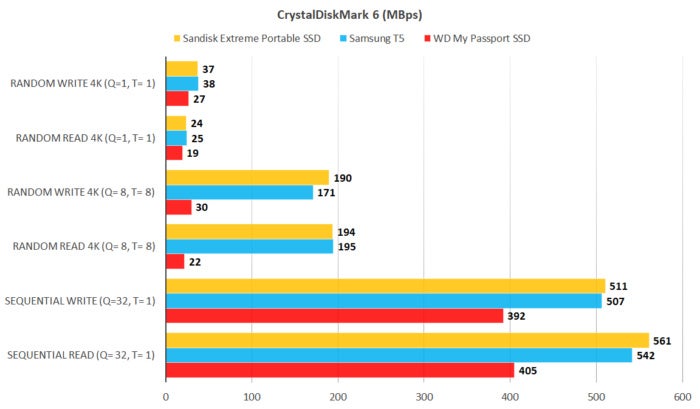 Seek is the measure of how long it takes a drive to find the file or data that you're looking for. Shown below is AS SSD's take on it (the Samsung T5 is quicker), though there are mild deviations between each iteration of the test. Though not shown, AS SSD also rated the Extreme Portable SSD's sustained throughput as slightly slower than the T5's.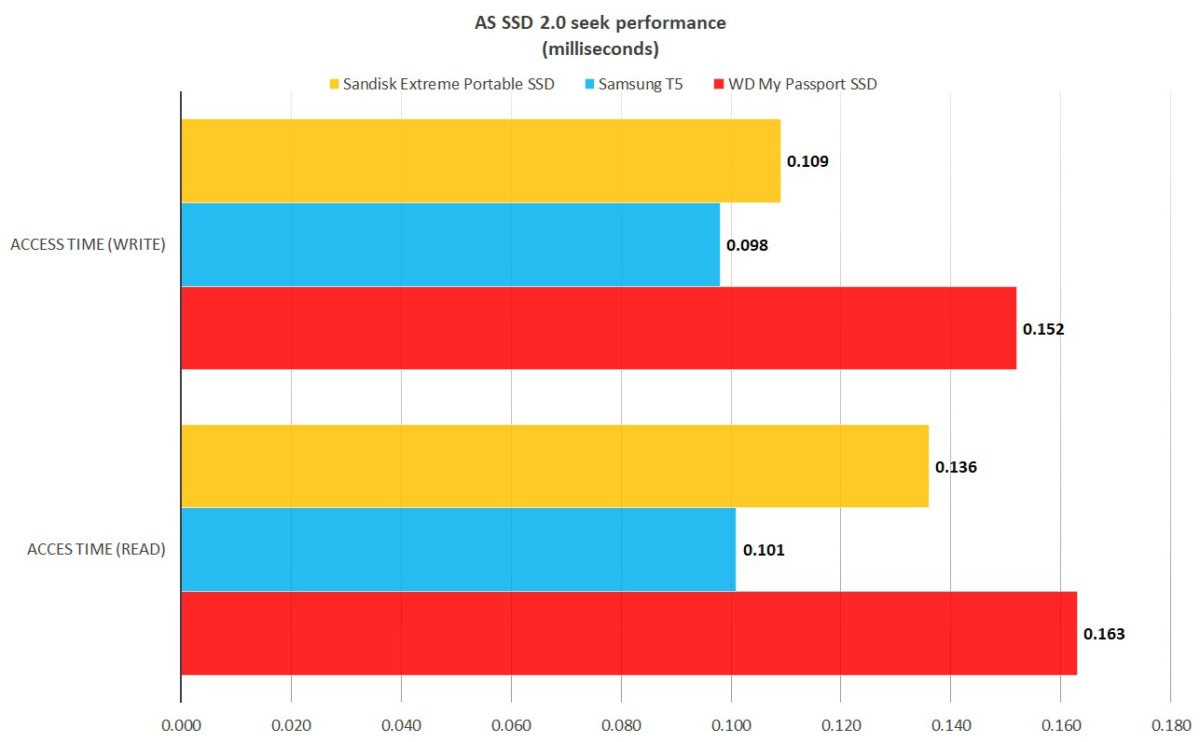 In our 48GB copy tests, the Samsung T5 proved quite a bit faster than the Extreme Pro SSD. With perhaps as much as a 5 percent margin of error, these tests do show what you can expect when you actually use the drive—assuming you format it to NTFS. If you leave it formatted to exFAT as it ships, you'll see considerably slower small file write performance.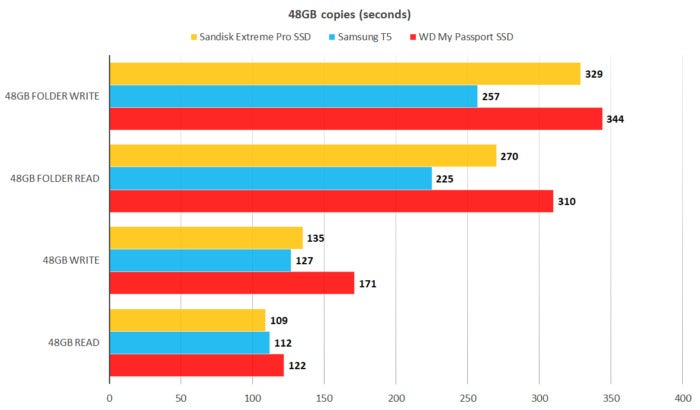 Overall, Samsung's T5 is a bit faster than the SanDisk Extreme Pro SSD, but both are noticeably quicker than the WD My Passport SSD.
It's the drive I use
When it comes to price and performance, there's not a whole heck of a lot to choose from between SanDisk's Extreme Portable SSD and Samsung's T5. If you're just looking for a fast drive for backup, the T5 is probably the better bet—it will save you appreciable time over the long haul.
If on the other hand, the drive is going to travel, the Extreme Portable SSD is far more practical and comfortable to use. All three of the drives I mentioned are here on long-term eval. The Extreme Portable SSD is the one I always reach for. That little splash of orange really does the trick.
Best Prices Today: SanDisk Extreme Portable SSD (1TB)