At a Glance
Expert's Rating
Pros
High efficiency
Wireless charging up to 10W
Cons
Appears limited to 5W wireless charging for iPhone
Only one USB port for cable charging
Our Verdict
The RAVPower 10,400mAh Wireless Portable Charger is designed well, isn't terribly expensive, and does exactly what it's supposed to do: quickly charge your devices on the go, with or without a cable.
Best Prices Today: 10,400mAh Wireless Portable Charger
RAVPower's portable battery packs are often considered some of the best, both in terms of pricing and performance. The same can be said about its wireless charging pads. So it makes sense that the company eventually figured out a way to combine the two products into one.
We've already taken a look at the smaller Portable Wireless Charger, and now it's time to look at its ever-so-slightly bigger brother: the 10,400mAh Portable Wireless Charger.
Note: This review is part of our roundup of portable power banks. Go there for details on competing products and our testing methods.
As the name implies, this pack has a total capacity of 10,400mAh (37.4Wh), and it uses nearly all of it. It performed with 88.64 percent efficiency and takes just over five hours to recharge the pack.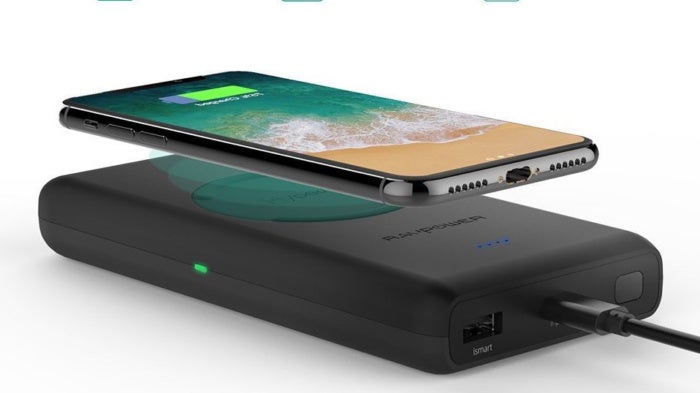 The overall design of this rendition of the Portable Wireless Charger is rather mundane. A black plastic exterior is broken up on top by a small, rubberized circle where the wireless charging pad is located. On one end of the pack is a power button that looks more like an IR transmitter/receiver that you'd expect to find on a TV remote, a Micro-USB port to charge the pack, and a USB Type-A port.
Four indicator lights are found on the top of the pack, indicating the pack's current charge level in 25 percent increments. On the left side of the pack is another indicator light that turns green when the wireless charging pad is in use, letting you know everything is lined up properly.
The USB port is capable of charging a smartphone or tablet at a maximum of 5V/2.4A. The wireless charging pad offers 10W charging for Samsung devices and 5W charging for all other Qi-equipped devices. The RAVPower product listing is a bit confusing, as it states this pack will charge an iPhone at 7.5W speed in one graphic, however, another graphic doesn't mention the iPhone and 7.5W charging speeds at all.
For the record, our testing results are more in line with we'd expect from a charger using 5W. Over the course of an hour, the pack wirelessly charged an iPhone X from empty to 30 percent. When placing a Note 9 on the charging pad, it did indeed indicate it was fast charging via wireless means.
Included the box is a carrying case and a microUSB cable to charge the pack.
Out of the two RAVPower Portable Wireless Charger packs, I think this is the one to get. It has slightly more capacity and is slightly more efficient, and offers faster wireless charging speeds for Samsung phones.
Best Prices Today: 10,400mAh Wireless Portable Charger