Intel's processors excel at gaming because they deliver best-in-class single-threaded performance at fast clock speeds. When the 8th-generation Core chips hit desktops late last year, they came packing more CPU cores than ever before. It's a great time to upgrade your old rig, in other words. Intel's hoping to entice people to do just that with Intel Gamer Days 2018, a massive promotion rife with giveaways and big sales on gaming PCs and hardware.
The inaugural event kicked off September 1 and lasts through the 16th. If you swing by the Intel Gamer Days website and click the Experience sweepstakes tab, you can register to win all kinds of nifty stuff, including beastly gaming PCs from a wide variety of companies and free trips to BlizzCon or Intel Extreme Masters in Chicago. New limited-time deals pop up every day—you'll see them listed as "upcoming" at the bottom of the page—so there's an incentive to check back often, too.
Finding the deals takes a lot more work, as you'll have to head to the websites of Intel's partners to seek out the sales. You can find links to every sale page via the Gamer Days website, but we've scoured them all to highlight some especially juicy deals.
The best Intel Gamer Days deals
Let's start with some straightforward PC deals, then dig into some intriguing bundle options.
Core i9 Alienware 15 for $2,700 at Costco. That's $400 less than you'd normally pay.
iBuyPower desktop with Core i7-8700K and GTX 1070 Ti for $1,399 at Amazon, a $200 discount. That's a solid price for such a powerful prebuilt PC. Numerous other PCs available during Intel Gamer Days offer less performance for more money.
Lenovo Y27g 1080p G-Sync monitor for $280 at Newegg

Remove non-product link

, a $350 discount. Wow, this is a smoking-hot deal. It's virtually impossible to find any G-Sync displays under $300, but this one packs a lighting-fast 144Hz refresh rate and a curved VA panel with wide viewing angles. Hop on this now if you've got a GeForce card and have been considering going G-Sync.
Acer Predator Helios 300 for $1,199 on Amazon. We love this laptop, and it's a bargain even at its usual $1,199 price tag, but Amazon is tossing in a free 2TB Seagate Barracuda hard drive during Gamer Days.
Corsair One Pro for $2,300 at Newegg

Remove non-product link

, a $300 discount. This configuration of Corsair's ultra-tiny desktop PC packs a Core i7-8700K, a GTX 1080, 16GB of RAM, a 512GB SSD, and a 2TB hard drive, all in a package that measures just 15 inches high, 7 inches wide, and 8 inches deep. You'll also get Corsair's Void gaming headset free, along with Intel Performance and Creativity bundles stuffed with free games and software.
Boutique PC builders are offering some enticing bundles of their own.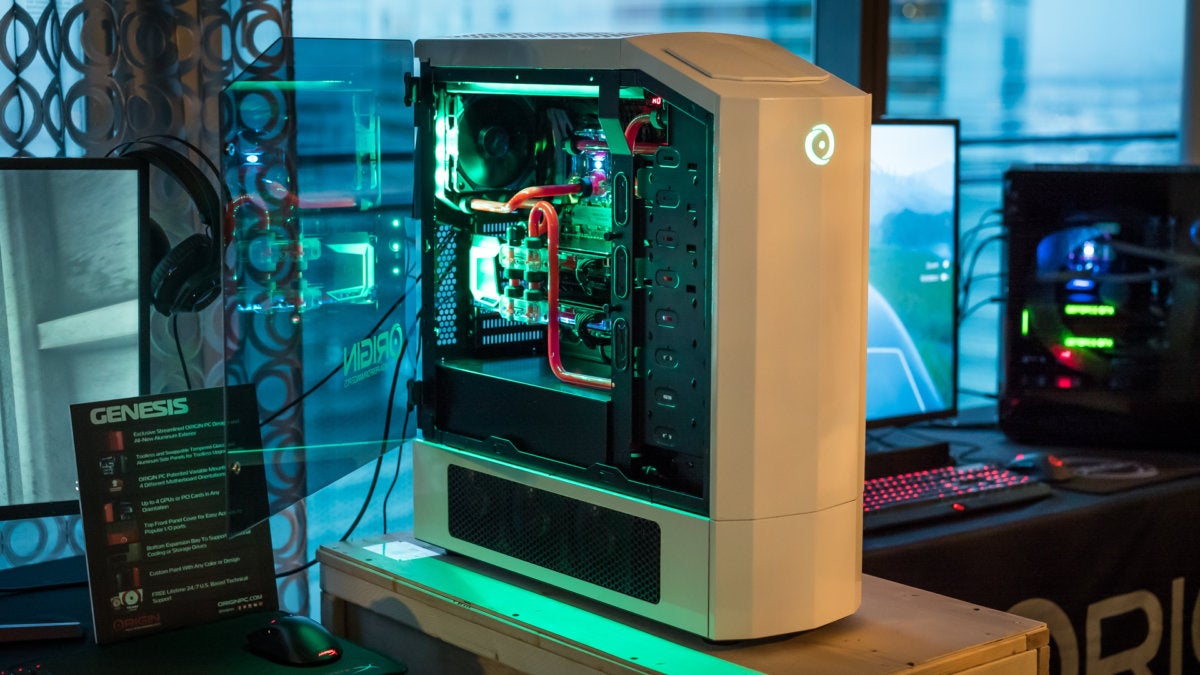 When you buy Origin PC's Millennium desktop, the company will toss in free shipping and CPU overclocking, a $50 Visa gift card, a Steam key for Richard Garriott's Shroud of the Avatar, and—if you opt for a system with Optane memory installed—an "Intel Optane Premium Creativity Bundle" worth $610 that includes a wide range of Corel and Magix editing software, Halo Wars 2, some World of Tanks items, and Warhammer: Vermintide II.
Boutique builder Maingear is offering a bunch of extras when you buy a desktop, including free upgrades for your processor, SSD, closed-loop liquid cooler, and warranty, free shipping, a "Maingear loot pack" of swag, and Far Cry 5. You'll also get big discounts if you opt for an Intel Core i7-8086K or X299 processor, and up to $300 off Samsung monitors. Finally, Maingear's Vybe gaming PC is $300 off.
There are more deals where those came from, but few as enticing. Hit up Intel's Gamer Days website if you want to scrounge for more.