At a Glance
Expert's Rating
Pros
The cloud-based Clipboard is a simple, useful tool
Font Maker, Your Phone are basic, effective utilities
Under-the-hood conveniences add value
Microsoft Edge is now worth using, everyday
Cons
No particular feature justifies the upgrade
Sets, Update AI, other features left out
Snip & Sketch replaces Snipping Tool. Why?
Our Verdict
Microsoft's' Windows 10 October 2018 Update contains numerous improvements, like the "cloud" Clipboard and Your Phone. Neither any individual feature nor the whole appears to that significant.
Microsoft's Windows 10 October 2018 Update, officially re-released on Nov. 13, doesn't offer the standout, marquee features you might have come to expect from earlier releases. But as our review demonstrates, a few new features highlight a longer list of under-the-hood, day-to-day improvements.
Our review is based on the final Windows 10 Insider Builds, which led up to the official October 2018 Update. Microsoft doesn't appear to have added anything with the final build, but we'll check and update this story to reflect any last-minute changes. (Microsoft placed the original launch of the Oct. 2018 Update, also known as version 1809, on hold after some users suffered data loss.)
We've assigned a review score, but, as always, pay less attention to the number than to how the October 2018 Update will affect you. We've separated what we'd call "the little things"—everyday features and conveniences—into their own article, covering automated OneDrive backups, for example, and independent text resizing. Here, we'll talk about the major new features: apps like Your Phone and Microsoft Font Maker, and how the nifty little Cloud Clipboard works in the real world. One's particularly worth noting: Microsoft Edge.
Microsoft Edge is now an everyday browser
Many initially characterized Edge in the same way they saw Internet Explorer: as a vehicle to download Chrome or Firefox, then ignore forever. And who can blame them? It's been three years since Edge was first introduced, and it's just now gained enough features and performance to be a viable competitor.
Microsoft has long argued that Edge enables longer battery life than the competition—a case we proved awhile back. In our extensive testing to determine the best Web browser from June, Edge's performance begins to shine through—with one caveat, as we wrote then: "The fact is, as a day-to-day browser Edge is serviceable at best, and Microsoft really needs to step up its game especially when it comes to loading multiple tabs."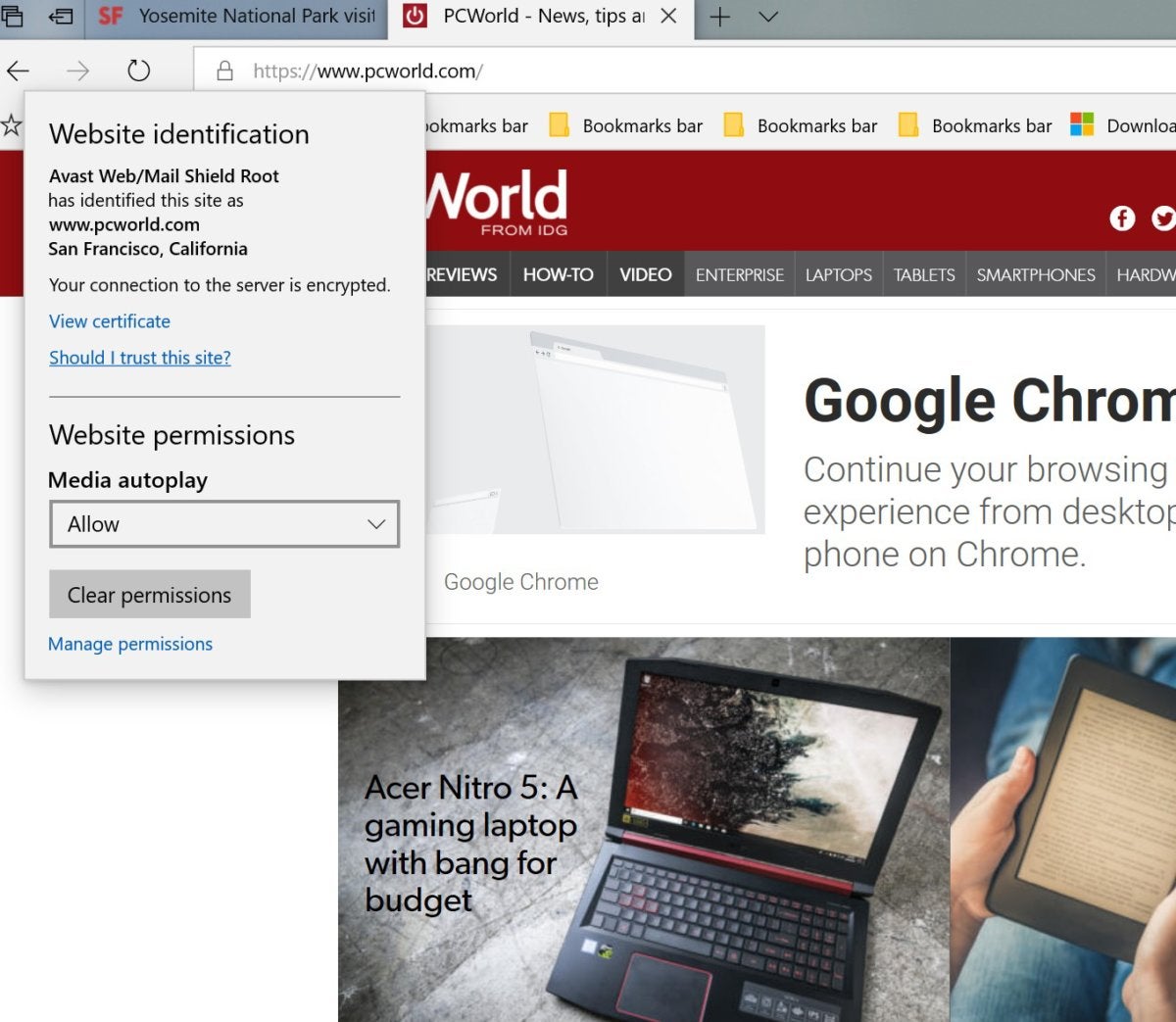 Opening 20 media-heavy tabs now feels about 90 to 95 percent of what of I would expect in terms of performance, and that's without an ad blocker like Ghostery enabled. Pages are almost instantly navigable. The only glitch I notice is that Ctrl+Tab functionality for opening an additional tab isn't immediately responsive. I can go back and forth between pages quite easily. Edge will "tombstone" idle pages, however, and that still slows down open tabs a bit more than I'd like.
As for new features, Edge now blocks videos from autoplaying on individual websites. It works pretty well, though you'll still see a video window or popup load even if the video doesn't play. In fact, if you want to read a news story without ads or video, you can always click the existing "Reading view" book icon in the URL bar—it's a great feature of Edge, and many people don't use it. And if you do, Edge now allows you to highlight words and get definitions right within the right-click popup window, a feature that extends to ebooks. You'll also see helpful shortcuts like "Show in folder" within the Downloads tab within Edge, which makes downloaded files easy to find.
Google Chrome is still far superior to Edge in migrating Favorites via the cloud to a new machine. Edge still has trouble passing along passwords. But Edge isn't painful to use anymore. I feel it's close enough for day-to-day use.
'Cloud' Clipboard is a neat trick
Everyone by now knows the shortcuts for cutting and pasting text within Windows: Ctrl+X to cut or Ctrl+C to copy, then Ctrl+V to paste. But this clipboard function has improved in two different, significant ways within the the October 2018 Update, and they're two of the best new features.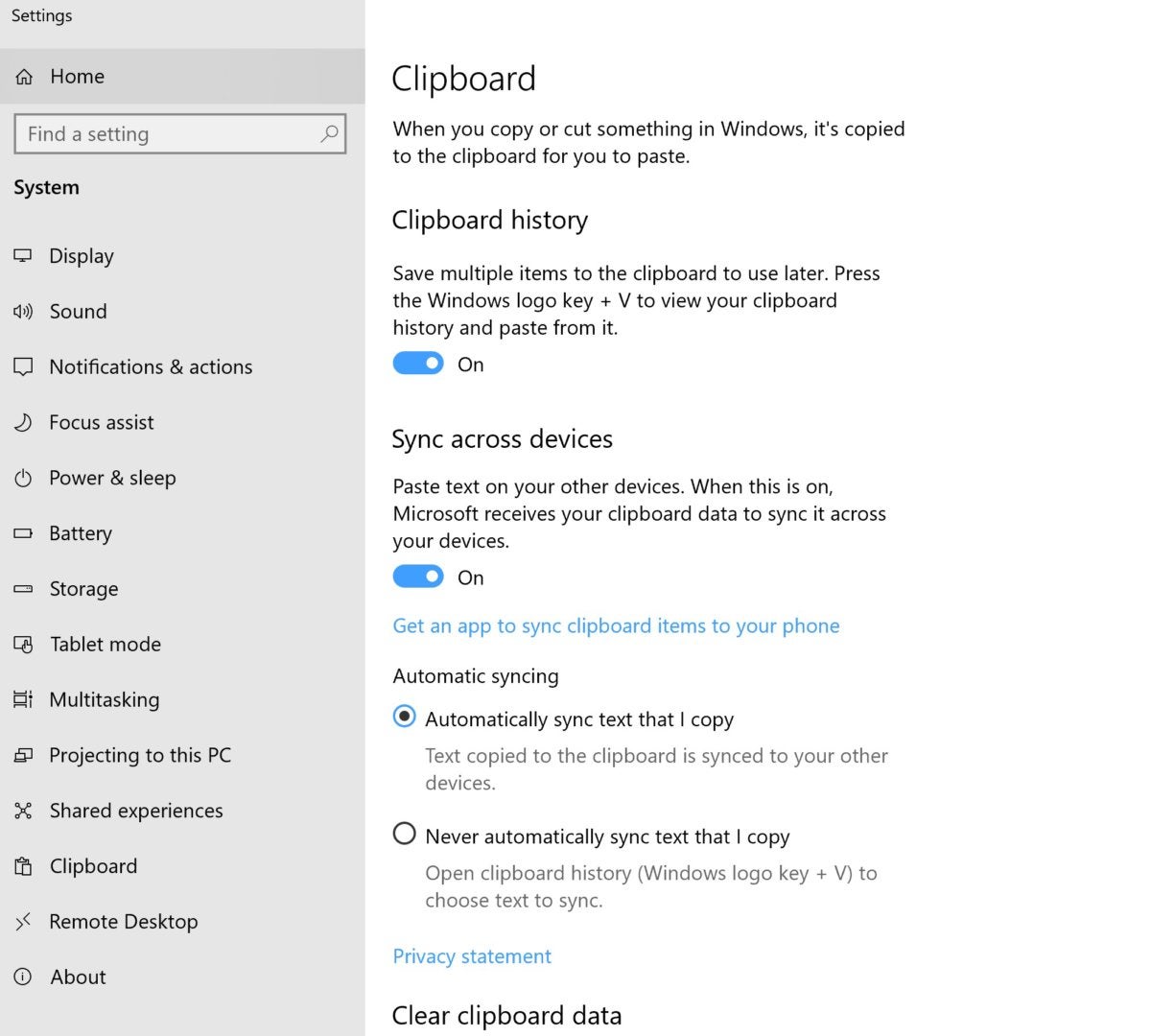 Within a new setting, Settings > System > Clipboard, you'll see two options that you can turn on or off: "Clipboard history," and "Sync across devices." You'll need to be signed in to a Microsoft account for the latter to work.
When toggled on, the new shortcut Win + V opens a history of links, images, and text snippets you've cut and pasted, and allows you to select them again. Once you use it, you'll see the appeal.
My only problems with Clipboard's history are that how far back it goes seems somewhat arbitrary, and that the Clipboard window isn't movable. Pro-privacy users have the option of turning Clipboard's cloud storage off. You can also erase what's stored in Clipboard on your device and in the cloud, via the Settings menu.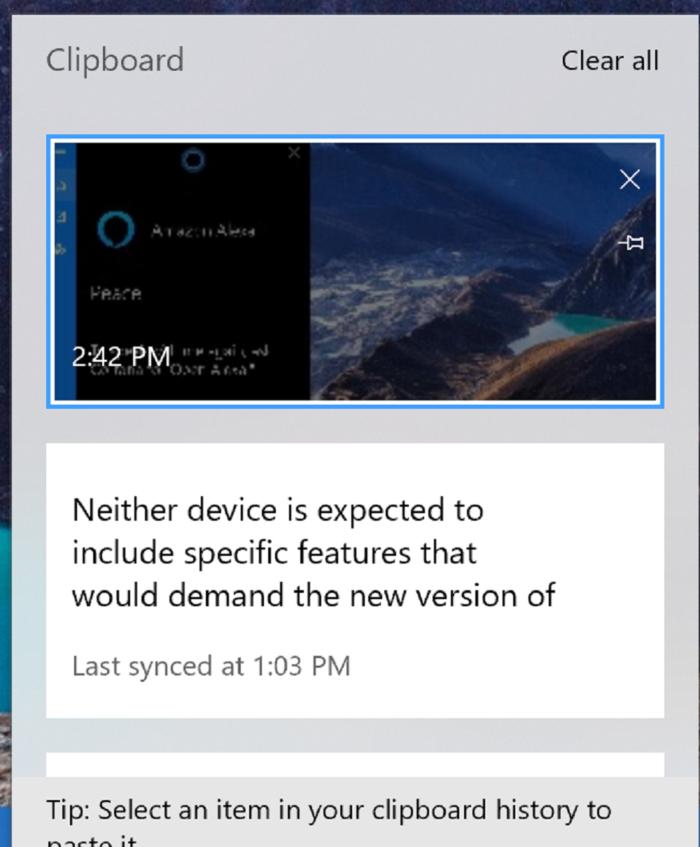 Syncing across devices is even better: It's a fancy name for copying text from one PC (Ctrl+X or Ctrl+C), and then paste it on another. Yes, if you're signed in, anything you cut or copy on one PC (up to 4MB) will be automagically pasted into the app you're using on another PC, via the cloud, by typing Ctrl+V. (Both PCs must be connected to the Internet.) The 4MB limit is a painful crimp on the feature's utility, and it pales in comparison to the awesome Mouse without Borders app, plus other solutions for transferring files wirelessly between PCs. But the new Clipboard wins for its simplicity.
Your Phone: A work in progress
I was disappointed by the underwhelming Windows roadmap Microsoft presented at Build, and I can't help being somewhat let down by the Your Phone app as well—in part, because we've seen some of this before. Before the Windows 10 Fall Creators Update debuted, Microsoft showed off a nifty way to tie your phone to your PC via Cortana, so you could reply to texts sent to your phone. Enabling Cortana on both your phone and PC provided a convenient link between both devices.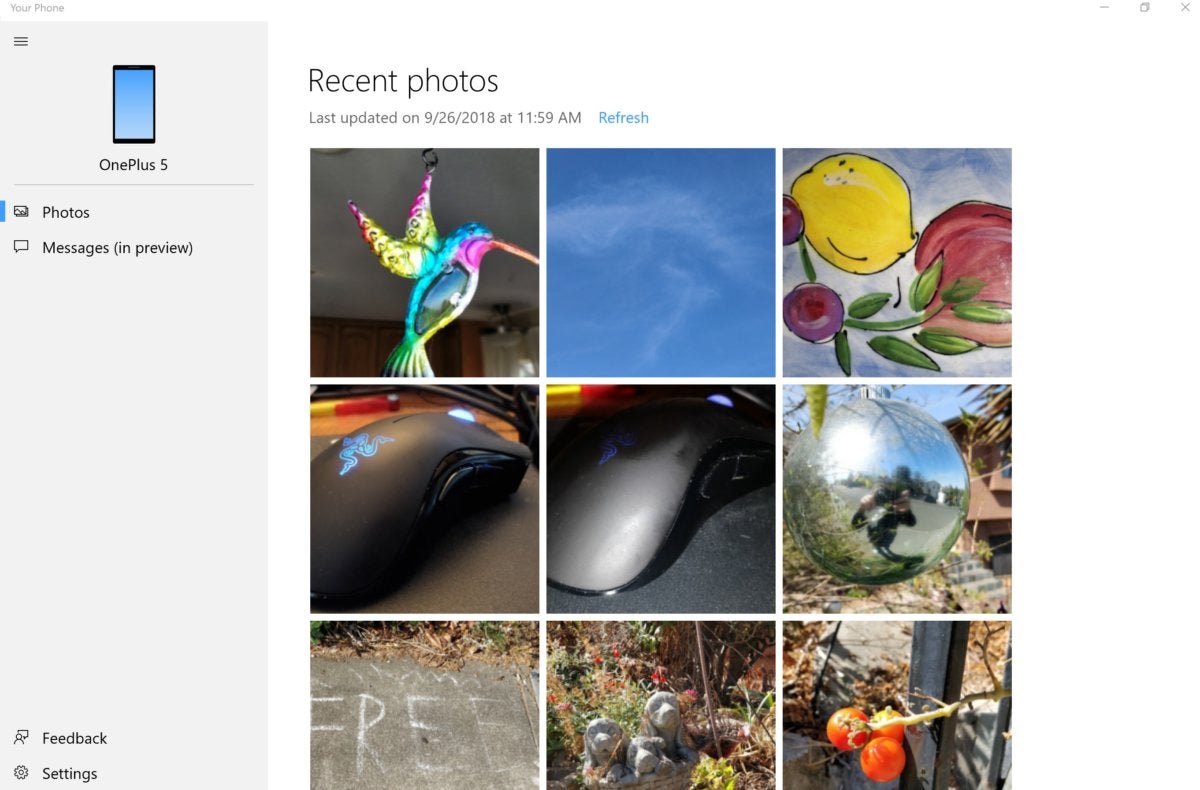 Disappointingly, Microsoft ditched it. Your Phone, a new app which (may) pop up as a shortcut on your Windows desktop, now requires the Your Phone Companion app (formerly called the Microsoft Apps app) to be installed on your Android or iOS phone—yes, another Microsoft mobile app to sit alongside Edge, Bing, Cortana, or the Microsoft Launcher. (Microsoft has used some of these as phone-to-PC bridges before.)
All Your Phone does is let you open, view, copy, and share photos that you took on your phone, as well as send and reply to texts. (Deleting a photo from your phone erases it from Your Phone, too.) While that's handy, if your phone automatically backs up photos to OneDrive, the built-in Windows 10 Photos app already provides this functionality. Texts can also already be sent via Cortana, too, though Your Phone is a convenient shortcut.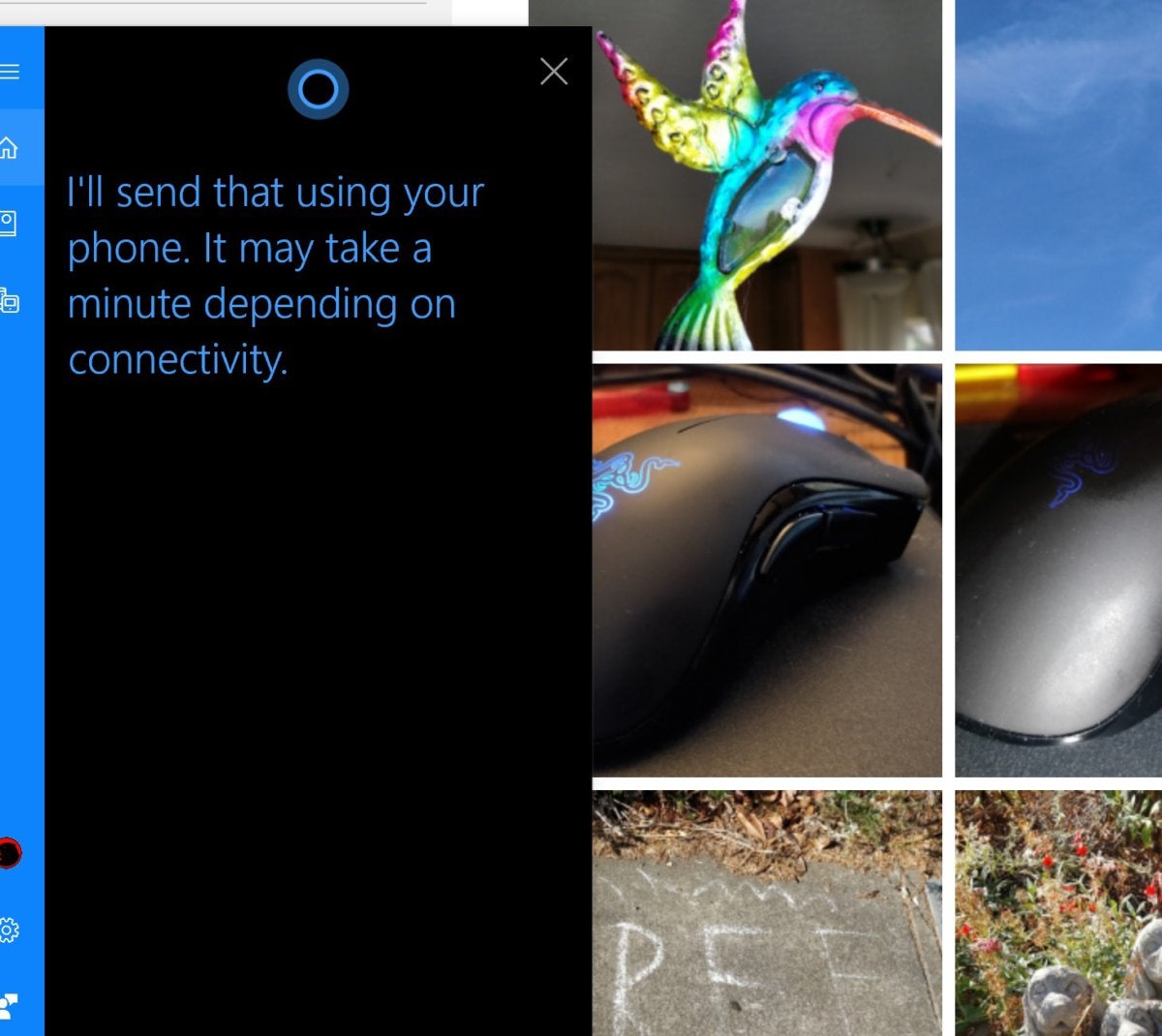 I assume there's a growing frustration within the Windows team that key features within the platform like Cortana, are going unused. But do we need another app? Or if we do, is it better than Pushbullet?
To be fair, Your Phone is straightforward and simple to use. What we're seeing at OS launch is a moment in time for an app that will likely continue to evolve, just as pen and voice interactions are gradually working their way into every PC life. Let's call it a modest start for what we know will be a future where smartphones and Windows PCs collaborate as a matter of course.
Microsoft Font Maker is a fun little gimmick
Microsoft Font Maker isn't specifically built into the Windows 10 October 2018 Update, though Microsoft released it during its beta phase. In fact, you should be able to download Font Maker from the Microsoft Store and start using it to make simple fonts from your own handwriting right away.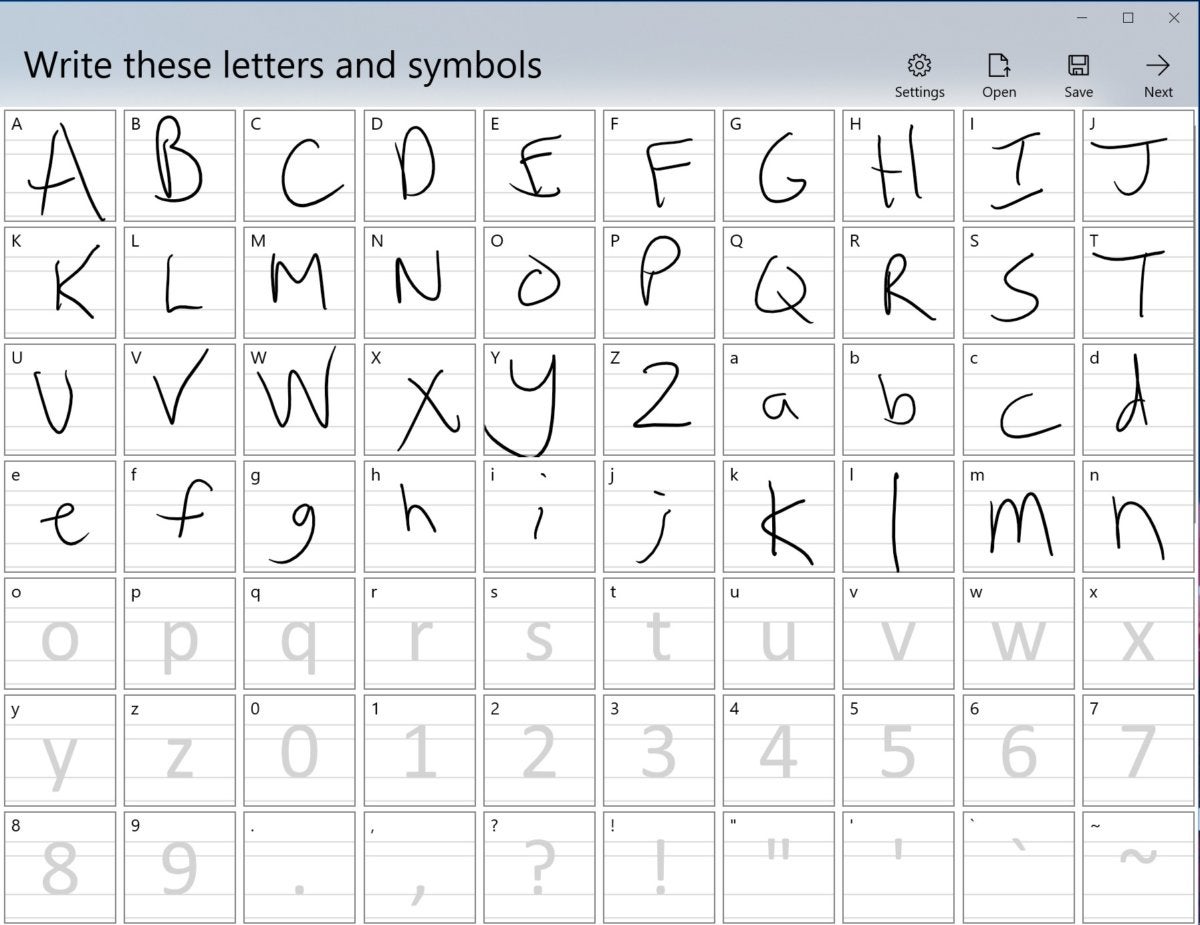 Font Maker works best with a digital pen and a tablet, so from that standpoint it's somewhat limiting. All you need to do is ink each letter and number in the provided template. When you're finished, you'll have created a font that you can save to Windows and use within Word, PowerPoint, or wherever. It's simple, fun, and a bit gimmicky, but feels very Microsoft in its integration of creativity and productivity. Interested? Here's our tutorial teaching you how to use Microsoft Font Maker.
Skype for Windows 10 tries a bit too hard to be fun
At this point, Skype is a bit of a mess. Part of the problem is simply the number of versions: should I use Skype for Business? Skype's Office 365 app? Video calls as part of Microsoft Teams? Skype's online app? Or would I be better off using the built-in Windows 10 app instead? Add to that the numerous previews and betas that have come and gone over the years, and it's no surprise that many have turned to mobile competitors like WhatsApp instead. (Skype is also on phones, of course, where its UI was criticized heavily.)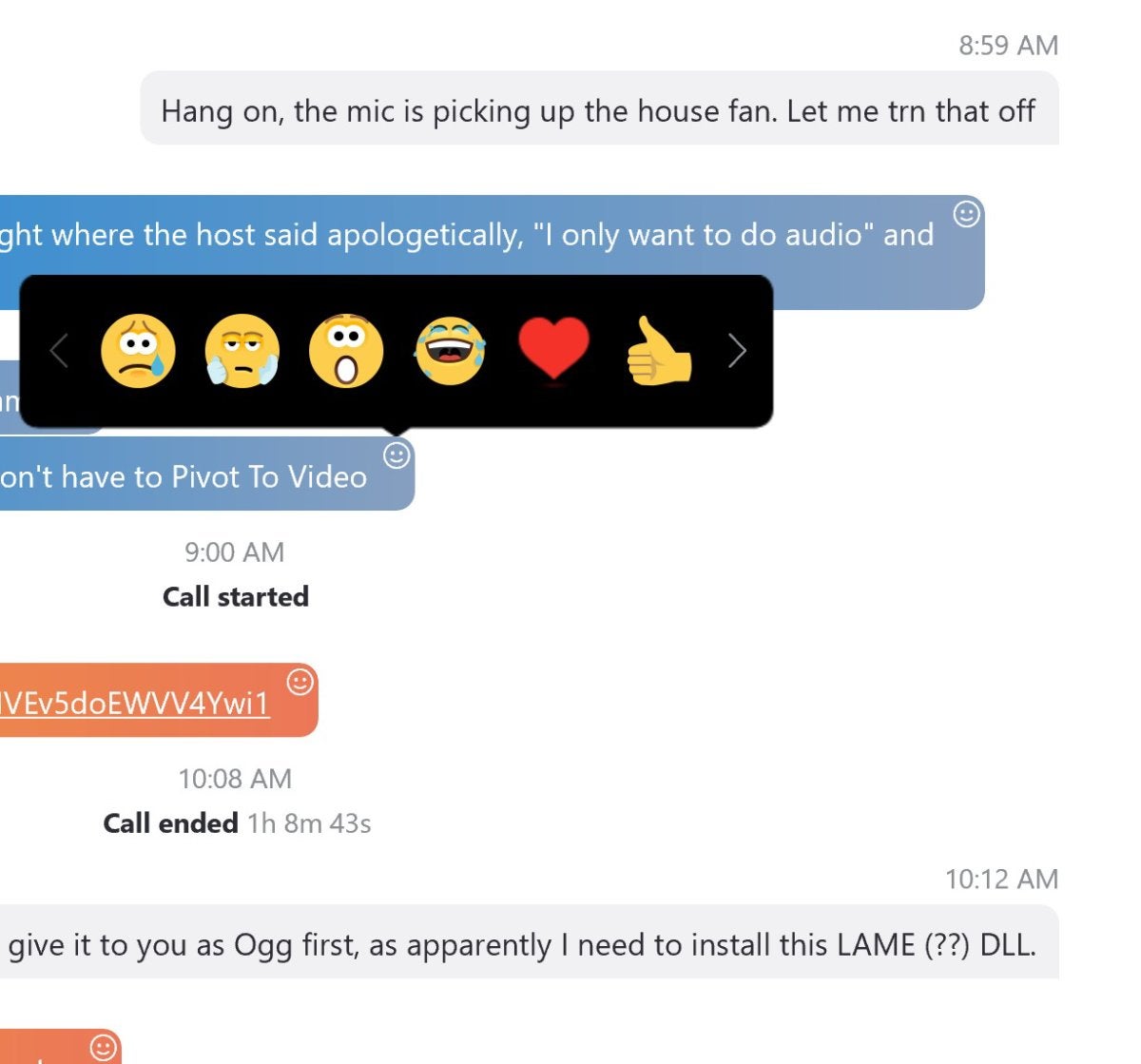 With the October 2018 Update, the native app within Windows is receiving the Skype redesign that was announced last year—and, quite frankly, many people actively dislike. With a UI that leans heavily toward the consumer, you'll find emoticons (if you need an avocadolove emoticon, Skype has you covered), stickers, emojis, reactions to comments, a gallery window to share files and other documents—but no GIFs?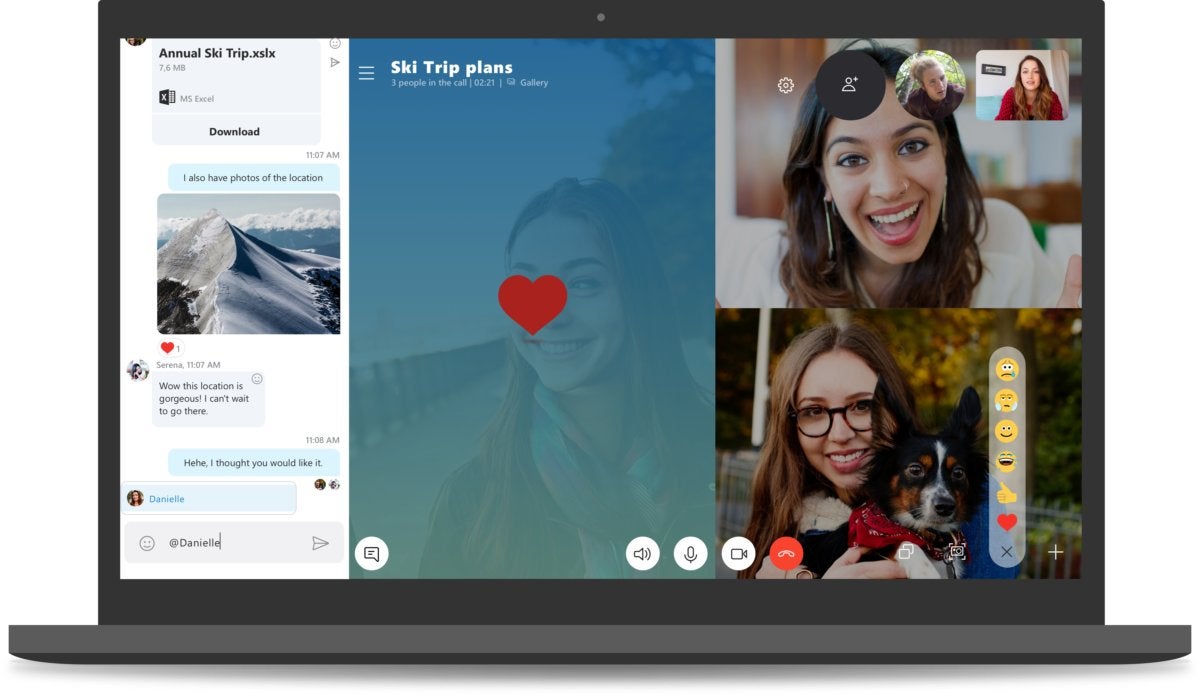 Yes, you can still text chat, perform individual and group video calls, and so on, but there's a clear emphasis on making Skype fun, while reserving serious, business communication for Microsoft Teams. (Microsoft Teams recently announced a robust free version that may lure more traditional Skype users.) Whether you like the new look of Skype will probably be a matter of taste.
Cortana + Alexa, Snip & Sketch, and other bit players
Microsoft published over 30 separate Insider builds as part of the run-up to the October 2018 Update, and what filtered out at the bottom included some smaller features that you may want to check out.
Raytracing support is here: We weren't able to nail this down by the time we originally published the review, but Nvidia confirmed to PCWorld's Brad Chacos that the October 2018 Update supports DirectX Raytracing, the API that will power the upcoming Nvidia GeForce GTX 2080 GPU. It's a small but significant improvement: only a small fraction of gamers will purchase the 2080 cards at launch. But ray tracing paints a 3D scene in a much more lifelike way than traditional PC graphics, modelling individual photons as they bounce off and pass through various objects and surfaces.
Cortana, Alexa; Alexa, Cortana: After more than a year, Amazon's Alexa and Microsoft's Cortana are now skills in their respective services. If you tell Cortana to open Alexa, you'll have access to everything Alexa can do, including placing an order from Amazon. It might not be a new feature within the October 2018 Update, per se, but it's still a new addition to Windows.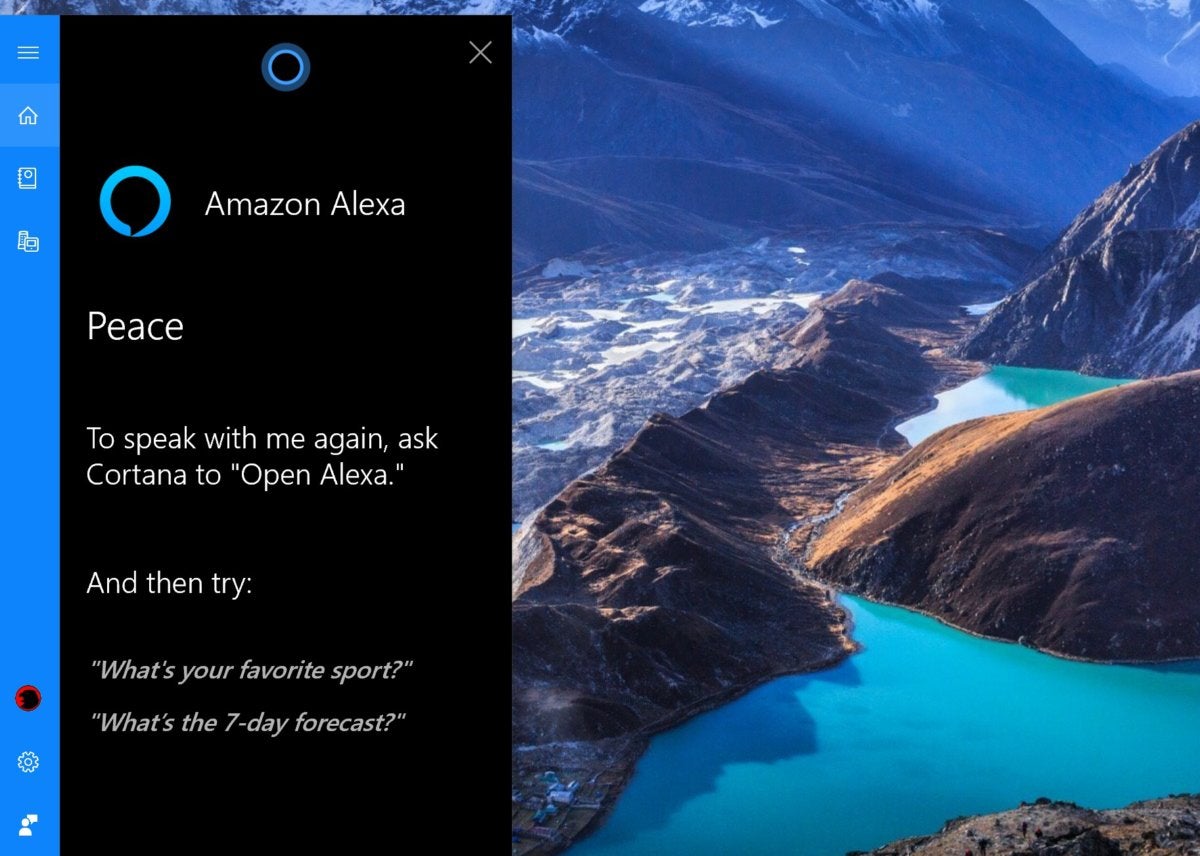 Snip & Sketch: Screenshotting tools are the stock in trade for those who write about Windows, and Windows 10 soon will get a new one: Snip & Sketch, which will replace the Snipping Tool currently within Windows. (You'll get a note to that effect every time you open it. Also, you can use it in place of the PrtScreen command.) Snip & Sketch combines a screenshotting tool with the drawing tools available in Photos and elsewhere. My biggest complaint is that each screenshot opens another instance of the app.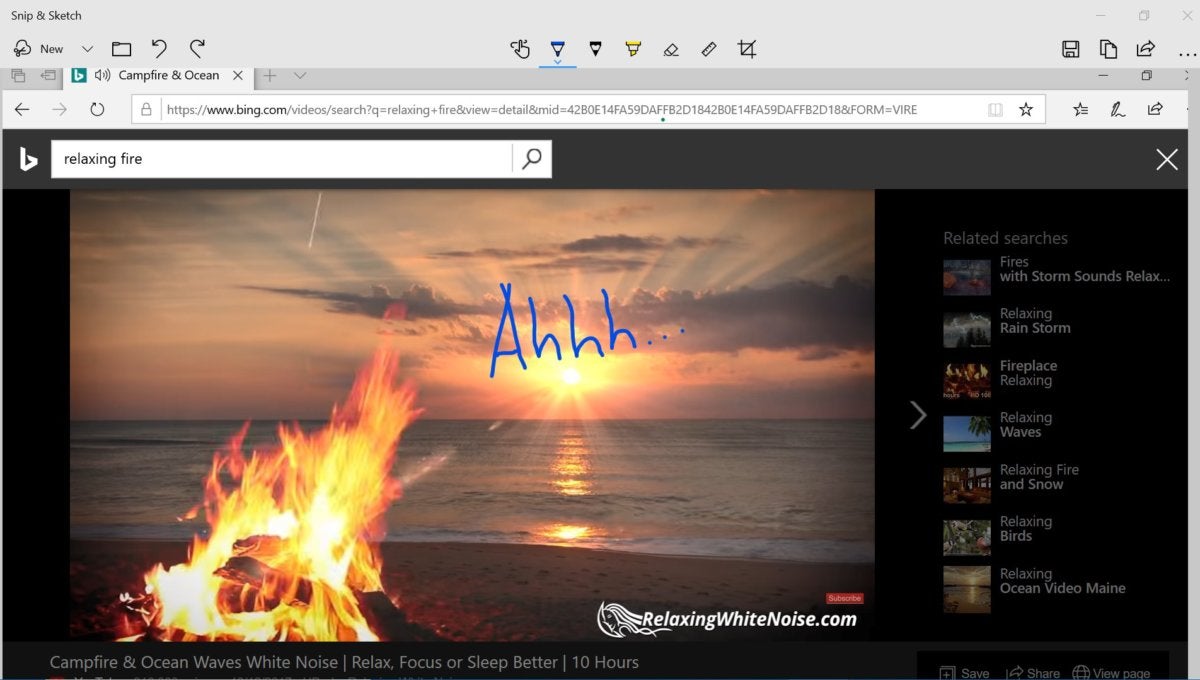 HD Color Settings: Pricey HDR-equipped PC monitors probably sell as well as pricey touchscreen-enabled desktop monitors (as in, not very). But if you're one of the lucky few who has invested in an HDR display, you'll find new controls (Settings > Display > Windows HD Color Settings) within the Display Settings menu that will help you figure out if you can use apps with HDR or wide color gamut settings. Oddly, there's both an HD Color setting and an HDR calibration menu. Toggling on and off the HDR setting on a Surface Pro 2017 did make a slight difference, even through the display wasn't specifically rated for HDR.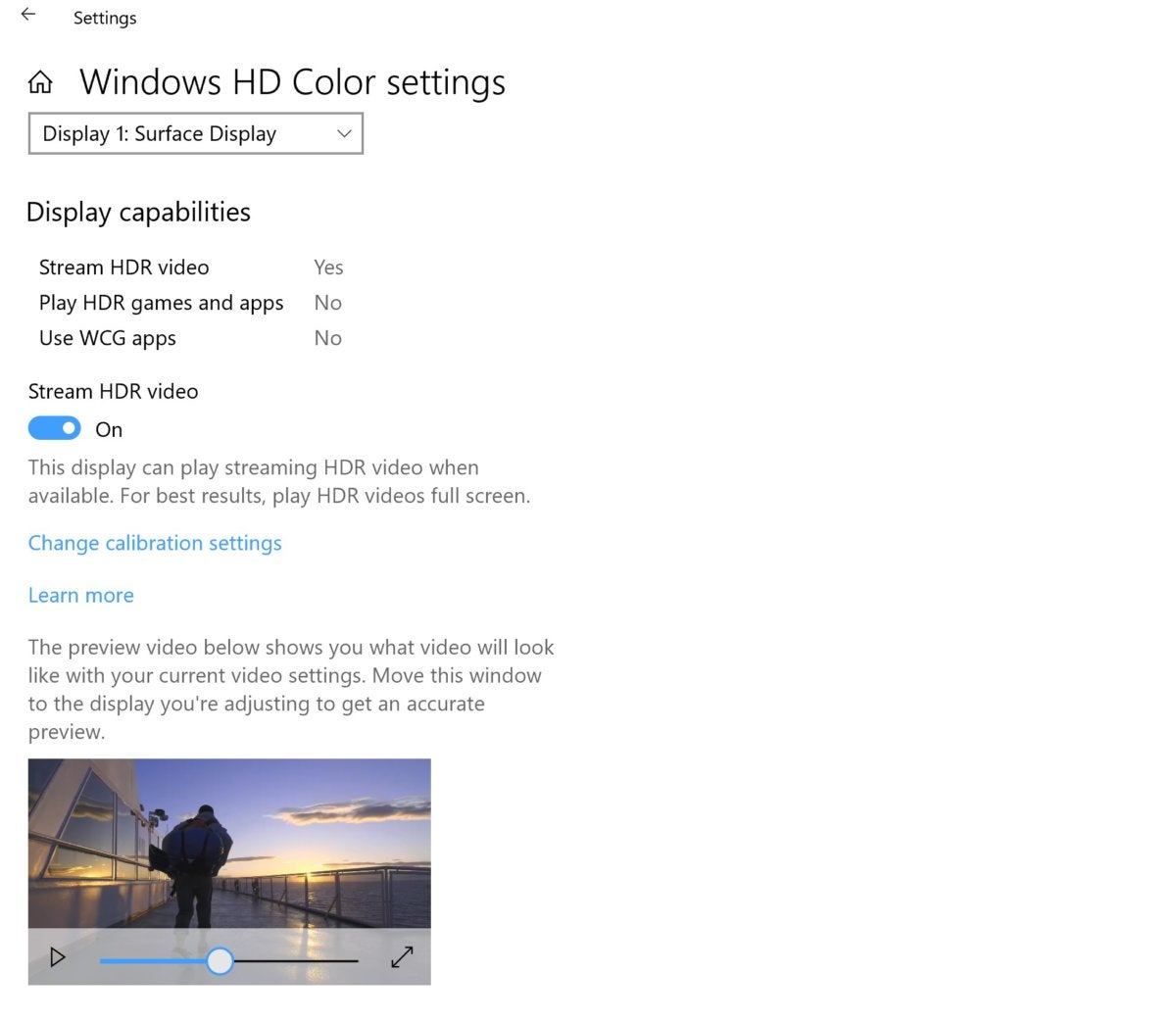 Font installation for everyone: Windows previously treated adding fonts as a protected function, suitable only for administrators. Now, anyone can go to the Fonts section within the Microsoft Store app and download away.
Mixed-reality "flashlight:" From what we can see, Windows Mixed Reality has been a bust. But for those who have bought into Microsoft's vision of virtual reality, Microsoft offers you a lifeline: Instead of wandering around your living room fearful you'll trip on your cat, Windows Mixed Reality now offers a "flashlight view" that shows you what's going on in the real world in front of you (which would normally be blocked by your headset.) A YouTube user named Cappaholic has a brief video showing the "flashlight" in action.
What's missing, and what's next
Some of the new additions that Microsoft tested out within its Insider previews were held back for a future release. The tabbed version of Windows, known as Sets, holds promise as an alternate UI for single-screen experiences like laptops, whose windows can get lost among all of the clutter—but it's not here yet. Planned updates to include detailed geekier details like frame rates and CPU utilization in the Game Bar were scrapped, though it's still been overhauled to add volume controls.
Microsoft indicated that it would migrate an enterprise technology, called Windows Defender Exploit Guard, to help Windows 10 block "suspicious behaviors"—but didn't. We also were eagerly anticipating a Smart Updater or Update AI feature to help eliminate the pain of unexpected Windows updates, but it appears to have been pulled. The Timeline feature was supposed to extend to phones; it doesn't.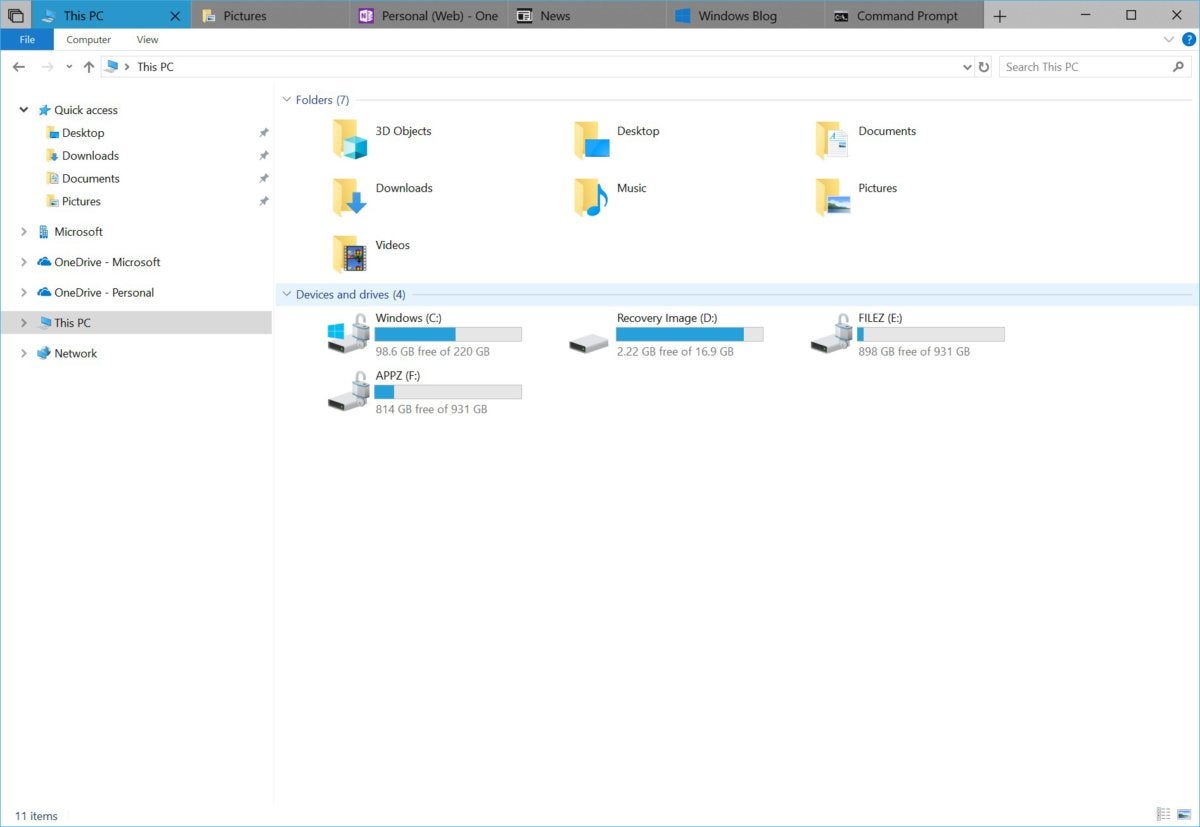 Microsoft now shifts gears to the next feature update to Windows 10, which has a new nomenclature: "19H1," referring to the first-half update for 2019. (Microsoft's Xbox team has begin using that terminology with Xbox Insiders.) Expect to see the fruits of those labors around April, the same timeframe as the earlier April 2018 Update.
There's a definite feel that Windows 10 development is slowing, and some believe that they know why: a re-spin of Windows, known as Core OS. We recently received our best hint that Core OS (or WCOS) is real: the announcement of a brand new Windows "experience" inside the Surface Hub 2, and possibly other devices, in 2020. A major future debut of a revamped Windows would justify what today is a rather ho-hum release.
Updated at 10:28 AM on Oct. 8, 2018 to note that Microsoft has put the Windows 10 Oct. 2018 Update on hold pending user reports of data loss.