Now that the wraps have been taken off Apple's newest flagship phones, the only natural thing is to compare them to the best phone Android currently has to offer: Samsung's Galaxy Note 9. (Sorry Pixel fans, you're going to have to wait until Google's new phone lands on October 9.) This year, Apple has not one but two $1,000-plus phablet phones, with the smaller screen clocking in at the same 5.8 inches as last year's iPhone X, and the larger measuring a gaudy 6.5 inches.
But Samsung's latest handset doesn't start at a thousand bucks for nothing—it has the best specs and displays you can get in any Android handset anywhere. So let's see how it stacks up to Apple's newest four-figure-plus phones:
iPhone XS and XS Max vs Galaxy Note 9: Design and dimensions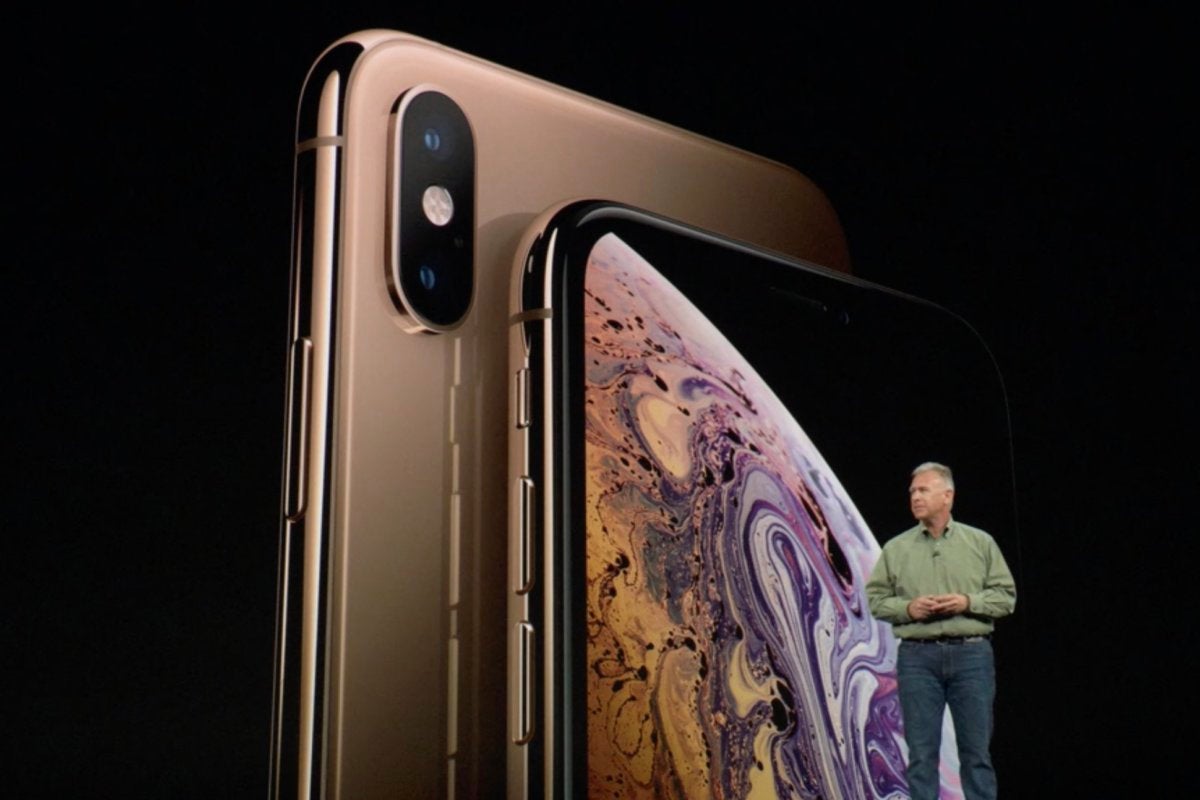 The Note 9 isn't a small phone. Its bezels are ever-so-slightly bigger than the Note 8, and while its forehead and chin are slimmed, they're still quite a bit bigger than they are on either on Apple's new iPhones:
iPhone XS: 143.6 x 70.9 x 7.7 mm
iPhone XS Max: 157.5 x 77.4 x 7.7mm
Galaxy Note 9: 161.9 x 76.4 x 8.8mm
All three phones use the newer 18:9 ratio to keep the size down, and even though it leads the pack in height by several millimeters, the Note 9 is still surprisingly pocketable. And it doesn't have a display notch like so many of its peers. But Apple's design has spawned a great many imitators for a reason: It's one of the best looking phones you've ever seen.
iPhone XS and XS Max vs Samsung Galaxy Note 9: Display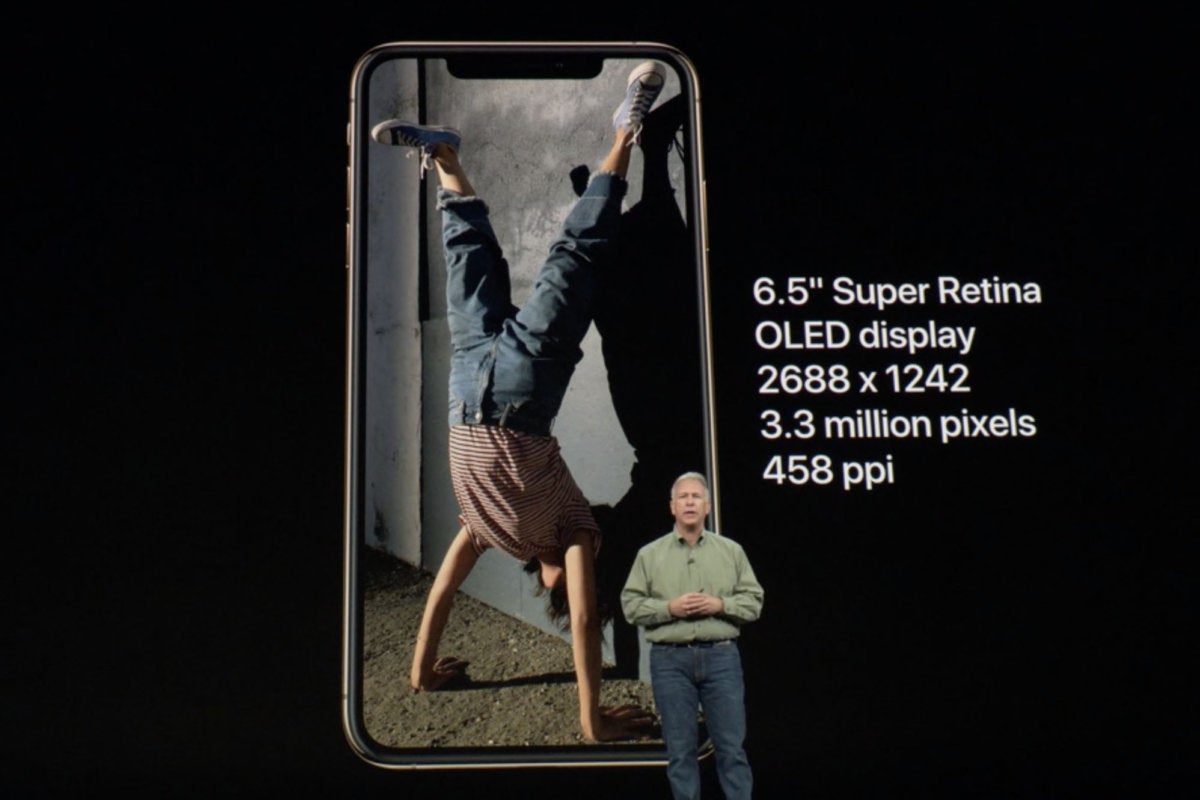 Before the iPhone XS Max arrived, the Note 9 laid claim to being the biggest (if not also most expensive) phone you can buy. That's not the case anymore, as the iPhone bests the Note 9 by a tenth of an an inch. The iPhone XS Max has a whopping 6.5-inch screen, making it Apple's largest phone ever by a wide margin, nearly three-quarters of an inch. The specs:
iPhone XS: 5.8-inch OLED, 1125 x 2436, 458ppi
iPhone XS Max: 6.5-inch OLED, 1242 x 2688, 458 ppi
Galaxy Note 9: 6.4-inch OLED, 1440 x 2960, 516ppi
While the screen on the iPhone X may be bigger, Samsung has a higher resolution and pixel density. However, all three are well within the realm of what you'd call "retina," so it's going to be tough to discern much of a difference when it comes to image quality. The proof will be in the color accuracy and brightness, where Samsung often excels.
iPhone XS and XS Max vs Galaxy Note 9: Performance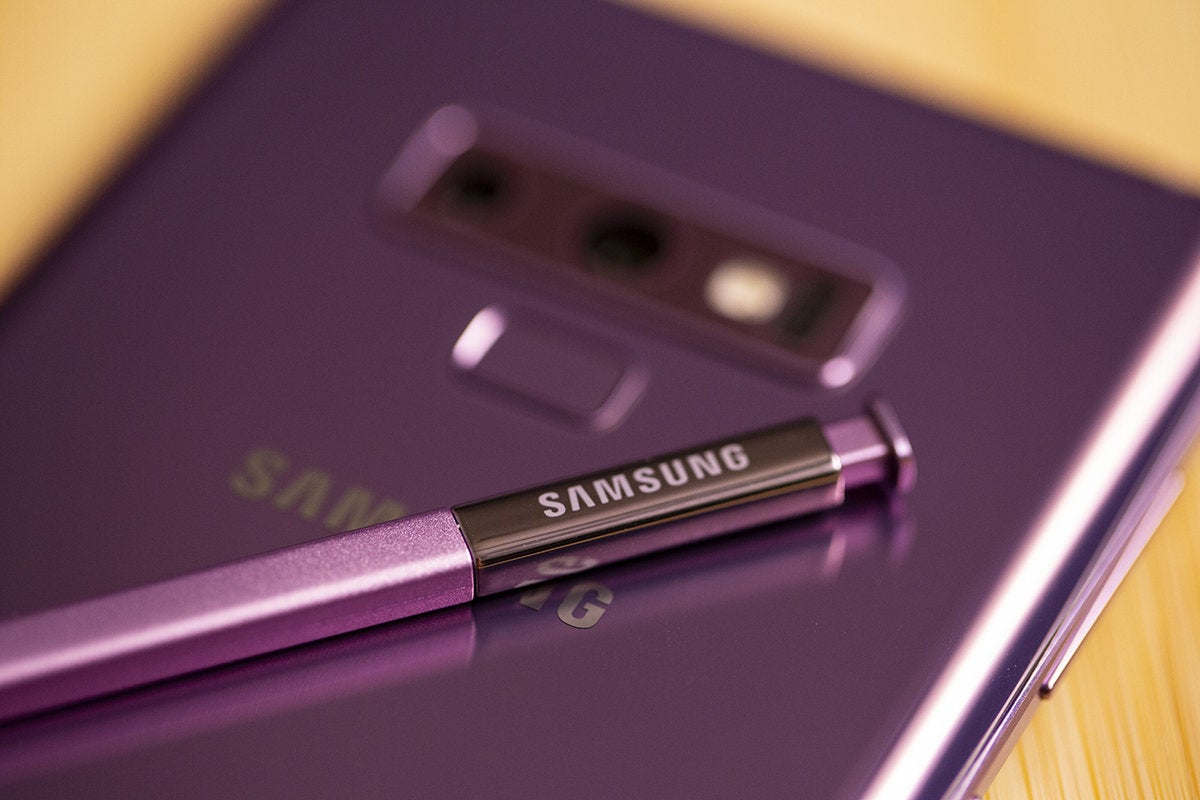 As always, Apple and Samsung have fitted their latest phones with the best possible silicon:
iPhone XS and XS Max: A12 Bionic
Galaxy Note 9: Snapdragon 845
We already know that the Snapdragon 845 brings first-class speeds and tremendous power efficiency that lets the Note 9 easily last a full day. However, we don't know anything about the A12 Bionic other than what Apple has told us, which is typically bombastic: "The Apple-designed A12 Bionic, the smartest and most powerful chip in a smartphone, features the first 7-nanometer chip ever in a smartphone that delivers industry-leading performance in a more power-efficient design." The A11 is already a great chip so even if the A12 brings just moderate improvements, it'll be a winner.
iPhone XS and XS Max vs Samsung Galaxy Note 9: Battery
Apple doesn't divulge the capacity of its batteries, so we won't know exactly what's inside its new phones until iFixit gets its hands on one and tears it down. But we can surmise a little from what Apple has told us:
iPhone XS: Lasts 30 minutes longer than the iPhone X iPhone XS Max: Lasts 1.5 hours longer than the iPhone X Galaxy Note 9: 4,000mAh
The Note 9's 4,000 mAh battery is an absolute workhorse, easily powering through all but the heaviest usage days. Apple's estimates are kind of pointless, but we do know that the iPhone X had no problem lasting a full day and then some. If the iPhone XS and XS Max last even longer, that's all gravy.
iPhone XS and XS Max vs Samsung Galaxy Note 9: Storage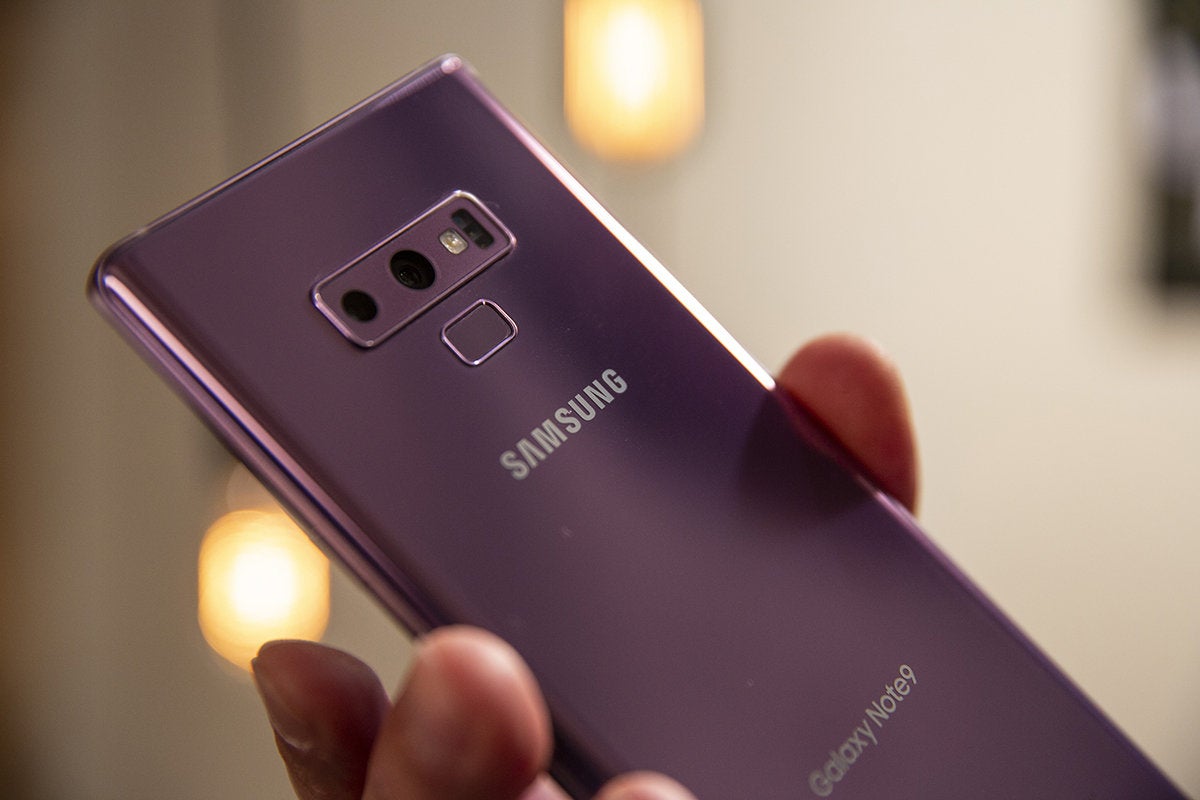 The internal storage arms race is officially in full swing. We may have been complaining just a few short years ago about the paltry 16GB of storage in the entry-level iPhone, but those days are gone, and now the iPhones has more storage than some laptops. In fact, all three phones offer a top tier 512GB option, which should be more than enough for anyone:
iPhone XS: 64GB/256GB/512GB
iPhone XS Max: 64GB/256GB/512GB
Galaxy Note 9: 128GB/512GB
The Galaxy Note 9 also offers a slot for an microSD card, which will let you add an addition 512GB of storage.
iPhone XS and XS Max vs Samsung Galaxy Note 9: Rear camera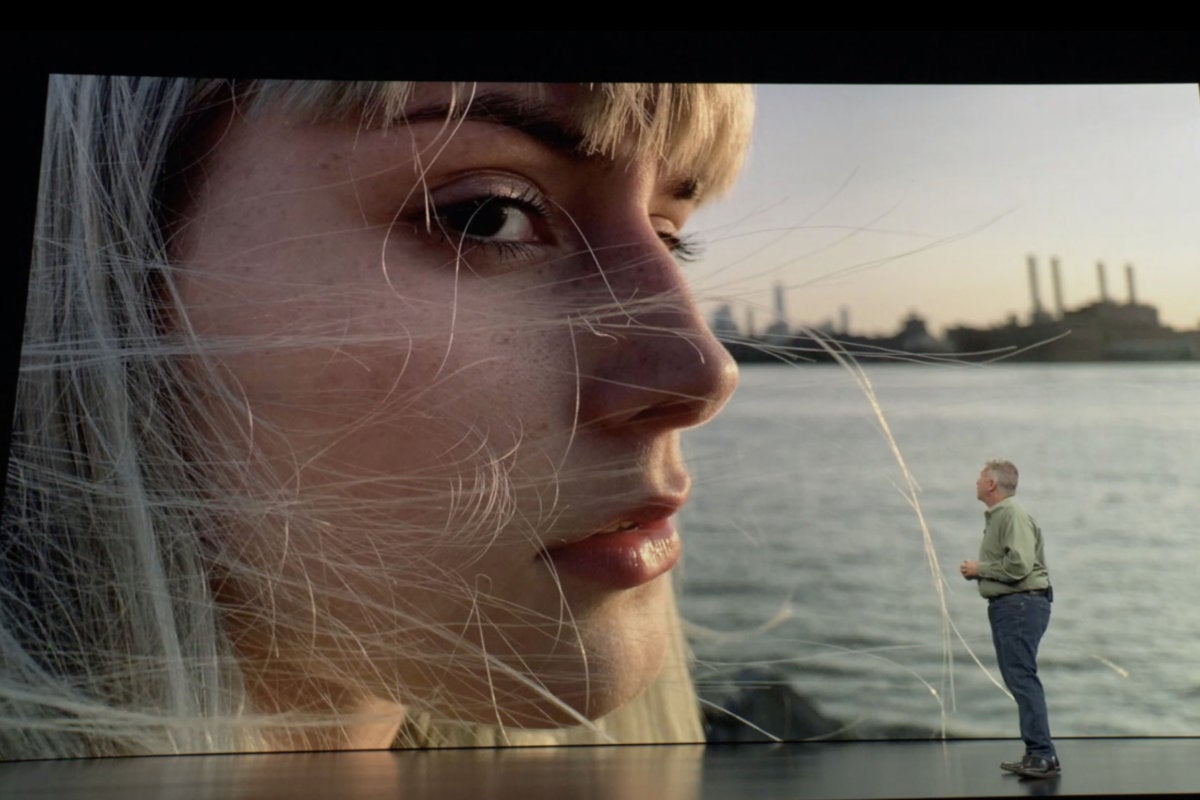 One of the surprising aspects of the Galaxy Note 9 was that Samsung didn't really upgrade its camera much at all. Hardware-wise, it's identical to the Galaxy S9+, and the new features are fairly minimal. Similarly, Apple hasn't done all that much to improve its camera hardware either:
iPhone XS/XS Max: Dual 12MP wide-angle (f/1.8) and telephoto cameras (f/2.4), dual optical image stabilization, 2x optical zoom
Galaxy Note 9: Dual 12MP wide-angle (f/1.5-2.4) and telephoto cameras (f/2.4), dual optical image stabilization, 2x optical zoom
So, yeah, the cameras are very similar in terms of printed specs—but there are notable differences once you dig further. The Note 9 offers something called Dual Aperture, which means you can manually switch between the f/1.5 and f/2.4 aperture. The iPhones offer no such mechanism. Apple has upped the pixel size in its sensor to 1.4µm, the same that's in the Note 9.
All three phones offer portrait modes with the ability to adjust the depth of field after you've taken a shot. Both cameras record 4K video at 60fps, but the Note 9 also offers super-slow-motion video recording at 960fps while the iPhone tops out at 240fps.
iPhone XS and XS Max vs Samsung Galaxy Note 9: Biometrics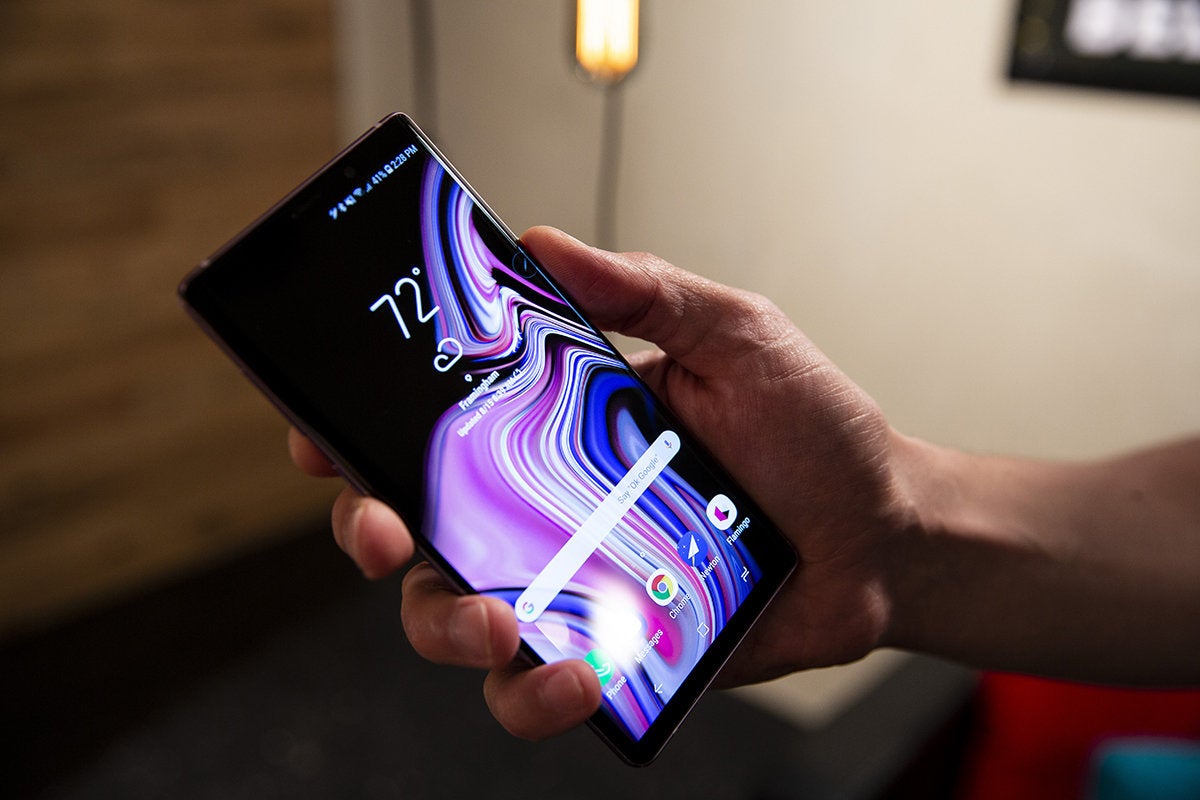 The iPhone dumped the home button last year, and this year shows that there's no going back. All of the new iPhone models (including the cheaper iPhone XR) are equipped with Apple's True Depth camera for Face ID unlocking. Apple also says the system is faster at recognizing faces than it was on the iPhone X.
Samsung offers numerous biometric unlocking options on the Note 9, but its facial unlocking, called Intelligent Scan, isn't quite as accurate or secure as it is on the iPhone. It uses the front camera to combine 2D face and iris scanning, and it can have issues at certain angles and in bright light. Samsung also offers a traditional fingerprint scanner on the rear of the phone.
iPhone XS and XS Max vs Samsung Galaxy Note 9: Price
As you already know, these phones don't come cheap. After Apple shocked the world with a $999 starting price for the iPhone X last year, Samsung crossed into four-figure territory with the Note 9. And Apple continued the trend by pushing its prices even higher:
iPhone XS: $999/$1,149/$1,349
iPhone XS Max: $1,099/$1,249/$1,449
Galaxy Note 9: $1,000/$1,250
So now Apple now has six iPhone models that cost more than a thousand dollars. But that's probably not going to stop them from flying off shelves.