At a Glance
Expert's Rating
Pros
The first graphics card for 4K, 144Hz monitors
Gorgeous, vastly improved Founders Edition designed
Supports ray tracing, DLSS, and VirtualLink
Cons
Several hundred dollars more expensive than predecessors
Ray tracing and DLSS not available in games yet
Our Verdict
Nvidia's GeForce RTX 2080 Ti costs significantly more than its predecessor, but it's also the first graphics card capable of gaming well past the 4K/60 barrier. If you can afford it, this graphics card can feed a 4K, 144Hz monitor like no other, and it's built for the future with dedicated ray tracing hardware.
Best Prices Today: GeForce RTX 2080 Ti Founders Edition
The GeForce RTX 2080 and RTX 2080 Ti aren't like any other consumer graphics cards. Nvidia built these cards for the future. So much so, in fact, that we're going to take the unusual step of not rendering a final, rated verdict today.
Unlike existing graphics cards, these include dedicated RT cores to vastly improve real-time ray tracing performance, putting the Holy Grail of gaming graphics within reach. Also unlike existing graphics cards, the GeForce RTX 2080 and 2080 Ti include dedicated tensor cores to leverage the awesome power of machine learning and a Saturn V supercomputer in the games you play. Nvidia's new hardware is the first designed specifically for the 4K, 144Hz HDR era, with a revamped architecture that increases performance in traditional games, and they're the first graphics cards equipped with GDDR6 memory or a VirtualLink connector. Our Nvidia Turing GPU deep-dive explains all.
But changing the game doesn't come cheap. These graphics cards cost much, much more than their predecessors, and buying into Nvidia's futuristic vision requires a big leap of faith—ray traced games won't even be available when they launch. Are the GeForce RTX 2080 Founders Edition ($799 at Best BuyRemove non-product link or GeForce.com) and RTX 2080 Ti Founders Edition ($1,199 at Best BuyRemove non-product link and GeForce.com) worth your money today? Let's dig in.
GeForce RTX 2080 and 2080 Ti: Specs and features
Here are the high-level specs for the GeForce RTX 2080 and GeForce RTX 2080 Ti, before we delve into some of the more interesting bits:
GeForce RTX 2080 Ti:
CUDA cores: 4,352
Clock speed: 1,350MHz base, 1,545MHz boost (OC Founders Edition 1,635MHz boost)
RT cores: 72
Tensor cores: 576
Texture units: 288
ROP units: 96
Memory capacity: 11GB GDDR6
Memory path: 352 bits
Memory bandwidth: 616GBps
Ports: VirtualLink/USB-C, DisplayPort 1.4, HDMI 2.0b
Power: 2 x 8-pin, 250W TDP stock, 265W TDP OC Founders Edition
Release date: September 27, 2018
Price: $999 stock, $1,199 Founders Edition
GeForce RTX 2080:
CUDA cores: 2,944
Clock speed: 1515MHz base, 1710MHz boost (OC Founders Edition 1800MHz boost)
RT cores: 46
Tensor cores: 368
Texture units: 184
ROP units: 64
Memory capacity: 8GB GDDR6
Memory path: 256 bits
Memory bandwidth: 448GBps
Ports: VirtualLink/USB-C, DisplayPort 1.4, HDMI 2.0b
Power: One 6-pin, one 8-pin, 215W TDP stock, 225W TDP OC Founders Edition
Release date: September 20, 2018
Price: $699 stock, $799 OC Founders Edition
The GeForce RTX 2080 and 2080 Ti Founders Edition cards come overclocked out of the box. That's a first for Nvidia's reference cards, and a nice perk for the people who plunk down extra cash for a Founders Edition model, but it makes establishing a performance baseline difficult. Nvidia GPUs scale clock speeds depending on thermal and power constraints. You can't just use an overclocking tool to bring the RTX cards down to stock boost clock speeds and count that as gospel. So the benchmark results you'll see in this review are higher than you'd get with an RTX 2080 or 2080 Ti that truly sticks to reference speeds.
Reference speeds for both cards are slower out-of-the-box than those of their predecessors, however. On the flip side of the coin, Nvidia says it expects the RTX 20-series to overclock better than the GTX 10-series, and it's shipping a new Nvidia Scanner API that lets you auto-overclock your graphics card with a single push of a button. Our experience with an early version of the tool wasn't quite so seamless, but we'll be testing release versions of Scanner ASAP. Look for it in updated versions of popular overclocking software, such as EVGA's Precision.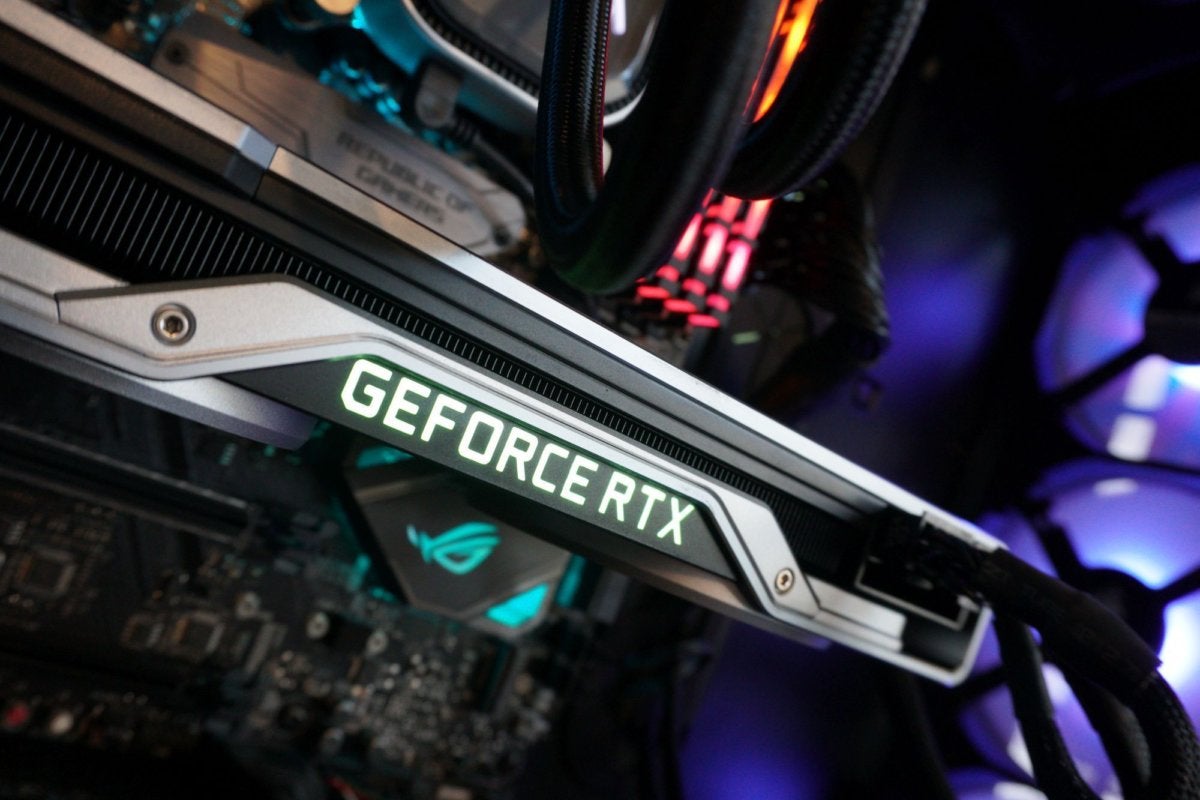 The upgrade to GDDR6 pays dividends on the memory side. The GeForce RTX 2080 Ti and GeForce GTX 1080 Ti boast identical memory capacity and bus widths, but the new card hits a blazing 616GBps, versus the GTX 1080 Ti's 484GBps. That also surpasses the radical HBM2 memory in AMD's Vega graphics cards, which hit 484GBps like the GTX 1080 Ti. Who says traditional VRAM is dead?
Finally, the TU102 GPU inside the RTX 2080 Ti is a bigger, more bad-ass version of the RTX 2080's TU104 GPU in every aspect, including those swanky new RT and tensor cores. The GeForce RTX 2080 Ti has 56.5 percent more of each, which could make a big difference when the first games with ray tracing and Nvidia's Deep Learning Super Sampling arrive. They aren't here yet so we can't benchmark them, but it's something to be aware of if you're all-in on the idea of ray tracing.
That's all most people need to know about the GeForce RTX 2080 and 2080 Ti. For much more information in much greater technical detail, check out our massive Turing GPU deep-dive.
Nvidia GeForce RTX Founders Edition design
Nvidia shook up the exterior of its GeForce RTX Founders Edition just as much as the interior. Say adios to the single-fan, blower-style design established long ago for reference designs from both AMD and Nvidia. Now, Nvidia's competing with its hardware partners in cooler design, too.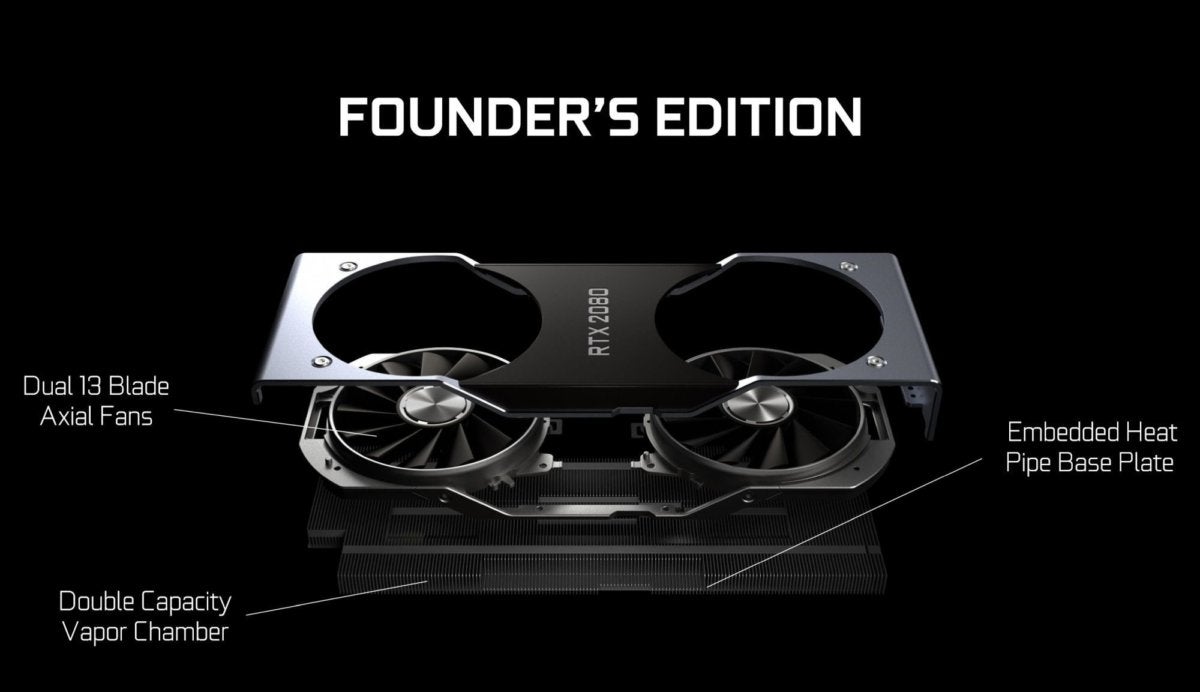 The GeForce RTX 20-series Founders Edition cards upgrade to dual axial fan design, and those fans—spread farther apart than you see in most graphics cards—come equipped with 13 blades each. They're sitting atop a card-length heat sink with a heat pipe embedded in the base plate, and a full-length vapor chamber to dissipate heat from the GPU and other components. A forged aluminum shroud covers those cooling components, curving around the end of the card to transform into a sleek backplate with the graphics card's name emblazoned across it. It's an utterly gorgeous enclosed design, and by my touch after an intense benchmarking round, that backplate helps dissipate heat as well.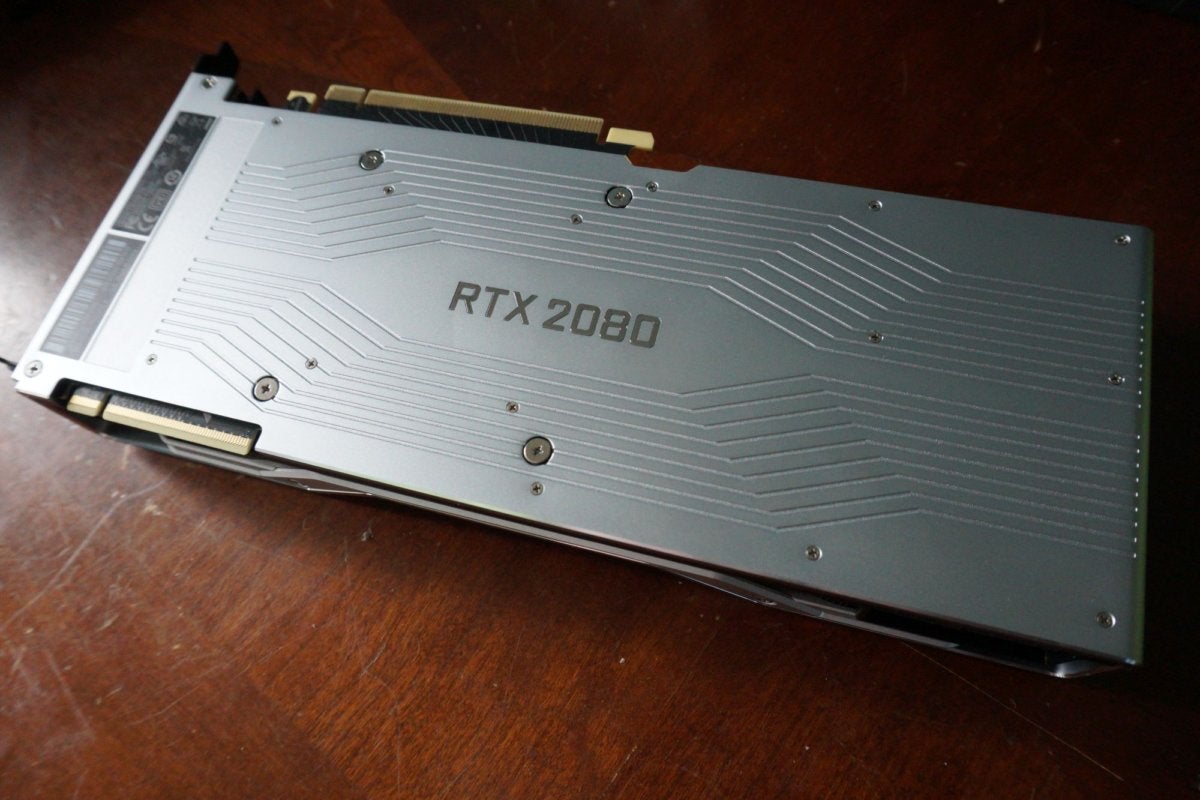 These Founders Edition models feel impressively substantial in your hand. Nvidia claims the new design is five times quieter than the previous one, and up to around 20 degrees cooler depending on the scenario. We didn't find it quite that potent, as you'll see in our performance benchmarks, but it's indeed a significant improvement over the older blower-style design. An illuminated green "GeForce RTX" logo classes up the side edge of the card.
Nvidia bulked up the Founders Edition PCB, too. It includes more overclocking headroom than the previous design did, giving you 55 watts to play with rather than 38, and cleaner overall power delivery, per product manager Justin Walker. It also includes an 8-phase design that can dynamically switch off those phases if you aren't pushing the card hard, to improve efficiency.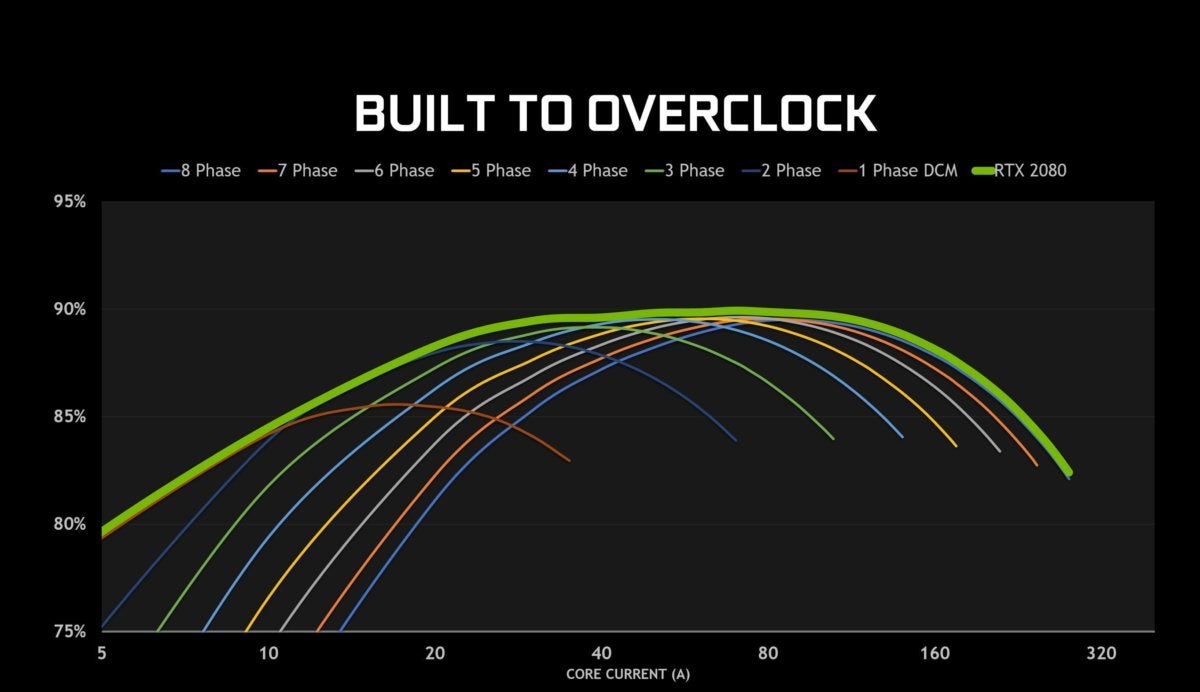 Both Founders Edition cards measure 10.5 x 4.55 inches, in a traditional two-slot design. The GeForce RTX 2080 FE pulls 225W over a 6-pin and an 8-pin power connector, while the RTX 2080 Ti FE pulls 260W via dual 8-pin connections. Nvidia recommends a 650W power supply for each.
Finally, there's been a shake-up in display connections, too. A VirtualLink USB-C connector now adorns the Founders Edition cards, capable of supplying all the video, audio, and data pipelines necessary to power a virtual reality headset…whenever VirtualLink starts appearing in VR headsets, that is. It's joined by a single HDMI 2.0b port, and dual DisplayPort 1.4 connections that are ready for DisplayPort 1.4a in the future.
Got it? Good. On to the benchmarks!
Next page: Test system overview, gaming benchmarks begin
Our test system
We've completely revamped our graphics card test system for this new generation of graphics cards, as the Core i7-5960X-based rig we dedicated to GPU benchmarking was starting to show its age. We've loaded our new system with some of the fastest complementary hardware around, in hopes it'll be our bedrock for a few years, like our last one. Fingers crossed. The components we selected are known for being beastly overclockers, in case we need more oomph in the future.
Here's what's inside. Most of the hardware was provided by the manufacturers, but we purchased the cooler and storage ourselves.
We're comparing the GeForce RTX 2080 Founders Edition ($800 on GeForce.com) and RTX 2080 Ti Founders Edition ($1,200 on GeForce.com) against the GeForce GTX 1080 Founders Edition and PNY GeForce GTX 1080 Ti. Neither of those are on sale any longer, but you can find other customized GTX 1080s starting around $470 on Newegg, and custom GTX 1080 Tis starting around $700 on Newegg, though we've seen both on sale for significantly cheaper prices in recent weeks. We prefer to compare reference cards to reference cards for these initial reviews, but unfortunately our GTX 1080 Ti Founders Edition gave up the ghost, so PNY it is. With Nvidia applying an out-of-the-box overclock to the RTX Founders Edition models, comparing them against an overclocked GTX 1080 Ti doesn't feel horrible—though note that the PNY model is about 6 percent faster than a GTX 1080 Ti Founders Edition.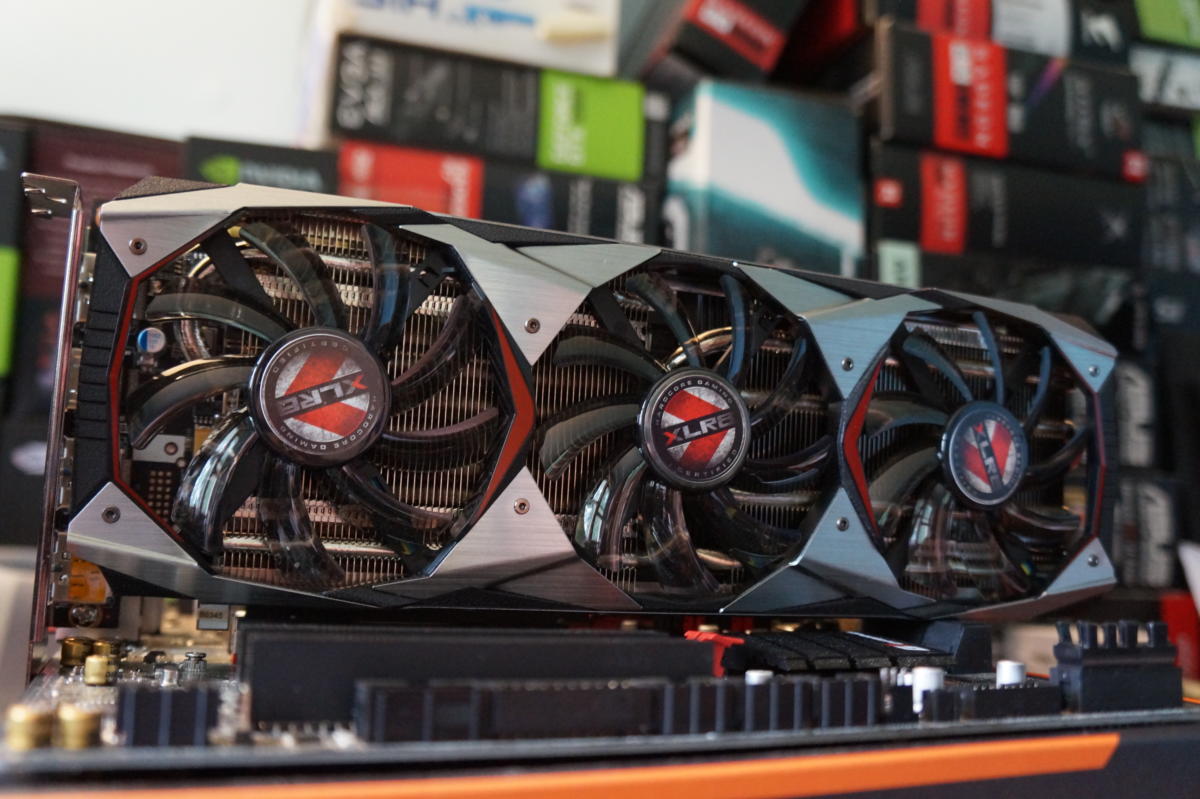 We're also tossing AMD's most potent GPU, the Radeon Vega 64, into the mix to see where it stands. Note that this is the air-cooled reference edition, not the liquid-cooled model. We have a liquid-cooled version, but it's no longer for sale and was only available in limited quantities. Custom Vega 64 models start around $500 on Newegg, though most sell for $550 or more.
Each game is tested using its in-game benchmark at the highest possible graphics presets, with VSync, frame rate caps, and all GPU vendor-specific technologies—like AMD TressFX, Nvidia GameWorks options, and FreeSync/G-Sync—disabled, and temporal anti-aliasing (TAA) enabled to push these high-end cards to their limits. If anything differs from that, we'll mention it. Let's go!
GeForce RTX 2080 and 2080 Ti gaming performance
Strange Brigade
Let's kick things off with Strange Brigade ($50 on Humble), a cooperative third-person shooter where a team of adventurers blasts through hordes of mythological enemies. It showcases the next-gen Vulkan and DirectX 12 technologies and is infused with features like HDR support and the ability to toggle asynchronous compute on and off. We tested DirectX 12 with async compute off, as it traditionally only boosted Radeon GPUs.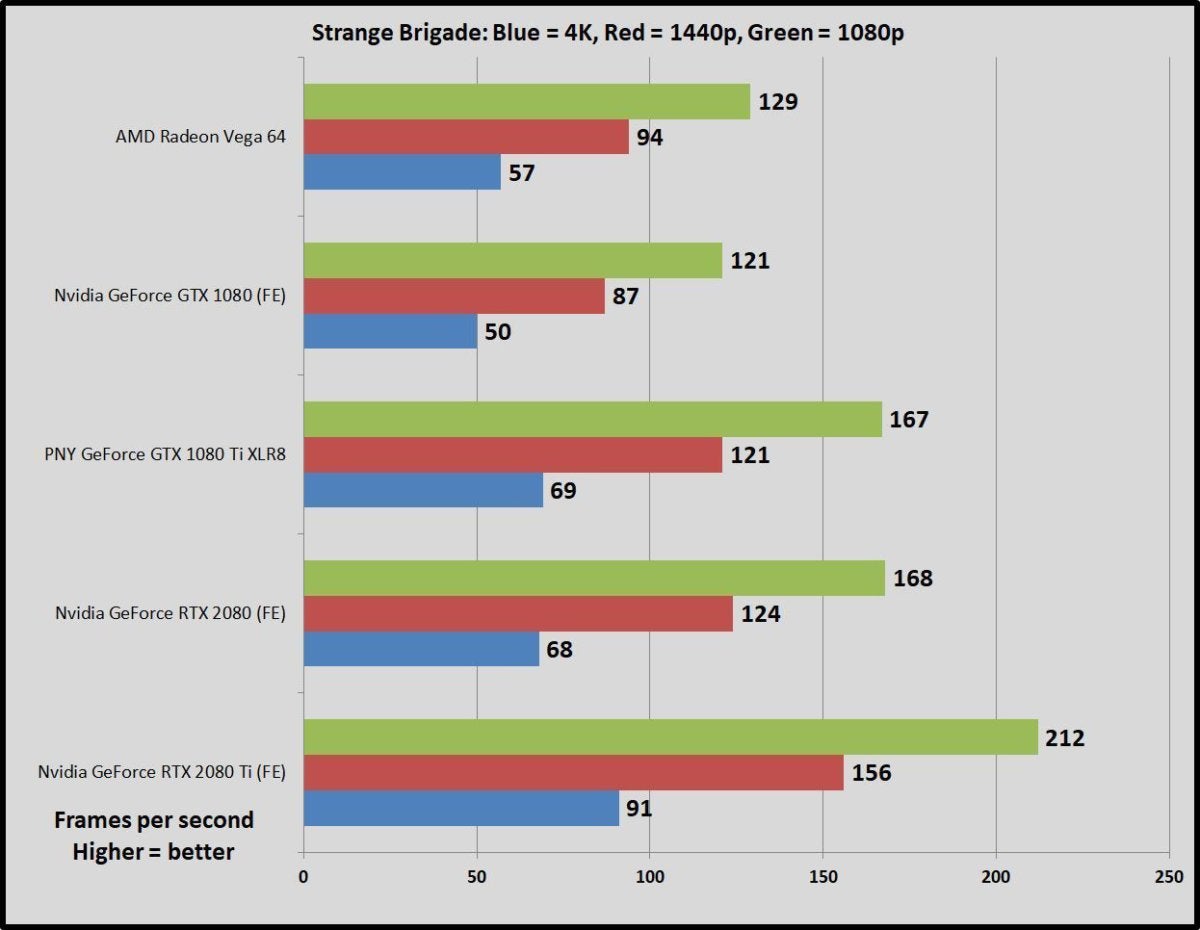 First thought: Man, the GeForce RTX 2080 and GTX 1080 Ti are virtually identical in performance. That's a theme we'll continue to see throughout these benchmarks. The RTX 2080 Ti leapfrogs its predecessor by almost 32 percent at 4K, though the overclocked nature of both cards makes the comparison a little murky. The RTX 2080 Ti's lead shrinks the lower you go in resolution, though it consistently remains the fastest graphics card by a considerable margin. Also worth noting: AMD's Vega 64 trumps the GTX 1080 even with async compute turned off.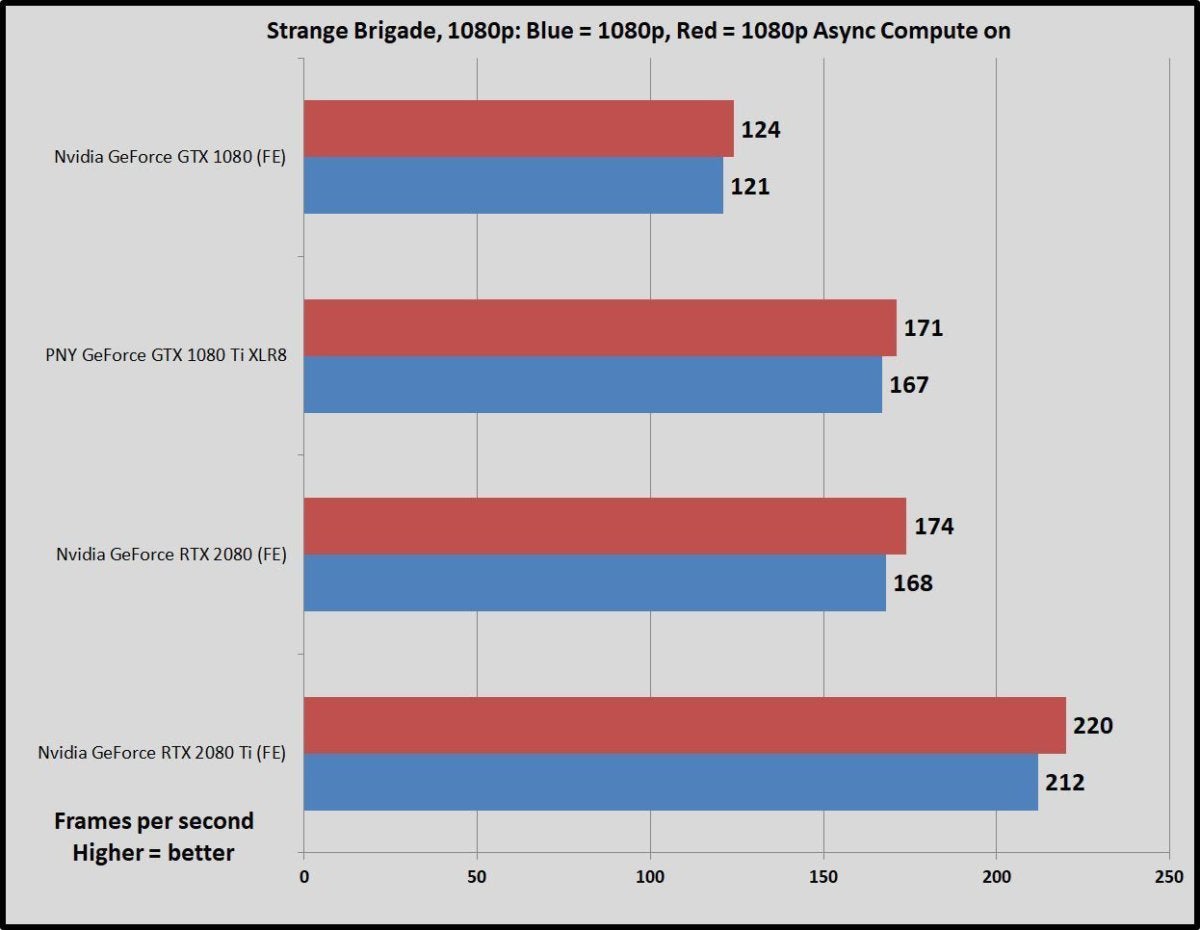 We also tested Strange Brigade with async compute enabled for the GeForce cards at 1080p resolution, to see if the new INT32 pipeline inside the RTX 2080's Turing GPU architecture improved performance there. It does, but only by about 3.6 percent in this particular scenario.
Next page: More benchmark results
Shadow of the Tomb Raider
Shadow of the Tomb Raider ($60 on Humble) concludes the reboot trilogy, and it's utterly gorgeous—so much so that even the state-of-the-art GeForce RTX 2080 Ti barely manages to average 60 fps with all the bells and whistles turned on at 4K resolution. Square Enix actually optimized this game for DX12, and recommends DX11 only if you're using older hardware or Windows 7, so we test with that.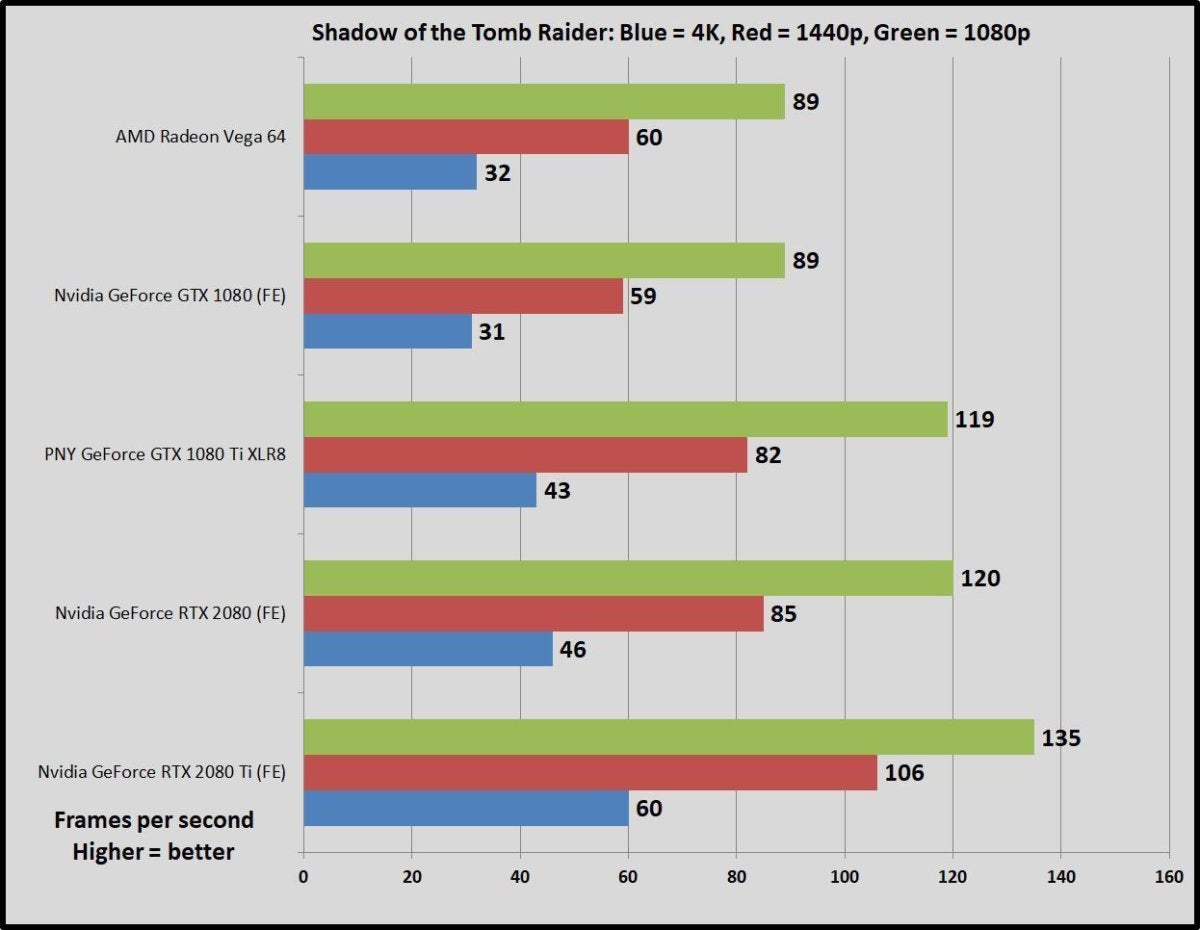 Again, the RTX 2080 and GTX 1080 Ti are neck-and-neck, while the GeForce RTX 2080 Ti Founders Edition stays out in front by about 30 percent at 4K. Three distinct tiers of GPUs are starting to emerge: The GTX 1080 and Vega 64 trade blows around $500, the RTX 2080 and GTX 1080 Ti duke it out in the $700-to-$900 tier, and the GeForce RTX 2080 Ti stands all on its own at $1,200-plus.
Far Cry 5
Finally, a DirectX 11 game! Far Cry 5 ($60 on Humble) is powered by Ubisoft's long-established Dunia engine. It's just as gorgeous as its predecessors—and even more fun. The game also supports HDR. More on that later.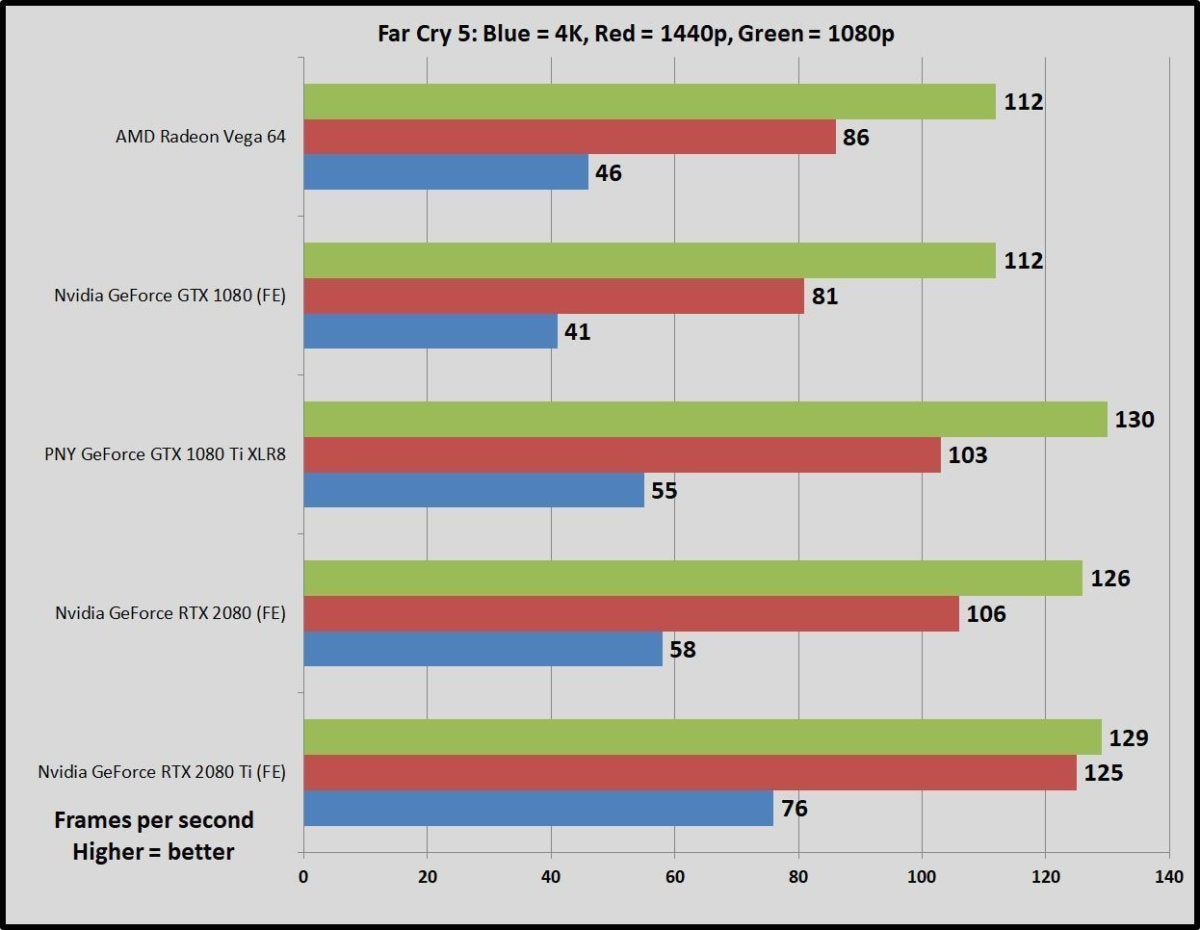 The same performance trends we've seen before continue here. Note that if you're using a 1080p, 144Hz monitor, the RTX 2080 and GTX 1080 Ti keep up with the RTX 2080 Ti at that resolution, though the flagship maintains a wider lead in other games.
Ghost Recon Wildlands
Move over, Crysis. If you crank all the graphics options up to 11, like we do for these tests, Ghost Recon Wildlands ($50 on Humble) absolutely melts GPUs. Even the GeForce RTX 2080 Ti can't come close to 60 fps at 4K resolution. Fear not, though: Later on, we'll also test these cards with the games tuned for more realistic scenarios.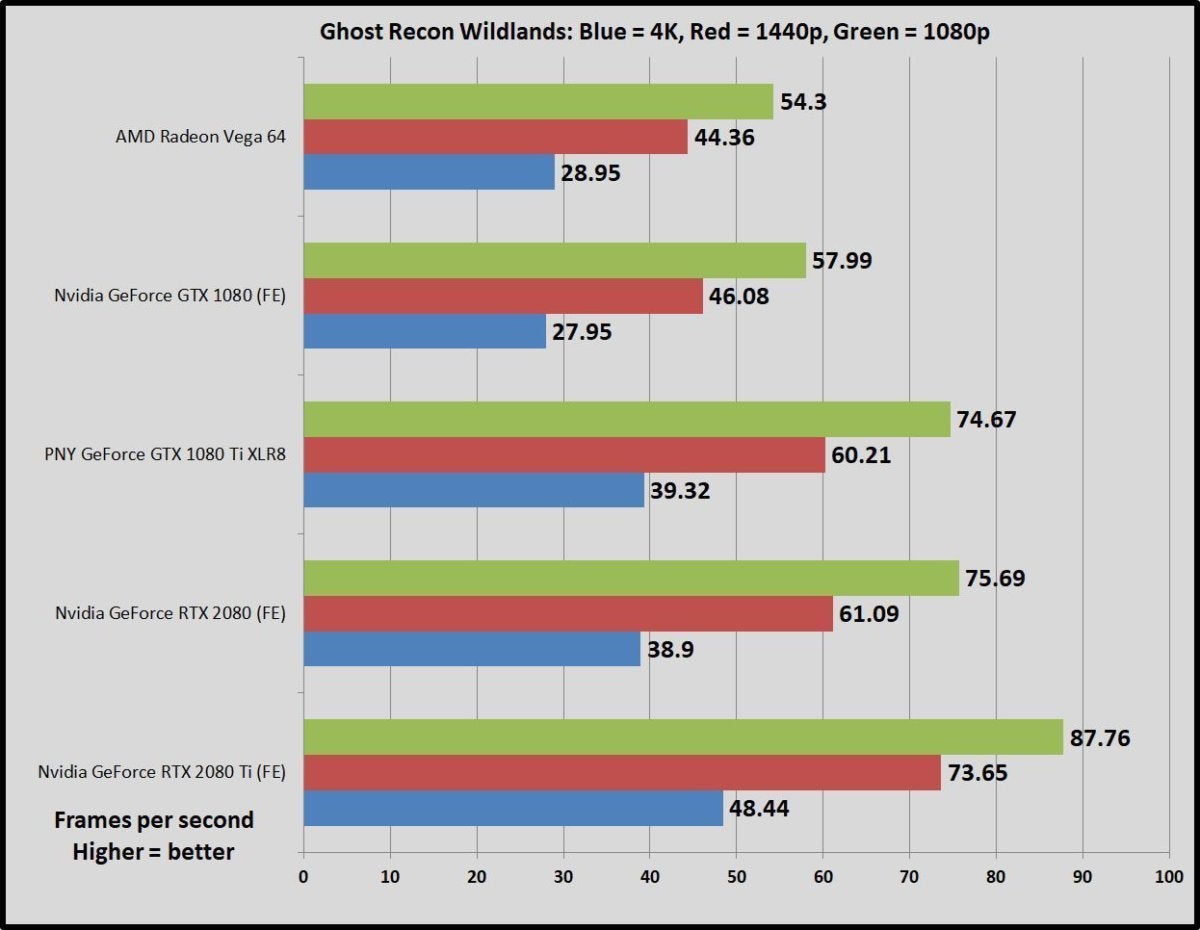 The RTX 2080 and GTX 1080 Ti are neck-and-neck yet again, but the gap between them and the RTX 2080 Ti closes significantly in this game. While the RTX 2080 Ti pulled ahead by around 30 to 33 percent in the other games we've tested so far, in Ghost Recon Wildlands at 4K, that lead drops to around 23 to 25 percent.
Next page: More benchmark results
Middle-earth: Shadow of War
Middle-earth: Shadow of War ($50 on Humble) adds a strategic layer to the series' sublime core gameplay loop, adapting the Nemesis system to let you create an army of personalized Orc commanders. It plays like a champ on PC, too.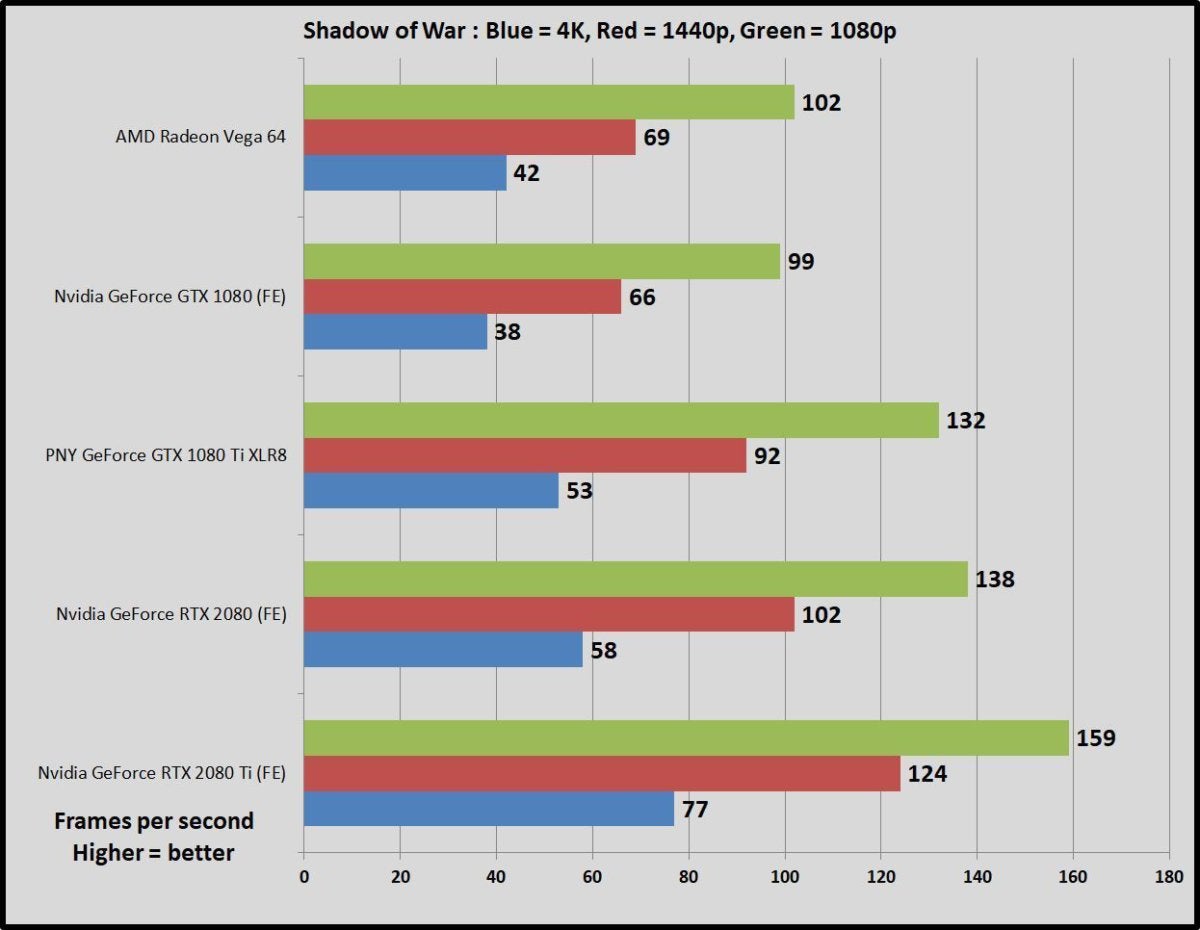 The RTX 2080 stays consistently ahead of the GTX 1080 Ti here, albeit by a slim margin, and the RTX 2080 Ti's performance lead opens back up to around 33 percent at 4K resolution. It's a whopping 45 percent faster than the GTX 1080 Ti. Interestingly, AMD's Radeon Vega 64 noses ahead of the GTX 1080.
F1 2018
The latest in a long line of successful games, Codemasters' F1 2018 ($60 on Humble) is a benchmarking gem, supplying a wide array of both graphical and benchmarking options—making it a much more reliable option than the Forza series. Confession time: It's a lot of fun, too. Tinkering with this for testing reasons quickly turned into an "extended benchmarking session." We test two laps on the Australia course, with clear skies.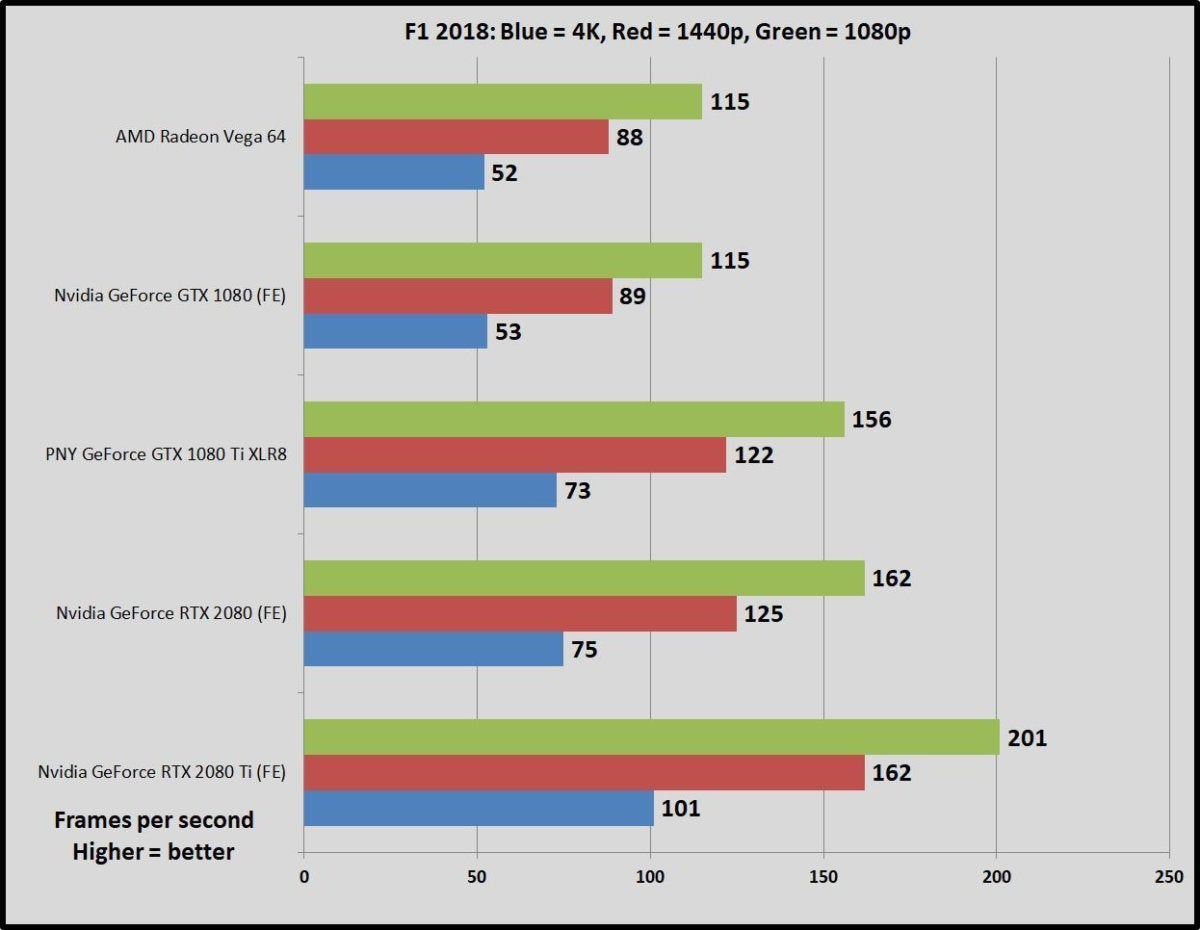 Everything lands where you'd expect after seeing the performance in the other games.
Ashes of the Singularity: Escalation
Ashes of the Singularity ($40 on Humble) was one of the very first DX12 games, and it remains a flag-bearer for the technology to this day. With hundreds of units onscreen simultaneously and some serious graphics effects in play, the Crazy preset can make graphics cards sweat. Ashes runs in both DX11 and DX12, but we test only in DX12, as it delivers the best results for both Nvidia and AMD GPUs.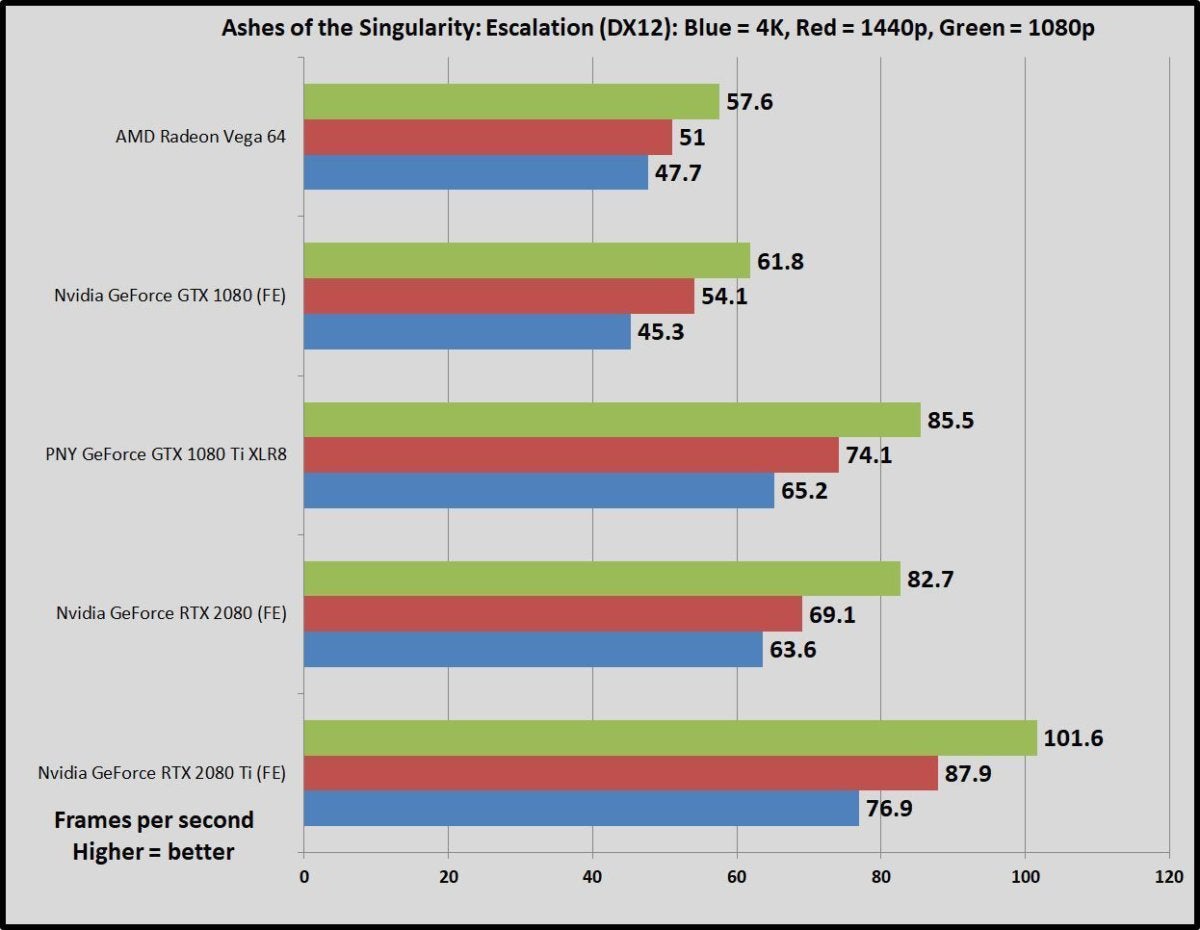 This is another game where the RTX 2080 Ti's lead dips, to about 18 percent compared to the runner-up, the 1080 Ti.
Next page: More benchmarks
Grand Theft Auto V
We're going to wrap things up with a couple of older games that aren't really visual barn-burners, but still top the Steam charts day-in and day-out. These are games that a lot of people play. First up: Grand Theft Auto V ($30 on Humble) with all options turned to Very High, all Advanced Graphics options except extended shadows enabled, and FXAA.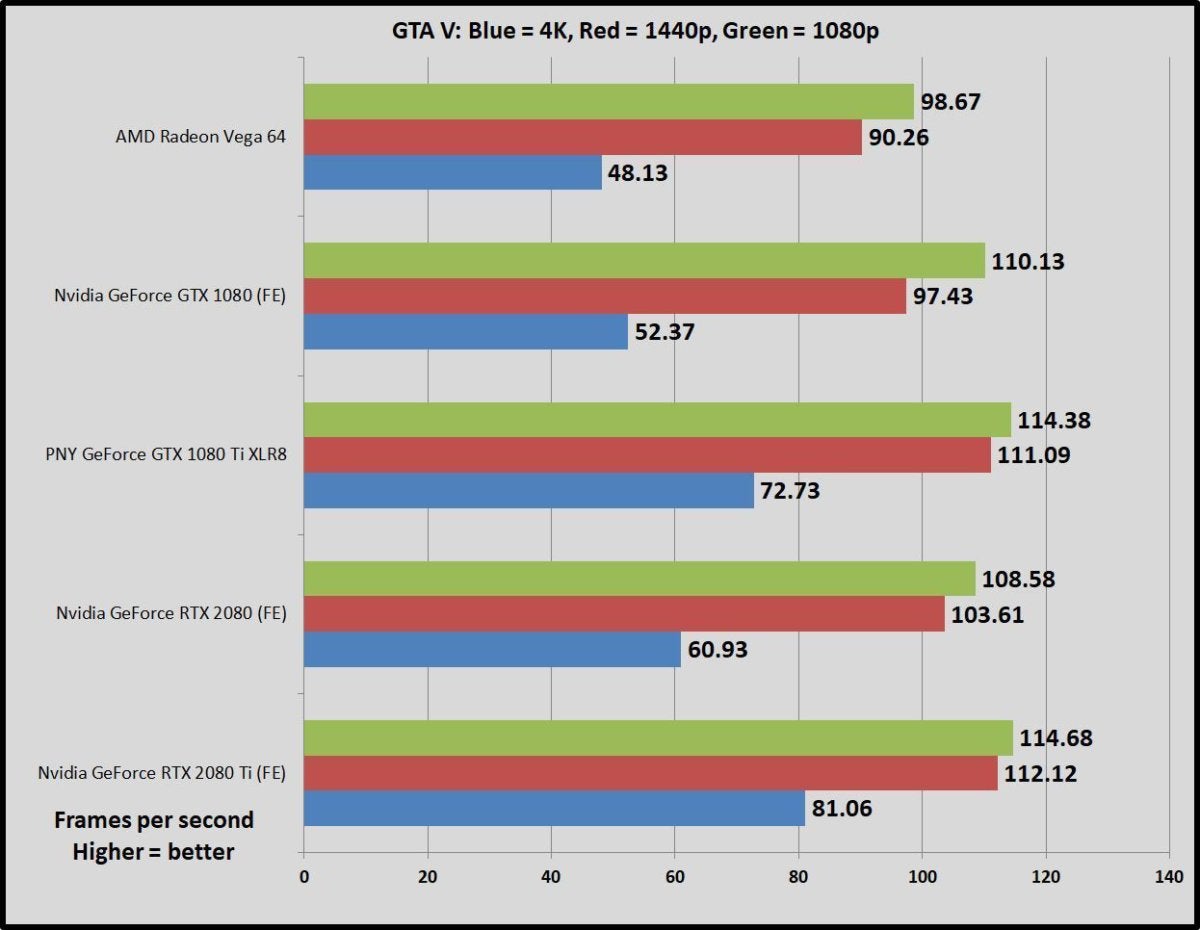 Now here's a surprise. The GTX 1080 Ti thoroughly stomps the RTX 2080 in performance, and while the RTX 2080 Ti still comes out ahead, it's only by a miniscule 11.5 percent over the GTX 1080 Ti at 4K. (It's at the expected 33-percent advantage over the RTX 2080.) What gives? We're not sure, and we re-ran the tests multiple times to ensure these results are accurate. I wanted to blame the RTX 2080's far lesser ROP and texture unit count than the GTX 1080 Ti at first, but the RTX 2080 Ti is loaded for bear and still turns in a comparatively ho-hum performance. GTA V simply doesn't like the revamped Turing architecture as much as it does Pascal, for some reason.
Rainbow Six Siege
Finally, let's take a peek at Rainbow Six Siege ($40 on Humble), a game whose audience just keeps on growing, and one that still feels like the only truly next-gen shooter after all these years.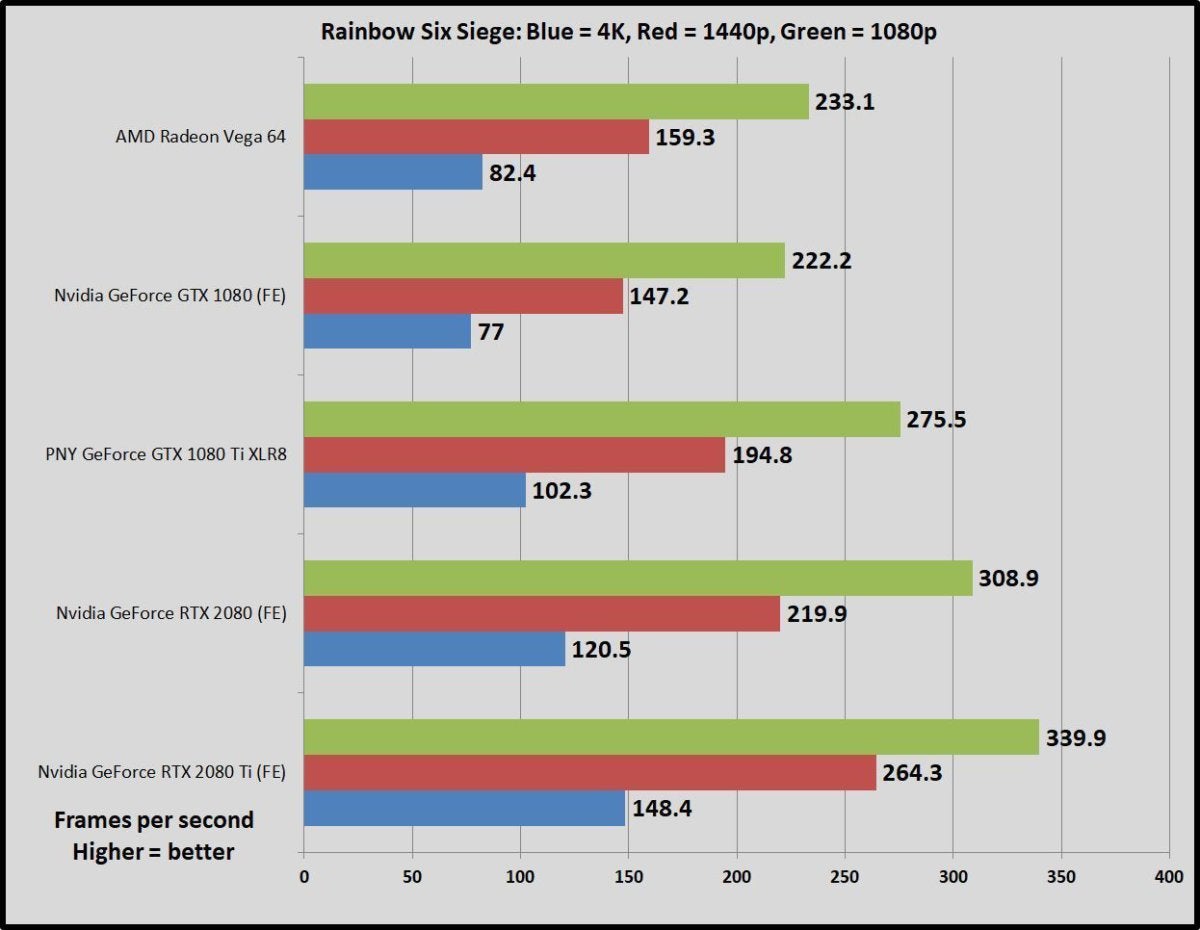 Things get back to normal here, though the RTX 2080 Ti opens up a larger-than-usual lead over the GTX 1080 Ti at 4K, delivering 45 percent more performance. Vega 64 also holds an edge over the GTX 1080, so it's probably due to the Turing GPU's improved compute handling. The RTX 2080 Ti's lead over the RTX 2080 shrinks back down into the 23-percent range at 4K resolution, but that's not really a surprise considering how fast Rainbow Six Siege runs on all of these graphics cards.
Next page: Fire Strike, power draw, and thermals
Fire Strike, power draw, and thermals
We also tested the GeForce RTX 2080 and RTX 2080 Ti Founders Edition cards using 3DMark's highly respected Fire Strike synthetic benchmark. Fire Strike runs at 1080p, Fire Strike Extreme runs at 1440p, and Fire Strike Ultra runs at 4K resolution. All render the same scene, but with more intense graphical effects as you move up the scale, so that Extreme and Ultra flavors stress GPUs even more. We record the graphics score to eliminate variance from the CPU.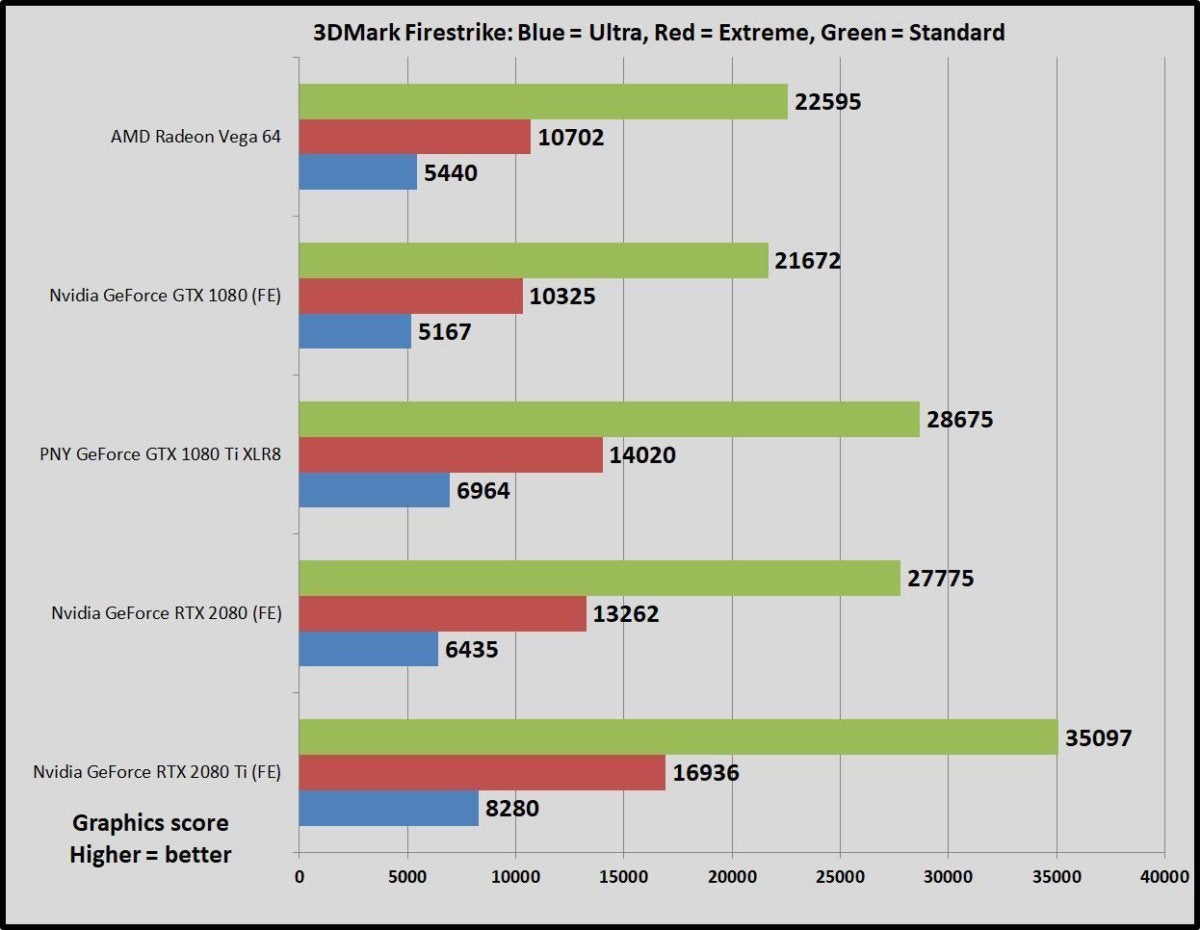 Interestingly, the GTX 1080 Ti outscores the RTX 2080 across the board, and the Vega 64 beats out the GTX 1080. The GeForce RTX 2080 Ti is ahead of the RTX 2080 by around 28 percent at 4K/Ultra, smack-dab in the middle of the low-20s to low-30s leads it holds in real-world games.
Power draw
Nvidia's RTX graphics cards pack a lot more hardware than their predecessors, and it shows when you compare the power draw for these cards. We test power draw by looping the F1 2018 benchmark after we've benchmarked everything else with a card, and noting the highest reading on our Watts Up Pro meter. The initial part of the race, where all competing cars are onscreen simultaneously, tends to be the most demanding portion.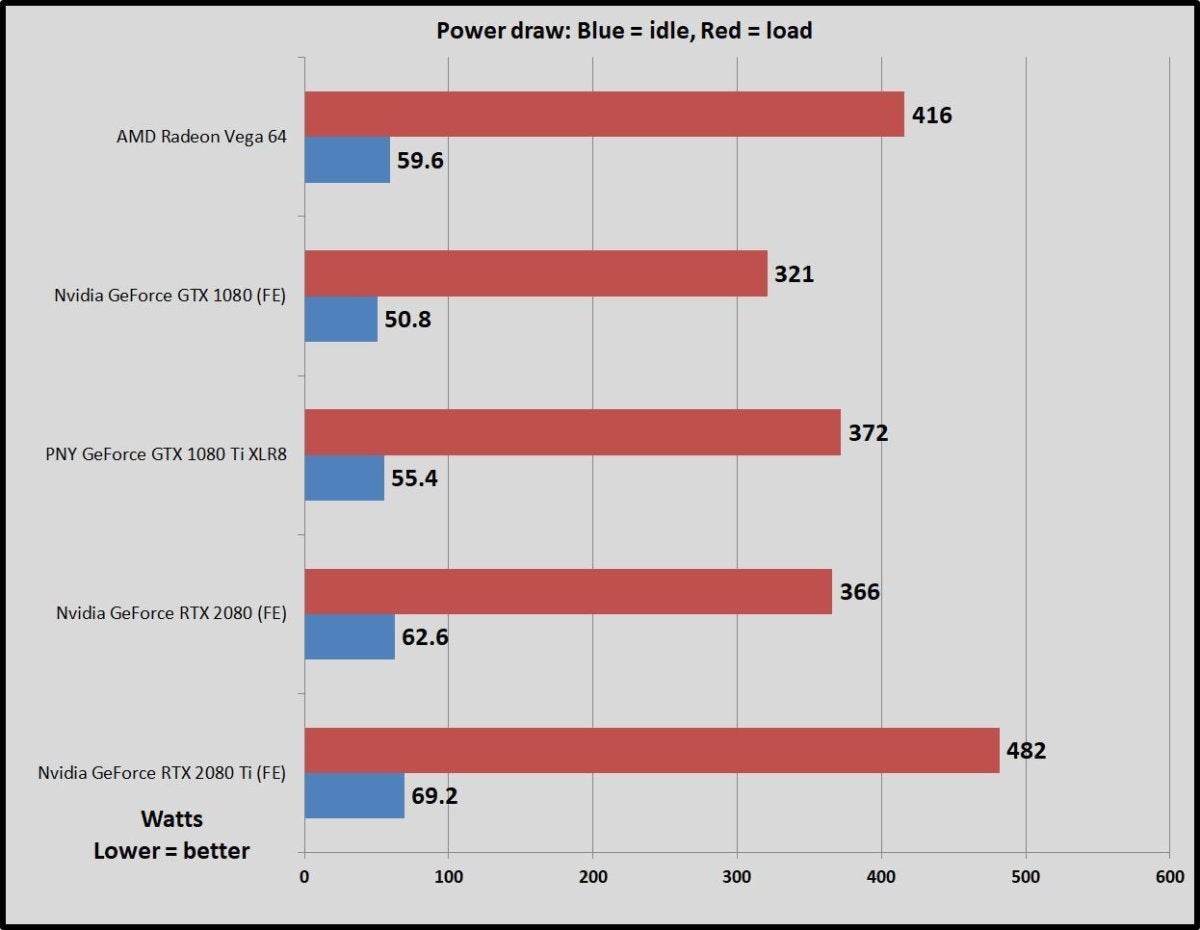 Both RTX Founders Edition models have notably higher idle power draw than their rivals, though it's impressive that the RTX 2080 manages to hang with the GTX 1080 Ti performance-wise while sucking down a little bit less juice. Remember how much we derided the Vega 64 for being hot, loud, and power hangry? The GeForce RTX 2080 Ti draws significantly more energy from the wall—albeit while delivering 60 to 90 percent more gaming performance—with the whole system drawing a whopping 482W under load.
It's nevertheless a lot more pleasant graphics card to experience than AMD's hellacious Vega 64. We test thermals by leaving HWInfo's sensor monitoring tool open during the F1 2018 5-lap power draw test, noting the highest maximum temperature at the end.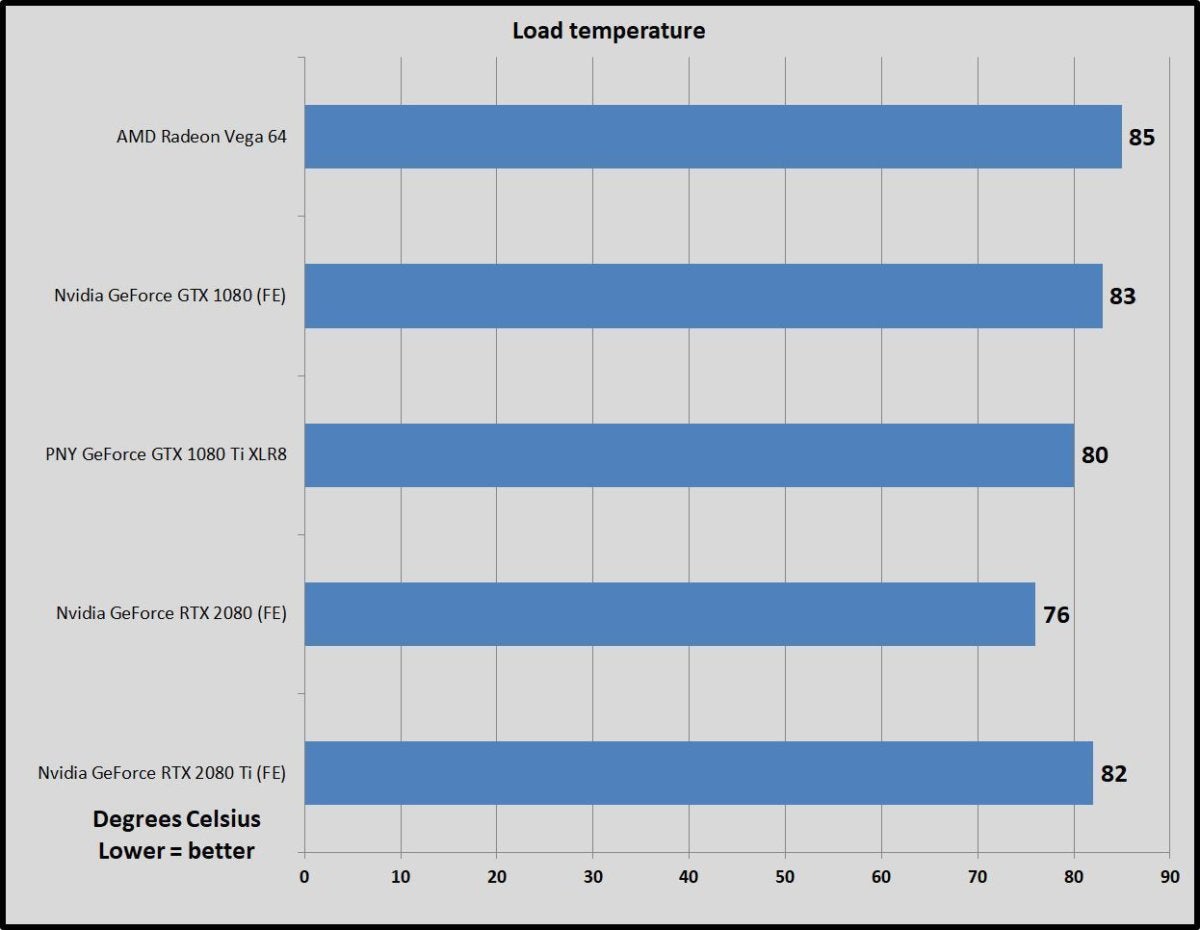 Nvidia's talked about the improvements to the RTX Founders Edition's cooling, and it walks the walk here. Both the GeForce RTX 2080 and RTX 2080 Ti run noticeably quieter than the GTX 1080 Founders Edition, and the GeForce RTX 2080 FE runs a significant 7 degrees Celsius cooler than the GTX 1080 FE. Heck, the RTX 2080 is 4 degrees Celsius cooler than the triple-fan custom PNY GTX 1080 Ti. It's an impressive improvement, though you have to wonder how Nvidia's partners will feel about how the company's essentially stepping on their toes. While we haven't tested any of the early custom RTX graphics cards yet, they've resorted to massive, metal-filled coolers to stand out, and that drives up costs considerably.
Reference Vega cards still suck. Womp womp.
Next page: High/no AA 4K gaming performance
High/no AA 4K gaming performance
When you're buying a graphics card that costs $800 or $1,200, you want to crank all the options to the max. That's a great way to push graphics cards to their limit to test performance. But here's the thing: That's not really how most people play games at 4K resolution, including yours truly.
Mentioned in this article
Predator X27
Price When Reviewed:
$1999.99
Dropping from Ultra down to High graphics usually provides a significant performance boost with little visual regression, while many people swear off anti-aliasing (AA) at 4K, because all those pixels look mighty fine without additional smoothing. Making those tweaks lets you achieve far higher real-world frame rates in games, a critical consideration now that 4K, 144Hz G-Sync HDR monitors like the Acer Predator X27 have arrived.
With that in mind, we decided to benchmark our games with their High graphics preset and AA disabled at 4K resolution, to see how much performance you can expect in more realistic high refresh-rate scenarios. We only did so with the GeForce RTX 2080, RTX 2080 Ti, and PNY GeForce GTX 1080 Ti, as they're the true 4K graphics cards. Spoiler: They're all fast.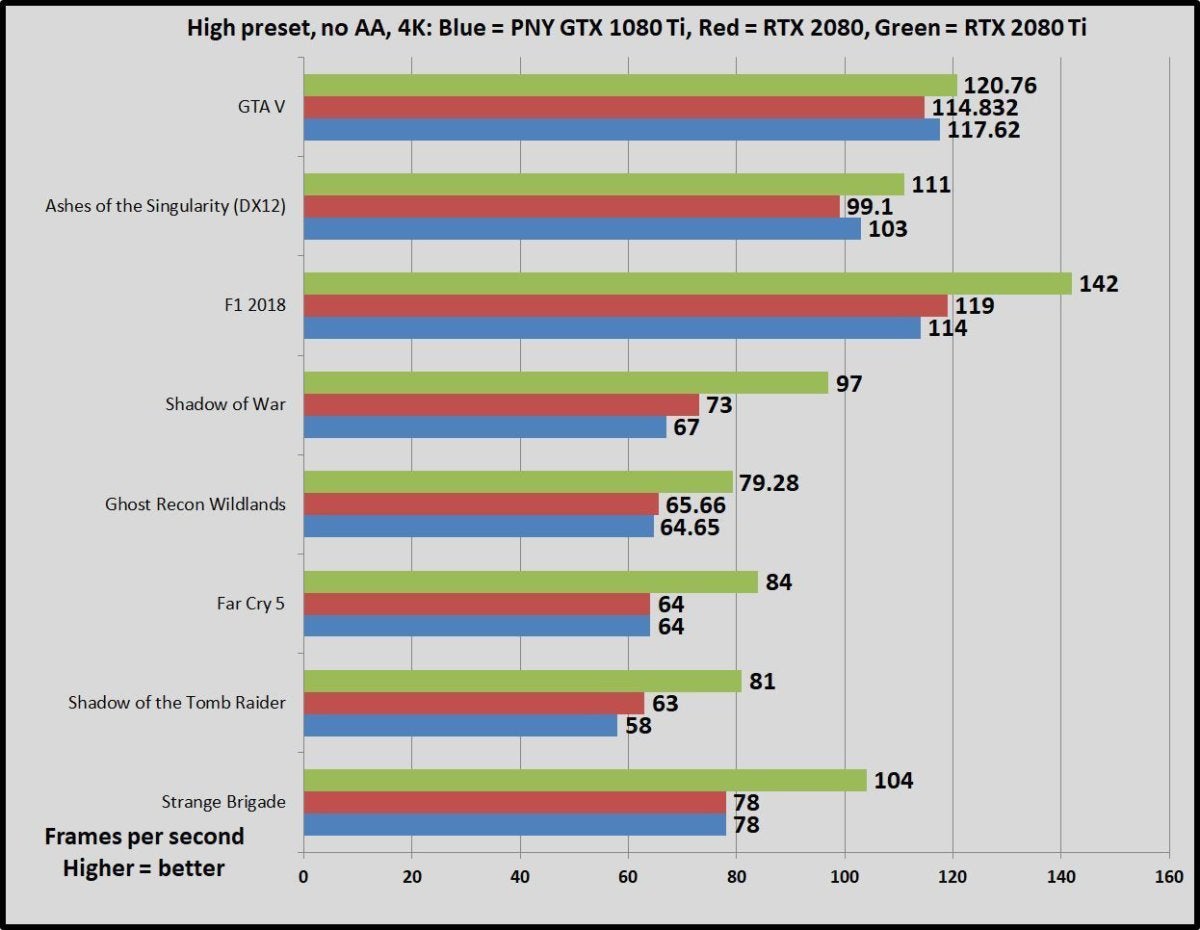 At these more reasonable settings, the GTX 1080 Ti and RTX 2080 still trade blows, but both hit average frame rates in excess of 60 fps across all tested titles. The GeForce RTX 2080 Ti far surpasses that, clearing 80 fps at 4K/High in its worst-case scenario. If you don't mind tweaking a few settings, all of these cards will deliver solid 4K gaming performance. The GeForce RTX 2080 Ti can definitely keep the new breed of faster 4K displays busy, although not maxed-out.
Next page: 4K HDR performance
GeForce RTX 2080 and RTX 2080 Ti HDR performance
Hey! HDR PC monitors are a thing now. Nvidia's early GeForce RTX 2080 and RTX 2080 Ti marketing materials pushed 4K HDR performance, and the reviewers guide provided for the cards include a sizeable section on how to benchmark HDR performance. Nvidia's previous GTX 10-series graphics cards lost a surprisingly decent chunk of performance when displaying HDR—much more so than comparable Radeon Vega GPUs. So we decided to test 4K HDR performance for the GeForce RTX 20-series and older GTX 10-series cards.
"The Turing GPU architecture improves High Dynamic Range (HDR) gaming performance and input latency using hardware-based compositing, tone mapping, and chroma filtering with HDR surfaces," Nvidia says.
We retested the HDR-compatible games in our suite using both the 8-bit RGB and 10-bit YCbCr422 settings available on the Predator X27 at 120Hz, and the same graphics presets as our standard benchmarks. Here are the results for each, along with the performance for each game when you're not using HDR (listed below as "SDR.")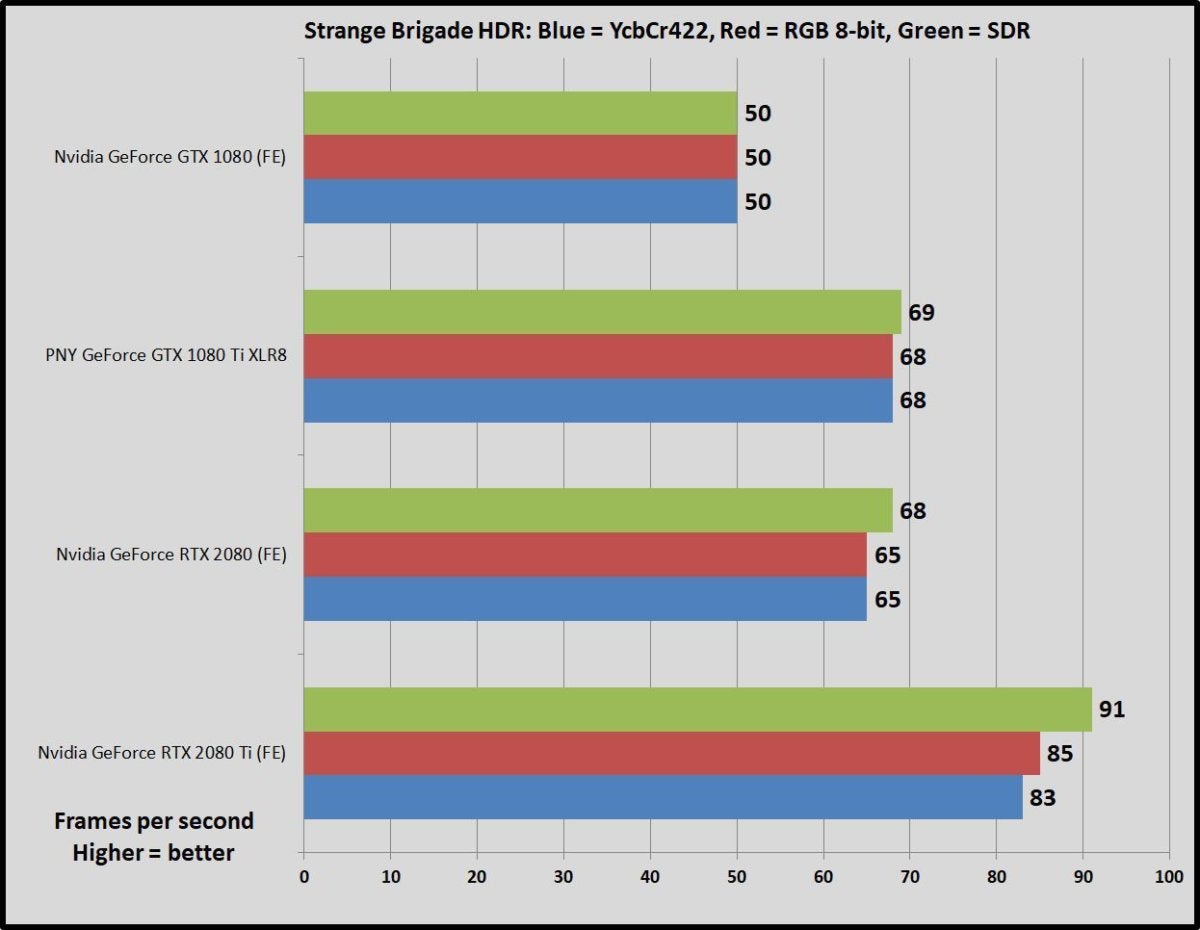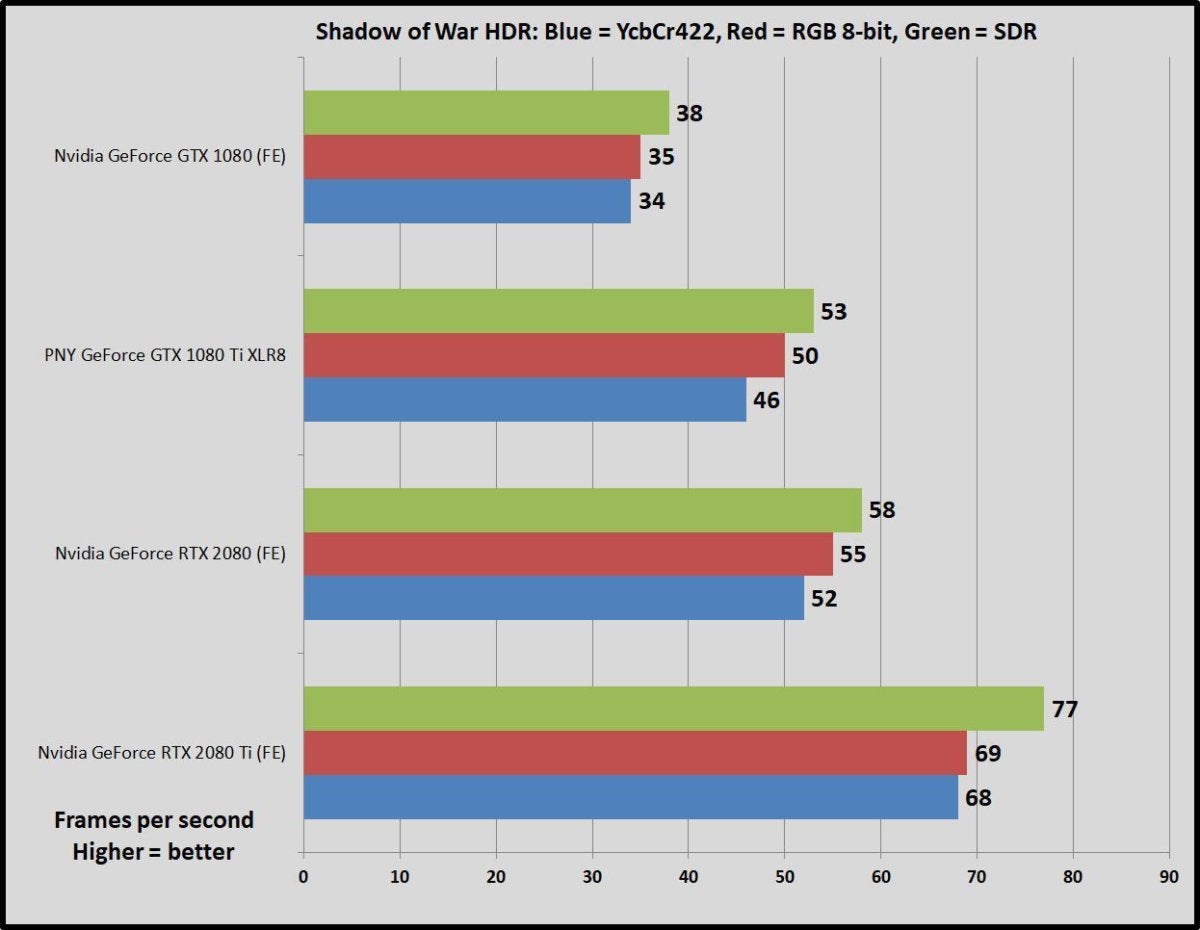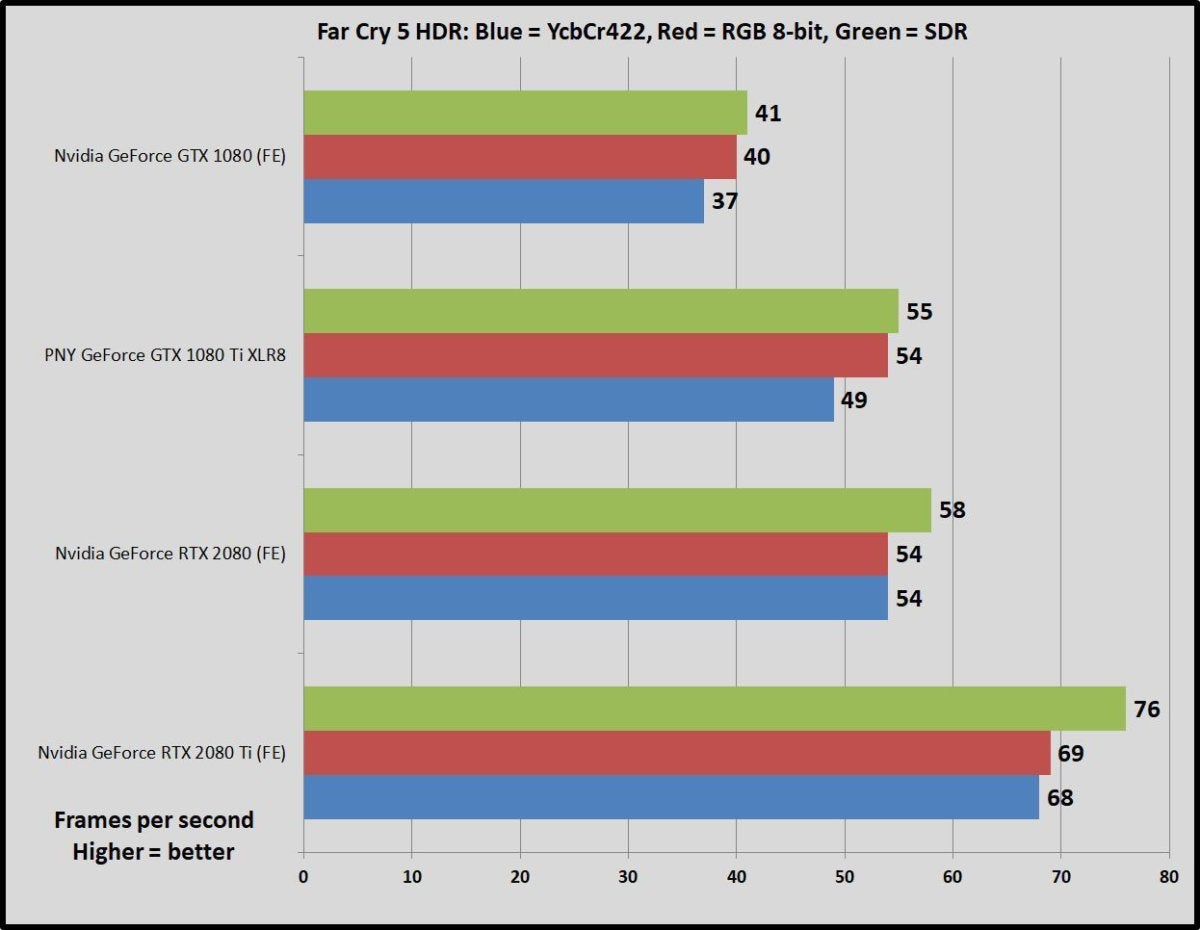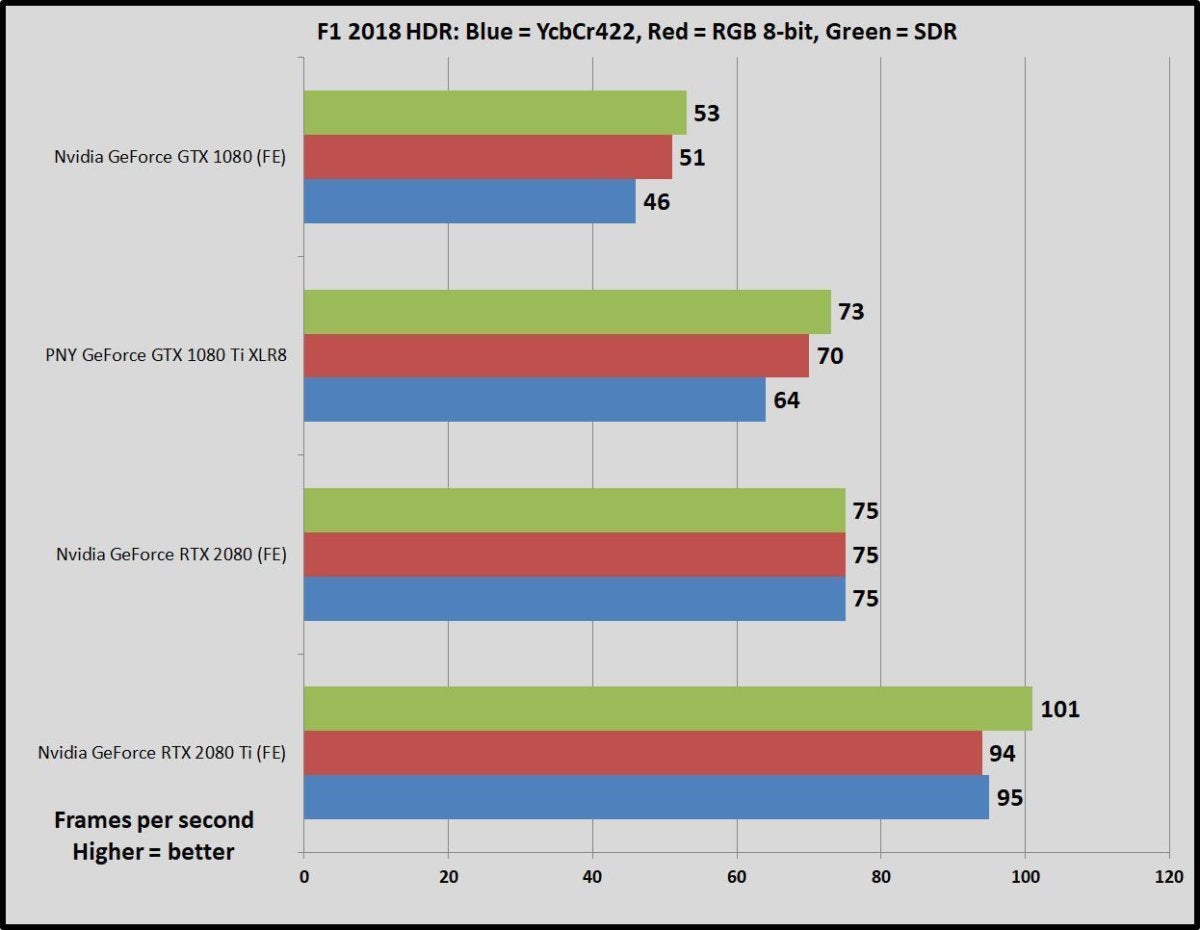 Zero in on the RTX 2080 and GTX 1080 Ti here, as the graphics cards trade blows in overall gaming performance. The RTX 2080 still loses some performance when you switch to HDR, but overall it loses less than the older GTX 1080 Ti, especially when using the YCbCr422 color space (which wrecks the look of onscreen text outside of games). In that worst-case YCbCr422 scenario, the RTX 2080 loses as average of 5.89 percent performance across all four HDR-enabled games; the GTX 1080 Ti loses an average of 10.38 percent. That's a significant improvement, and those numbers will be even lower if you use the superior 8-bit RGB color space option instead.
The GeForce RTX 2080 Ti loses a bigger chunk of performance when it enables HDR, probably because it's moving so many more pixels. It loses an average of 10.24 percent at 4K with YCbCr422 HDR enabled, though again, that loss narrows if you move to 8-bit RGB. Even with the HDR hit, the GeForce RTX 2080 Ti still blows away the competition.
Next page: Ray tracing and DLSS performance
Turing tomorrow: Ray tracing and DLSS performance
Now for the tricky part. The very reason the GeForce RTX 2080 and RTX 2080 Ti exist is for a new wave of games—ones powered by ray tracing and augmented by machine learning. A huge amount of the Turing GPU's die is dedicated to the tensor and RT cores required for those newfangled technologies. But even though Nvidia has more than 25 games lined up to support ray tracing or Deep Learning Super Sampling, few to none of those will be available when the RTX 20-series cards launch.
The first ray traced games won't be available until about a month later, when the Windows 10 October 2018 updates rolls out with support enabled for Microsoft's DirectX Raytracing API (which underpins Nvidia's RTX ray tracing endeavors). Deep Learning Super Sampling leverages the Turing GPU's tensor cores and doesn't need the DirectX Raytracing API, but there's still no word on when games will roll out with DLSS support. Nvidia didn't respond when we asked. Fortunately, it sent over some technological demos to let us see the new technologies in action firsthand, though we couldn't take video of the experiences.
First up: The hilarious Star Wars reflections real-time ray tracing demo by Unreal, which debuted at the RTX 20-series reveal. Yes, we ran this demo directly on our own machine. Here's the trailer:
It proved just as impressive in reality at 1440p and 4K resolution, though not quite as seamless. The demo was created to run at a cinematic 24 frames. You could unlock the frame rate, but it hovered around there on both the GeForce RTX 2080 and RTX 2080 Ti. What did change was the visual quality.
While the video above looks smooth and sharp, running it on my local rig with the RTX cards exhibited some "graininess," the visual noise associated with real-time ray traced graphics. This Quake 2 video shows an extreme version of the effect. It's nowhere near as intense in the Star Wars demo—not even close—but it is there. The graininess almost looks like a film grain effect, but it's more pronounced on the GeForce RTX 2080, which has 56.5 percent fewer RT and tensor cores than the RTX 2080 Ti. (Turing uses RT cores to calculate ray tracing paths, then uses the machine learning-focused tensor cores to de-noise the resulting visuals.)
Mentioned in this article
PNY GeForce RTX 2080 XLR8 Gaming Overclocked Edition
Price When Reviewed:
$849.99
The noisiness is most noticeable in the white Stormtrooper armor. It makes the edges of that armor appear jagged—like it hasn't had proper anti-aliasing applied—when it's on the edge of that armor, against a dark background. The jagged edge effect mostly went away on the GeForce RTX 2080 Ti, and the demo looks beautiful overall despite these criticisms.
You know what doesn't look good, though? Running the Star Wars demo on the GTX 1080 Ti, which lacks the dedicated ray tracing hardware of the RTX 20-series. It does still run—the DirectX Raytracing API has a fallback path for all DirectX 12-capable GPUs—but horribly. Horribly. It hit between 7 to 13 frames per second, depending on the scene, with extreme graininess and jagged edges. Watching it legit made me nauseous. If you want to run ray traced games right now, you need a GeForce RTX 2080 or 2080 Ti.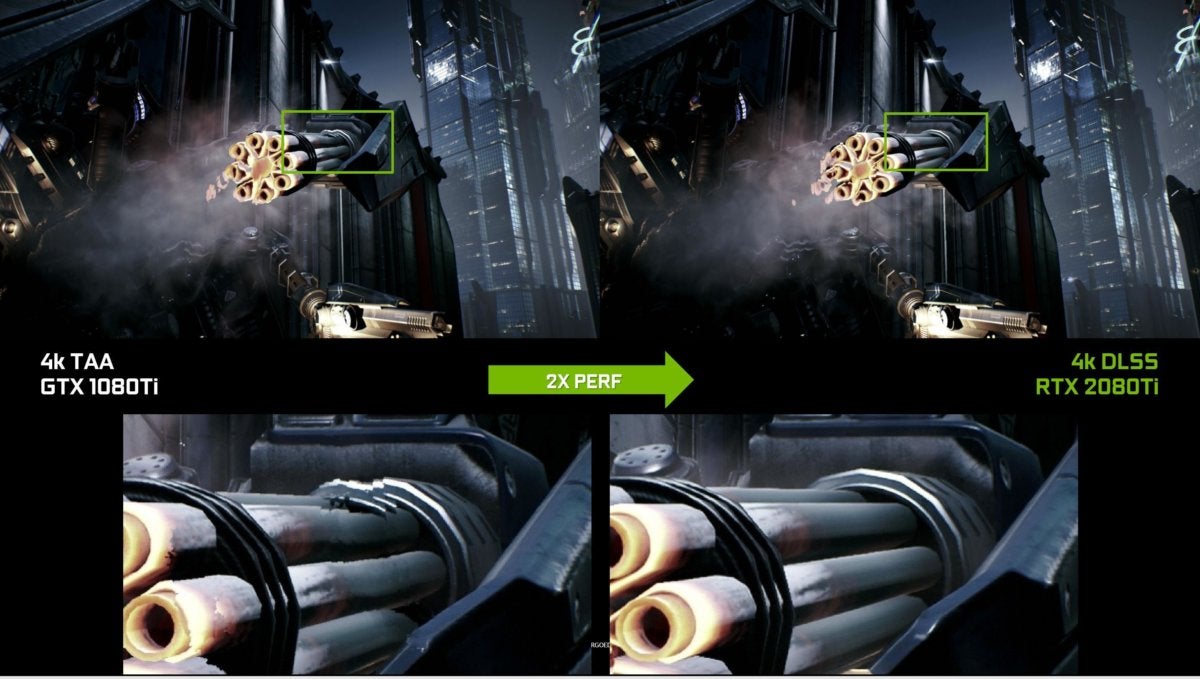 Nvidia also sent over a pair of demos showing off the potential of its Deep Learning Super Sampling technology. We covered the technology in our Turing GPU deep-dive, but to keep it short, DLSS uses tensor cores infused with knowledge from Nvidia's Saturn V supercomputer to apply an antialiasing effect similar to (or better than, with DLSS 2x) temporal anti-aliasing, but at a significantly lower performance hit.
How much lower? Nvidia sent along DLSS-equipped 4K versions of Unreal's Infiltrator demo and the Final Fantasy XV benchmark (which will be made available to the public on September 20). You can run them with either TAA or DLSS active, although DLSS works only with RTX graphics cards imbued with tensor cores. Cue the FRAPS benchmarking tool!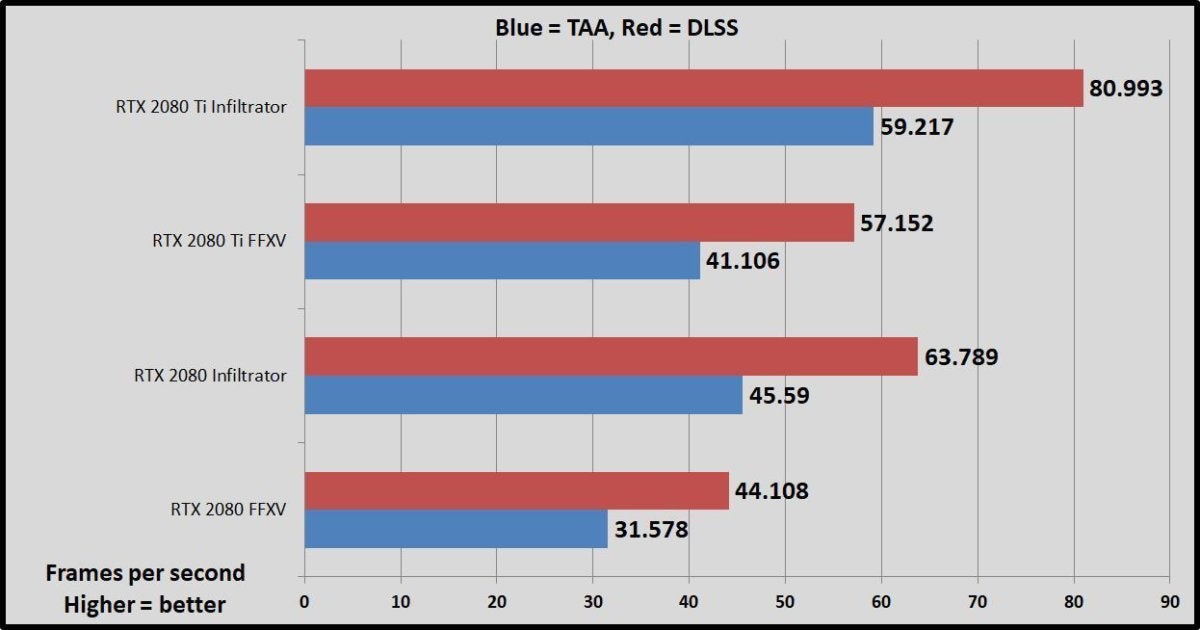 Whoa. That's a massive 39 percent performance uptick across the board with no loss in visual quality, and much better experience overall. The Infiltrator demo chugs and stutters with TAA enabled when the hero's under fire by a chaingun toward the end, for example, and again when he loads the rocket launcher attachment onto his gun. With DLSS enabled, those scenes become perfectly smooth. That universal 39 percent performance uptick is even more impressive when you consider that the RTX 2080 crams in only about half as many tensor cores as the RTX 2080 Ti.
It's seriously impressive stuff, and I'm very excited to see if this sort of performance improvement proves sustainable outside of canned demos. DLSS is coming to a slew of games, including heavy hitters like Ark: Survival Evolved, PlayerUnknown's Battlegrounds, Hitman 2, Shadow of the Tomb Raider, and Hellblade: Senua's Sacrifice. The only question is when.
Next page: Should you buy GeForce RTX?
Should you buy the GeForce RTX 2080 and RTX 2080 Ti?
And that's the question that plagues the GeForce RTX 2080 and RTX 2080 Ti's launch. When?
Nvidia's beastly Turing-powered graphics cards were built for the bleeding-edge future of gaming. Some of those fruits bear results today; these cards display HDR visuals much more efficiently, and the GeForce RTX 2080 Ti is the first graphics card capable of shattering the previous 4K/60 performance barrier, especially if you're willing to dial back some graphics options. VirtualLink is supported by so many companies the first compatible headsets don't seem very far off, either. Those are tangible gains for gaming enthusiasts that could be boosted even further if DLSS takes off.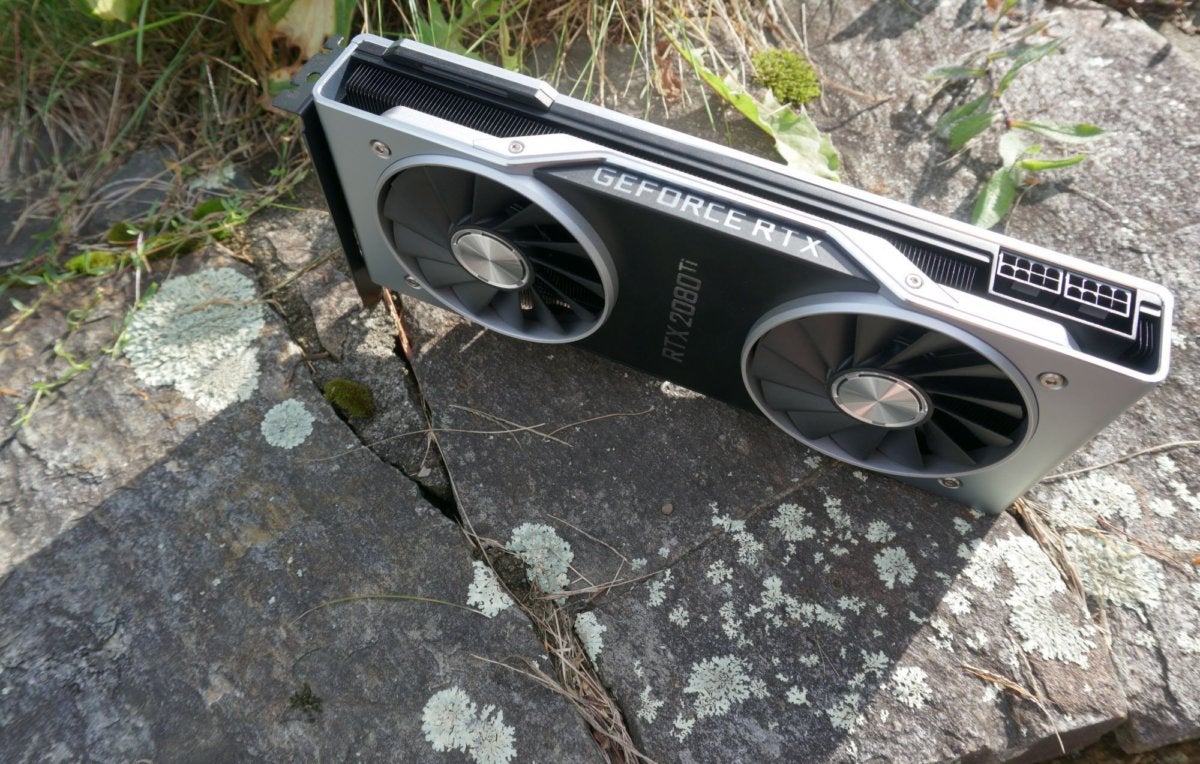 Could be. If. When. So much of the GeForce RTX 2080 and GeForce RTX 2080 Ti's true potential lies in technologies that simply aren't available today, even for reviewers. Deep Learning Super Sampling holds awesome potential if it's embraced by developers. Every developer I've talked to positively gushes about the idea of real-time ray tracing finally being achievable, though its performance impact remains to be seen. These could be tectonic shifts in PC gaming. Could be. Today, buying a GeForce RTX 2080 or RTX 2080 Ti requires a leap of faith.
Mentioned in this article
EVGA GeForce RTX 2080 XC GAMING
Price When Reviewed:
$799.99
That leap of faith's even more daunting when you consider the staggering price of these graphics cards. The GeForce RTX 2080 Founders Edition costs $800 at Best BuyRemove non-product link and GeForce.com, and the GeForce RTX 2080 Ti costs $1,200 at Best BuyRemove non-product link and GeForce.com. The previous-gen GTX 1080 started at $600, and the GTX 1080 Ti launched at $700. Remember, however, that Nvidia says models of the RTX 2080 will start at $700, and you'll eventually find GeForce RTX 2080 Ti models at $1,000.
But again: When? Just like last generation, the initial wave of custom RTX graphics cards treats the Founders Edition price as the baseline rather than a premium. Don't expect to see those lower prices for a while. The move to the RTX 20-series effectively increased graphics card pricing by hundreds of dollars, and the futuristic new hardware that caused the hike can't be used right now.
So we're holding off on a final rating until ray tracing, DLSS, and Nvidia's other new technologies start hitting the streets. These cards are built for tomorrow. We can't render a final verdict today.
What we can do is offer advice based on the information available.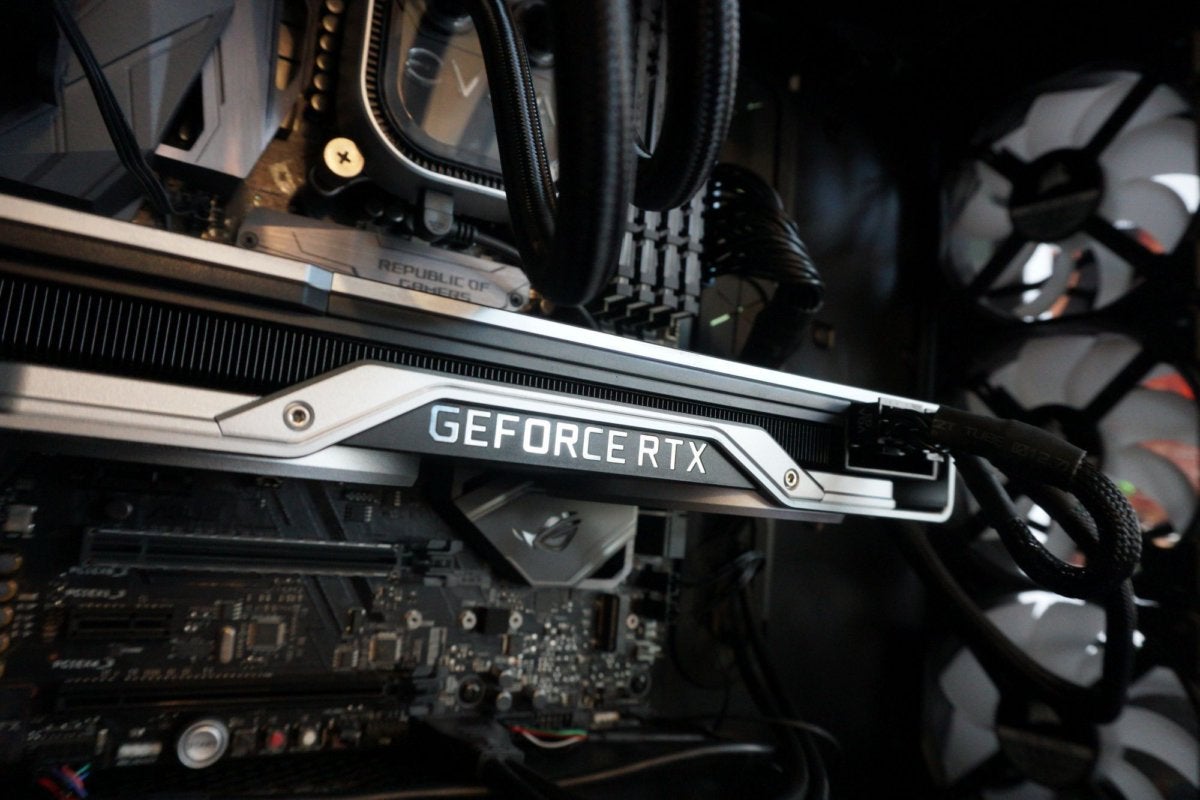 The GeForce RTX 2080 Ti is the easy one. The huge jump from $700 to $1,000—though you'd need to pay $1,200 to buy one today—is hard to swallow, but some enthusiasts spare no expense on driving as many frames as possible. If you've got deep pockets and the burning desire to feed a 4K, 144Hz monitors like the G-Sync HDR-equipped, $2,000 Predator 27 or the wave of (comparatively) more affordable high-speed Acer displays, the GeForce RTX 2080 Ti is the only real option. It's the fastest graphics card ever released, and friends, it makes for an utterly sublime pairing with the Predator X27.
The GeForce RTX 2080 Ti's gains over the GTX 1080 Ti at 4K resolution ranges from 11.5 percent in GTA V to a whopping 45.28 percent in Shadow of War. Averaged across our entire testing suite, it's about 33 percent faster than its predecessor. The GeForce RTX 2080 Ti obliterates the speed vs. fidelity compromise of the 4K/60 era, and it could wind up achieving even loftier heights if DLSS takes off. Right now, today, it's enabling experiences that simply weren't possible before, though you pay for the privilege. And Nvidia's revamped Founders Edition design is surprisingly sturdy, attractive, and effective.
The GeForce RTX 2080 is trickier.
Mentioned in this article
Predator X27
Price When Reviewed:
$1999.99
The Founders Edition card carries a slight overclock, and trades blows with an overclocked PNY GTX 1080 Ti in traditional games. You can buy a custom, overclocked GTX 1080 Ti for $700 on Newegg right now, or even less if you find a deal, which isn't too hard to do. The GeForce RTX 2080 Founders Edition costs $800, and custom cards sell for more—sometimes significantly so. We've yet to test the effectiveness of the one-click Nvidia Scanner overclocking tool, and we're laying hands on custom RTX 2080 cards soon to see how far they're able to push. But compared to an overclocked GTX 1080 Ti out of the box, you're paying a significant price premium for the GeForce RTX 2080 today, with no increase in traditional performance.
Deep Learning Super Sampling is like black magic in the demos we tested. If DLSS blows up and stays true to the 39-percent performance gains shown in our Nvidia-provided demos, that could push the GeForce RTX 2080 well past the GTX 1080 Ti in supported titles. Could. Our hands-on with the Star Wars demo proves that the GTX 1080 Ti sucks at ray tracing, so if you believe that developers will embrace the technology en masse in the near future, you might spend the RTX 2080's premium to ensure a seat on the train. Remember, though, that the cut-down RTX 2080 itself doesn't render the Star Wars demo as cleanly as the pricier RTX 2080 Ti. And we still don't know what sort of performance impact real-time ray tracing will have in games—or how the final results will look.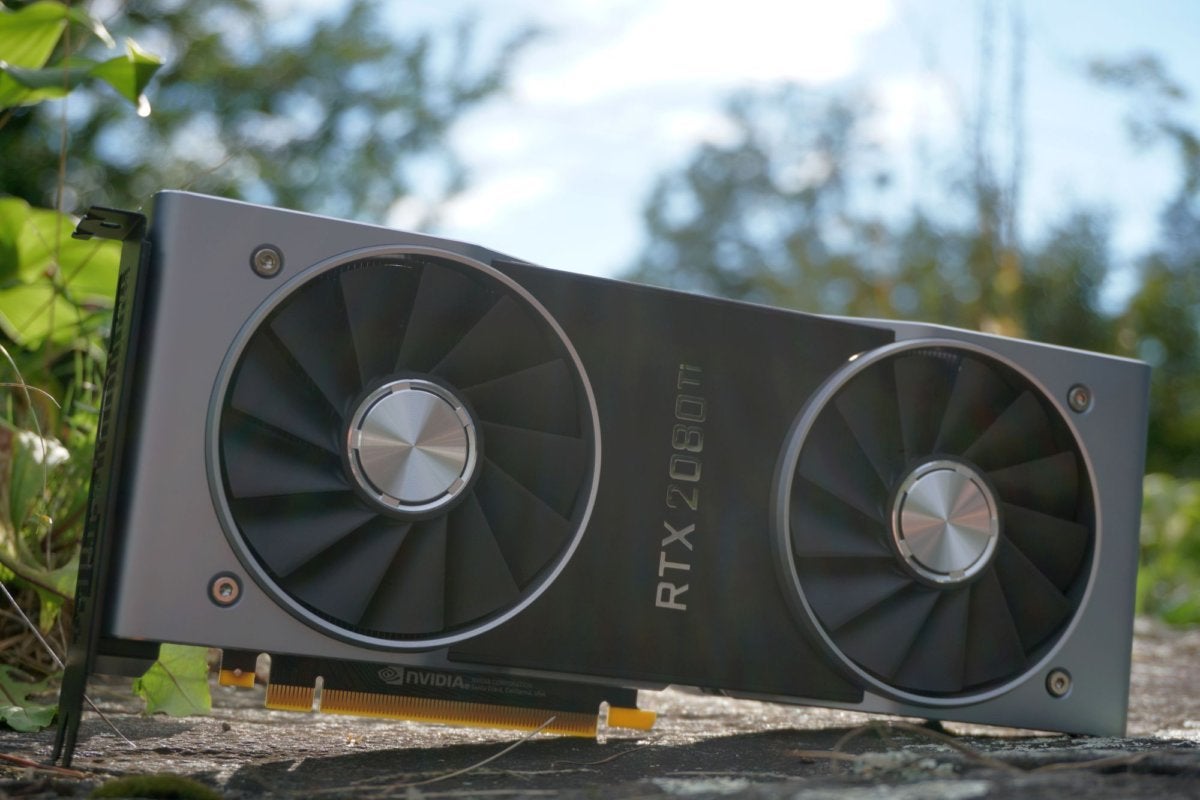 Like I said: Investing in the GeForce RTX 20-series today is a leap of faith, especially for the RTX 2080. I can't deny the mouth-watering potential of DLSS and ray tracing, but who knows what the future will bring? Lots of people expected DirectX 12 to explode two GPU generations ago, after all. If you believe in Nvidia's vision and want to help crack this technology's chicken-or-the-egg scenario, by all means, buy in. You know what you're getting into as far as traditional gaming performance, at least. But if, like us, you want more proof before reaching a verdict on these futuristic graphics cards, the wait for benchmarks continues.
We'll update this review when those ray tracing and DLSS benchmark results become possible.
Best Prices Today: GeForce RTX 2080 Ti Founders Edition