At a Glance
Expert's Rating
Pros
Excellent 4K/60 or 1440p/144Hz gaming
Very low GPU temperature in Performance mode
Virtually silent in Quiet mode
Stuffed with features: Dual BIOS, RGB and fan headers, etc.
RT and tensor cores for ray tracing, DLSS, and more
Cons
Extremely expensive
Matches GTX 1080 Ti's performance in games
Ray traced and DLSS games aren't available yet
Massive; may not fit in some cases
Our Verdict
The powerful, massive Asus ROG Strix RTX 2080 lets you choose between chilly temperatures or near-silent operation, outclassing the Nvidia Founders Edition in every way. It's huge and very pricey, though.
Best Prices Today: ROG Strix RTX 2080
The hulking Asus ROG Strix GeForce RTX 2080 shows how Nvidia's graphics card partners can still stand out from the crowd in an era when Nvidia's making it harder than ever to shine.
Last generation, all customized GTX 1080 Ti graphics cards plateaued at virtually the same level of performance. Custom cards were notably better than Nvidia's own GTX 1080 Ti Founders Edition, though, because Founders Edition cards were restrained by reference clock speeds and a subpar single-fan, blower-style cooler.
This generation, it's looking like power limits will impose a new ceiling on GeForce RTX 2080 performance—but now, Nvidia's vastly improved RTX Founders Edition cards pack a dual-fan cooler, a gorgeous design, and an 80MHz out-of-the-box overclock. Nvidia's competing against its own partners something fierce.
The ROG Strix RTX 2080 ($870 on NeweggRemove non-product link) fights back with heavy metal. Asus equipped the card with a massive heat sink, three fans, and extra features galore, giving the Strix RTX 2080 the ability to run incredibly cold—or virtually silent. The choice is yours.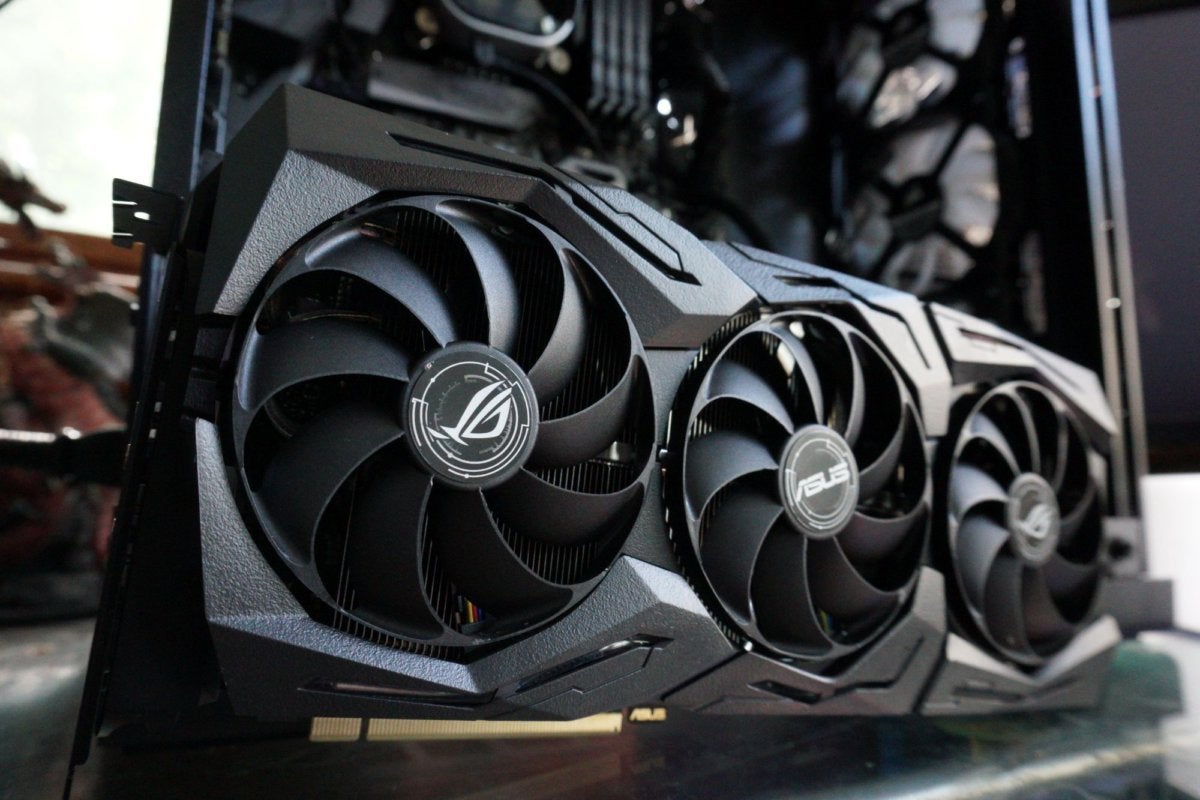 Asus ROG Strix RTX 2080 specs
Let's take a quick look at the ROG Strix 2080's specifications.
The raw specs aren't very different from those of Nvidia's GeForce RTX 2080 Founders Edition at their core. The ROG Strix RTX 2080 offers a higher factory overclock, at 1,860MHz compared to the FE's 1800MHz. (The RTX 2080's reference boost clock is 1,710MHz.) If you install Asus's GPU Tweak II software, you'll unlock another "OC Mode" that bumps up the clock to 1,890MHz. Memory sticks to stock speeds.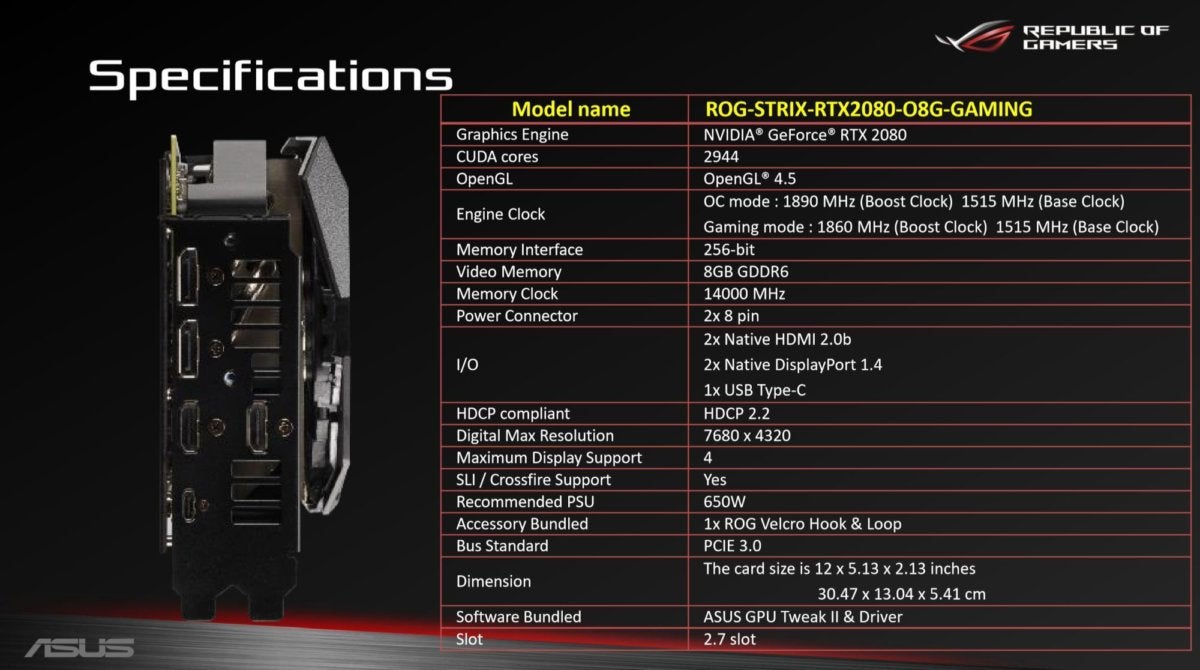 Asus crammed an extra HDMI 2.0b port into the ROG Strix, bringing the card's total to a pair of HDMI 2.0b ports and twin DisplayPort 1.4 connections. They're joined by a VirtualLink USB-C connection for future virtual reality headsets. The card also features an upgraded power configuration for overclocking, requiring a pair of 8-pin power connectors compared to the Founders Edition's 6-pin + 8-pin setup.
The ROG Strix RTX 2080 also includes the RT cores and tensor cores required to enable new and potentially amazing RTX graphics technologies, including ray tracing and Deep Learning Super Sampling. Our Turing GPU deep-dive explains how the new technologies work, but unfortunately, we can't test them today. Ray tracing and DLSS aren't currently enabled in any games, though Nvidia says the first ray traced games will show up sometime in October.
But enough about the spec sheet. The fearsome cooler design and extra features make the Asus ROG Strix RTX 2080 special.
Asus ROG Strix 2080 features and cooler design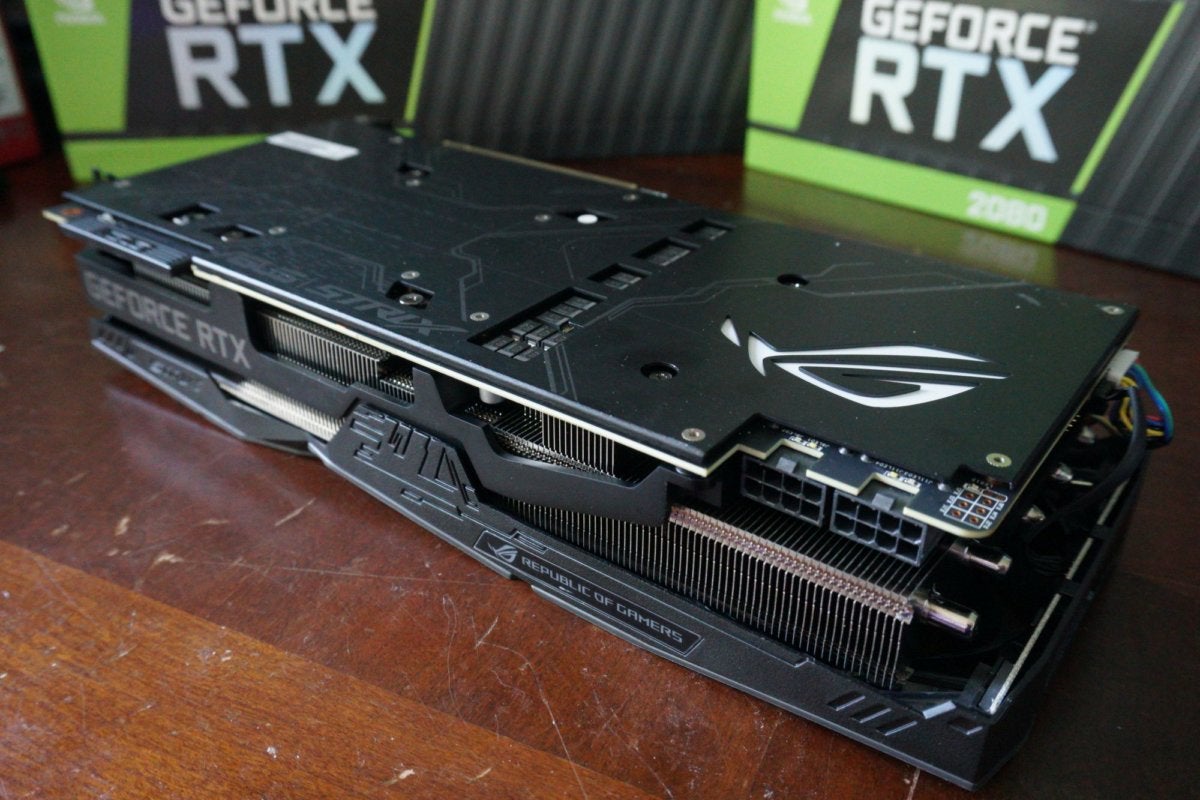 The ROG Strix 2080 builds upon the success of last generation's very impressive Strix design. This massive triple-slot graphics card measures a foot long and well over two inches thick, and it's utterly bristling with fans, heat pipes, and a mammoth heat sink. The cooler's so big that Asus reinforced it with a metal brace that runs the length of the card, mounted to both the backplate and the I/O shield, to prevent it from bending your PCB slot. Nobody likes GPU sag.
The cooling starts with "MaxContact Technology," a precision machining technique that Asus claims makes the heat spreader 10 times flatter than usual, resulting in twice as much surface contact with the graphics chip. That helps transfer more heat into the gargantuan aluminum heat sink, which has over 20 percent more surface area than its predecessor, Asus says. Three big axial-tech fans blow the heat out of the card.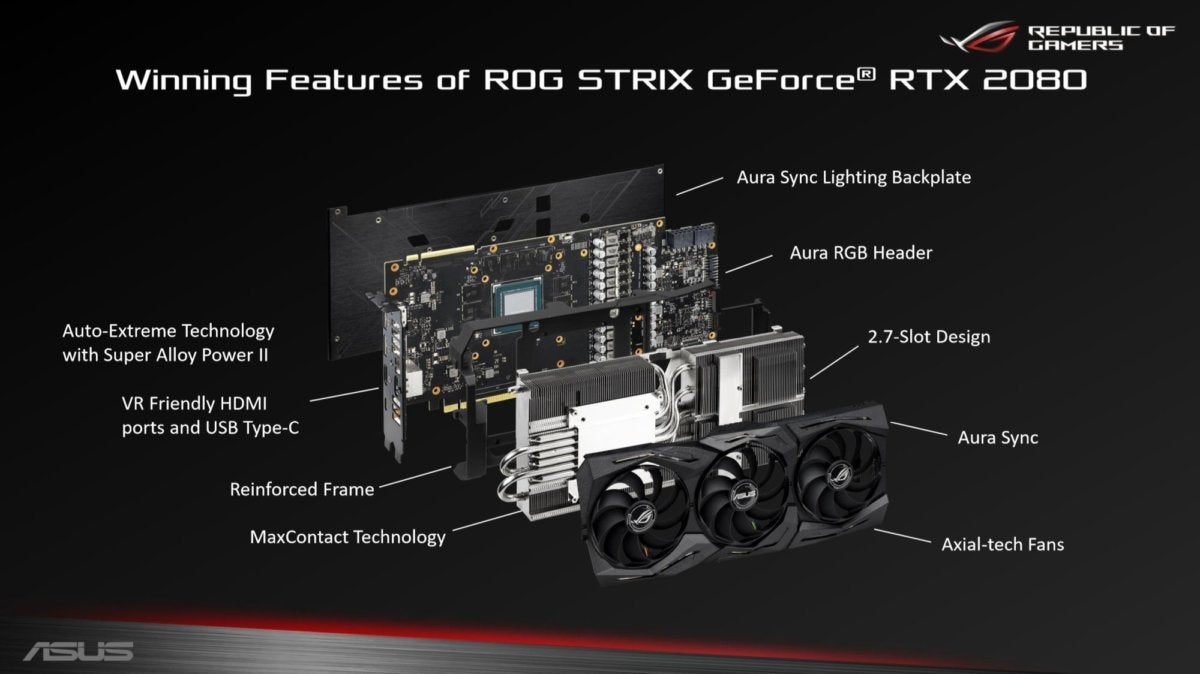 Asus loaded the ROG Strix RTX 2080 with dual BIOSes, which can be toggled via a small switch on the outer edge of the card, centered but underneath the card's attractive backplate. By default, it's flipped to the left for Performance mode; flipping it to the right activates Quiet mode. Performance mode optimizes for lower temperatures, so the fans always spin. Quiet mode optimizes for acoustics, so it has a much less aggressive fan curve, and the fans go idle if the GPU core temperature drops below 55 degrees Celsius. Both are tremendously effective at their given goals, as you'll see in our benchmark results later.
The precision-machined PCB features the 10+2 phase "Super Alloy Power II" power delivery system. Asus claims SAP II delivers better overclocking headroom, lower temperatures, more efficient power delivery, less electric buzzing, and enhanced long-term durability.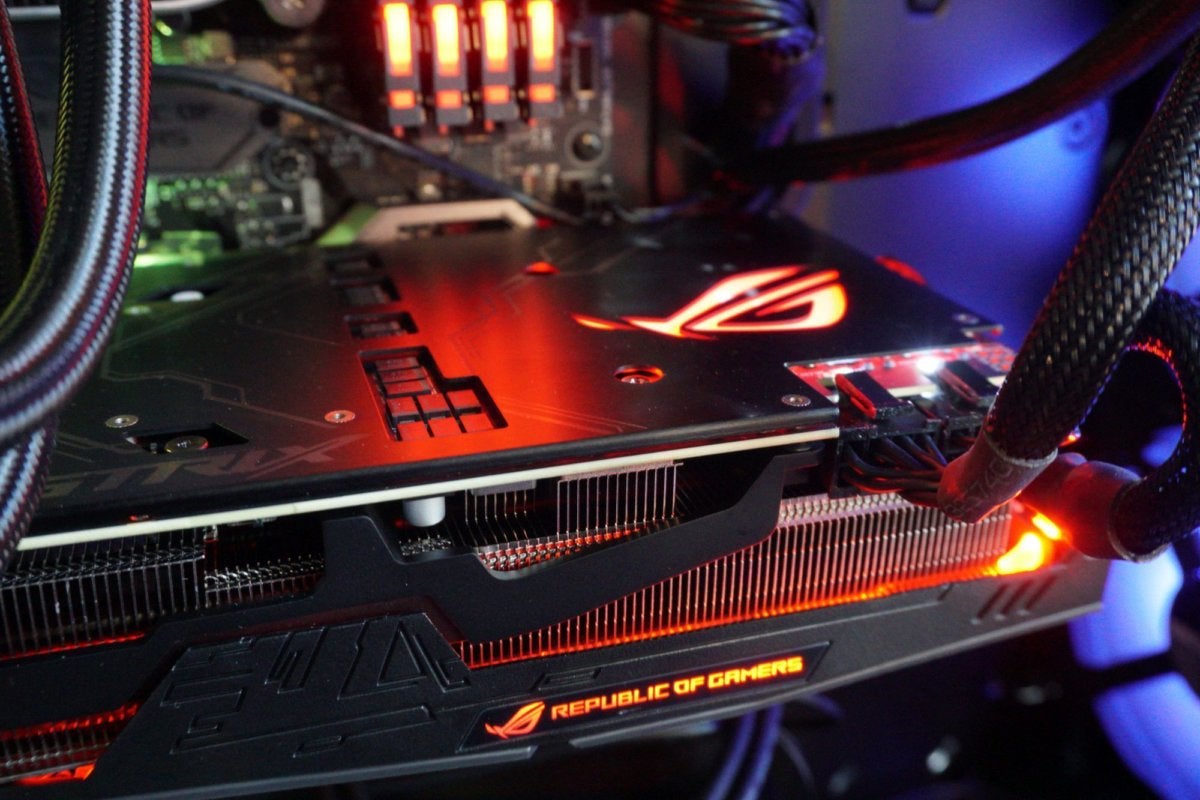 The ROG Strix RTX 2080 comes laden with RGB LEDs, though you can disable them quickly by pressing a "Stealth Mode" button embedded in the card's backplate. The ROG logo on the backplate and the "Republic of Gamers" text on the edge of the graphics card both light up, as do accents around the triple fans. A colorful glow emits from throughout the heatsink. It's controlled via the Asus Aura Sync software, and you'll find an Aura SYNC RGB header on the end of the graphics card, next to a pair of 4-pin fan headers. If you plug fans into these, they'll be managed by the fan curves you set in the Asus GPU Tweak II software—handy if you point a fan directly at the Strix 2080.
Bottom line: As a complete package, the Asus ROG Strix RTX 2080 is huge, impeccably manufactured, and just plain impressive. You could almost call it intimidating. Let's see how it handles on the test bench.
Next page: Our test system, gaming benchmarks
Test system configuration
We overhauled our dedicated graphics card test system for this new generation of graphics cards, as our older Core i7-5960X rig was starting to show its age. We equipped the system with some of the fastest complementary components available to put the performance bottlenecks squarely on the GPU itself. Most of the hardware was provided by the manufacturers, but we purchased the cooler and storage ourselves. Here's what's inside:
We're comparing the Asus ROG Strix RTX 2080 ($870 on NeweggRemove non-product link) against GeForce RTX 2080 Founders Edition ($799 at Best Buy or GeForce.com) and RTX 2080 Ti Founders Edition ($1,199 at Best Buy and GeForce.com), of course. We've also tested its performance compared to the the GeForce GTX 1080 Founders Edition and PNY GeForce GTX 1080 Ti. Neither of those are on sale any longer, but you can find other customized GTX 1080s starting around $470 on Newegg, and custom GTX 1080 Tis starting around $700 on Newegg. Finally, to give the Red Team some representation we've included the results from the Radeon RX Vega 64 reference card, AMD's most potent GPU. Custom Vega 64 models start around $500 on Newegg, though most sell for $550 or more.
Each game is tested using its in-game benchmark at the highest possible graphics presets, with VSync, frame rate caps, and all GPU vendor-specific technologies—like AMD TressFX, Nvidia GameWorks options, and FreeSync/G-Sync—disabled, and temporal anti-aliasing (TAA) enabled to push these high-end cards to their limits. If anything differs from that, we'll mention it.
ROG Strix RTX 2080: Performance vs. Quiet vs. OC mode
The following benchmarks results were taken using Performance mode, the default configuration for the Asus ROG Strix 2080. We've tested the card's Quiet and OC modes as well, though and wanted to share some quick comparisons and thoughts for each.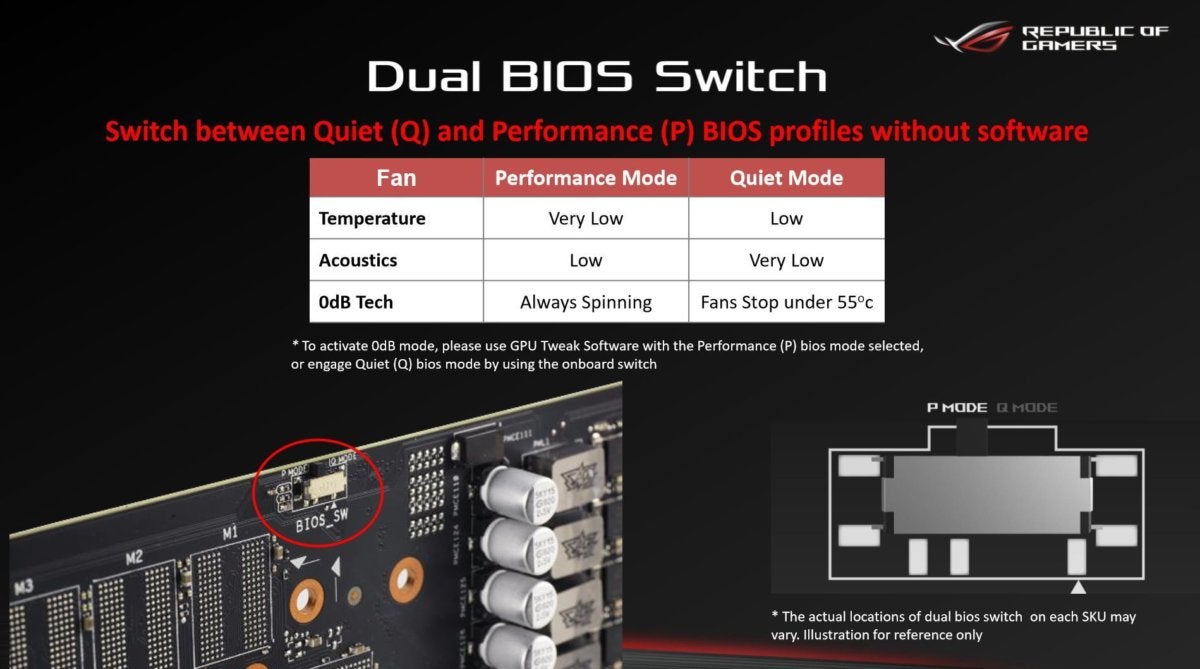 Quiet mode benchmarks are identical to Performance mode's, within a margin of error. Only temperatures and noise levels differentiate the two. We'll dive more deeply into those differences in the thermal and acoustics section later in the review.
We didn't test with the Asus OC mode for a couple of reasons. First of all, activating it requires downloading the separate Asus GPU Tweak II software, which many users may not do. Second, the 30MHz it adds doesn't equate to any real additional performance in games. Overclocking RTX graphics cards is a bit tricky overall, actually. While you can indeed approach or break the 2,000MHz barrier often, the cards don't necessarily run at full clock speeds at all times.
Instead, Nvidia's imposed power and voltage limits often ramp down performance in more demanding titles and scenes. You might be able to hit 2,000MHz in your overclocking software, and see a performance uplift in synthetic benchmarking tools like Fire Strike or Unigine Heaven, but we're not seeing many additional frames per second in actual games even with power, temperature, and voltage raised to the maximum. The power limit holds performance back, not the raw maximum clock speed.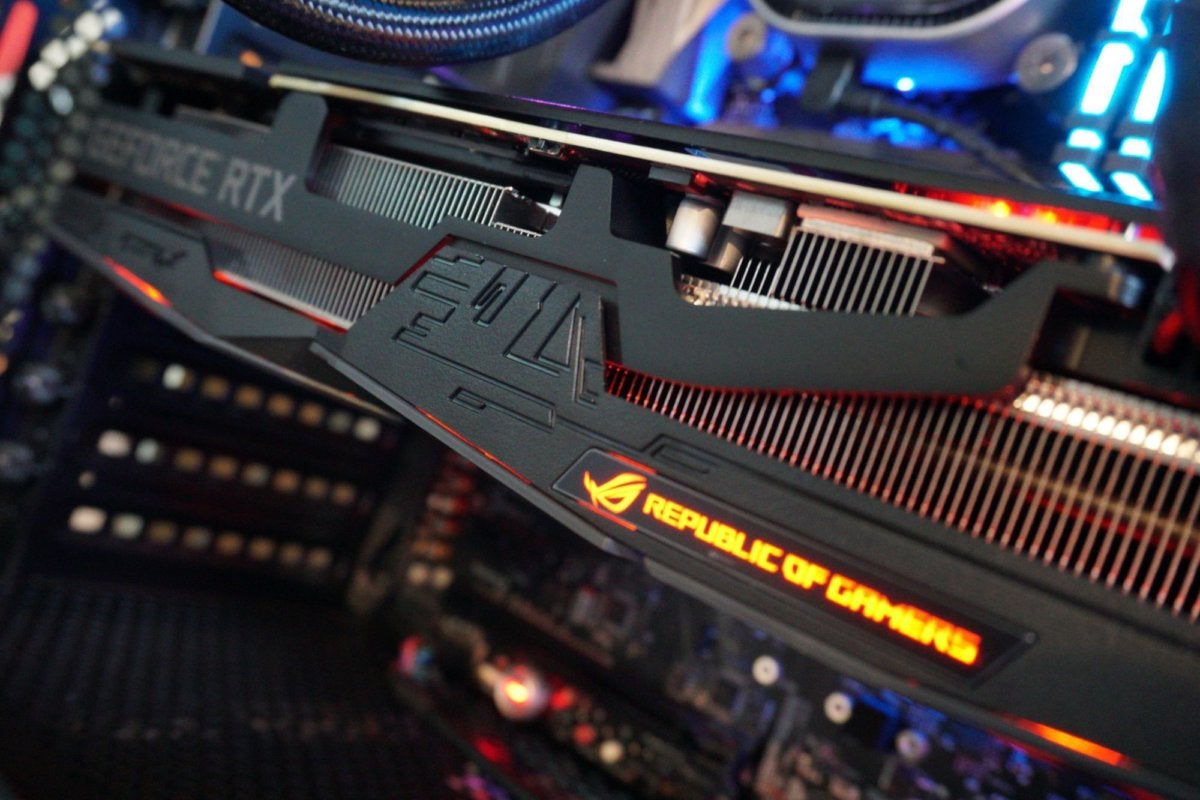 Adding insult to injury, Nvidia lets you boost the RTX 2080 Founders Edition's power limit by 23 percent. Asus lets you raise the ROG Strix RTX 2080's power limit by 25 percent. Again, Nvidia's homebrew graphics cards are competing hard with the customized partner options.
Our ROG Strix review sample lost the silicon lottery regardless. After applying OC mode, we were only able to add another 60MHz in manual overclocking, topping out at 1,950MHz. That's well above the RTX 2080's 1,710MHz reference boost clock, but below the 2,000MHz-plus we've seen on some other RTX GPUs.
Next page: Gaming performance benchmarks begin
Asus ROG Strix RTX 2080 gaming performance
Strange Brigade
Let's kick things off with Strange Brigade ($50 on Humble), a cooperative third-person shooter where a team of adventurers blast through hordes of mythological enemies. It's a technological showcase, built around the next-gen Vulkan and DirectX 12 technologies and infused with features like HDR support and the ability to toggle asynchronous compute on and off. It uses Rebellion's custom Azure engine.
We tested DirectX 12 with async compute off, as it traditionally only boosted Radeon GPUs, though the RTX 20-series makes huge gains in those regards thanks to its revamped GPU architecture. We'll likely enable the feature in future tests. The gains amount to only a couple of frames per second in this game, though.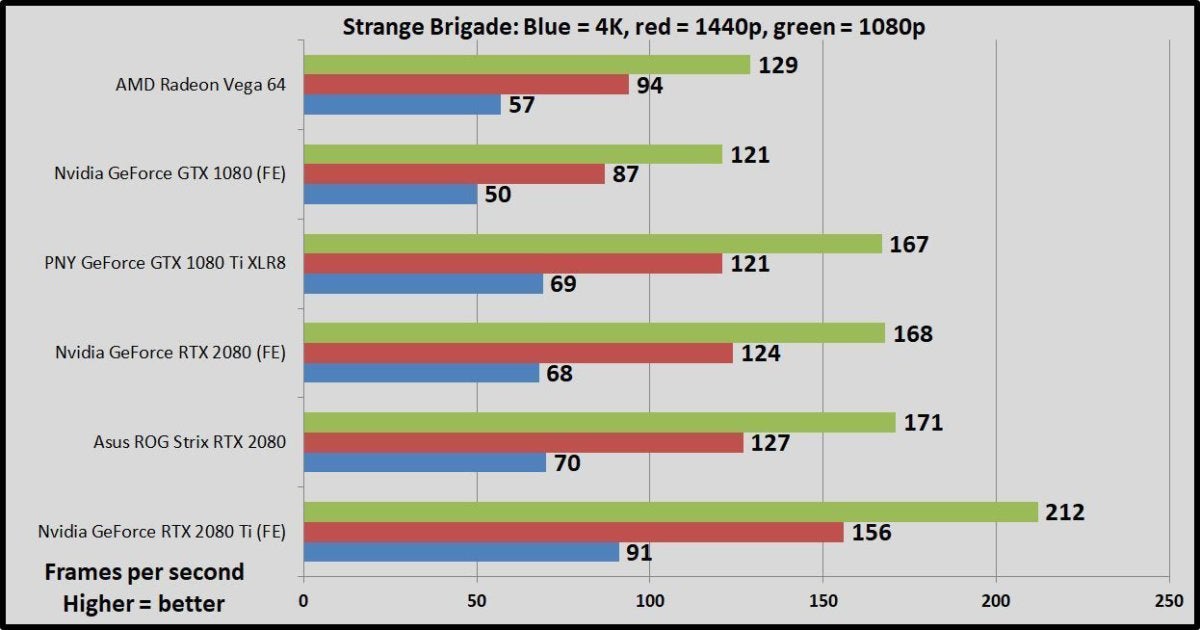 The Asus ROG Strix pulls ahead of the Nvidia RTX 2080 Founders Edition by a few percentage points across all resolutions, a trend you'll see across the board in our test suite. We'll mostly let the games benchmarks speak for themselves because of that. For a more in-depth analysis of how the RTX 2080 compares against its rivals and predecessors, be sure to read our GeForce RTX 2080 and RTX 2080 Ti review.
Shadow of the Tomb Raider
Shadow of the Tomb Raider ($60 on Humble) concludes the reboot trilogy, and it's utterly gorgeous—so much so that even the state-of-the-art GeForce RTX 2080 Ti barely manages to average 60 fps with all the bells and whistles turned on at 4K resolution. Square Enix actually optimized this game for DX12, and only recommends DX11 if you're using older hardware or Windows 7, so we test with that. Shadow of the Tomb Raider uses an enhanced version of the Foundation engine that also powered Rise of the Tomb Raider.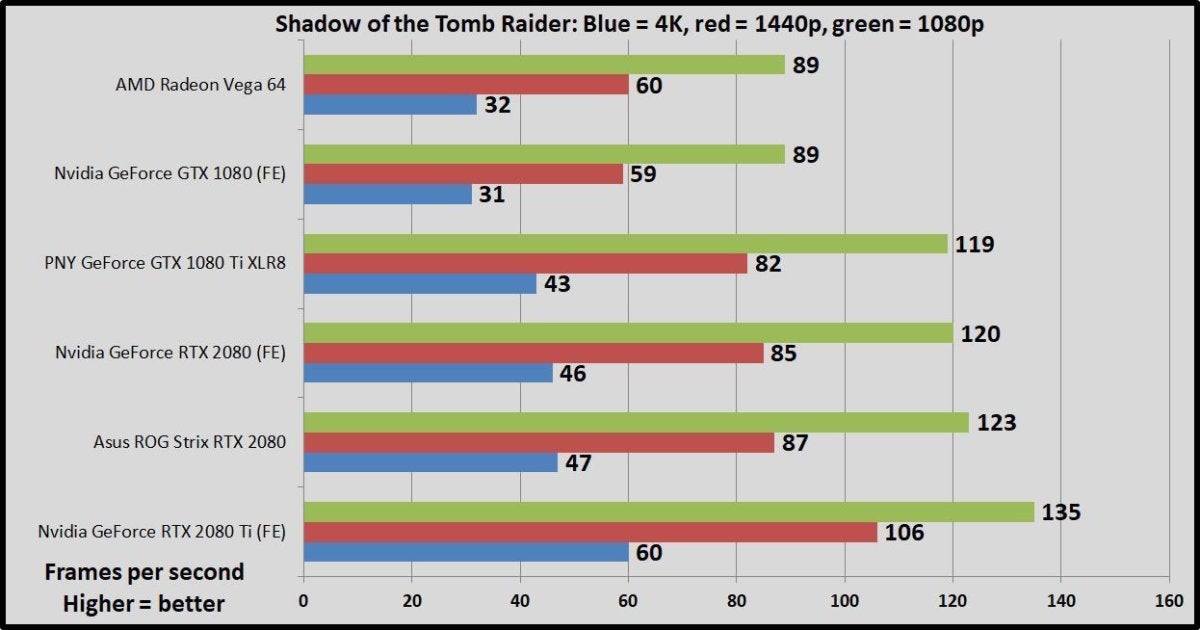 Far Cry 5
Finally, a DirectX 11 game! Far Cry 5 ($60 on Humble) is powered by Ubisoft's long-established Dunia engine. It's just as gorgeous as its predecessors—and almost even more fun. The game also supports HDR. More on that later.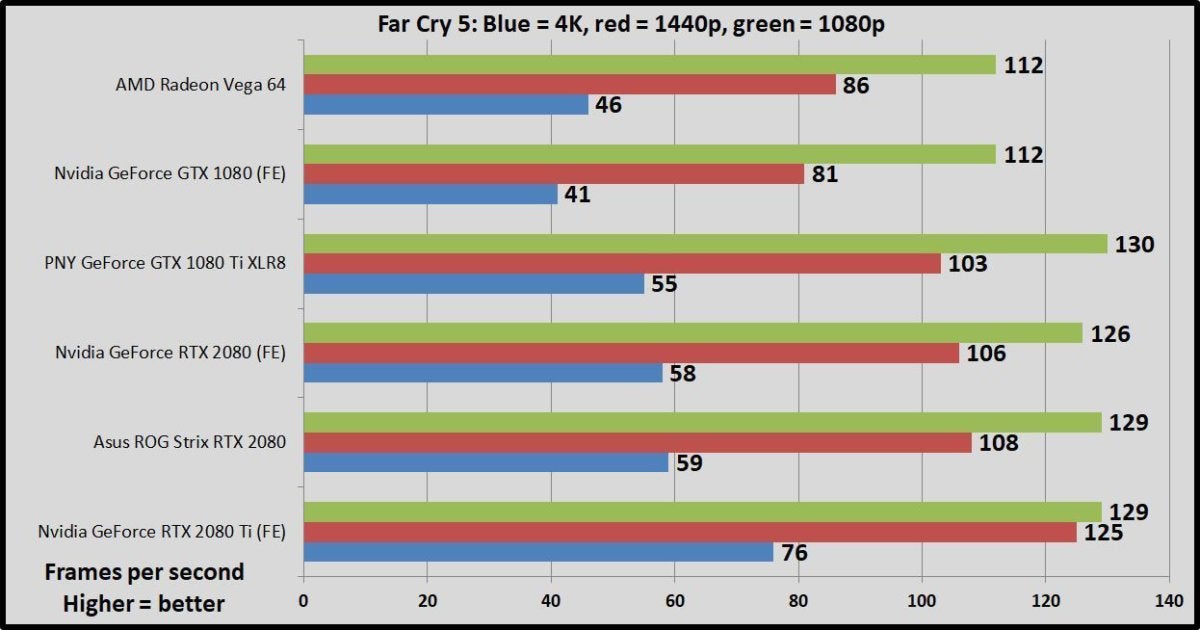 Next page: Gaming performance benchmarks continue
Ghost Recon Wildlands
Move over, Crysis. If you crank all the graphics options up to 11, like we do for these tests, Ghost Recon Wildlands ($50 on Humble) and its AnvilNext 2.0 engine absolutely melts GPUs. Even the GeForce RTX 2080 Ti can't come close to 60 fps at 4K resolution. Dropping the graphics settings down to Very High or High greatly increases performance, but we don't do that in our testing.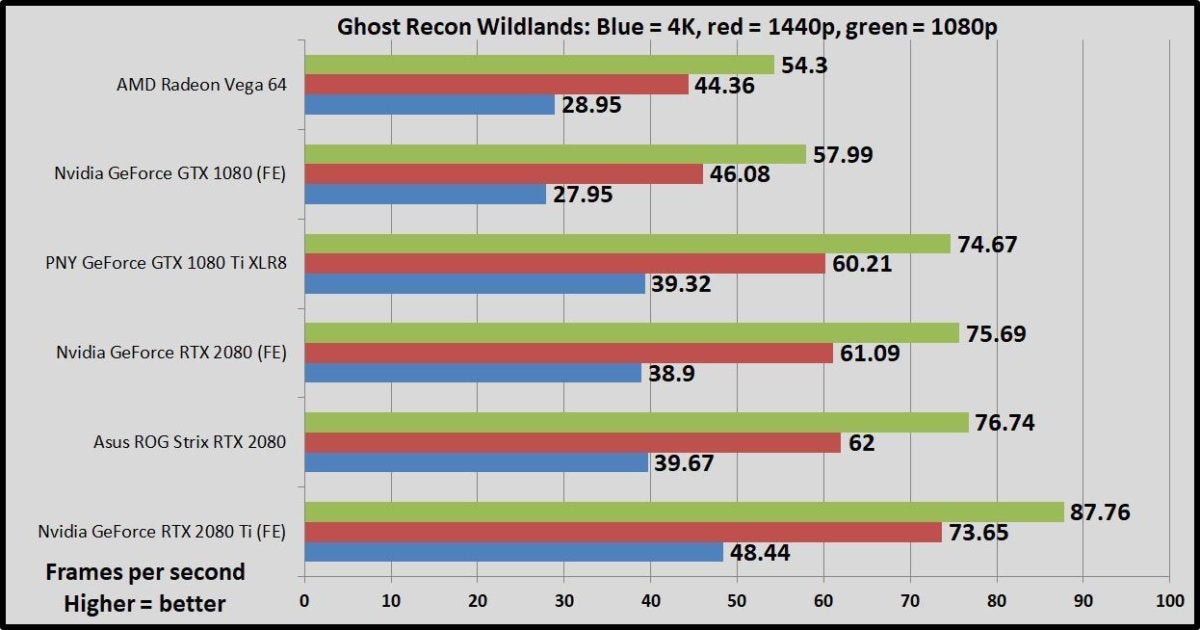 Middle-earth: Shadow of War
Middle-earth: Shadow of War ($50 on Humble) adds a strategic layer to the series' sublime core gameplay loop, adapting the Nemesis system to let you create an army of personalized Orc commanders. It plays like a champ on PC, too, thanks to Monolith's custom LithTech Firebird engine.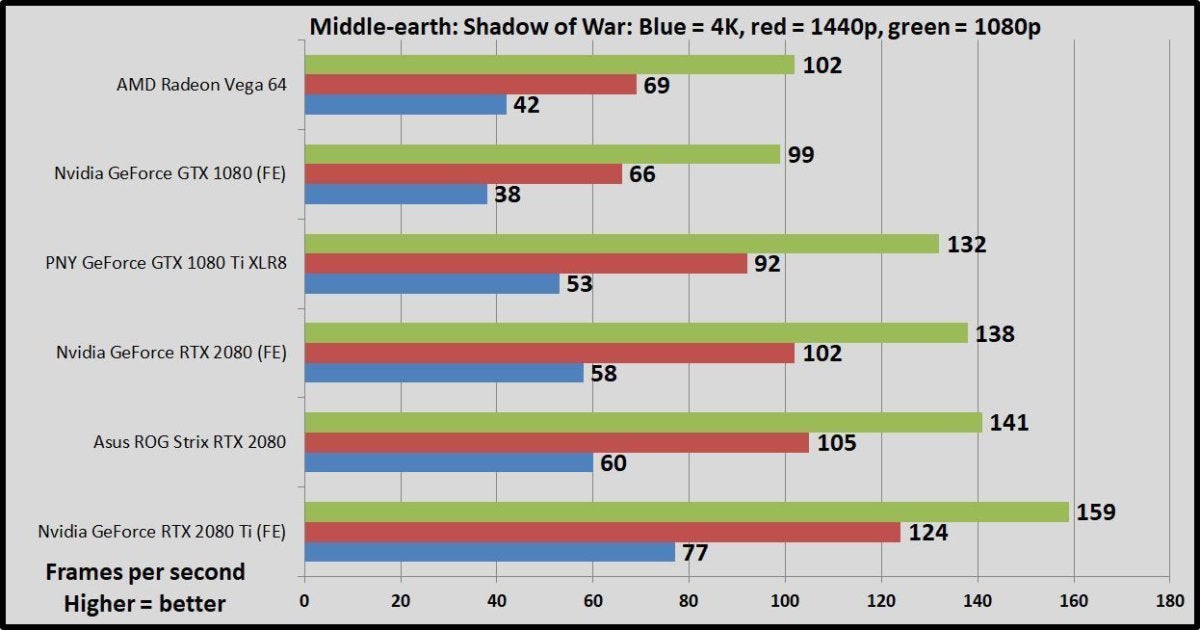 F1 2018
The latest in a long line of successful games, F1 2018 ($60 on Humble) is a benchmarking gem, supplying a wide array of both graphical and benchmarking options—making it a much more reliable option than the Forza series. It's built on the fourth version of Codemasters' buttery-smooth Ego game engine. We test two laps on the Australia course, with clear skies.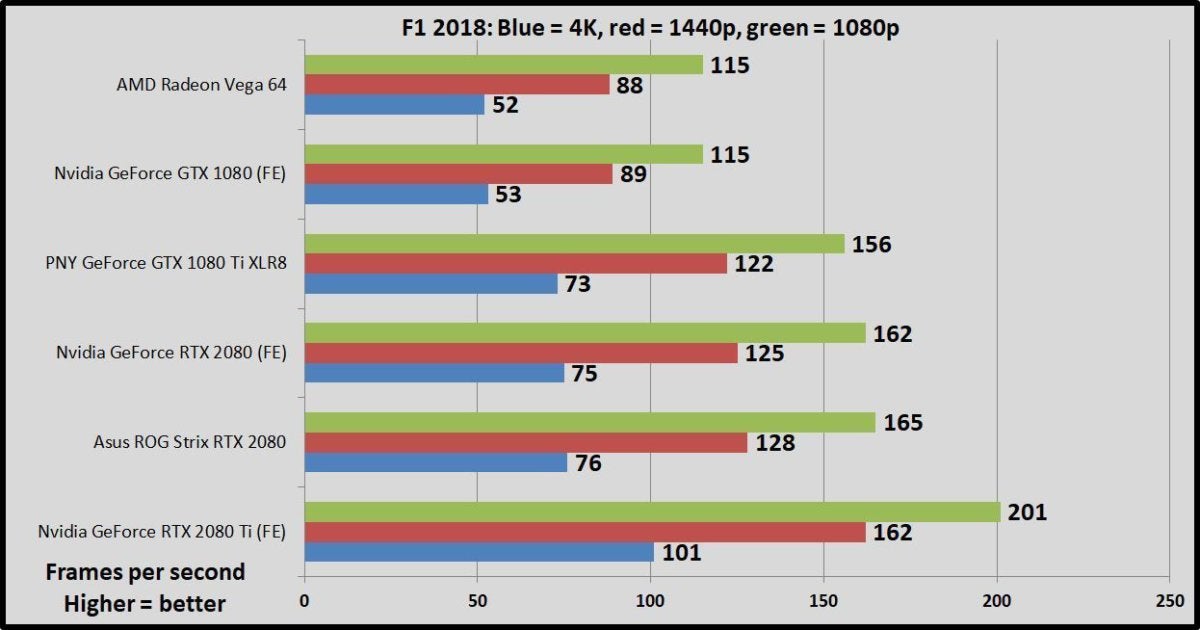 Next page: Gaming performance benchmarks continue
Ashes of the Singularity: Escalation
Ashes of the Singularity ($40 on Humble) was one of the very first DX12 games, and it remains a flagbearer for the technology to this day thanks to the extreme scalability of Oxide Games' next-gen Nitrous engine. With hundreds of units onscreen simultaneously and some serious graphics effects in play, the Crazy preset can make graphics cards sweat. Ashes runs in both DX11 and DX12, but we only test in DX12, as it delivers the best results for both Nvidia and AMD GPUs these days.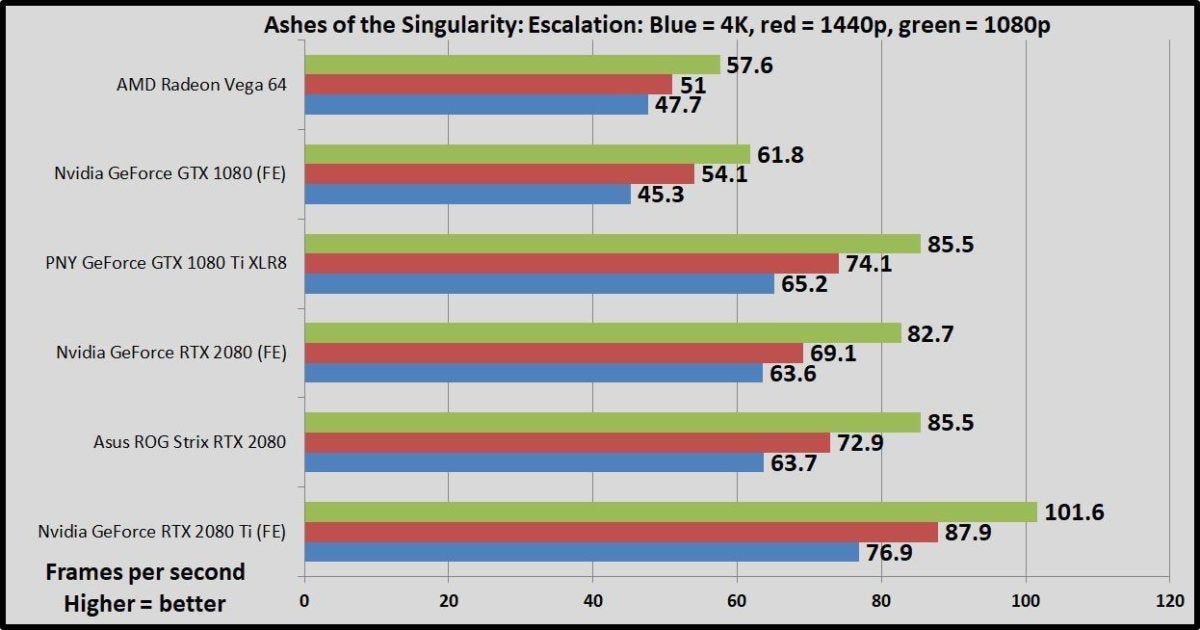 GTA V
We're going to wrap things up with a couple of older games that aren't really visual barnburners, but still top the Steam charts day-in and day-out. These are games that a lot of people play. First up: Grand Theft Auto V ($30 on Humble) with all options turned to Very High, all Advanced Graphics options except extended shadows enabled, and FXAA. GTA V runs on the RAGE engine and has received substantial updates since its initial launch.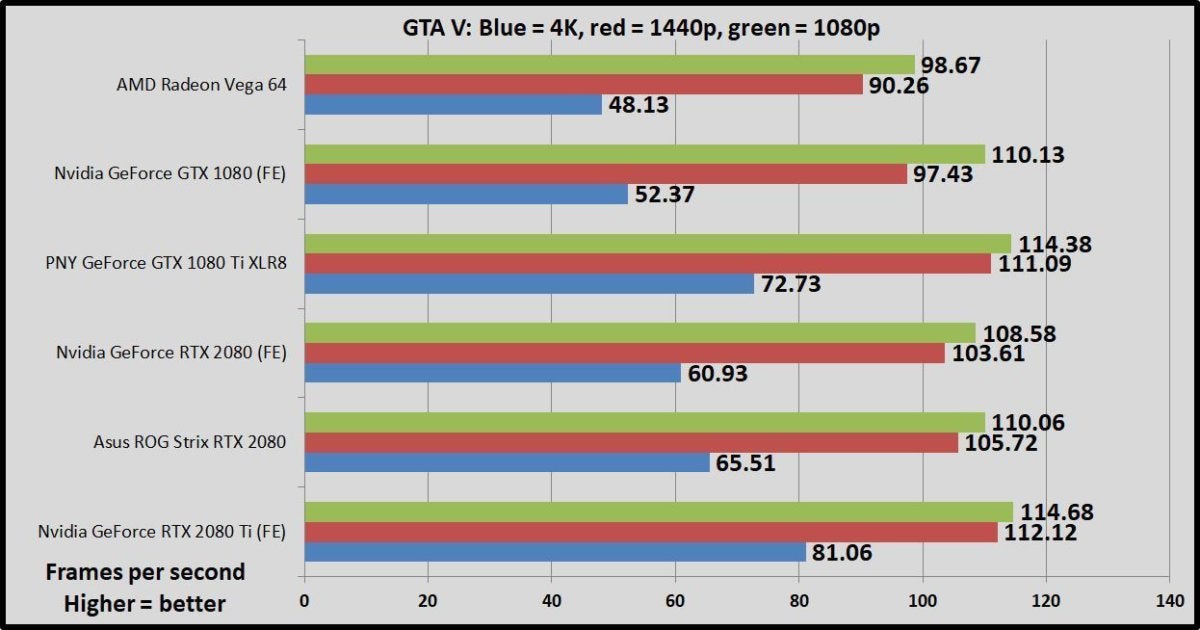 Surprise! The GeForce GTX 1080 Ti is faster than the newer RTX 2080 in GTA V.
Rainbow Six Siege
Finally, let's take a peek at Rainbow Six Siege ($40 on Humble), a game whose audience just keeps on growing, and one that still feels like the only truly next-gen shooter after all these years. Like Ghost Recon Wildlands, this game runs on Ubisoft's AnvilNext 2.0 engine, but Rainbow Six Siege responds especially well to games that lean on async compute features. That's why it performs so much better on Vega 64 and the RTX 20-series cards compared to the older GTX 10-series GPUs.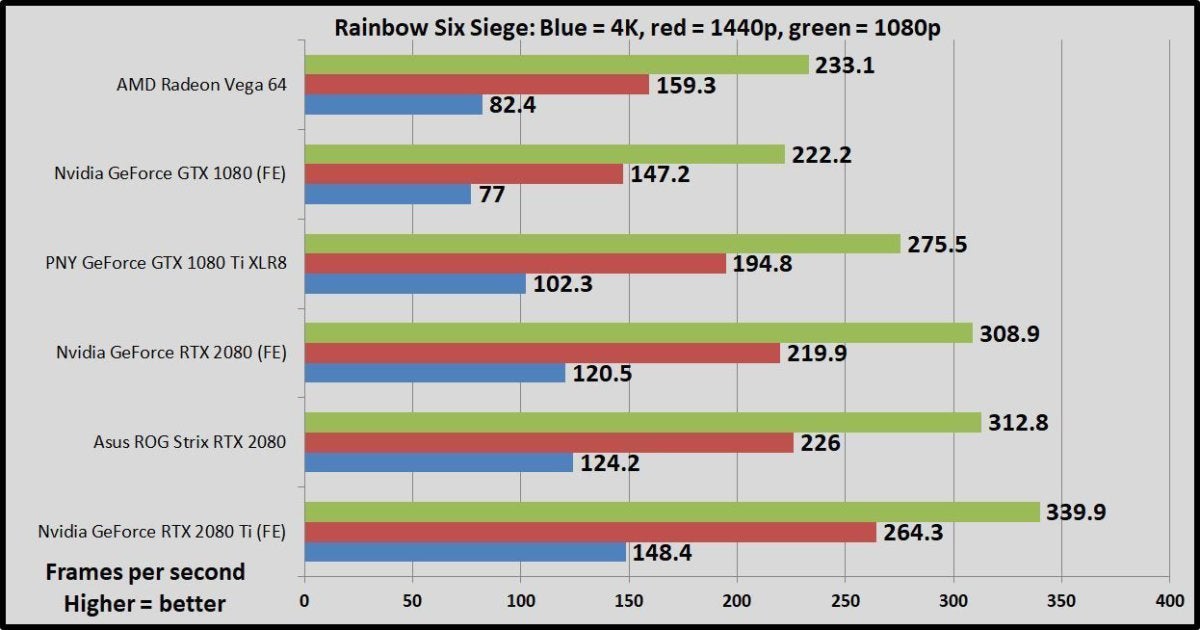 Next page: Synthetics, power, thermals, and noise
Fire Strike, power draw, thermals, and noise
We also tested Asus ROG Strix RTX 2080 using 3DMark's highly respected Fire Strike synthetic benchmark. Fire Strike runs at 1080p, Fire Strike Extreme runs at 1440p, and Fire Strike Ultra runs at 4K resolution. All render the same scene, but with more intense graphical effects as you move up the scale so that Extreme and Ultra stress GPUs even more. We record the graphics score to eliminate variance from the CPU.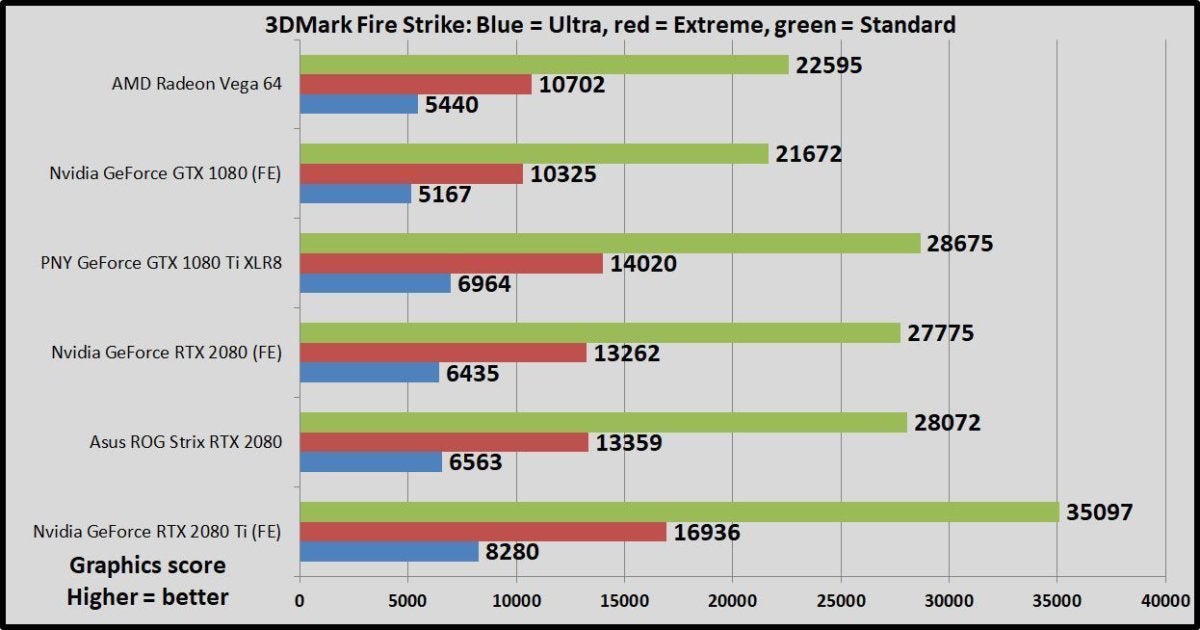 As you'd expect, the slightly higher-clocked ROG Strix earns a slightly higher Fire Strike score in all versions of the test.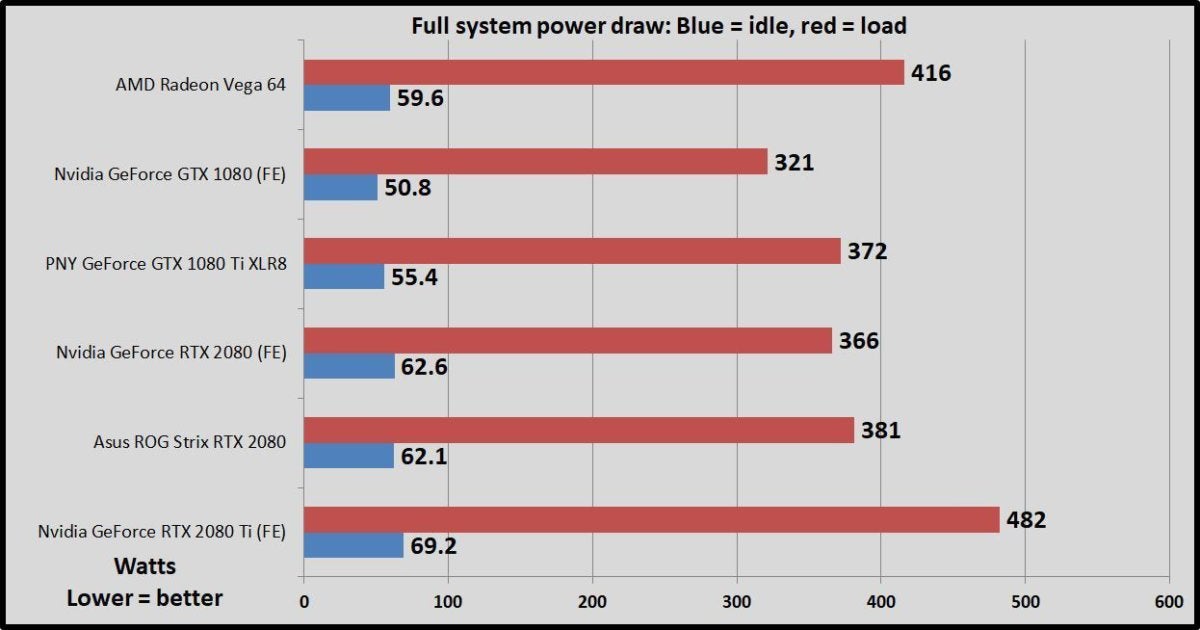 We test power draw by looping the F1 2018 benchmark after we've benchmarked everything else with a card, and noting the highest reading on our Watts Up Pro meter. The initial part of the race, where all competing cars are onscreen simultaneously, tends to be the most demanding portion.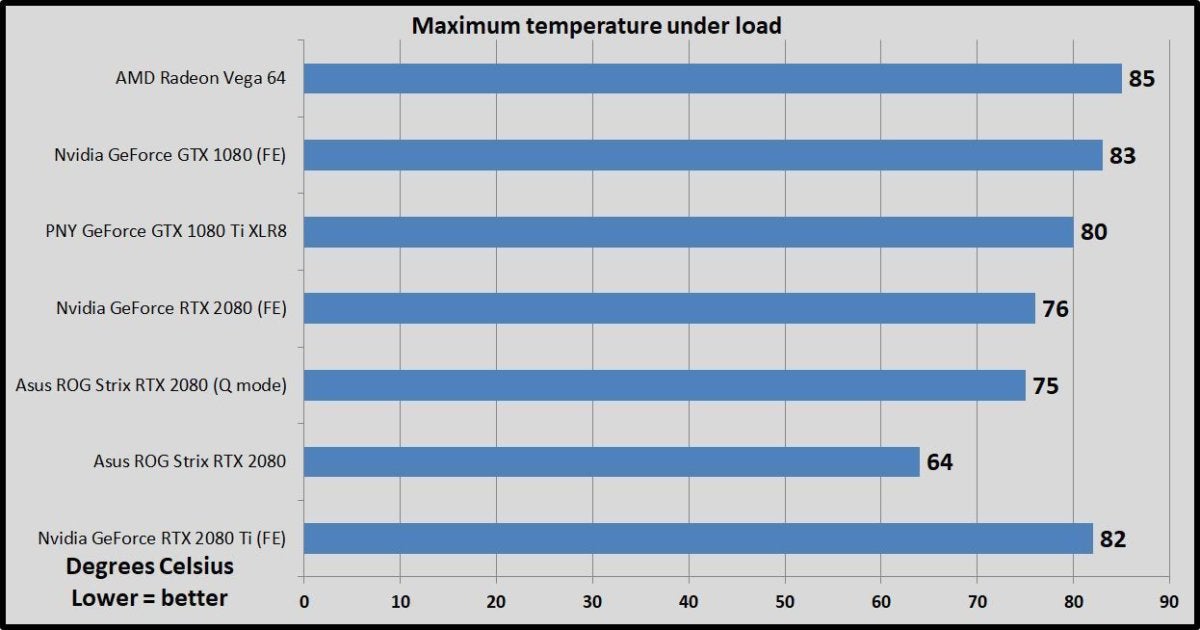 We test thermals by leaving HWInfo's sensor monitoring tool open during the F1 2018 5-lap power draw test, noting the highest maximum temperature at the end.
Look at those temperatures. In its default Performance mode, the Asus ROG Strix RTX 2080 is ice-cold. That's the power of heavy metal. But I wish the quiet mode were the default instead of the secondary option.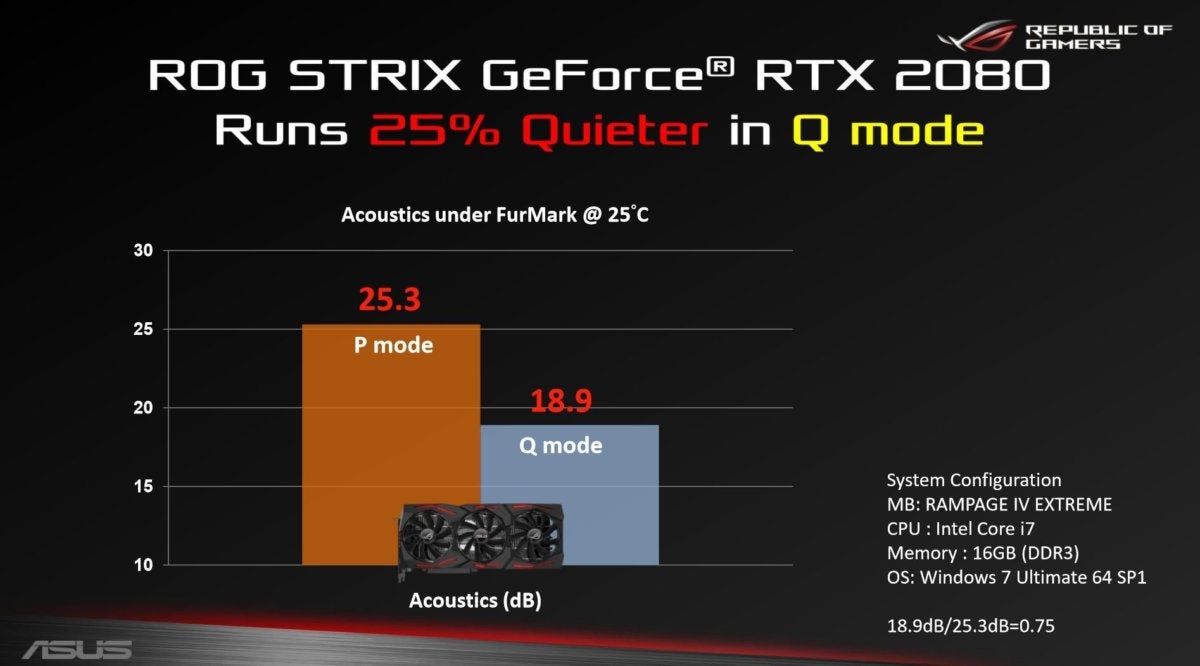 The ROG Strix hits those 64-degree-Celsius temperatures at roughly the same noise levels of Nvidia's RTX 2080 Founders Edition—which, admittedly, isn't too loud. But in Quiet mode, the ROG Strix delivers the same performance while running virtually silent. I've never heard a high-performance, air-cooled graphics card run this quietly. The idle fan when the GPU is below 55 degrees continues to be a very welcome feature when you're hanging out on the desktop instead of gaming.
Next page: Should you buy the Asus ROG Strix RTX 2080?
Should you buy the Asus ROG Strix RTX 2080?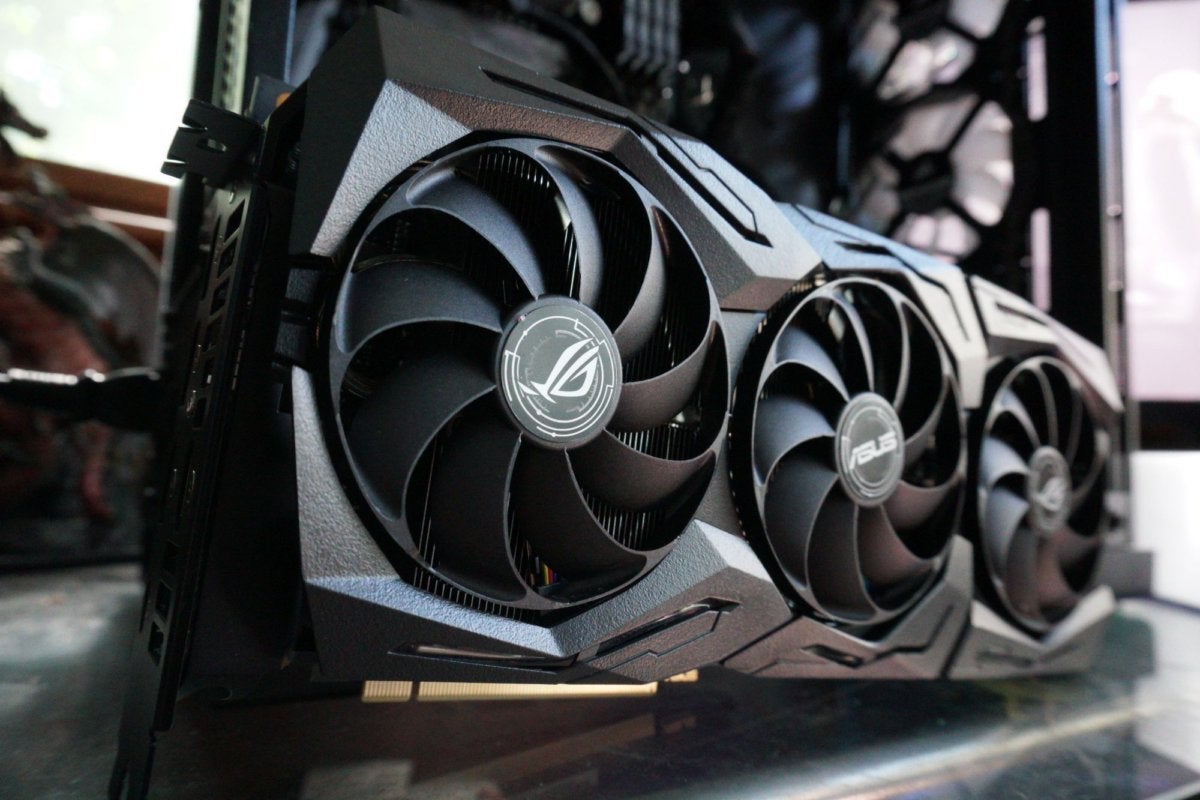 I'm in awe of Asus ROG Strix RTX 2080's massive, potent custom cooling solution. It delivers truly awesome cooling, or the quietest high-end graphics card experience we've ever heard. Pick your poison. I'd select the Quiet BIOS and I wish it were the default; the lower temperatures are impressive indeed, but realistically, they're just smaller numbers on the screen. A whisper-quiet graphics card improves your entire gaming experience, and you get it with no performance loss.
So should you buy the Asus ROG Strix RTX 2080? It's a multi-step question.
First, you'll need to decide whether you want to buy an RTX 2080 over an overclocked GTX 1080 Ti to begin with. (Asus' own ROG Strix GTX 1080 Ti costs $720 on NeweggRemove non-product link with a free copy of Call of Duty: Black Ops 4 thrown in.) The two GPUs trade blows and unlock the same 1440p/144Hz or 4K/60 experience in traditional games. The RTX 2080 costs more but whispers promises of a brighter future, with improved performance in HDR titles and the dedicated RT and tensor core hardware necessary to unlock real-time ray tracing, Deep Level Super Sampling, and other futuristic technologies. The GTX 1080 Ti lacks those awesome capabilities.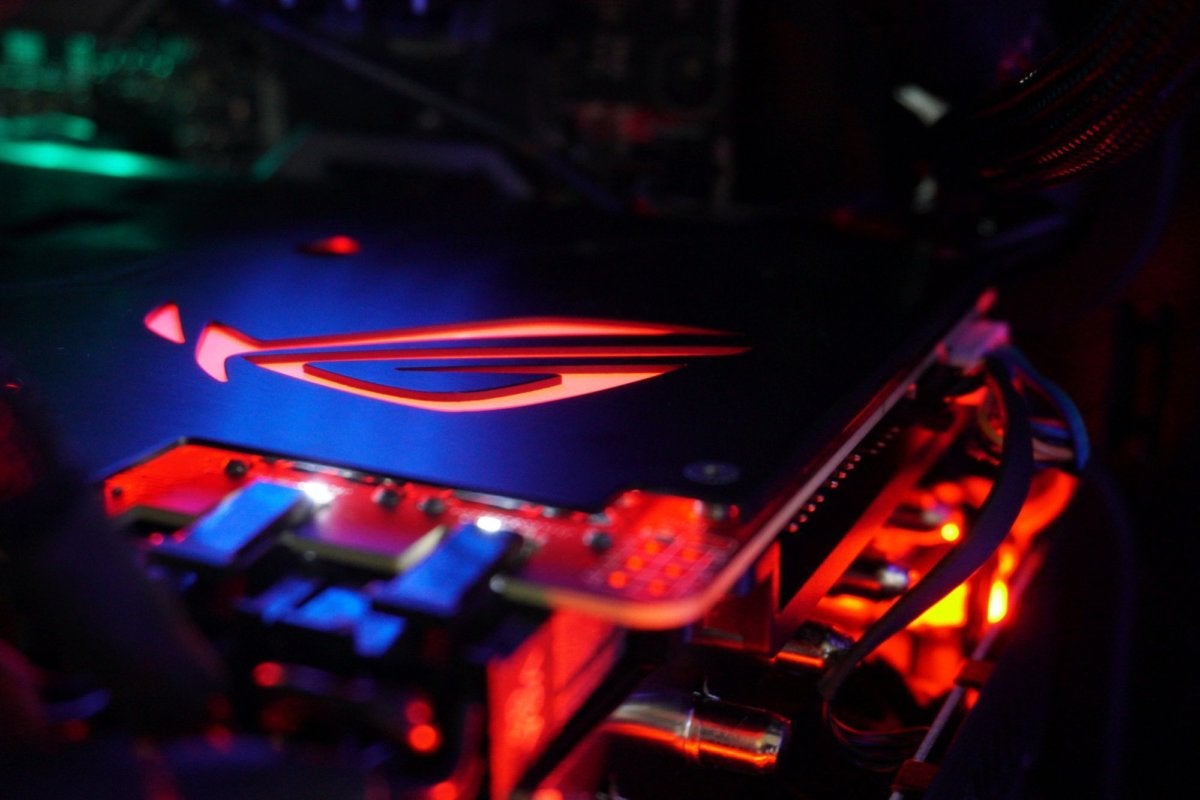 Ray tracing and DLSS aren't available in games shipping today, though. Early demos seem very promising indeed, but we have no idea when they'll pick up steam. Nvidia has dozens of games lined up for RTX support with no timetable for any of them. Bottom line: If you buy an RTX 2080 over a GTX 1080 Ti today, you're taking a leap of faith and investing extra money in those promises for the future. Whether that's worthwhile is up to you. Our GeForce RTX 2080 vs. GTX 1080 Ti comparison can help you break down the decision in finer detail.
If you're in the market for an RTX 2080, Nvidia's Founders Edition ($799 at Best Buy or GeForce.com) sets a high bar. It's gorgeously designed, overclocked, and much cooler and quieter than previous generations were. The ROG Strix RTX 2080's gargantuan cooler outclasses it, though. While the massive (literally) cooling improvements fail to deliver much of a boost in gaming frame rates, at only around 3 percent, the ROG Strix runs a whopping 12 degrees Celsius cooler than the Founders Edition, or virtually silent at the same temperatures as the FE if you enable the Quiet BIOS. The Asus ROG Strix RTX 2080 beats the Nvidia RTX 2080 Founders Edition in every way.
Well, except for price. At $870 on NeweggRemove non-product link, the Asus ROG Strix RTX 2080 is the most expensive RTX 2080 listed on Newegg, and by a fair margin. Other high-end RTX 2080 graphics cards by EVGARemove non-product link and MSIRemove non-product link top out at $850, and no RTX 2080 models come anywhere near the $700 starting MSRP cited by Nvidia.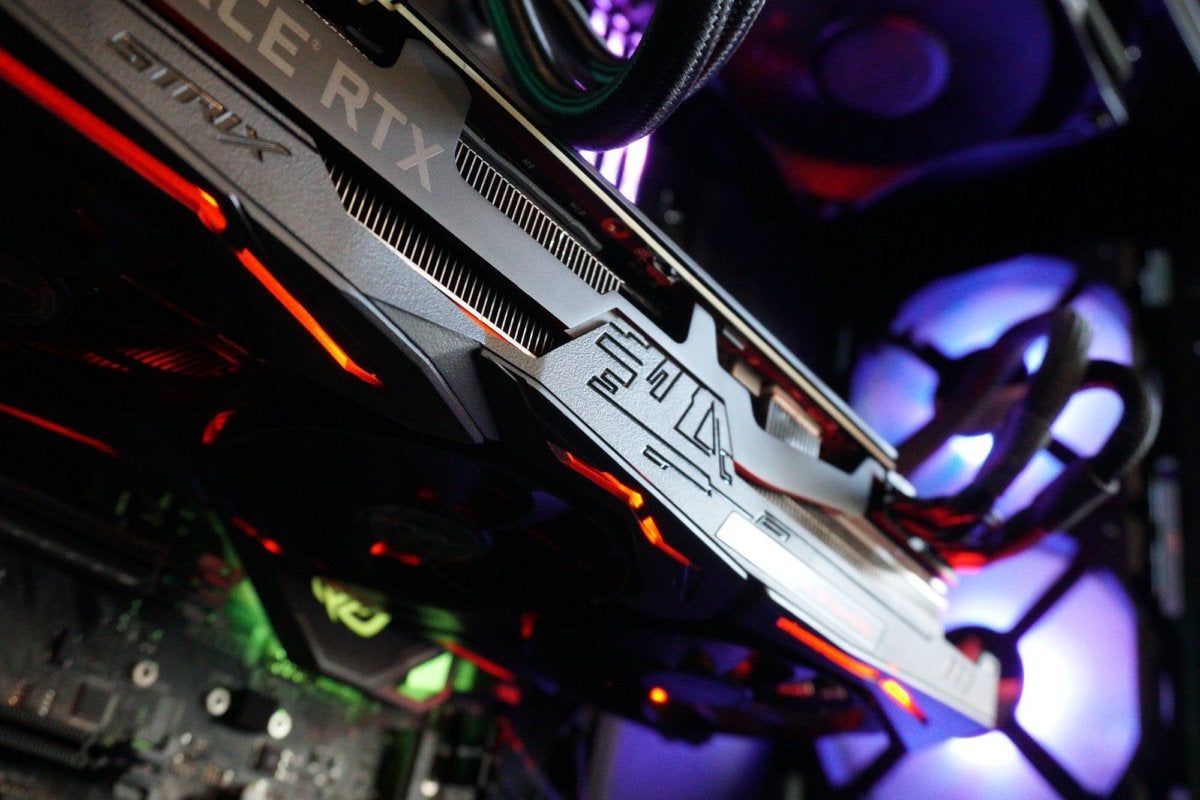 We haven't had an opportunity to test other custom models yet, but based on our thermal and acoustic tests, there's no doubt that the ROG Strix will wind up being one of the more impressive custom cooling solutions this generation. If the idea of a nearly silent or ice-cold gaming experience appeals to you, the ROG Strix RTX 2080 comes highly recommended—much more so if noise levels are important to you. This beast is quiet. But with such a minor performance increase over the Founders Edition model, the ROG Strix RTX 2080 would be much easier to swallow if Asus shaved $20 or $40 off the sticker price.
Best Prices Today: ROG Strix RTX 2080