At a Glance
Expert's Rating
Pros
Core i5 performance that easily competes with most Core i7 laptops and 2-in-1s
Thin, light and powerful
Cons
No USB-A Port
MagLev keyboard has a short travel and can be noisy
Our Verdict
Dell's first XPS 15 2-in-1 makes some controversial choices, including its all-USB connectivity and MagLev keyboard, but its powerful Kaby Lake G part offers top-notch performance in a slim profile.
Best Prices Today: 1
It's rare that we can say we've reviewed every single type of laptop. No one can say, for example, that they have tested every single GeForce GTX 1060 laptop, or every single 8th-gen Coffee Lake H laptop.
With this review of Dell's XPS 15 2-in-1 9575 though, we can now safely say we have reviewed every single 8th-gen Kaby Lake G laptop ever made, because there are only two in the world. And that's a shame, because this CPU package is something we may never see the likes of again.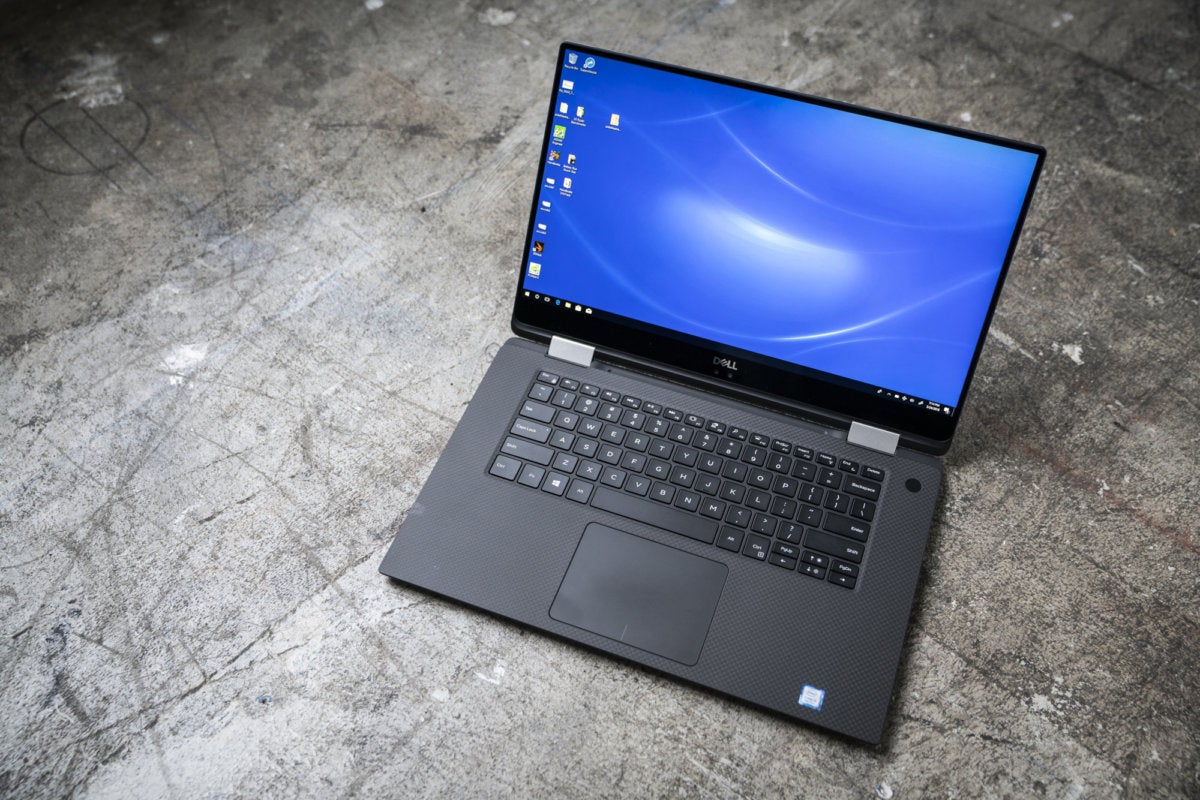 The only other Kaby Lake G laptop
HP Spectre x360 15 (2018) with Kaby Lake-G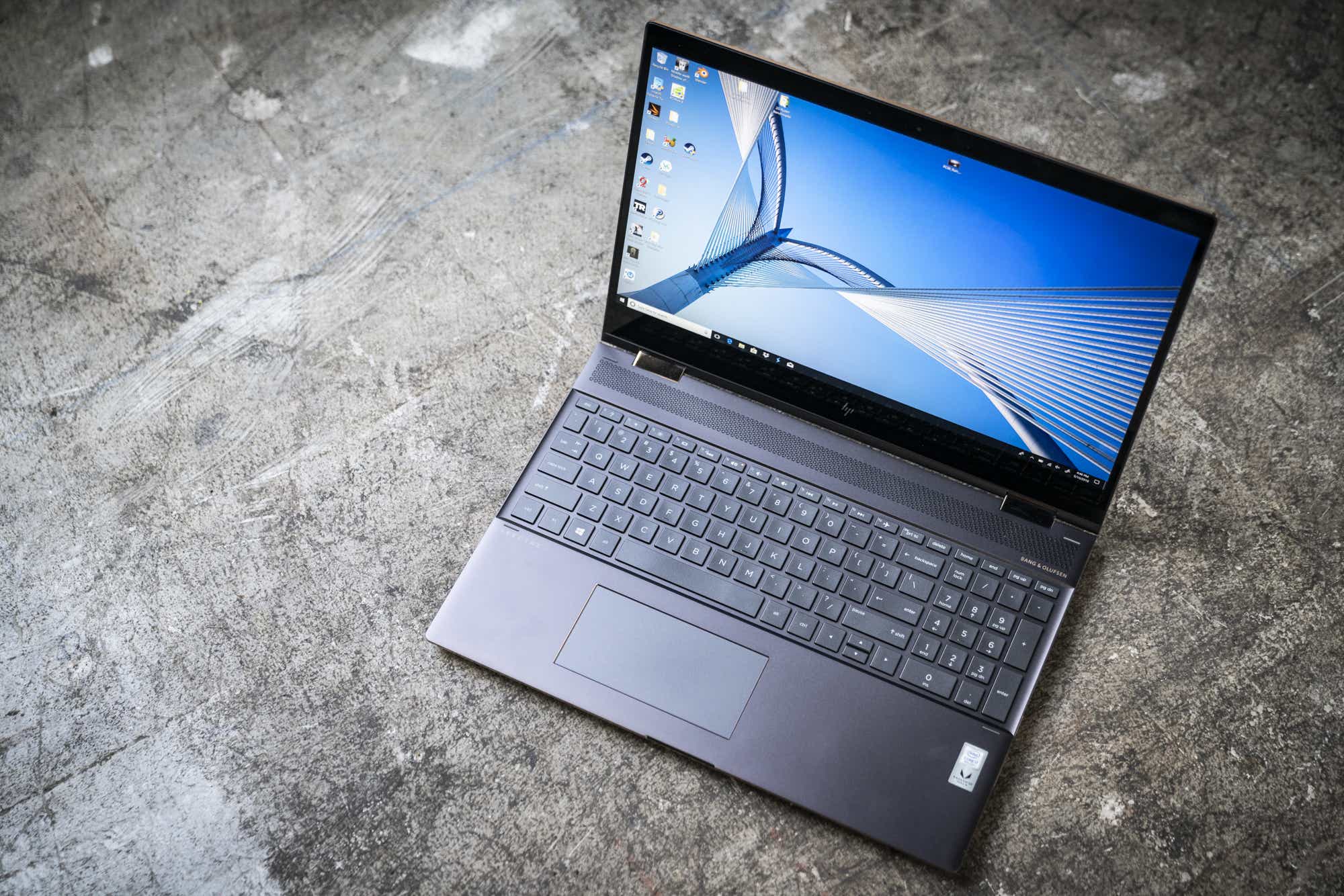 We're not being dramatic. The XPS 15 2-in-1 is built on Intel's ambitious Kaby Lake G part. It basically combines an Intel quad-core and an AMD Radeon RX Vega M GL graphics chip, a once-unthinkable marriage. It's compact and fast, and it all comes together with Intel's whiz-bang EMIB technology.
Besides shrinking the overall motherboard size, the Kaby Lake G module also lets the laptop better manage the bane of laptop performance: heat. And yet other than this Dell laptop and its rival HP Spectre x360 15, no other PC vendor has stepped forward with models based on this chip.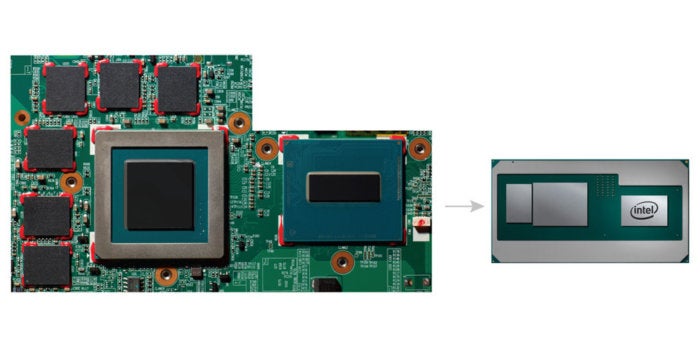 About the XPS 15 2-in-1
Like other 2-in-1s, the XPS 15 2-in-1 flips the 15.6-inch screen around so it can be used like a tablet or in tent mode. We have to admit that the concept seemed absurd a few years ago, but it's now our preferred form factor.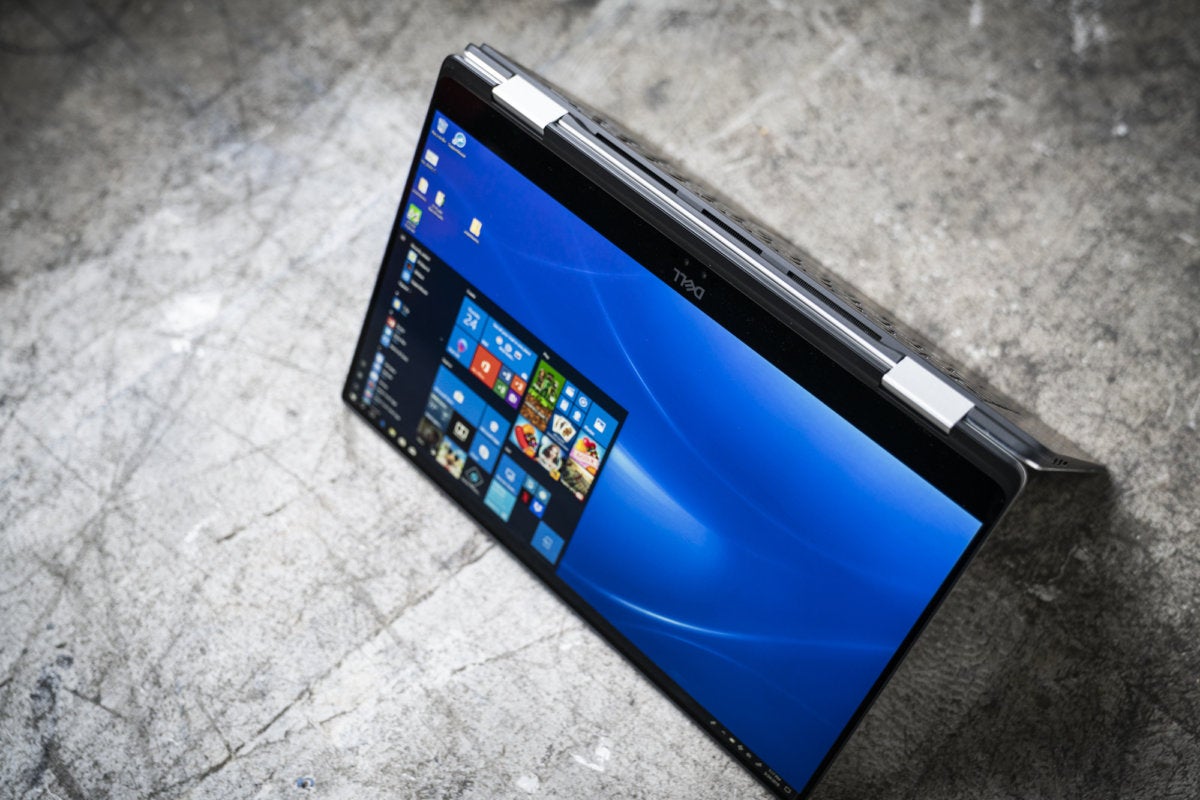 The tablet does include pen support with up to 4,096 pressure levels using an optional Dell-branded, Wacom-technology pen.
Inside you get:
Core i5-8305G (with the Core i7-8705G as an option)
8GB of DDR4/2400 RAM in dual-channel mode (optional 16GB)
256GB Toshiba M.2 NVMe SSD (optional 512GB, 1TB and 2TB drives)
1920×1080 IPS touchscreen with Wacom pen support (4K optional) anti-reflective touch.
The laptop itself is about 9.2 inches deep and 13.9 inches wide, with a height measuring from 0.36 inch to 0.63 inch tall. It weighs 4.35 pounds. Although Dell calls it the thinnest 15-inch 2-in-1 in town, when you look across at the traditional XPS 15, the size and weight isn't much different.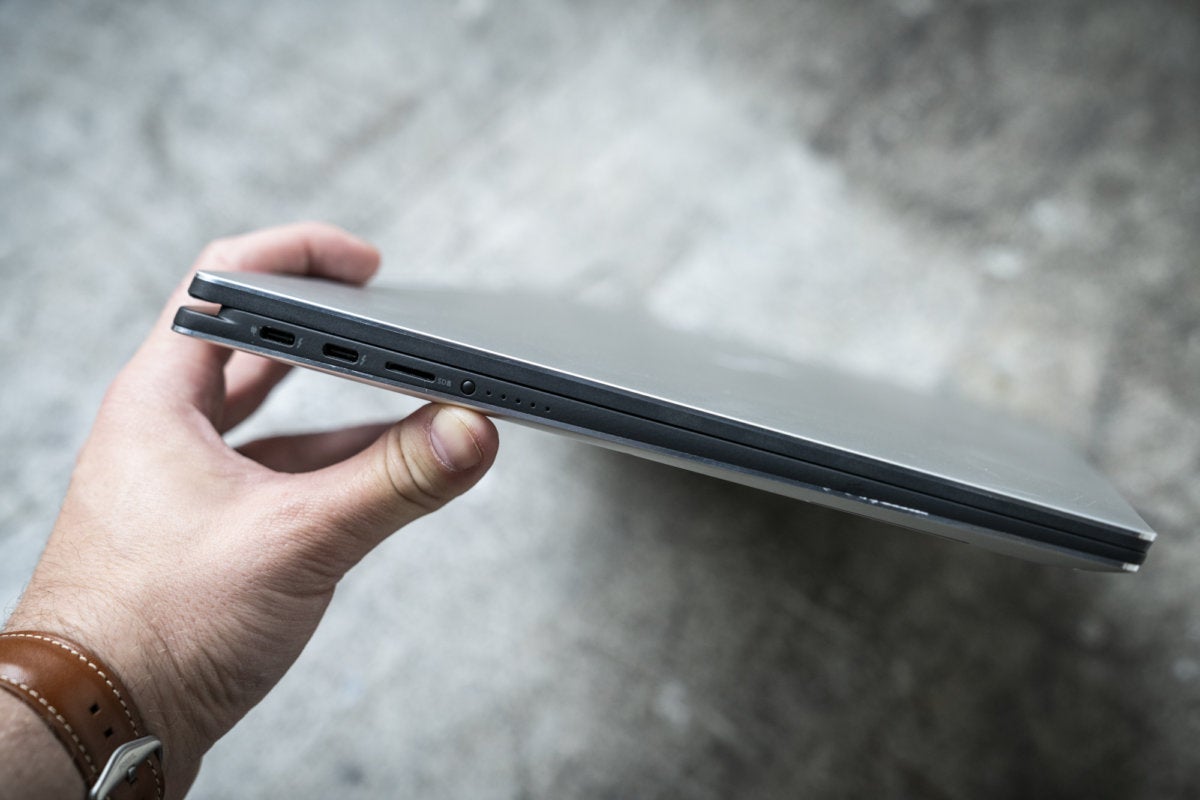 Dell XPS 15 2-in-1: Ports
The most obvious of the radical design choices are the ports. While you get a microSD slot, a combo headphone jack, and a Noble Lock port, Dell outfits its XPS 15 2-in-1 with only four USB-C ports. Two of those ports are Thunderbolt 3, with the last two as USB-C 10Gbps ports. All four support DisplayPort output as well as Power Delivery, so you can plug the laptop's 130-watt USB-C power brick in to any port for charging.
If you're up on your USB Power Delivery specs, you know the maximum output for USB-C charging today is 100 watts, which is a little low for performance-oriented laptops. To get around this limitation, Dell's USB-C brick identifies the laptop first. If it's a Dell model that supports the higher output, you get up to 130 watts.
If you plug the Dell charger into a non-Dell laptop that doesn't support its higher charge rates, it will stick with the official spec. For example, we could get the XPS 15 2-in-1's charger to hit 130 watts on the latest Dell XPS 15 9570, but when plugged in to a 2017 Macbook Pro 15, the most it would draw was 80 watts, which is what the stock Apple USB-C charger outputs.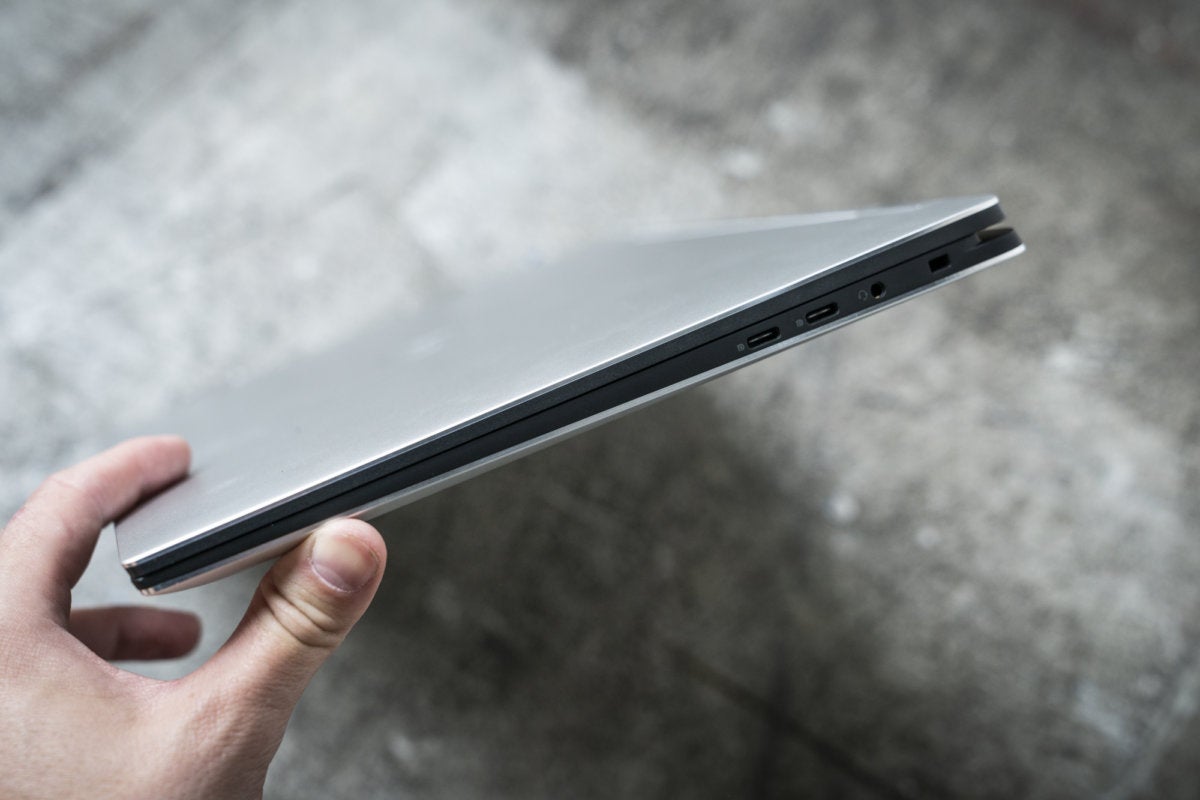 While four ports sounds like a ton, we do have to point out that compared to the standard XPS 15, it really isn't that much. Once you plug in your charger and monitor, you have only two ports left. On the standard XPS 15, you'd have three free ports.
And yeah, that "all USB-C thing." It annoyed us when Apple did it with the MacBook lineup, and it annoys us now. Dell bundles a free USB-C to USB-A dongle, but once you lose that on a business trip, have fun chasing around town for a replacement. The good news is you can charge on all four ports, which is actually a lot more convenient than charging from either the right or left side.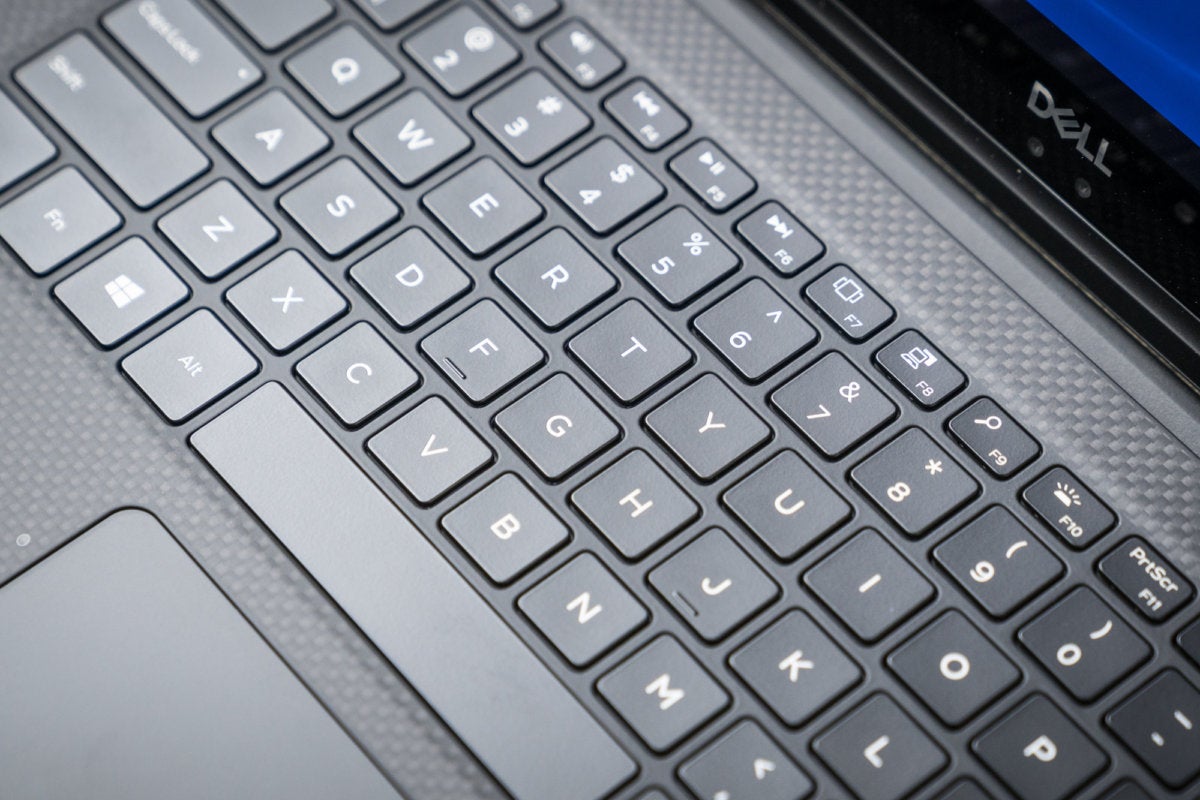 Dell XPS 15 2-in-1 MagLev Keyboard
Probably more polarizing than the port selection is the keyboard. Dell said keyboards are one of the primary items that make laptops thick. For the XPS 15 2-in-1, Dell employs a new-fangled "MagLev" keyboard, which combines butterfly-style switches (no, Apple didn't invent them) with magnets to make them pop up. The result feels and types like something between a MacBook Pro 15's Butterfly keyboard and a conventional XPS 15 9570's dome keyboard.
We will be honest: We've long hated on Apple's Butterfly keyboard. Not because they were failure-prone from dust, but because of the lack of travel. The MagLev keyboard claims 0.7mm of travel, which is not much over Apple's 0.55mm, but the 1.5mm of travel of an HP Spectre x360 15 feels luxurious by comparison.
Even worse on the low-travel keyboards is the sound. While Apple damped down the latest Butterfly keyboards with rubber (to also apparently protect them from failing from dust), they were annoyingly loud before.
We compared the MagLev in the XPS 15 2-in-1 with the Butterfly keyboard in a 2017 MacBook Pro 15 and found the XPS 15's to be far quieter. Not as quiet as a traditional rubber dome keyboard, but slightly better than the MacBook Pro 15 which makes even simple note-taking sound like an angry post to Reddit.
Basically, if you're especially picky about your keyboards, you may want to try the XPS 15 2-in-1's first before you jump in with both feet.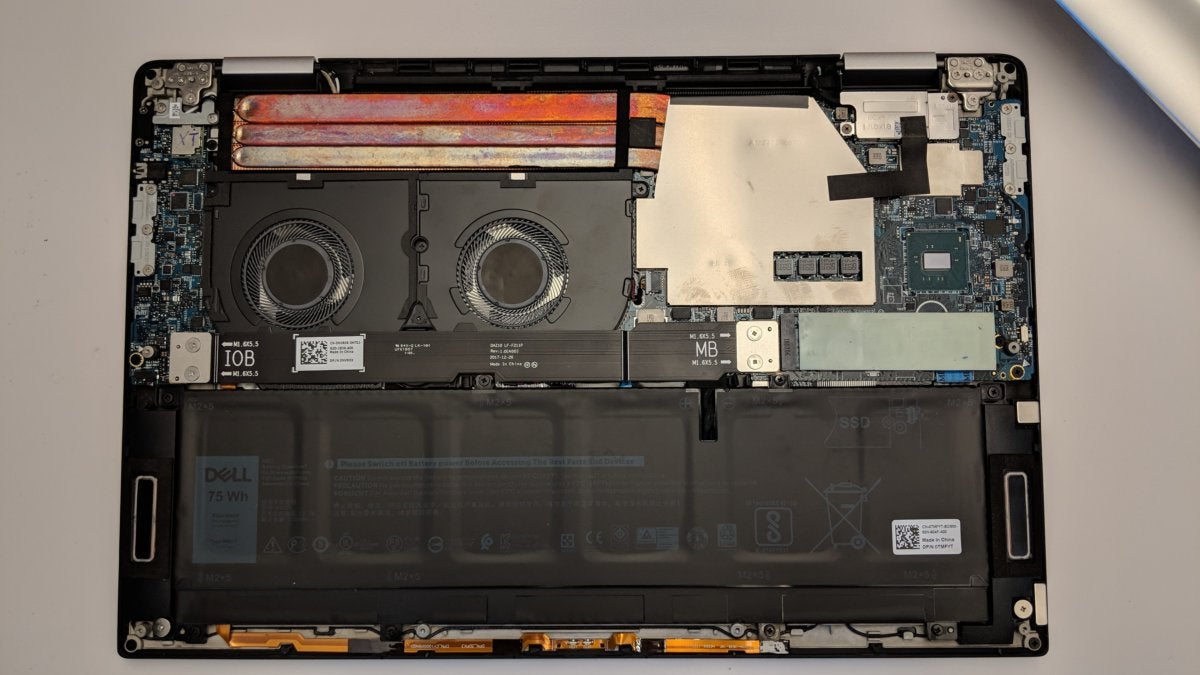 On the laptop upgrade curve, we'd rate the XPS 15 2-in-1 as OK. The good news: You can inside get in by removing a few Torx head screws. There's no need to remove rubber feet or execute secret moves to open it. The bad news is the RAM is on the other side of the motherboard, we think, and probably soldered in place. The only part you can really change is the M.2 drive, which is visible on the picture above covered with the green-tinged tape.
Another thing you'll notice in the photo above is the beefy cooling. While the clamshell XPS 15 9570 uses two heat pipes with two fans, and Apple's MacBook Pro 15 uses a single heat pipe with fans, the XPS 15 2-in-1's three pipes should give it a nice advantage in cooling and performance.
Done with features, let's move on to performance on the next page.
Dell XPS 15 2-in-1 Performance
Our main suite of performance tests compares the XPS 15 2-in-1 to a wide variety of laptops to show how its rare Kaby Lake G CPU compares to other processors. Later on, we'll show how it compares to similar 2-in-1 models.
Cinebench
Our first test is Maxon's Cinebench R15. It's a multi-threaded test and is mostly CPU-bound. If you read our review of the Kaby Lake G CPU (available here), you know we were pleasantly surprised by the performance of the CPU. With the Dell, performance is also quite good. It's not as fast as the HP Spectre x360 15 with its Core i7-8705G and its score of 807 in Cinebench. But as you can see from the chart below, the performance holds up well when compared to 7th-gen Core i7 CPUs even though it's a Core i5 model.
The vast majority of applications and tasks aren't multi-threaded, however. To gauge general single-threaded performance we turn to Cinebench, setting it to test a single CPU thread. We can see the Core i5-8305G in the Dell falling short with a score of 159. Although not on our chart, the Kaby Lake G Core i7-8705G in HP's Spectre x360 15 scored 174.
This basically means you legitimately get more performance between Core i7 and Core i5. What's impressive is how the Core i5 in the XPS 15 2-in-1 places with the older 7th-gen CPUs. It can basically maintain high-enough clock speeds to make it every bit as fast as the previous Core i7-7700HQ chips.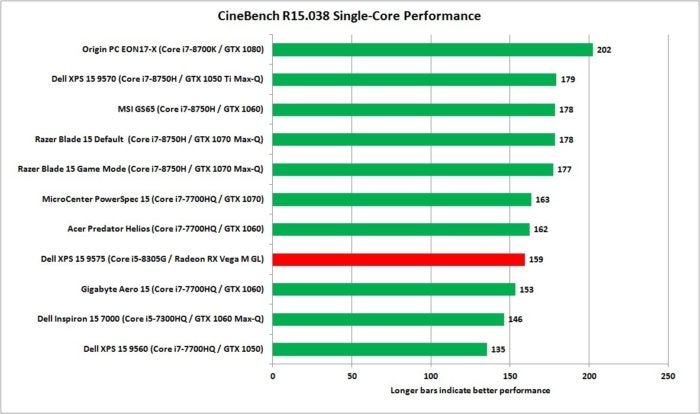 HandBrake
One issue with typical benchmarks is they run in just a few seconds to a couple of minutes or three. While they shed light on performance for short loads, they don't tell you how a laptop will behave if heated up. Will the performance drop? Will it warm like a thermal detonator?
To gauge a laptop's behavior under thermal stress, we use the free and popular encoder HandBrake to convert a 30GB 1080P MKV file using the Android Tablet Preset. In the results, you can see the six-core CPUs with a healthy performance advantage thanks to the extra cores. We can also see how well the 8th-gen Core i5 holds up in a 45-minute encoding run. It's every bit as fast as the 7th-gen Core i7 CPUs in gaming laptops.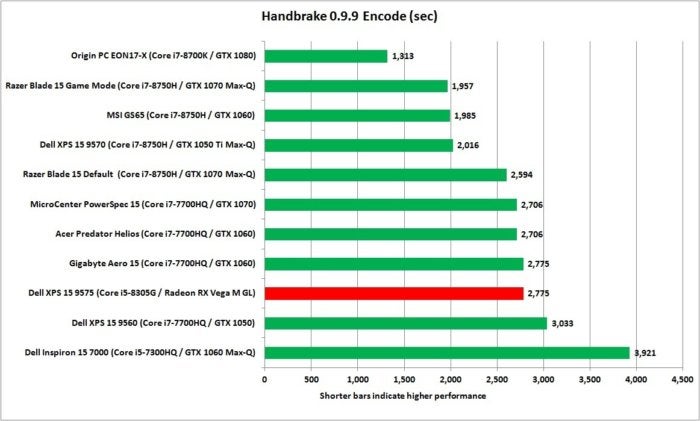 Dell XPS 15 2-in-1 3DMark FireStrike Performance
Most of the excitement over the Kaby Lake G in the Dell XPS 15 2-in-1 is over its graphics chip. After all, Intel's incorporation of an AMD part was about as expected as a Yankee and Red Sox playoff game without a dozen fist fights breaking out in the stands.
The Radeon RX Vega M GL in the Dell is limited by the total power of the CPU/GPU package (65 watts), so it's not going to outpace more traditional discrete graphics that can run at 75 watts alone.
The good news is that it punches very well for its class. Intel has said the custom Radeon RX Vega M GL would perform in between a GeForce GTX 1050 and GeForce GTX 1050 Ti, and in 3DMark FireStrike it does just that. We wonder what the Core i7 Kaby Lake G would have done.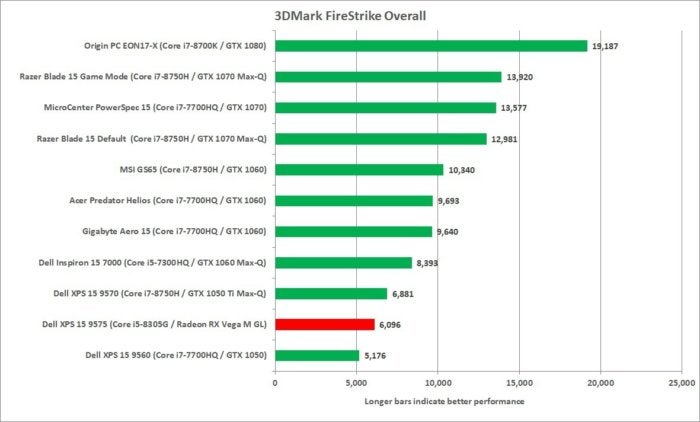 Dell XPS 15 2-in-1 Rise of the Tomb Raider Performance
3DMark is a general synthetic benchmark, but it tracks generally with what you'll get from more modern games. In Rise of the Tomb Raider, we see the XPS 15 2-in-1 sticking with a GeForce GTX 1050 chip rather than rising above, not exactly stellar performance at 19×10 on Very High in DirectX 11 mode.
On newer, more taxing games such as Rise of the Tomb Raider or Far Cry 5, the Dell XPS 15 2-in1 9575 is probably most comfortable at lower resolutions or lower game settings. But on older titles or less taxing titles, like the vast majority of esports games, it'll comfortably run 1080p with all the bells and whistles turned on.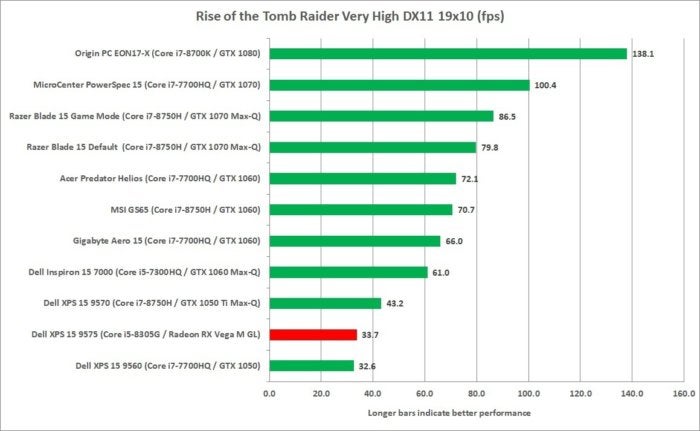 It don't mean a thing if it ain't got that battery life. Find out how much on the next page.
Dell XPS 15 2-in-1 Battery Performance
The most important metric for many will be battery life. To test that we loop a 4K-resolution movie file using the Windows Movies & TV app at a relatively bright 250 to 260 nits. We also set the laptop into airplane mode and use analog headsets during our rundown test.
Battery life in a laptop today is mainly dictated by the power consumed by the CPU, GPU, RAM and other devices, as well as the size of the battery, which you can think of as your gas tank. Other factors such as touchscreen, pen support, and even the amount and kind of RAM also play a role.
As you can see in our chart, the XPS 15 2-in-1 does pretty well. The big winner is the XPS 15 2-in-1's sibling, the XPS 15, which has a 97-watt-hour battery compared to the 75-watt-hour battery in the XPS 15 2-in-1. Just remember that if you push any of the laptops in the chart with a hard CPU or GPU workload, battery life will plummet. It's no different than flooring your car going uphill with a load of passengers and luggage and the AC cranked.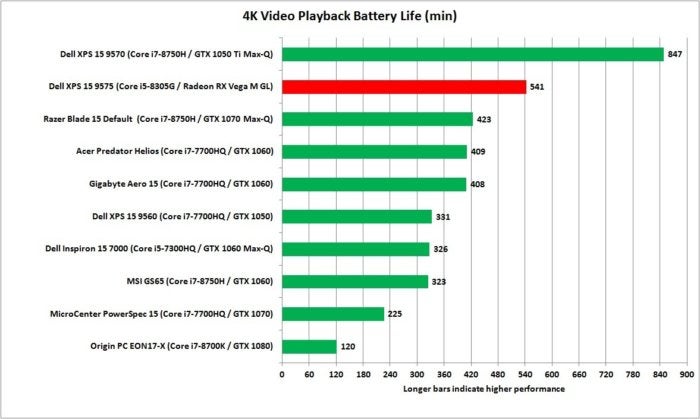 Dell XPS 15 2-in-1 Performance Analysis
While most of our comparison has been against workhorse laptops and gaming laptops, we tend to forget that there are real performance limitations with 2-in-1 designs. So, to see how well the Dell XPS 15 2-in-1 stacks up against its contemporaries we pulled performance results from a slew of 14-inch and 15-inch 2-in-1 designs. We also threw in performance results of the last and current generations of XPS 15.
As you can see, the Core i5 Kaby Lake G does exceptionally well in the Dell XPS 15 2-in-1. First, it's damn near tied with the only other Kaby Lake G laptop in town: HP's Spectre x360 15. It easily outperforms the older XPS 15 with a quad-core Kaby Lake H CPU, and Lenovo's 15-inch Yoga 720 with a quad-core Kaby Lake H Core i7. It outright destroys all of the quad-core Kaby Lake R-based convertibles. To sum up: For a Kaby Lake G laptop it's hecka fast. For a Core i5 laptop, it's hella fast.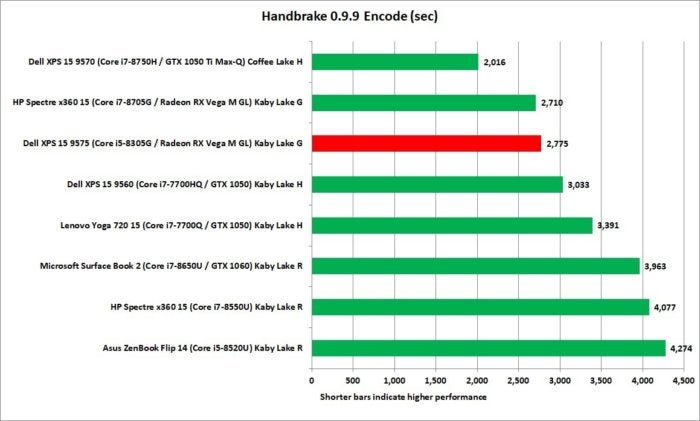 Conclusion
As we said earlier, we're just sad that we're basically done with Kaby Lake G laptop reviews after having reviewing both of them. But, it is good to end on a high note. On the negative side, we'll admit that we weren't fans of the MagLev keyboard, nor the all USB-C port decision. Beside the fact that it feeds trolls who can now claim that Apple was right, we'd still prefer to have straight USB Type A on a laptop rather than have another dongle to lose. The MagLev keyboard? Well, you get used to it, and the snappy sound and feel is tolerable.
What's really nice and, frankly, quite possibly worth it is the performance. The XPS 15 2-in-1 is a screamer that gives Core i7 Kaby Lake H laptops a hard time, and it simply smokes just about every 15-inch 2-in-1 design we've seen to date.
Which XPS 15 2-in-1 we'd buy
If you're convinced you want to buy, the only real question left is which configuration.
Dell has four configurations right now, listed here from entry-level to top-of-the-line:
Core i5 / 8GB / 128GB / 1080p, starting price $1,300
Core i5 / 8GB / 256GB / 1080p, starting price $1,500
Core i7 / 8GB / 256GB / 1080p, starting price $1,700
Core i7 / 16GB / 256GB / 4K, starting price $2,000
For most people who are looking for a generally fast system, option 2 is the best choice. The only real negative is the smallish 256GB SSD. If you do indeed to play some games, they'll eat up space fairly quickly, so paying extra for the optional 512GB SSD is recommended. It would be great to have 16GB RAM as an option as well, but Dell limits that to Core i7 only.
So if you know you're going to use it, for say, heavy Photoshop editing, we'd go for the option 3 with the Core i7 and take the 16GB RAM option and 512GB SSD for $1,862.
A larger SSD would be nice, but Dell limits that solely to the 4K version, with up to 2TB for an additional $735. But as you can see from our picture above, you can always do your own upgrade if you want to risk it.
The 4K screen Dell uses is said to be quite beautiful and possibly worth it if you do image editing, but expect battery life to plummet.
Best Prices Today: XPS 15 2-in-1 9575