At a Glance
Expert's Rating
Pros
Absolutely gorgeous design
Great gaming performance
Fast 144Hz display
Matching mouse, mousepad, and earbuds included
Very easy to upgrade
Cons
Steep price premium vs. standard Helios 300
Awful white backlighting on white keys hampers usability
Some details lack finesse, such as thick bezels
Paltry 256GB storage capacity
Our Verdict
The Acer Predator Helios 300 Special Edition gives a great gaming laptop a glamorous look, but you pay a premium for the gorgeous eye candy. And the keyboard backlighting is atrocious.
Best Prices Today: Predator Helios 300 Special Edition (PH315-51-757A)
Acer's Predator Helios 300 Special Edition adds a touch of class to the bang-for-buck $1,100 gaming laptop we fell in love with earlier this year.
The baseline Predator Helios 300 screams "GAMER" with its aggressive red-and-black design and chunky frame. The Special Edition shows what a difference a fresh coat of paint can make. Acer clad this version in white with gold accents, and it's an absolute head-turner. Literally. My wife wandered into my office and stopped talking to me mid-sentence, snapping her head to drool at the Special Edition when she saw it sitting on a table. She's been begging to use it, simply to touch it, ever since. It's a real looker.
This laptop ships with a matching mousepad, mouse, and earbuds, and Acer gave the Special Edition a faster processor and blazing-fast 144Hz display upgrade. But the base black-and-red Predator Helios 300 received the same internal upgrades—and it costs significantly less on the street. At $1,400 on Newegg, can the Acer Predator Helios 300 Special Edition still be considered an appealing bang-for-buck gaming laptop? Let's dig in.
Acer Predator Helios 300 Special Edition specs, features, and price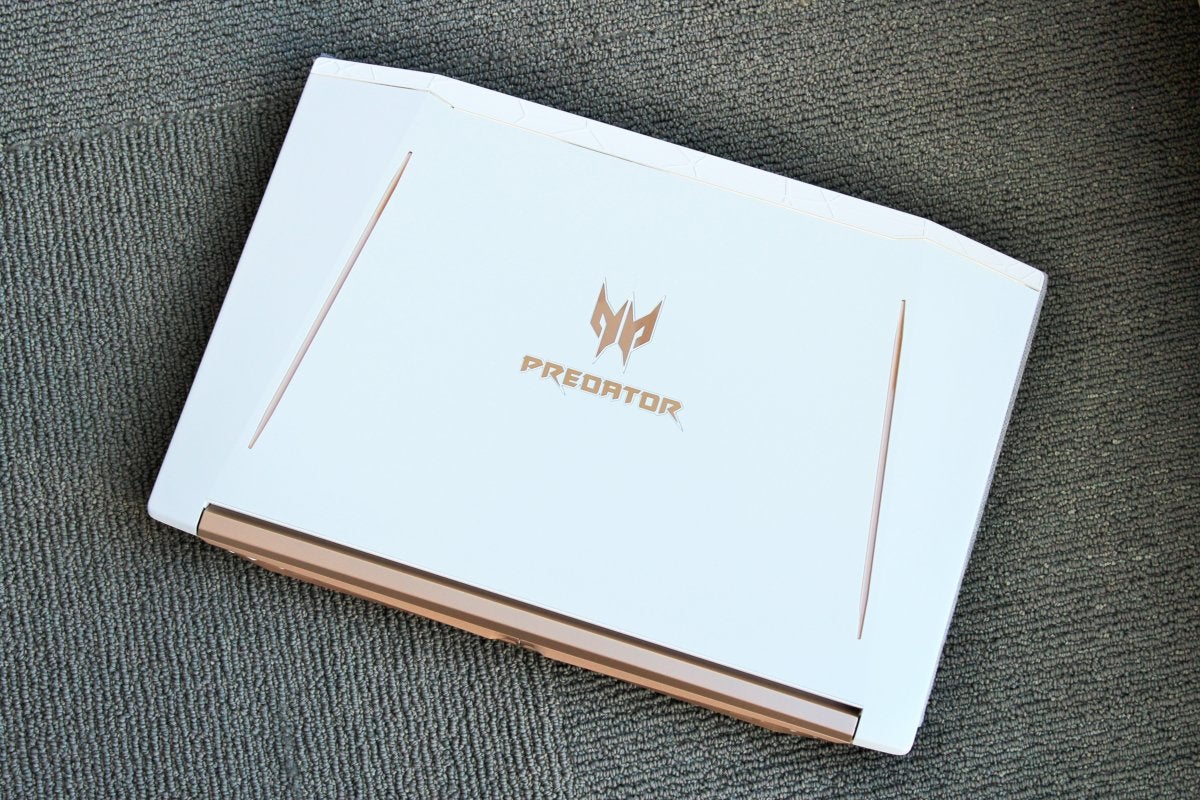 The Special Edition remains largely the same under the hood, delivering plenty of power for 1080p gaming. Here's what's inside:
CPU: Core i7-8750H
GPU: Nvidia GeForce GTX 1060
RAM: 16GB DDR4/2666
Storage: 256GB M.2 SSD
Wireless: 802.11ac Wi-Fi
Display: 15.6-inch 1920×1080 144Hz IPS
Ports: 2x USB 2.0, 1x USB 3.0, 1x USB 3.1 Type-C, HDMI, SD card reader, ethernet, headphone jack, lock slot
Weight: 5.95 pounds
Dimensions: 15.4 x 10.5 x 1.1 inches
Webcam: 720p
Price: $1,400
Acer crammed a couple of notable improvements into the Special Edition. The laptop got a computing boost courtesy of Intel's more-core 8th-gen processors: While the Helios 300 we reviewed earlier this year packed a then-flagship Intel Core i7-7700HQ with four cores and eight threads, the Special Edition hums along with a 6-core, 12-thread Core i7-8750H. It's faster, too, topping out at 4.1GHz turbo speeds.
The 1080p display also received an upgrade, going from 60Hz up to a buttery-smooth 144Hz, though the GeForce GTX 1060 GPU inside won't be able to push most games anywhere near that fast. If you don't mind bumping graphics settings from Ultra down to High to gain more speed, it'll be a welcome upgrade, though, and the IPS display offers wide viewing angles. The Acer Predator Helios 300 Special Edition's screen shines brighter than its predecessor, too, rated for up to 300 nits compared to the 230 nits we measured on the standard model.
I wish the keyboard backlighting were brighter, though. And better.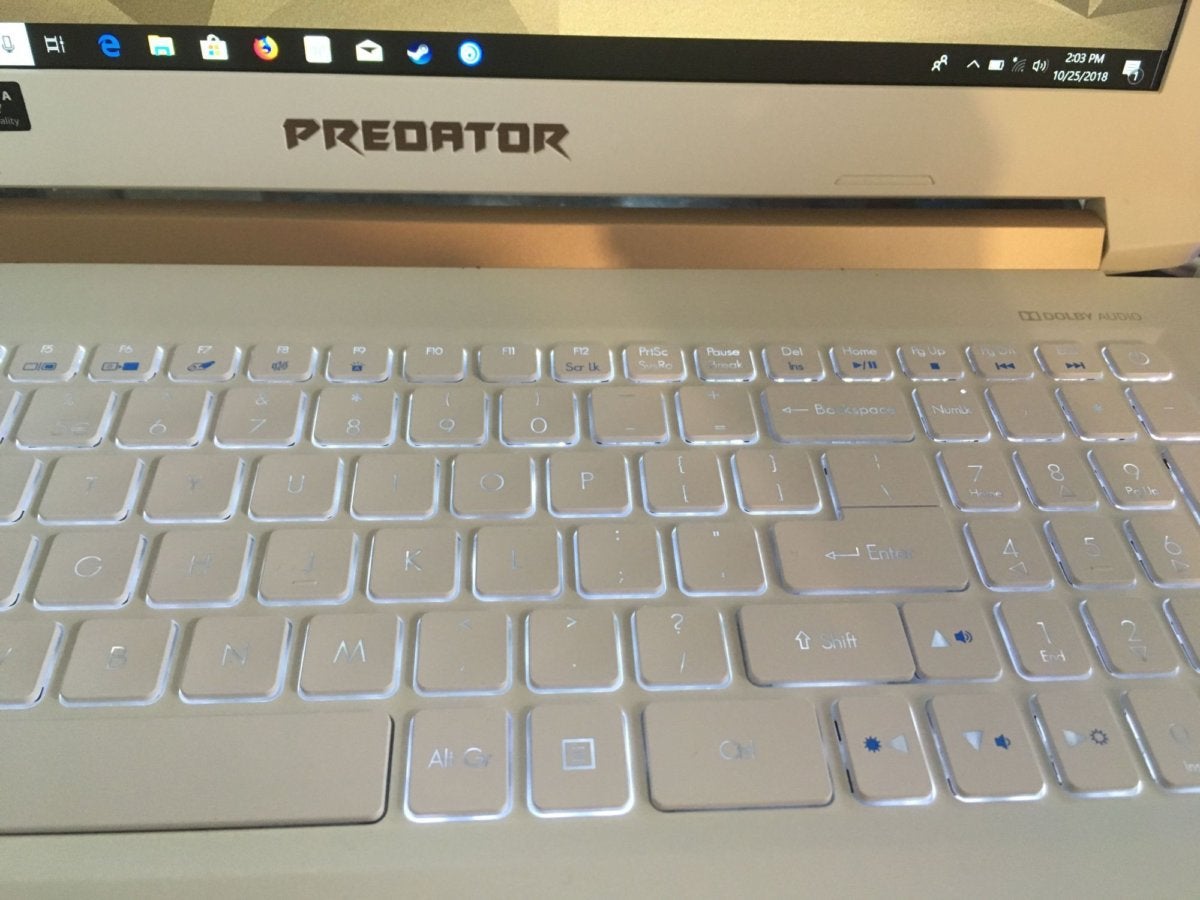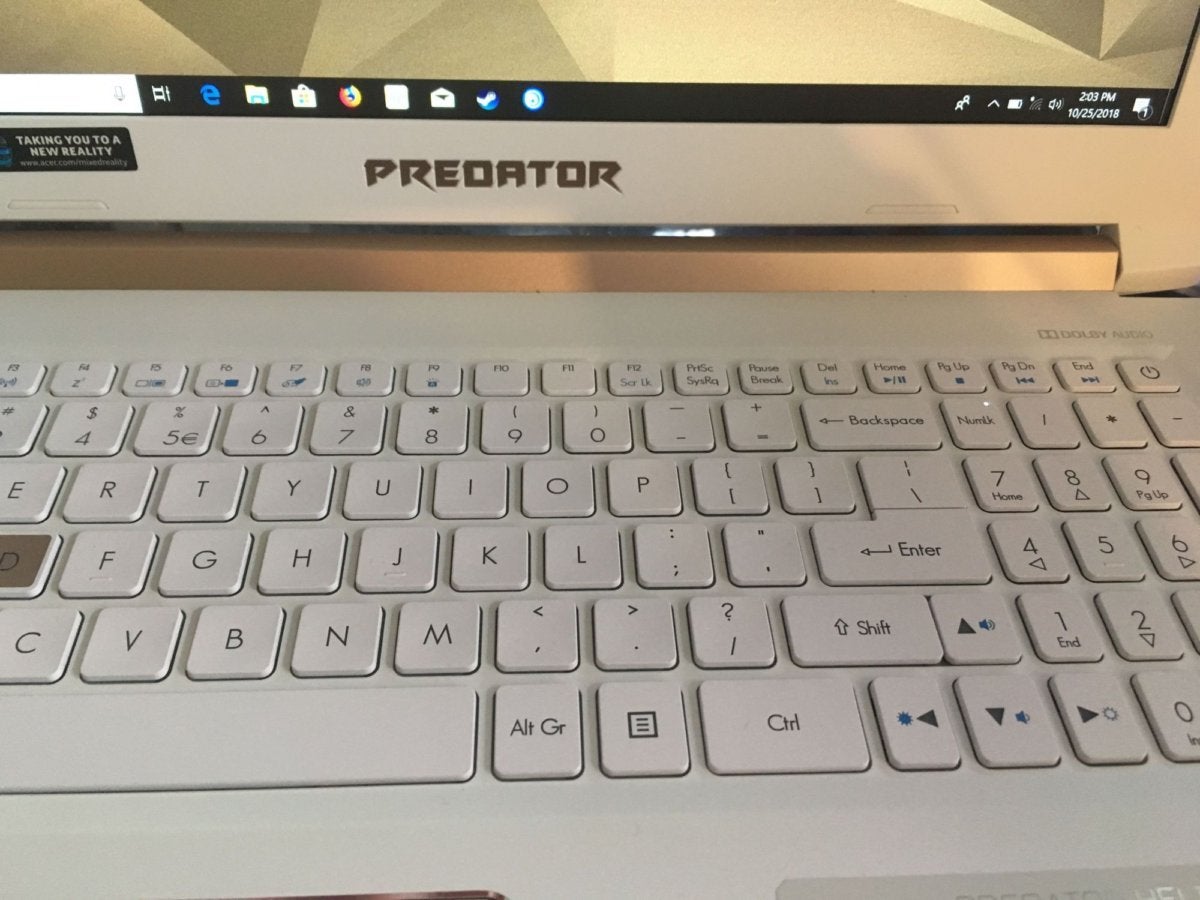 All the keys are white except for WASD, which ship with golden caps. But Acer also decided to use a white backlight on the keyboard, and it's uneven at that, with the letters on some keys alternating between backlit patches and ugly dark blobs. Unless you're in a dark room the white-on-white setup proves illegible, frankly, and the keyboard's much more usable if you disable the backlighting completely. I've never had to recommend that for a laptop before. It's pleasant to use when you can figure out which keys to click, though.
A nice golden trim runs around the edge of the laptop and the edge of the clickpad-style trackpad, which performs well despite the lack of physical buttons. Most of the chassis is plastic, though, which is a bit of a bummer.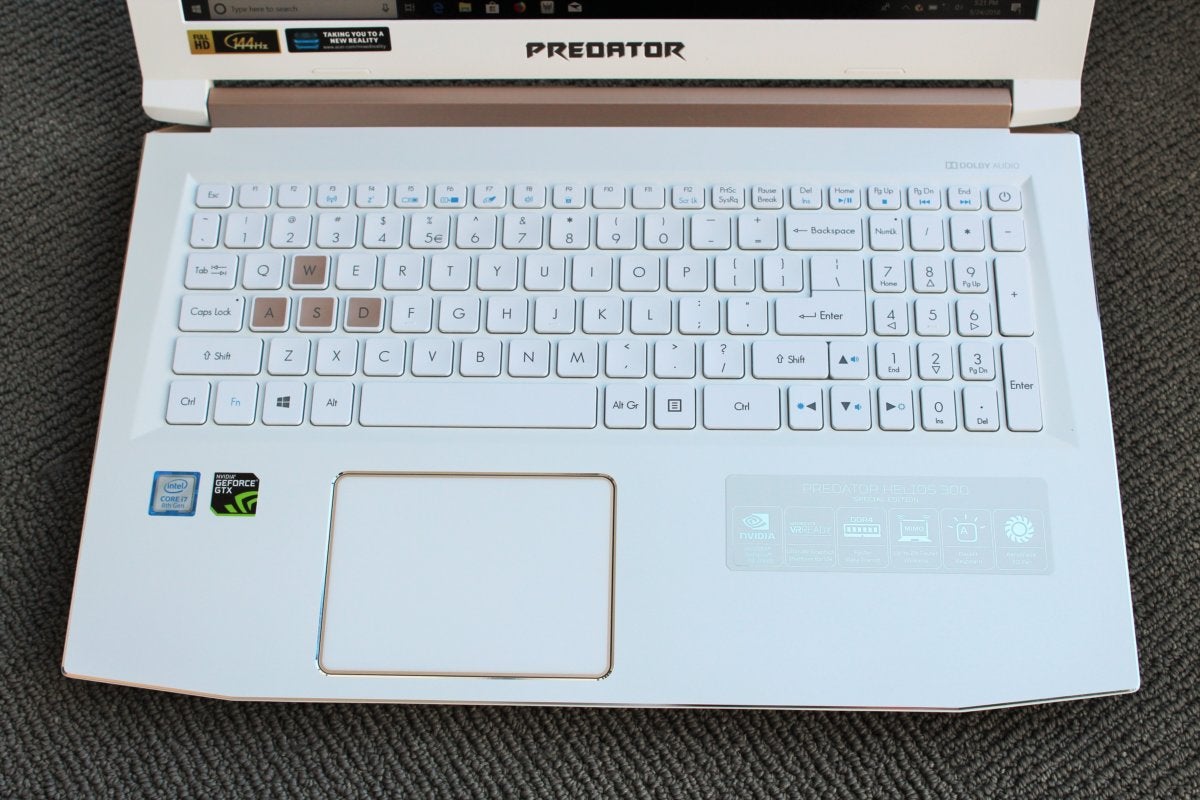 The $1,400 Special Edition costs a full $300 more than the standard model we reviewed earlier this year, and while the Special Edition now packs a better processor and display, so does the updated basic version of the Predator Helios 300, which we found for $1,100 on Amazon. Pairing an all-metal design with the white-and-gold paint job would've made the Special Edition's price premium seem more compelling. Likewise, while we overlooked the standard model's thick plastic bezels due to the laptop's overwhelming value proposition, we'd have liked the Special Edition to slim those down to make it feel more, well, special.
Flipping the laptop over reveals an abundance of ventilation to help the heavy-hitting gaming hardware stay cool. A few simple Phillips screws are all that's keeping you from the storage and memory lurking inside the Special Edition. That's a good thing, because like the standard edition, the Helios 300 Special Edition's Achilles Heel lies in its scant storage capacity. You only get 256GB of SSD storage in the laptop, or about enough space to hold two or three of today's bloated AAA games and your Windows install. Acer also includes a moderate amount of bloatware on the Special Edition, not counting its PredatorSense app, which further eats into your available storage.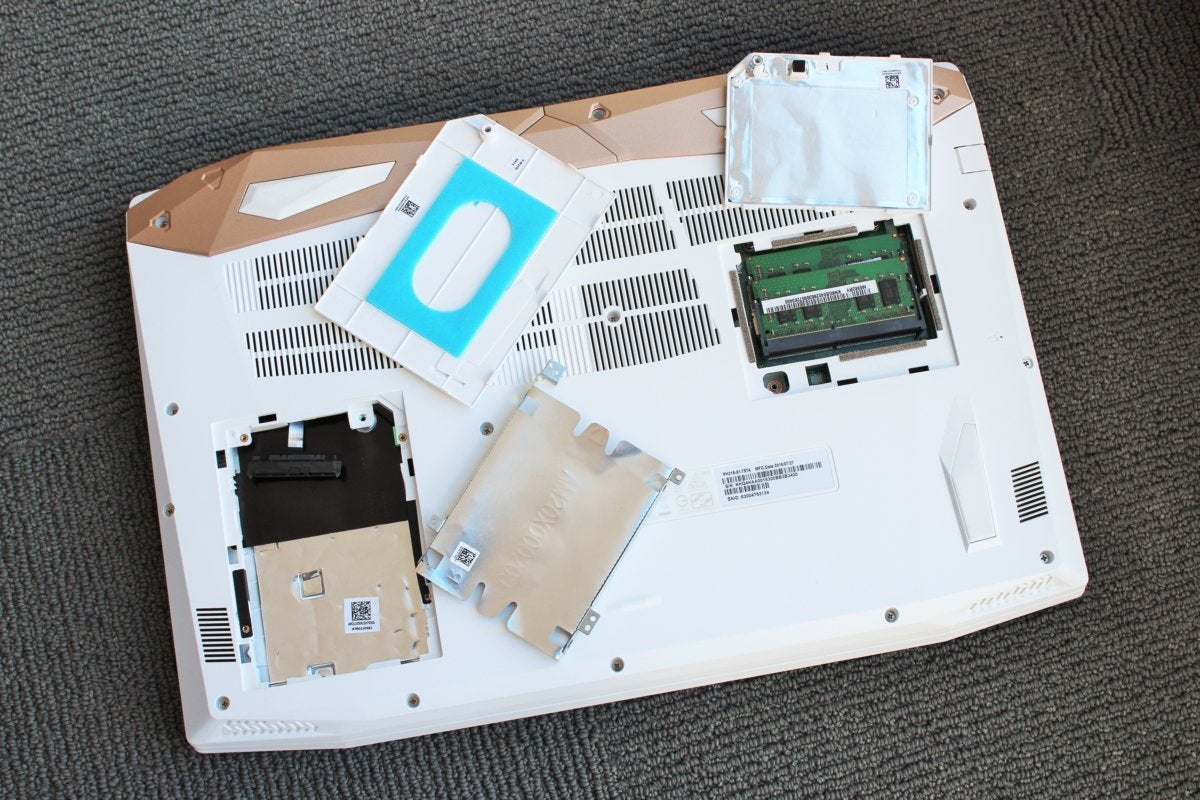 Plan on buying a secondary SSD and installing it in your laptop if you're considering buying the Predator Helios 300 Special Edition. That 256GB just doesn't cut it in a gaming rig.
Acer Predator Helios 300 Special Edition performance
Storage capacity aside, the Acer Predator Helios 300 Special Edition packs hardware with some serious game. To see how it handles, we're comparing it against similarly priced laptops in a bevy of benchmark tests, including the $1,500 Dell XPS 15 9570 with a Core i7-8750H and a GeForce GTX 1050 Ti; the $1,200 Dell G7 15 7588 (phew!) with an 8750H and a GTX 1060 Max-Q; and Acer's older Helios 300 with a quad-core Core i7-7700HQ processor. The Dell XPS 15 isn't technically a gaming laptop—it's more of a mainstream workhorse with a splash of gaming on the side.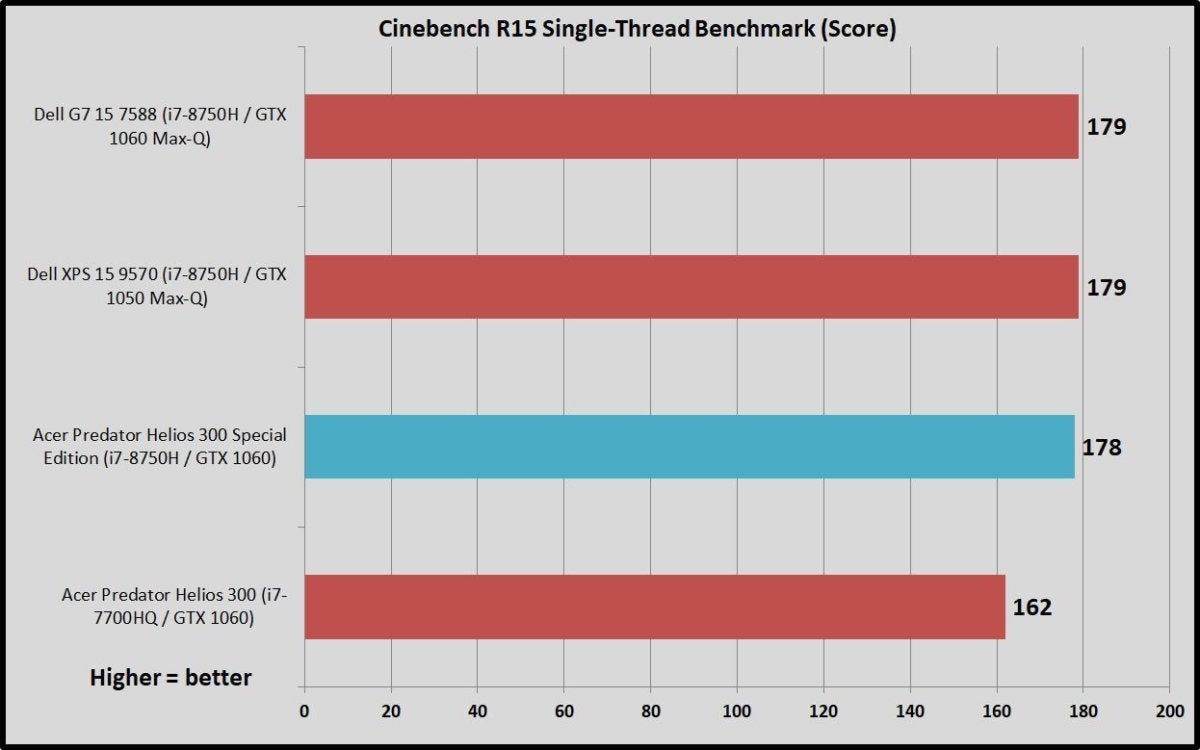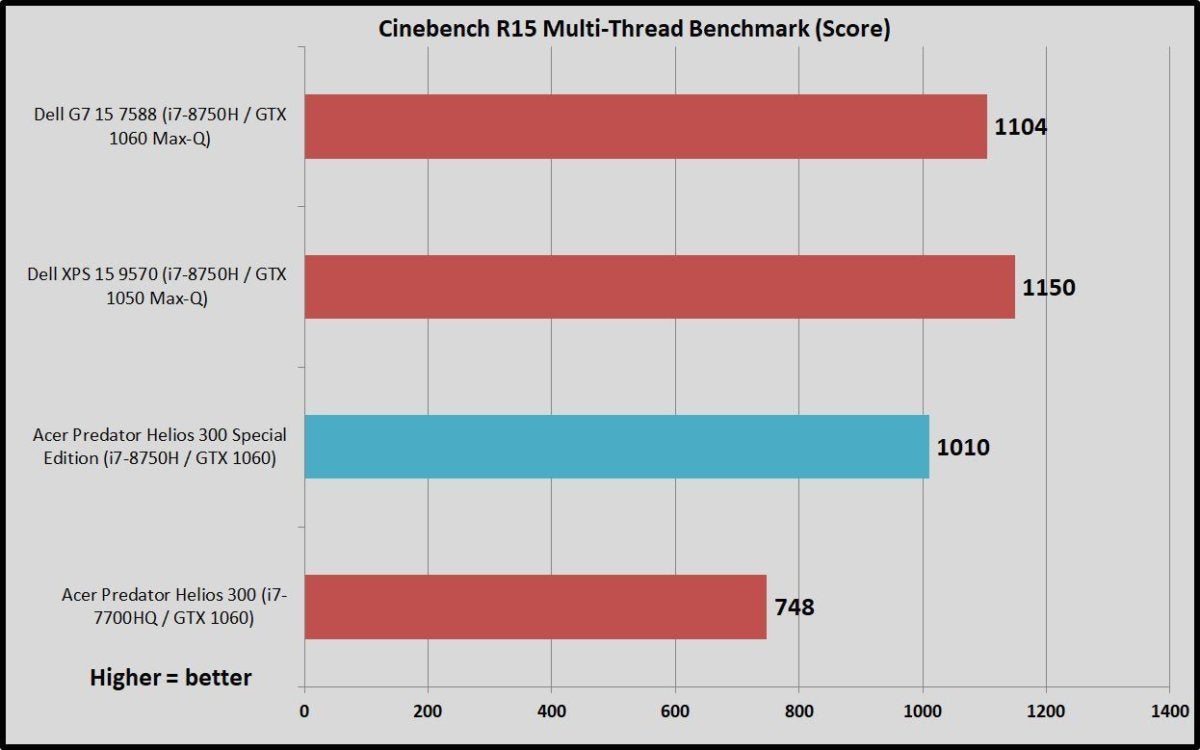 Maxon's Cinebench R15 measures raw CPU performance, and will happily use as many threads as you can throw at it. As you'd expect, the two extra cores and four extra threads give the Special Edition a big bump up over the older Helios 300 in multi-threaded performance, though it's just a hair slower than Dell's duo. The newer 8750H chip also packs a slight single-core performance bump.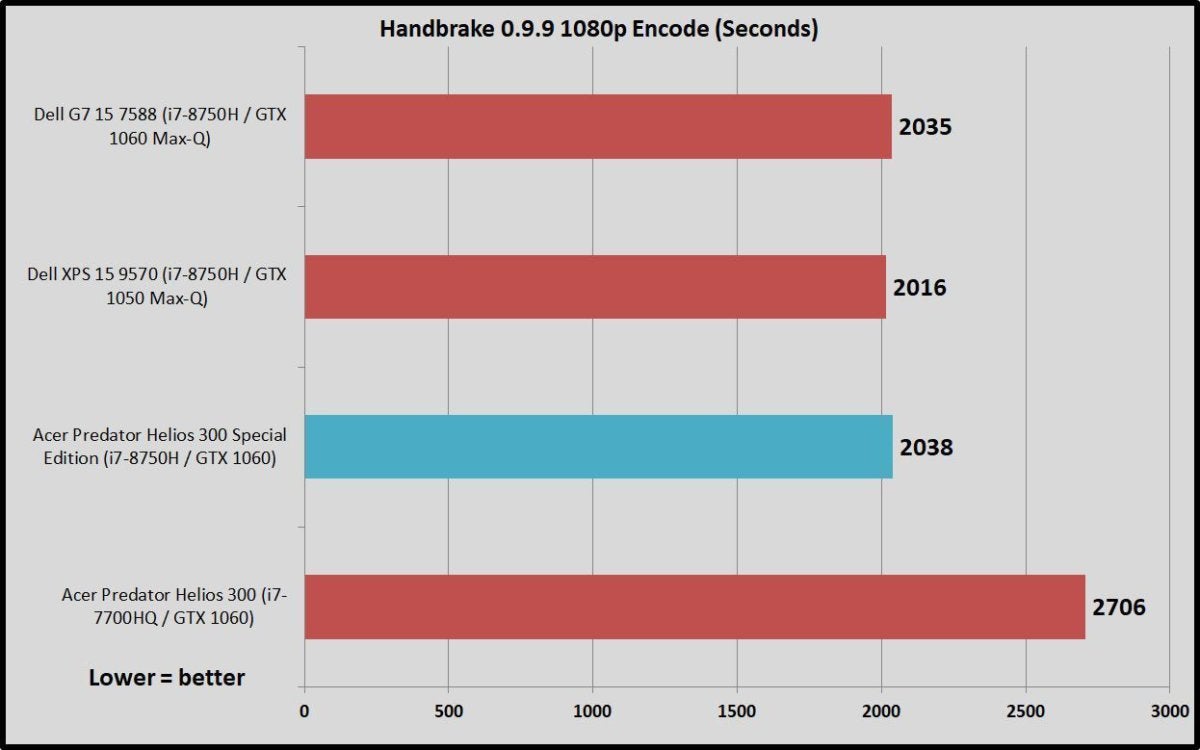 But Cinebench's benchmark runs in a short duration. The file we encode in our CPU-intensive HandBrake test (which uses an older version of the software) takes around 45 minutes on a quad-core processor, or as you can see from these benchmarks, just over a half-hour on the new breed of Intel hexa-core chips. HandBrake loves the extra hardware inside Intel's 8th-gen chips.
Gaming laptops need strong graphics capabilities, of course. We test their all-around gaming prowess in 3DMark's Fire Strike Extreme benchmark, a synthetic test that focuses on overall gaming performance.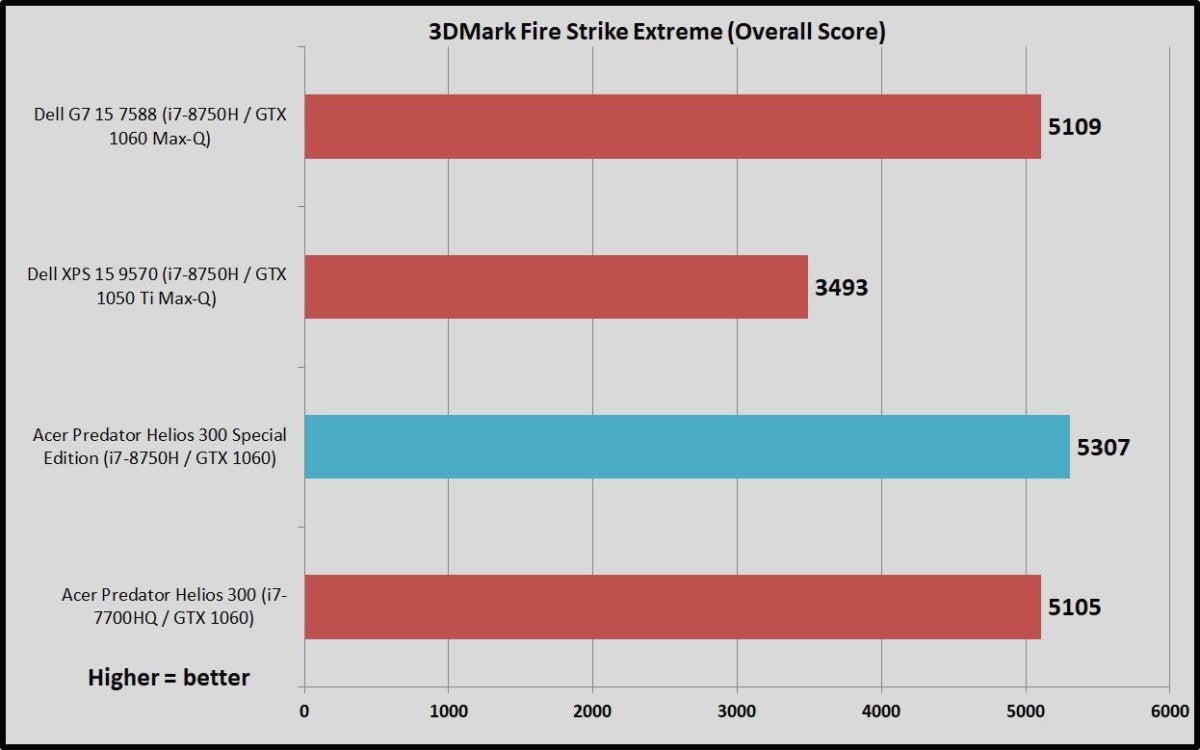 Here, you see the difference the Special Edition's GTX 1060 makes, because it packs the same Core i7-8750H processor as the Dell duo. It leaves the Dell XPS 15 and its GTX 1050 Ti in the dust and clocks in a bit ahead of the Dell G7 15's more energy-efficient (read: slower) GTX 1060 Max-Q. The older, slower quad-core chip in the previous Helios 300 drags its score down to the Dell G7's level despite packing the same GTX 1060 as the Special Edition.
But let's get to the actual games! We compare laptop gaming performance at 1080p resolution to standardize results across the board, using the in-game benchmarks included with each title. We rely on older titles, as newer games frequently receive updates that can wreak havoc on performance comparisons.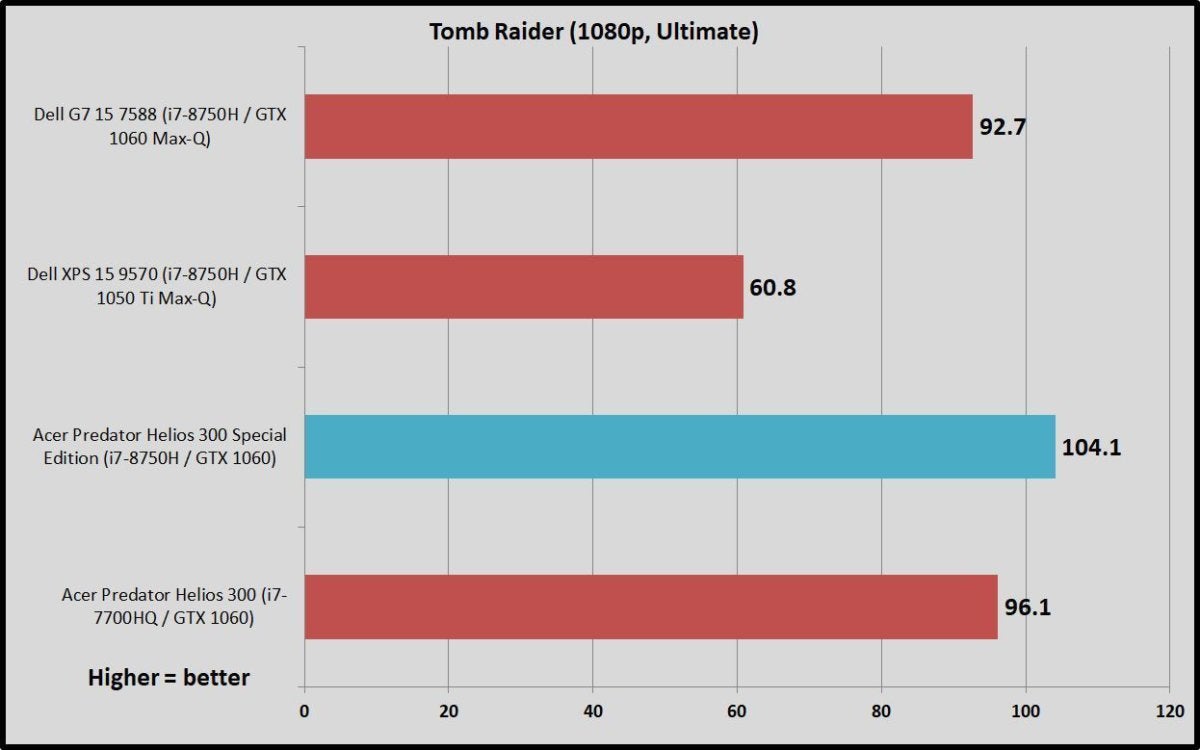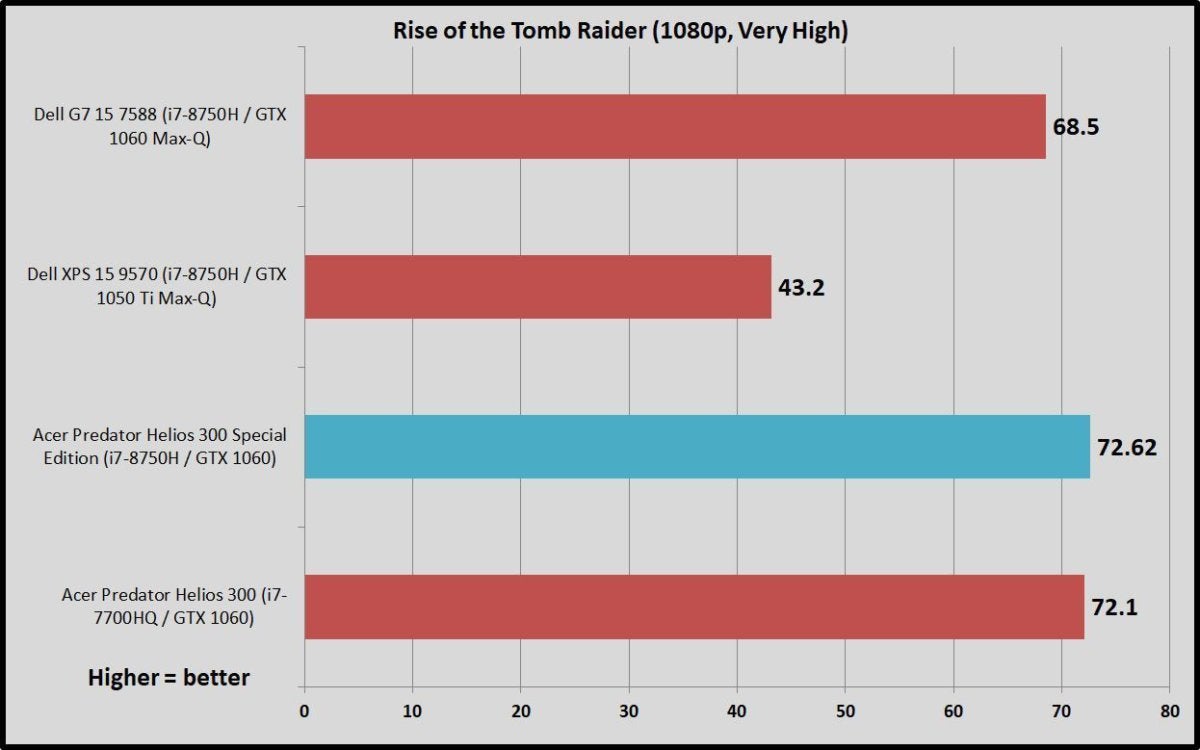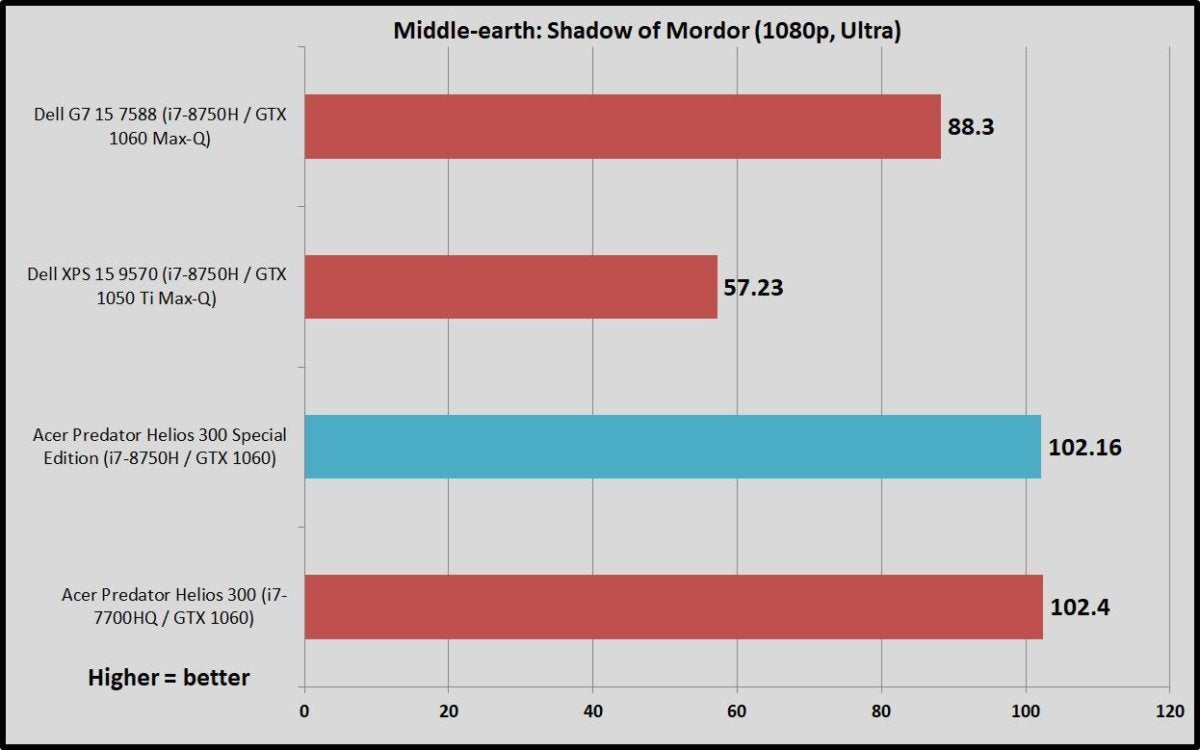 The GTX 1060 inside the Special Edition easily clears 60 frames per second across the board, and the overall results show how your graphics card is usually the main differentiator in games. The older Helios 300 keeps pace with the newer Special Edition despite having a much slower CPU, while the lesser-powered GPUs in the Dell laptops don't quite. The Dell G7's energy-efficient GTX 1060 Max-Q is only a hair behind, though.
We also ran the Rise of the Tomb Raider benchmark continuously for an hour, and performance stayed consistent within a margin of error. That means the Predator Helios 300 Special Edition's cooling solution is doing what it's supposed to, rather than starting off strong and then dropping performance off a cliff due to overheating. You can definitely tell it's a gaming laptop under load, though. The fans aren't quiet.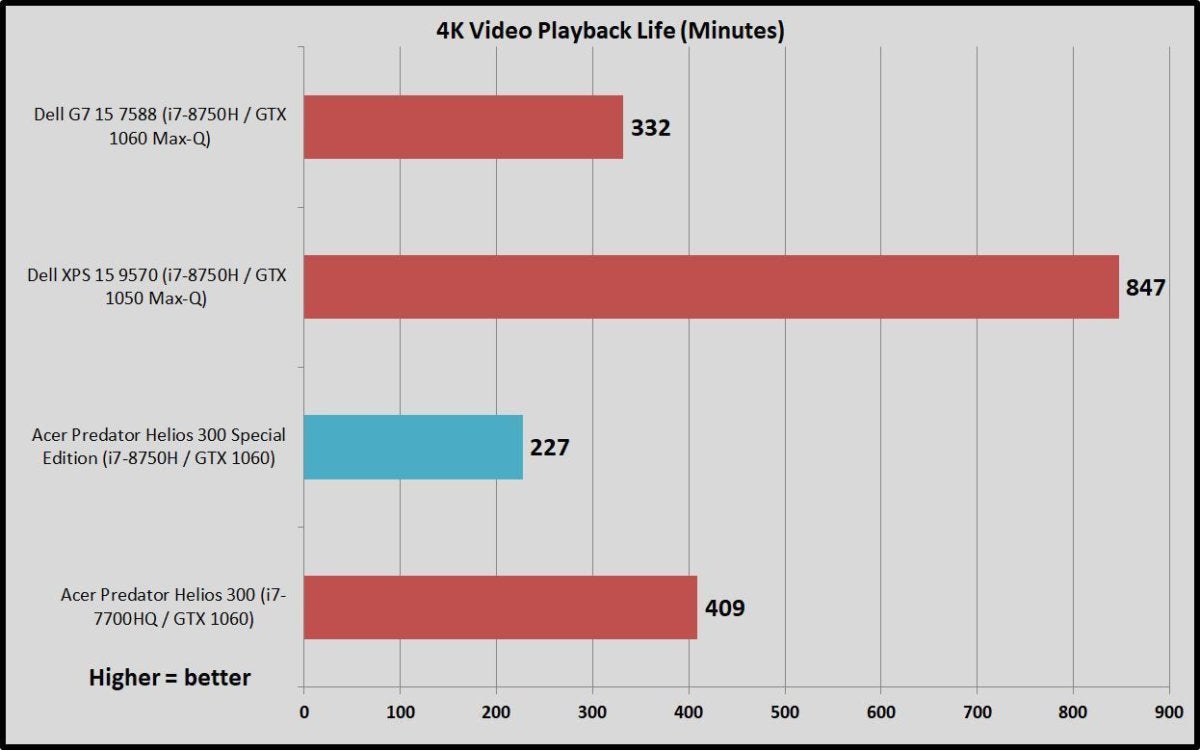 The Special Edition disappoints when it comes to battery life, though. Despite having the exact same battery capacity of the older Helios 300, it died nearly 3 hours sooner than its predecessor our battery run-down test (which consists of looping a 4K video in the Windows 10 Movies and TV player with audio at 50 percent until the machine gives up the ghost). The Special Edition only lasted 3 hours and 47 minutes total, and I ran the test multiple times to confirm it. The Dell G7 and its GTX 1060 Max-Q lasted 100 minutes longer, and the Dell XPS 15 lasted a whopping 14-plus hours total (though it's not really a dedicated gaming laptop).
You can probably chalk up the vastly decreased battery life to the vastly increased CPU core count and display speed, and the fact that the original Helios 300's screen is exceptionally dim—it can't even reach the 250 to 260 nits we standardize around in our testing. But seeing where Dell's 8750H-equipped laptops lie, the showing from Acer's Predator Helios 300 Special Edition is…not so special.
Should you buy the Acer Predator Helios 300 Special Edition?
It depends on how much value you put in aesthetics.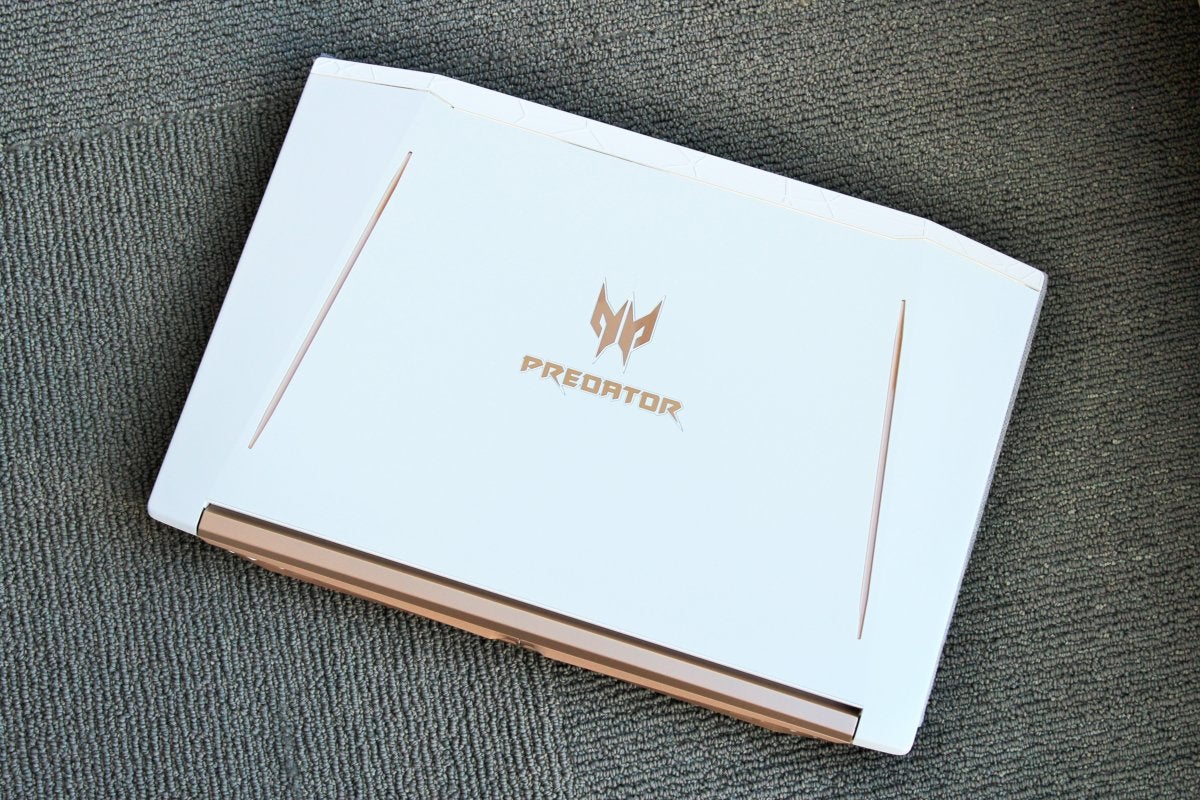 The Acer Predator Helios 300 Special Edition ($1,400 on Newegg) is a gorgeous laptop and a decent value in the wider gaming laptop landscape. It doesn't offer anywhere near the jaw-dropping bang-for-buck as the last-gen standard edition we originally reviewed, however. And while the Special Edition's CPU and 144Hz display are welcome indeed, the recently upgraded non-special Helios 300 packs the same upgrades and overall design for $1,100 on Amazon. The Special Edition bolsters its asking price by throwing in a "free" matching mousepad, mouse, and earbuds, but there's a yawning $300 gulf between the standard and Special Edition Helios 300.
That cost chasm makes otherwise acceptable drawbacks in the Helios 300 less palatable in the Special Edition. The scant 256GB of storage is a disappointment in both models. Chunky bezels, some plastic design materials, and a relatively dim display aren't major compromises when you're getting the Helios 300's stellar gaming performance at a just-as-stellar price. When you're paying an extra $300 for a new paint job, though, the details matter. And the Special Edition's white keyboard with white backlighting is awful.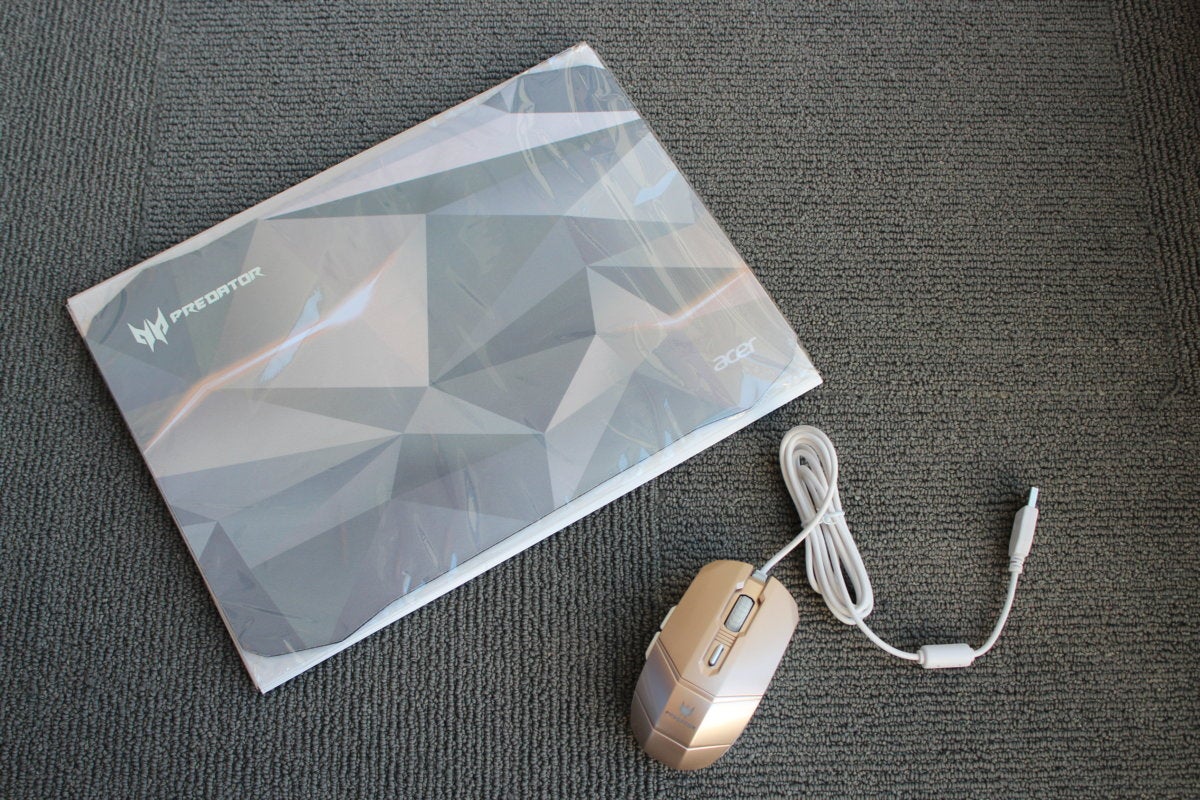 The standard Predator Helios 300
Acer Predator Helios 300 Gaming Laptop
We haven't formally reviewed the upgraded Helios 300, but with what we know about its predecessor and this identically spec'd glammed-out Special Edition, I'd definitely recommend picking that up. At $1,100, you're getting a lot for your money.
I wouldn't spend the extra $300 for the Acer Predator Helios 300 Special Edition, but your mileage may vary. My wife is utterly enthralled by its white-and-gold color scheme, and when I told her you could get the same laptop in black and red for $300 less, she said she'd still opt for the Special Edition simply for its aesthetics. No matter which version you buy, you'll be getting a great gaming machine. Just be sure to budget for an extra SSD.
Best Prices Today: Predator Helios 300 Special Edition (PH315-51-757A)