At a Glance
Expert's Rating
Pros
Light and portable
Fast USB 3.1 Gen 2 (10Gbps) Type-C interface
Our Verdict
A fancy name and svelte design can't make up for this drive's slow sustained writes. If you regularly write more than a few gigabytes to your external drive, then (pricing being relatively equal) opt for a faster drive such as Samsung's T5 or the Sandisk Extreme Portable SSD.
HyperX Savage EXO is a name that evokes hardcore performance madness. But while this superportable and good-looking USB 3.1 Gen 2 (10Gbs) SSD is fast for everyday chores, it's not the drive you want for offloading large amounts of data.
Design and features
The Savage EXO is a handsome, angular, silver and gray unit measuring approximately 5 x 1.9 x 0.4 inches 2 ounces. I like the way it feels in the hand better than the Samsung T5 and WD My Passport SSD, but the Sandisk Extreme Portable SSD still reigns supreme in that regard.
Better design
SanDisk Extreme Portable SSD (1TB)
Price When Reviewed:
$349.99
HyperX didn't provide info on the controller, but the NAND is 3D TLC (we're assuming 64-layer), and the whole deal is warrantied for three years. The only thing breaking up the smooth exterior is a USB Type-C port, for which HyperX includes both Type C to Type C, and Type C to Type A cables (The latter for older USB 2.x/3.x systems.)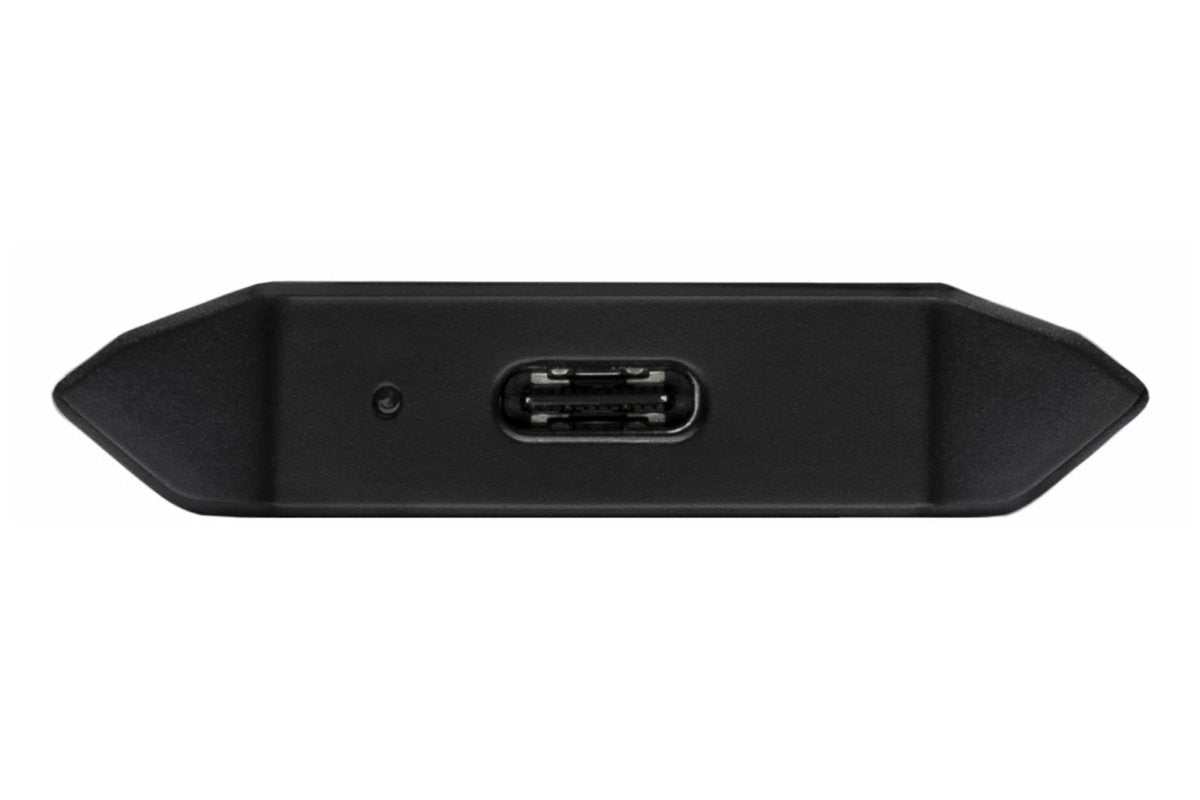 There are two capacities available: 480GB (our test unit, available on Amazon), and 960GB (also available on AmazonRemove non-product link). The Samsung T5 or Sandisk Extreme Portable SSD were significantly cheaper than the Savage EXO at the time of this writing, and both those drives are far faster when writing large amounts of data. Be careful of the pricing on the HyperX website, which tends to remain high.
Much faster competitor
T5 SSD
Price When Reviewed:
$399.99
Performance
The Savage EXO suffers the same Yin-and-Yang performance characteristics as its Fury RGB cousin. It's fast with the synthetic benchmarks and in light usage, then slumps when it comes to sustained writing. Anecdotally, it was fine running a live version of Linux (or Windows—not tested), which is something larger USB 3.1 SSDs are good for.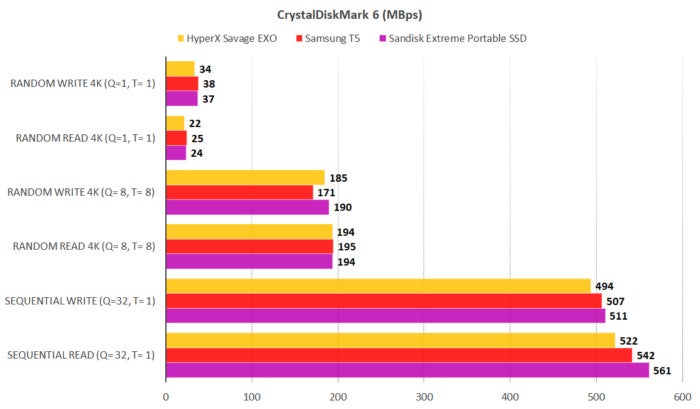 AS SSD 2.0 had largely the same nice things to say about the Savage EXO when working with lots of small blocks of data (4K or 4,000 bytes).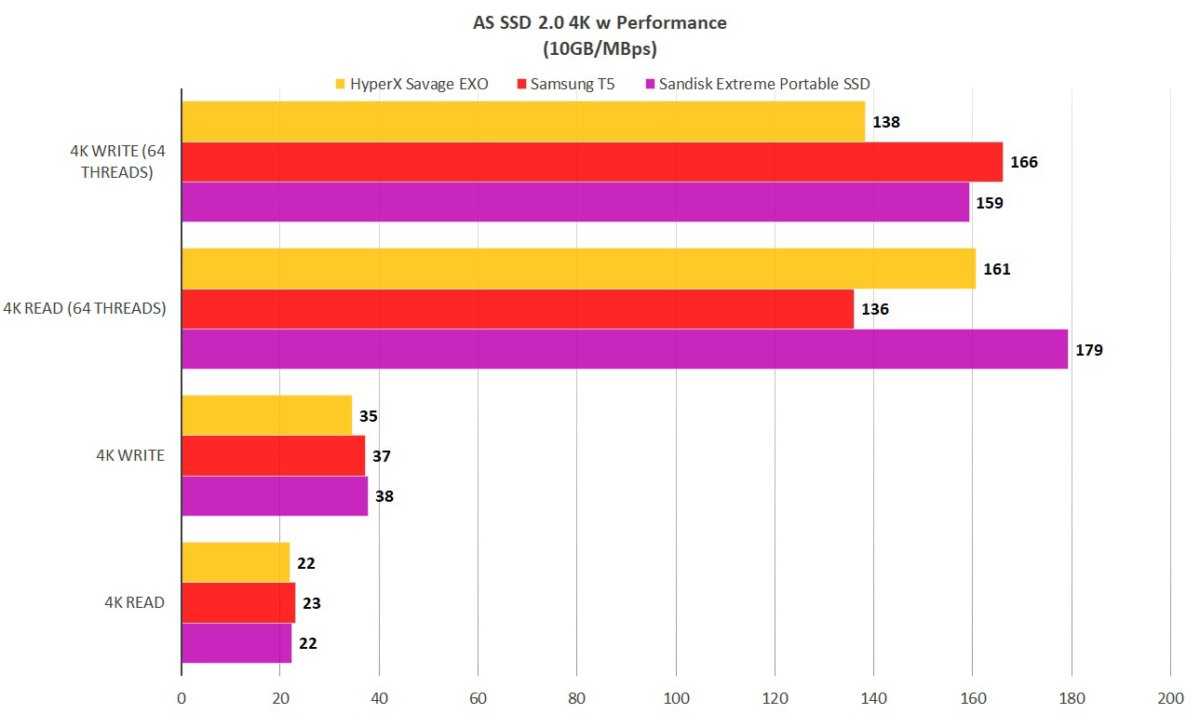 The large 48GB file writes were where the story changed. Indeed, snooping out slowdowns with TLC and QLC NAND when the cache runs out is why we write so much data to the drives in the first place.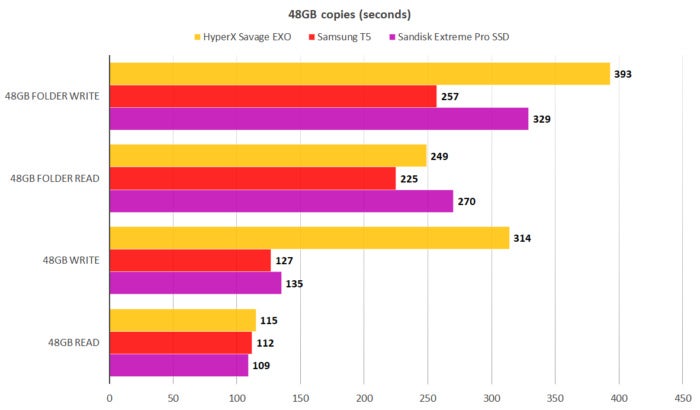 Long write times such as these aren't unknown. Certain TLC drives we've tested over the years have done even worse, bottoming out at less than 100MBps. But controllers have improved, and some vendors have come up with dynamic caching schemes that offer much better performance for larger data sets. Apparently, this does not include HyperX yet.
Good, but not the best
Some users just use portable SSDs as a fast way to copy off a few megabytes of data and drop it in their pocket. For that, the Savage EXO is fine, as are most thumb drives. As I noted, it's also good as a pocket OS drive.
But most users buy a large-capacity external SSD because they want a lot of storage for their large files. Writing said large files is where the Savage EXO goes from fast to not-so-fast. Unless you get significantly better deal on the Savage EXO, stick with the Samsung T5 (fastest) or Sandisk's Extreme Portable SSD (best design).