One of the best, lesser known perks that come with owning an Amazon Kindle is the ability to share many of the ebooks in your digital library with your friends and family. Better still, your friends and family can also share the books from their collection, with you.
We'll show you how to quickly and easily loan Amazon Kindle ebooks to your friends, share your digital library with members of your family and, in some circumstances, shuttle the DRM-free books you own from your computer onto any Kindle you connect to it.
Note: See our Best Kindle roundup for reviews of all the different Kindle models and our top picks.
Loan a Kindle ebook to a friend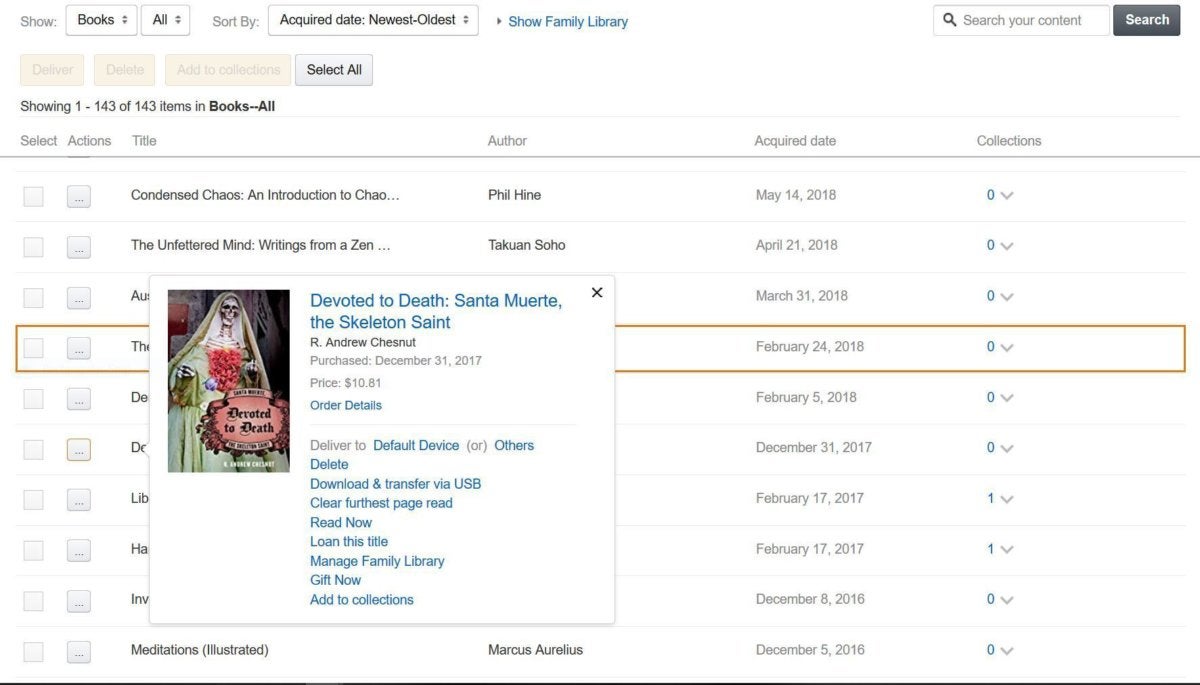 To loan out a Kindle ebook that you purchased from the Amazon Kindle store, sign into Amazon.com and open the Account & Lists drop-down menu, located in the top right corner of the Amazon homepage. Choose Your Content & Devices. You should see a list of all of the Kindle ebooks that you've ever bought. Next to the title of each book, you'll note a gray square with three dots on it. Click the gray box: a list of all of the options for this title will appear. If 'Loan this title' is on the list, you're in business. Click Loan this title. Doing so will take you to a page that lets you send the book to the friend of your choosing, via their email address. Your Kindle ebooks can be lent out for a 14-day period, during you won't have access to the title yourself—just like if you'd lent a book to a pal from the shelf in your living room.
Share ebooks with your significant other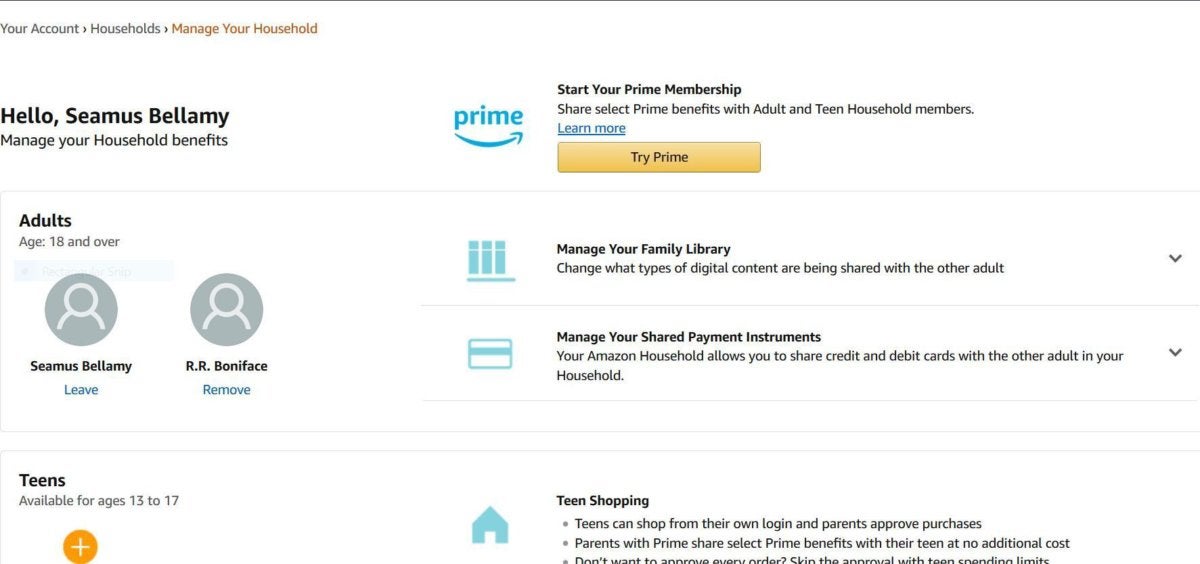 If you're not the only Kindle owner in your family, you're in luck: Amazon will allow a maximum of two adults per family, to share Kindle ebooks with one another. So, if your partner buys an ebook from the Kindle Store, you'll be able to read it too, at no charge. To get started with this, log into Amazon's website and under your Account Settings, choose Your Content & Devices. Next, click Households and Family Library. From here, you'll be able to set up your Family library sharing settings. Once you've added a family member to your Amazon Kindle account, you'll be able to see, download and read any of the books they've bought from the Amazon Kindle store. The same goes for them too: your books become their books. It's a great way to quickly expand your ebook reading horizons.
No family members to share ebooks with? No problem: You can use the same process to give a friend from work or your book club access to your library as well.
Transfer ebooks from computer to Kindle
It's also possible to share ebooks with your friends, family or any other voracious readers you may know by transferring them from their computer to their Kindle via a USB connection. This method of sharing ebooks with others can also be used to move ebooks from third-party sellers and sites like Project Gutenberg, or to transfer content from your computer to your own personal Kindle.
When using this method to share your digital library, you should know that you'll only be able to share ebooks in your collection that are not protected by DRM. DRM (Digital Rights Management) is a security feature that many companies use to prevent their content from being illegally copied.
When you buy a copy of a DRM-protected ebook from Amazon, for example, the security protections built into the ebook file prevent it from being used on hardware that hasn't been registered with your Amazon account. This is why it's necessary to either use Amazon's methods for sharing your digital library with your friends and family instead of simply making them copies of your ebooks to read. There are a number of online retailers that sell DRM-free ebooks: Lulu and Smashwords are two of our favorites.
In order to transfer a book from your collection of DRM-free ebooks onto your personal Kindle or to someone else's, you'll need a micro-USB cable—probably the same one you use to charge your Kindle. Turn on your Kindle, either by opening its cover or pressing its power button. Next, plug your micro-USB cable into it. Now, insert the other end of your micro-USB cable into a USB port on your computer.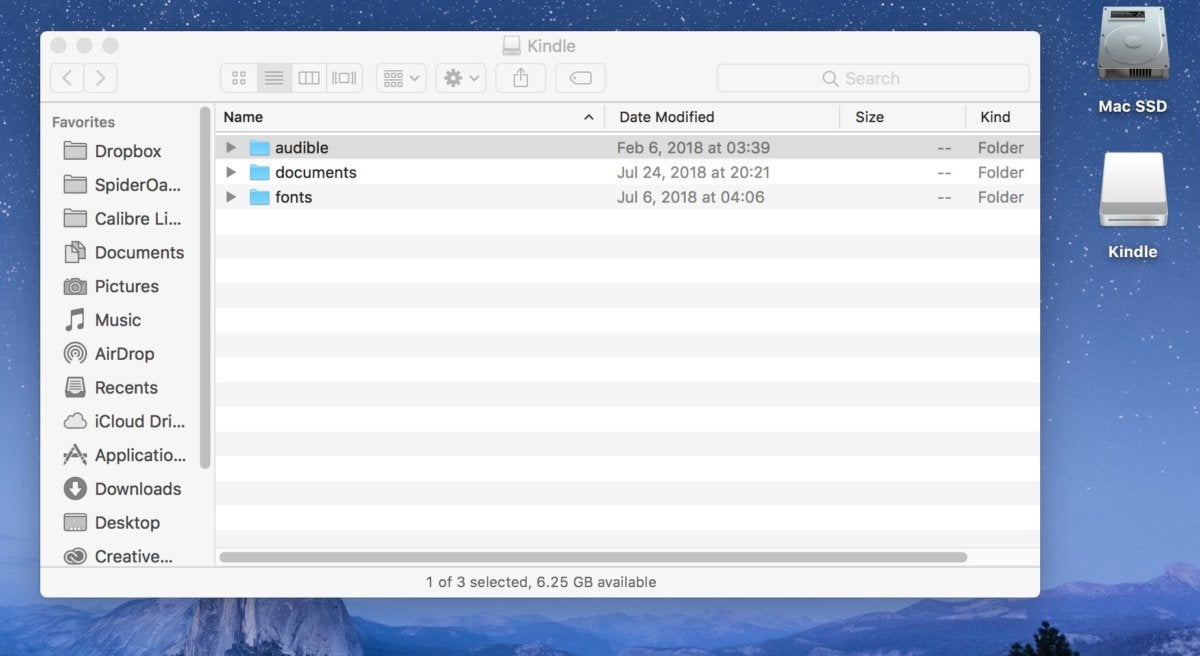 If you're using an Apple computer, your Kindle will be recognized as a hard drive and show up in the top right-hand corner of your computer's display, cleverly named 'Kindle.' Alternatively, you will also be able to locate using the Finder.
If you own a Windows PC, your computer will also be recognized as an external hard drive, labeled as 'Kindle.' You can gain access to your Kindle's storage via your PC by looking for it in Windows Explorer, under 'This PC,' located in the scrolling list of Quick Access folders and drive locations on the left-hand side of your Explorer window.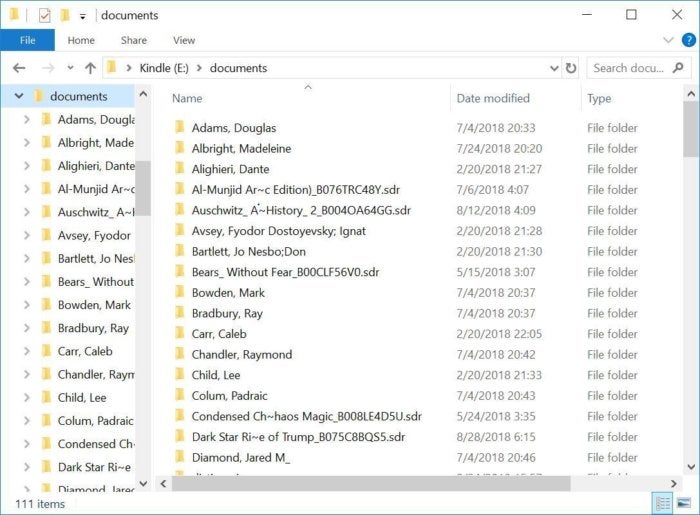 No matter whether you're using a Windows PC or a Mac, the process for transferring eBook files to a Kindle is the same: After connecting the Kindle to your computer, open the ereader's 'Documents' file folder. Now, locate the Kindle ebook file you wish to transfer to the Kindle. Click the file and drag it into the Kindle's document file. As ebook files are small in size, the transfer could take less than a second.
Once you've completed the transfer, simply disconnect your Kindle from your computer and start reading. If your computer was made by Apple, remember to unmount the Kindle's drive from your Mac before disconnecting your USB cable.