It was only last year that Razer finalized its purchase of Nextbit and quickly released the Razer Phone—the world's first gaming-centric smartphone. This year's Razer Phone 2 maintains its focus on the unique design language and hardcore internals we loved, while refining key weaknesses and adding RGB for maximum 'tude. My colleague Gordon Mah Ung and I got some hands-on time with the Razer Phone 2 a couple of weeks before launch—and even though it looks similar to last year's version, it's been reworked from the inside out.
Razer Phone 2 specs and features
Announced Wednesday, the Razer Phone 2 will be priced at $800 and will be available for pre-order soon. Below are the main Razer Phone 2 specs (look for camera specs later in the story):
Processor: Qualcomm Snapdragon 845 (2.8GHz)
System memory: 8GB (LPDDR4X)
Storage: Internal – 64GB V4 UFS / External SIM + micro SD slot (up to 2TB)
Display: 5.72-inch IGZO LCD 1440×2560

120Hz, Wide Color Gamut
UltraMotion Technology
Corning Gorilla Glass 5
645 nits (typ.) 470 nits (min.)

Power: 4000 mAh Li-Po battery

Qualcomm QuickCharge 4.0+
Wireless Qi inductive fast charging

Size: 158.5 x 78.99 x 8.5 mm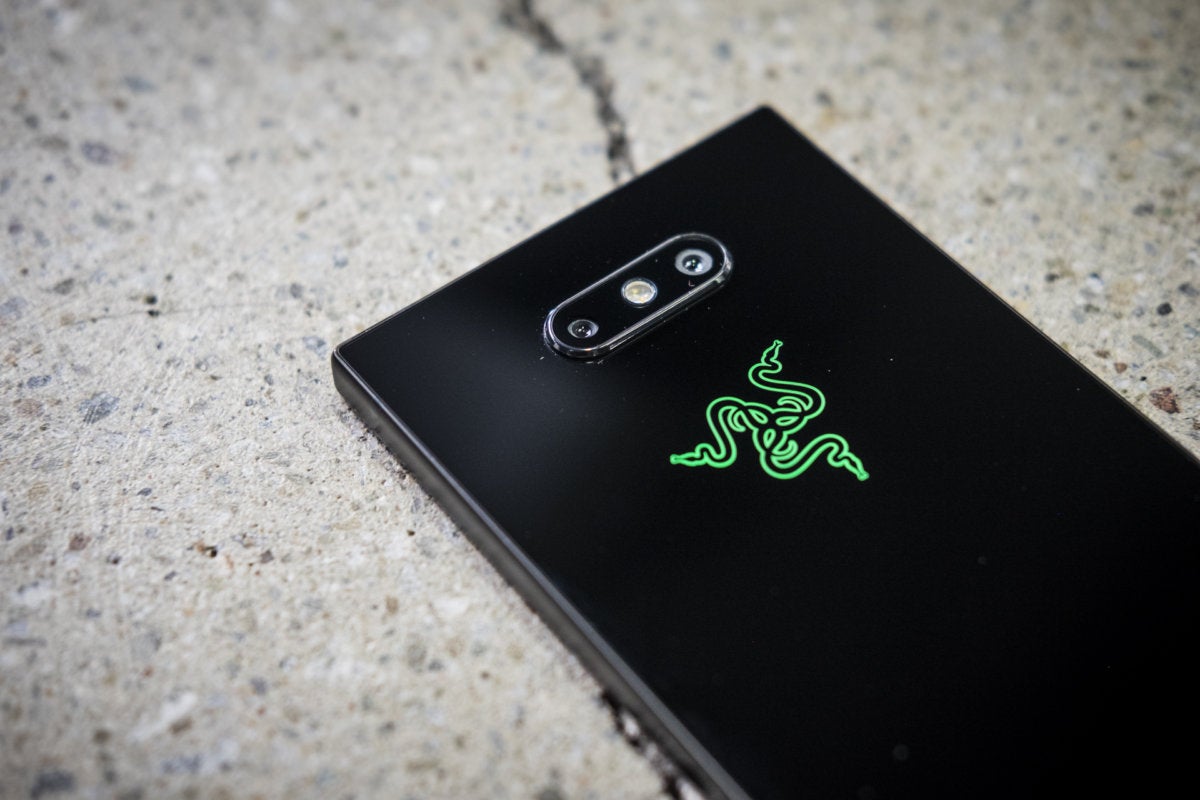 Mixed feelings about the glass back
I won't lie, I'm pretty bummed by the move from a brushed-aluminium back on the first Razer Phone to a glass one. But there are some upsides. First off, the Razer Phone 2 now includes Qi wireless charging for its 4000mAh battery (same size as last year). This is a convenience that also allows Razer to sell a new wireless charging dock that's lined with RGB lighting in the base. Unfortunately the dock doesn't sync up to Razer Synapse or Chroma studio on the PC.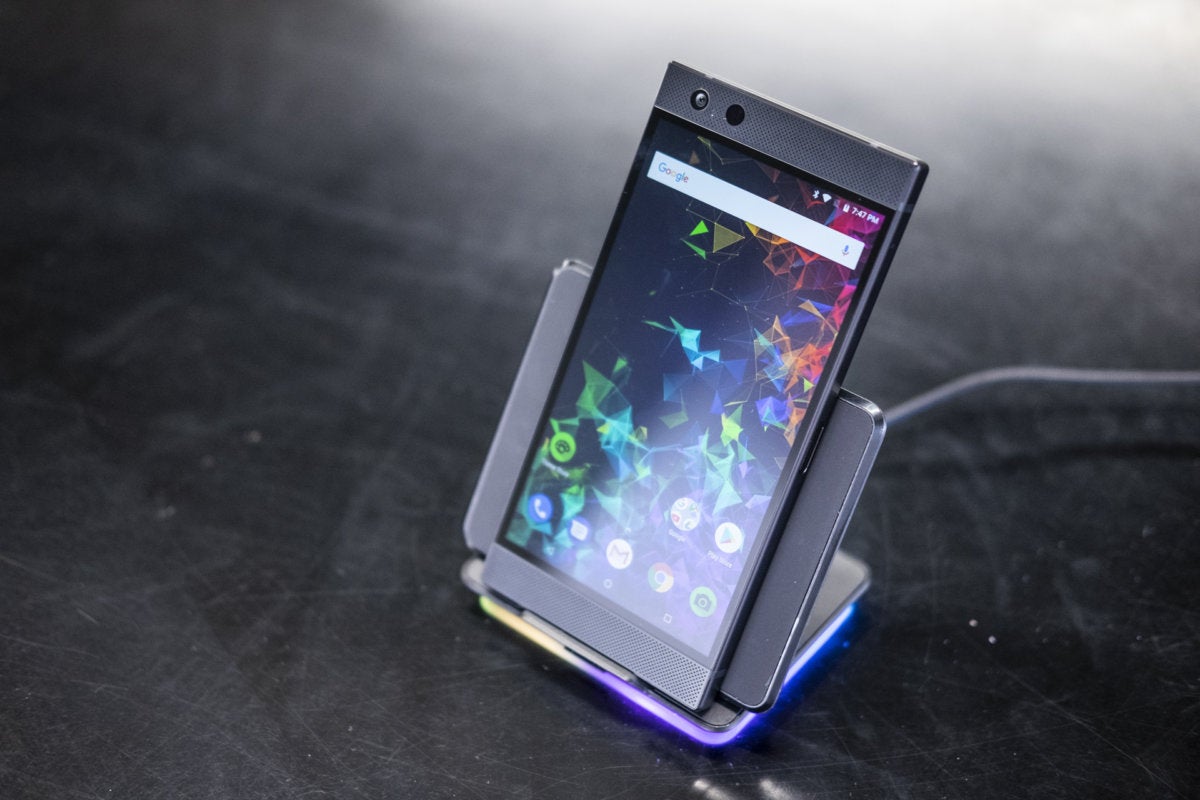 Speaking of RGB, Razer's triple-headed snake logo on the back of the Razer Phone 2 now lights up. The effect is controlled by the Chroma app, and has the typical RGB lighting features like breathing and spectrum—alongside the static option. The logo will also light up for notifications if you choose, and has a brightness slider to control the glow.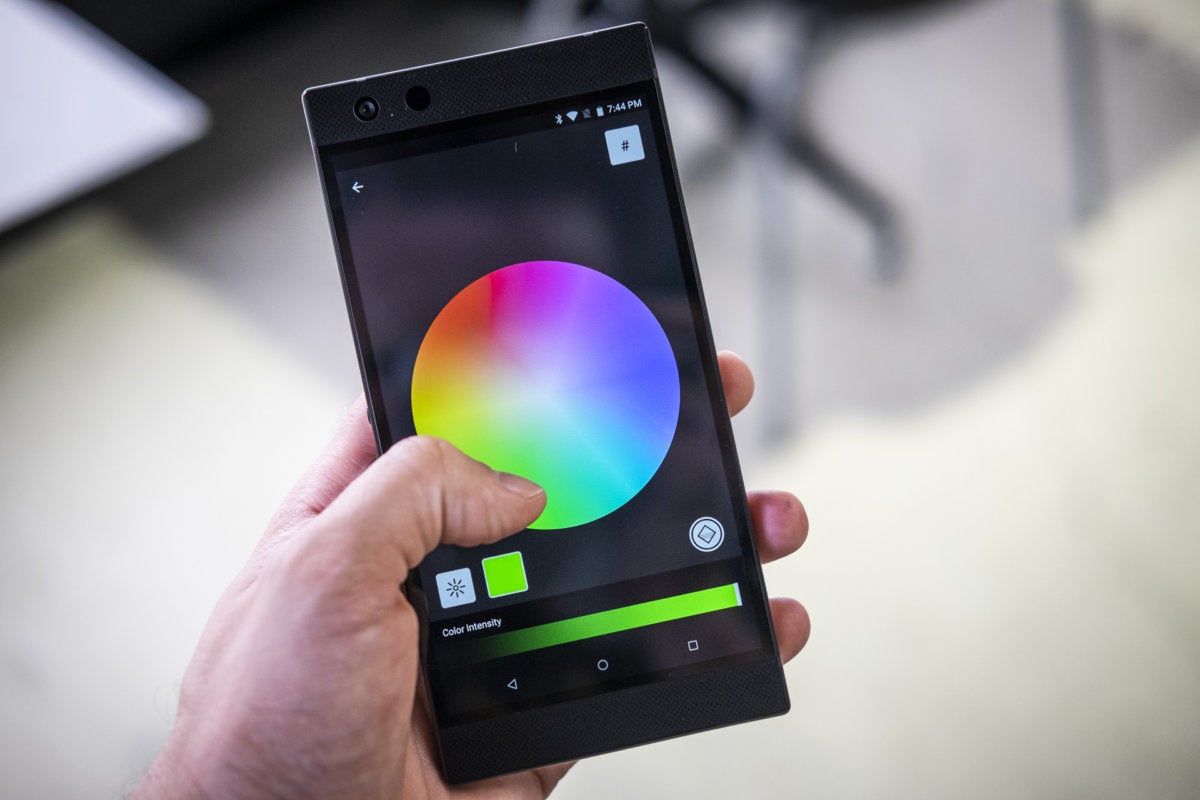 Even though the glass back does allow these features and more to be placed in the Razer Phone 2, I still prefer an all-metal phone. The previous model felt like it could withstand some serious wear and tear over time without a case. The glass will have a negative effect on temperature control as well, which has been reworked with this iteration.
Vapor chamber
Gordon grilled Razer over the new cooling design in the Razer Phone 2, and his first impressions are positive. To deal with the increased heat, Razer said it switched from heat pipes to a full vapor chamber design almost as large as the back of the phone. Like heat pipes, the vapor chamber helps wick heat from the Snapdragon 845 and disperses it over a larger surface area in the phone, which should, in theory, better aid in dissipation.
The vapor chamber, Razer claims, helps the Razer Phone 2 maintain clock speeds and frame rates most other phones can't, due to heat buildup in long gaming sessions. The only other phone that we know of to feature a vapor chamber is the Asus ROG Phone, also aimed at gamers. The ROG Phone's "3D vapor-chamber" seems to be somewhat smaller than the design Razer picked, but it does combine several layers. Razer is claiming a 20-percent to 30-percent improvement over last year's phone equipped with a Snapdragon 835. We'll have to wait for reviews to judge how effective the cooling is.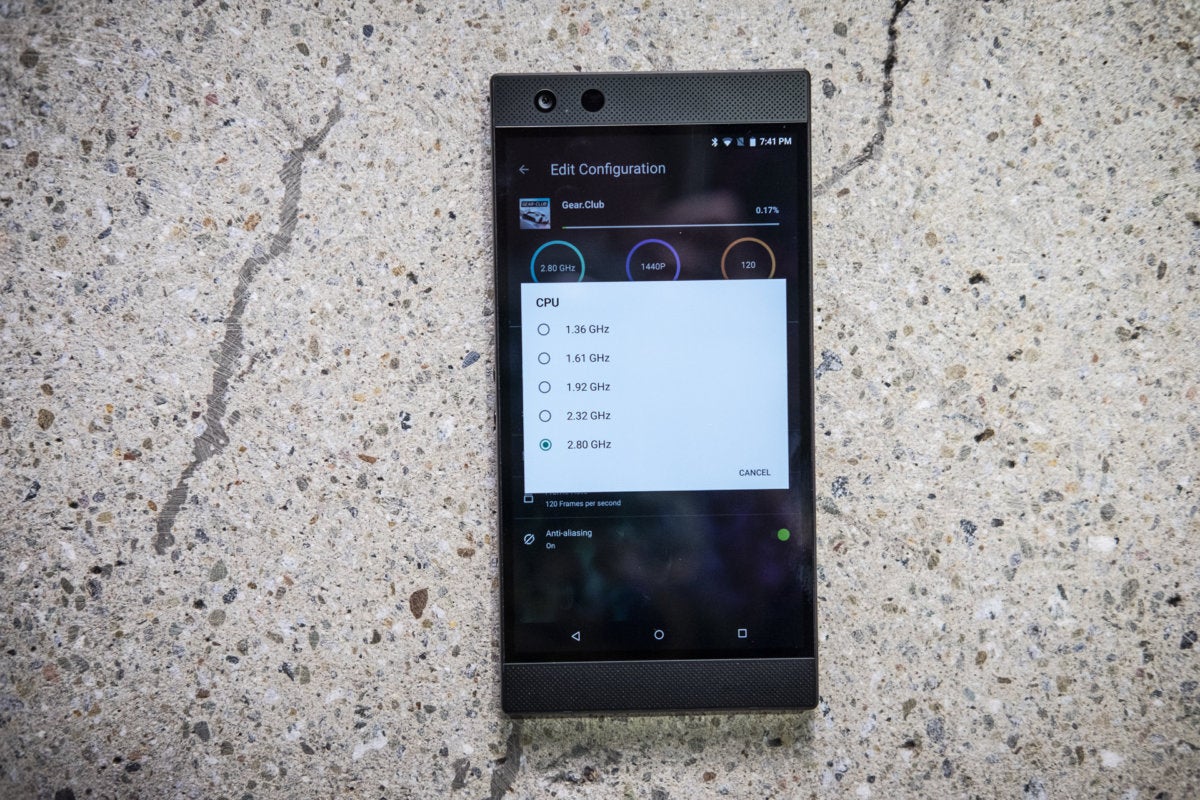 In the new Razer Cortex app you'll find a list of games installed on the device, each with its own custom settings—like the Game Booster app on the first Razer Phone. Unlike most game launchers installed on Android phones, you can tune each game to run the way you'd like, with discrete toggles for CPU clock speeds, screen resolution, frame rate, and anti-aliasing. When it's not worth digging that deep into each game to set such configurations, you can use preset sliders on either a per-game basis, or on the phone as a whole.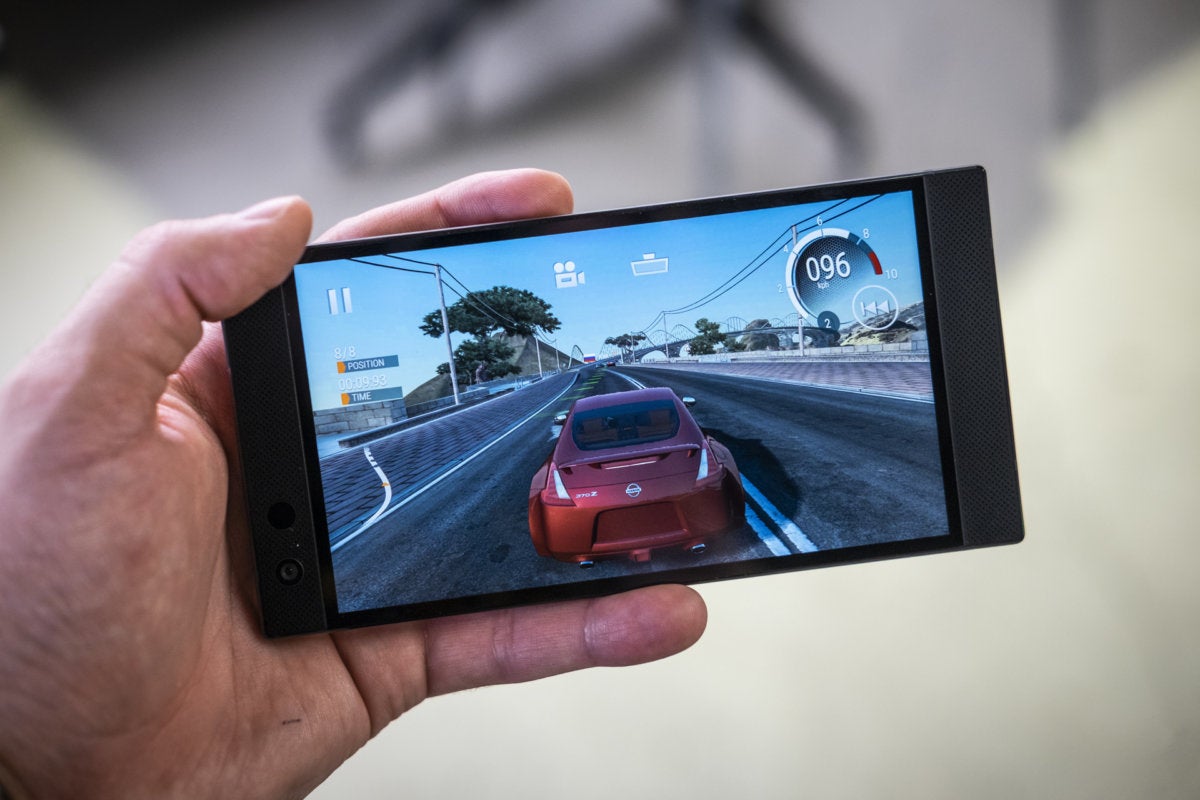 As more gaming-oriented phones hit the market, I've yet to see any translate a more desktop-like experience to your pocket. Based on last year's model, Razer knows how to focus on its key demographic without bogging down the rest of the phone. Gaming focus aside, however, this phone still needs to operate well in day-to-day use, and we'll be sure to test that.
Aggressive specs at a steady price
I was surprised last year by the high $800 price tag of the first Razer Phone, but am even more surprised this year that Razer is sticking to that price for the Razer Phone 2—considering the trend upward from the industry as a whole. On top of an already buttery-smooth 120Hz screen that's brighter and more vibrant than last year's, the Razer Phone 2 has brought even more punch to the speakers. It was hard to compare without getting more time with the phone, but the brief experience was impressive.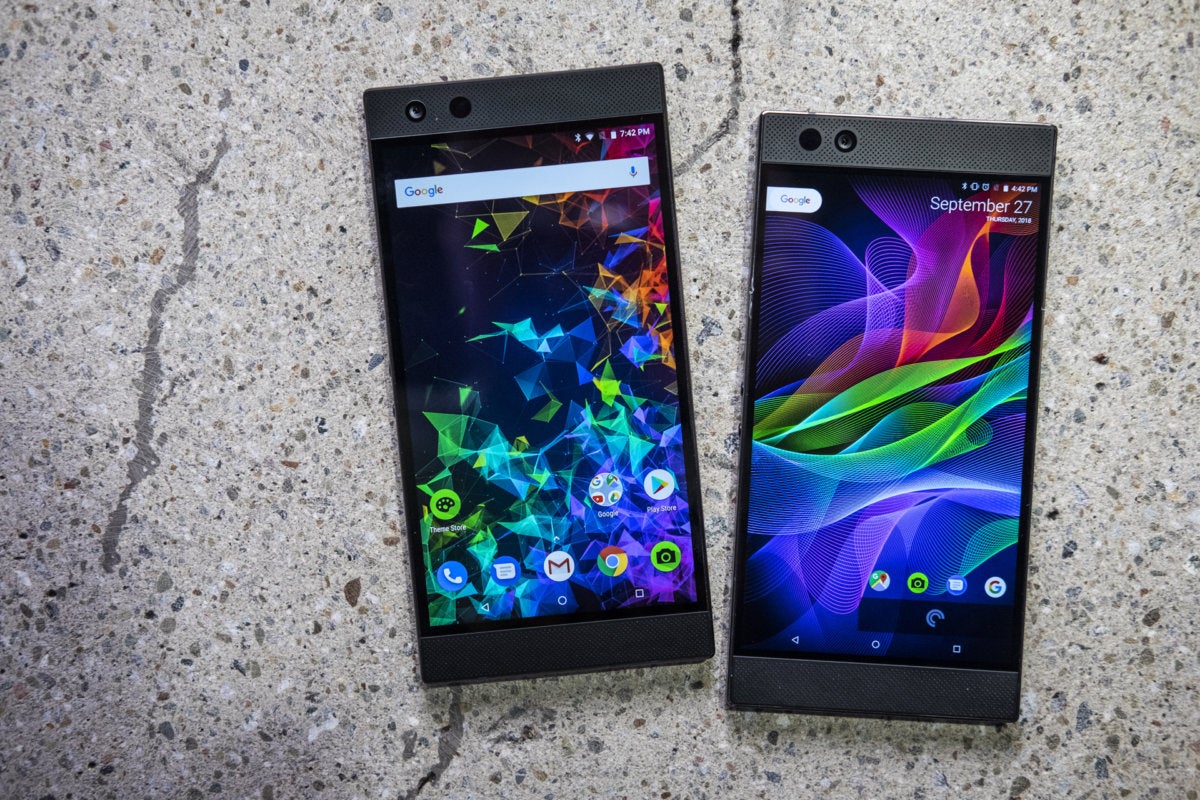 Throw in the fact that the Razer Phone 2 now is rated for IP67 dust and water protection, and it continues to be a flagship phone that contends with the best of them.
Improved camera
One of my main areas of focus here at PCWorld is on smartphone camera testing (check out Last Cam Standing), and I was very disappointed by the photo taking experience on the first Razer Phone. Even though the camera improved over time through software updates, it was still the weakest point in what was otherwise a powerhouse.
For the Razer Phone 2, Razer has switched from Samsung to Sony IMX sensors for the dual-camera module and added OIS (optical image stabilization) to the main lens. Below are the camera specs:
Rear cameras

12MP f/1.75 main with OIS (optical image stabilization)
12MP f/2.6 telephoto without OIS
Dual PDAF (phase detection autofocus)
Video 2160p@60fps, 1080p@120fps, stereo sound recording

Front camera

8MP f/2.0
Video 1080p@60fps
Razer was very aware of the shortcomings of the camera system in the first Razer Phone, and promised some major improvements in the sequel. During my hands-on I didn't get enough time with the camera to say one way or the other, but I'll include the deep testing in the review.
Testing incoming
We'll be following up with testing of the Razer Phone 2 and a review. As this is a phone focused on gaming, we'll include comparisions to other gaming phones such as the ROG Phone and Honor Play.