The HP Spectre Folio is a sensual experience. By wrapping an incredibly thin laptop in a full-grain leather shell, HP has made a PC whose look, feel, and smell will evoke classic, covetable objects like a bomber jacket, a handbag, or a leather football or baseball. You'll find yourself responding to the Spectre Folio in the same way—and then fighting it, as if it were wrong to react like that to a PC, even if it's also one of the first super-efficient Amber Lake laptops we've seen.
I had the same struggle during my sneak peek at the Spectre Folio ahead of its announcement Monday morning in New York City. I couldn't take my hands off of it, and it felt great on my lap, too. Yet it felt like HP broke some rule. Keep reading, though, and you'll see that the Spectre Folio is a really interesting PC, as well as a potentially covetable object. (Read about the crack team of HP and Intel engineers who designed it.) It's available for pre-order starting October 1 at Best Buy and HP, with a starting price of $1,300. See below for full details on prices, specs, and features.
About the full-grain leather shell
A few laptops over the years have sported a leather panel or two, but the HP Spectre Folio is the first whose entire outer shell is full-grain leather. The leather is bonded around the edges, which are hand-painted to match. Hand-stitching accents the hinge in the middle of the lid.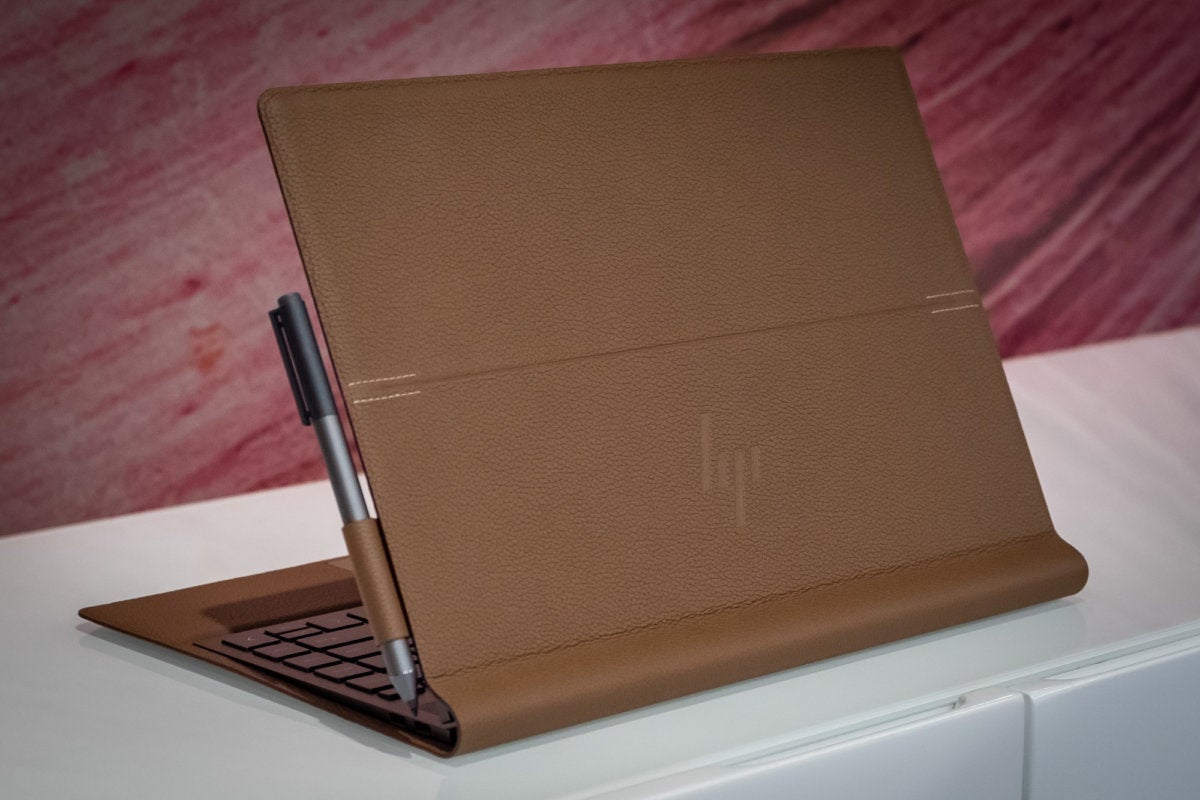 Josephine Tan, the head of consumer notebooks for HP, said they were looking for a completely different material from metal, plastic, or carbon fiber. "Leather is warm to the touch and feels good," Tan said, adding, "you don't feel the heat transfer as much as you do with metal."
It sure wasn't chosen because it was easy. "Leather doesn't give us the opportunity to cut a lot of holes," Tan said. "Otherwise you destroy the look." The fanless design helps, as does an air channel created by the loose leather fold along the main display hinge. That fold also adds to the Spectre Folio's organic look and feel.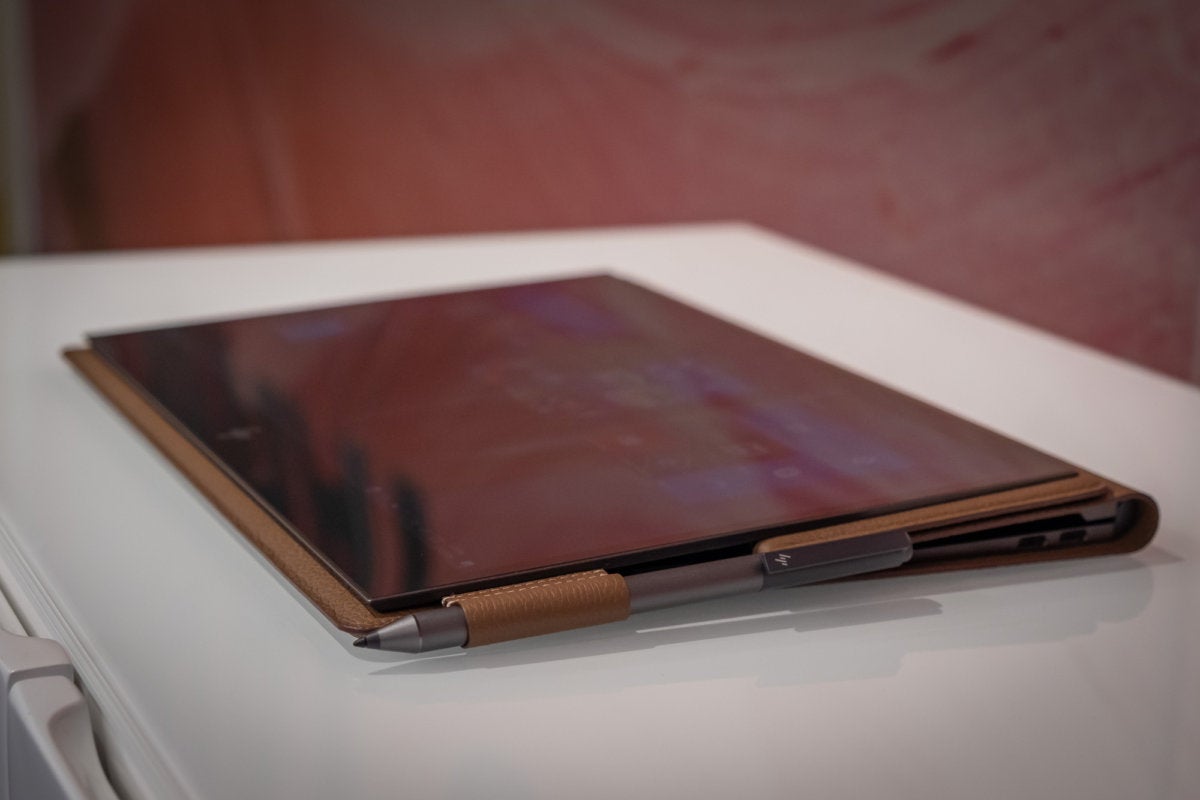 As for durability, anything your other leather products can take, the Spectre Folio can take. The chrome tanning process makes the leather stain- and water-resistant: "Take care of it like you take care of your handbag," advised Ai-Kuan Lim, director of consumer new product introduction for HP. That also means, of course, that the Spectre Folio is at best "resistant" to things leather can't take, like deep scratches and random pen marks. A drop could be interesting.
Let's also acknowledge that for some people, a leather-clad PC crosses a line. Unlike metal, plastic, and other traditional materials for tech devices, leather comes from a dead cow. A vegan coworker told me, "I hate the Spectre Folio already." All of these materials have some sort of negative environmental impact. Other than being biodegradable, leather doesn't save us from that.
Spectre Folio features, specs, and pricing
The Spectre Folio will start off with three SKUs: one exclusive to Best Buy, one available from HP, and a third coming later in the year, along with some new options. Most features will be common to all Spectre Folio SKUs: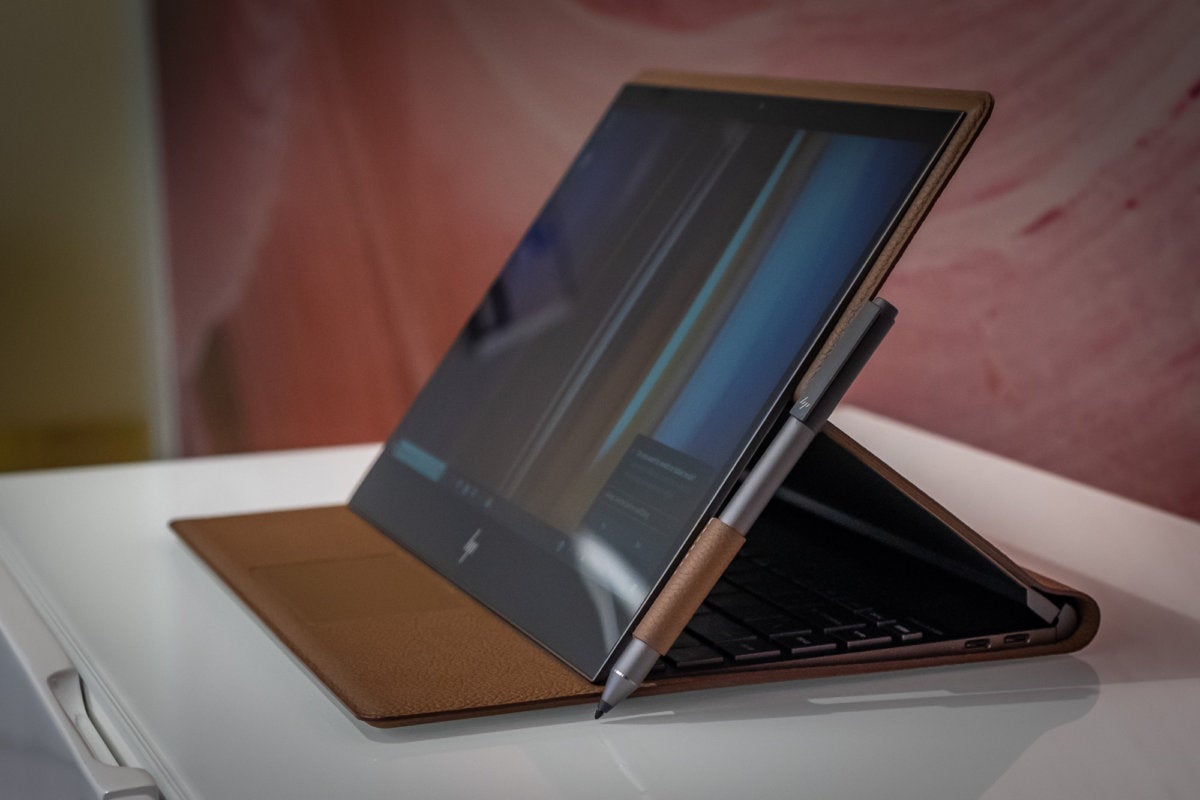 Shell: Full-grain leather, in Cognac Brown initially. The second color, Bordeaux Burgundy, will be available in late December, according to HP.
Display: 13.3-inch Full HD (1920×1080) IPS WLED backlit touchscreen with Corning Gorilla Glass 4. The maximum brightness is a very nice 400 nits. A 4K UHD panel option will be available later this year, HP says.
Graphics: Intel UHD Graphics 615 (integrated)
Memory: 8GB of LPDDR3-1866 SDRAM
Storage: 256GB PCIe NVMe M.2 SSD
Wi-Fi: Intel 802.11b/g/n/ac 2×2 Wi-FI and Bluetooth 4.2 combo with MU-MIMO support
Camera: Front-facing HP WideVision FHD IR Webcam
Pen: HP's Digital Pen, which charges via USB-C
Ports: Two Thunderbolt 3, one USB 3.1 Type-C, one 3.5mm audio jack
Battery: 6-cell, 54.28Whr lithium ion polymer. HP offers multiple battery expectations for each SKU depending on usage scenario, from 12.75 to 19 hours. The LTE-equipped model sits on the lower end of the battery spectrum. Your mileage will vary.
Dimensions: 12.6 x 9.23 x 0.6 inches
Weight: 3.24 to 3.28 pounds, depending on the model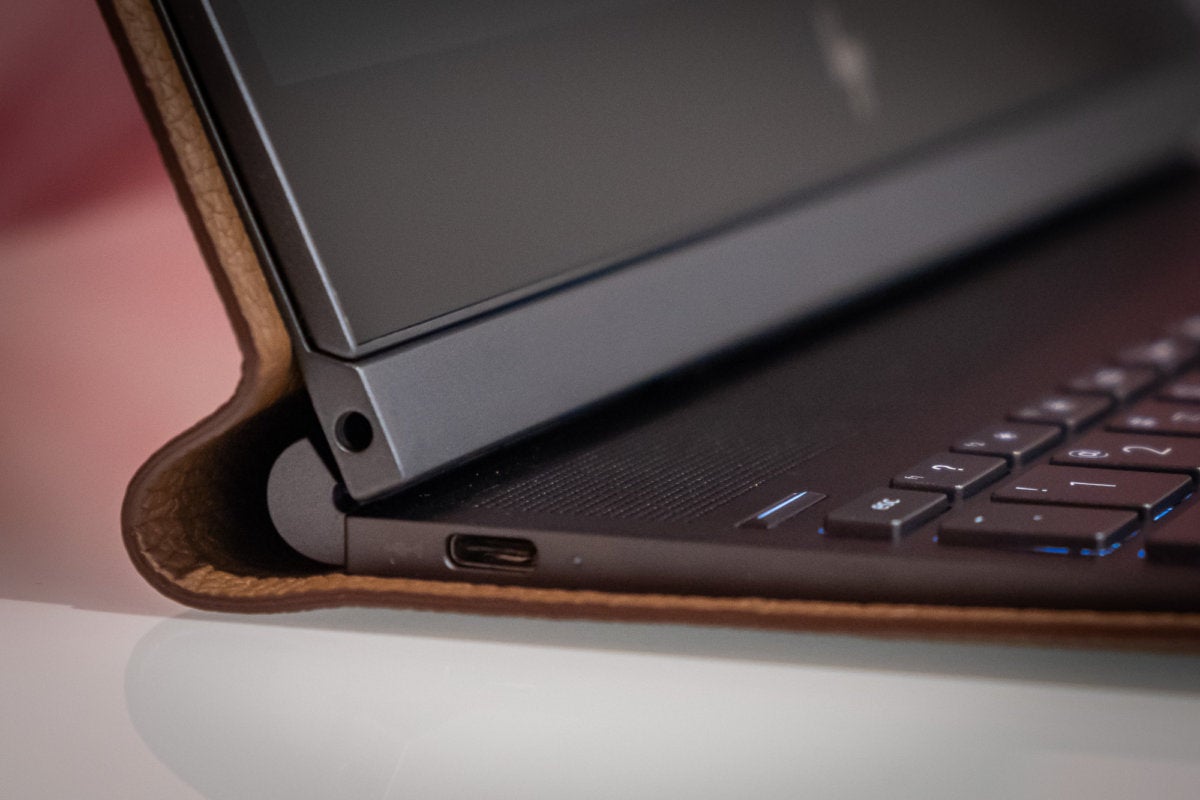 After that, the SKUs split off. HP will sell a version with Intel's 8th-gen dual-core Amber Lake Core i5-8200Y. It has a 1.3GHz base frequency and a 3.9GHz Turbo Boost mode. Its starting price will be $1,300.
HP will also sell a higher-end version with Intel's 8th-gen dual-core Amber Lake Core i7 8500Y. It has a 1.5GHz base frequency and a 4.2GHz Turbo Boost mode. It will also include Intel's XMM 7560 LTE-Advanced Pro. Note that LTE is supported from only three carriers: AT&T, Sprint, and T-Mobile, and HP is offering six months of free LTE service to Sprint customers. Its starting price will be $1,500.
Best Buy will have the exclusive on another version with Intel's 8th-gen dual-core Core i7 8500Y, but no LTE. That model will ship October 29 for $1,400Remove non-product link.
How HP made the Spectre Folio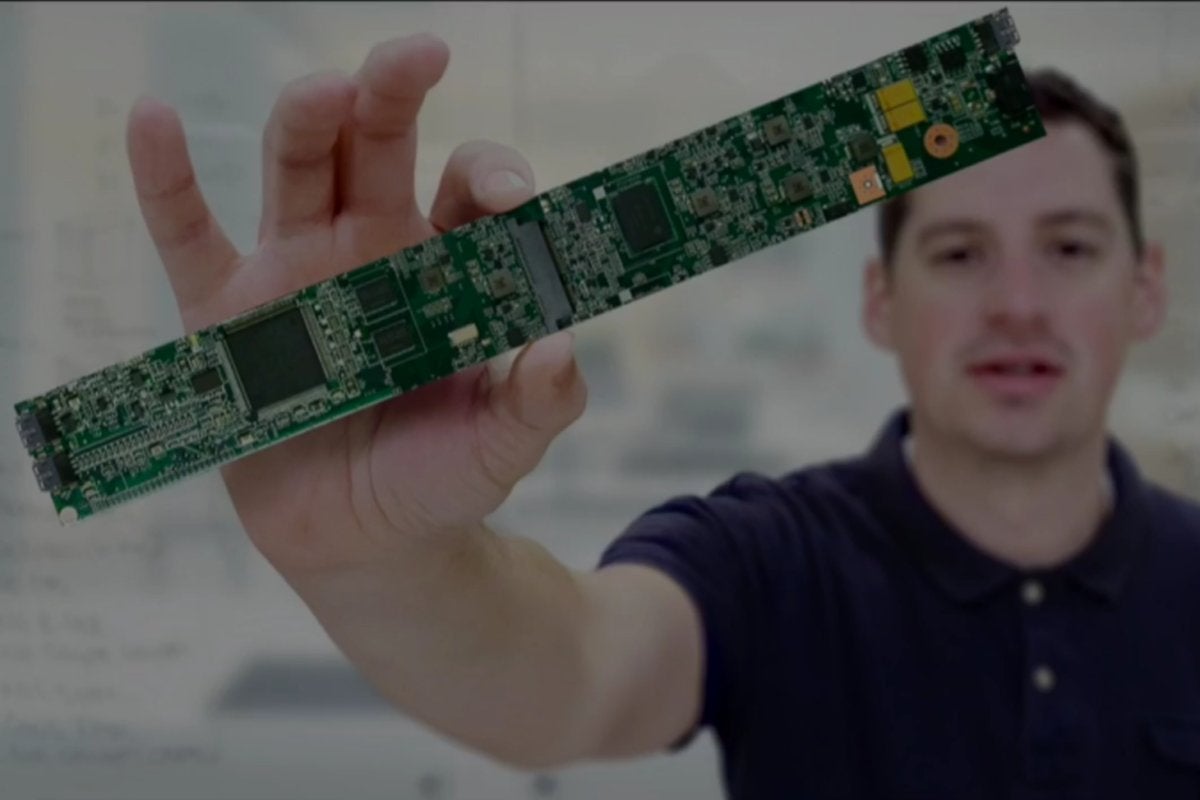 I have lots of questions about how HP made the Spectre Folio, only some of which were answered by the time this story posted. Here's what we know so far:
The bottom half consists of an aluminum panel bonded to the keyboard tray. The magnesium frame bonded to the leather lid is lighter, helping the Spectre Folio avoid the top-heavy feel of some convertibles.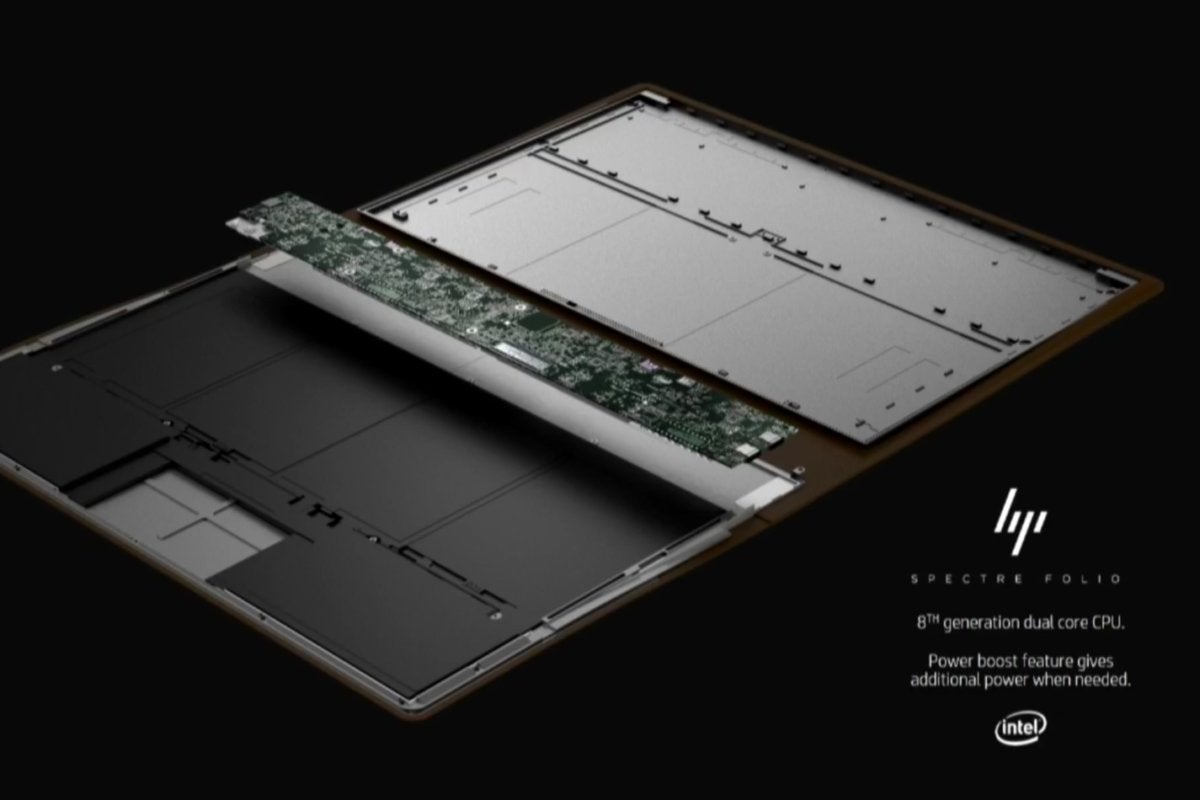 The display is unique in attaching only at the top of the lid. Gentle magnets hold it at the bottom in a clamshell position, or you can easily release the magnets to tilt the display on a center hinge into media or tablet modes. In those modes, the folded lid covers the keyboard, so it's not touching your legs or a work surface.
The full-size, island-style keyboard sits on top of the Spectre Folio's battery. Somehow, HP still managed to give the keys 1.3mm of travel. Not bad for something this thin.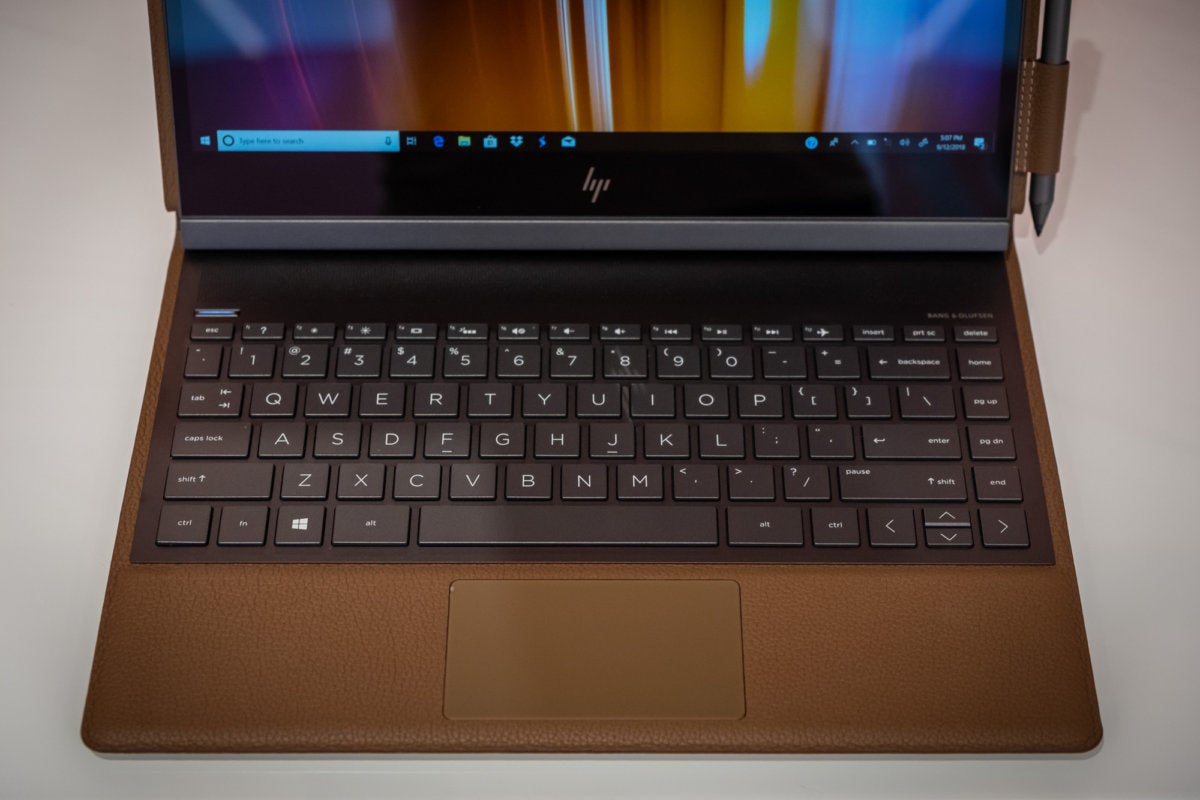 The motherboard is teeny—just a thin strip running above the keyboard. Tan said Intel worked very closely with HP to achieve a motherboard this small. If you get the LTE version, the antenna will run along the top of the lid (to avoid interference from the motherboard. You'll find the e-SIM slots on the underside of the middle hinge.
Should you buy the Spectre Folio?
I expect the Spectre Folio will generate a mix of excitement and debate. Is it right for a PC to feel good? Can a PC that's luxurious, rather than utilitarian, still be taken seriously? "People want to carry something that matches their lifestyle," Tan said. "The Spectre Folio creates a 'wow' effect." Tan added that both males and females responded positively to the Spectre Folio, with the men preferring the debut color of Cognac Brown, and the women liking the Bordeaux Burgundy color coming later.
Tan also mentioned an interesting comment from a male who who said he wouldn't bring a metal device to his son's sports events, because it looked like he was working. He said he'd bring the Spectre Folio because "it doesn't look like a PC," Tan said.
For me, there's no denying the way the Spectre Folio makes you feel. We need to test it and see how the PC works, with its new, untried CPU. But I give HP credit for making a PC evocative and desirable. That's the kind of feeling that can inspire oohs, ahhs, and sales.
Updated with photos from the live event and more information from sources.