Microsoft touted its Surface Studio 2 as the "fastest Surface ever" while launching it at its Surface event on Tuesday. That may be true in the end, though Microsoft barely squeaks by with that definition on paper. Fortunately, performance isn't why you'll buy the Microsoft Surface Studio 2: It's that amazing, vibrant display.
Let's get this out of the way: We saw Microsoft's latest Play Anywhere PC/Xbox game, Forza Horizon 4, being played on the Surface Studio 2, and it looked amazing. The Surface Studio 2's 4500×3000 28-inch RealSense display puts out even more light than before—over 500 nits!—and it was like falling into a more vibrant, colorful world.
And while that messaging was necessary—the Surface Studio just demands power, as befitting its status—it's also a little iffy. If you put the Surface Book 2 up against the Surface Studio 2, the Surface Studio one-ups it in terms of graphics, with an Nvidia GTX 1070 GPU. The Book 2 musters only a GTX 1060 on the 15-inch model. But the Surface Studio 2 still uses 7th-generation Core chips (the Core i7-7820HQ) while the Book 2 has moved on to the 8th-gen Core i7-8650U.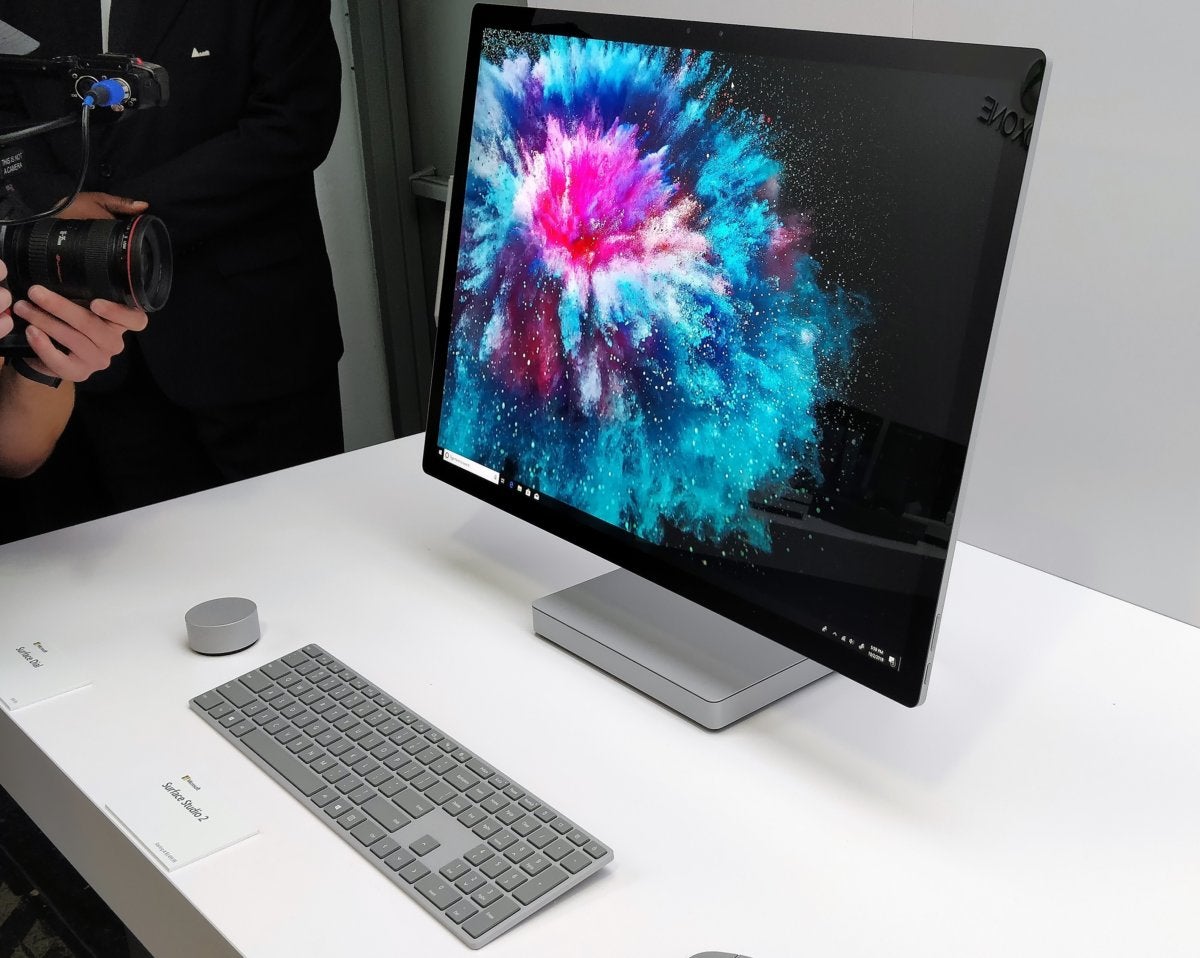 No matter. Yes, the cheapest configuration is $3,499. Yes, you could buy a tricked-out Maingear or Falcon Northwest gaming PC for the money. And no, sadly, Microsoft isn't selling the Surface Studio 2 display as a standalone monitor. Every moment with the Surface Studio is a pleasure to use.
Here are the basic specs of the Surface Studio 2:
Display: 28 inches (4500×3000, 192ppi) multi-touch PixelSense
Processor: Core i7-7820HQ
Graphics: Nvidia GeForce GTX 1060 (6GB) or GTX 1070 (8GB)
Memory: 16GB or 32GB DDR4
Storage: 1TB or 2TB SSD
Ports: 4 USB 3.0 Type A ports, Gigabit ethernet, SD card reader, USB-C, headphone jack
Cameras: 5MP (front, Windows Hello-compatible),
Wireless: 802.11 a/b/g/n/ac; Bluetooth 4.1
Operating system: Windows 10 Pro
Colors: Silver
Dimensions: 9.8 in x 8.7 in x 1.3 inches (base); 21 pounds
Accessories: Surface Dial

Remove non-product link

Price: Starts at $3,499; includes Surface Pen, Keyboard, Mouse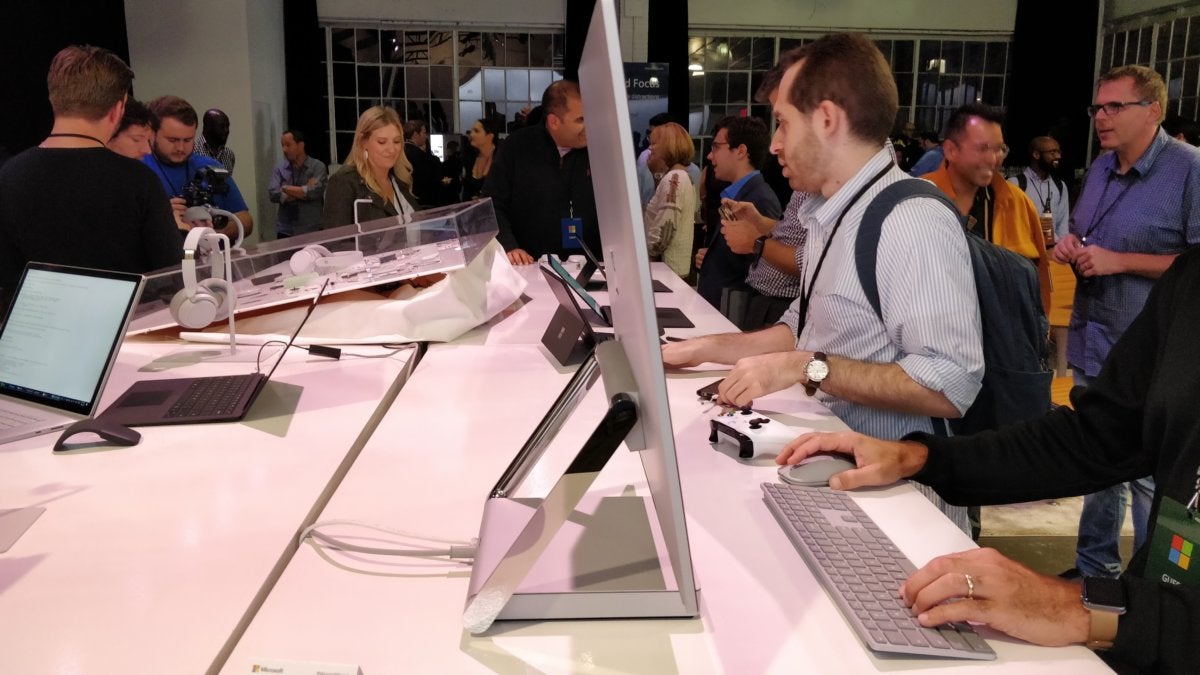 Using the Surface Studio or Surface Studio 2 is a little intimidating. It's even more impressive this time around, due to a way in which Microsoft worked with the polarizer in the display. Not only is it a lot brighter, but the display also boasts about a third better contrast.
You don't really use the huge Surface Studio 2, you navigate it. Drawing on it is a real pleasure. Microsoft had a digital artist on hand at the October 2 launch event to show off what the Surface Studio could do, and it was truly a sight to behold.
You can either use the Surface Studio 2 as a giant monitor, or slowly, ponderously lower the display into easel mode, ready for your Surface Pen. I confess that the original Surface Studio works wonderfully for sporting events like March Madness, when several games are being played simultaneously. When I worked one weekend in our San Francisco office, I successfully "tested" this feature. (I look forward to perhaps doing it again.)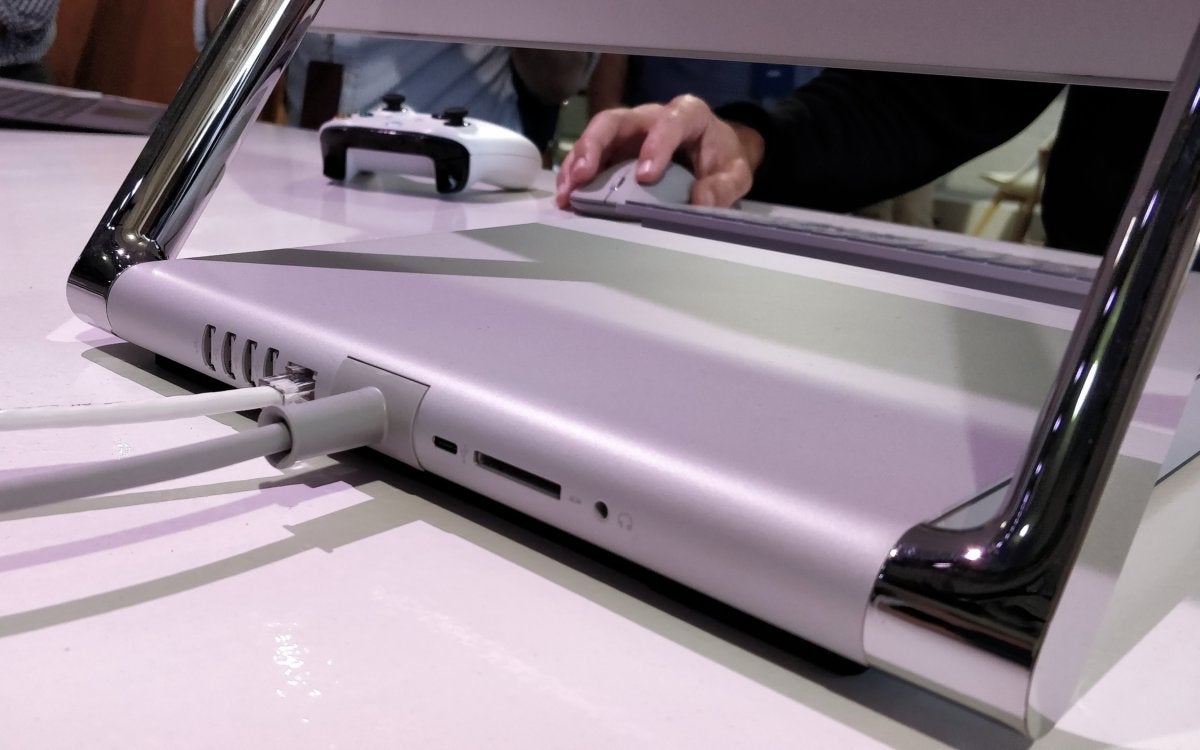 I didn't have a chance to play with the Surface Dial again (it remains unchanged, without updates), but the Dial was tailor-made as an artisan's peripheral for the Surface Studio 2. I spent most of my brief time with it simply sliding my fingers over the glass and marveling at those using it as a glorified gaming PC.
Unfortunately, there's one Studio flaw that Microsoft reproduced in the Surface Studio 2: the rear-mounted ports. Aesthetics clearly guided this decision, but the result is daily inconvenience with connecting and disconnecting peripherals. Microsoft also hasn't made it clear whether the USB-C port contains Thunderbolt capabilities, though the Studio 2 can connect to an external 4K display at 60Hz, or two at 30Hz. There's also no Surface connector, an omission inherited from the first-gen Studio.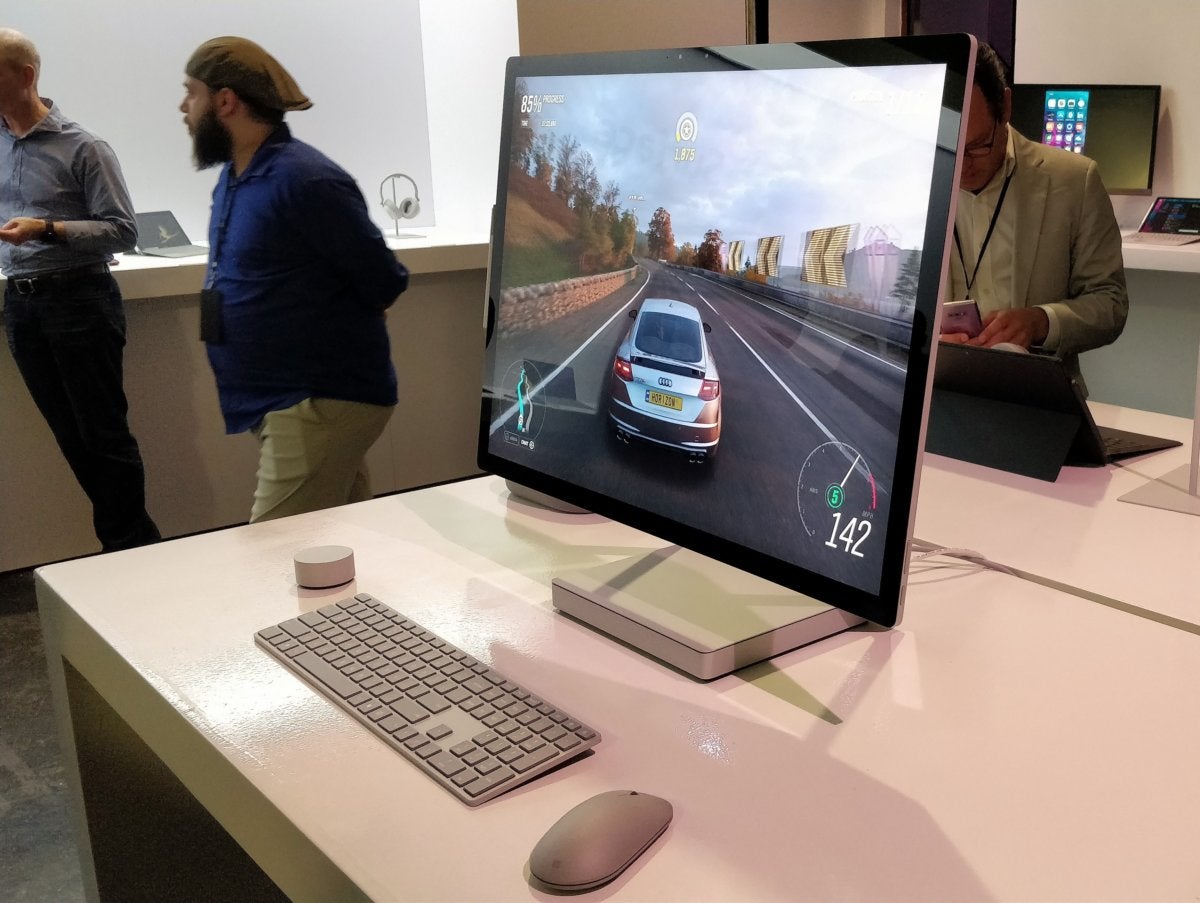 Still, it's hard to find any flaws. Microsoft clearly designed a product any geek would pine for, and it's even more powerful this time around.