Intel unveiled its 9th-generation Core desktop chips on Monday with the notable omission of a key feature: Hyper-Threading, at least on all but the most exclusive Core i9-9900K for mainstream PCs. Hyperthreading has also been reserved for a new iteration of Intel's X-series processors, which includes up to 18 cores and 36 threads.
In a livestream Monday morning from its Fall Launch Event in New York, the company announced just a single Core i9 chip, the $488 Core i9-9900K, Later, the company privately revealed two others in the Core i7 and Core i5 families.
Intel also announced a new series of X-class chips for gamers, ranging from 8 cores and 16 threads through 18 cores and 36 threads. Prices will range from $589 to $1,979.
What this means: It's certainly fair to say that Intel surprised us all with the unexpected shift of its upcoming 28-core chip to the Xeon family, as well as the announcement of the X-series chips, too. And what's the deal with hyperthreading? Intel's announcement certainly adds some new topics to talk about in the months ahead.
Part of the confusion was due to what Intel was expected to announce: a family of new 9th-gen chips, from Core i3s up through the Core i9, and how it did so. On the publicly available livestream, the company revealed only the presence of the Core i9-9900K, as well as the presence of the new X-series parts. Later, after the livestream had concluded, Intel fleshed out the remaining members of the K-series parts, and disclosed the price and performance of the X-series parts.
However, Intel didn't even mention what many enthusiasts wanted to know: why only the i9-9900K, out of all of Intel's mainstream parts, boasts the hyperthreading feature.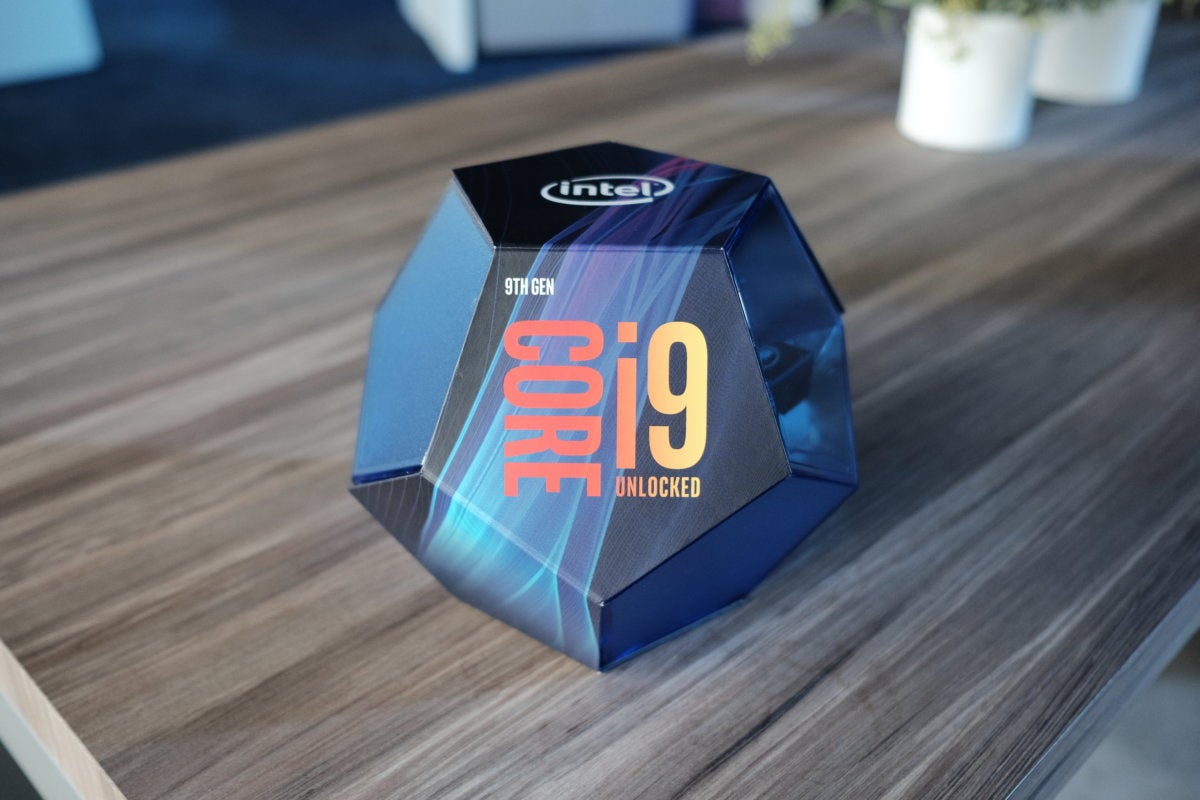 Hyper-threading is now an Intel gaming feature
Hyperthreading, of course, has been a staple of Intel's processors since 2002's Pentium 4. As clock speeds tended to top out at 4GHz to 5GHz, parallelism—originally in the form of support for more processor threads, and later to more physical cores—kept the processor performance on an upward trajectory.
Rival AMD made multi-core chips a staple of its success with Ryzen and its Threadripper parts, with a massive 32-core, 64-thread 2nd-gen Threadripper already on store shelves. Game developers, though, have been slower to keep up, with most using just a handful of the available threads. That's made hyperthreaded, multi-core chips more suitable for video editing and rendering, rather than everyday PC workloads.
Another factor is Intel's own manufacturing problems. No, these new chips aren't Intel's long-awaited launch into the 10nm generation. The new "Coffee Lake Refresh (-R)" chips Intel announced Monday are still built upon a 14nm process, in might what be called a "14nm++" process technology.
By now, Intel expected its 10nm fabs would be churning out new "Cannon Lake" processors, reserving the 14nm production lines for older chips. But the slow transition forced Intel to change direction, and Intel has said its production will suffer. Fortunately, the company is prioritizing high-end Core chips.
Intel rebrands its 28-core chip as Xeon
Anand Srivatsa, vice president and general manager in the Client Computing Group at Intel, introduced the new 9th-gen parts. "We know that the PC is already great in enabling performance to create, to connect, and we intend to build on these strengths," Srivatsa said.
Srivatsa began his presentation with an apparent surprise: Intel appears to be calling its upcoming 28-core chip that it announced at Computex the W-3175X Xeon, a part that runs up to 4.3GHz—and not a member of the Core family. It will include 68 platform PCIe lanes. It will ship in December, Srivatsa said, at an undisclosed price. Unfortunately, Intel didn't really disclose further details.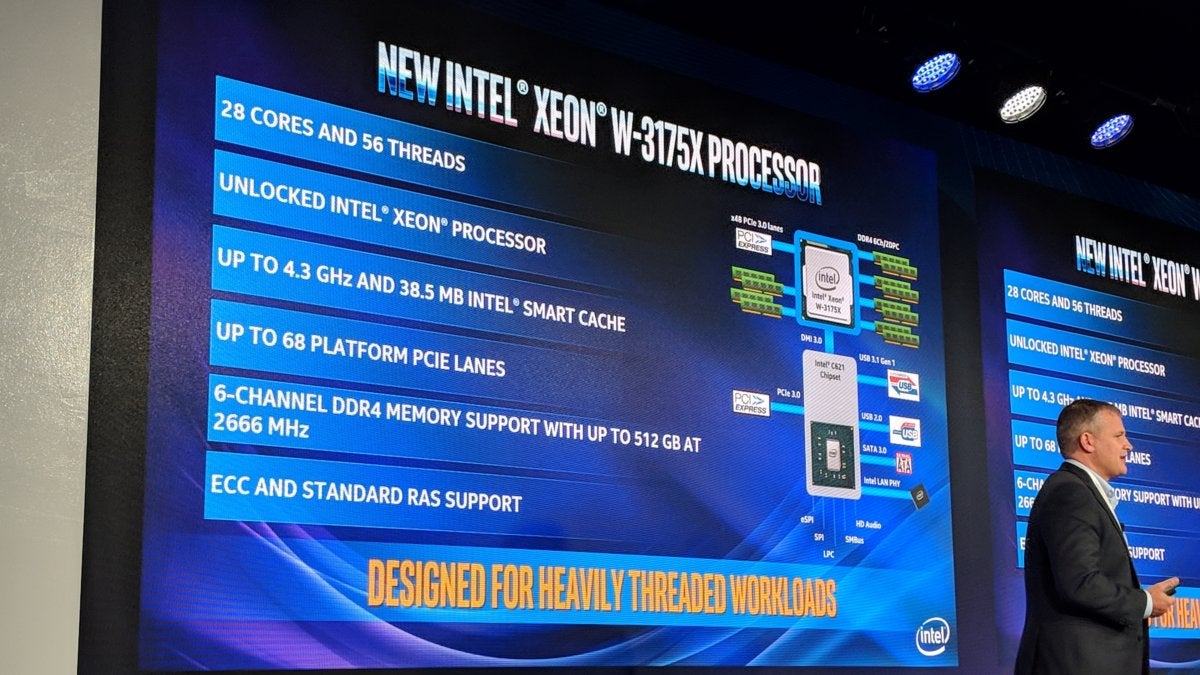 Intel then announced something completely unexpected: a new, 9th-generation family of X-series chips for gaming PCs.
Intel positions new 9th-gen X-series chips at creators
Last year, Intel announced its 14-, 16-, and 18-core Intel's X-series chips as a part for high-end gamers. This year, Intel positioned the X-series parts for creators, of which Intel said there are 100 million in the U.S., the U.K. and China combined. But while Srivatsa dropped in a mention of an upcoming refresh of the X-series parts, the company waited until a more private "deep dive" to unveil the full specifications, as seen below. (Though Intel didn't specify which architecture these chips use, they're expected to be based on the Skylake architecture, otherwise known as the Skylake-X desktop processors.) They'll ship this November.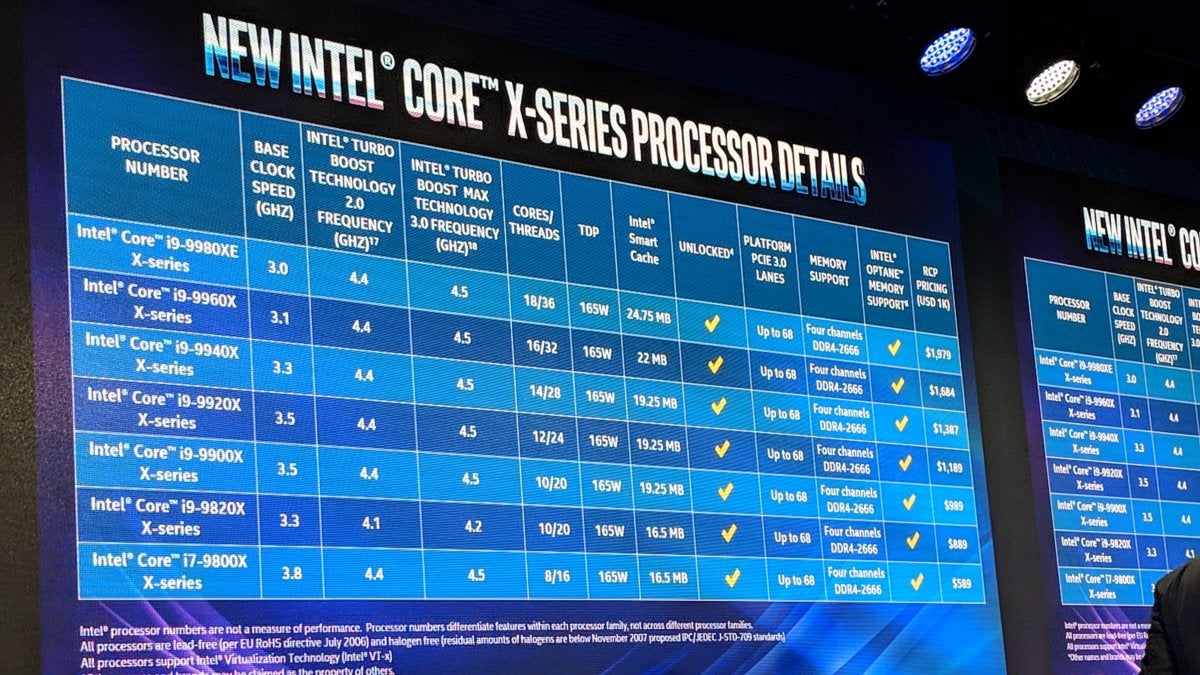 3.0GHz (4.4GHz turbo) 18-core/36-thread Core i9-9980XE, for $1,979
3.1GHz(4.4GHz) 16-core/32-thread Core i9-9960X, for $1,684
3.3GHz (4.4GHz) 14-core/28-thread Core i9-9940X, for $1,387
3.5GHz (4.4GHz) 12-core/24-thread Core i9-9920X, for $1,189
3.5GHz (4.4GHz) 10-core/20-thread Core i9-9900X, for $989
3.3GHz (4.1GHz) 10-core/20-thread Core i9-9820X, for $889
3.8GHz (4.4GHz) 8-core/16-thread Core i7-9800X, for $589
Intel also released performance metrics for the new X-series chips.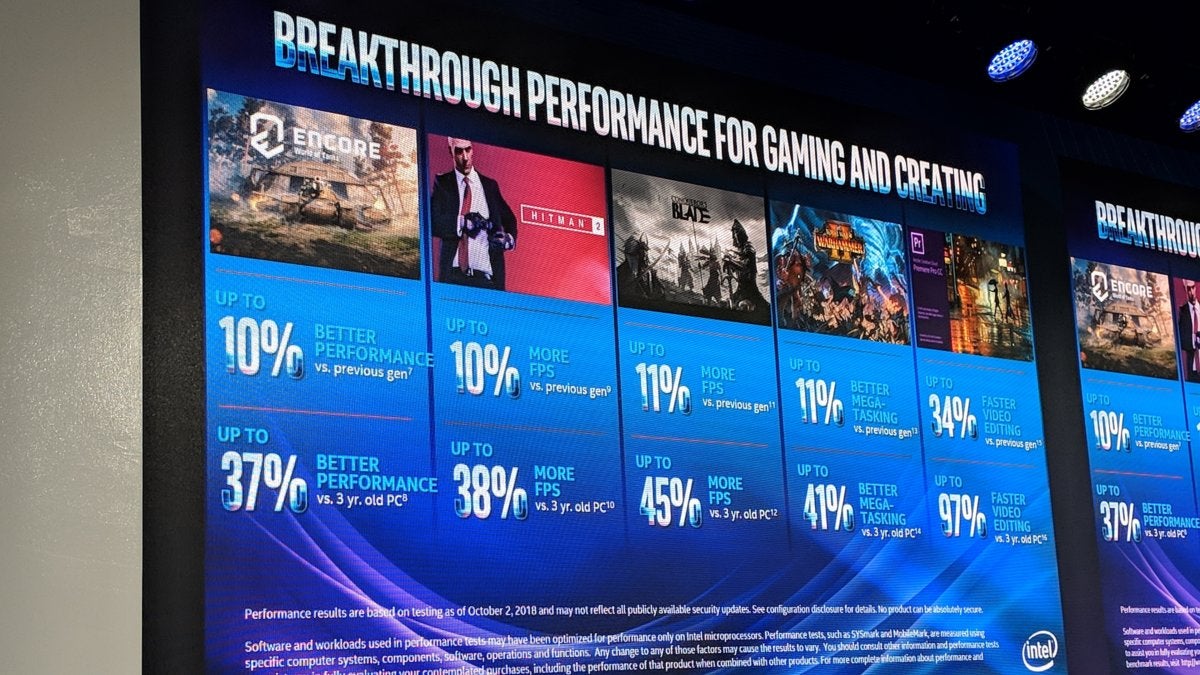 Meet Intel's mainstream 9th-gen K-series Core chips
Everyone was waiting for the mainstream desktop parts. The company introduced its first 9th-gen chips, spearheaded by the Core i9-9900K. It's the company's first broad-volume 5GHz chip, with 8 cores and 16 threads. Intel is also adding solder TIM for additional overclocking headroom.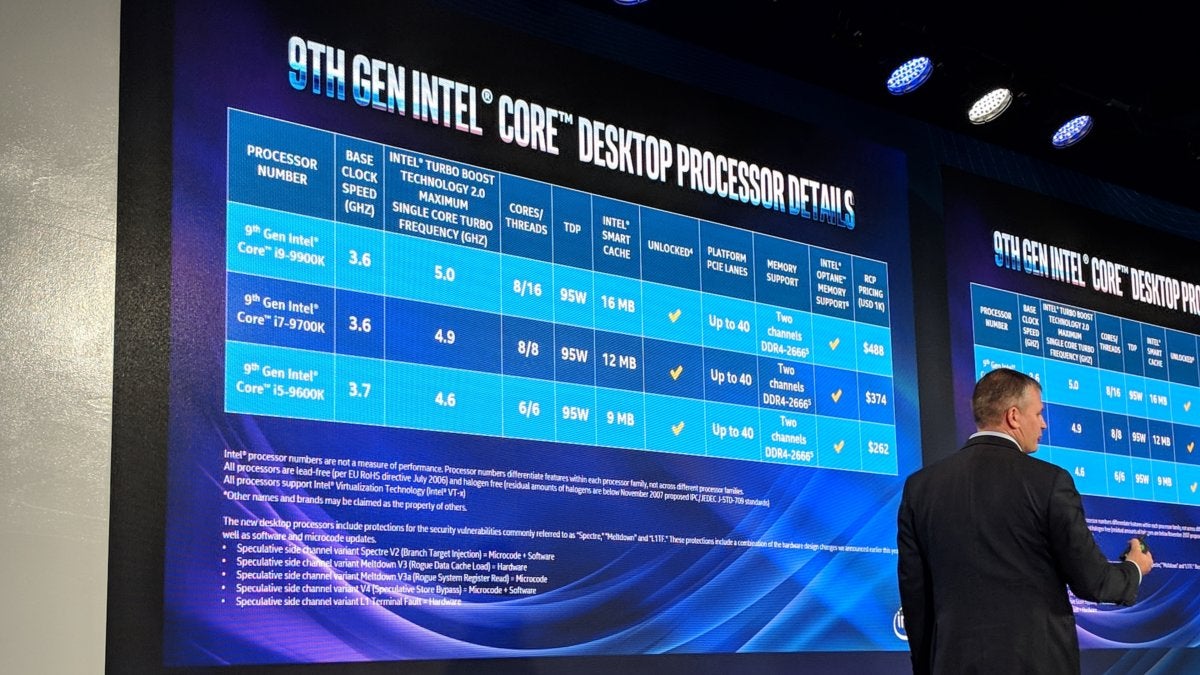 To demonstrate its processing power, Intel took a Core i9-9900K, placed a pair of virtual machines on it, and gamed and streamed Player Unknown: Battlegrounds on the system. "The Core i9-9900K: best gaming processor in the world, period," Srivatsa said.
From a security standpoint, there's another plus: The new 9th-generation parts contain some of Intel's first mitigations in hardware to solve the Meltdown bug, the company said.
Intel announced three members of the new 9th-gen K series:
3.6GHz (5.0GHz) 8-core/16-thread Core i9-9900K, for $488
3.6GHz (4.9GHz) 8-core/8-thread Core i7-9700K, for $374
3.7GHz (4.6GHz) 6-core, 6-thread Core i5-9600K, for $262
Starting today, Intel said, you can preorder the Core i9-9900K from major e-tailers. PC makers are lining up, too: The Acer Predator, the Asus ROG line, the HP Omen, and the Dell Alienware lineup will all use it. And if you're a fan, Intel has a contest for you, too: Users can also go to Corei9.Intel.com for free codes and other prizes.
Intel adds a new Z390 chipset, too
Though the new 9th-gen chips will be compatible with Intel's existing 300-series chipsets, Intel is adding the Z390 chipset as well, with support for 6 Gen2 USB 3.1 connections plus 10 Gen1 USB 3.1 lanes. (Gen1 USB connections support 5 Gbits/s, while Gen2 doubles that to 10Gbits/s, as MSI explains.) Up to 24 PCIe lanes are supported, and there's reportedly Thunderbolt 3 support, as well — at least according to early leaks..
The Z390 also supports Intel's own 802.11ac WiFi MAC; Intel has struggled in the communications space for years, and clearly wants to push its way back in. Remember, Intel began encouraging its wireless connections in April, when it launched some additional 7th-gen desktop parts. (Our past story also contains a summary of Intel's four other desktop chipsets: the H370, H310, Q370, and B360.)
This story was updated at 10:19 AM with additional details, including the launch of the Z390 chipset.