Let's just get this out of the way: The Pixel 3 XL is not a pretty phone. It's got a canyon for a notch, a valley for a chin, and thick bezels around its screen. Put it in a Pepsi challenge with any 2018 phone—and even some 2017 models—and nearly everyone will pick the other handset based on looks alone. The smaller Pixel 3 may look slightly less homely, with a smaller Pixel 2 XL aesthetic, but you can pretty much throw a rock and hit a better-looking Android phone.
But while it might not be much to look at, the Pixel 3 XL is a joy to hold, with an incredible matte-glass back that feels like metal to the touch and won't pick up nearly as many fingerprints as other phones. Seriously, you're not going to want to put this phone in a case—it feels that good. Someone else will have to test the durability compared to other glass-backed phones, because I don't want to get a scratch on mine.
The three colors of the Pixel 3 are fine, though I miss the two-tone "tuxedo" option of the 2 XL. The new Not Pink color is neutral to the point of being sanitized, and it looks more beige than pink to my eyes. My favorite of the three is white, which has a nice mint-green accent on the power button.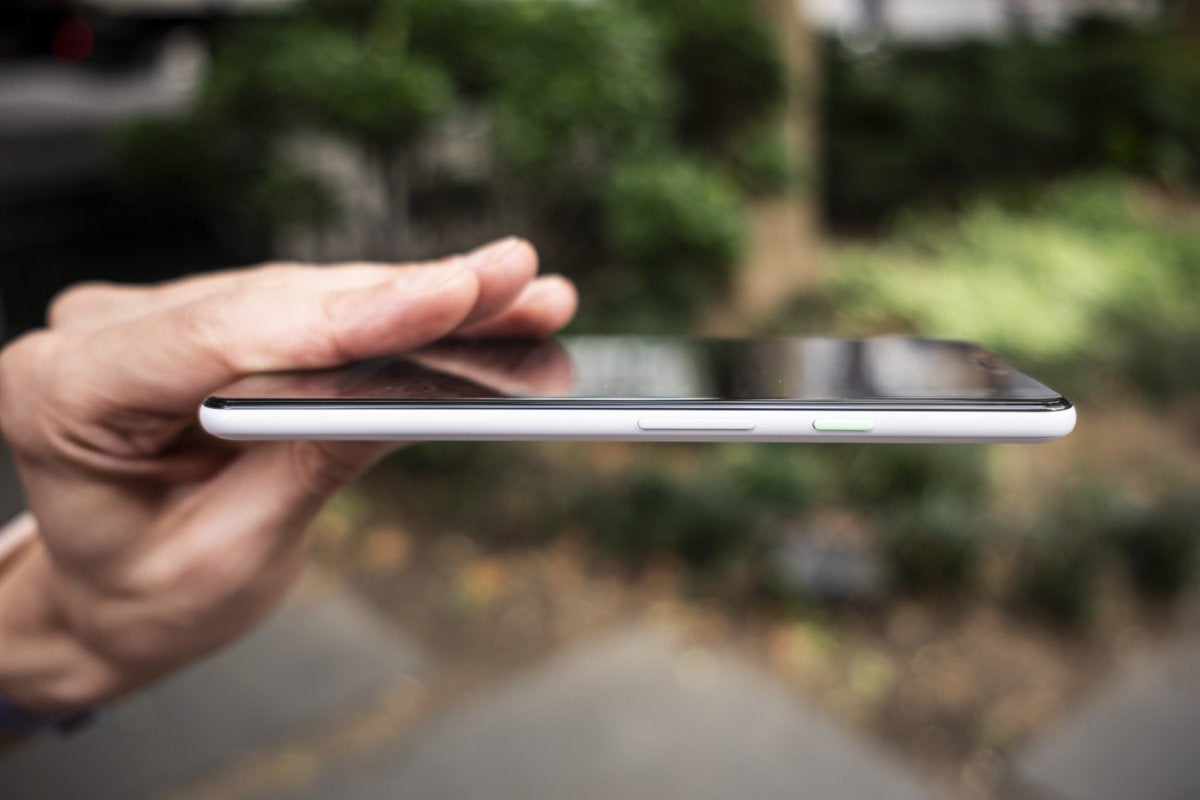 Before we go any further, let's talk about the notch. I don't know why Google didn't put one on the 5.5-inch model, but it only makes the 3 XL stand out more. And not in a good way. It's big. And deep. Where other phone makers are trying to shrink and hide their notch behind software tricks, Google seems to be very proud of the "extra useful space at the top" of its phone (seriously, they said that.)
I don't know how useful it is, but the space around it is definitely noticeable. Whether you're watching full-screen videos or just using an app, the depth of the notch pushes the screen down way lower than on other phones. People are going to have feelings about it, I can tell you that much.
Pretty on the inside
But the beauty of Pixel 3, as they say, isn't skin-deep. It's about what's inside the notch, under the bezels, behind the screen. Google has loaded the Pixel with a ton of helpful AI and camera tricks, along with some of the best specs you can get in an Android phone.
Like always, both phones have the same processor (Snapdragon 845), RAM (4GB), and storage (64GB or 128GB), as well as the same front (dual 8MP) and rear (12.2MP) cameras. Despite having a larger screen, the Pixel 3 XL is remarkably similar to the 2 XL, with the 3 XL adding just a tenth of a millimeter to the height. That means old cases should work fine. The Pixel 3, on the other hand, is much smaller than the 2, mostly due to a serious trimming of the latter's bezels. The 5.5-inch Pixel 3 feels downright tiny compared to the sea of 6-inch-plus phones out there.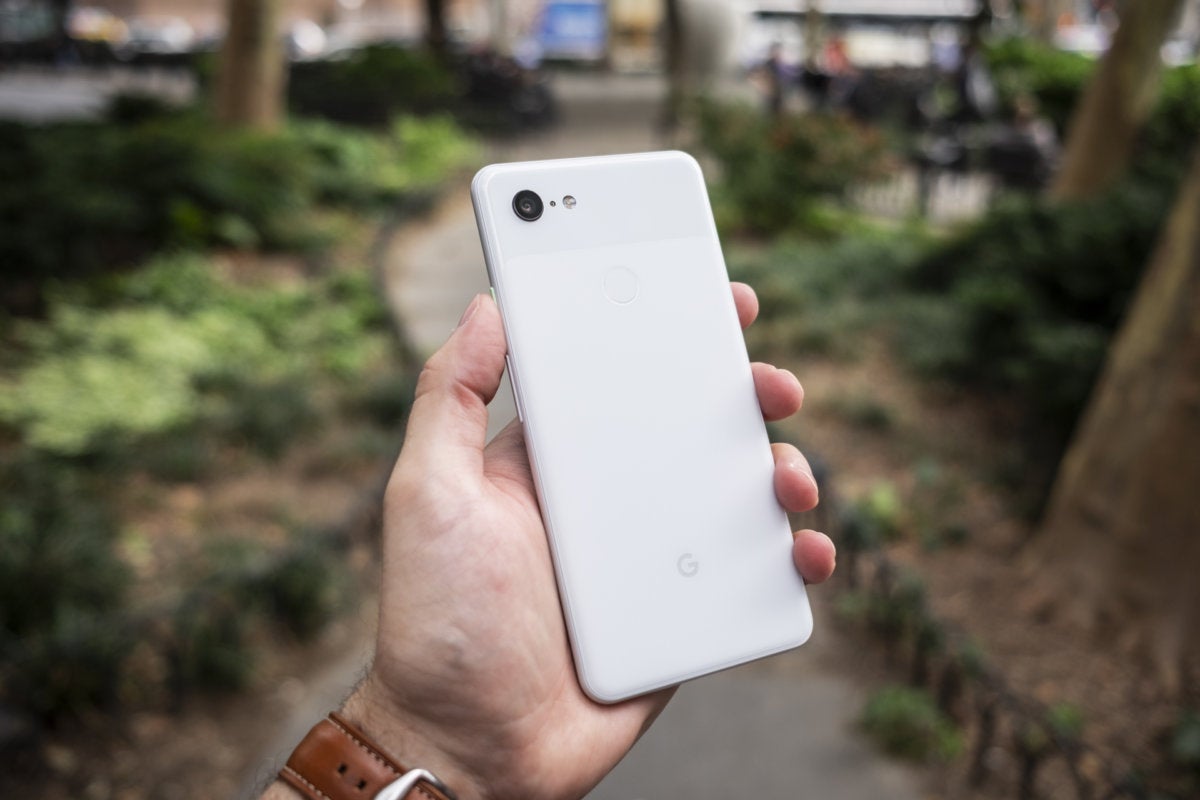 The headphone jack hasn't made a return, though this time around Google is bundling a pair of USB-C Pixel Buds in the box along with a USB-C-to-3.5mm adapter, so your non-Bluetooth needs are covered. Both phones still have front-firing speakers as well, which Google says are 40 percent louder than before. To test them out, all Pixel buyers get a free six-month subscription to YouTube Music. Both phones obviously run Android Pie with gesture navigation turned on by default and guess what—you can't turn it off. It's possible that Google relents and adds a switch in a later update (the Pixel 3 XL I used was running the same 9.0 version as the older Pixels), but for now it's gesture navigation or bust.
With an all-glass back, both phones now have wireless charging, so Google is selling a $79 Pixel Stand that props your phone up while it's charging. The design is basic but it works—I had a much harder time missing the sweet spot when I put the Pixel 3 on its stand than I do with traditional charging mats.
The Pixel Stand is more than just an upright Qi charger with Pixel-style curves. Set your Pixel on the charger, and Google Assistant will take over your lock screen and turn your phone into a mini smart display, with a unique interface that provides information at a glance, song lyrics, suggestions, and OK Google support. And if you set an alarm, it will gradually illuminate to wake you up nice and slow, rather than blare "The Big Adventure" when the alarm strikes.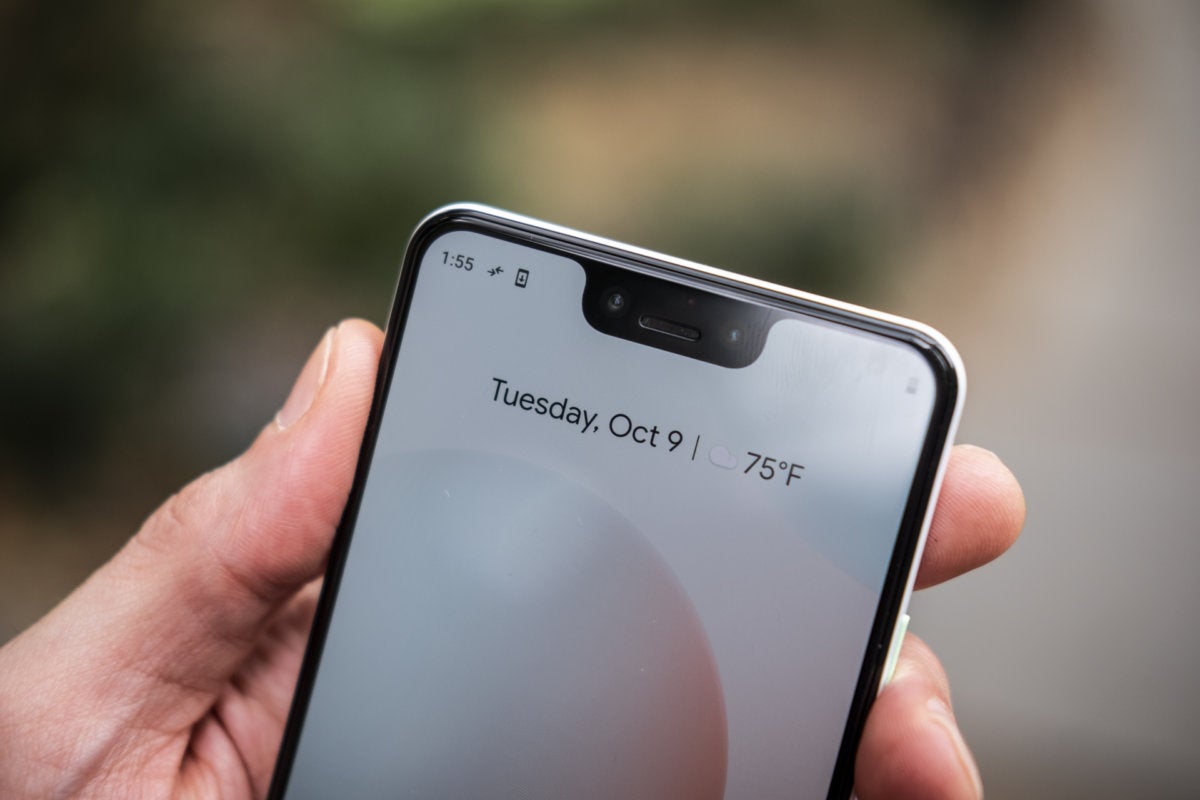 That's what really sets the Pixel 3 apart from the field: little touches meant to surprise and delight you. Flip it over when you're at dinner, and your notifications will stop bothering you. Want to make reservations? Google is implementing its new Duplex feature first on the Pixel 3, so Assistant will be able to call restaurants for your next meal.
But the biggest wow moment is a feature called Call Screen. I haven't had a chance to try it out yet, and there wasn't even a canned demo in the hands-on area. But the way it works is Google Assistant will offer to answer a call from a suspected spam number. You'll get a transcription of its conversation in real time, and you can choose either to pick it up or let Assistant handle it. Both Duplex features will be coming to the Pixel 3 first, followed by all other Pixels next month.
All-seeing cameras
The front camera on the Pixel is now a dual-array rather than single one, but it's not for portraits or studio lighting effects. It's a wide-angle lens, so you can vary the field of view using a new slider at the bottom of the screen. Or you can turn on Photobooth to trigger the selfie cam with a funny face or a smile rather than a timer or an awkward fumble for the shutter button. It works—it simply refused to snap a pic if I was frowning.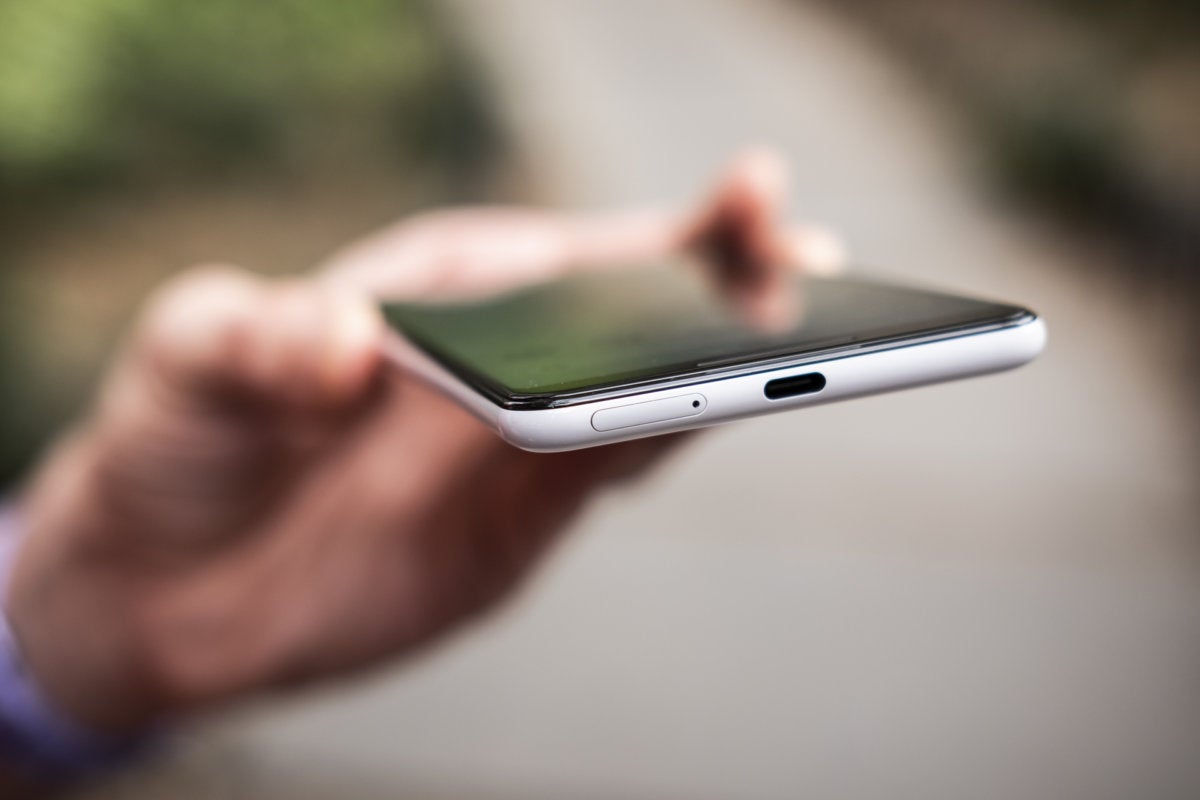 Around the back, the camera is still powered by the superb Pixel Visual Core image processor, and Google is using it to its full potential in the Pixel 3. The coolest feature is what Google calls Top Shot. When you shoot with Motion Photos on the Pixel 3, the camera doesn't just create mini GIFs. It also extrapolates those pics into a series of images both before and after the shot, so if you miss what you wanted to shoot, you can choose the one you meant to take. It worked incredibly well in my initial testing, and it should prove to be a killer feature for photo-happy parents.
Also new to the Pixel is Super Res Zoom, which uses Google's machine-learning magic to simulate optical zoom using the Pixel's digital zoom. I'd still rather have a real-deal zoom lens, but even when zoomed all the way out, the pics I snapped were less noisy than on other phones. There's also a new low-light mode called Night Sight, as well as some fun AR stickers as part of the new Playground feature. Both of those features will be available on all old Pixel phones as well.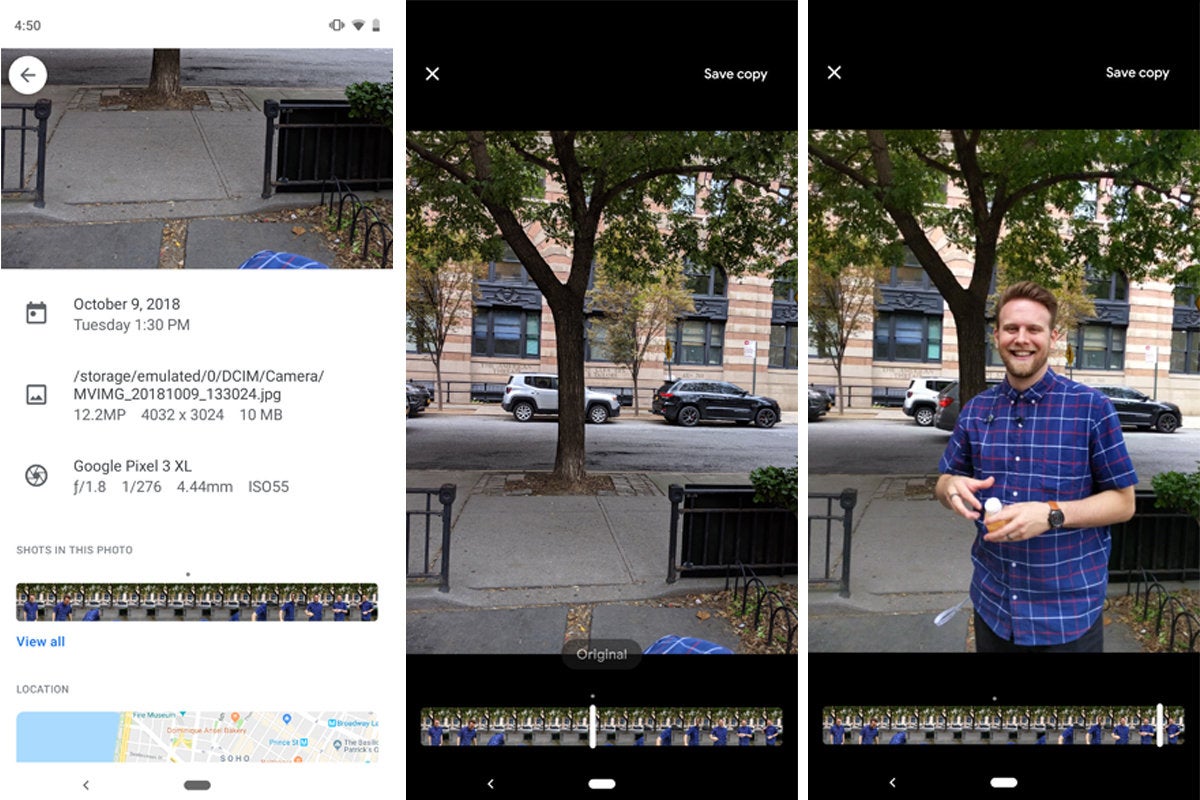 Buying an old Pixel might be what most people do this year. That's because the Pixel 3 costs more than ever. The smaller model starts at $799, $150 more than the Pixel 2, and the XL is $899, also more than last year's model, but only by $50. Google recently slashed the price of the Pixel 2 XL to $699, a full $300 less than the 3 XL.
During its presentation, Google said the Pixel 3 is all about "doing more with your day and less with your tech." That may be true. But if you're spending a small fortune on a phone, you probably want to get your money's worth.