At a Glance
Expert's Rating
Pros
Impressive quad-core CPU performance
Relatively thin and light for a gaming laptop
Comfy keyboard
Above-average speakers
Cons
Falls short of 60 fps gaming visuals at maxed graphics settings
Rear-facing ports may frustrate some users
No memory card reader
Our Verdict
A relatively thin and light gaming laptop, the inexpensive Lenovo Y530 will be a tempting choice for budget-minded gamers. That said, the Y530's middling graphics card struggles to keep up with today's games, let alone tomorrow's.
Best Prices Today: Y530 (81FV0013US)
The bargain-priced Lenovo Legion Y530 weighs less than five pounds and measures less than an inch thick—impressively portable for a gaming laptop. It packs impressive quad-core multitasking performance, a comfortable keyboard, a reasonably bright screen and solid battery life. Unfortunately, the Legion Y530's middling graphics card struggles to deliver buttery visuals from today's AAA games, and its performance will only go downhill as more demanding titles come down the pike.
Price and specifications
We reviewed the cheapest version of the Lenovo Legion Y530 (81FV0013US), which comes with a quad-core Intel Coffee Lake Core i5-8300H processor, 8GB of RAM, and a 256GB solid-state drive. This CPU's eight threads of processing power (thanks to Intel's hyperthreading technology) promises plenty of multitasking, perfect for gamers who want to stream or create content while they play. Because it lacks a larger secondary drive, however, the Y530 doesn't have enough storage for more than one or two top-tier games at a time.
Mentioned in this article
G3 15 Gaming Laptop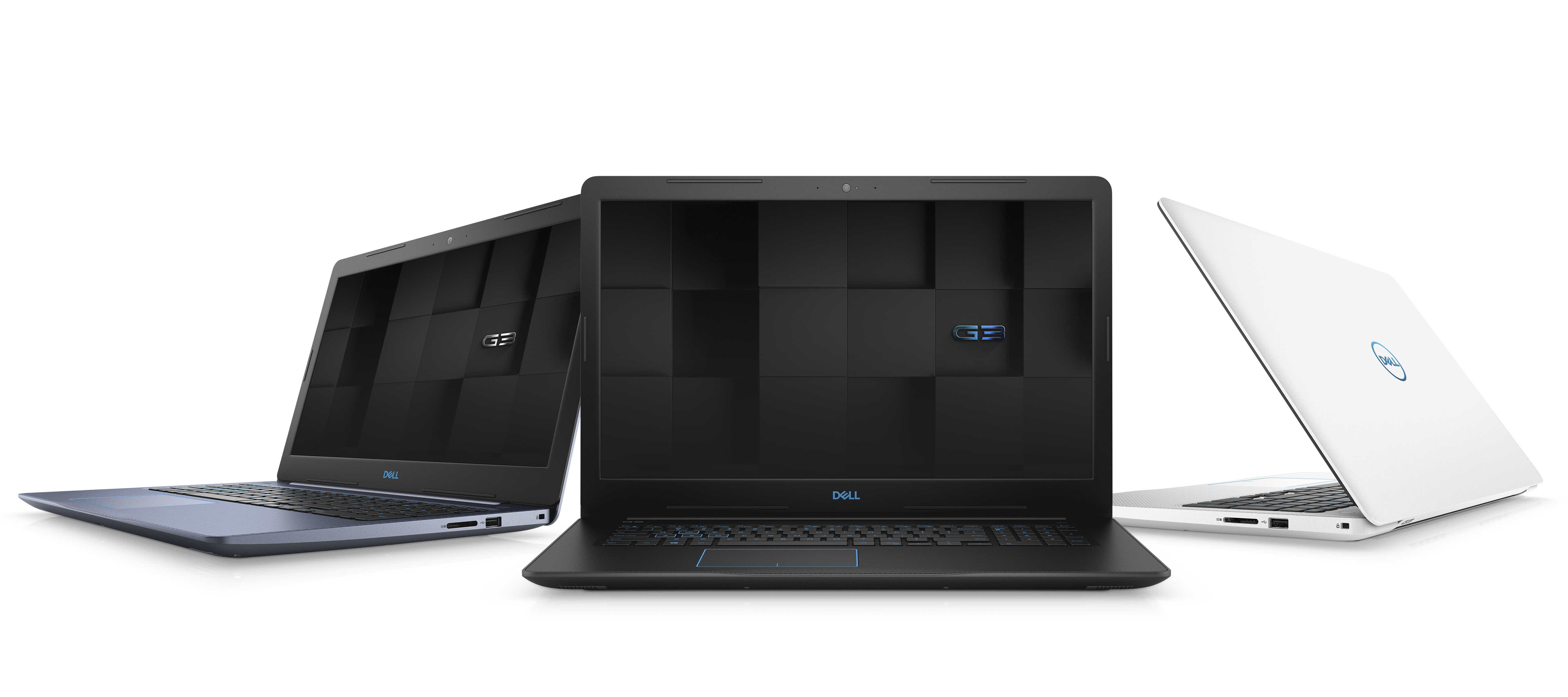 When it comes to visuals, the Legion Y530 boasts a 15.6-inch full-HD (1920×1080) non-touch IPS display, plus discrete Nvidia GeForce GTX 1050 graphics with 4GB of dedicated GDDR5 RAM. Sitting on the lower end of Nvidia's GeForce 10 Series laptop graphics cards, the GTX 1050 generally falls short of buttery 60-fps gaming visuals at maxed-out video presets. You can often make up the difference by tinkering with your graphics settings, but we feel that a more powerful GTX 1060 graphics card—or at the very least, GTX 1050 Ti graphics—offers better value, as well as more headroom for the future.
Lenovo offers a series of upgrades that'll boost the Legion Y530's processing power, storage and graphics. The top-of-the-line model boasts a hex-core Core i7-8750H CPU, 16GB of RAM, a 128GB SSD, and a 1TB hard drive, plus a GTX 1050 Ti graphics card, for about $300 more. That's enough storage for a much bigger library of games, and enough imaging power to nudge gaming performance closer to the 60-fps mark.
While you can certainly find cheaper gaming laptops with superior graphics chops (the recent GTX 1050 Ti-powered Dell G3 15 comes to mind), you'd be hard pressed to find one that weighs less than five pounds. Indeed, the 4.87-pound Lenovo Legion Y530 (compared to 5.36 pounds for the Dell G3) is by far one of the cheapest recent gaming laptops we've seen in its sub-five-pound weight class.
Design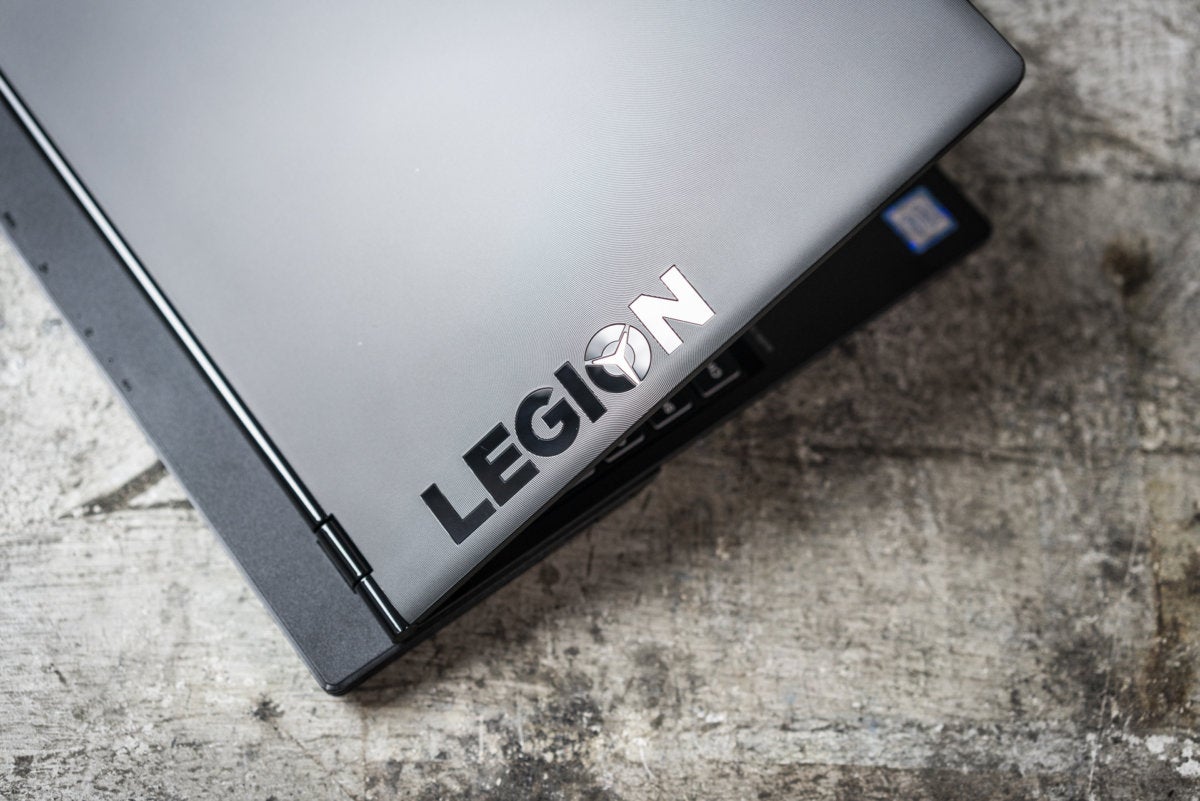 Measuring 14.4 x 10.2 x 0.95 inches and (as we just noted) weighing in at 4.87 pounds, the Lenovo Y530 feels relatively slim and trim for a gaming laptop. At first blush, the laptop's onyx-black design makes it look like a generic business machine, although the glowing Legion 'Y' logo on the side of the finely etched lid sets it apart.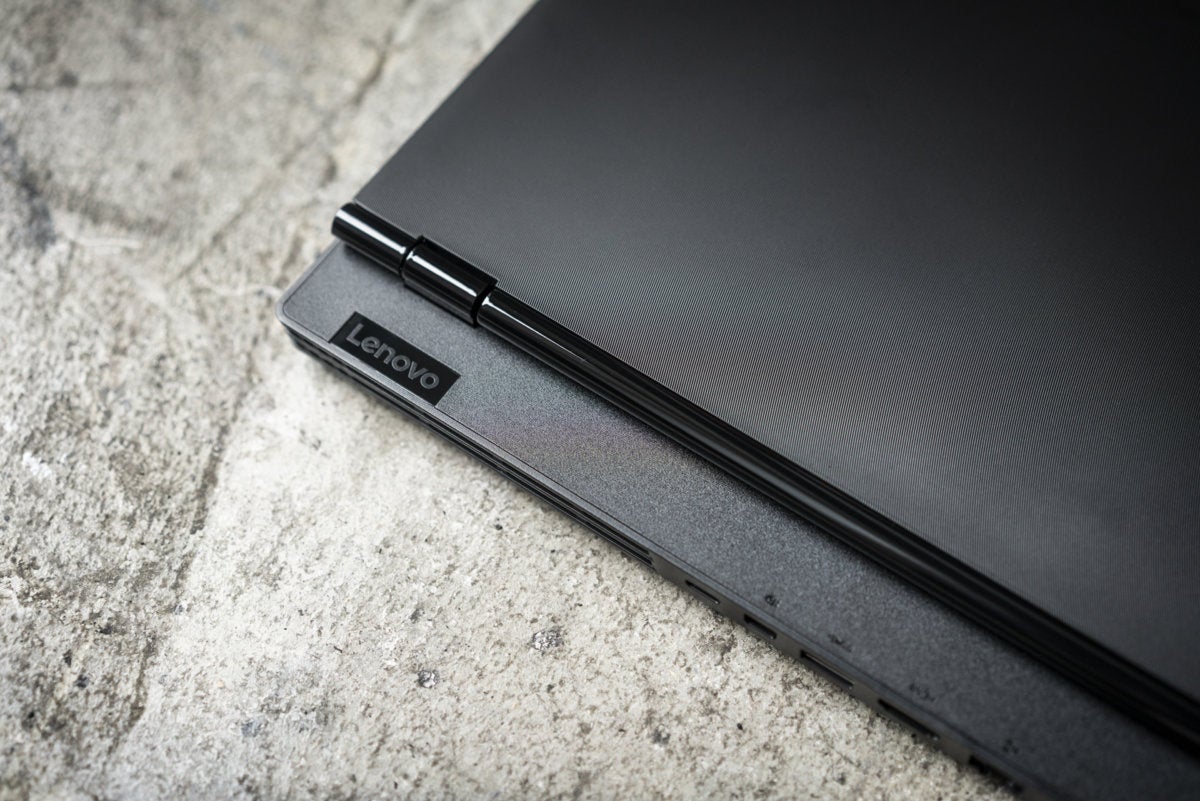 The hinge of the Legion Y530's lid sits about an inch forward from the laptop's back edge, which makes the slim rear end of the system look like it's jutting out from the rest of the chassis—a nifty, console-like design choice that makes the Legion Y530 feel thinner than it actually is.
Speaking of the Legion Y530's back side, several of the laptop's key ports are rear-facing, including the power input, HDMI, USB-C and ethernet. (We'll delve into the specific ports later in the review.) On the one hand, this location makes it easier to hide cables from view, but it also makes those ports harder to access.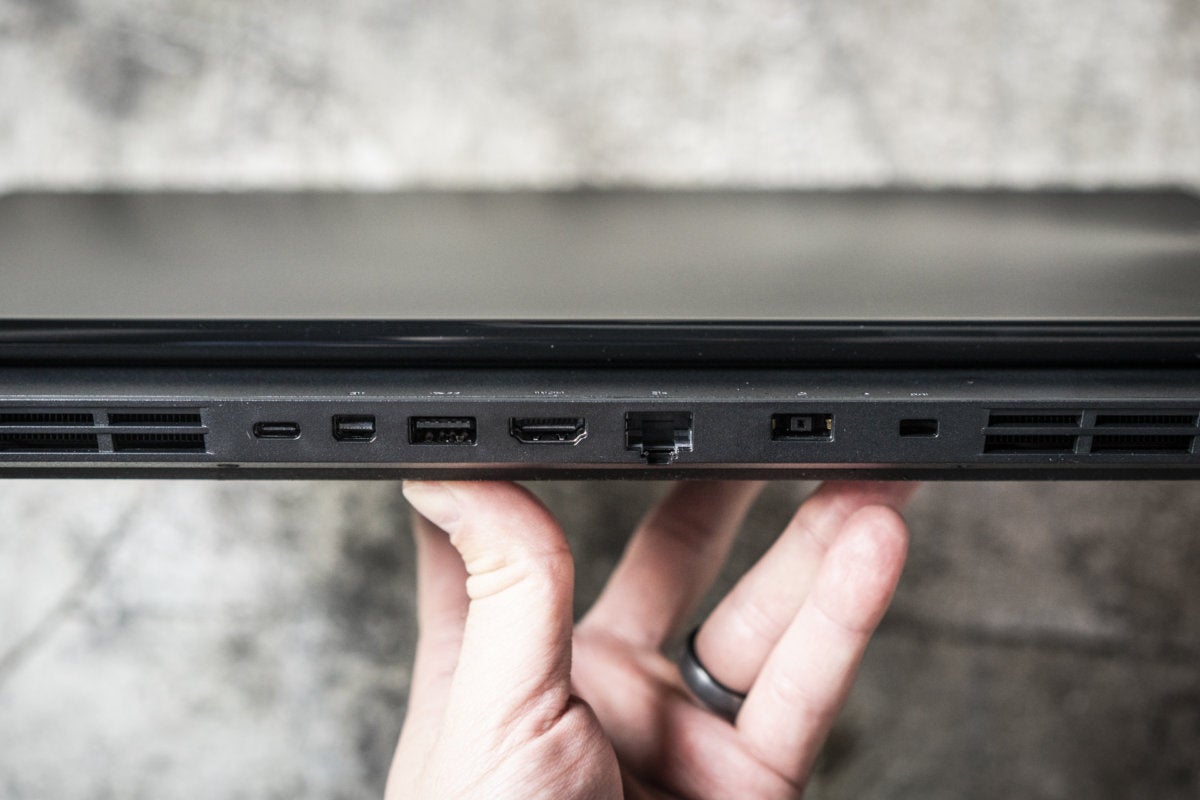 Display
Opening the Y530's lid reveals the 15.6-inch IPS display surrounded by thin bezels (about 8 mm) on the top and sides. It looks about as sharp and vivid as those on other budget gaming laptops we've tested. Viewing angles were solid, dimming slightly starting at about 45 degrees or so with no inverse colors as you might see on cheaper displays.
Brightness on the Y530's display measured about 280 nits (or candelas) according to our measurements, a little above our minimum 250-nit standard for comfortable indoor viewing. We prefer to see brightness readers of 300 or above on gaming laptops, but 280 nits isn't bad given the Lenovo Y530's budget price tag.
Keyboard, trackpad, speakers and extras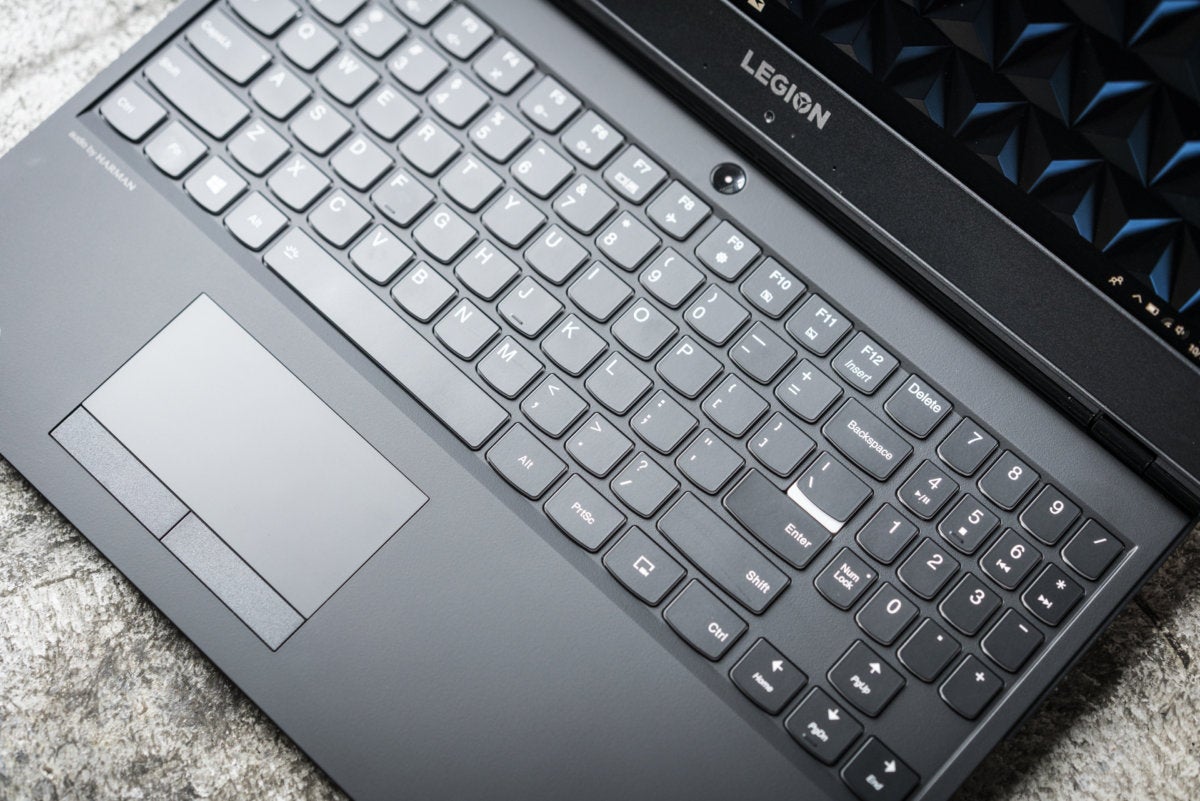 The Lenovo Y530's full-size keyboard feels comfortable and snappy, complete with two-step backlighting (sorry, no flashy LEDs), a generous 1.7mm of travel, slightly concave key caps, a tactile bump in the middle of each keystroke, and a springy, refreshing rebound. A 10-key numeric keypad sits to the right of the main keyboard, with a roomy set of arrow keys just beneath.
The Y530's mid-size trackpad sits directly beneath the space bar, meaning it's somewhat left of center to make room for the numeric keypad. While the trackpad lacks a physical clicking mechanism, you can still tap it to click, or you can click the two mouse buttons along the bottom of the trackpad. While the trackpad itself is smooth, responsive, and adept at rejecting mistaken inputs, it's also quite the magnet for oily fingerprint smudges.
The down-firing Harman Kardon speakers sound pretty good as far as laptop speakers go. Music sounds crisp and detailed, although bass is (per usual) on the weak side, and dynamics sound compressed whenever tunes reach a crescendo. Still, you can crank the Legion Y530's speakers nice and loud, perfect for drowning out the laptop's cooling fans (which never roar too loudly, even during intense gameplay moments). Solid though they are, the Legion Y530's speakers are no match for a good pair of gaming headphones.
The Legion Y530's 720p webcam captures average-looking video—that is, a little grainy and blotchy but bolstered by reasonably vivid color and contrast. Serious Twitch broadcasters will, of course, be better off with a dedicated webcam. It's also worth noting that the webcam lens sits in the bottom bezel of the screen, which means your Skype partners will think you're gazing over their heads even when you're looking them in the eye.
Ports
The Lenovo Y530 offers a solid selection of ports, but as we mentioned above, the placement of the Y530's ports—most in back—could be either or boon or a burden, depending on how you prefer running your cables.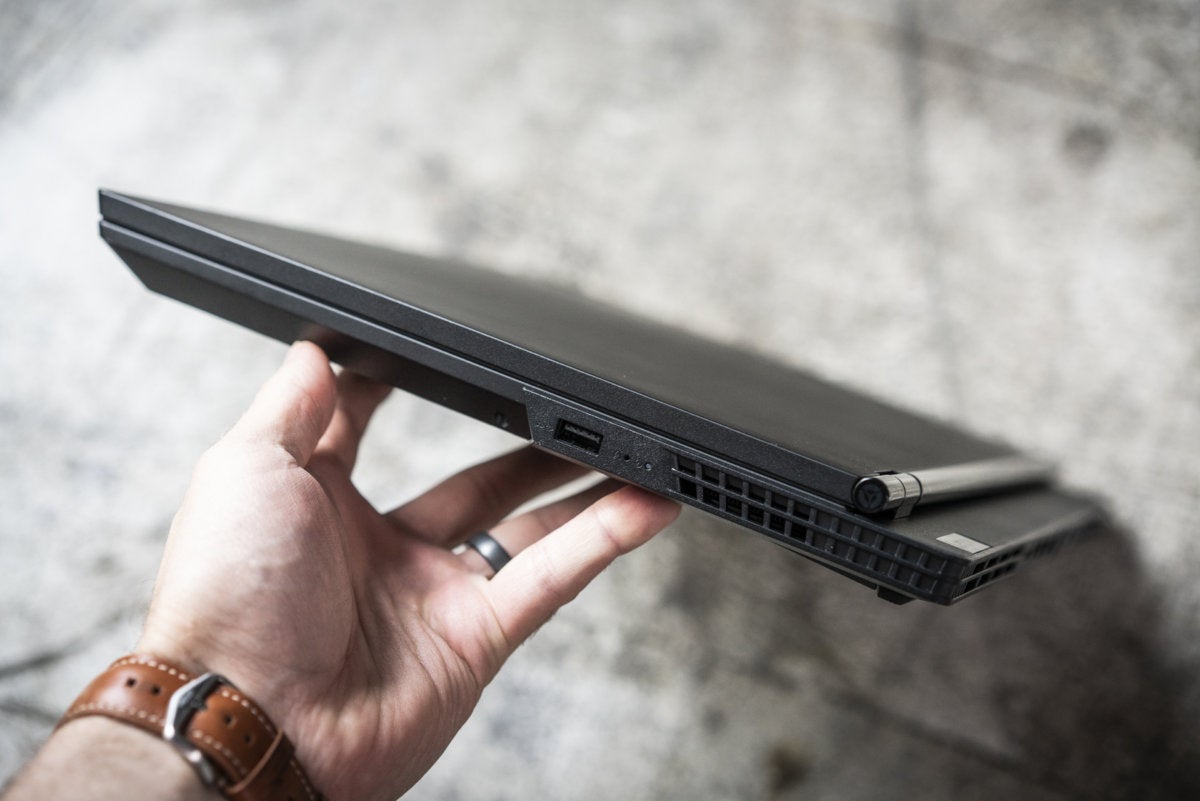 Starting in back, you get a USB 3.0 Type-C port, Mini DisplayPort 1.4, the first of three USB 3.1 Type-A ports, a full-size HDMI 2.0 port, and ethernet RJ-45. Also in back: a rectangular power input, plus a Kensington Lock slot.
On the left side, you get just two ports: USB 3.1 Type-A (second of three), plus a combo audio jack.
Last but not least, a third USB 3.1 Type-A port sits on the right.
Missing in action: Thunderbolt 3 (unsurprising for an entry-level gaming laptop) and an SD memory card slot (a little more disappointing).
General performance
While the Lenovo Legion Y530's gaming performance is held back by its so-so GTX 1050 graphics card, the laptop's overall computing and multitasking performance gets a big boost thanks to its Coffee Lake Core i5-8300H processor. We've compared it to other lower-priced gaming laptops we've tested recently, but we've also made sure to show a range of GTX graphics so you can weight performance vs. cost.
HandBrake
In our first benchmark, we use the free Handbrake tool to encode a 40GB video file into an Android tablet-compatible format. It's a lengthy CPU-intensive test designed to tell us how a given laptop deals with spiking processor temperatures over a relatively long period of time—sometimes an hour or more, depending on a system's horsepower.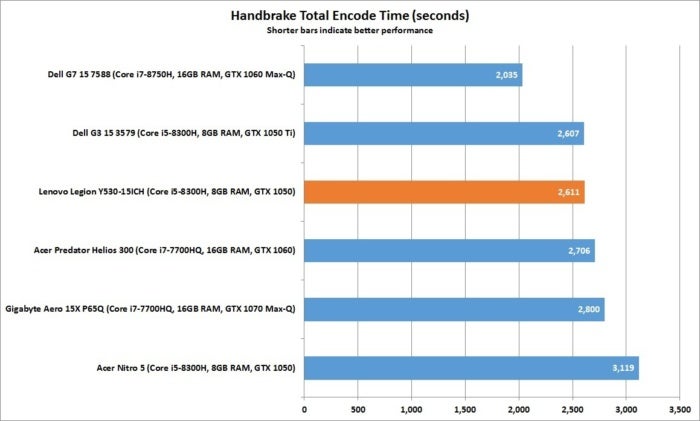 Laptops with the most cores and threads usually do the best with HandBrake, and the quad-core, eight-thread Lenovo Legion Y530 doesn't disappoint. Its Handbrake score sits near the top, right in the mix with other i5-8300H-powered laptops and ahead of two 7th-gen Core i7 systems. Twitch broadcasters, content creators, or anyone else looking to multitask while gaming will get plenty of support from this CPU.
One interesting observation about the Legion Y530's HandBrake performance: Unlike other systems that dial down processor speeds and wattage during the Handbrake test, the Y530 keeps CPU package max-core frequencies cranked at about 3.64GHz, with processor package temperatures hovering around 94 degrees Celsius and thermal throttling continually enabled. Yes, it's a bit like having a roaring fire in your fireplace while the air conditioner is on full blast, but it seems to work, with no hot spots on the laptop chassis or the keyboard.
Cinebench
Next up is Cinebench, a benchmark that checks how a laptop performs under a brief period of stressful CPU activity—in this case, rendering a 3D image in real time. While our HandBrake benchmark takes about an hour to complete, Cinebench is often over in a matter of minutes. Despite the differing lengths of each test, both Cinebench and Handbrake reward processors with the most cores and threads.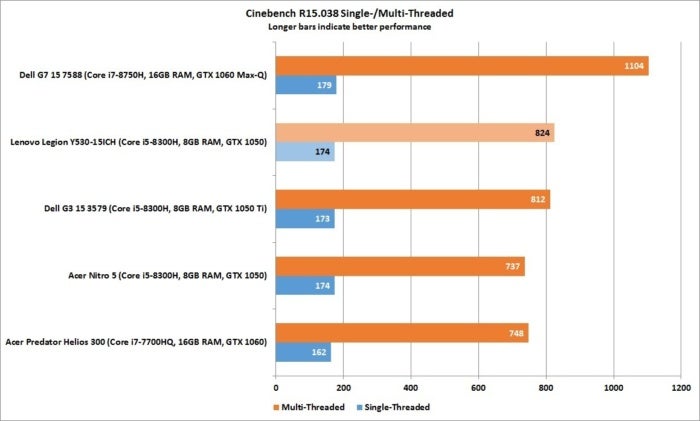 Not surprisingly the race was close when only a single thread was tested—meaning performance on mainstream applications should be solid on any of these CPUs. When we switch to multi-threaded testing, the higher-end CPUs tend to pull ahead. The quad-core, eight-thread Legion Y530's score is bested only by the Dell G7 15 and its hex-core Core i7-8750H CPU.
Gaming performance is important, and you can see if you keep reading.
Gaming performance
Impressive though the system's Core i5-8300H processor is, the Legion Y530's gaming performance hangs off its Nvidia GeForce GTX 1050 graphics card, which sits near the back of Nvidia's GeForce 10 Series line for laptops. If you were expecting 60-fps visuals at maxed-out graphics settings from a bargain GTX 1050-powered laptop like the Y530, well, see for yourself.
FireStrike Extreme
Let's start with 3DMark's FireStrike Extreme benchmark, a synthetic graphics test that gives us a solid baseline for comparing gaming laptops at different price ranges.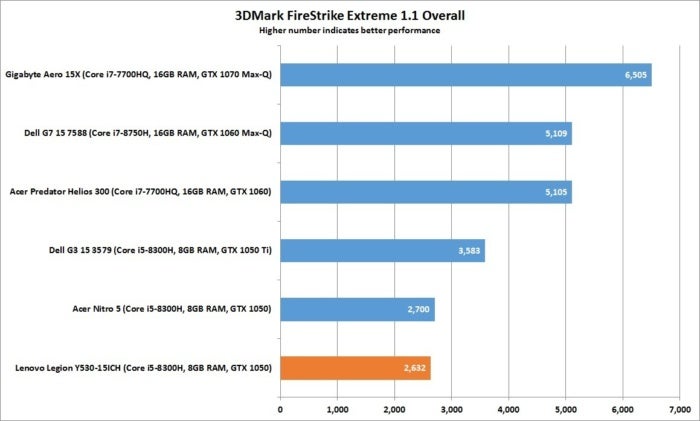 Unsurprisingly, the Lenovo Legion Y530 sits near the back, a hair behind the GTX 1050-powered Acer Nitro 5 and a couple steps behind the GTX 1050 Ti-packing Dell G3 15.
In the middle, we've got a couple of laptops with more powerful GTX 1060 graphics cards, including the Dell G7 15 and the Acer Predator Helios 300. Just looking at those numbers gives you a good idea how big a leap in performance the GTX 1060 delivers versus GTX 1050 graphics.
At the top of our chart sits a pricey GTX 1070-packing laptop, the Gigabyte Aero 15X, which (generally speaking) can wring 60 fps or more from today's most demanding games without breaking a sweat.
Tomb Raider
Moving on to real-world gaming, we fired up 2013's Tomb Raider reboot, an older AAA title that relies a little more on CPU power than recent gaming titles do.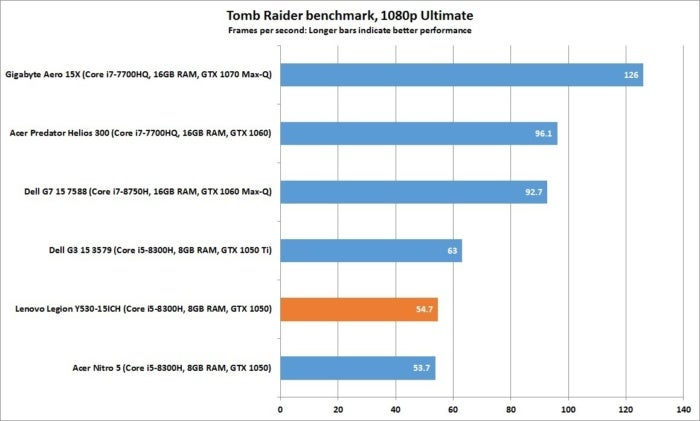 Even with the aging Tomb Raider, the Legion Y530 struggles to approach 60 fps at the game's "Ultimate" preset, as does the similarly GTX 1050-equipped Acer Nitro 5. Crossing the 60-fps threshold (barely) for Tomb Raider is the GTX 1050 Ti-powered Dell G3 15 (which, remember, is cheaper but considerably heavier than the Legion Y530), while GTX 1060 and 1070-packing laptops breeze past 90 fps and beyond.
Middle-earth: Shadow of Mordor
The Legion Y530's gaming limitations really start to show with Middle-earth: Shadow of Mordor. The laptop managed only about 45 fps at the game's "Ultra" preset.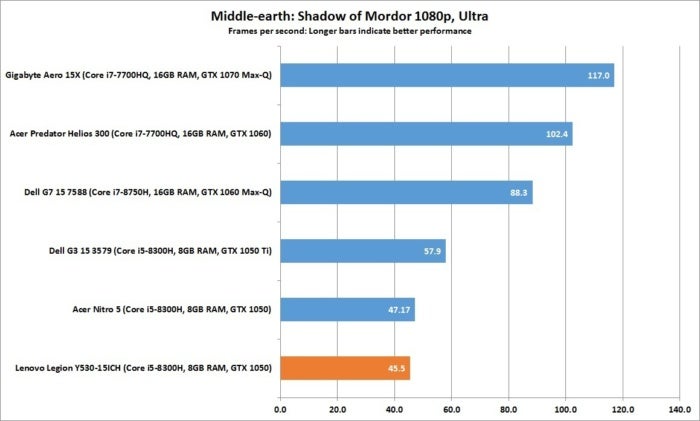 Again, you'll need a laptop with GTX 1050 Ti or better graphics to squeeze more than 60 fps out of Shadow of Mordor with maxed-out graphics, while GTX 1060- and 1070-enabled laptops can easily crank out 100 fps-plus SOM "Ultra" visuals. (You can chalk up the Dell G7 15's 88-fps showing to its GTX 1060 Max-Q card, which puts a cap on performance to optimize heat and power management in a smaller chassis.)
Rise of the Tomb Raider
Finally, the GPU-intensive Rise of the Tomb Raider sees the Legion Y530 (along with the GTX 1050-packing Acer Nitro 5) sitting closer to the 30-fps mark at the game's "Very High" preset. For reliably buttery Rise of the Tomb Raider graphics at maxed settings, you'll need to shell out more cash for (at least) a GTX 1060-powered system.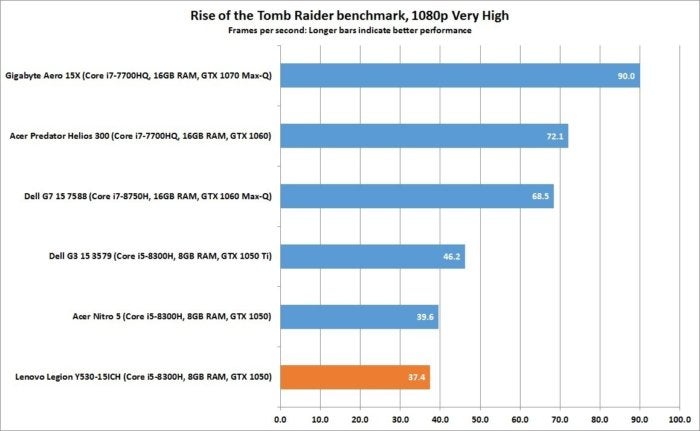 None of this is to say the Legion Y530 can't render smooth gaming graphics under the right circumstances. After a little GeForce Experience-aided tweaking, for example, I was able to get supple Destiny 2 frame rates in the 60-fps range, up from about 45 fps at the "Highest" preset.
But you'll need to come to terms with the fact that an entry-level gaming laptop like the Legion Y530 won't earn you bragging rights for the hottest portable gaming graphics. It's also worth considering that if the Legion Y530's GTX 1050 graphics card struggles with today's top-tier games, it'll fare even worse with next year's titles.
Battery life
They may have been battery hogs in the past, but gaming laptops are getting better and better at respecting battery life. No, we're not talking all-day battery life here (and once you fire up a AAA game, of course, all bets are off), but the Legion Y530 makes the most of its 52-watt-hour battery as far as gaming laptops go.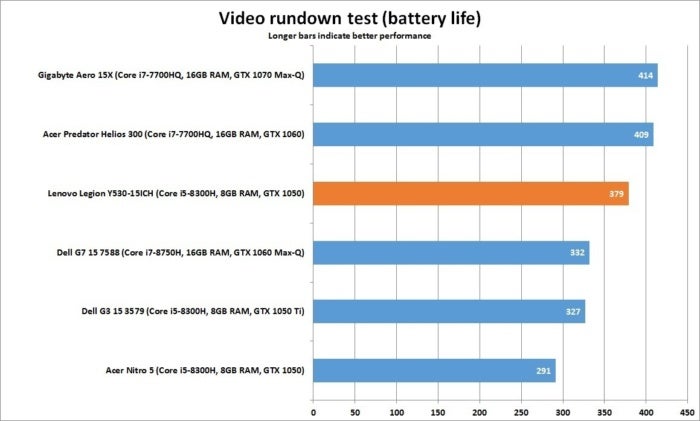 We test battery life in a laptop by looping a 4K video using the stock Windows 10 video player, with screen brightness set at about 250 nits (we cranked up the Y530's brightness to 90 percent) and volume dialed to 50 percent, headphones on.
With its result of 379 minutes (or about 6.3 hours), the Legion Y530 takes third place in our performance roundup, ahead of a pair of laptops (the Dell G7 15 and the Dell G3 15) with bigger 56-watt-hour batteries. Besting the Legion Y530 in our battery drain test was the Acer Predator Helios 300, a 5.5-pound gaming laptop with a 49-watt-hour battery, and the 4.75-pound Gigabyte Aero 15X with its massive 94-watt-hour battery.
Conclusion
A relatively thin and light gaming laptop, the inexpensive Lenovo Legion Y530 will be a tempting choice for budget-minded gamers. That said, the Y530's middling graphics card struggles to keep up with today's games, let alone tomorrow's.
Best Prices Today: Y530 (81FV0013US)