At a Glance
Expert's Rating
Pros
Quad-core 8th-gen Core chip adds a performance bump
Core i5 model does away with the fan
Battery life improves somewhat
Cons
External chassis is essentially unchanged…again
Step down in GPU power from previous model
Confusing mix of configurations to choose from on Microsoft site
Our Verdict
Microsoft's Surface Pro 6 is the latest iteration of its iconic Windows tablet, complete with an 8th-generation, quad-core chip inside of it. While it's nearly identical to earlier Surface Pro versions, that means its design remains one of the best—plus, it offers very good battery life compared to similar competition.
Best Prices Today: Surface Pro 6
Our review of Microsoft's Surface Pro 6 focuses even more than usual on the differences between this new generation and its predecessor, the Surface Pro (2017), because they seem nearly identical—at least on the, er, surface. Visually, you'd be hard-pressed to differentiate the Surface Pro 6, the Surface Pro (2017), or the Surface Pro 4, all iterations on Microsoft's iconic 12.3-inch two-in-one PC.
This time around, the major changes are inside: A bump up in the processor to an 8th-generation Core chip, some weird adjustments in pricing, and a new color— black—separate the new from the old. There's actually a downgrade of sorts in the GPU compared to the Surface Pro (2017), which is a bit of a disappointment. The Performance section of our review shows the clearest differences among the three generations.
We've given the Surface Pro 6 what some would consider an "average" score of 3.5 stars, a lower score than we've given some other tablet PCs we've reviewed recently. But we're also giving it an Editor's Choice, like those other products. Despite being underwhelmed by the Surface Pro 6's failure to break new ground (or even add USB-C), we will give it this: It also has a nice, long 8.5 hours of battery life in our tests, which has been an Achilles heel with reviewed competition. It is still one of the best-designed Windows tablets you can buy, and its pricing is competitive with similarly configured products. (Editor's note: We neglected to give the Editor's Choice designation at the time the review posted due to author error. PCWorld regrets the oversight.)
Microsoft Surface Pro 6: Basic specs and buying advice
As you may recall from our hands-on with the Surface Pro 6 after Microsoft's event, we discovered that Microsoft is selling both the Surface Pro 6 for Business, as well as the more generic Surface Pro 6 for consumers. The Business model begins at $999, rather than $899 for consumers. The additional $100 buys you a slightly more powerful Core i5 processor with vPro capabilities, an improved warranty with the ability to receive a new device before sending in the defective model (Advanced Exchange), and Windows 10 Pro, rather than Home. We reviewed the consumer version.
Display: 12.3-inch (2736×1824) PixelSense display, with 10-point touch
Processor: 1.6GHz Core i5 8250U (as tested) or 1.9GHz i7-8650U (consumer); 1.7GHz Core i5 8350U or 1.9GHz Core 17-8650U (business). All processors are quad-core 8th-gen "Kaby Lake-R"
Graphics: Intel HD 620
Memory: 8GB-16GB DDR3 (8GB as tested)
Storage: 128GB-1TB NVMe PCIe SSD (256GB as tested)
Security: TPM 2.0
Ports: USB 3.0 Type-A, Surface Connect, miniDisplayPort, microSDXC card reader, 3.5mm headphone jack
Wireless: 802.11ac, Bluetooth 4.1
Cameras: 5MP/1080p (front) with Windows Hello; 8MP rear
Battery: 45Wh
Operating system: Windows 10 Home (as tested); Windows 10 Pro for business
Dimensions: 11.5 x 7.9 x 0.33 inches
Weight: 2.36 pounds (with Type Cover); 2.82 pounds (with power brick)
Colors: Platinum, black
Optional accessories: Surface Pen model 1776

Remove non-product link

($99.99); Surface Pro Type Cover

Remove non-product link

(black), $129.99; Surface Pro Type Cover

Remove non-product link

(platinum, cobalt blue, burgundy) $159.99
Price: $1,199

Remove non-product link

(as tested), plus a $129.99 Type Cover
Purchasing a Surface Pro 6 can be confusing—unnecessarily so, in our view. In addition to the $100 premium for selecting the Business edition over the consumer version, configuring your purchase feels a bit like a puzzle. Here's an example: If you select the platinum Surface Pro 6, you can select a Core i5/8GB RAM/128GB SSD model for the minimum price of $899. But that same option is not available in black; instead you'll be forced to upgrade slightly to a Core i5/8GB/256GB model, for $999. Would you like a Core i5 with a terabyte of storage? Sorry, you can't right now. And so on.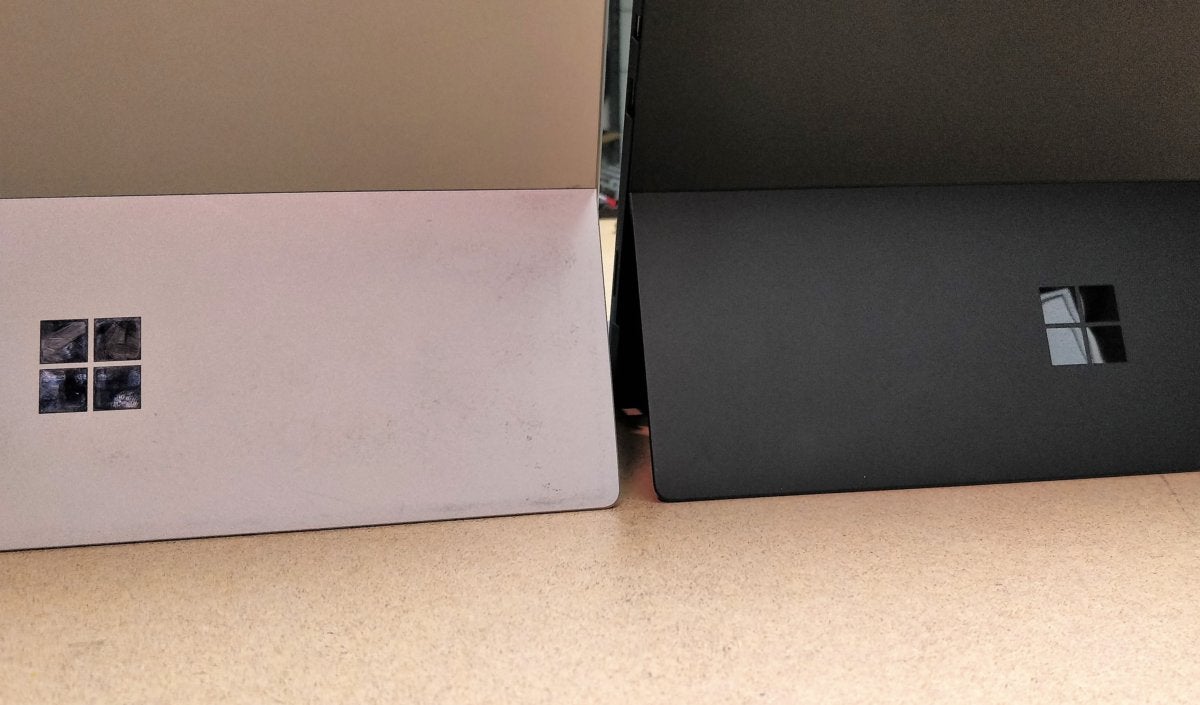 You have two CPU options, period: a Core i5 and Core i7, and not the power-sipping Core m option of the Surface Pro (2017). The 7th-generation Core i7 chip powering the Surface Pro (2017) came with a powerful Iris Plus GPU attached. This time around, Microsoft's returned to a more basic integrated graphics chip, the HD 620, on both the Core i5 and the Core i7.
Then, of course, there's the Type Cover, a virtual requirement for any useful work. Microsoft still hasn't bundled the Type Cover with the Surface Pro, forcing you to pay an additional $129.99 to $159.99. The difference depends on the color you choose: black, burgundy, cobalt blue, and platinum. Ironically, a black Surface Pro 6 represents a slight premium of sorts, because of the configuration. But the cheapest Type Cover is the black one, forcing true cheapskates to mix a platinum Surface Pro 6 with a black Type Cover to achieve the lowest price.
All told, the "real" minimum price of the Surface Pro 6 is $899 for a platinum SP6 plus $129.99 for the black Type Cover, or $1,028.99. The $100 Surface Pen is truly optional.
Microsoft Surface Pro 6: basic construction and ports
Compare it yourself to our review of the Surface Pro (2017): The new Surface Pro 6 is virtually identical in terms of dimensions down to the millimeter. We found it weighed almost exactly the same, with a bit of variance in our scale. Microsoft has made it available in two colors: the modern, traditional Surface platinum, and the new jet black, hearkening back to the first few generations of Surface devices.
Like the Surface Pro 6, the tablet's kickstand folds down about 165 degrees, nearly flat, for inking with the optional Surface Pen accessory. Microsoft doesn't offer a Surface Laptop that folds back into tablet mode, so if you're looking for a tablet experience with the structural rigidity of a laptop, you might look at our top pick for a convertible among our best laptop reviews.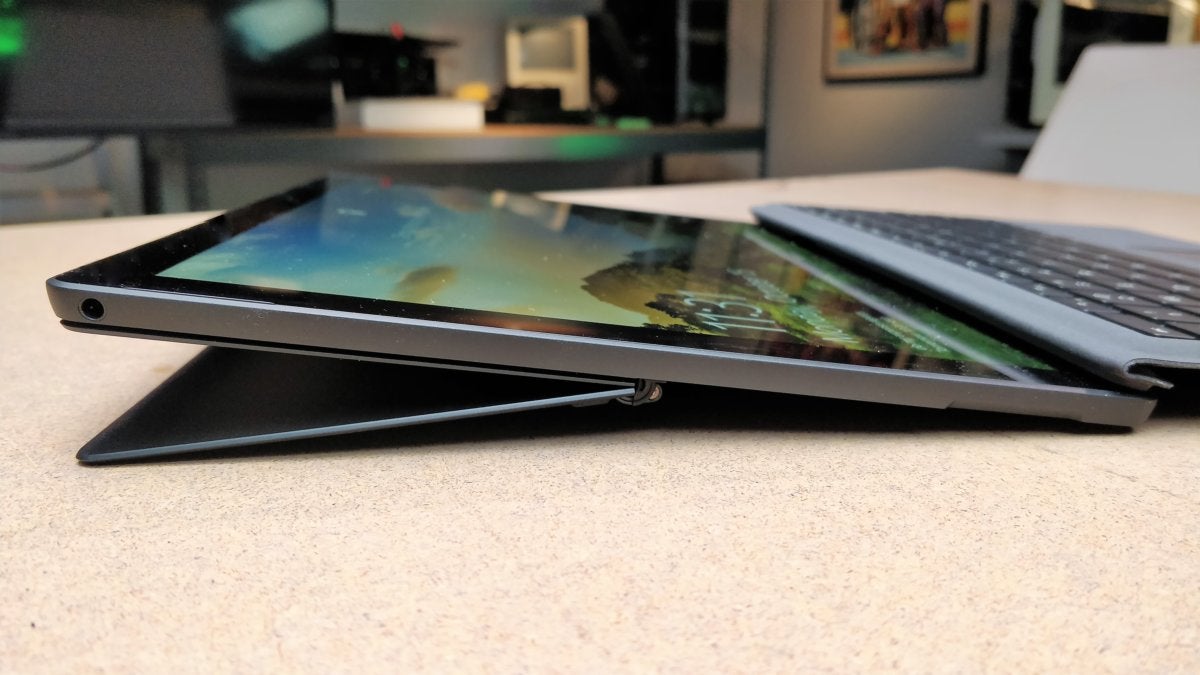 Remember, though, that the Microsoft Surface line begins and ends with its magnificent display: 12.3 inches (2736×1824), the same dimensions and resolution as its predecessor. Using Microsoft's gorgeous new default background wallpaper as a guide, any differences between the Surface Pro (2017) display and the new Surface Pro 6 are slightly noticeable only in a side-by-side comparison. Our review unit pumped out 378 nits, 7 percent more than the SP (2017). At that luminance level, the SP6 is usable outside, though it's best for high-contrast applications like Word.
Like the 2017 model, the Surface Pro 6 features vibrant "enhanced" or more color-accurate "sRGB" color modes, and supports on-screen use of the Surface Dial for digital artists.
We're told Microsoft improved the internal cooling. The Core i5 model we tested was fanless (as was its 2017 predecessor), so we'd need to test the Core i7 version to gauge its fan behavior. Under some of the heavier benchmark loads—Handbrake, Cinebench and 3DMark—the upper rear of our fanless Surface Pro 6 became warm, but cooled off quickly.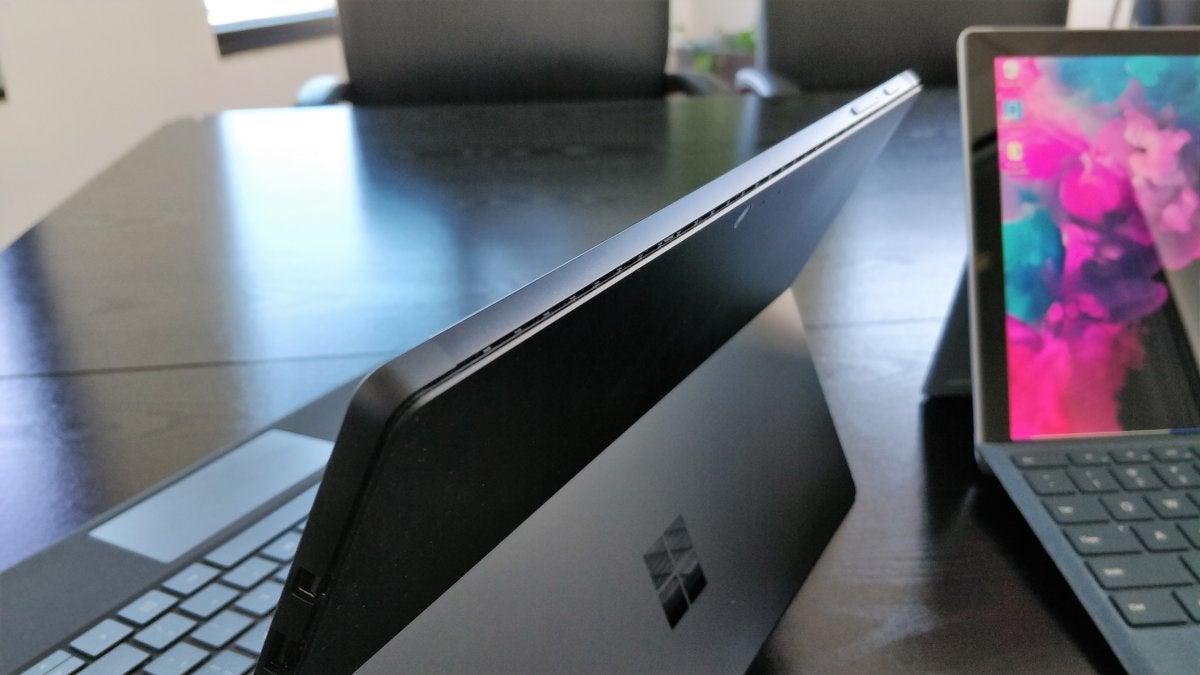 Microsoft's product page claims the Surface Pro 6 uses the same sturdy magnesium unibody of the Surface Pro (2017), though it feels a bit more plasticky to the touch. Microsoft also eliminated the slight two-tone aesthetic at the top of the chassis that the Surface Pro (2017) used. There's still the same slightly rounded corners (not as pronounced as on the Surface Go) and the same subtle venting at the rear. Finally, a small nitpick: The black-on-black approach made it a challenge to find the ports when using it within my dimly lit home workspace.
Oh, and as for ports—no, there's no USB-C, even though you'll find it on the Surface Go and Surface Book (and many other devices). Instead, there's the standard complement of Surface Connector, MiniDisplayPort, USB 3.0 Type-A, and the microSD slot hidden under the kickstand. If you don't own a Surface Dock, the lack of USB-C is a disappointing omission, as your expansion options are limited. Personally, this says yet again that we're overdue for a new Surface Dock, either as a replacement to the current brick, or some more portable dongle that enables both power and I/O.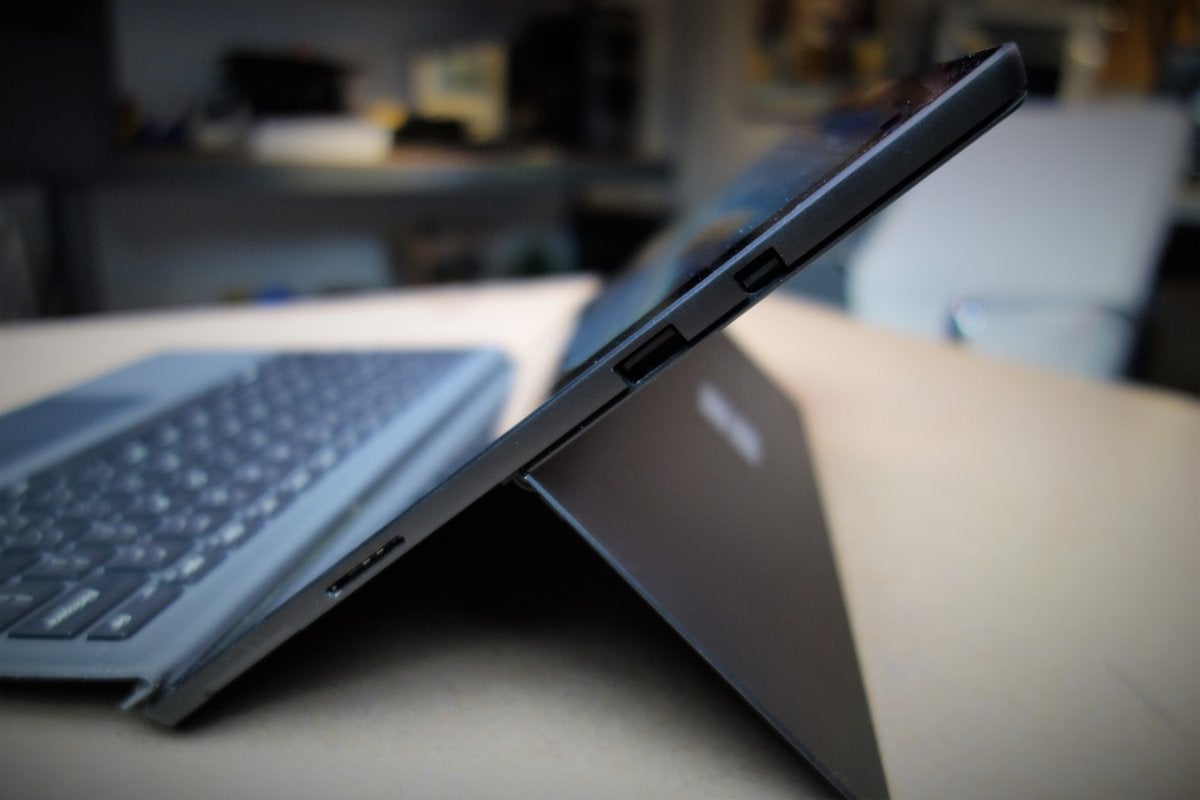 Surface Pro 6: Type Cover, camera, and speakers
Microsoft didn't update the existing Type Cover, which is interchangeable with those sold with the Surface Pro 4 and Surface Pro (2017), though not the Surface Go. The keys still feel a bit stiffer than I'd like. There does seem to be Alcantara fabric used in both the front and underside of the Type Cover, though it's not as fuzzy as the other Type Covers I've used. I did notice a rather strong odor of polyurethane when I unboxed the Type Cover, something I hadn't noticed previously. It faded fairly quickly.
I have no concerns about the overall quality of the Type Covers, however. Because the Surface Pro tablets are often my testbeds for Windows Insider builds, I type on them for a few weeks straight at different times of the year, and they're perfectly comfortable to use for long periods. The touchpad is equally functional.
When used on the lap, the Surface Pro 6 grips the Type Cover securely, though it's not foolproof. I do wish that Microsoft would steal some of Lenovo's kickstand ideas, though. I'm a fan of the first-gen ThinkPad X1 Tablet kickstand that unfolded from the base, but also the more rounded downward-facing kickstand on its third-gen model, which feels less like a butter knife on your thighs. One traditional knock on Microsoft has been its follow-through: Having successfully established the Surface Pro, some of its engineering attention seems to have wandered elsewhere.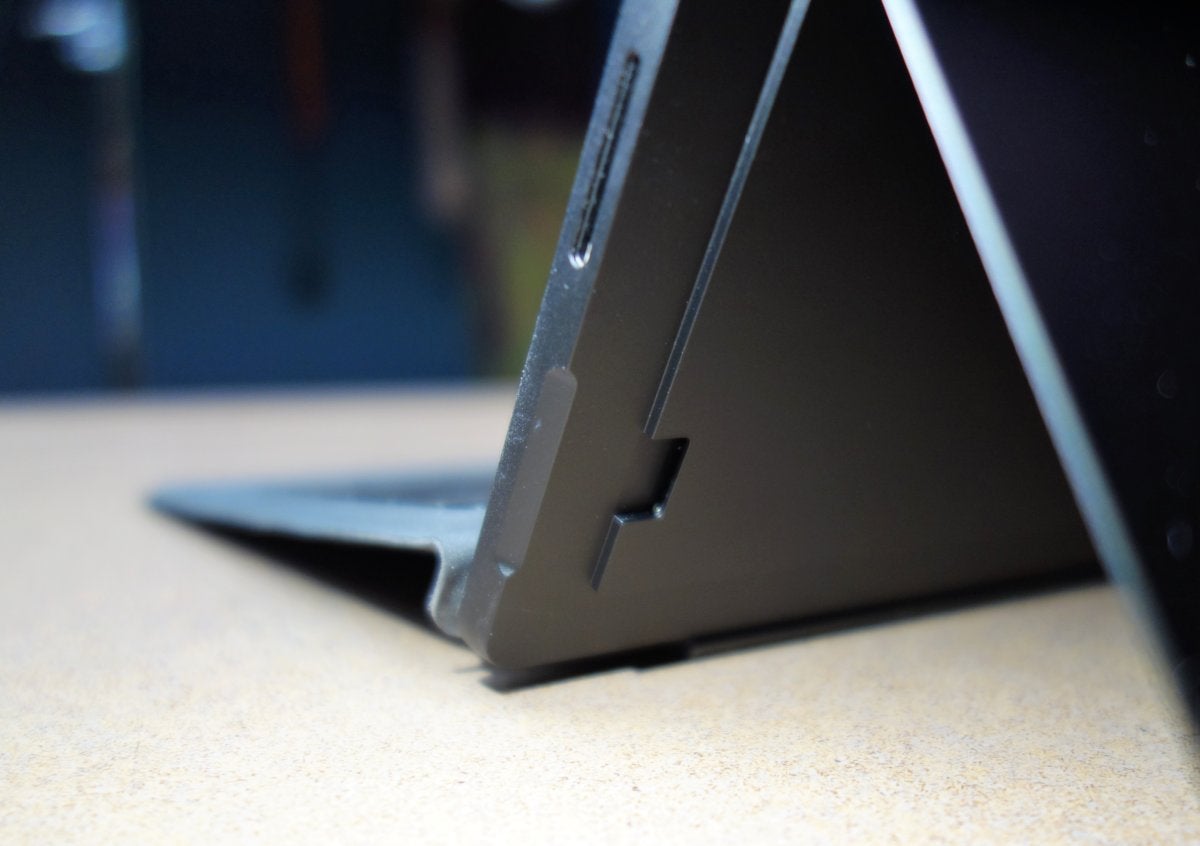 The same goes for its camera. Others have experimented with ways to disable or cover the front-facing camera for privacy's sake, yet Microsoft declined to follow suit—back to masking tape if you're worried hackers may spy on you. Otherwise, though, the front-facing Windows Hello feature is as convenient and effective as ever, consistently recognizing me and logging me in. The rear-facing camera boasts auto-focus as well as HDR capabilities, but no flash. It does shoot 8MP photos, though only in a 4:3 format; the camera captures 6MP when capturing images in a 16:9 format.
I thought I heard a slightly flatter sound the Surface Pro 6 speakers than from its predecessors, but I'm not certain. Microsoft omitted consumer-friendly details like Bang & Olufsen speakers (available on the excellent HP Spectre x2 tablet) and Dolby Audio (reserved for Microsoft's Surface Book line) in favor of a downloadable Dolby Audio app or the built-in Windows Sonic audio processing for headphones. Oh, and don't forget about the new Surface Headphones, too!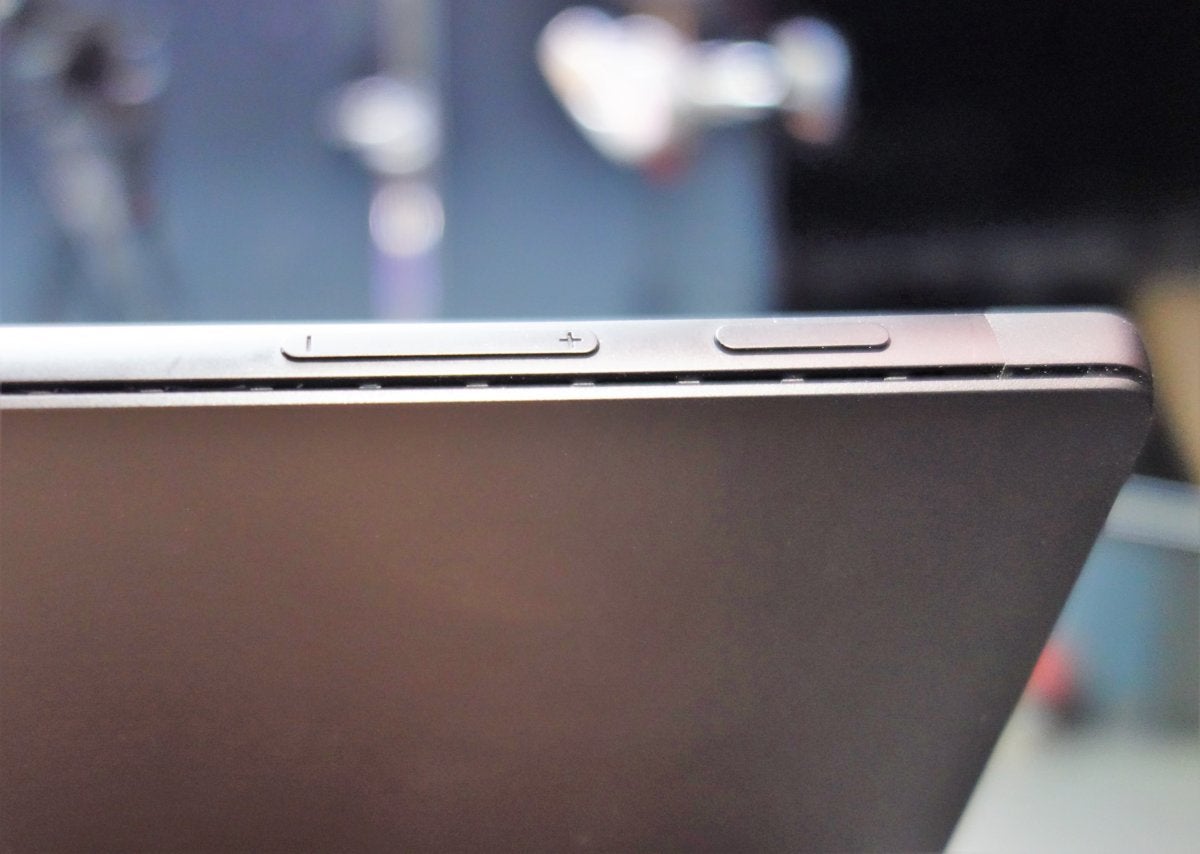 We didn't really test a Surface Pen (model 1776) that Microsoft shipped to us as an accompaniment, as we've used it before with the Surface Pro (2017). With 4,096 levels of pressure, it's more sensitive than before, a distinction only artists will appreciate.
Microsoft Surface Pro 6: Performance
The Surface Pro 6 may have changed little on the outside, but inside, Microsoft claims the new 8th-gen processor makes it 67 percent faster than the Surface Pro (2017). That's a little complicated for us to measure. While the Surface Pro (2017) used dual-core 7th-gen mobile chips, the new Surface Pro 6 jumps to a quad-core, 8th-gen processor. But our Surface Pro (2017) review unit was powered by a Core i7 chip, and an Iris Pro GPU, while our review unit uses a Core i5 and ho-hum Intel HD 620 graphics.
We've made sure to compare the Surface Pro 6 to its most potent rivals, including the Lenovo Miix 520 and ThinkPad X1 (3rd Gen) Tablet, as well as HP's excellent, consumer-friendly Spectre X2. If you decide you're looking for a thin-and-light notebook that flips back into "tablet" mode, consider our Editors' Choice-winning HP Spectre x360 13t from late 2017, which is compared as well. You'll also notice three bars, shaded red and pink: we've called out the Surface Pro 4, Surface Pro (2017) and the Surface Pro 6 to better understand the generational improvements Microsoft has made.
Microsoft has said time and again that the Surface emphasizes productivity, which we typically find embodied in PCMark's Work, Home, and Creative tests. The Work tests tends to be the most commonly used, and what it measures—word processing, spreadsheets, and videoconferencing performance, among others—are usually pretty easy tasks for any modern tablet. Any score over 2,000 is good here, and all the Surface Pro generations easily surpass that.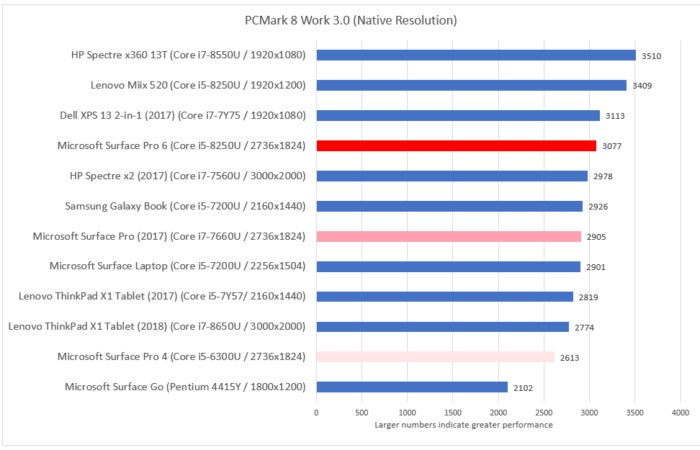 The Home test migrates the workloads into more familiar space, such as web browsing and light gaming. Here, the Surface Pro 6 does fairly well, though it's the gaming portion where it struggles a bit. (We'll take a harder look at this below.)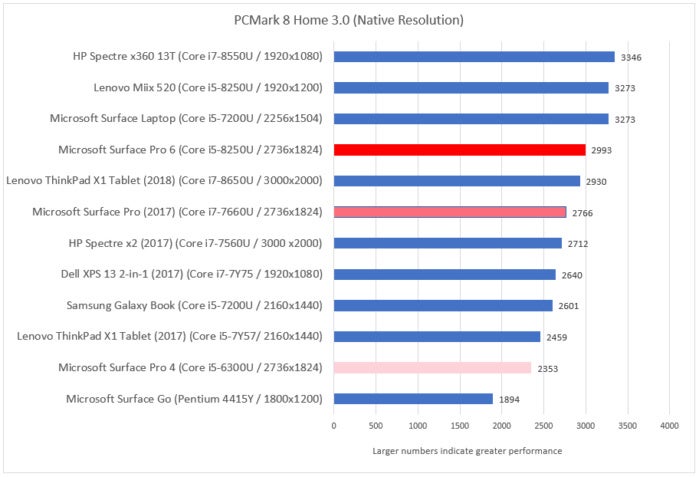 PCMark's Creative tests push the multimedia aspects a bit harder, with photo and video editing. Note that gaming also plays a large role here, which could explain the Surface Pro 6's close ranking relative to the higher-end 2017 model.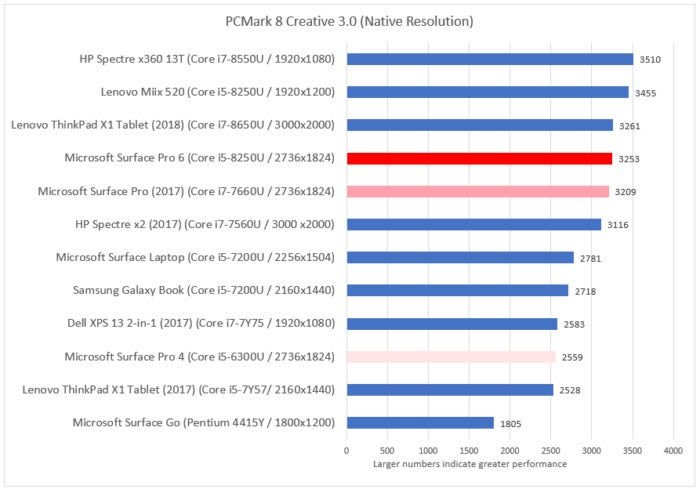 We use Maxon's Cinebench test as a standardized test of the CPU within the Surface Pro 6, as well as other PCs we've tested. Cinebench is a widely adopted standard, primarily because it stresses each and every core and thread in a CPU, really demonstrating the potential performance of a laptop or microprocessor. It's here where the bump to four cores and eight threads benefits the Surface Pro 6. Keep in mind, though, that many conventional applications aren't written as efficiently, which make the PCMark tests a more effective real-world evaluation.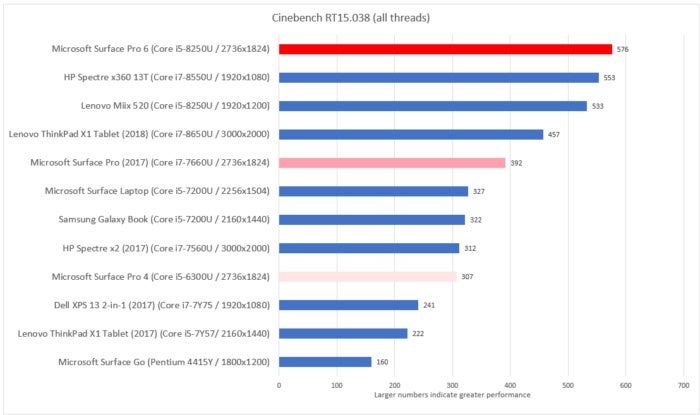 HandBrake, meanwhile, is an open-source video-conversion tool. We use it as a prolonged stress test of a laptop under load, converting a movie into a format appropriate for an Android tablet. It's a real-world application, though niche. But it's also a good test to see how the laptop will manage thermal stress under a heavy workload. Will it slow down to avoid overheating? The Surface Pro 6 barely broke a sweat, posting one of the best scores of the group.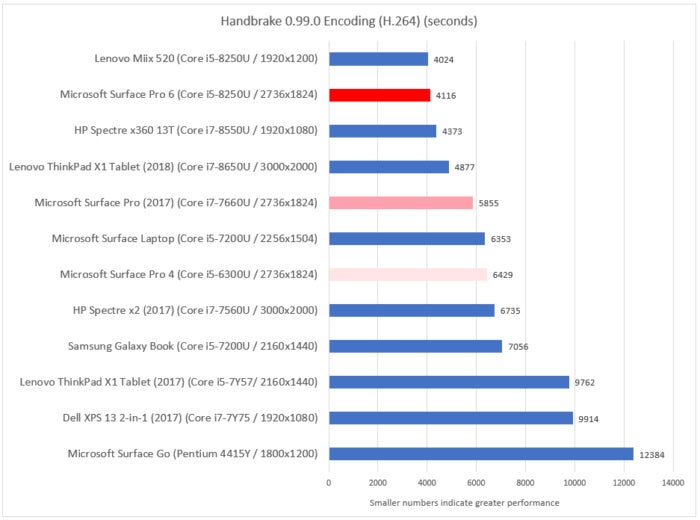 We normally don't test SSD performance, but we wanted to see whether Microsoft was improving the underlying hardware, or cutting corners. Unfortunately, based upon the available tablets remaining in our testbed—we returned HP's tablets, unfortunately—it seems like Microsoft lags behind Lenovo's latest ThinkPad X1 tablet. Our Surface Pro 6 review unit included a 256GB SKHynix BC501 NVMe SSD.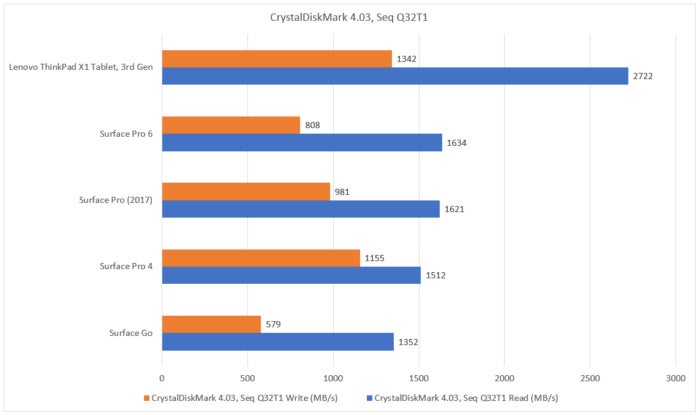 Next up is the 3DMark test, which tests the laptop GPU. In this case we'd expect the Surface Pro (2017) to outperform the Surface Pro 6, and that's exactly what happens, though the substantial 39-percent performance advantage speaks as much to the Iris Pro GPU Microsoft designed as to the Core i7 our Surface Pro (2017) review unit shipped with. Microsoft seems to be leaning back toward the mainstream productivity aspect with the Surface Pro 6, and away from games.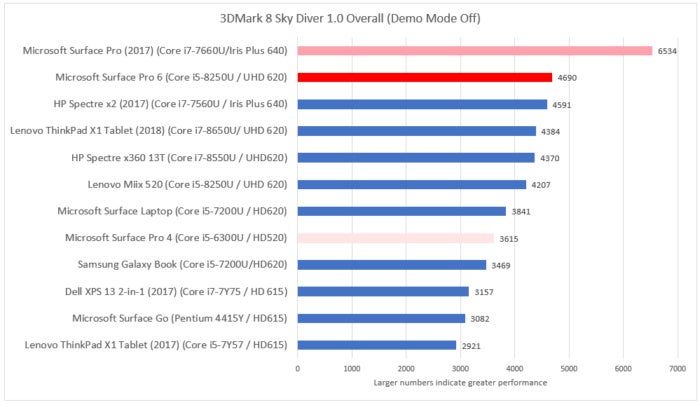 Any disappointment you may feel as a result of the 3DMark test, though, should be leavened by the improvements in battery life, to over 8.5 hours. We're seeing two changes here: a shift from the Core i7 to the Core i5, and possible improvements in the fundamental Core chips. Note that the battery capacity of the Surface Pro (2017) and the Surface Pro 6 are both 45 watt-hours, so there's been no improvements there. Also note that this graphic looks worse than it is: We included laptops like the Surface Laptop, the HP Spectre x360, and the Dell XPS 2-in-1, which twists into tablet mode.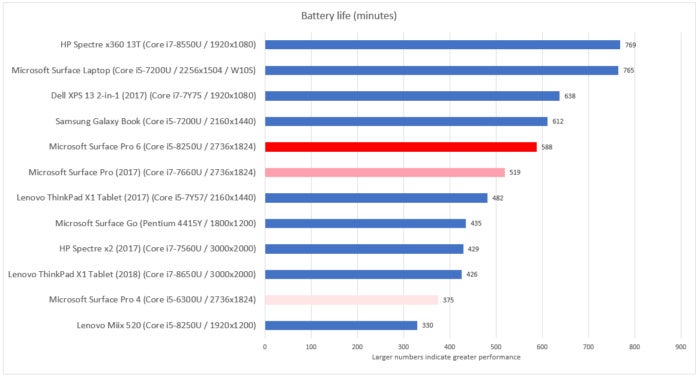 Should I buy the Microsoft Surface Pro 6?
Some have suggested that the lack of substantive differences between the Surface Pro (2017) and the Surface Pro 6 indicates of sort of Apple iPhone-like "S-year," where little changes are preparation for more dramatic reinventions. There are subtle improvements: Adding a quad-core processor is certainly worth applauding.
Microsoft seems more likely to launch smaller (Surface Go) or larger (Surface Studio) variations than dramatically revamp the Surface Pro series. Is a USB-C port on the way? Maybe. But if you want a Surface Pro tablet, this is pretty much it.
If you already own a Surface Pro (2017), there aren't that many reasons to upgrade. A Surface Pro (2017) with 8GB of memory and 256GB of SSD storage currently costs $999, $200 less than the Surface Pro 6 we tested with the same configuration.
You also have some alternatives to consider. The Lenovo Miix 520 is more affordable, includes both the keyboard and the pen, and was the first to offer quad-core performance, but it lacks Windows Hello and skimps on battery life. Its corporate cousin, the ThinkPad X1 (3rd Gen) Tablet offers a brighter, more high-resolution screen and optional LTE, though battery life is again subpar. We also like the HP Spectre x2's consumer-friendly design, superior display, and GPU—though battery life suffers yet again.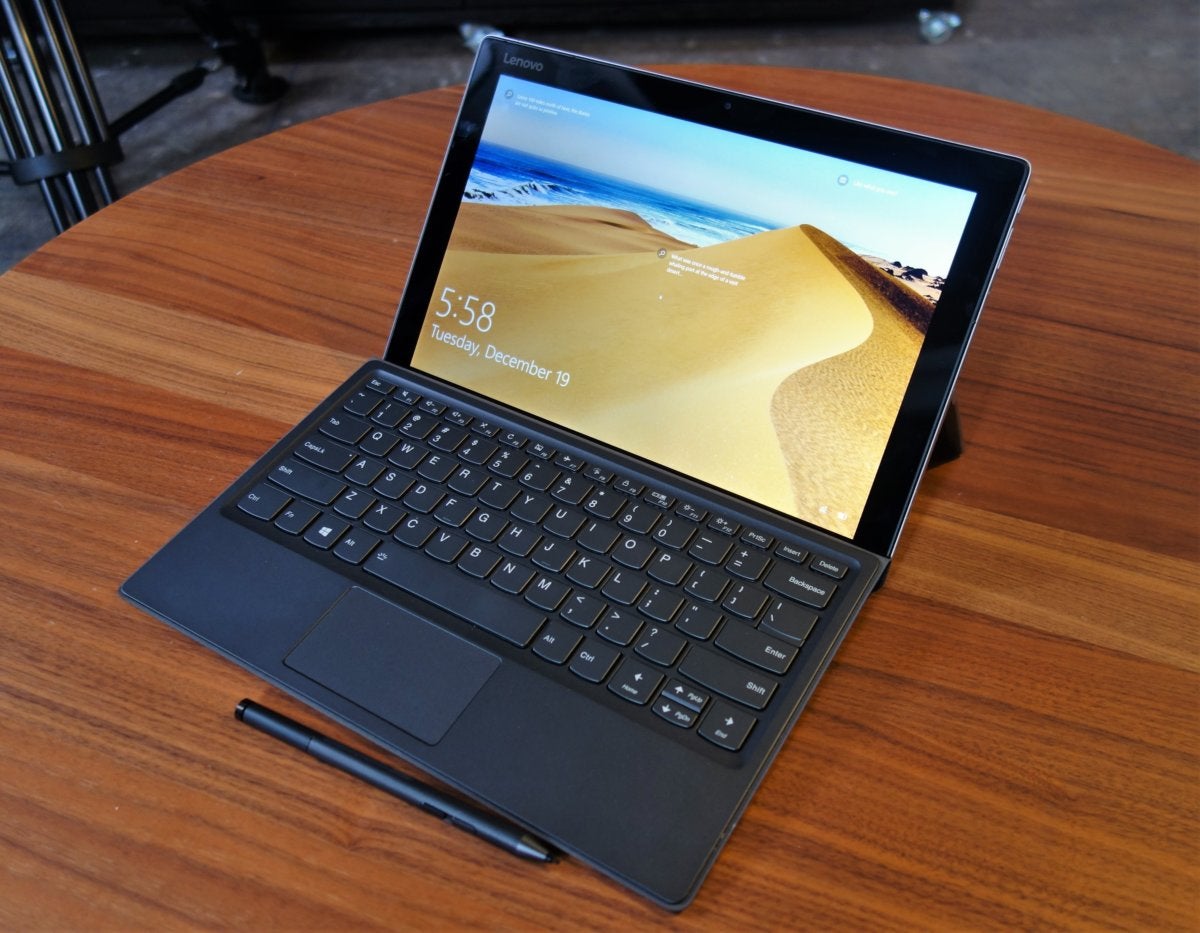 Though we like elements of all those other tablets, however, the Surface Pro 6 is an all-around solid entry. Most notably, it smokes those alternative models in battery life. That's why we are giving the Surface Pro 6 an Editor's Choice designation, even if in other ways it's just an incremental upgrade. (Editor's note: We neglected to give the Editor's Choice designation at the time the review posted due to author error. PCWorld regrets the oversight.)
In retrospect, Microsoft's recent Surface launch suffered from multiple hardware "spec bumps." Microsoft product chief Panos Panay may have gamely tried to tie the launch together by invoking a need for focus, but unfortunately it's hard to get past lukewarm efforts in hardware, software, and execution. (Microsoft's Windows 10 October 2018 Update was middling, and it was initially held up due to a risk of data loss.) And for all the talk about the need for connected PCs, it would have nice at least to pre-announce a Surface Pro 6 with LTE.
Set aside what the Surface Pro 6 should be, though, and what you have is this: Microsoft's implicit statement that the Surface Pro lineup has reached its zenith, and needs no further improvement save for periodic upgrades. HP and Lenovo would probably disagree. I stand by what I said in my review of the Surface Pro (2017): You can't go wrong buying a Surface Pro 6. But you might be able to do better.
Best Prices TodaySurface Pro 6