At a Glance
Expert's Rating
Pros
Good speeds
Higher level of anonymity possible than with most VPN services
Windows desktop is easy to use
Cons
Not guaranteed to work with Netflix
Lacks the extra services that some VPNs offer
No password protection for your account
Our Verdict
Sweden-based Mullvad is like the Swiss Bank account of VPNs. Instead of attaching your account to an email address, the company auto-generates an account number for you, which is all that's required to log in. Mullvad offers a user-friendly interface, its speeds are good, it supports ad blocking, its server network is expanding, and the company takes privacy very seriously.
Price When Reviewed
$6.88 per month
Best Prices Today: Mullvad
Mullvad 2018 in brief:
P2P allowed: Yes
Business location: Sweden
Number of servers: 304
Number of country locations: 33
Cost: €5 ($5.72 at this writing) billed monthly
VPN protocol: OpenVPN
Data encryption: AES-256-GCM
Data authentication: SHA384
Handshake encryption: 4096-bit RSA
Our favorite VPN is back with a much improved overhaul to its Windows client, more servers, and more country locations. The last time we reviewed Mullvad (the Swedish word for "mole") the desktop client was its weakest point. It was very basic and looked more like a properties window than anything else.
That was then. Now, Mullvad has a much improved, modern Windows client (and one for Mac, too). Let's dive in to the new and improved Mullvad.
Note: This review is part of our

best VPNs

roundup. Go there for details about competing products and how we tested them.
As we saw last year, Mullvad is all about knowing as little about you as possible, which is a huge win for anyone trying to stay as anonymous as they can online. The company doesn't even want to retain your email address—whether a primary address or a "burner" one only for VPNs.
Instead, Mullvad issues each user an account number—current numbers are about 16-characters long. The company's attitude seems to be that the less it knows about you, the better.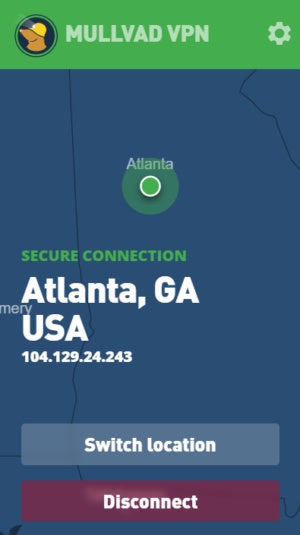 When you first start up Mullvad on Windows after installation, it automatically connects you to the network—in my case it first connected to Sweden. The app looks modern and clean, and very much like a Windows Store app. It starts with a non-interactive map in the primary section of the window to show which location you're connected to.
At the bottom of the window you'll see a Switch location and Disconnect button. The top of the screen, meanwhile, shows a green banner with the Mullvad VPN logo indicating you're connected.
Click the Disconnect button and Mullvad shows your true location, the top goes from green to red, and the buttons at the bottom are labeled as the last country you connected to and Secure my connection.
The app overall is very easy to read and understand. It's not a free moving window, though. Instead it's a panel that's permanently fixed to the bottom-right corner of the screen. There's enough space that it doesn't feel constrained sitting there, but it would be better if you could move it around. I also found the app to be a bit laggy when I was switching countries, scrolling through the list of locations would take a few seconds to get moving.
Neither complaints are deal killers, and overall it's a great experience and far better than the version that came before it.
Features and services
Mullvad isn't big on extra features or services compared to other VPNs. It doesn't promise to get past Netflix VPN restrictions (though sometimes it does), there aren't any double-hop connections, smart DNS, or other specialty services. Instead, Mullvad focuses on giving you a solid VPN connection and it does that job very well.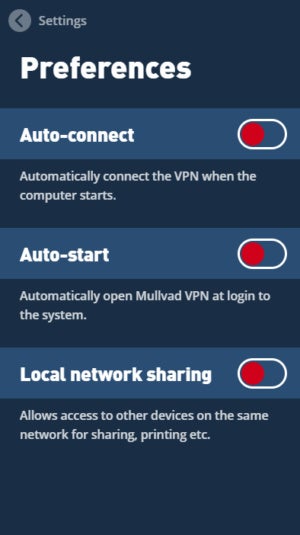 There are, however, a few options you can find under the settings cog icon in the panel's upper-right corner. Under Settings > Preferences there are options to auto-connect when Windows starts, or automatically connect when you open Mullvad. Both are off by default. Under this section there's also a handy option to enable your PC's sharing options even though you're on a VPN.
Go to Settings > Advanced, and you can enable Mullvad's IPv6 tunneling capability, as well as choose between UDP and TCP.
Another nice tool to use with the VPN is the Am I Mullvad? website. This dedicated site that lets you know if the app is working and currently connected to Mullvad. It also checks to see if you are leaking DNS requests, suffering from a WebRTC leak, or using a blacklisted IP address.
Mullvad has apps for Windows, Mac, and Linux. For mobile, be it Android or iOS, users can use either built-in VPN clients with Mullvad or the OpenVPN mobile app. Linux and Android users can also try out the promising new WireGuard VPN protocol.
Performance
Mullvad's number of servers and country locations has increased since last time, while its performance has remained solidly the same. That's great news since Mullvad was already one of the standouts.
In our tests, Mullvad retained about 52 percent of the base speed across five locations. That's a really strong score. Not quite enough to win the top spot as the fastest VPN around but still a contender. Speeds were particularly strong in the United States, Germany, and the UK, coming incredibly close to the base speeds, often within 10-15Mb/s.
The bottom line is that you should be very happy with the speeds you get using Mullvad, with the usual caveat that your equipment and ISP will have an effect on your experience.
Privacy, anonymity, and trust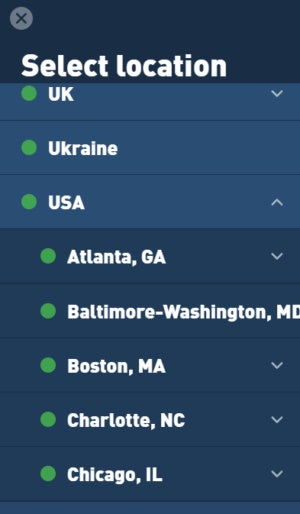 Mullvad's privacy policy is exactly what you're looking for in a VPN. The company says it does not "store activity logs of any kind." There's no logging of your online traffic, DNS requests, connections, timestamps, IP addresses, bandwidth, nothing. The server logs are sent to dev/null, a nonexistent directory on Linux machines. In other words, the logs are automatically sent into the ether.
The only data Mullvad saves are the total number of current connections on its network, the CPU load per core, and the total bandwidth used per server. That's not bad at all.
The company also takes the time to explain how much privacy you should expect from Mullvad based on the payment type you use.
If you mail cash, for example, Mullvad says it will take the cash, add credits to the account number included in the envelope, and then shred the envelope and the note. If you choose to use credit cards or PayPal, however, you will be identifiable through those payment services.
Mullvad accepts cash, cryptocurrencies, credit cards, bank wires, Swish (a Swedish mobile payment service), and PayPal.
As for the Mullvad website servers, all logs are stored for up to 24 hours. After that the data is aggregated to record the number of website hits and visitors. Mullvad's website cookies also expire pretty quickly. You can read about that in more detail on the company's privacy policy page.
Mullvad is owned by Amagicom AB and its business address is Chalmers Teknikpark 412 58 Gothenburg, Sweden. The company CEO is Jan Jonsson, and the co-founders are Fredrik Strömberg and Daniel Berntsson.
Conclusion
Mullvad has changed where it needed to and everything else has remained the same or become stronger. With its commitment to privacy, anonymity (as close as you can realistically get online), and performance Mullvad remains our top recommendation for a VPN service.
Editor's note: Because online services are often iterative, gaining new features and performance improvements over time, this review is subject to change in order to accurately reflect the current state of the service. Any changes to text or our final review verdict will be noted at the top of this article.
Best Prices Today: Mullvad