At a Glance
Expert's Rating
Pros
Excellent performance
Very easy-to-understand interface
Cons
The free version is probably fine for most users
The thumb drive warning is too indiscriminate
Our Verdict
Avira Antivirus Pro has the basics down, it's available at a good price, and the performance is where it needs to be. The problem is that the free version isn't that different from Pro, which is why the company's Avira Prime subscription with all the extras for up to 25 devices is probably a better paid option.
Best Prices Today: Avira Antivirus Pro
Avira Antivirus Pro is back with an updated version for 2019 that promises to take up a smaller chunk of your hard drive, as well as improve overall PC performance with fewer virus defintion files (VDFs) plugging up memory. The interface hasn't really changed, however, and it's still largely a no-nonsense suite with few extras.
Antivirus Pro is well priced at $36 for a single device for new users—the standard price is about $48. For five devices you'll pay $57 (for new users), with $72 being the standard price. That's okay, but you can get far more value with premium suites like McAfee and Norton that charge around $100 to cover 10 devices.
If extras are what you're looking for in a premium A/V suite then Avira's all-inclusive Avira Prime subscription is the product you're looking for. It includes Antivirus Pro, identity protection, a system optimizer, third-party software updates, a password manager, and a VPN.
That's a lot of goodies that also significantly increases the price. Avira Prime charges $130 for an unlimited number of devices. In this case, "unlimited" means 25 devices per household, but that's still more than double what Avira's competitors are offering, albeit at a higher cost.
Note: This review is part of our best antivirus roundup. Go there for details about competing products and how we tested them.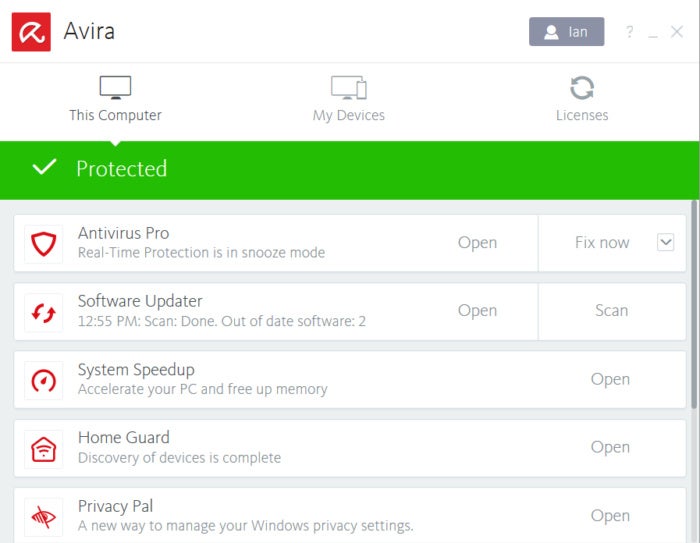 As for the core product, Antivirus Pro 2019, not a whole lot has changed. You start with a dashboard that shows all the Avira components installed on your system. There's an option to install other pieces that are part of the Avira Prime suite, but in this case we want to open up Antivirus Pro.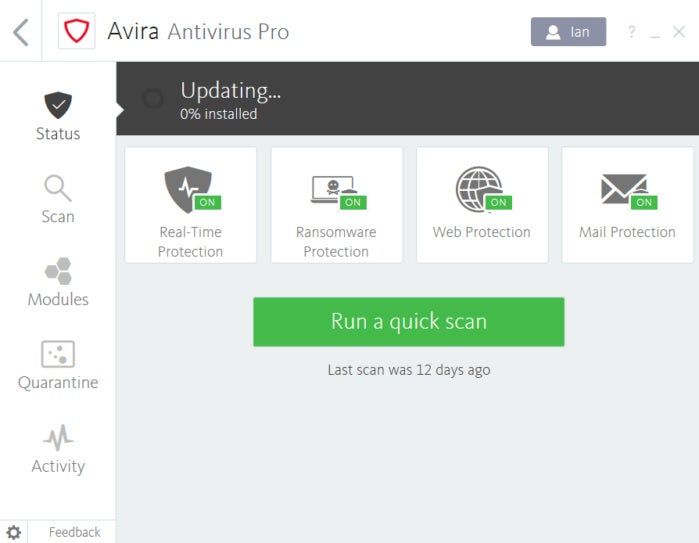 Once we arrive in the A/V program itself, we're greeted with the current status of our machine at the top with the standard green motif for safe and red for problems. On the left rail are five menu options: Status (the default landing area), Scan, Modules, Quarantine, and Activity.
Status shows the active protection features in Antivirus Pro and what their states are. There's also a Run a quick scan button that takes up a big chunk of the window, as well as a message informing you when the last scan was. Overall, this area is the same as it was last year. Visually the graphics are a little different, the color shades are deeper, and the scan button is now green instead of white.
One major feature difference is that the firewall icon is gone, replaced with Ransomware Protection. Clicking the new option doesn't do much, only allowing you to turn the feature on or off. Still, it's more reassuring for users to see it active as ransomware is such a major concern these days.
Each icon in this area appears as a tile, which Avira calls a "module." Clicking on any of them takes you to, you guessed it, the Modules menu option where you can turn each module on or off. Incidentally, if you're looking for the firewall module it's still under Modules even though the tile isn't in the Status section.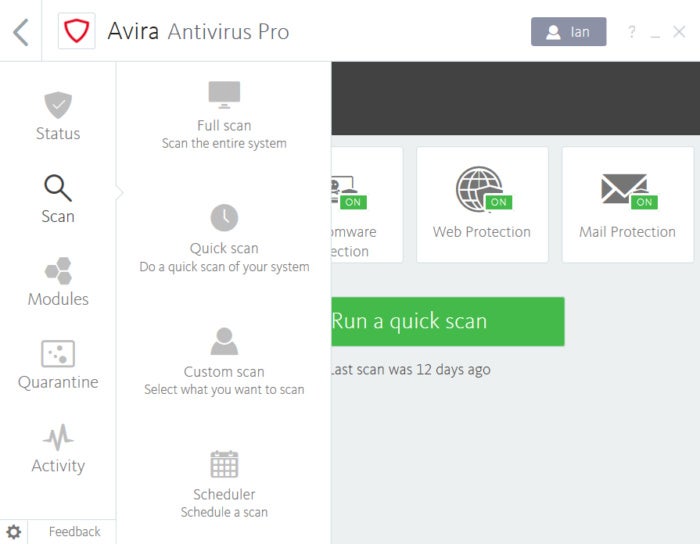 Clicking the Scan menu shows all the various options you'd expect, including a full scan, quick scan of just the essentials, a custom scan, and scan scheduling. You won't see an option to scan USB drives here. Instead, the USB scan option appears automatically when you insert a USB drive.
As I said in the last review, the USB scanning feature is more security theater than anything else—as it is with a lot of USB-scanning features. Avira doesn't automatically scan a USB drive for viruses it just lets you decide whether to "allow" or "block" said drive. The feature also labels each USB drive as potentially malicious, which is not helpful and a little bit scary for novice users. If you don't want to be bothered each time you insert a particular USB drive, be sure to click "Always do this for this device" and then select Allow.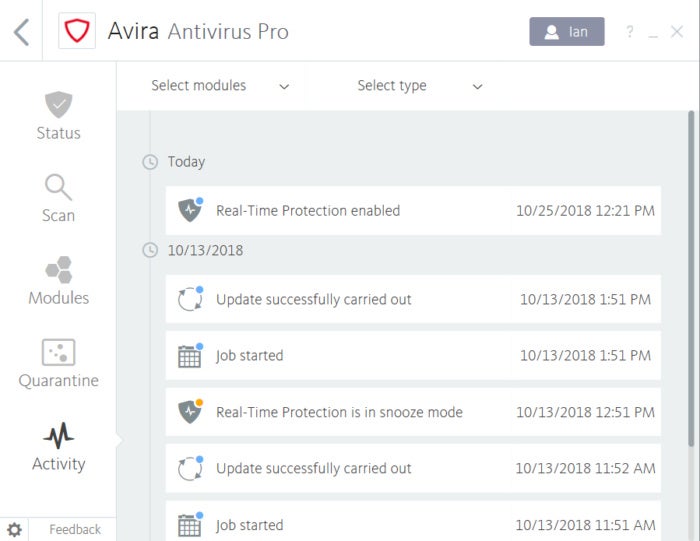 The Quarantine section is where evil files go to die, and Activity shows the Antivirus program's recent history such as whether an update failed or succeeded, when the last scan was, and so on.
Performance
Avira Antivirus Pro 2019 earned high rankings from testing house AV-Test. For July and August, Antivirus Pro earned a 100 percent performance against the zero-day, web, and email threats test that included 275 samples. For those same months, Antivirus Pro earned a 99.9 percent against nearly 20,000 samples for AV-Test's "widespread and prevalent malware" test.
Over at AV-Comparatives, Avira blocked 99.5 percent of the threats and had one false positive against 197 samples in the real-world protection test for September 2018. In the malware protection test, also carried out in September 2018, Avira had a 99.9 percent online detection rate with two false alarms, and a 96.6 percent offline detection rate. The online protection rate was 99.98 percent.
For our in-house tests, Avira lived up to its performance promises scoring 2,441 in the PCMark 8 Work Conventional test without Avira installed, and a score of 2,501 after Avira was installed and the system ran a full scan. Bigger is better for PCMark 8 and Avira showed a pretty good increase, suggesting that overall users should not see any significant performance impact running Avira.
Our Handbrake test showed no significant changes. With the PC taking its average of one hour and 15 minutes to convert a 1080p MKV video file to the Android tablet preset with or without Avira installed.
About Avira Prime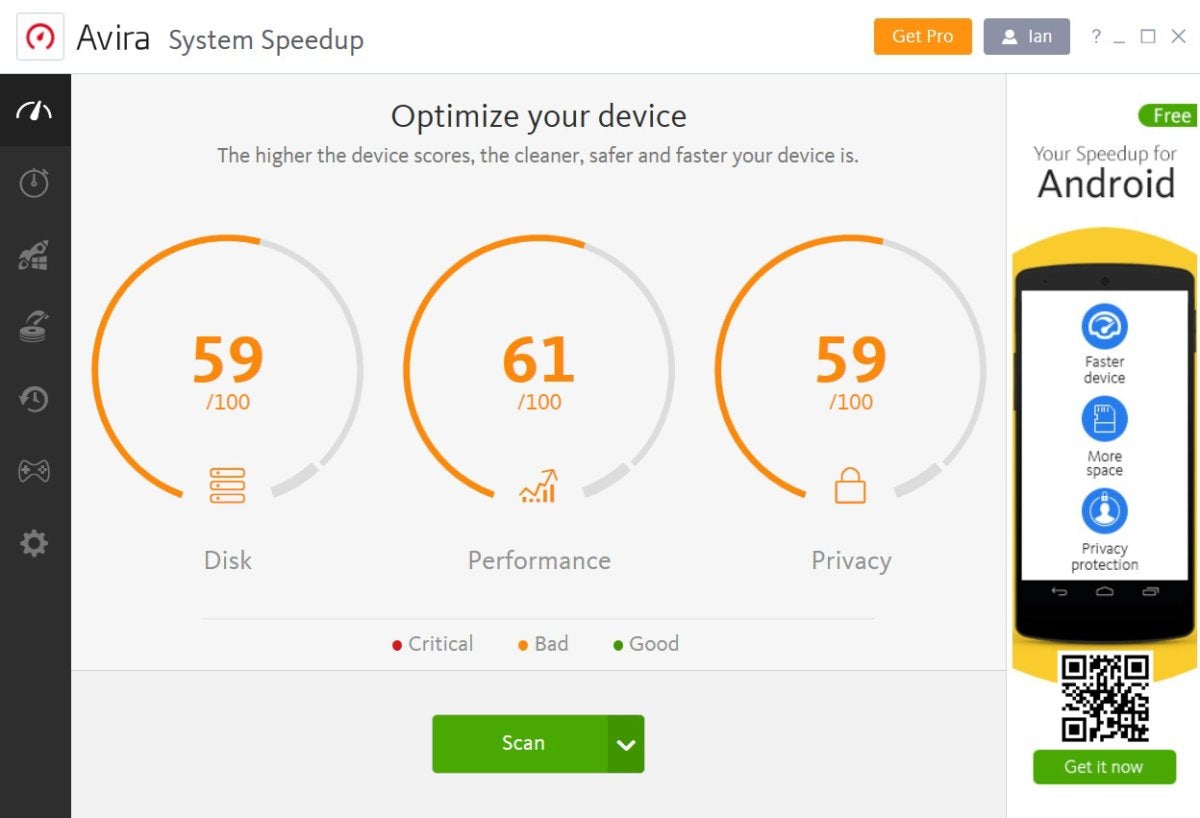 If you are interested in a premium suite, then Avira Prime is really what you want. This is Avira's full-featured security suite with all the extras, and it's significantly cheaper than it was last time around. Avira's previous pricing was $120 to $156 depending on the number of devices you needed, but now it's just $130 for up to 25 devices. That's not bad, but really it's only worth it if you have more than 10 devices—the standard number of devices that competing premium suites cover for about $20 to $30 less.
With Prime you get Avira Antivirus Pro, as well as a third-party software updater, a system speedup utility (formerly PC Optimizer), and Home Guard, which scans your network to show all connected devices and any potential security issues.
There's also a utility called Privacy Pal that is all about helping you control your privacy on Windows. That sounds great since controlling privacy in the age of Windows 10 is such a pain.
Privacy Pal mostly erases browser data and other temporary caches and files. It also stops Cortana tracking, which (depending on whether you use Cortana) will be a big help. There's a lot more to controlling your privacy on Windows 10 than just Cortana, however, and I would like to see this feature help users turn off all those key Windows settings that don't respect your privacy as we detailed in our piece-by-piece Windows 10 privacy guide.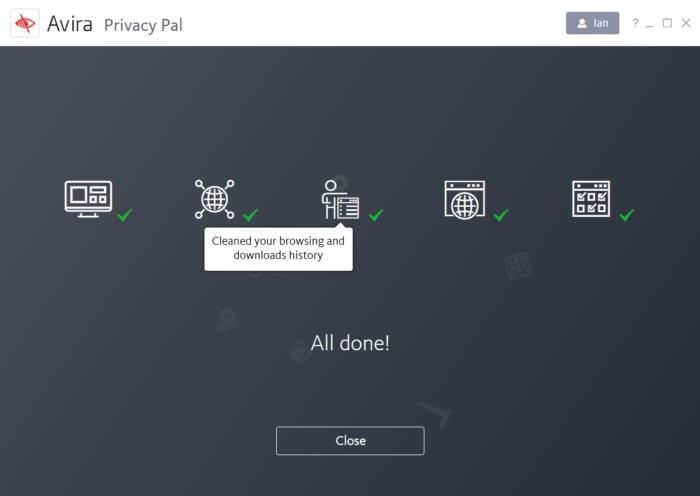 To use the feature, click Start and Privacy Pal scans your devices in key areas such as your browser caches, browsing and download history, chat logs, cookies, browser session and input, as well as application usage. Click the pencil icon in any of these sections to take a more fine-tuned approach to deleting sensitive files. Privacy Pal is also where you'll find Avira's file shredder that securely deletes sensitive files.
Finally, there's identity scanner, which is like password-manager Dashlane's Dark Web monitoring feature. Identity Scanner checks to see if any of your login data is available in any website database breaches.
Overall, Avira Prime's features are great for what they are, though I do have to remind you that many of these utilities are available for free from third-party vendors or built in to Windows itself.
Conclusion
Overall Avira Antivirus Pro is a good performer with excellent protection results; however, the same problems I saw last year are still here. If all you want is solid antivirus protection the free version will do. With Avira Free, you still get the key features: ransomware protection, excellent antivirus protection, phishing protection, and the same app with low impact on performance.
Upgrading to Pro gives you email scanning and USB device protection. Avira also says the pro version protects again "evolving ransomware threats."
If better ransomware and email scanning are a big deal for you then perhaps the cost is worth it. If you are going to pay, I recommend you consider Avira Prime since it will easily cover all the PCs, phones, and tablets for even the most tech-obsessed families. Plus you get all those extras including Avira's Phantom VPN Pro, which is a good, but not great, VPN.
Best Prices Today: Avira Antivirus Pro