At a Glance
Expert's Rating
Pros
Incredibly comfortable
Buttons now rated for 50 million clicks
Hero sensor performs as well as the PWM3366
Cons
More expensive than the previous model, but not much has changed
Fairly heavy, which might dissuade some users
Still no wireless option
Our Verdict
Logitech's latest G502 revision swaps in the new Hero sensor, but keeps everything else the same—for good reason. Four years on, this is still one of the best gaming mice on the market.
Best Prices Today: Logitech G502 Hero
Rarely does a piece of hardware have the sticking power of Logitech's G502 mouse. We originally reviewed the G502 back in 2014 in its first iteration, the Proteus Core, and both it and the later RGB-equipped Proteus Spectrum revision have been top mouse picks ever since.
Mentioned in this article
Logitech G502 Proteus Core
Price When Reviewed:
$79.99
Now Logitech's back with its third refresh, the G502 Hero. No, it's not the long-awaited wireless version, but it does pack Logitech's new and proprietary Hero sensor. Hence the name. And given that Hero was originally designed as an efficient wireless sensor…maybe it's a sign of things to come?
Note: This review is part of our roundup of best gaming mice. Go there for details on competing products and how we tested them.
If it ain't broke
Okay, don't get your hopes up too high yet. Let's focus on what we have.
Surface-level, not much has changed from the G502 Spectrum to the G502 Hero. The old Logitech logo's been swapped out for the new one and…that's it, really. And that's okay! The G502 is a beloved design as-is, a supremely comfortable right-hand mouse with a plethora of buttons and a generous thumb rest.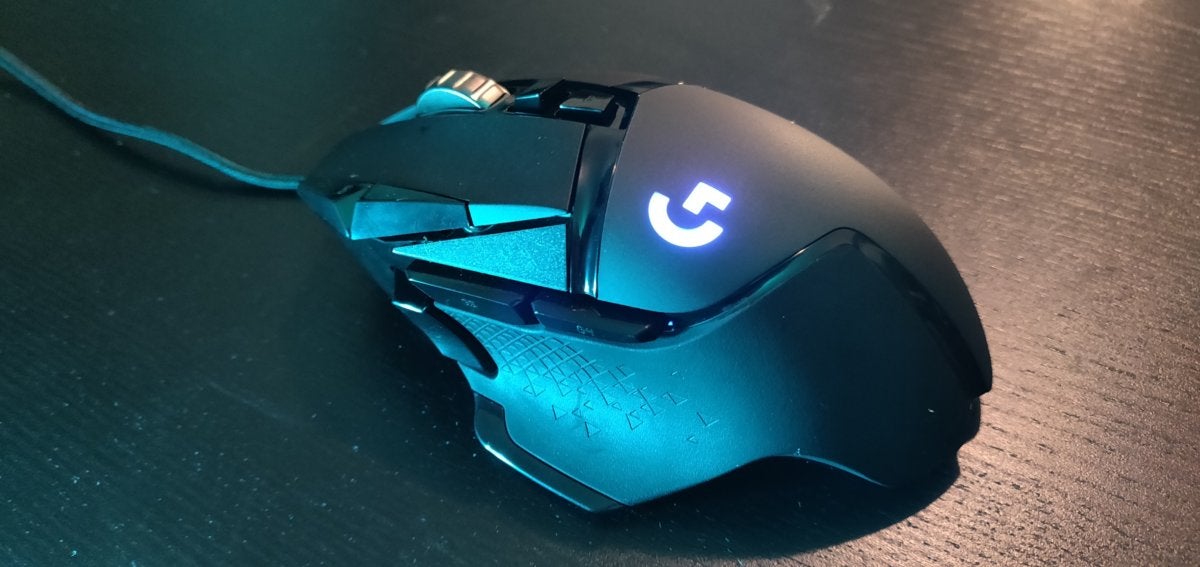 Even now, four years on from my initial review, it's the most comfortable mouse I've ever used. Does that mean it's going to be the most comfortable mouse you've ever used? Of course not! Mice are subjective, and shape is one of the most subjective aspects. Just because the G502 fits my hand perfectly doesn't mean it'll feel the same in yours.
That said, the G502 was supposedly (according to Logitech anyway) the best-selling mouse on the planet for a number of years. It's very popular, and those who love it generally seem to love it a lot. Make of that what you will.
In any case, the G502 is an elongated, almost pill-shaped mouse with a relatively high scoop. The oval form factor makes it ideal for palm grippers, but it's also narrow enough to accommodate claw and fingertip grippers no problem.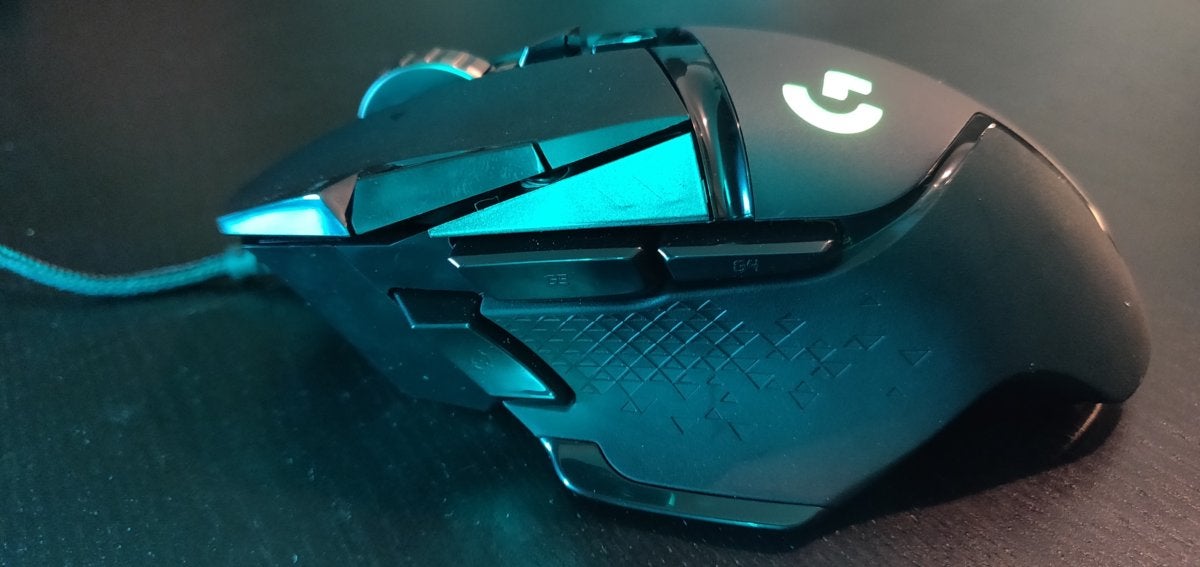 A few buttons might be harder to hit with claw/fingertip grips, but it's not a huge deal because the G502 is covered in them. Covered, with 11 buttons in total. That includes left-, right-, and middle-click of course, and the two standard thumb buttons—but also a third thumb button arrayed towards the front, plus two more along the edge of the left mouse button, another in the dead center of the mouse, and a tilt wheel.
Speaking of, the G502 Hero still bears the dual-mode tilt wheel of its predecessors. There's a dedicated hardware button that switches between a smooth scroll and a notched scroll wheel. I prefer notched personally, but smooth can be great for browsing webpages and such.
Flip over the mouse and you can pry off the bottom panel. Underneath is the G502's customizable weight system, a series of grooves designed to house up to five 3.6 gram weights. That makes the G502 a hefty 121 grams unweighted or 139 grams fully loaded. I tend to opt for the latter, preferring a heavier mouse, but it's a flexible design. You can even skew the weight side-to-side or front-to-back if you'd like.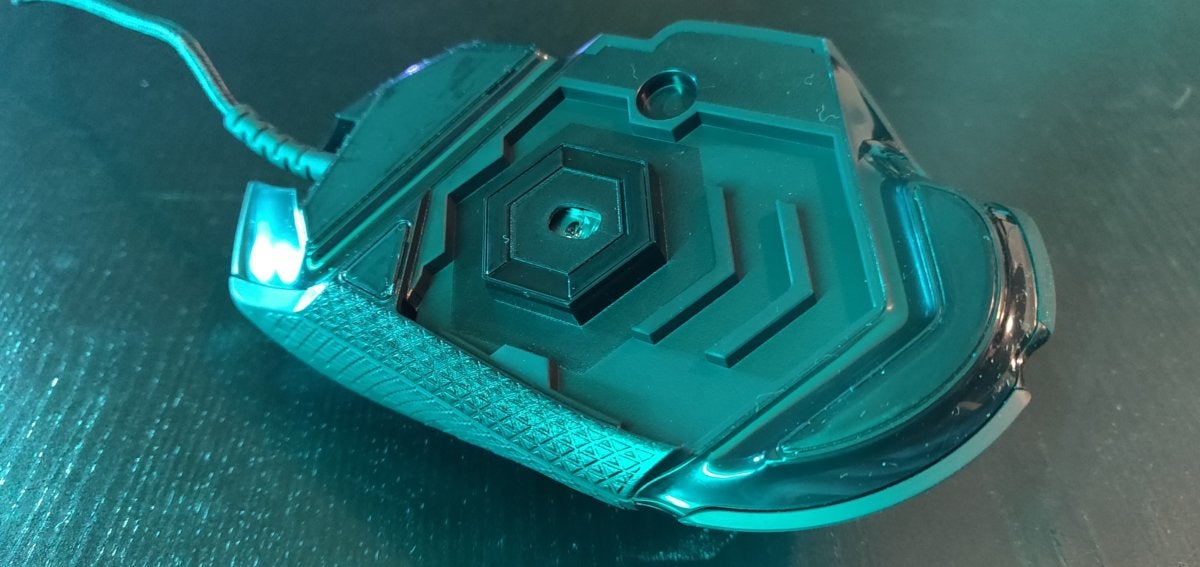 The G502 nails the fundamentals, then adds just enough end-user options so you can make it your own. There are other mice that come close these days. I like Logitech's own G703 and G903, Razer's Mamba Wireless, and the Mionix Castor, to name a few. But I'd still take a G502 over the rest, and coming back to it after about a year felt weirdly nostalgic. The G502 slipped right back into my hand like an old friend.
I need a Hero
So what did change? I mean, aside from the logo?
It's subtle. The switches are now rated for 50 million clicks instead of 20 million, bringing them up to par with the rest of Logitech's mice and indeed the competition. They're Omron switches, the standard nowadays, and feel a bit clickier than the previous generation—though my Proteus Spectrum model got a lot of use, so that could also be the culprit. In any case, the G502 Hero should be more durable.
The cable's also been redesigned. It's thinner and lighter than the old G502 cable, and less prone to kinks. That's a relief, as my old G502 cable often snagged on the edge of my desk—I used to do the lift-flick-settle move a lot to try and sort it out, but haven't had to do that once with the G502 Hero. The new cable also seems less prone to picking up dust, which is another small but welcome benefit.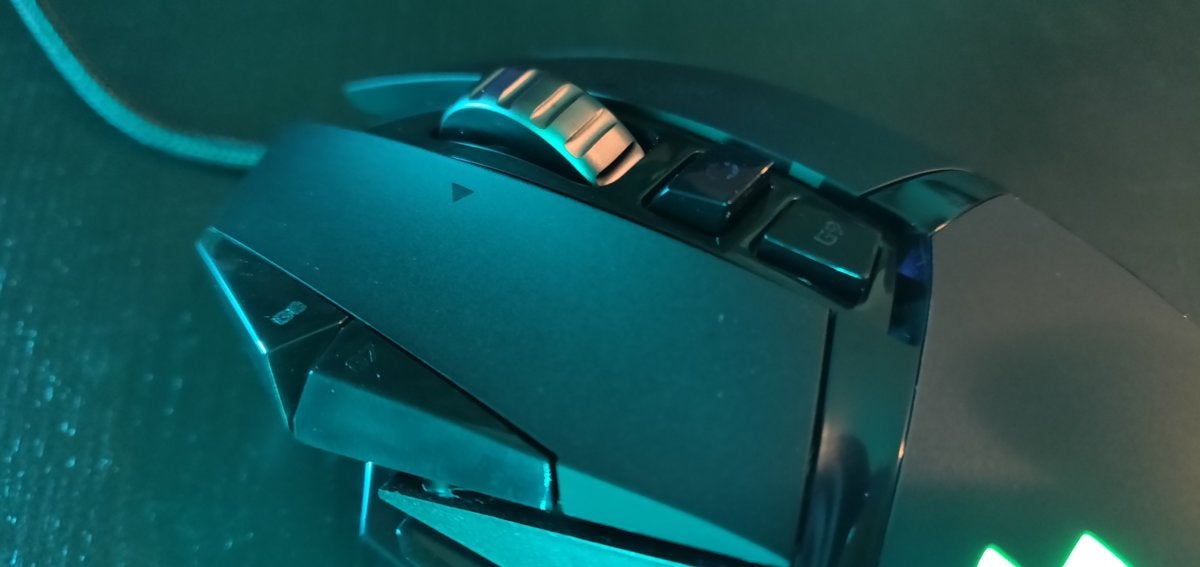 And one miniscule change: You can store five profiles to the G502 Hero, as opposed to three on the G502 Proteus Spectrum.
The Hero sensor is the big overhaul though, as evidenced by the name. The bad news? You probably won't notice a difference if you're coming from any mouse released in the last five years or so. The old G502 used the PWM3366, which when it released marked a huge shift in mouse sensor tech. Most mice released since have used a PWM3366 variant, like the PWM3360, PWM3389, etc.
It's a fantastic sensor.
Hero's a great sensor too, and marks a huge leap forward for wireless mice. It's why the G603 can run up to 600 hours on two AA batteries, all while matching the performance of the PWM3366.
But for wired mice? Hero is specifically designed to mimic the performance of the PWM3366, because that was Logitech's flagship. The numbers have risen slightly, so Hero is pixel-accurate up to 16,000 DPI instead of 12,000 like the PWM3366. Those numbers are largely meaningless though, because the average person is using a DPI somewhere between 400 and 3,500. The PWM3366 and Hero should feel pretty much the same in that DPI range, so there's not much reason to upgrade from the old G502 to the new model, or really from any PWM3360 variant to Hero. At least, not for performance reasons.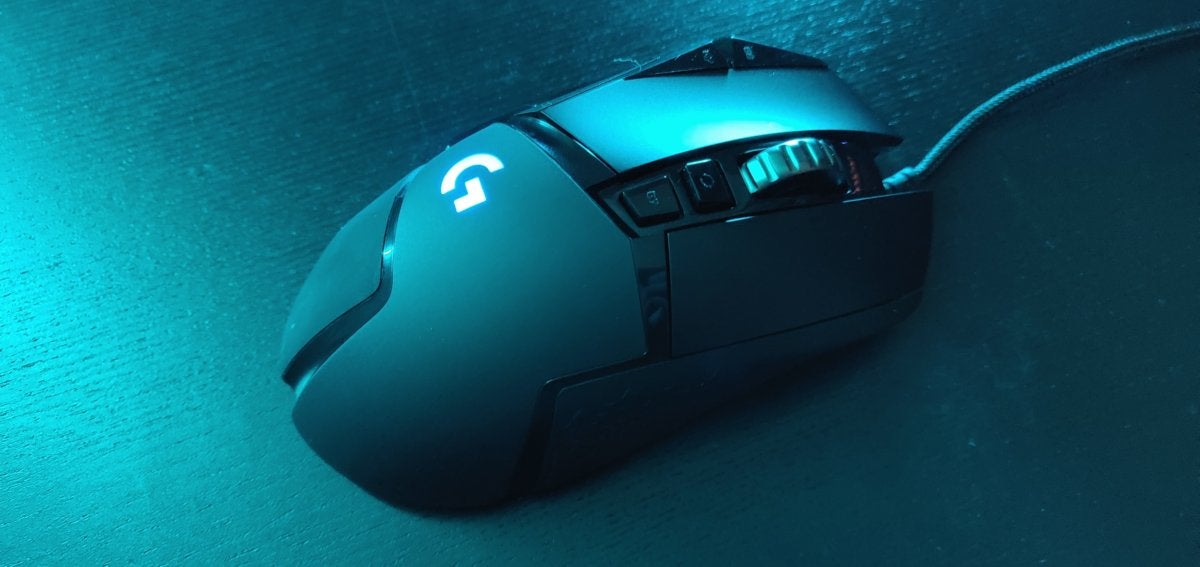 Hero is Logitech's new flagship, and we were told that all Logitech mice would be converting over. Thus it's no surprise to see a Hero-equipped G502. It's just not a huge selling point.
Now, if the G502 Hero is the first step on the way to a G502 Wireless? Again, don't get your hopes up, but it does seem like a natural next step.
Bottom line
Logitech didn't change much with the G502 Hero, but it didn't have to. For three years I kept some variation of the G502 on my desk, swapping it out for reviews but always returning to it afterward. These days I use a G903, mainly because Logitech hooked me on its unique Powerplay mousepad last summer. But a few weeks with the G502 Hero made me want to go back again. It's a phenomenal design, with smart button placements and a great scroll wheel. I've reviewed a lot of mice since 2014, but I've yet to find one I love more.
If you already have a G502, there's not much reason to upgrade to the new version—it's basically identical. But if you're looking for a new gaming mouse, or maybe your first gaming mouse? The G502 Hero is a top-tier option. Time hasn't dampened its appeal one bit.
Best Prices Today: Logitech G502 Hero