At a Glance
Expert's Rating
Pros
Great 1440p and entry-level 4K gaming performance
Founders Edition is beautifully designed
Easily overclocked
RT and tensor cores for ray tracing, DLSS, and more
Cons
Ray tracing and DLSS not available in games yet
Not a huge performance leap over GTX 1080
Expensive
Our Verdict
The Nvidia GeForce RTX 2070 Founders Edition packs futuristic hardware for ray tracing and AI-enhanced graphics, but it's also faster than the competition in traditional games. Nvidia's design is gorgeous, but similar performance can be achieved with lower-priced RTX 2070 graphics cards.
Best Prices Today: GeForce RTX 2070 Founders Edition
Nvidia's GeForce RTX 2070 is a graphics card built for the future, just like the GeForce RTX 2080 and 2080 Ti. And just like its siblings, the RTX 2070's futuristic hardware comes at a stiff price premium.
At a $500 starting price and $600 for the Nvidia Founders Edition being reviewed here, the inclusion of dedicated RTX hardware bumps the price of Nvidia's traditionally midrange xx70 GPUs up by well over $100, planting it in the range of the existing GTX 1080. But unlike with the RTX 2080, Nvidia isn't asking you to invest solely in as-yet-unfulfilled promises for the future. The GeForce RTX 2070 delivers an appreciable bump over the GTX 1080's performance in today's games, too.
You can still find the older graphics card on sale all over the place, though, and often at a discount. Should you buy a shiny new RTX graphics card, with its untapped potential for real-time ray tracing and AI-enhanced games, over a cheaper GTX 1080? Let's review the Nvidia GeForce RTX 2070 Founders Edition ($600 at Best Buy and GeForce.com).
Nvidia GeForce RTX 2070 Founders Edition: Specs, features, and design
Nvidia added dedicated RT cores for real-time ray tracing and dedicated tensor cores for AI enhancements in the RTX series, but that wasn't the only hardware tweak. The GTX 10-series incarnation stuck to reference speeds and a blower-style cooler that was prone to thermal throttling. This generation, Nvidia equipped its Founders Edition cards with a mild overclock and an improved dual-fan cooling solution to help justify its price premium.
That means Founders Edition specs differ slightly from RTX 2070 reference specs. Here's how the reference and Founders Edition RTX 2070 stack up under the hood compared to the older $380 GTX 1070 (though again, at its higher price point, the $500 RTX 2070 more directly compares to the $500 GTX 1080).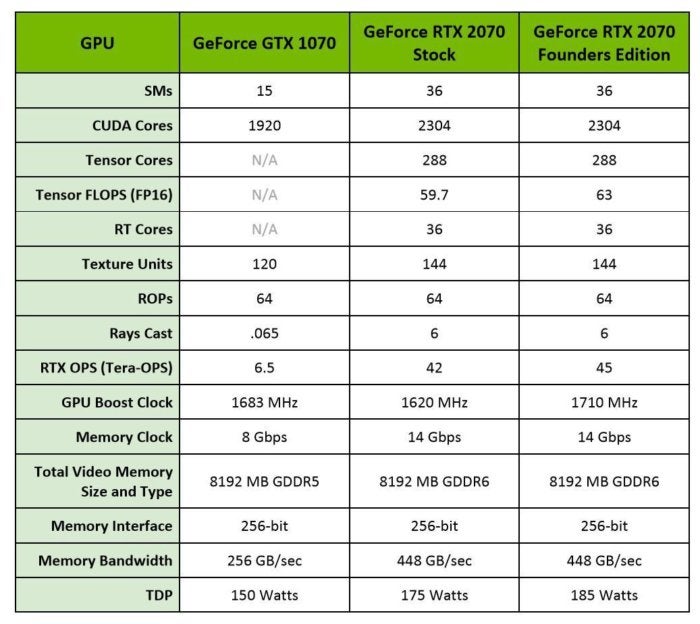 As you can see, the RTX 2070 Founders Edition has more CUDA cores and texture units than its predecessor, as well as a slightly higher boost clock speed and much faster GDDR6 memory. Spoiler alert: The RTX 2070 is a lot faster than the GTX 1070 in traditional games, and even a bit ahead of the GTX 1080.
It'll be faster in tomorrow's games, too, as the RTX 2070 includes those dedicated RT and tensor cores to drastically enhance real-time ray tracing performance and unlock the ability to bring machine learning enhancements to games, such as Deep Learning Super Sampling. Unfortunately, no current games tap into either technology, though dozens of games have pledged RTX support.
The lack of available ray-traced or DLSS games is a bummer with this graphics card in particular. The RTX 2070 packs half as many RT and tensor cores as the full-fat GeForce RTX 2080 Ti, and we have no way of testing how much that will impact performance—so you're taking a leap of faith that not only will those technologies catch on, but the RTX 2070 will be able to handle them well. Fingers crossed.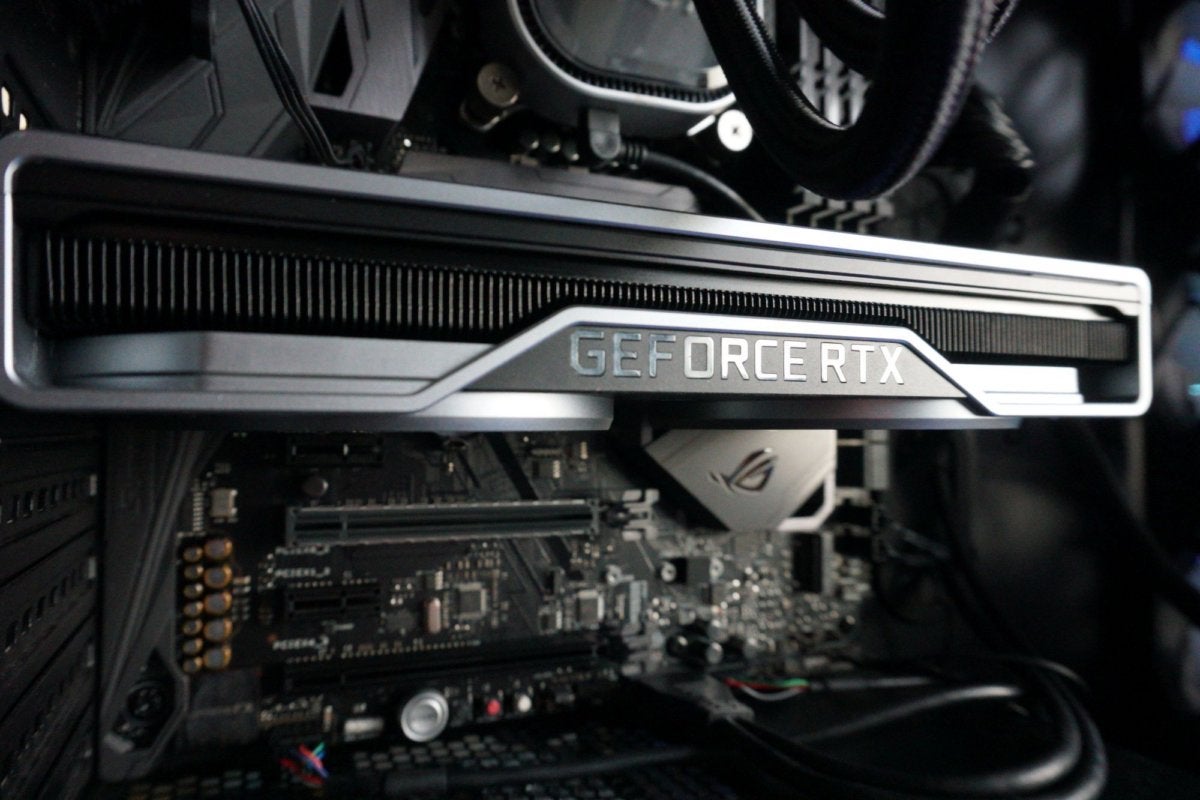 While we wait for the first ray traced and DLSS games to land, you can read more about the technologies in our deep-dive into the Nvidia Turing GPU as well as the future tech section of our RTX 2080 and 2080 Ti review, where we examined some canned demos provided by Nvidia.
All that extra hardware demands more power, with the reference RTX 2070 requiring 25 more watts than its predecessor, and the Founders Edition demanding 10 more than that, at 185W. Nvidia recommends using a 550W power supply. That power flows to the Founders Edition via a single eight-pin connector at the very end of card, rather than the usual edge placement. I usually loathe that configuration, but it works here, mostly because the Nvidia RTX 2070 Founders Edition is so tiny. The two-slot card measures a mere nine inches in length, or 1.5 inches shorter than typical graphics cards, so hanging the power connection off the back isn't an issue.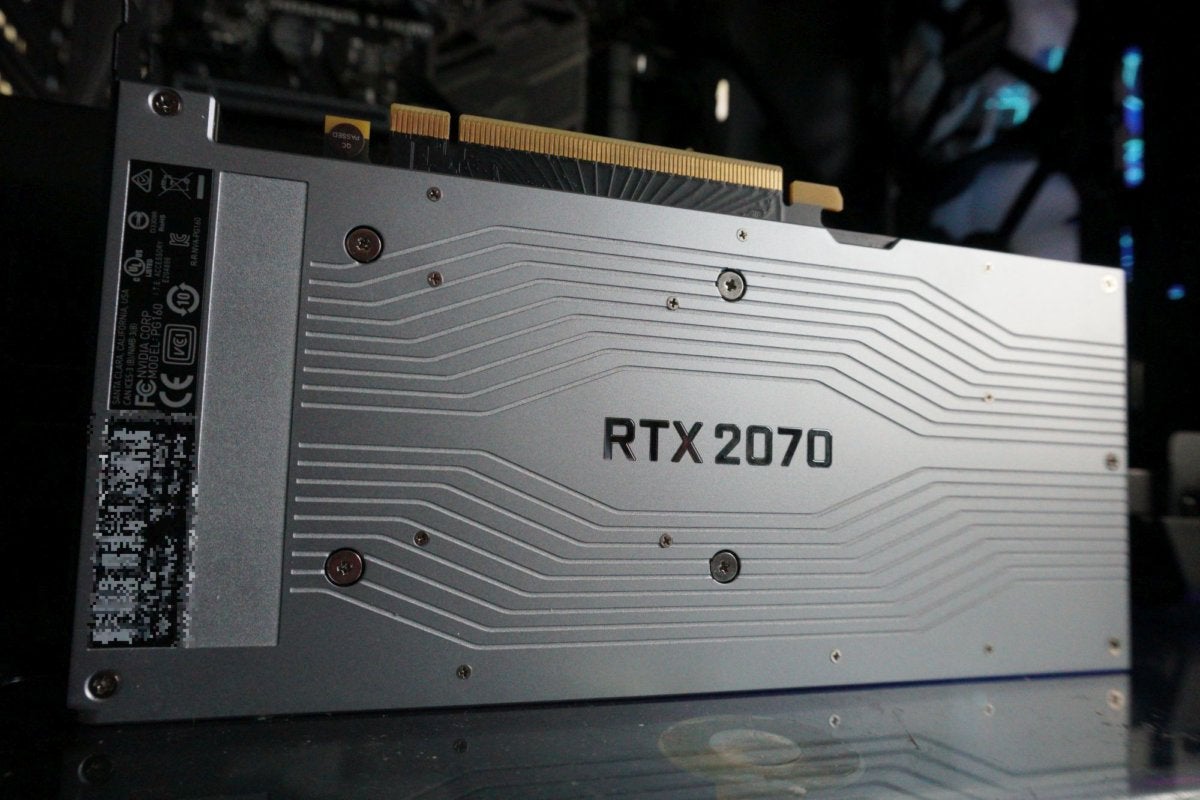 Other than the size, the RTX 2070 sticks to Nvidia's incredibly successful Founders Edition redesign. It's an absolutely gorgeous graphics card, with a forged aluminum shroud that wraps around into a backplate. Its dual fans bristle with 13 blades each, and you can see the black heat sink peeking through the edge, sitting atop a full-length vapor chamber. You'll find dual DisplayPort 1.4 connections, an HDMI 2.0b port, DVI-D, and a VirtualLink USB-C connection for VR headsets on the I/O plate. You won't find an SLI/NVLink connector on the card, though—the RTX 2070 isn't intended for use in multi-card systems.
Nvidia's RTX 2070 feels luxurious and substantial. I love it. Check out the Founders Edition design section of our RTX 2080 and 2080 Ti review if you want deeper details. We're moving onto benchmarks.
Next page: Our test system, benchmarks begin
Our test system
Our dedicated graphics card test system is configured with some of the fastest complementary components available, to put any potential performance bottlenecks squarely on the GPU. Most of the hardware was provided by the manufacturers, but we purchased the cooler and storage ourselves.
We're comparing Nvidia GeForce RTX 2070 Founders Edition ($600 at Best Buy and GeForce.com) against EVGA's custom RTX 2070 XC ($550), and the GeForce RTX 2080 Founders Edition ($799 at Best Buy or GeForce.com) and RTX 2080 Ti Founders Edition ($1,199 at Best Buy and GeForce.com). We've also tested its performance compared to the GeForce GTX 1070 Founders Edition, GeForce GTX 1080 Founders Edition, and PNY GeForce GTX 1080 Ti. Finally, we've included results from the Radeon RX Vega 64 reference card, AMD's most potent GPU. It generally competes with the GTX 1080.
Each game is tested using its in-game benchmark at the highest possible graphics presets, with VSync, frame rate caps, and all GPU vendor-specific technologies—like AMD TressFX, Nvidia GameWorks options, and FreeSync/G-Sync—disabled, and temporal anti-aliasing (TAA) enabled to push these high-end cards to their limits. If anything differs from that, we'll mention it.
We tested these cards at 4K, 1440p, and 1080p resolutions. We put most of our focus on comparing the RTX 2070 Founders Edition against the GTX 1080 and Vega 64, as they're all roughly $500. The GTX 1070 debuted at $380.
Nvidia GeForce RTX 2070 Founders Edition performance benchmarks
Strange Brigade
Let's kick things off with Strange Brigade ($50 on Humble), a cooperative third-person shooter where a team of adventurers blast through hordes of mythological enemies. It's a technological showcase, built around the next-gen Vulkan and DirectX 12 technologies and infused with features like HDR support and the ability to toggle asynchronous compute on and off. It uses Rebellion's custom Azure engine. We test with async compute off.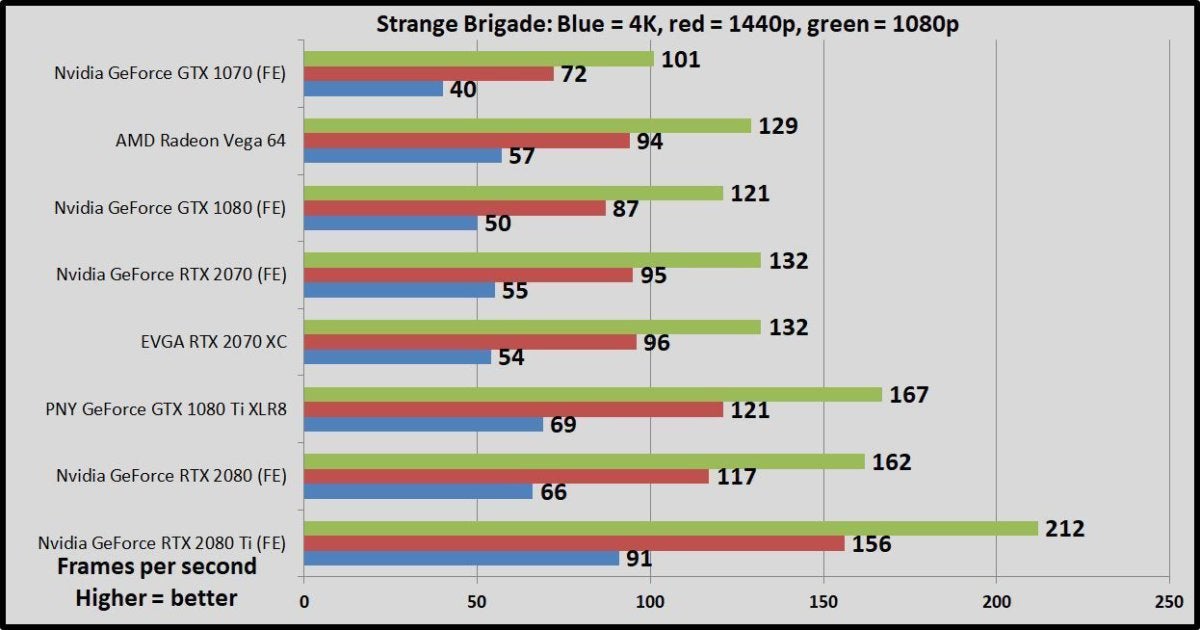 The RTX 2070 Founders Edition is 9.2 percent faster than the GTX 1080 Founders Edition at 1440p resolution, and roughly the same speed as the Vega 64. That's a trend we'll continue to see. The 2070 FE is faster than the GTX 1080 by 9 to 13 percent in most games, though that expands to 20-plus percent in a couple of titles, and just 3 percent in another. We'll highlight those oddities as we run across them.
Shadow of the Tomb Raider
Shadow of the Tomb Raider ($60 on Humble) concludes the reboot trilogy, and it's utterly gorgeous—even the state-of-the-art GeForce RTX 2080 Ti barely manages to average 60 fps with all the bells and whistles turned on at 4K resolution. Square Enix optimized this game for DX12, and recommends DX11 only if you're using older hardware or Windows 7, so we test with that. Shadow of the Tomb Raider uses an enhanced version of the Foundation engine that also powered Rise of the Tomb Raider.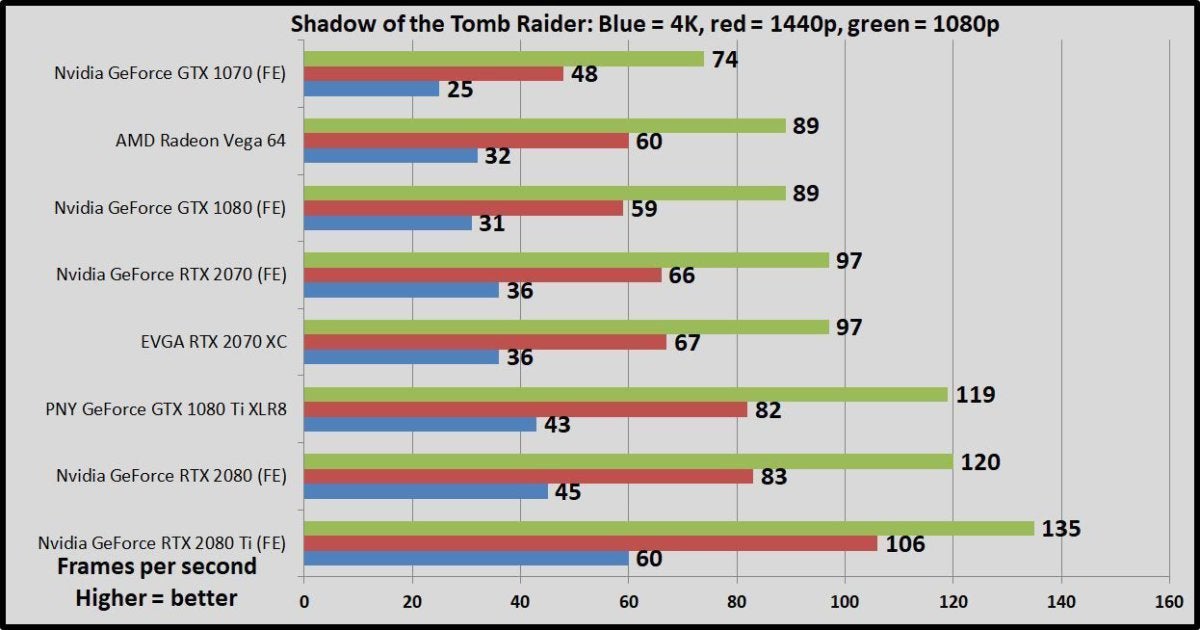 Far Cry 5
Finally, a DirectX 11 game! Far Cry 5 ($60 on Humble) is powered by Ubisoft's long-established Dunia engine. It's just as gorgeous as its predecessors, and even more fun.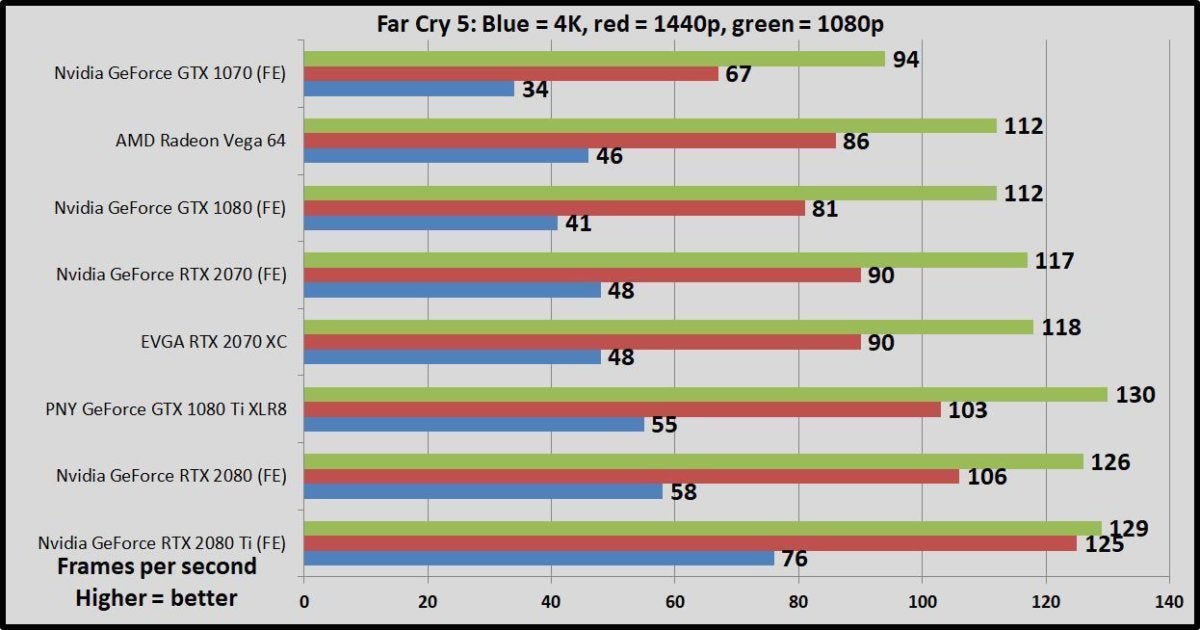 Next page: Game benchmarks continue
Ghost Recon Wildlands
Move over, Crysis. If you crank all the graphics options up to 11, like we do for these tests, Ghost Recon Wildlands ($50 on Humble) and its AnvilNext 2.0 engine absolutely melts GPUs.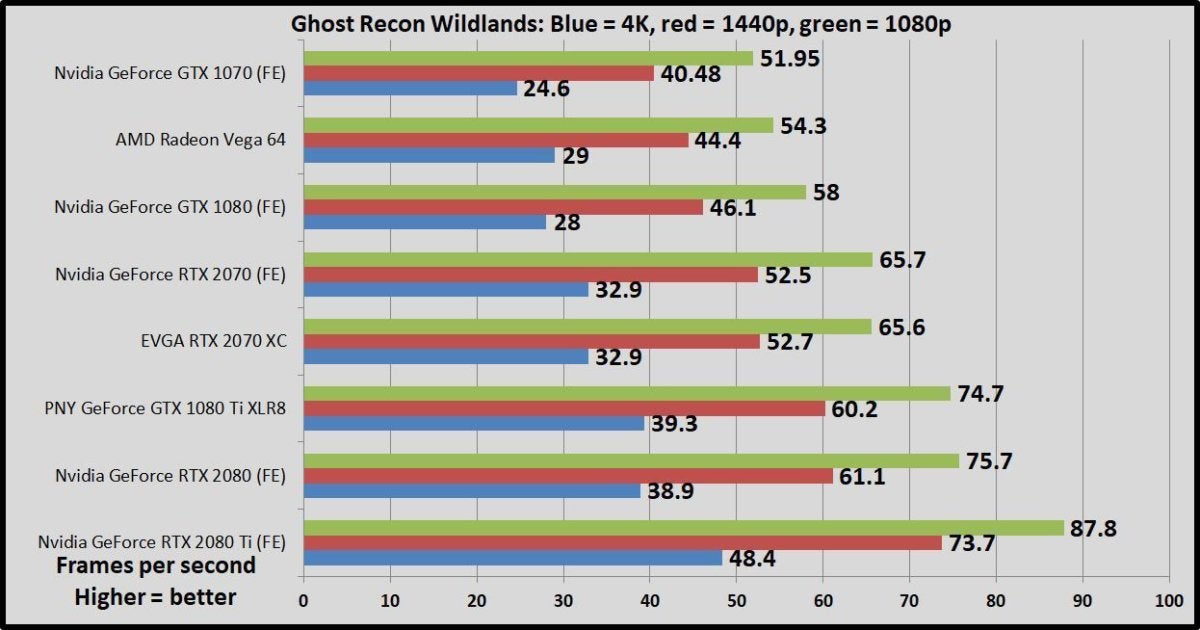 Middle-earth: Shadow of War
Middle-earth: Shadow of War ($50 on Humble) adds a strategic layer to the series' sublime core gameplay loop, adapting the Nemesis system to let you create an army of personalized Orc commanders. It plays like a champ on PC, too, thanks to Monolith's custom LithTech Firebird engine. We use the Ultra graphics preset but drop the Shadow Quality setting to High to avoid exceeding 8GB of VRAM usage.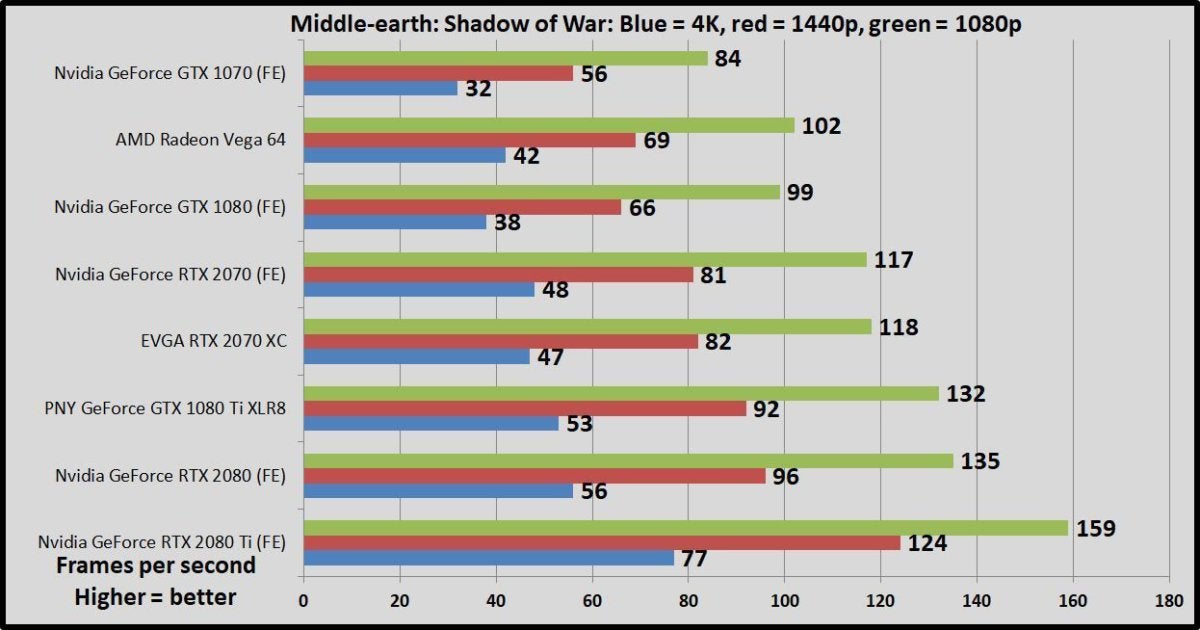 Shadow of War responds well to graphics cards with asynchronous compute capabilities—namely Radeon GPUs and, now, the RTX 20-series. The RTX 2070 Founders Edition demolishes the Vega 64 and GTX 1080 alike here, outpacing the GTX 1080 by a healthy 23 percent. Yes, please.
F1 2018
The latest in a long line of successful games, F1 2018 ($60 on Humble) is a benchmarking gem, supplying a wide array of both graphical and benchmarking options—making it a much more reliable option that the Forza series. It's built on the fourth version of Codemasters' buttery-smooth Ego game engine. We test two laps on the Australia course, with clear skies.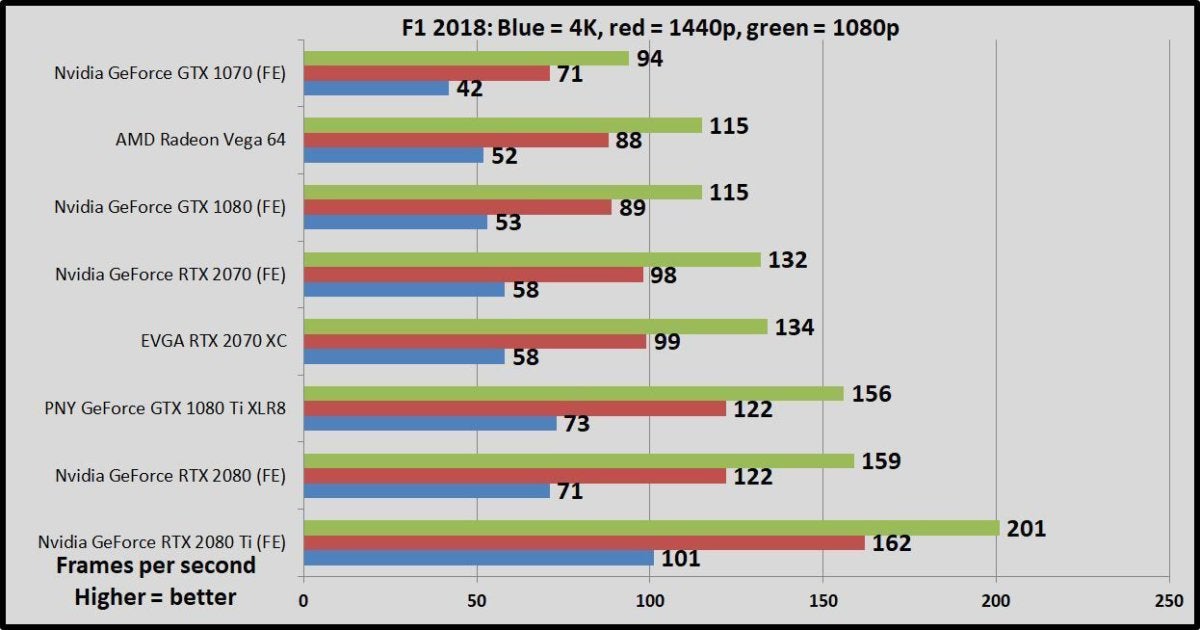 Next page: More game benchmarks
Ashes of the Singularity: Escalation
Ashes of the Singularity ($40 on Humble) was one of the very first DX12 games, and it remains a flagbearer for the technology to this day thanks to the extreme scalability of Oxide Games' next-gen Nitrous engine. With hundreds of units onscreen simultaneously and some serious graphics effects in play, the Crazy preset can make graphics cards sweat. Ashes runs in both DX11 and DX12, but we test only in DX12, as it delivers the best results for both Nvidia and AMD GPUs.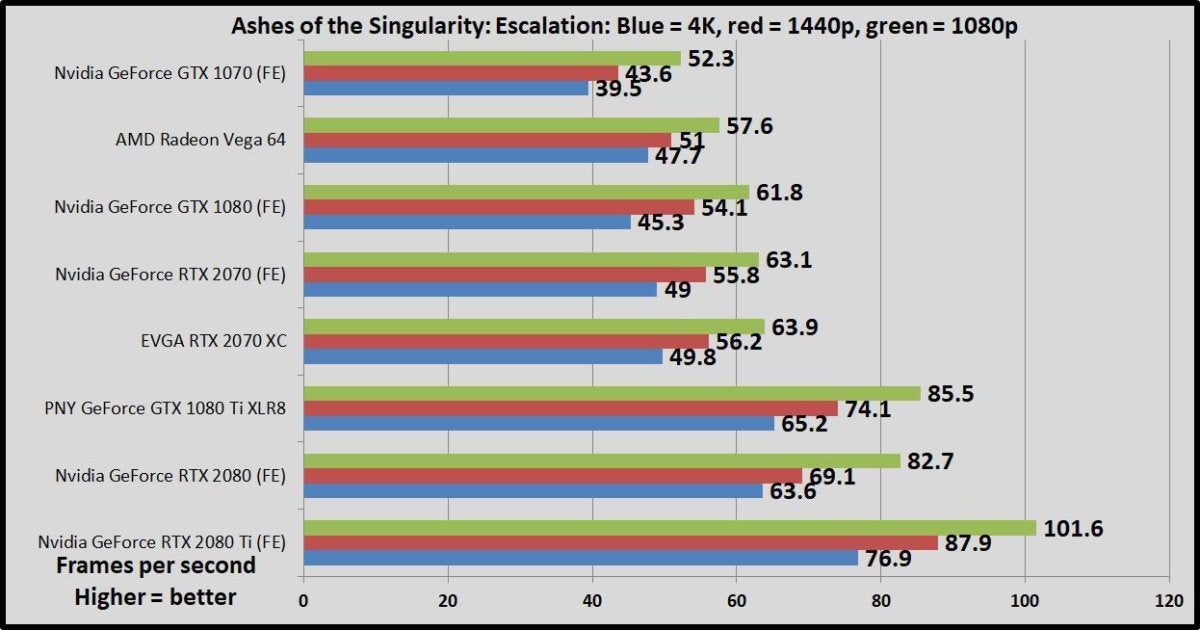 Here's the oddest outlier. Both AMD and Nvidia have optimized heavily for Ashes, because it's used so often in benchmarking suites, but the RTX 2070 FE only manages to squeak past the GTX 1080 by three percent at 1440p.
GTA V
We're going to wrap things up with a couple of older games that aren't really visual barn-burners, but still top the Steam charts day-in and day-out. These are games that a lot of people play. First up: Grand Theft Auto V ($30 on Humble) with all options turned to Very High, all Advanced Graphics options except extended shadows enabled, and FXAA. GTA V runs on the RAGE engine and has received substantial updates since its initial launch.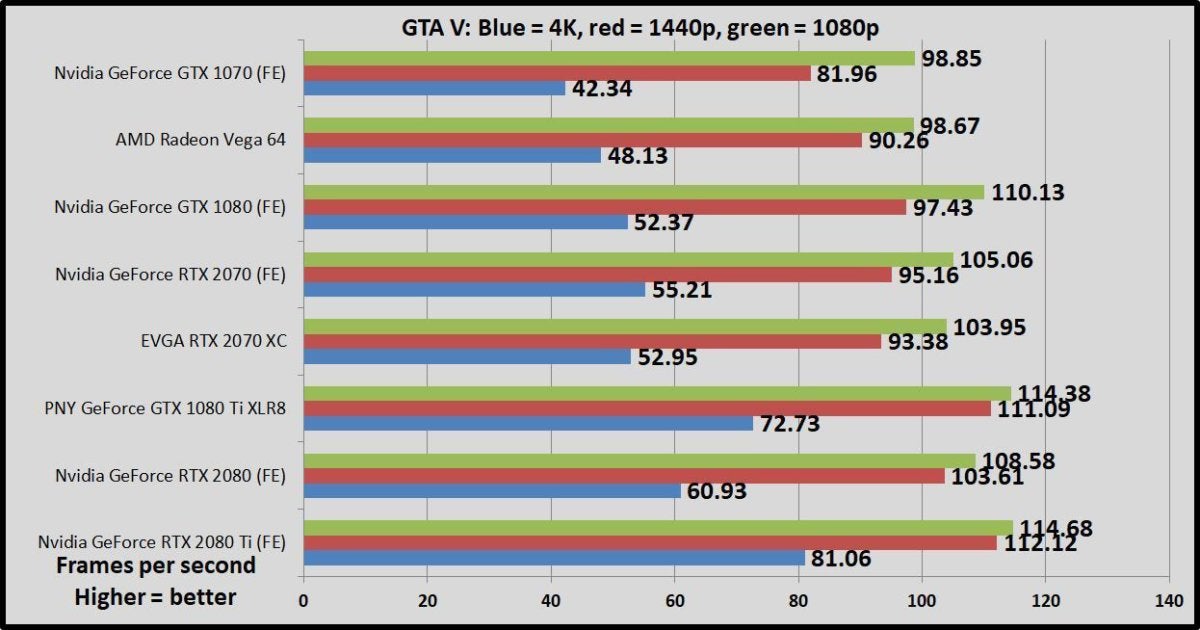 Rainbow Six Siege
Finally, let's take a peek at Rainbow Six Siege ($40 on Humble), a game whose audience just keeps on growing, and one that still feels like the only truly next-gen shooter after all these years. Like Ghost Recon Wildlands, this game runs on Ubisoft's AnvilNext 2.0 engine, but Rainbow Six Siege responds especially well to games that lean on async compute features.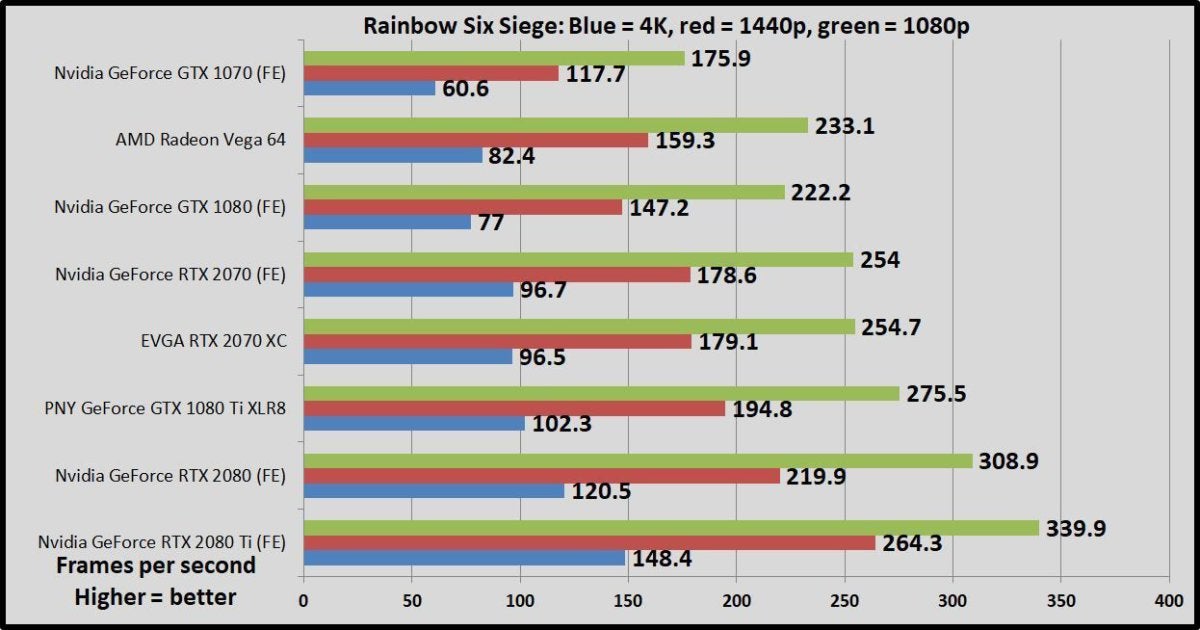 Remember how I said the RTX 20-series added true async compute capabilities to Nvidia's lineup? It shows here, just like in Shadow of War. The RTX 2070 FE is faster than the GTX 1080 by 21.3 percent at 1440p resolution.
Next page: Fire Strike, power, and thermals
Fire Strike, power draw, thermals, and noise
We also tested the GeForce RTX 2070 Founders Edition using 3DMark's highly respected Fire Strike synthetic benchmark. Fire Strike runs at 1080p, Fire Strike Extreme runs at 1440p, and Fire Strike Ultra runs at 4K resolution. All render the same scene, but with more intense graphical effects as you move up the scale, so that Extreme and Ultra flavors stress GPUs even more. We record the graphics score to eliminate variance from the CPU.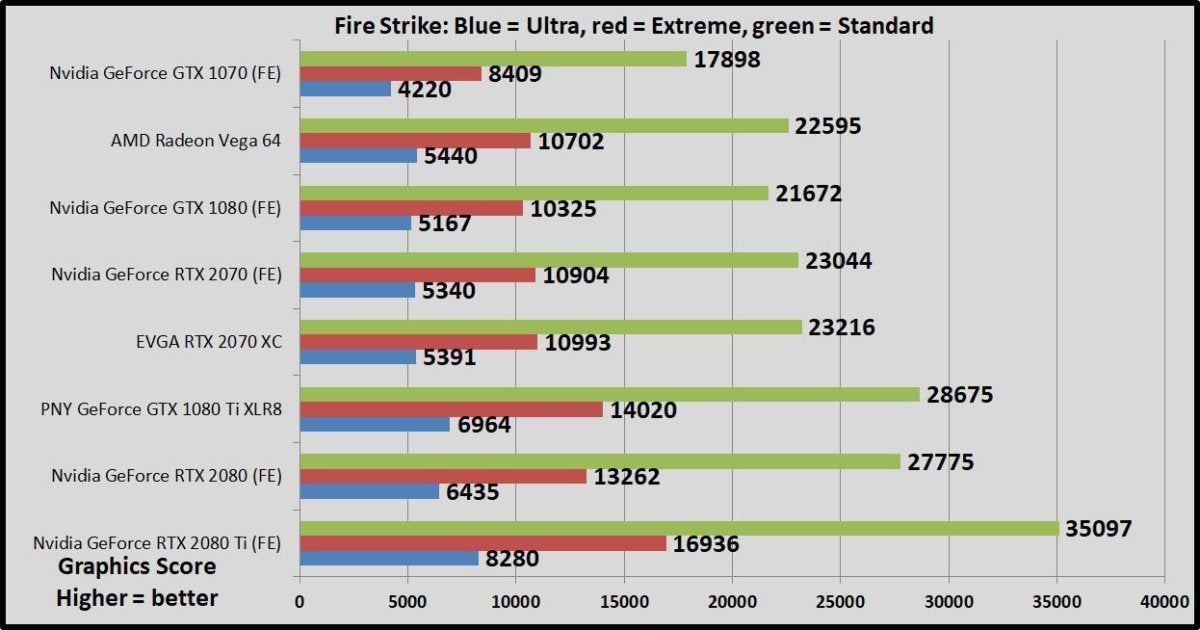 The RTX 2070 FE outpaces the GTX 1080, but interestingly, it isn't quite as fast as the Radeon Vega 64 at 4K resolution (and only 4K resolution). With high-bandwidth memory in tow, Vega was built for higher resolutions, and it shows here—though none of the $500 GPUs are really built for 4K.
We test power draw by looping the F1 2018 benchmark after we've benchmarked everything else with a card, and noting the highest reading on our Watts Up Pro meter. The initial part of the race, where all competing cars are onscreen simultaneously, tends to be the most demanding portion.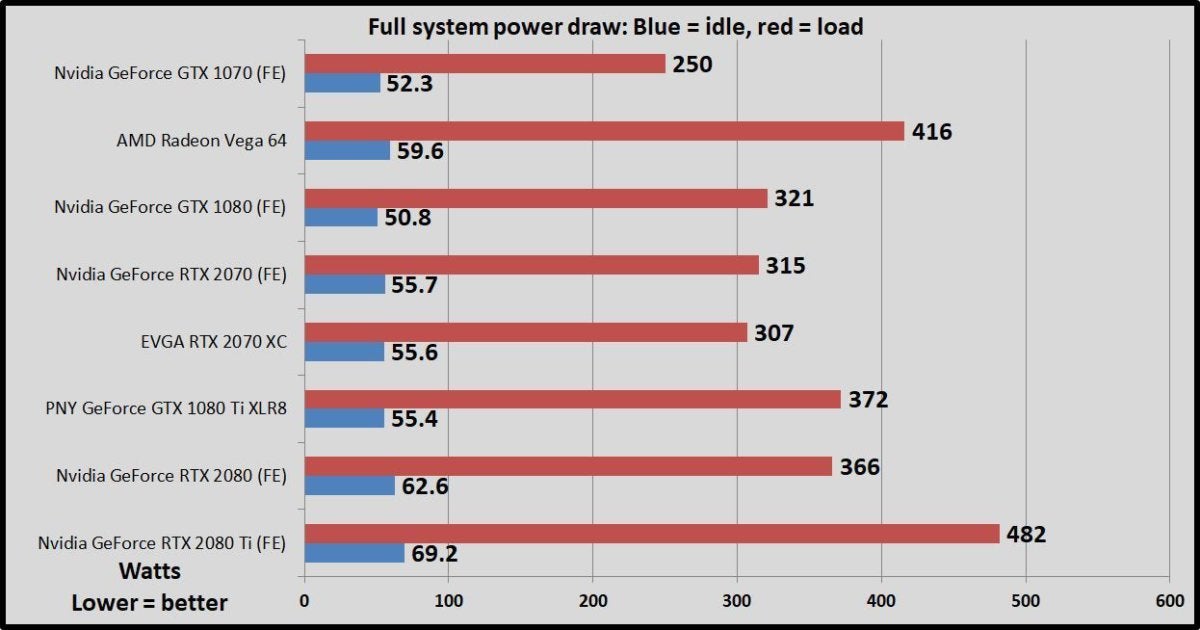 Despite being firmly ahead of the GTX 1080 in performance, the RTX 2070 Founders Edition sucks down a little less power. Yay efficiency! On the other end of the spectrum, the Radeon Vega 64 and extravagant GeForce RTX 2080 Ti Founders Edition each gobble an exorbitant amount of energy.
We test thermals by leaving HWInfo's sensor monitoring tool open during the F1 2018 5-lap power draw test, noting the highest maximum temperature at the end.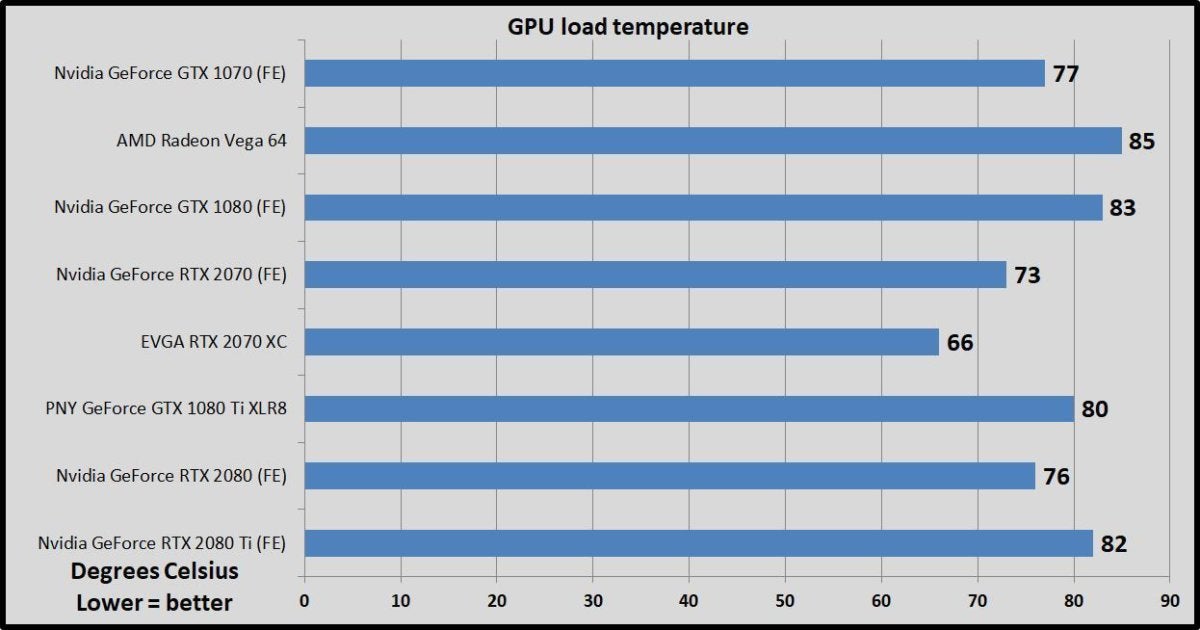 Here's where you see just how the Founders Edition's move to dual-fans makes a difference. The RTX 2070 FE is a full 10 degrees cooler than the GTX 1080 FE, and lower temperatures mean less thermal throttling. The RTX 1070 FE is much quieter than the GTX 1080 FE as well—a relative term that translates to "not unreasonably loud." The Vega 64 reference edition, on the other hand, is a hot, howling banshee. It's unpleasant just being in the same room as the card when it's under load.
Next page: Overclocking, should you buy the RTX 2070 FE?
Nvidia GeForce RTX 2070 Founders Edition overclocking
You don't get much extra out of overclocking the more powerful GeForce RTX 2080 and 2080 Ti, but we picked up just a bit more extra headroom with the RTX 2070 FE. Using the new one-button Nvidia Scanner overclocking tool in EVGA's slick Precision X1 software, we achieved an easy +160 score on the card—a frankly massive amount compared to what we've seen with other RTX GPUs. Applying the card-customized voltage and overclocking curve brought the base clock from 1,410MHz to 1,505MHz, and the boost clock from 1,710MHz to 1,804MHz, as measured by GPU-Z.
After that, we maxed out the voltage, temperature, and power limit sliders to unleash the card as much as possible. GeForce RTX-series cards are highly susceptible to power limits. Nvidia dialed back the available power limit for the 2070 FE. Its more potent RTX 20-series cousins let you boost the power limit by about 25 percent, which left Nvidia hardware partners like EVGA and Asus little room to add more performance. The GeForce RTX 2070 Founders Edition limits you to 16 percent.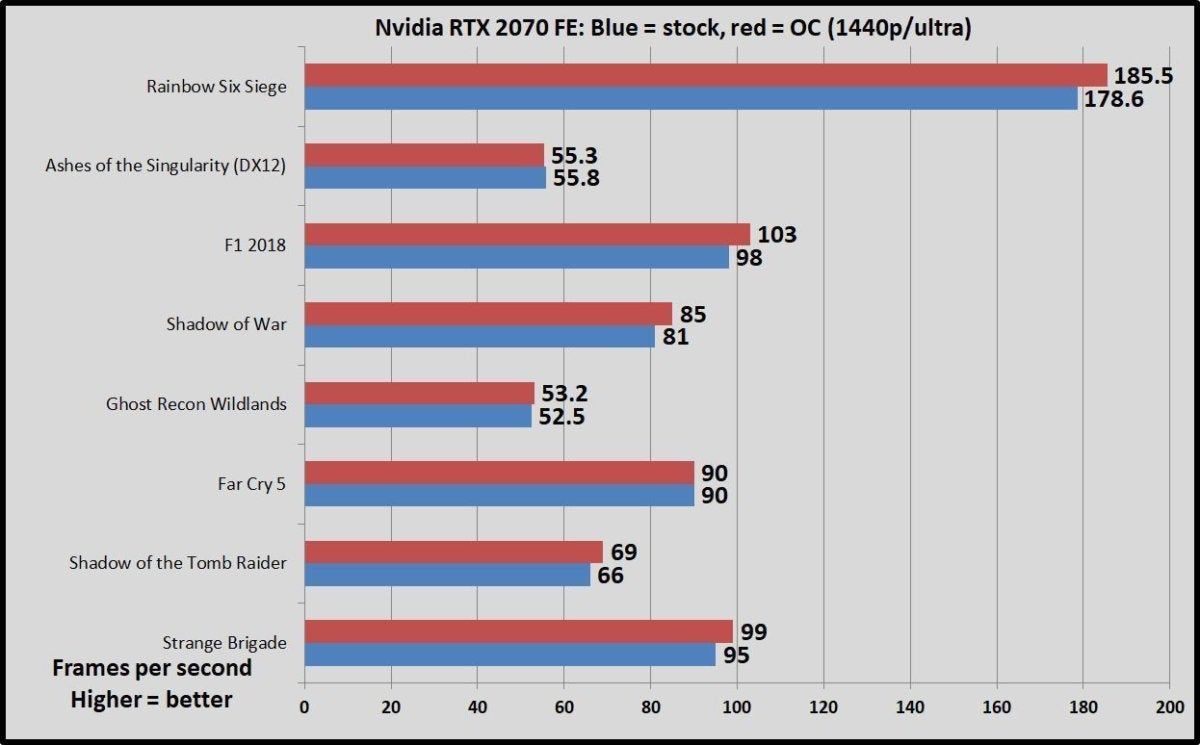 With all tweaks completed, we observed the card running right around the 2GHz barrier in games, usually hovering between 1,995MHz and 2,010MHz depending on the workload. Manual overclocking and memory overclocking could have pushed performance even further, but we're happy with these near-effortless results of 4 percent to 5 percent uplift in many games. Some games showed no significant gain, however.
The new Nvidia Scanner tool comes close to the maximum overclock for your GPU. All you have to do is click a button, wait 20 minutes for the process to run, and then drag a few sliders to the right. Dig it.
Should you buy the Nvidia GeForce RTX 2070 Founders Edition?
It's much easier to recommend the GeForce RTX 2070 than the other RTX 20-series cards.
The GeForce RTX 2080 Ti is the fastest graphics card ever released, and the first built for an era of 4K/144Hz monitors like the Acer Predator X27, but it costs a staggering $1,200-plus when you can find it on the street—a $500 increase over its predecessor. On the other hand, the $700 GeForce RTX 2080 (which sells for $800-plus in reality) goes blow-for-blow with the older $700 or less GTX 1080 Ti in traditional games, essentially asking you to pay a $100-plus premium for ray tracing and AI enhancements that aren't even available yet and aren't guaranteed to explode in popularity. They're both exciting technologies that we hope are here to stay, but right now, investing more for an RTX 2080 is a gamble on what the future will bring.
[ Further reading: GeForce RTX 2080 vs. GTX 1080 Ti: Which graphics card should you buy? ]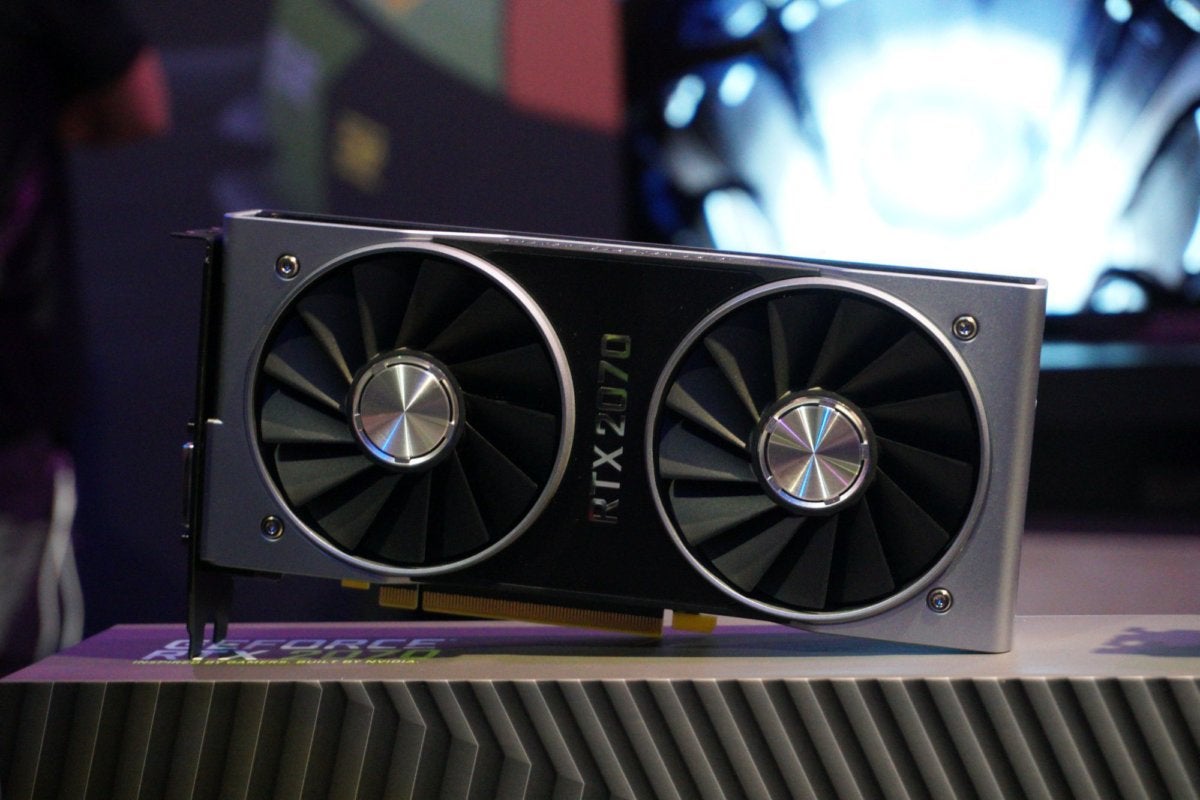 With GTX 1080 prices starting around $480 on Newegg, and the GeForce RTX 2070 Founders Edition costing $600 at Best Buy and GeForce.com, Nvidia's also asking you to pay more for the promise of ray tracing and Deep Learning Super Sampling. But unlike the RTX 2080, the RTX 2070 FE outperforms its last-gen $500 rival, the GTX 1080, in traditional games as well. You can expect to see a double-digit performance uplift in most games, and over 20 percent in games that love async compute capabilities, like Rainbow Six Siege. We didn't test HDR performance here, but the RTX 20-series offers much less of a performance hit in those games, too, if you've bought an HDR display.
A responsive 4K G-Sync monitor
Acer Predator XB281HK
The extra frames don't change the core capabilities of these cards. The Radeon Vega 64, GeForce GTX 1080, and GeForce RTX 2070 are all excellent 1440p graphics cards, with the ability to push 144Hz, 1080p monitors hard. The faster performance makes the RTX 2070 FE a reasonable entry-level 4K/60 option, too, especially if you've invested in a 4K G-Sync monitor and don't mind dialing graphics settings from Ultra to High. That said, on a meta level, it's leaves a very sour taste in my mouth than Nvidia's $500 and $700 graphics card offerings deliver little to no performance improvement in traditional games, roughly 2.5 years after the GTX 1080 launched.
This testing shows that all these years later, the GTX 1070 is still a compelling (and much more affordable) 1440p/60 option for $380. We run our tests with every graphics setting cranked to Ultra, and the GTX 1070 manages to surpass 60 fps at 1440p nonetheless. In the few games where it can't, dropping some graphics details down to High would push it over the hump.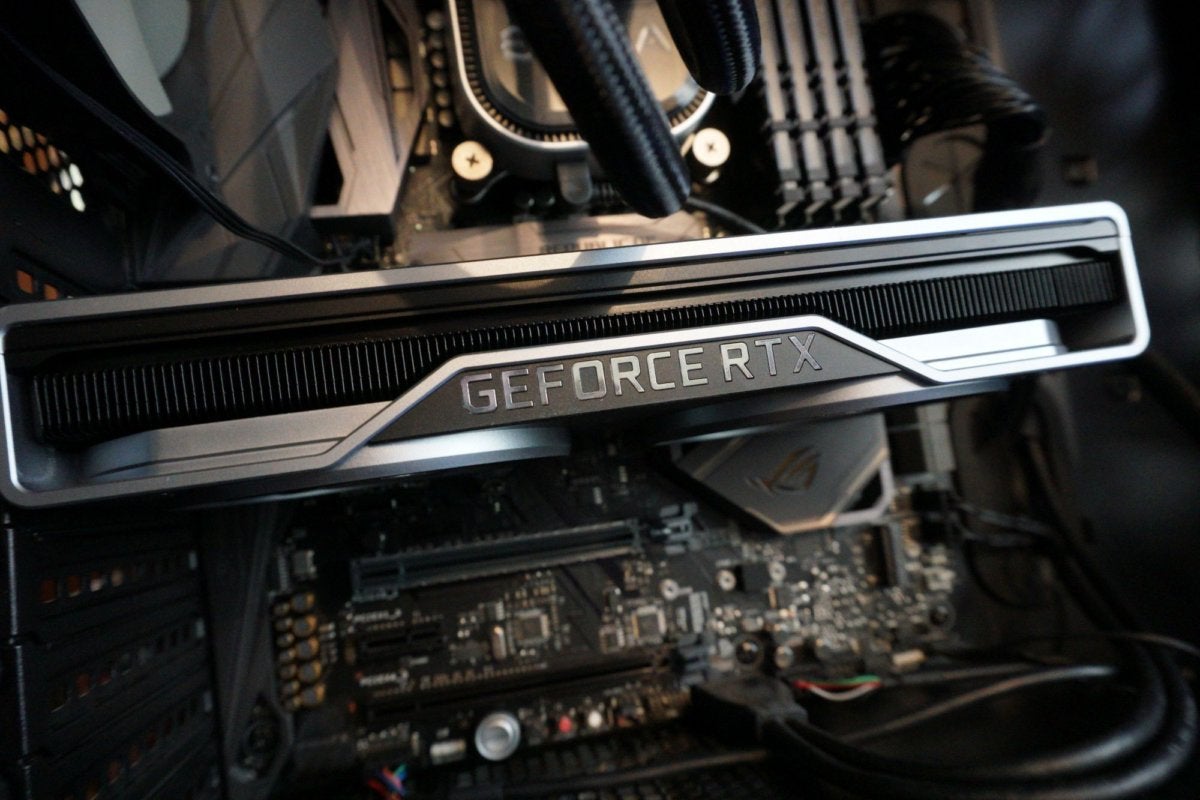 We held off issuing review scores to the RTX 2080 and 2080 Ti due to the delayed promise of their core ray tracing and DLSS features. We'll issue a verdict for the GeForce RTX 2070 FE, though. With GTX 1080s still being widely available, I'd be hesitant to recommend this higher-priced card based on the promise of technologies yet to come alone. But with that noticeable bump in performance in traditional games baked in, I think it's a no-brainer: Opt for a GeForce RTX 2070 over a GTX 1080 unless you find the latter on a smoking hot sale. The RTX 2070 is faster in today's games, and you won't get left behind if ray tracing and DLSS gain traction. Win-win, and not bad for an extra $100.
Actually, it doesn't even have to be an extra $100. While Nvidia's higher-than-reference Founders Edition pricing serves as the cost floor for custom RTX 2080 and 2080 Ti graphics cards, it's truly a premium with this GPU. Nvidia says GeForce RTX 2070 partner cards will start at $500, and we've already reviewed the $550 EVGA RTX 2070 XC, which—spoiler alert—runs just as fast as Nvidia's RTX 2070 FE, and much cooler.
It's not quite as luxurious and sleek as Nvidia's card, though. The Founders Edition's all-metal, enclosed design is a joy to behold and to hold, and our review sample achieved a huge out-of-the-box overclock, though overclocking performance is never guaranteed. The Nvidia GeForce RTX 2070 Founders Edition's all-around elegance and vastly improved performance make it well worth considering at $600, but you can find comparably performing models for less.
Best Prices Today: GeForce RTX 2070 Founders Edition