If Huawei had polled Android fans about what they wanted in a phone, the Mate 20 Series—which includes the Mate 20 and Mate 20 Pro—would be pretty close to what you'd get. There are distinct differences between the two handsets, but separately, the Mate 20 and the Mate 20 Pro might be the two best Android phones ever made based purely on specs and features.
Like last year, the Mate 20 and Mate 20 Pro are not clones of each other, and each has its own defining characteristics. On the Mate 20, you'll get a 6.5-inch Full HD display with a small teardrop notch, while the Mate 20 Pro brings a 6.4-inch Quad HD display with a curved OLED and a wider notch. There's still a bit of baked-in confusion because the Pro model is smaller than the standard Mate 20, but for the most part, it earns its surname.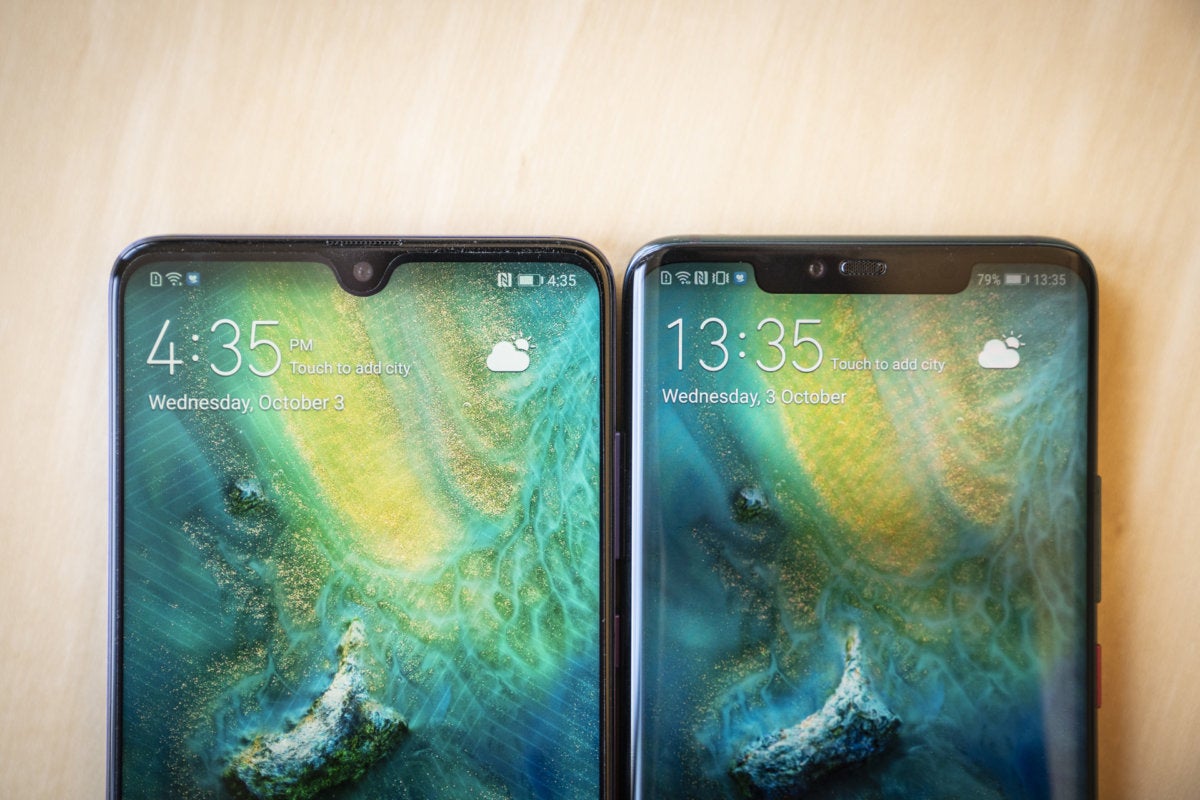 Both handsets are gorgeous. On the Mate 20 Pro you can barely see the bezels at the top and bottom, and the sides of the screen drape around the edges like the Galaxy Note 9. Even the bezel-heavier Mate 20 has dramatically trimmed the non-screen areas to eliminate the distracting Huawei name from the front. In the increasingly homogenous world of glass backs and notches, the Mate 20s still manage to stand out, mostly due to the attention Huawei has paid to a design element that's usually overlooked: the arrangement of the camera. Instead of a simple horizontal or vertical array in the center or the corner like every other phone does, Huawei turned its triple-camera array into a square called the Matrix, with the flash occupying the upper right corner. It's a playful, distinctive characteristic that will set the Mate 20 apart more than any color will.
The Mate 20 phones are pretty incredible on the inside as well. Huawei has spared no expense with its flagship product line, and you'd be hard-pressed to find an Android handset that packs a more powerful punch:
Mate 20
Display: 6.53-inch LCD, 2244 x 1080
Processor: Kirin 980
RAM: 4GB
Storage: 128GB
Battery: 4,000mAH
Mate 20 Pro
Display: 6.39-inch OLED, 3120 × 1440
Processor: Kirin 980
RAM: 6GB
Storage: 128GB
Battery: 4,200mAH
Next-generation features
But while the design will draw people in, the features of the Mate 20 and Mate 20 Pro are what will compel them to drop upwards of $900 on a new handset. It starts with security. While there's a standard fingerprint sensor on the back of the Mate 20, you won't find one on the Pro. That's because Huawei has introduced two new secure biometrics: facial recognition and in-display fingerprint scanning.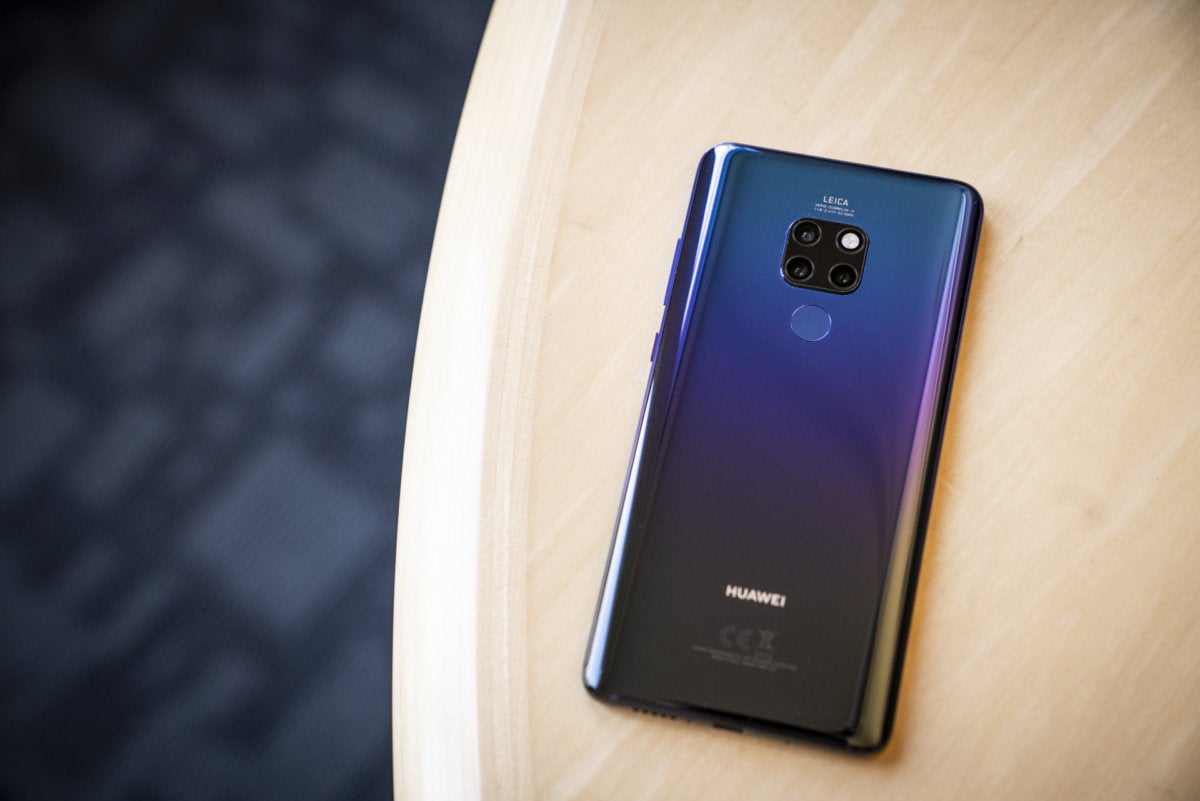 Inside the Pro's notch you'll find a 3D depth sensing camera system similar to the one Apple uses for Face ID. There's a dot projector and a flood illuminator for secure facial unlocking, and it's secure enough to use for unlocking password-protected apps as well.
If you'd rather unlock the old-fashioned way, Huawei has put a pressure-detecting fingerprint sensor under the glass of the Mate 20 Pro. I didn't get a chance to try out 3D face unlocking, but in my brief testing of the in-display fingerprint sensor, it felt about as accurate and as fast as the sensors from 2-3 years ago, which is to say it still worked well.
Huawei has packed its new phones with the biggest batteries you're likely to find in a smartphone: 4,000mAh in the Mate 20 and 4,200mAh in the Mate 20 Pro. That should be more than enough to charge through a full day, and it might even help your friend's Galaxy phone last longer too. That's because the Mate 20 Pro can double as a charger. Seriously: Just lay another Qi-enabled phone on its back, and the Mate 20 will share what's remaining of its charge with the other phone. That's the kind of feature that's so ingenious, I'm surprised no other phone-maker has though of it before.
Three cameras are better than two
While Huawei separated the two phones with looks and specs, the camera array is the same on both phones. The Leica branding we've come to know remains, but the whole system has gotten a major upgrade:
Mate 20
Main: 12MP, f/1.8
3X zoom: 8MP, f/2.4
Ultra wide: 16MP, f/2.2
Mate 20 Pro
Main: 40MP, f/1.8
3X zoom: 8MP, f/2.4
Ultra wide: 20MP, f/2.2, 2.5cm macro
The third wide-angle lens is a departure from the P20 Pro's, which has a third monochrome lens for black-and-white shots, and much more useful for getting the right shot. The AI system, which Huawei introduced with the Mate 10 last year, will now be able to detect when the wide-angle would be beneficial and suggest it, and recognize objects in videos as well as pictures. Huawei has dubbed it a "thinking lens," and in my testing, it was able to decipher and adjust its settings even quicker than the Mate 10.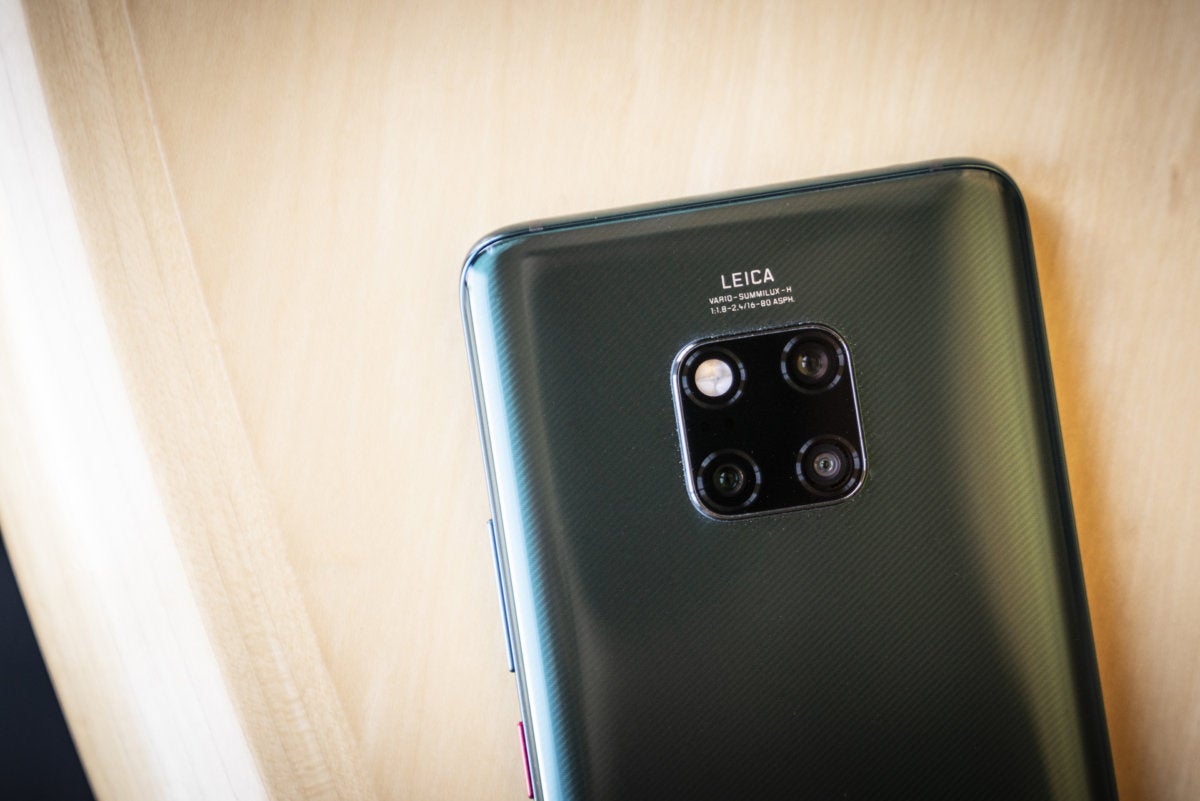 That's the result of a new dual neural processing unit, part of the home-grown Kirin 980 chip that powers the Mate 20s. As one of the few Android phones that doesn't use a Snapdragon chip, Huawei has an Apple-like level of optimization and architecture in the Mate 20s, with promised speed and power efficiency that blow away last year's models. Huawei has a new architecture for its chip that splits its 8 cores into big, medium, and large cores for greater power management and allocation, which will help those giant batteries last even longer.
The biggest drawback to Huawei's phones has always been its EMUI skin. While its look and feel remains largely the same on the Mate 20 phones. Huawei has tweaked things a bit—most notably, consolidating the settings app to "hide complexity" and introducing system-wide gesture navigation as part of its Android 9-based overhaul. Huawei is adding is own version of Digital Wellbeing called Digital Balance, though, which is a nice touch.
But it's not coming to the U.S.
If that's not enough, Huawei offers a couple more fun features in the Mate 20 and Mate 20 Pro: wireless projection (so you don't need to hook up an HDMI cable to enter PC mode), NAS backup, portrait color (isolating the subject against a monochrome background), and IP68 water resistance (in the Pro model).
As far as colors go, the Mate 20 comes in blue, green, pink, gold, black, and Huawei's now-trademark twilight gradient that we saw with the P20. But also like the P20, Huawei will unfortunately not be releasing a version of either Mate 20 for U.S. carriers so your AT&T and T-Mobile mileage will vary.