At a Glance
Expert's Rating
Pros
Top of the line specs and build quality
Killer 120Hz screen and dual front facing speakers
Near stock version Android with useful features
Cons
Glass back
No headphone jack
Our Verdict
The Razer Phone 2 is a media powerhouse featuring impressive specs and great audio/visual experience.
The Razer Phone 2 is a gaming powerhouse. Under the hood it's running the latest hardware, features a giant battery, and offers a viewing/listening experience that is unmatched—on top of a near-stock version of Android. But in Razer's efforts to add flagship features like wireless charging and RGB, it feels like the company lost some of what made the first gaming phone's design so unique—and such a good fit within the Razer ecosystem.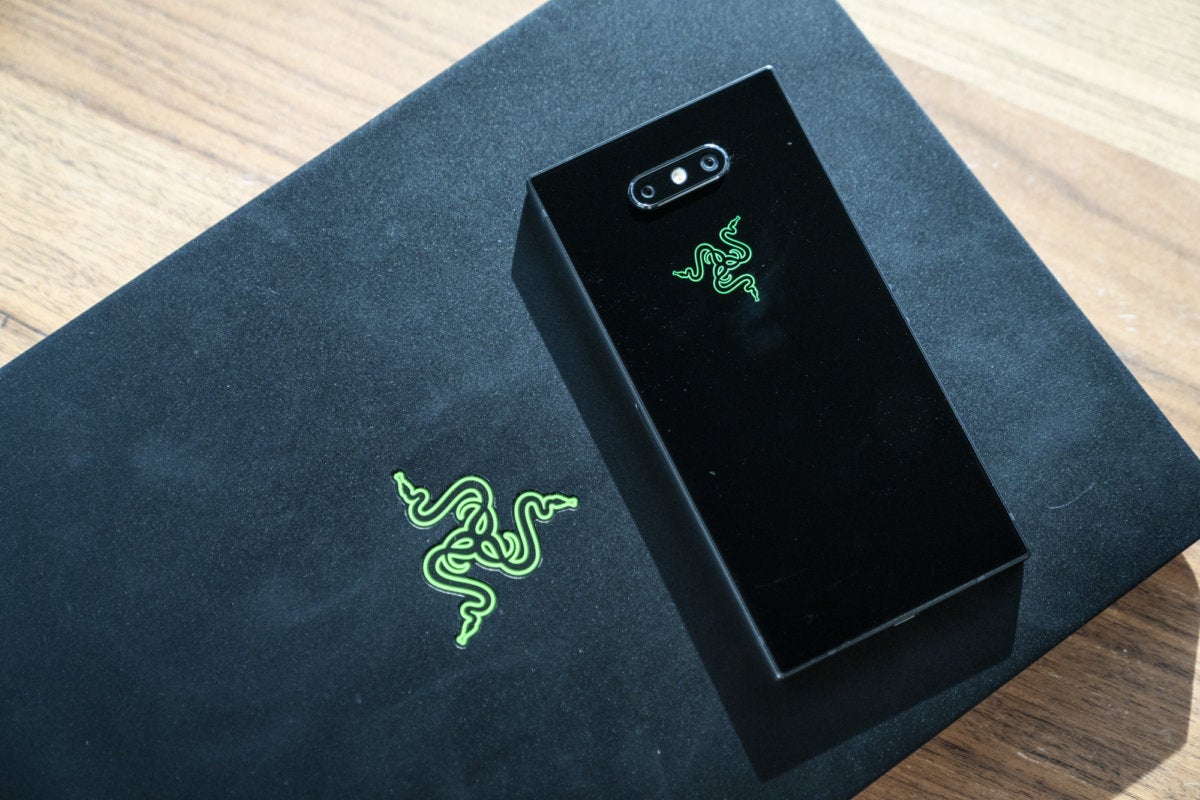 Upgraded and redesigned internals
Before we get too deep let's review the specs and talk about day-to-day usage:
Processor: Qualcomm Snapdragon 845 (2.8GHz)
System memory: 8GB (LPDDR4X)
Storage: Internal 64GB V4 UFS / External SIM + micro SD slot (up to 2TB)
Display: 5.72-inch IGZO LCD 1440×2560

120Hz, Wide Color Gamut
UltraMotion Technology
Corning Gorilla Glass 5
645 nits (typ.) 470 nits (min.)

Power: 4000 mAh Li-Po battery

Qualcomm QuickCharge 4.0+
Wireless Qi inductive fast charging

Size: 158.5 x 78.99 x 8.5 mm
When it launched last year, the Razer Phone was the first 'gaming phone' with impressive features like a 120Hz screen, loud-ass front firing speakers, and custom cooling. This year's phone refines all those features—amazing considering Razer is still very new to the phone business—and keeps the price locked at $800.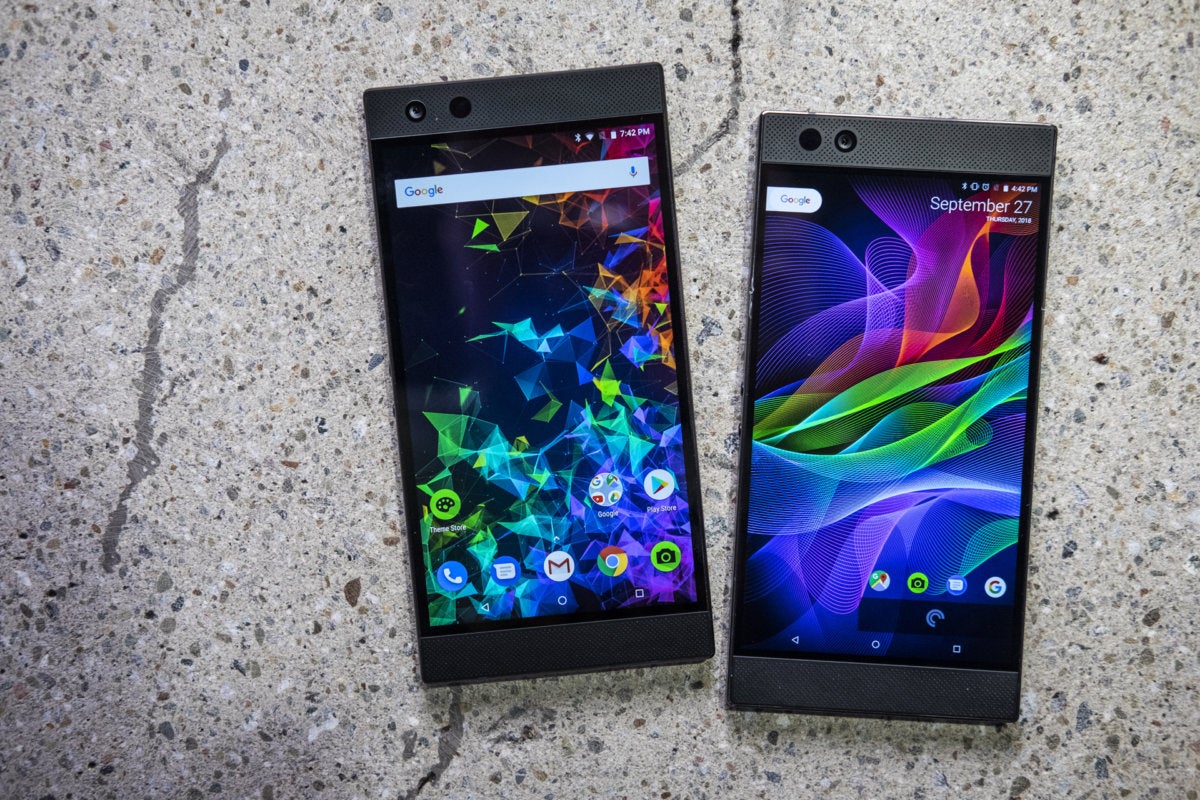 The screen has improved, offering a better viewing experience in brighter and darker environments. It still doesn't get quite as bright as its AMOLED rivals, but it's a great improvement over last year's model. Having 120Hz available on a phone still feels good and is a huge bonus in and out of games. In a world where so many smartphones feature curved screens and rounded corners with 18:9 displays and notches, I absolutely love Razer's dedication to the tried-and-true experience on the Razer Phone. I am not a fan of curved displays and rounded corners in particular, so the absence of them makes me a happy camper.
Even though the size of the battery remains the same, there is a considerable hit to how long it lasts on the new phone due to a key feature: RGB. For the first few days of using the Razer Phone 2, I kept the RGB logo on at all times with a static green color (branding!). I saw as much as a 30-percent extra hit to the battery by the end of the day. I was down in single digits right before bed, and that's a bummer for me. I like giant phones that have giant batteries so I can tax it all day and never have to worry about losing steam. Having the RGB on 24/7 elevated my battery anxiety, so luckily it's a feature I can fine-tune to my needs.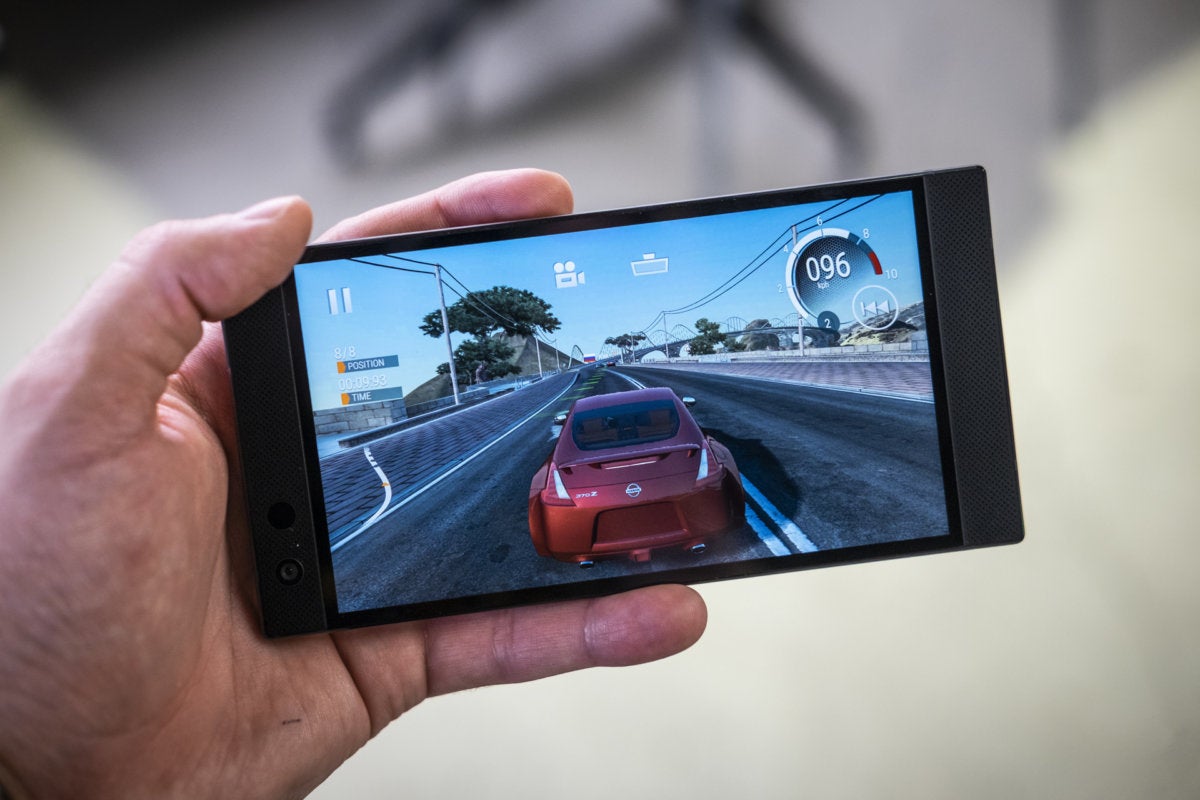 Razer has also continued to keep a clean version of Android, modifiying upon stock only in smart ways. Its game software organizer, Cortex, has been refined, so it's easier than ever to fine-tune performance per game. Razer's Chroma app has shrunken and is a fun and simple way to control lighting. The Theme Store continues to get new and unique themes from both Razer and its users. All in all using the phone is still a great experience, and fans of stock Android will feel right at home. As of right now, however, it's stuck on 8.1 Oreo and the October security patch, so it'd better get updated soon.
While the camera in the Razer Phone 2 has also been upgraded, it's still very basic in its functionality and results. This year Razer went with Sony image sensors (the industry-standard provider), replacing the Samsung ones from last year. Add the improvements to the Snapdragon 845's image signal processor, optical image stabilization on the main lens, and a new camera app, and you have a potentially winning formula. Unfortunately the captured images still lack the high-level processing that we find in other flagship phones. So much of what makes a smartphone camera good is processing—Razer has a long way to catch up in this area.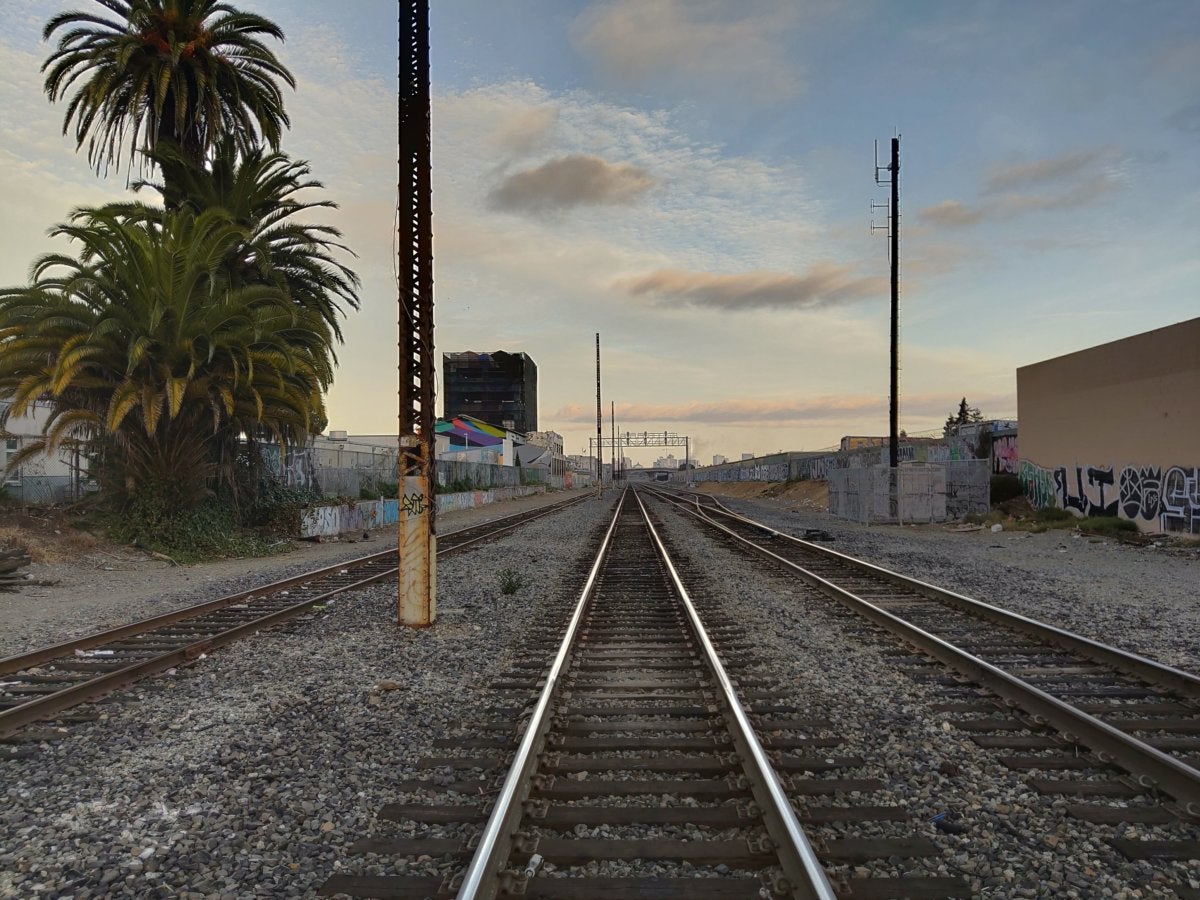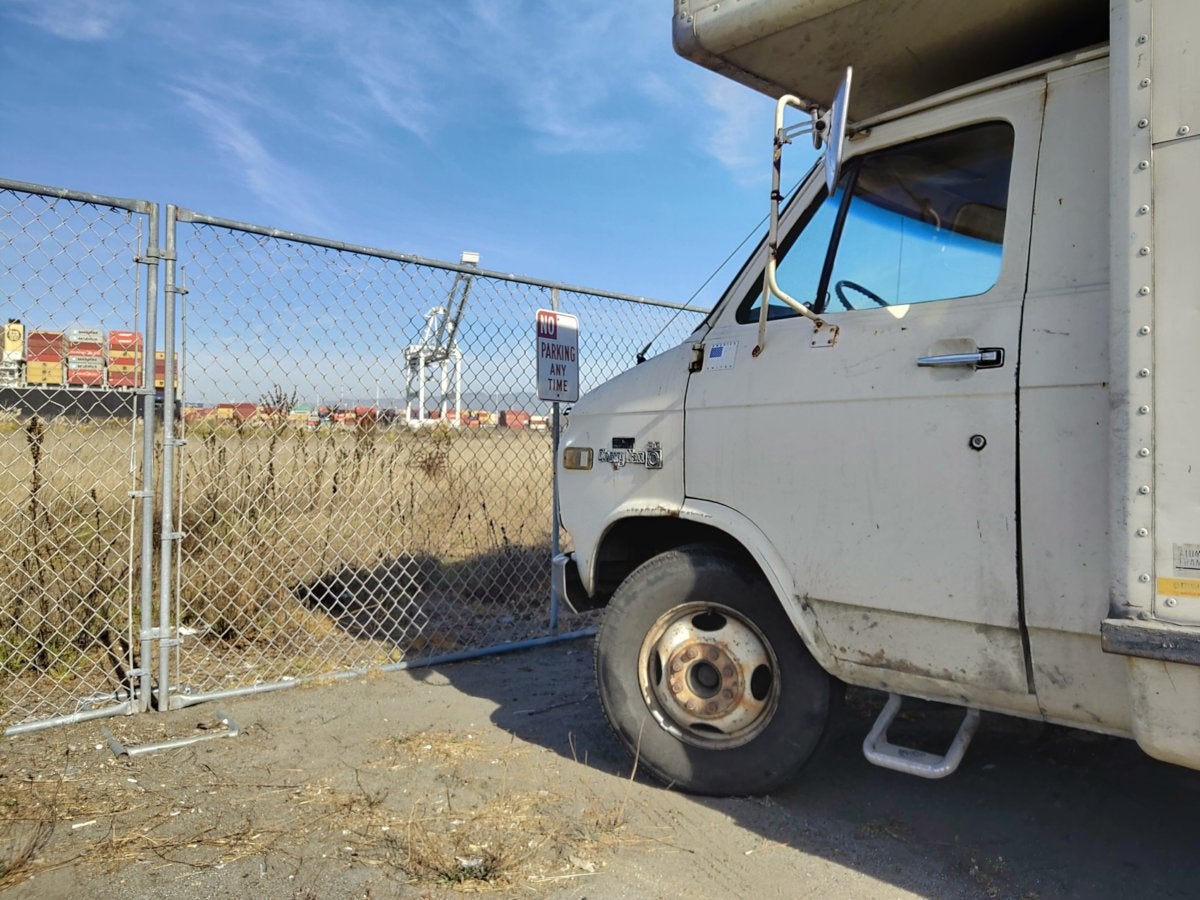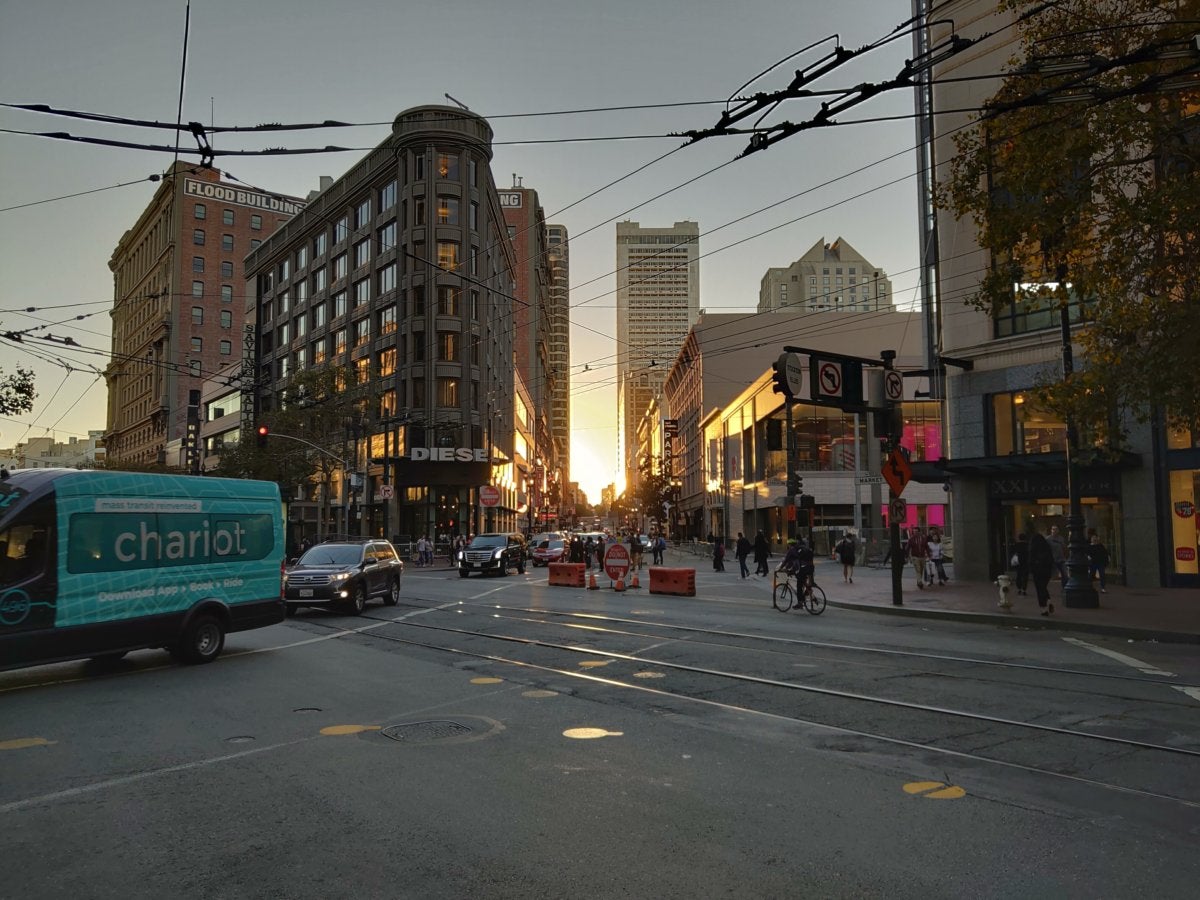 Glass back woes
At first glance the Razer Phone 2 closely resembles last year's phone, but one major design change disappointed me: the glass back. Razer added this to enable wireless charging and the oh-so-nifty RGB logo on the back. While I do enjoy me some RGB, I think this design change was a mistake for two reasons.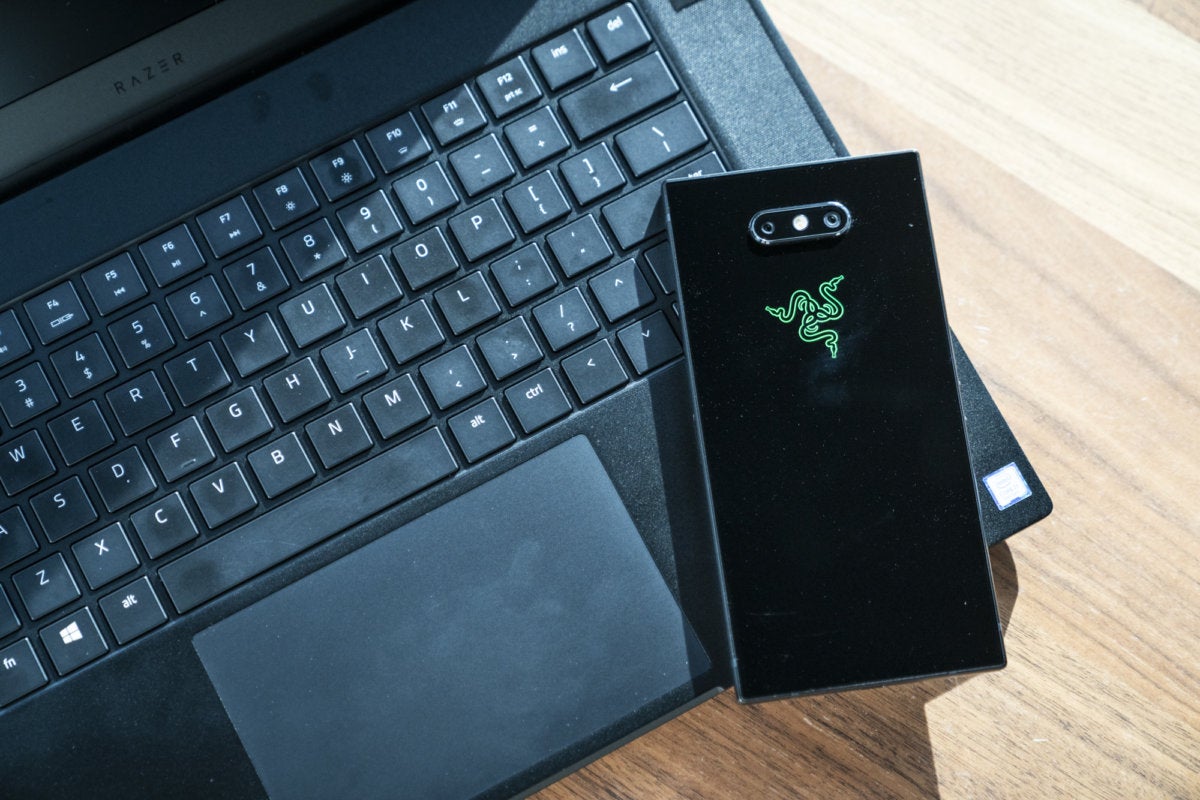 Reason number one is very much personal preference: I don't like glass-backed phones. The brushed black aluminum skin on the first Razer Phone made it look tough and yet beautiful. I want to show off a phone design like that, rather than hide it under the extra bulk of a case.
The second reason concerns Razer's design as a whole. The first Razer Phone fit into the sleek, aluminum family. The second generation departs from the original aesthetic. I understand design aesthetics can evolve. The Razer Phone just doesn't look or feel as good in the hand compared to the old Phone.
Where is the headphone jack?
And then there is the lack of the headphone jack. I know it's a tired topic, but in a device like this that goes above and beyond to push amazing visuals, killer speaker quality, and a custom cooling solution, I'm baffled by the omission of a headphone jack. In my mind it's a pro option in a pro phone, and it should be there.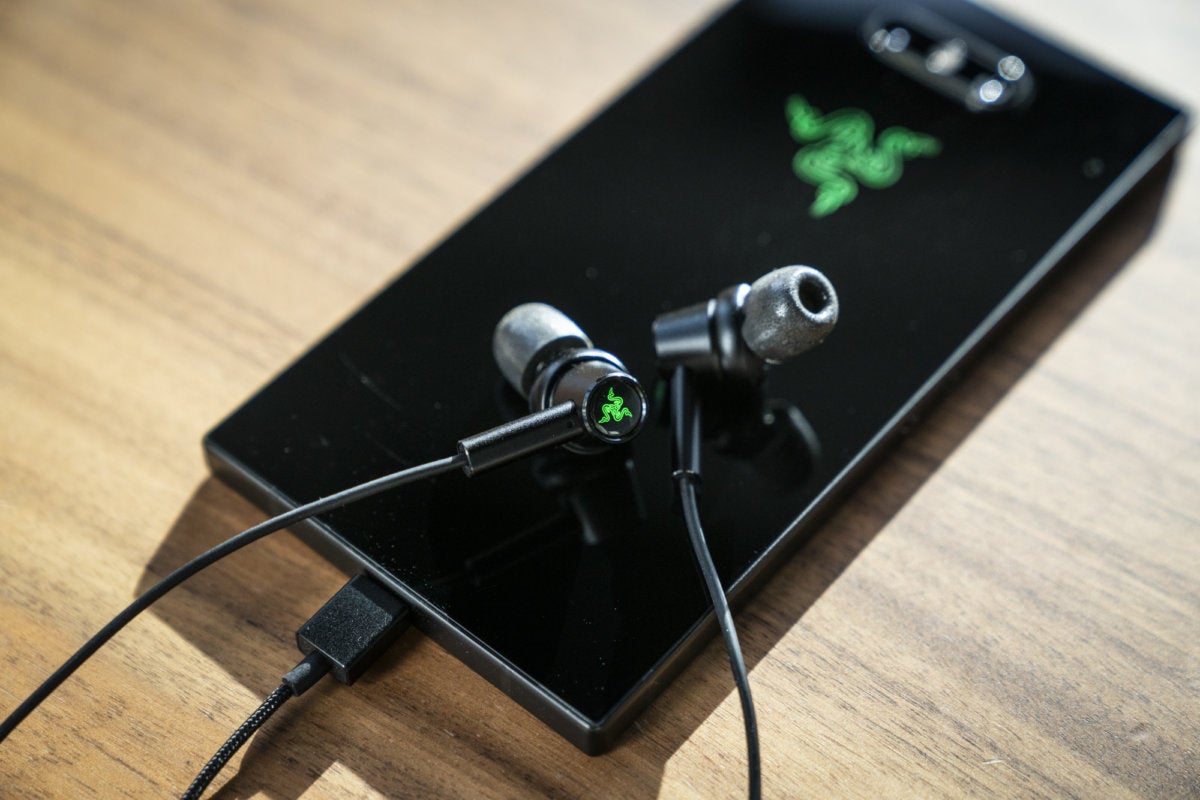 But what about Razer's Hammerhead USB-C ANC in-ear headphones, which launched around the same time and include a high quality digital-to-analog converter (DAC)? While they feature great build quality and a nice (but minimal) amount of active noise canceling, they're held back by sub-par audio quality. Even when using the included Comply foam tips to form a tight seal, the Hammerheads lack deep and rich bass. The mids were muddy and the highs felt flat, like I was listening to the headphones with tissue paper over the drivers. And this was even using the built in Dolby Atmos app, which was trying to push a bass enhancer. I can't recommend them to anyone—unless you must have a glowing green logo on your heaphones. It doesn't offer a viable alternative to Razer Phone 2 users and doesn't excuse the lack of headphone jack. But at least they included a USB-C to 3.5mm audio jack in the box.
Conclusion
Despite the lack of headphone jack and a switch to the glass back I can still say that the Razer Phone 2 is the best 'gaming phone' out there. It couples hardcore specs with gamer-focused features and a super-clean version of Android—a combination that isn't matched by competitors like Asus's ROG Phone. If you must have the ultimate gaming experience in your pocket, the Razer Phone 2 is the best option.